This article may contain affiliate links; if you click on a shopping link and make a purchase I may receive a commission. As an Amazon Associate, I earn from qualifying purchases. 
There are certain points in a woman's life when it's time for a major closet clean-out. Just before college, after finishing school, when drastically changing careers…
And when you hit your 30s.
Why am I concentrating on your 30s and not other age? Well the 30s are a crazy time – it's a time when you usually have established yourself in your career, you often times have found a life partner, possibly have started having children. Usually your residence has become a home – a place you care about and where you have put down some roots.
You aren't 25 any more and you feel it in almost every aspect of your life. Do you feel it in your wardrobe?
No matter how young you can pass for or how many hours you spend in the gym, when you are over 30 you look ridiculous trying to dress like a 25-year old. Now this doesn't mean once that birthday hits you have to chuck all your indie labels and head to Ann Taylor; it just means you need to add a bit of polish, refinement and respect to your look. You'll be surprised – a proper closet clean-out in your early 30s will improve your reputation at work, your chances at finding a mate, and will actually make you look younger and more confident.
The standard Closet Clean-out for a Woman in her 30s.
What to Toss: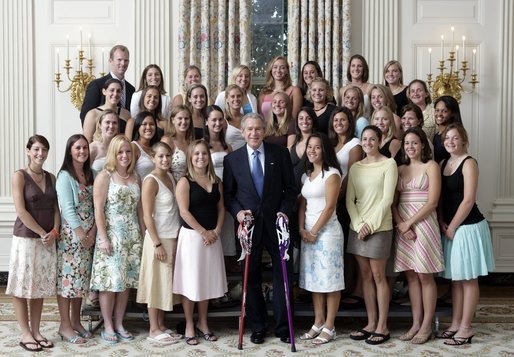 1. Half your rubber flip-flop collection. If you read this blog regularly, you know I am not a huge fan of flip flops. They aren't safe, they aren't healthy, and they ruin the look (and sound!) of most outfits. However, if you read my other blog you know I own a couple pairs and wear them regularly.
Whether I like it or not, flip flops are convenient. Easy to slip on, cheap, comfortable for short errands and puttering around the house, pool, and beach. The perfect barbecue footwear.
However, they are not proper footwear, and shouldn't be worn as such. Flip flops are not worn by stylish women outside of the above mentioned locations. This means no flops for work, no flip flops for the mall, no flops for dates, no flops in place of proper footwear. Flip flops are the shoes of adolescents and when they are worn by a woman, they look tacky and out of place.
No need to toss every pair, just half your collection. Keep the black or brown ones that are in fabulous condition and are made with structure (well-made straps, thicker sole, etc.), and go ahead and keep a pair in the same color as your swimsuit. It's also okay to keep a pair with your college mascot or those classic Adidas "shower shoes" for exactly that – showers at the gym and situations where it's not the best idea to be completely barefoot. However toss any pair that has beading, sequins, clear straps, printed soles, or obvious logos. Any of the cheap flops from Old Navy or the drugstore that are barely padded, the ones you bought to wear under your gown on your wedding day, the ones that were only $2.99 at Express five years ago, the ones that are practically worn through and you have worn since your lifeguarding days in college… they all need to go. Smelly, worn flip flops are not the way to keep a memory. Dig up a picture of you and your friends at the beach when you wore those flops and frame it in honor of the flip flop retirement. Your feet, your sense of style and eventually you will thank me for this advice.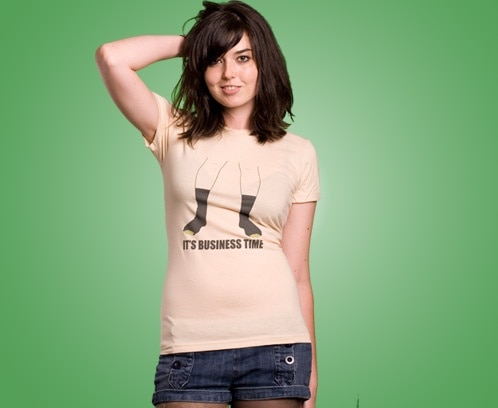 2. Ironic tee shirts. Fake vintage soda pop ads, Hello Kitty, Care Bears, plays on words, glittery phrases telling the world how sexy, spoiled or fun you are… they all should go in the donation bag STAT. I don't care if you only wear these around the house or to the gym – I KNOW you have other shirts that can fulfill this duty and do not have messages on them. If not, get thee to Target and buy two or three. They are less than $10, have feminine shapes, fun colors and will survive many washings.
A stylish woman doesn't have to tell the world what type of person she is, or what brand she is wearing. A stylish woman also doesn't proclaim her hobbies or fetishes on her bosom. A woman who wears these sorts of shirts in public looks desperate and like a fashion victim. Don't fall prey to trends – from now on purchase tees and casual wear that are free of logos, embellishment or silkscreening. They won't age as quickly, and won't be as likely to age you.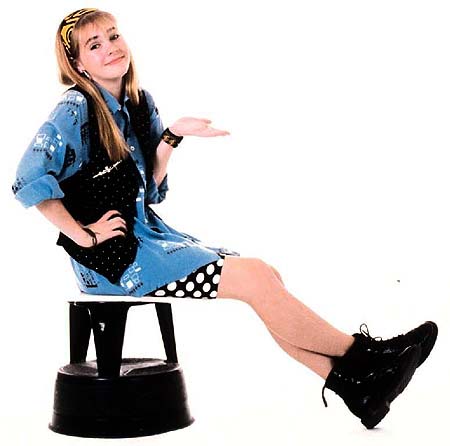 3. Any top made out of denim. This means denim bustiers, chambray shirts, denim shells, vests, cropped little jackets, and all those other pieces that you have been holding on to since the mid '90s because someone made you think that denim was classic. This also includes any tops that are partially made of denim (denim collar, denim patches, band, etc.).
Denim is not classic. Yes, the traditional denim jacket comes in and out of style, but each time it is slightly different and a bit harder to pull off when you're not 21. Unless your lifestyle warrants a sturdy denim jacket or you are considered by many to be a True Fashionista, it's best to get rid of the denim jackets as well. Nothing ruins the line of a sweet dress, or the style of a simple outfit faster than a denim jacket (especially in a dated wash or silhouette). Getting rid of this excess denim will make your look far more polished, stylish and flattering.
4. Miniskirts (and skorts… and shorts). Okay okay, skorts are a brilliant invention. Looks like a skirt, but has shorts underneath to keep you properly covered (and they also prevent chafing). However, skorts always look like skorts, and skorts always look too much like what little children wear. Skorts have not been in fashion for many years, no matter what QVC or that mail-order catalog tells you. Donate them all.
As for short shorts… they haven't been in style for years, they aren't flattering on any normally shaped woman and are uncomfortable to boot. Chino, denim, seersucker, jersey… no short should end right below your bum unless you are under the age of 14.
The same holds true for miniskirts. You may have the greatest legs this side of the Atlantic, but that doesn't mean you are flattering yourself in a thigh-skimming skirt. Super short skirts look desperate, dated and wrong on the majority of women on this planet. That being said, a short skirt is different from a mini. A skirt that is an inch above the top of your knee is short – a skirt that is an inch below your bum is mini. Rock your great gams in a short skirt every day of the year, they can be quite flattering and sexy (and elongate the leg); however get rid of the minis – they are not doing anything for you.
Note: The combination of short skirt and high heel is never stylish. Nothing taller than a 3" heel with a skirt above the knee, and consider a boot or wedge to balance out all that exposed leg. A basic pump with a short skirt is very ZZ Top and not a polished look for anyone.
5. Cheap bras. No matter your size, a cheap bra is not a flattering bra. It's time to get rid of any bras you bought at a non-lingerie or department store (hello H&M), the mesh or stretchy lace ones that provide zero support or shape, the ones that are falling apart, the one you bought because it matched those panties that have since been tossed but the bra is so comfortable and it doesn't matter because you only wear it on weekends… you know you own some of these bras and they aren't doing you any favors.
You're an adult now, and it's time to invest in adult lingerie. Go to a specialty or high end department store and get fitted. This does NOT mean Victoria's Secret – you are looking for a well-trained professional who specializes in lingerie. After being fitted, you can choose to shop at that store, or go elsewhere that is more in line with your income. Invest in a few skin-colored smooth bras that disappear under knits and light colored clothing, a great bra for styles you often wear (plunging necklines, halter tops, racerbacks, low backs, strapless), and one or two in black or skin color that lift, separate and shape you into a feminine beauty. Once you have these bras, treat them with care. Hand wash them with a product made for such delicate fabric, and have them air dry. If you don't have the time for hand washing, wash on the gentle cycle of your machine in a lingerie bag. If you baby these bras, they will last far longer, maintain their shape and elasticity and baby you back.
Once you have a proper base bra collection, you can then slowly add to it with lacy, racy and frilly confections. Even those these pieces are less versatile, they should be purchased considering how they shape you and how they are fashioned. Spending money on quality lingerie will save you money in the long run, and nothing makes you look thinner or more youthful than a properly lifted bust line!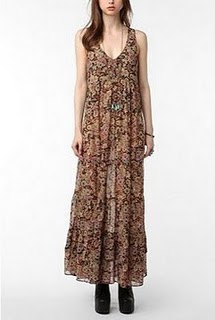 6. Laura Ashley Dresses. Church dresses, Laura Ingalls Wilder dresses, granny dresses, prairie dresses… I have asked many fashion experts for the proper term of these sorts of dresses and no one can come up one. This may because they have been out of fashion for so very long of a time!
These are the dresses that are often made of rayon or challis, bias cut or with an empire waist and hang from mid-calf to ankle length. In the early '90s they were often spaghetti strap and worn alone as a sundress or paired with a baby tee. Usually these dresses are seen with tank-style straps or cap sleeves. They are sometimes solid on color, but usually in floral print (hence the "Laura Ashley" term).
No matter your sense of style, these dresses are no longer stylish. As with denim tops, these are not classic pieces and look dated and frumpy on any woman of any age. Yes, the bias-cut dress may be flattering to your hourglass frame, and yes that floral print may remind you of your childhood bedroom. That doesn't mean it is the attire of a stylish or polished woman.
It is possible to have a conservative wardrobe without succumbing to the Laura Ashley dress. It is also possible to show off your feminine style without having these dresses in your wardrobe. Consider separates, sheath dresses, and dresses with a more retro style (belted with a full skirt). They can be just as conservative, just as feminine and just as flattering without looking as though you are an extra from Little House on the Prairie.
7. Cheap polyester skirts. During my many years of retail management, personal shopping and visual merchandising I worked for the clothing company Express. Express was the go-to store for many college and post-college aged women in the late '90s because they offered affordable variations of runway styles, trendy suiting, and wearable date and clubwear. One of their most popular items was the mesh-overlay skirt. Many other retailers carried this same garment and it was seen on almost every American woman at some point during the late '90s to early '00s. This skirt was straight, often with an elastic waist and usually fell just above to the middle of the knee. The lining was a stretchy lycra or a thin polyester acetate, the top layer was a mesh usually in a graphic print, often embellished with rhinestones or embroidery. These skirts were paired with bra tanks and flip flops in summer, with ribbed turtlenecks and tall boots in winter. They were fabulous because they were cheap, trendy, machine washable and versatile.
I remember I had a taupe acrylic v-neck stretchy sweater (the "Jet Sweater" from Express) that I paired with one of these sheer skirts – it had a red under layer and a black, ivory and taupe abstract leaf-print top layer. I wore this ensemble to work, to bridal showers, on dates, to church. I found it to be elegant yet hip, trendy while classic. When the skirt no longer fit, I packed this set in a steamer truck in case I got back down to this size. I opened this steamer trunk two years ago and this "elegant ensemble" now looked cheap and sad.
That's what these skirts look like to the rest of the world. They are not flattering (they show every curve and bump), they usually hit at a weird place on the leg, the fabric goes with little other than the poly tops and acrylic sweaters that were sold during the same era, and they look very dated and cheap.
Invest in one or two pencil or a-line skirts that hit at the slimmest part of your leg. Get one in black, gray or brown and another in a fun color or print. If you choose a sturdy fabric with a bit of stretch, the skirt will work in almost every season and be resistant to wrinkles. You will find it will easily take the spot where these cheap skirts used to reside and you will look thinner, more elegant and more modern.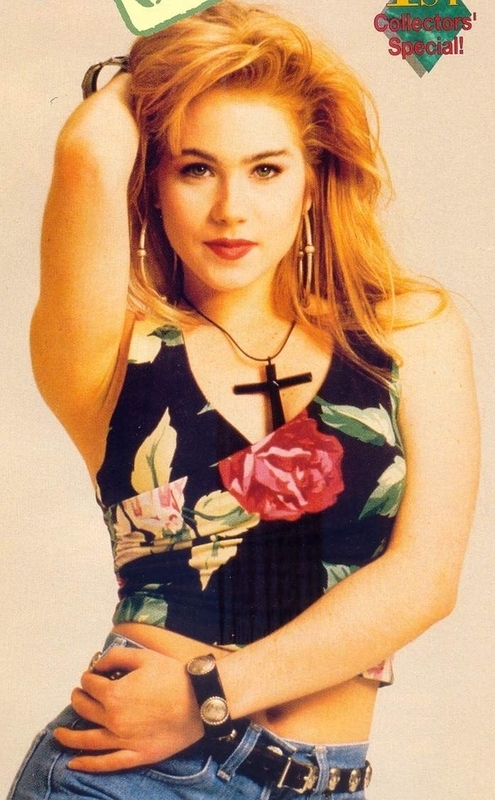 8. Club Tops. You know what a club top is – it's that little beaded, sequined or shiny synthetic wonder you picked up for $12.99 at some store you usually wouldn't shop at. One of those stores in the mall with too loud of music, overcrowded jumbled racks organized by price point, fitting rooms that don't have doors or mirrors (and smell a bit like Fritos), and the rest of the customers are under the age of 17. You were probably shopping with a bunch of friends and went in for giggles and was overwhelmed by the incredibly low prices or the fantastic bling (and neckline) of the top. It's stretch satin, polyester mesh, Lycra. It has rhinestones, sequins, beading, lace cut-outs or maybe all four. It is near impossible to wear with a bra or the couple of days before your period. It's a top that you don't mind having a bit of beer spilled on it, possibly your "Get Lucky" top.
Well a stylish woman doesn't own tops like this and doesn't really need them to get what she wants out of an evening. One can be utterly sexy without looking trashy or cheap. Consider a silk camisole in a flattering rich color that is low on embellishments, but high on style. Tube tops have come back in style – a blouson one in silk or silk jersey shows skin while showing elegance. A chiffon or silk wrap blouse shows off your waistline and your décolleté while still showing your sense of style. You will find if you purchase more elegant of evening tops you will require fewer in your closet. Switch up the look with accessories – gold hoops and bangles one night, diamond studs another. Surprisingly, higher quality evening attire will save you money in the long run.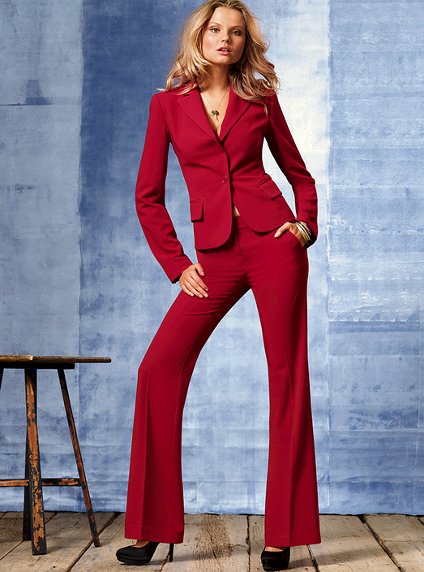 9. Cheap suiting. This includes unlined jackets, jackets that have such a sheen they catch the light, tight trousers that show VPL, overly trendy lapels and leg widths, short tight suit skirts, short skirts with long jackets (go ahead and sing it with me), and anything that has embroidery, fur trim, decals, or sequins attached to it.
You most likely aren't applying to work at Amanda Woodward's agency, so there really isn't a place to wear this sort of "career wear." Working for those few years for Express I sold and purchased much of this attire (also got quite a lot from other retailers such as Arden B and Bebe). Melrose Place and then Sex and the City were the hot shows to watch and take fashion cues from. Suiting got very creative, and very sexy. It was easy to care for since it wasn't lined, stretchy so it showed off my curves, and mixed and matched with much of my bar and club attire. It was great to have when working retail for I gave the appearance of being a professional and yet still a fashionista.
Problem is that sort of suiting doesn't work in most parts of the retail world. Unless you work in fashion, retail, beauty or a very creative firm, cheap and sexy suiting is a no-go. As for cheap suiting – it's better to show up in a sweater and trousers than an ill-fitting and cheaply fashioned blazer. Cheap suiting gives off the same impression as the cheap club tops – you are desperate and you are not the cream of the crop.
I highly encourage every woman to invest in a classic black pantsuit if she ever has the reason to dress up outside of the home. You never know when you will be asked to speak in front of the PTA, go on a job interview, attend the funeral of a loved one, represent your company at a trade show or convention. The pants work alone with blouses and sweaters in your collection, the jacket should be a classic enough style to work for many seasons without looking dated (keep the buttons black and the pockets covered and to a minimum). Many stores that specialize in career wear have great end of season sales and often maintain the same fabric though many years so you can build up a budget-friendly collection of mix and match career wear.
If you are going on an interview or starting a new job tomorrow and all you have is that boxy brown unlined blazer with the gold pinstripes and double-breasted buttons… unless the dress code specifies a full suit you may be better off in a crisp white tailored shirt, a dark skirt or pair of trousers, simple leather pumps and a strand of pearls. A polished woman wishes to always give the best impression and sometimes it is better to be appropriately underdressed and than inappropriately dressed.
You may also wish to visit:
The Staples For Every Woman's Wardrobe
Dressing for Your Interview
What if I Hate Shopping?
Black Doesn't Make You Look Slimmer, it Only Makes You Look Boring