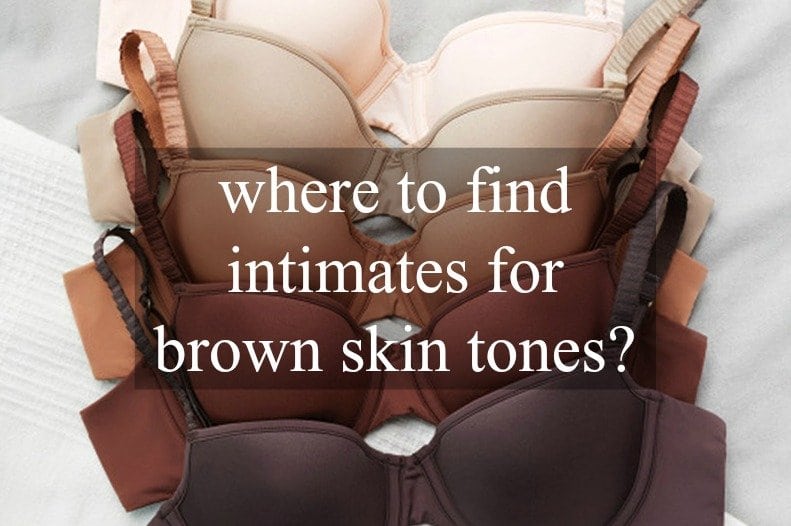 Hey lingerie brands, did you know not all people are beige? In fact, 2016 Census data shows that over 40% of Americans are non-white. This means your beige bras, panties, hosiery, and control garments you call "nude" are not skin colored for almost half the population. What a missed opportunity. Take a lesson from Rihanna and the success of Fenty Beauty. When you recognize people come in more than one color, you make money and you create customers for life.
Instead of continuing my rant about major retailers carrying a limited color range, I'll share some brands that recognize and provide a nice variety of nude bras and other intimates for non-beige people.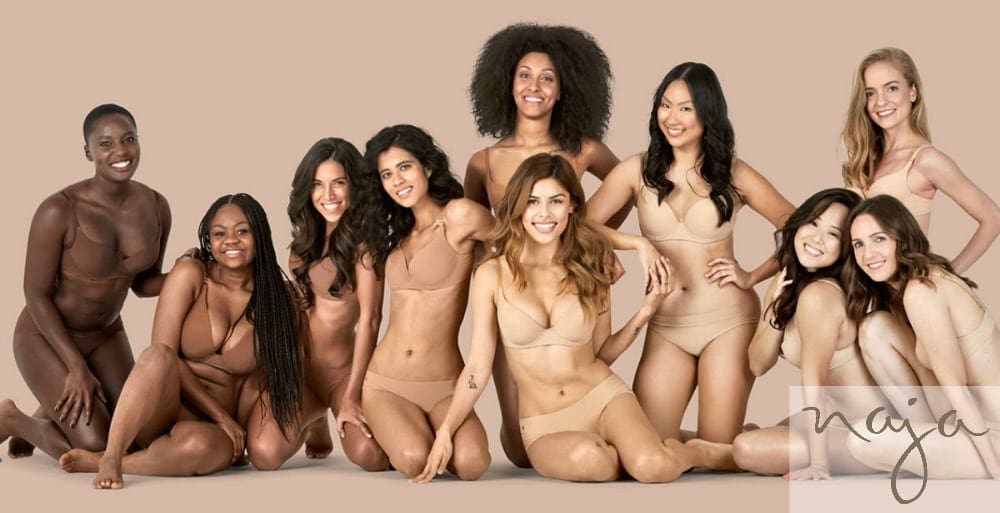 Naja products are made by single mothers or women heads of households. Naja pays above market wages, provide health benefits and child education stipends. With each bra customers receive a lingerie wash bag hand-made in the homes of women in extreme poverty. All that awesomeness and they have seven different nude colors and plenty of sexy, silly, practical, and fabulous underwear, bras, activewear and even swimwear. Sign up for their emails to get a 10% off coupon. While returns are a bit tough (15 days and they don't pay postage), they have free shipping for orders over $75 and ship internationally.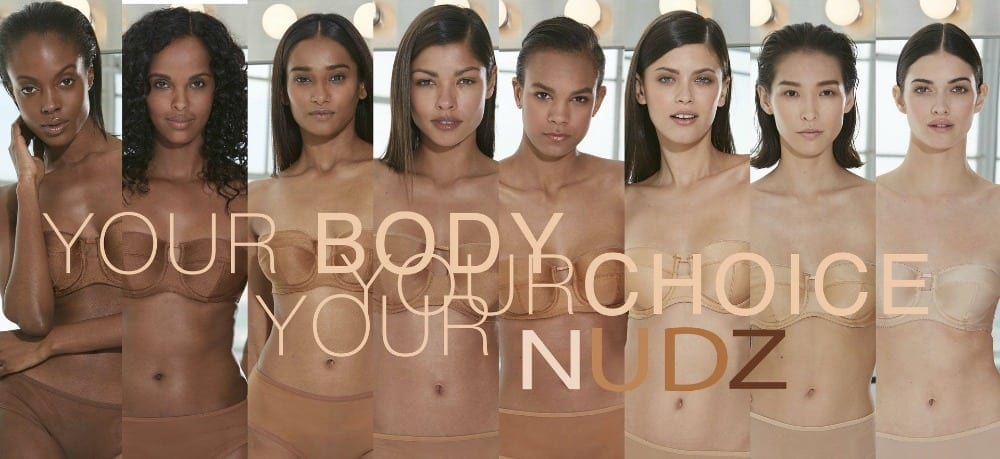 Ten different "nude" colors, how awesome is that? Each color is named after a celebrity with similar coloring – from Alek to Scarlett, which helps you choose which color may be best for your skintone. Nudz has a very simple collection – underwire strapless bra, hipster, bikini, and thong, but all in this extensive color variety. Free domestic shipping for orders over $75; Nudz also ships to a variety of countries including Canada, Mexico, Australia, and parts of Europe and South America.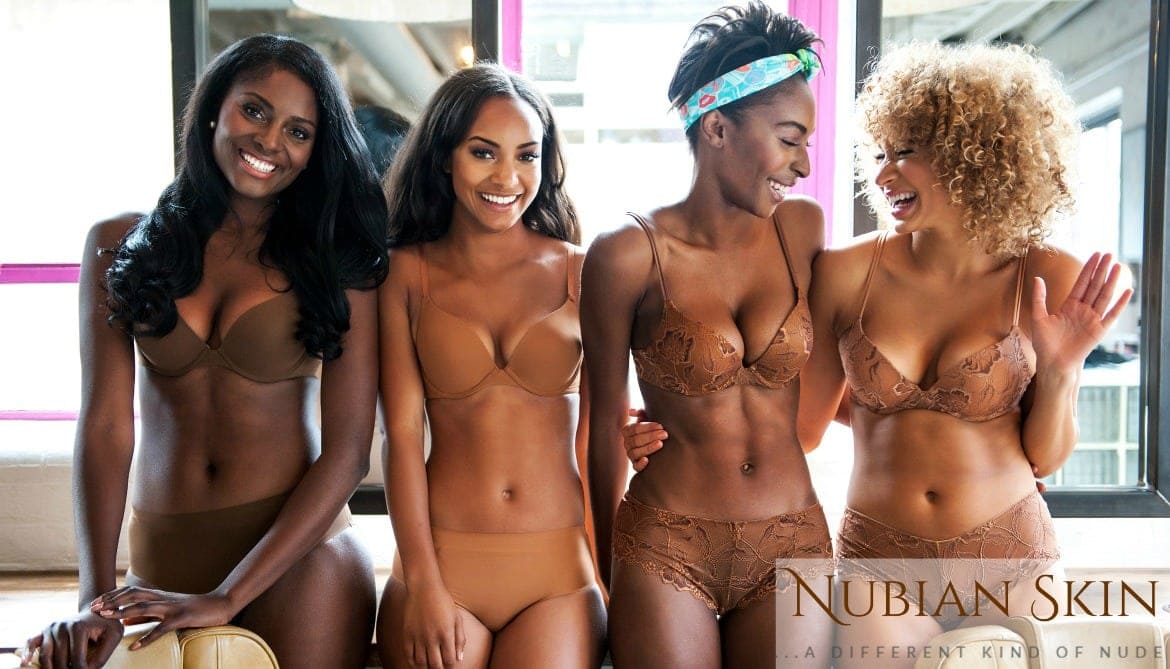 With the tagline, "…a different kind of nude," Nubian Skin offers not just lingerie, but hosiery and shoes in a variety of nude-to-you shades. Four different shades of brown and black are offered in most of their bras, underwear, bodysuits, and slips (slips and bodysuits go up to XXL). Their hosiery comes in standard as well as curve/plus sizes. If you've wanted a skin-colored pointed pump or classic ballet flat, Nubian Skin has it. While this is a UK company, they ship to the US and Canada, accept returns, and for payment accept major credit cards as well as PayPal.
Nubian Skin is also available at Nordstrom. While the selection is far more limited, this is a great way to try the brand with free shipping and returns, and then if you love it you can order directly from their site.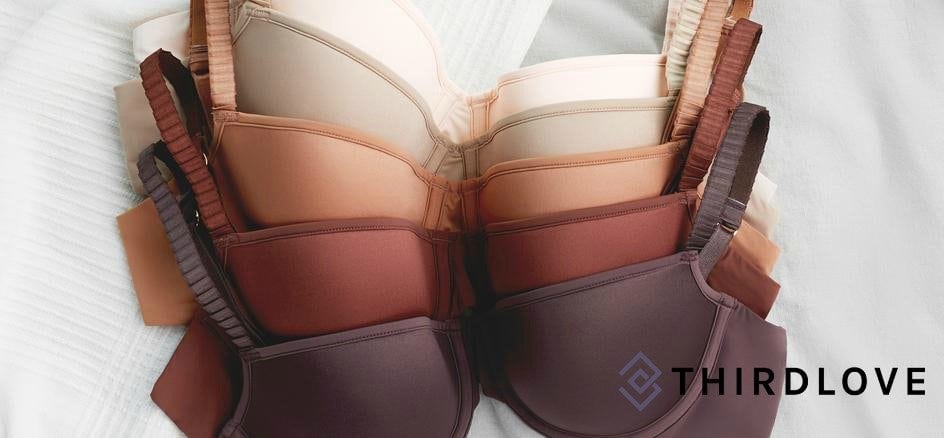 ThirdLove is a mail order bra and underwear company that prides itself on a great fit. They design their bras with real women's measurements and offer almost 60 sizes, including half-cup sizes for the best possible fit. Wear the bra, even wash it to decide if you want to keep or return it. All that, and they have a great selection of colors – we're talking five "naked" colors plus black and several gorgeous shades. I've pretty loyal to my specific underpinnings but after researching brands for this post I'm going to check out ThirdLove and hope to have a review on the blog in the future.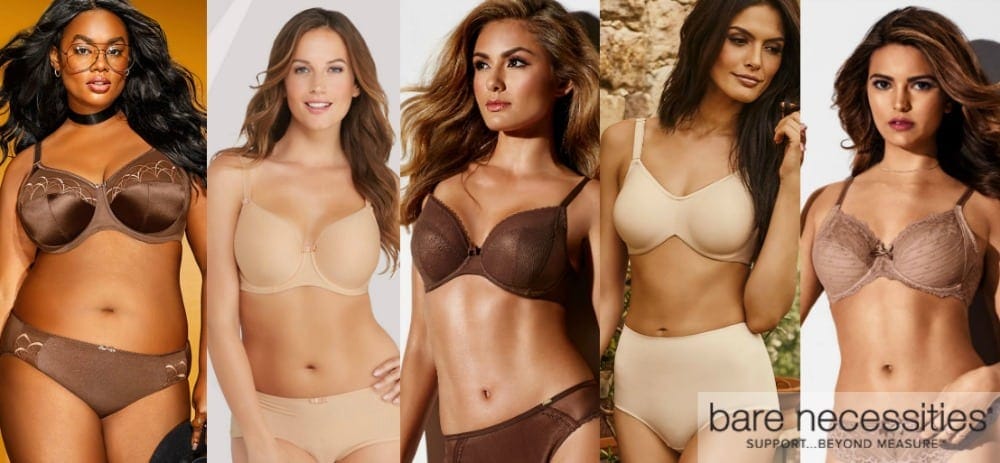 Bare Necessities is my go-to for underpinnings. They have the best selection of brands and sizes, and often have sales so you can get high end for low prices. They also have a great swimswear selection. 60 days for returns, reasonable shipping prices (free over $70), onsite support chat function, and virtual bra fitters just a phone call away… Bare Necessities rocks. They also rock for a variety of colors. When I searched bras by the color brown I found actual shades of brown, not beige or candle. I also found over 70 different options. It's harder to search by color for shapewear or panties, but they have dozens of pages and at first glance I saw some shades of tan and brown.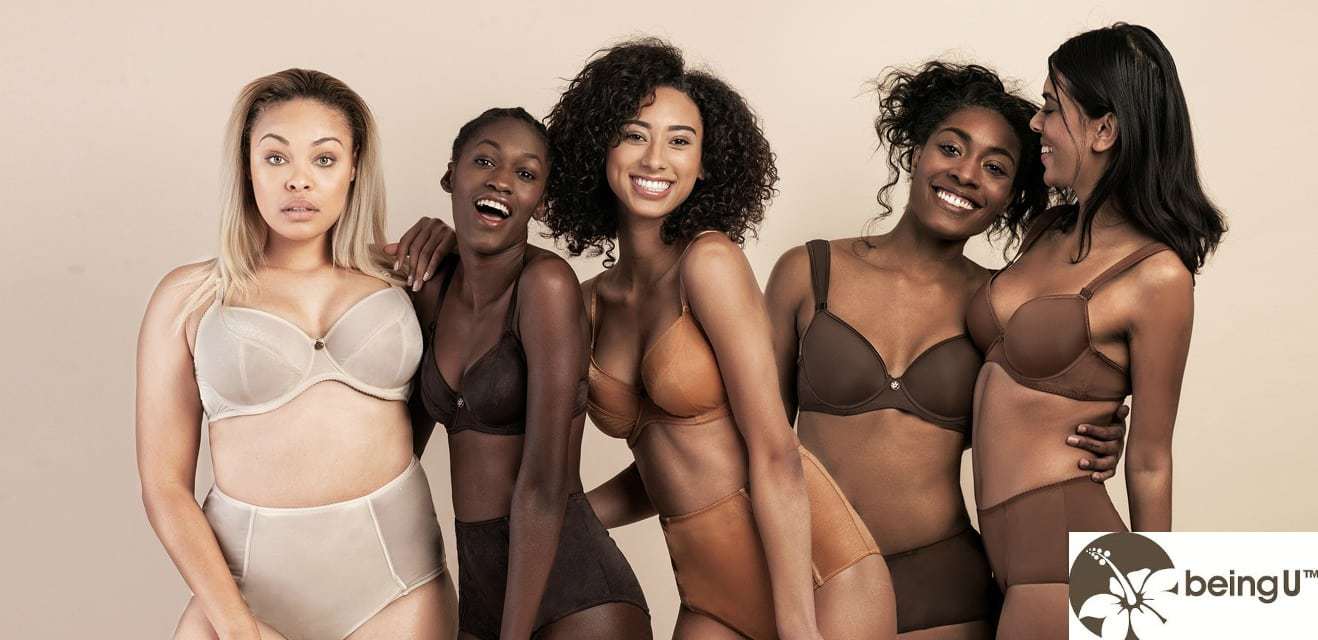 BeingU makes high-quality lingerie for women of all skin tones with a focus on black women and other women of color. The styles are designed to flatter their skin tone and body shape. At the time of writing this, BeingU offers three styles of bras, three styles of underwear, and even a stick-on strapless bra in five different colors. Underwear is available up to size 18, bras up to H cup and 40 band. BeingU offers free shipping in the US as well as the UK.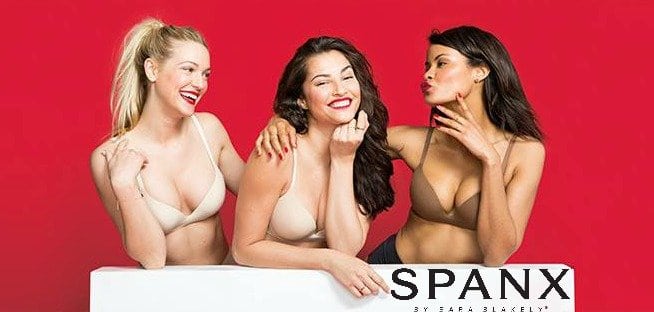 I get the SPANX catalog and was super psyched to see in the most recent issue that they're now carrying more colors, and one of those colors is Cocoa Blush. The expanded color selection is so new that at the time of writing this you can't search by Cocoa Blush. But scroll through their selections and click on any that say New Colors! I'd love to see SPANX expand this with a few more shades of brown and tan! While SPANX is available at a ton of retailers, the biggest selection is on their site, shipping is free, 30 days for returns, and you too will likely end up receiving their catalog!


Hanky Panky makes my absolute favorite underwear; they're well made, comfortable, and attractive. Oh, and they're also made in the USA! Hanky Panky has several styles of panties available in brown, as well as one of their bralettes and tanks. Shipping is free for orders over $75 and they have a satisfaction guarantee for returns. While Hanky Panky is available at many retailers (and I always stock up during Nordstrom sales), you will find the best selection of sizes and colors on their site.

Torrid has three highly-rated bras that come in brown and five styles of underwear. What makes Torrid great is their low prices, smart design, and extensive customer reviews. All this and bra sizes (in the brown options) up to 48DDD. Shipping in the US is reasonable, but all intimates sales are final.


Erin Carpenter was a professional dancer who was frustrated by the lack of dancer hosiery in her skintone. She once had the opportunity to perform at the Kennedy Center but was pulled out of class because the dress code was skin-toned tights and shoes and hers were several shades lighter, the best she could find. She learned that dancers were hand-dying their tights to match their skin and using makeup foundation to recolor their shoes. Carpenter decided to do something about this and created Nude Barre. Providing opaque and fishnet tights, seamless thongs and bralettes in 13 different colors, there's likely a color that will work with your skintone. Nude Barre also provides tights for children and can also send samples. Shipping is reasonable and free for orders over $75.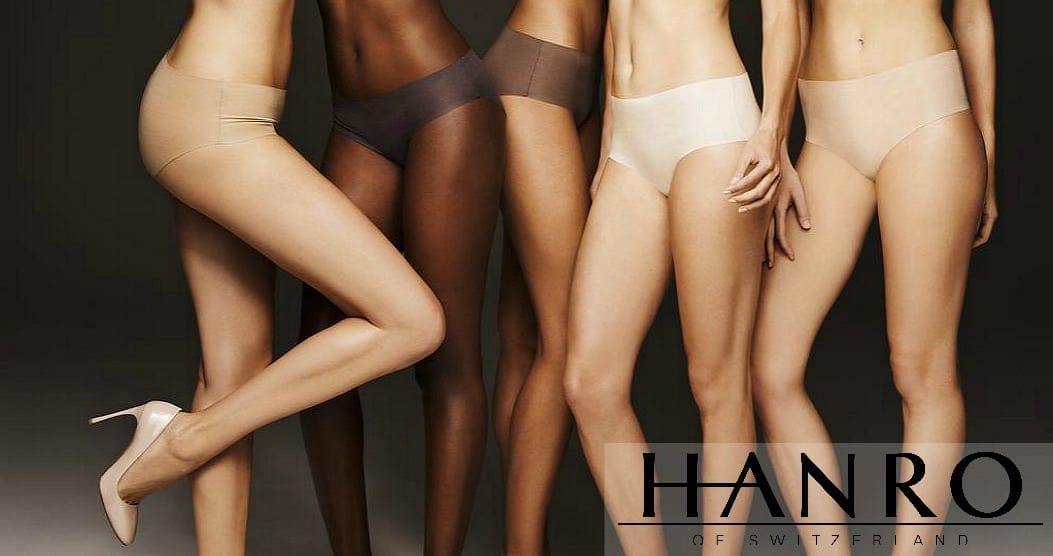 Can plain cotton underwear be decadent? It sure feels like it with Hanro. Free shipping and returns in the continental US, a small fee for those in Puerto Rico, Hawaii, and Alaska. Their Invisible Cotton collection offers four styles of underwear in six neutral colors (four being shades of brown or tan). Through their site, they offer many other pieces like camisoles, full slips, and bras in shades of brown and tan. And don't let my first sentence be misleading; while Hanro is known for their amazing cotton intimates, they carry amazing pieces in other fabrics too.


America Eagle Outfitters' lingerie brand Aerie may seem geared towards young adults, but their bra selection is pretty impressive and it goes up to 38DD. They also have customer reviews to help you make the right purchase. Their Real Me collection offers bras and bralettes in a variety of support levels and nine neutral colors. Aerie prides themselves on not Photoshopping their models, and it is inspiring to see a variety of shapes and shades of women on their site. The return policy is generous and items can be returned for free to any American Eagle Outfitters, Aerie, AEO Factory or Tailgate store in the United States.


LaShaune informed me on Facebook that Bali had stepped up their game and started carrying brown colors. I know Bali is part of HanesBrands and went to OneHanesPlace to see the selection. I was sad to see only 6 bras available in brown. Heading to Google, I ended up on the Target website where they have a category called Shades of Nude. Here you can shop by five different colors: Coffee Bean, Cocoa, Caramel, Honey Beige, and Mochaccino. Click on the color and see all the options available, which include sports bras, traditional bras, underwear, shapewear, hosiery, and other intimates. This isn't a Target specific brand; when you click on the color you will find products from national brands like Bali as well as Target brands like Ava & Viv. My local Target isn't as large and fancy as many out there and they do not have this section. If you have Shades of Nude in your local Target store let me know in the comments.
Shop Bras:

This post is dedicated to Tiffany who mentioned on Facebook that she was having a hard time finding bras, panties, and waist shapers that were in nude to her colors. If you have any suggestions past what I shared in this post, please share in the comments!