This article may contain affiliate links; if you click on a shopping link and make a purchase I may receive a commission. As an Amazon Associate, I earn from qualifying purchases.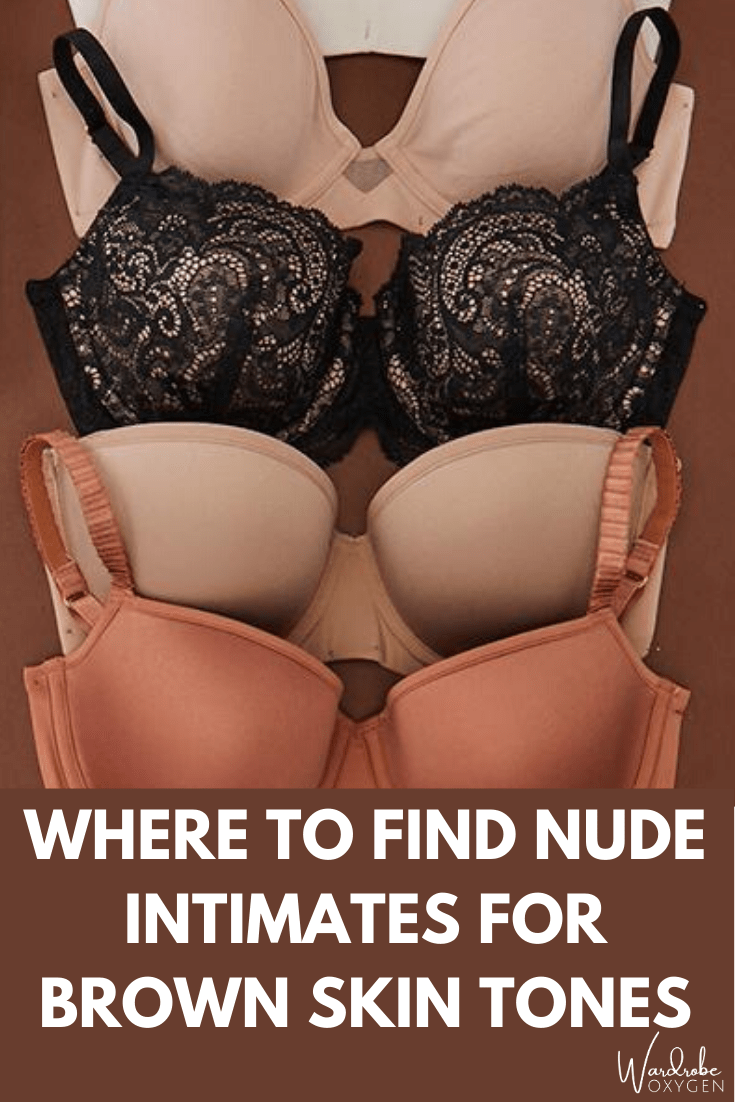 Hey lingerie brands, did you know not all people are beige? In fact, 2019 Census data shows that around 40% of Americans are non-white. This means your beige bras, panties, hosiery, and control garments you call "nude" are not skin-colored for almost half the population. What a missed opportunity. When you recognize people come in more than one color, you make money and you create customers for life. I originally wrote this post in 2017 and had twice as many retailers who offered bras and other intimates in non-beige skin tones. I found many major retailers had discontinued their skin tone collections, had reduced their color selections to just beige and brown, and many of the small businesses focused on offering bras and other intimates for brown skin tones had gone out of business. Other retailers that only offered beige in 2017 had improved their selection with more nude shades. I knew I had to update this post in 2020 with the brands that support women of color by offering bras, panties, hosiery, and other intimates in a variety of nude skin tones. Below is a list in alphabetical order of the online retailers I found that offer bras and other intimates in more than one shade for brown skin tones.
Where to Buy Bras and Other Intimates for Brown Skin Tones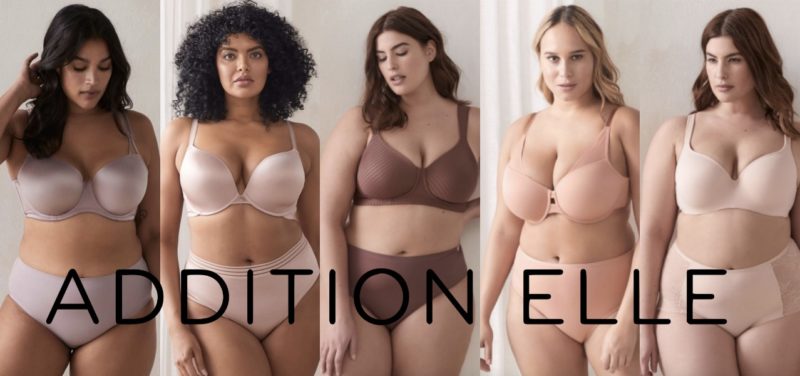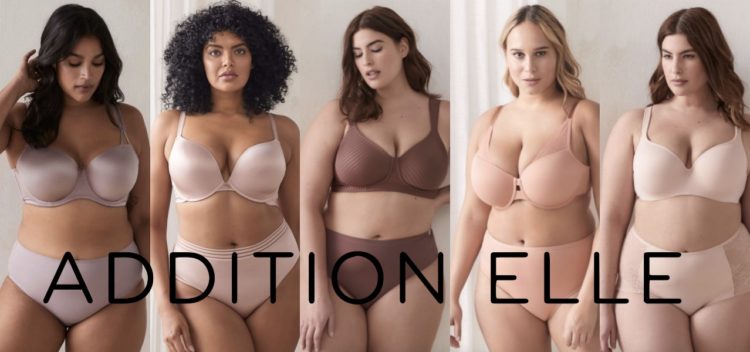 Addition Elle is a Canadian retailer that sells plus-sized fashion. They carry a range of brands as well as their own apparel and intimates. They have five different skin tone shades available in their selection of bras and beige and brown options in their underwear. Addition Elle also offers shapewear in brown. Addition Elle offers bras in cups B-H and bands 36-52. Their underwear and shapewear is available in sizes 0X-6X. Addition Elle offers free shipping and returns.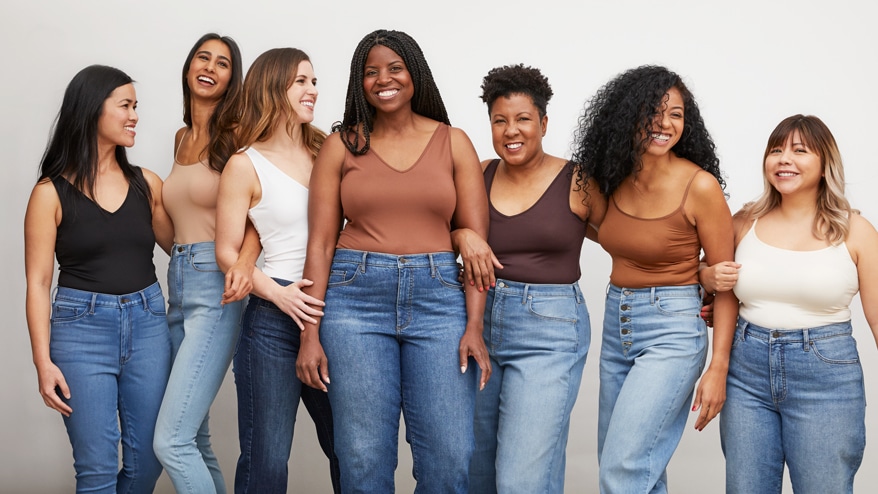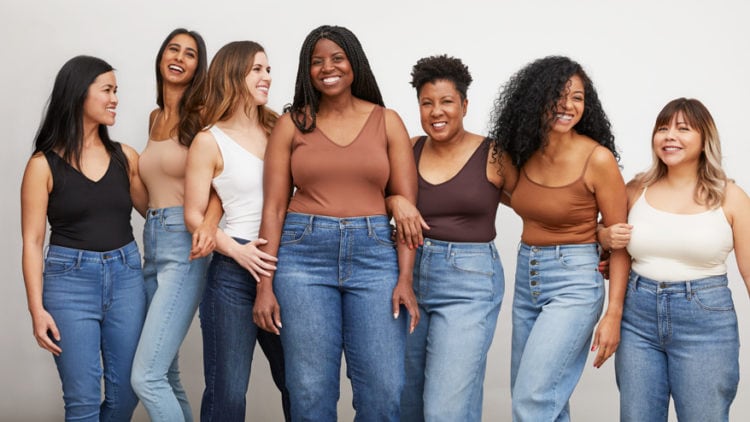 A retailer that wasn't featured for the original publishing, Banana Republic came out with a line called True Hues that offers camisoles, bodysuits, no-show socks, and even shoes in seven different shades for a variety of skin tones. Banana Republic also provides a line of bralettes and underwear from Cosabella available in black and five nude colors. Banana Republic Factory also has a True Hues line of camisoles, and the brand used its own employees as models for the campaign.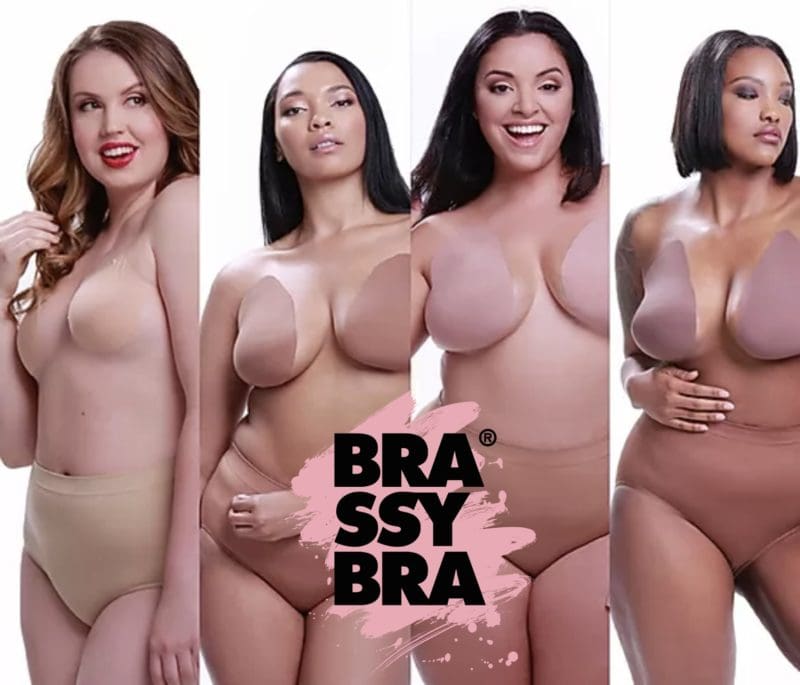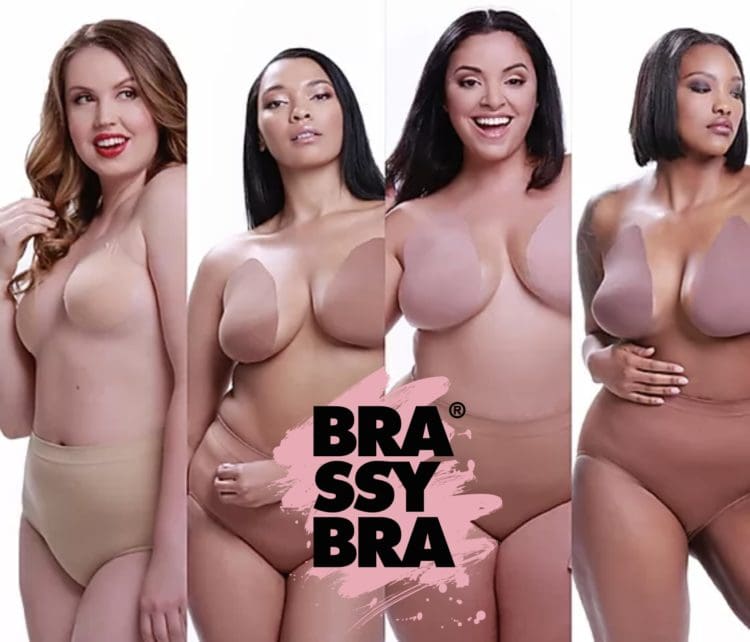 Struggling to find the right bra for her wedding dress, Kat Borve created Brassybra, a breathable adhesive bra/breast tape that stretches with your skin. It sticks to your skin so that it's possible to swim with it and it comes in the sizes A-DDDD, four skin tones and black. One pack has three Brassybras in it as these are disposable, one-time use items. Shipping is free on orders of $45+ and returns on unused product are free. Brassybra is also available at Addition Elle.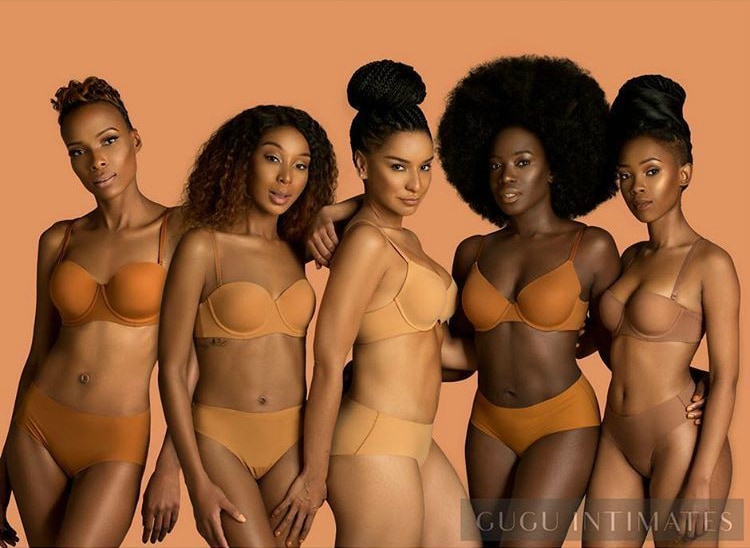 Gugu Nkabinde created Gugu Intimates to start a pro-brown skin movement. She felt it could confidence to women like her who had not felt represented in the intimates world. Gugu Intimates offers five shades, and each shade offers a strapless bra, a t-shirt bra, a brief, and a thong. Gugu Intimates is a South African company, they do international deliveries, but are also available at some US boutiques such as The Narativ in Brooklyn.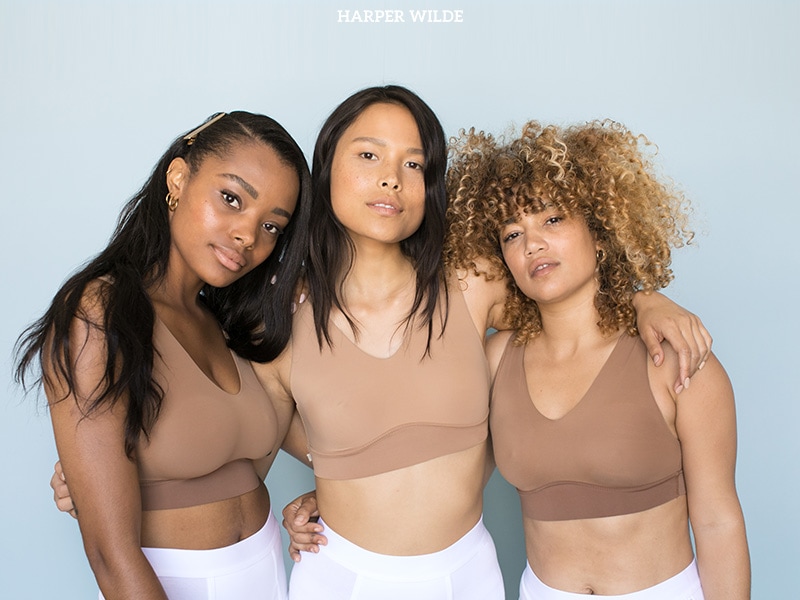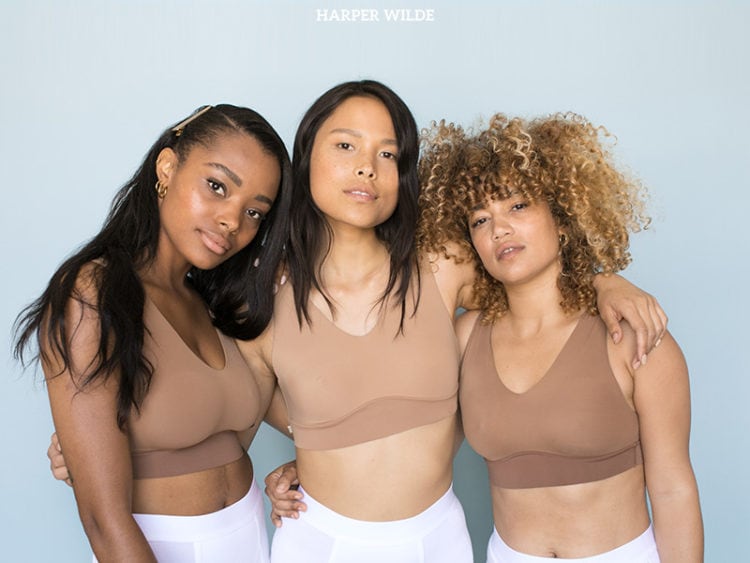 Inspired by Harper Lee and Laura Ingalls Wilder, Harper Wilde is an intimates brand that believes women have a right to high quality, fairly-priced products. They donate 1% of their proceeds to Girls, Inc. and have also donated to ARC-Southeast and She Should Run and have a bra recycling program. All this and Harper Wilde's bras are available in three skin tones as well as black and no bra is over $45.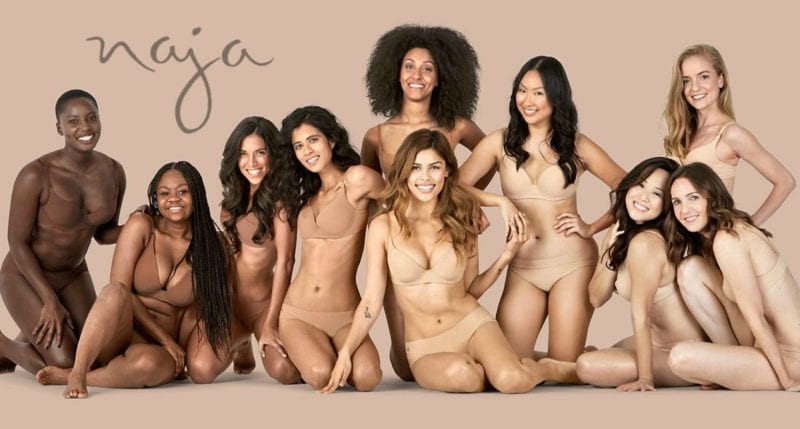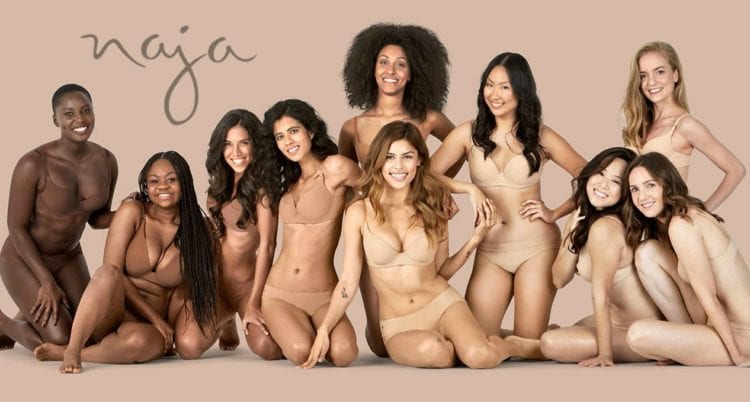 Naja products are made by single mothers or women heads of households. Naja pays above-market wages, provides health benefits, and child education stipends. With each bra customers receive a lingerie wash bag hand-made in the homes of women in extreme poverty. All that awesomeness and they have seven different nude colors and plenty of sexy, silly, practical, and fabulous underwear, bras, activewear and even swimwear. Sign up for their emails to get a 10% off coupon. While returns are a bit tough (15 days and they don't pay postage), they have free shipping for orders over $75 and ship internationally.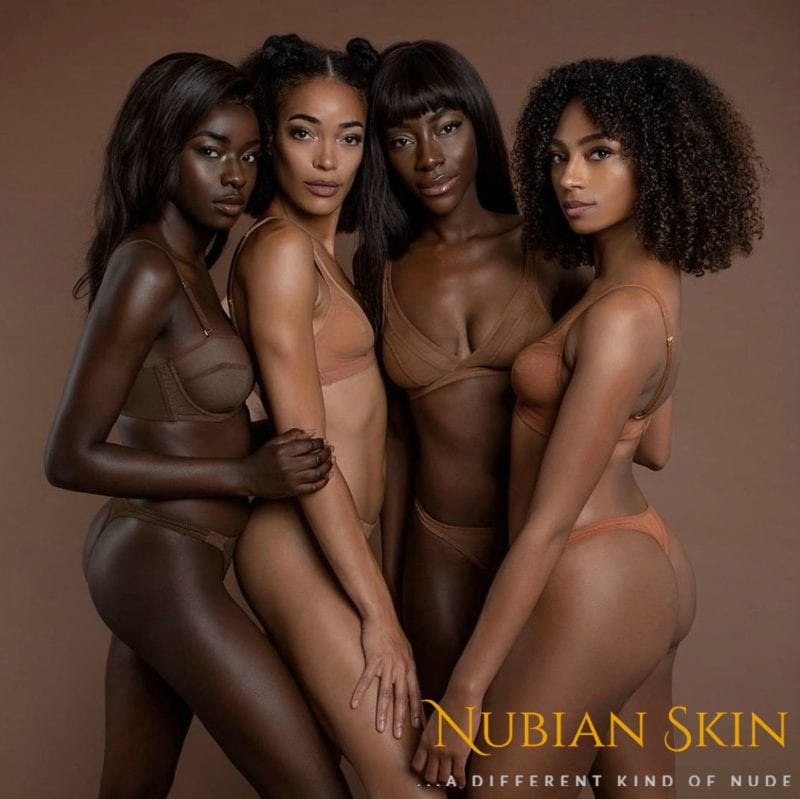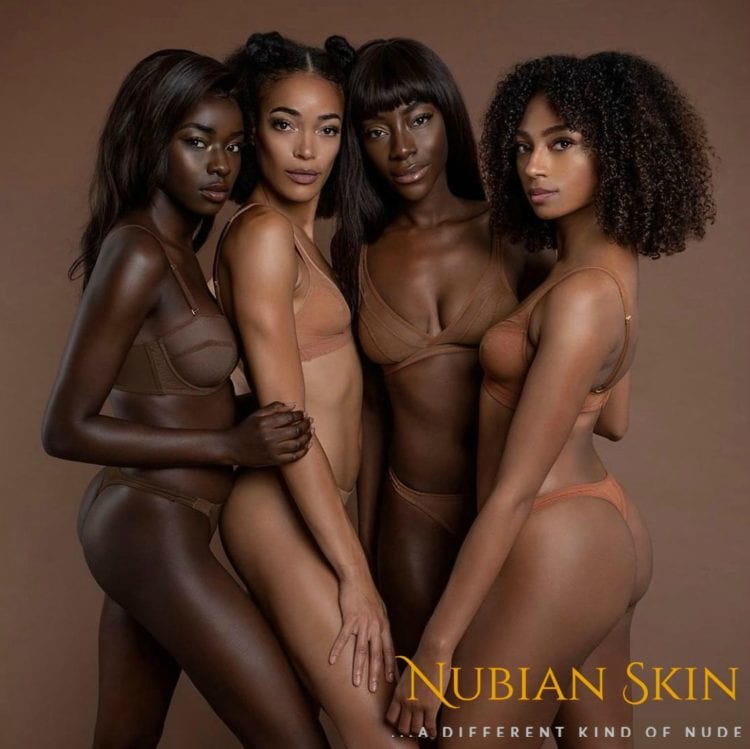 With the tagline, "…a different kind of nude," Nubian Skin offers not just lingerie, but hosiery and shoes in a variety of nude-to-you shades. Four different shades of brown and black are offered in most of their bras, underwear, bodysuits, and slips (slips and bodysuits go up to XXL). Their hosiery comes in standard as well as curve/plus sizes. If you've wanted a skin-colored pointed pump or classic ballet flat, Nubian Skin has it. While this is a UK company, they ship to the US and Canada, accept returns, and for payment accept major credit cards as well as PayPal.
Nubian Skin is also available at ASOS. While the selection is far more limited, this is a great way to try the brand with free shipping (over $50) and returns, and then if you love it you can order directly from their site so they make the full profit from your purchase.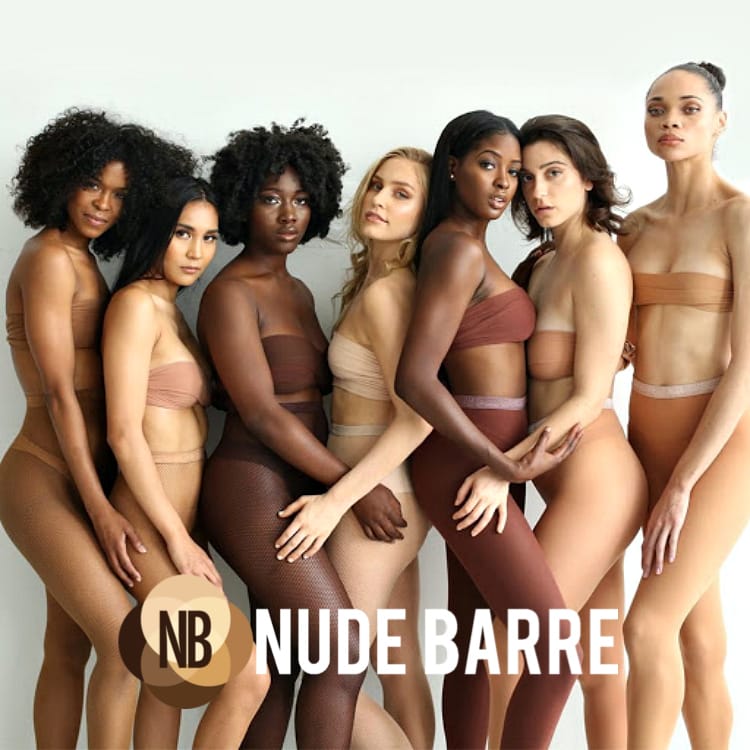 Erin Carpenter was a professional dancer who was frustrated by the lack of dancer hosiery in her skin tone. She once had the opportunity to perform at the Kennedy Center but was pulled out of class because the dress code was skin-toned tights and shoes and hers were several shades lighter, the best she could find. She learned that dancers were hand-dying their tights to match their skin and using makeup foundation to recolor their shoes. Carpenter decided to do something about this and created Nude Barre. Providing opaque and fishnet tights, seamless thongs and bralettes in 13 different colors, there's likely a color that will work with your skin tone. Nude Barre also provides tights for children and can also send samples. Shipping is reasonable and free for orders over $75.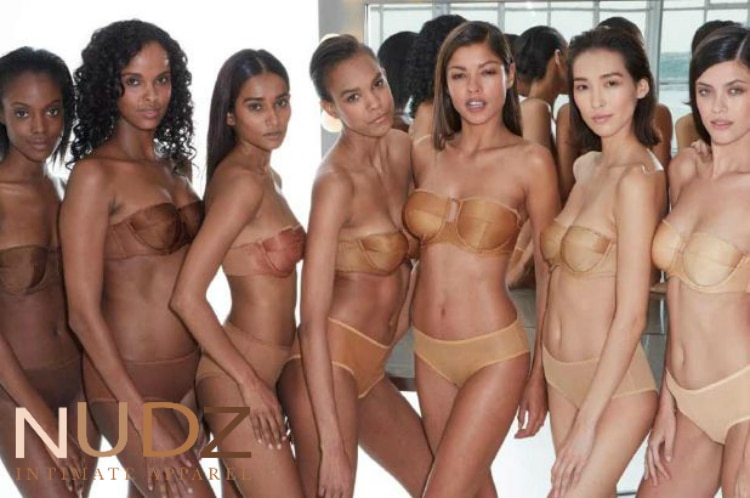 Ten different "nude" colors, how awesome is that? Each color is named after a celebrity with similar coloring – from Alek to Scarlett, which helps you choose which color may be best for your skintone. Nudz has a very simple collection – underwire strapless bra, hipster, bikini, and thong, but all in this extensive color variety. Free domestic shipping for orders over $75; Nudz also ships to a variety of countries including Canada, Mexico, Australia, and parts of Europe and South America.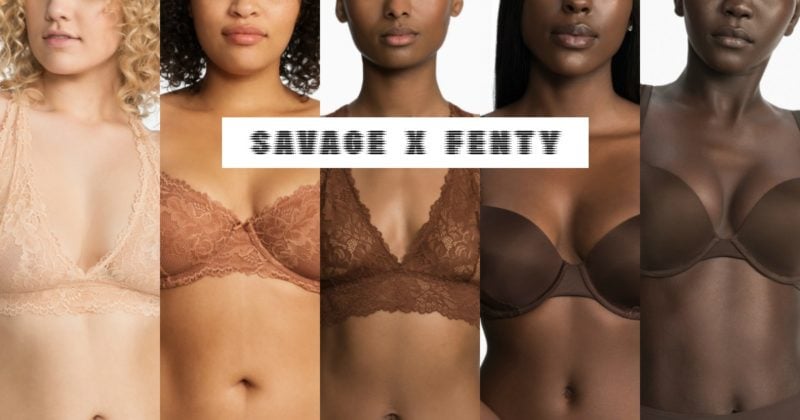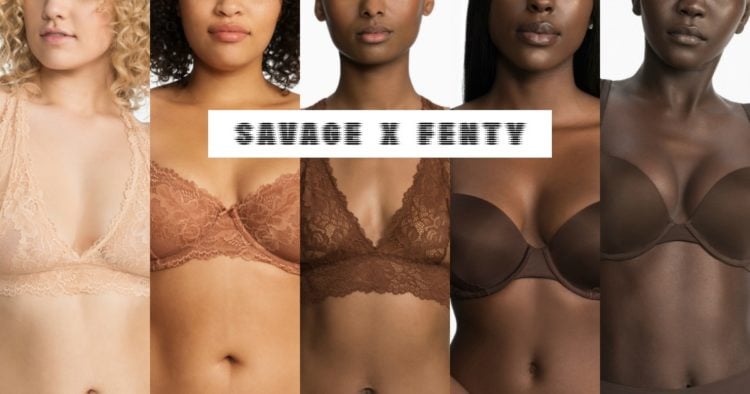 Rihanna changed the beauty game with her Fenty line of cosmetics that offered 50 inclusive shades of foundation. She then changed the intimates game with Savage X Fenty, a line of lingerie where nothing is over $100 but the style and size range is expansive (it goes up to size 44D with select styles up to a K). While having a great range of skin tone-colored bras available (for example their t-shirt bra comes in seven different skin tones), Savage x Fenty also offers beautiful and downright sexy lingerie for sizes usually excluded from such styles. Savage X Fenty is also available at Amazon.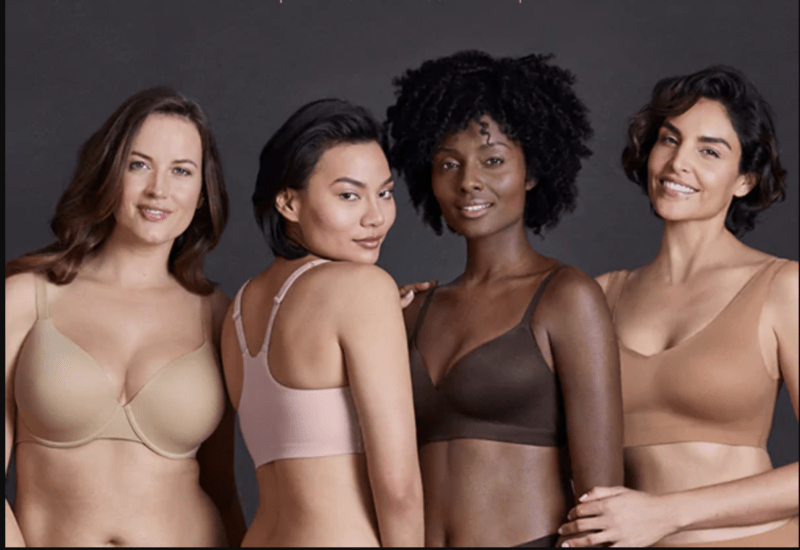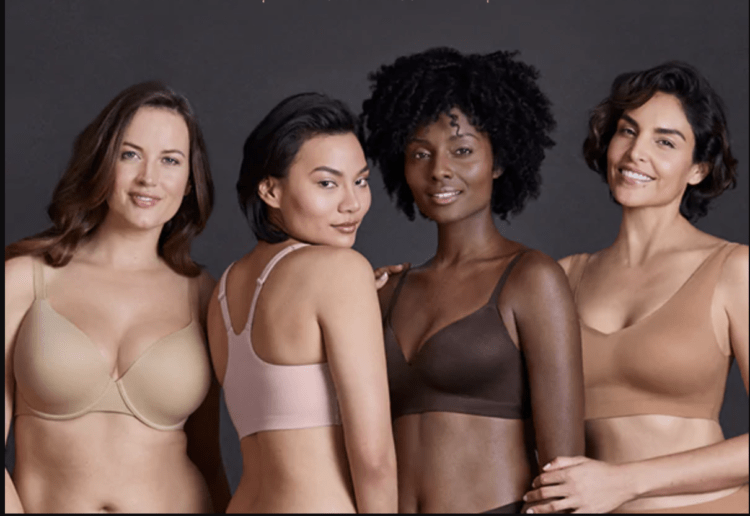 In the past years, Soma has increased their color range to offer eight different "nude" colors as well as basic white, black, and several beautiful dark and light colors and prints. I've raved about Soma intimates many times over the years and find their bras to be well designed, a great size range, comfortable, and often invisible under clothing. From bands 32-46 and cup sizes A-I, Soma is a great destination for women of many sizes.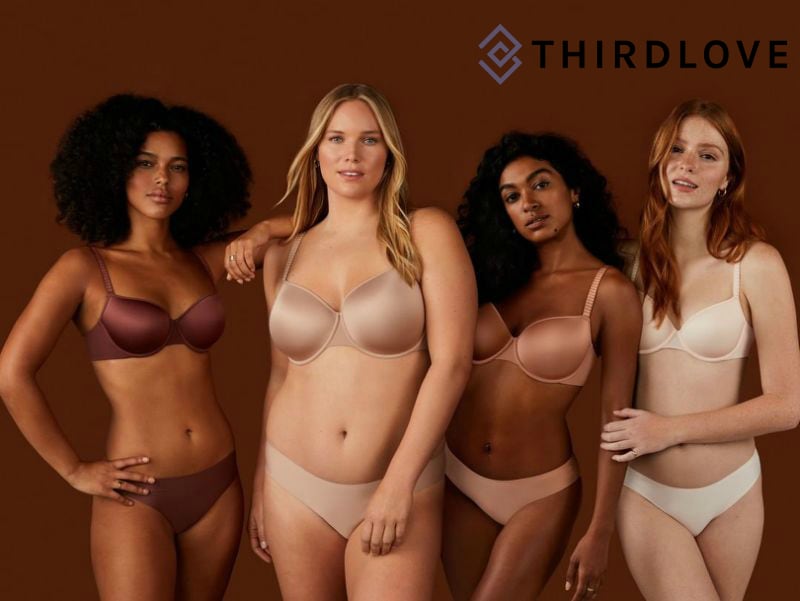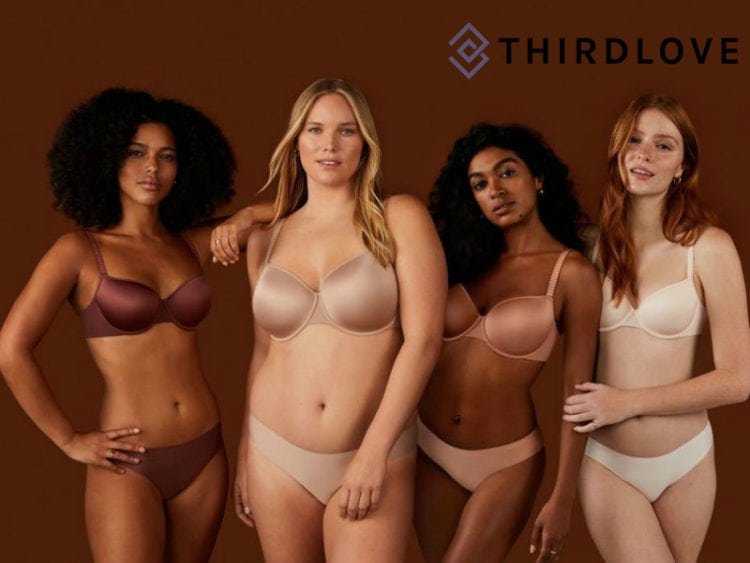 ThirdLove is a mail order bra and underwear company that prides itself on a great fit. They design their bras with real women's measurements and offer almost 60 sizes, including half-cup sizes. Wear the bra, even wash it to decide if you want to keep or return it. All that, and they have a great selection of colors – we're talking five "naked" colors plus black and several gorgeous shades.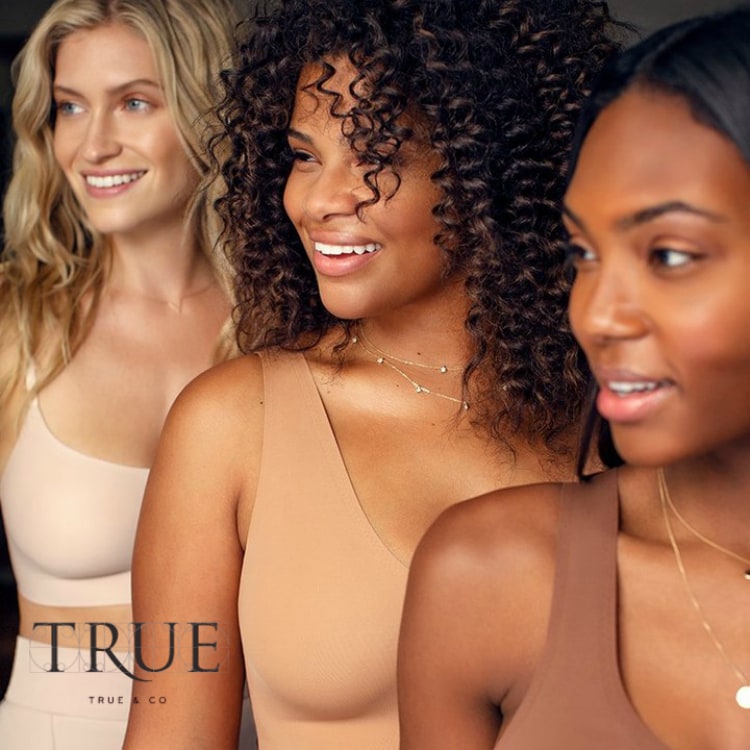 True&Co creates intimates for comfort in bra band sizes 32-38 and cup A-DDD, and other items in sizes XS-XL. From bralettes and wire-free lounge styles to lacy balconettes and strapless bras, True&Co not only offers them, they have them available in several different skin tone shades as well as other colors. They offer their selection of bestsellers in a Try Before You Buy program where you only pay $4.95 shipping, if you like it you keep it, if not returns are free.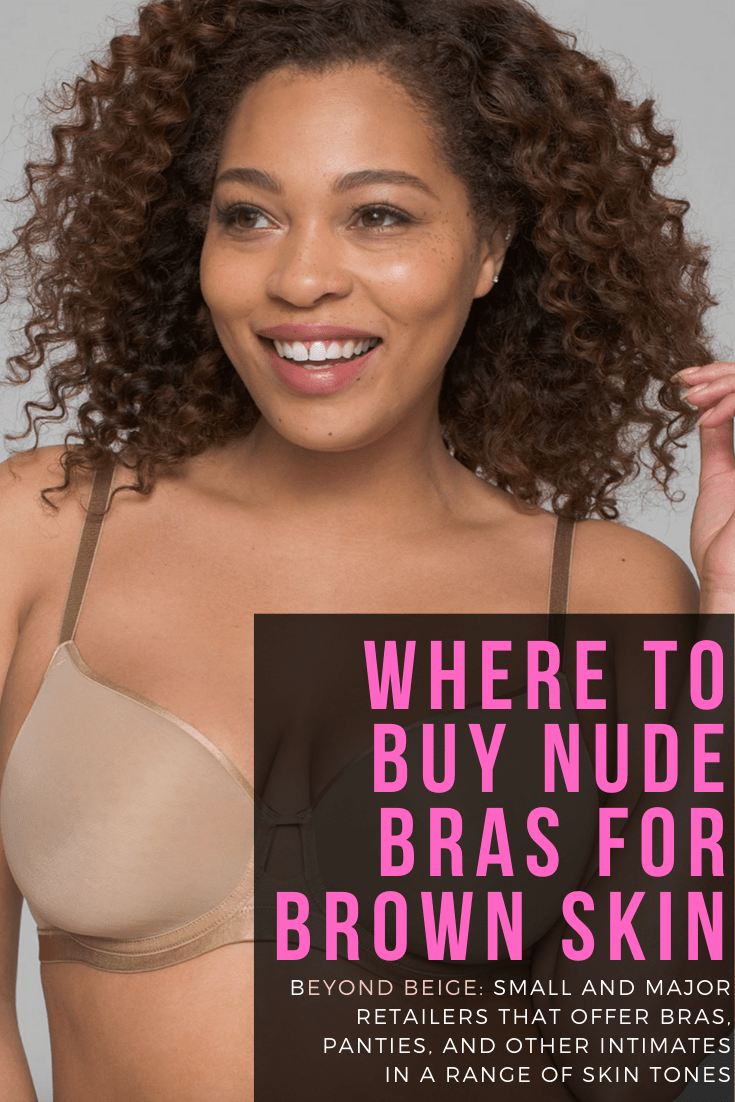 This post is dedicated to Tiffany who mentioned on Facebook that she was having a hard time finding bras, panties, and waist shapers that were in nude to her colors. If you have any suggestions past what I shared in this post, please share in the comments!