This article may contain affiliate links; if you click on a shopping link and make a purchase I may receive a commission. As an Amazon Associate, I earn from qualifying purchases. 
I am such a blog slacker! Sorry, work has been pretty busy and next thing I know I am on the Metro and I never uploaded my daily pictures! Well here's a recap since Friday…
Friday's Look: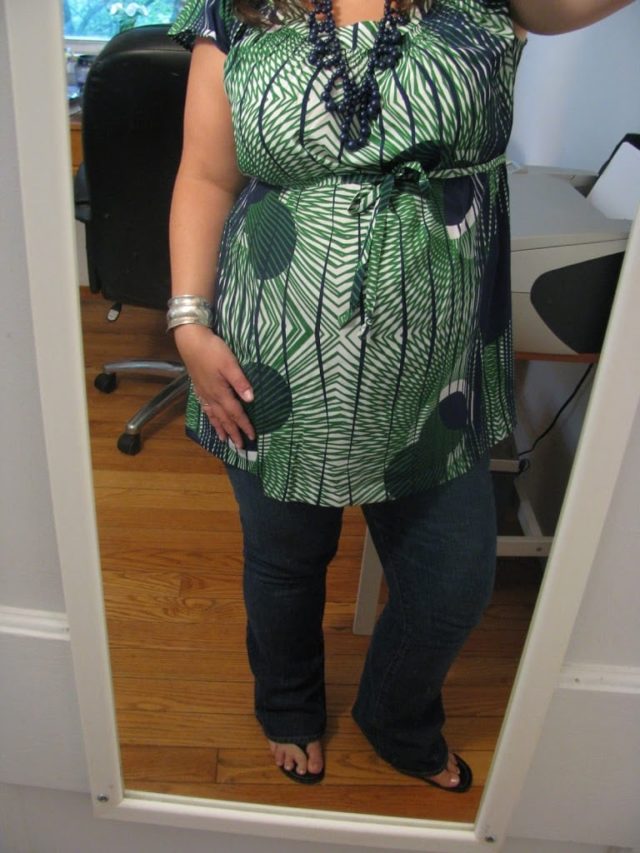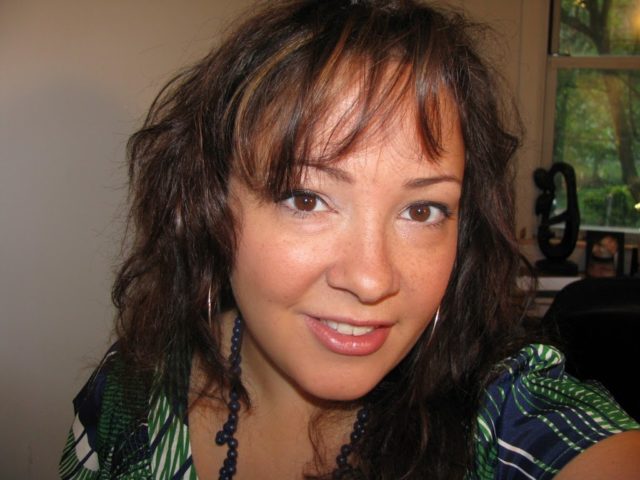 Attire:
Liz Lange for Target: Green and navy print top
Old Navy: "The Flirt" bootcut jeans
J. Crew: Navy bead necklace
Isabel & Oliver: Black Bella Band
Callisto: Beige leather heeled sandals
Hair:
Day 3, just brushed out
Beauty:
Cover Girl: Smoothers tinted moisturizer in Light/Medium, LashBlast waterproof mascara in Very Black
Nars: Blush in Orgasm
Revlon: Super Lustrous lip gloss in Pink Afterglow
Maybelline: Shadow quad in Mocha Motion – the gray light on lid, brow powder in Dark Brown, UltraLiner in Black
Saturday:
I hardly remember Saturday. We ran a ton of errands, did some home improvements, and treated ourselves to an early dinner at Hard Times Cafe (where they have pretty darn good veggie burgers and chili!). I wore my olive linen shift from Old Navy (which has another week or two before it is too small), brown stacked flops from J. Crew and my silver hoops and cuff.
Sunday:
Sunday my husband taught yoga, we then hit the town's Farmers Market and then we went to visit my husband's grandparents. We hadn't seen them since Easter and though they knew we were pregnant, we wanted to spend time with them in person. It was a lovely time and good to see them again.
For the visit, wore my bright purple woven knit top from Kenar with my black Ann Taylor trousers held up with safety pins (too hot to wear the Bella Band), black sandals, silver necklace from The Limited. Essentially the same look as this previous Wednesday.
Monday's Look: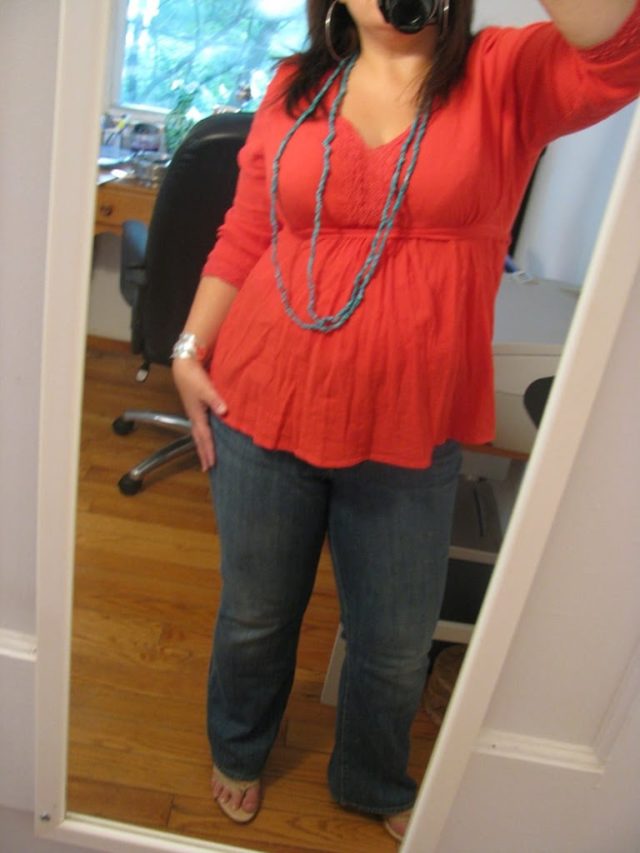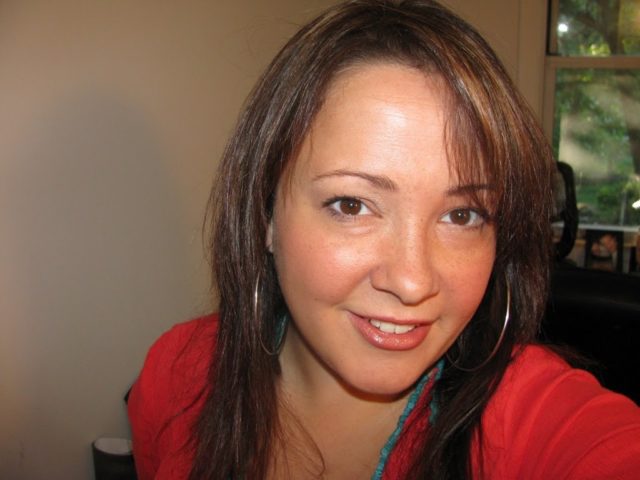 Attire:
Ashley B: Coral gauze babydoll top (have had it for 2-3 years, from Nordstrom)
Gap Maternity: Lowrise Jeans
Callisto: Beige heeled sandals
H&M: Turquoise necklaces
Silver hoops and cuff
Hair:
Second day, straightened with Croc wet-to-dry flat iron
Beauty:
L'Oreal: True Match foundation in C3 as concealer
Nars: Blush in Orgasm
Benefit: That Gal, Pink to Please the Woman, Gold to Get the Guy palette – the shadows blended over lid, the two darker glosses blended on the lips
Imju Fiberwig
Maybelline: Brow powder in Dark Brown
Monday was pretty cool because I had lunch with an old friend. This woman and I went to kindergarten through 8th grade together, grew up just a couple of blocks from one another, were even in an after-school playgroup together (one of those fabulous setups where one mom would watch all of us after kindergarten so the other moms could run errands or have a lovely kid-free afternoon). We went to different high schools and lost touch, but she found me on Facebook. It was so cool to see her again, hear show she and her family has been doing and to renew our friendship!
Tuesday's Look: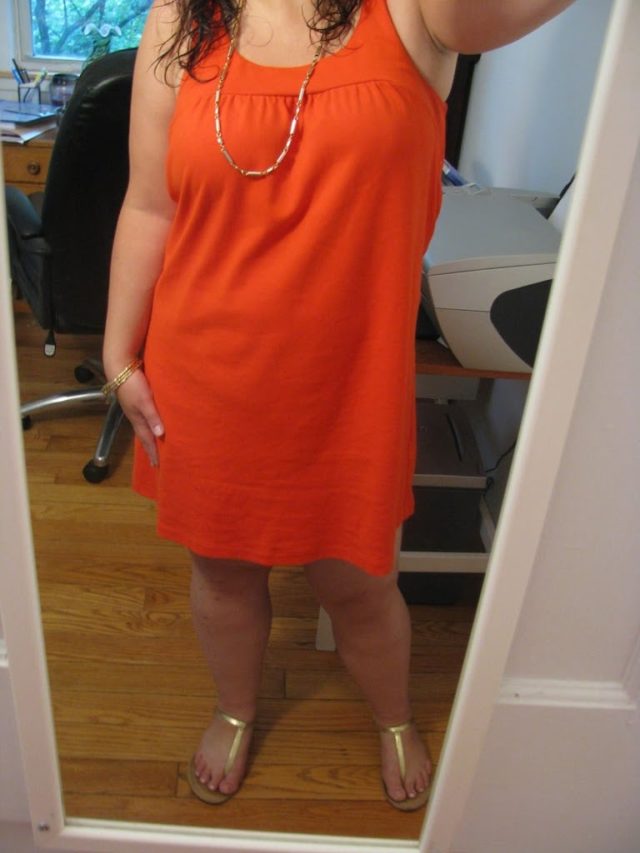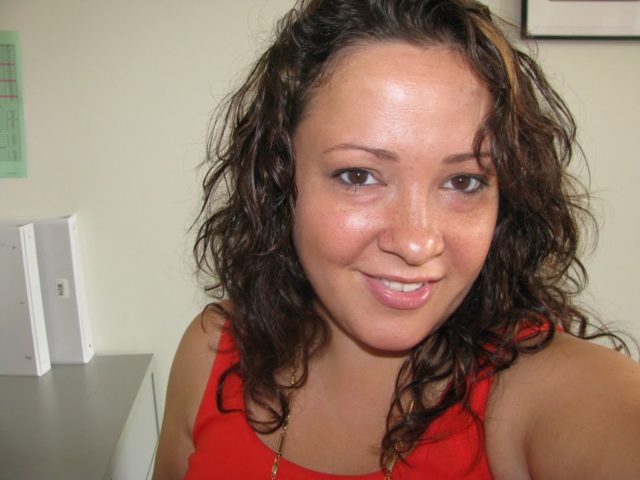 Attire:
J. Crew: Orange "Kate" dress, gold necklace
Lands End: Gold sandals
Ann Taylor: Gold hoops and twig bangles
Hair:
Washed and conditioned with Pureology
Matrix Curl.Life Conditioning Milk
Let air dry (picture taken as soon as I arrived in my office since it was wet when I left my house – that explains the sweat/glistening look!)
Beauty:
L'Oreal: True Match foundation in C3 is concealer
Cargo: Matte BeachBlush in Tenerife
Body Shop: Eye Color in Golden Khaki on lid, Taupe in crease; Clear Brow & Lash Gel
Imju Fiberwig
Avon: Luxury Eye Liner in Black
Victoria's Secret: Lip gloss in French Kiss
Maybelline: Brow powder in Dark Brown