This article may contain affiliate links; if you click on a shopping link and make a purchase I may receive a commission. As an Amazon Associate, I earn from qualifying purchases.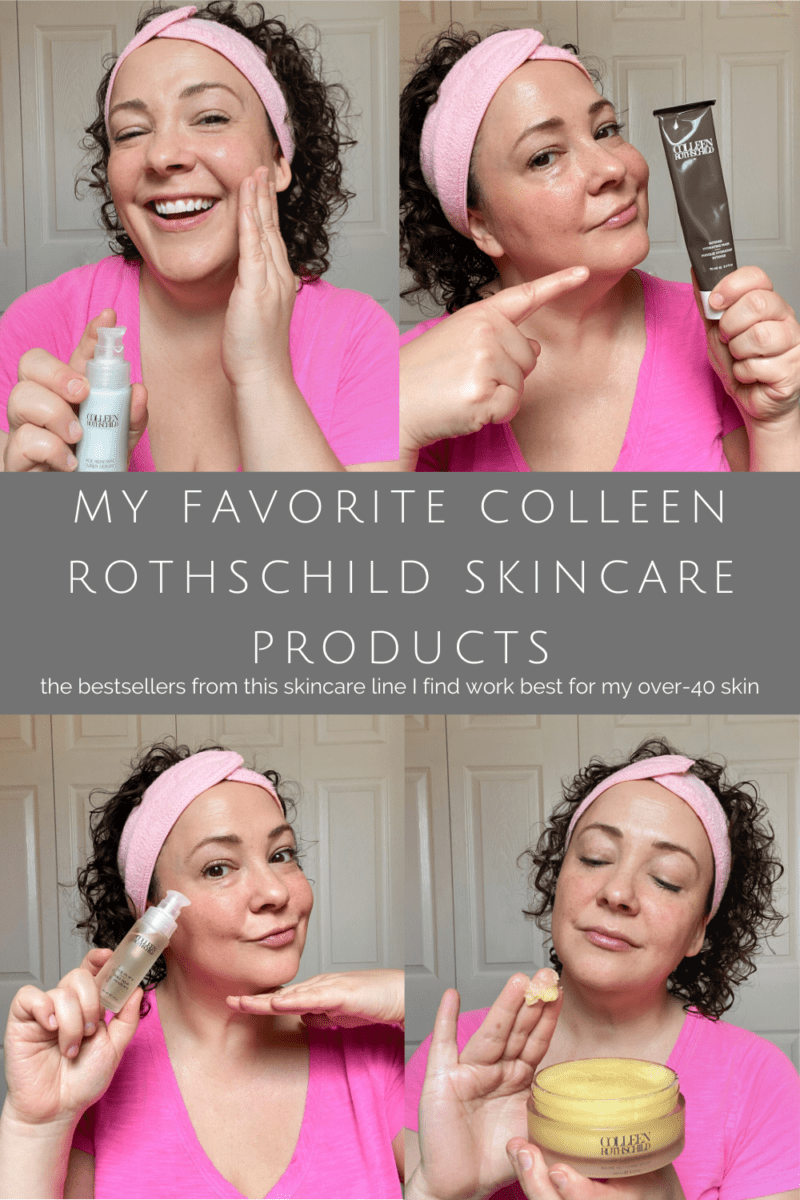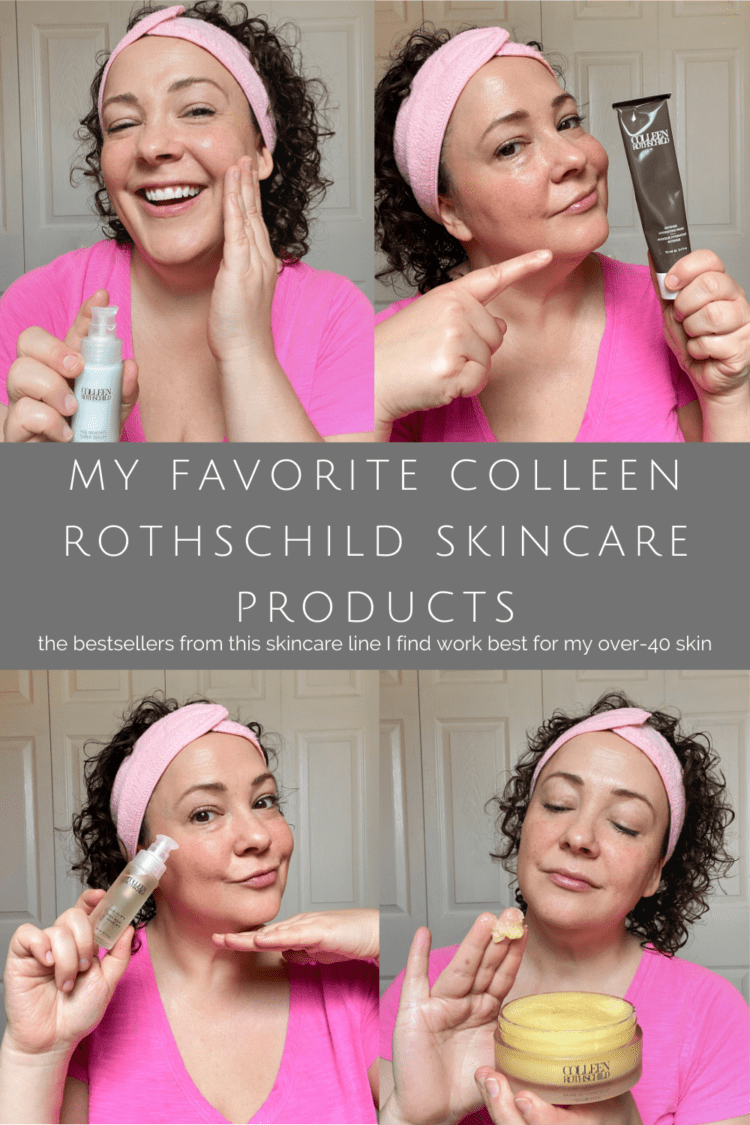 If you've been reading Wardrobe Oxygen for any length of time, you know that I am a big fan of Colleen Rothschild skincare. I can't recall how I learned about the brand, but once I tried it I became obsessed. Many products from Colleen Rothschild seem custom made for my skin as they have made such a radical difference in how my skin looks and feels. I'm excited to share that through August 23rd, Colleen Rothschild is having a major sale of their bestsellers with 25% off. Colleen Rothschild invited me to share this sale with you, but gave me full liberty to write what I want, share what I want, and be completely honest with my reviews. You can click here to read all my previous Colleen Rothschild skincare reviews.
This post is sponsored by Colleen Rothschild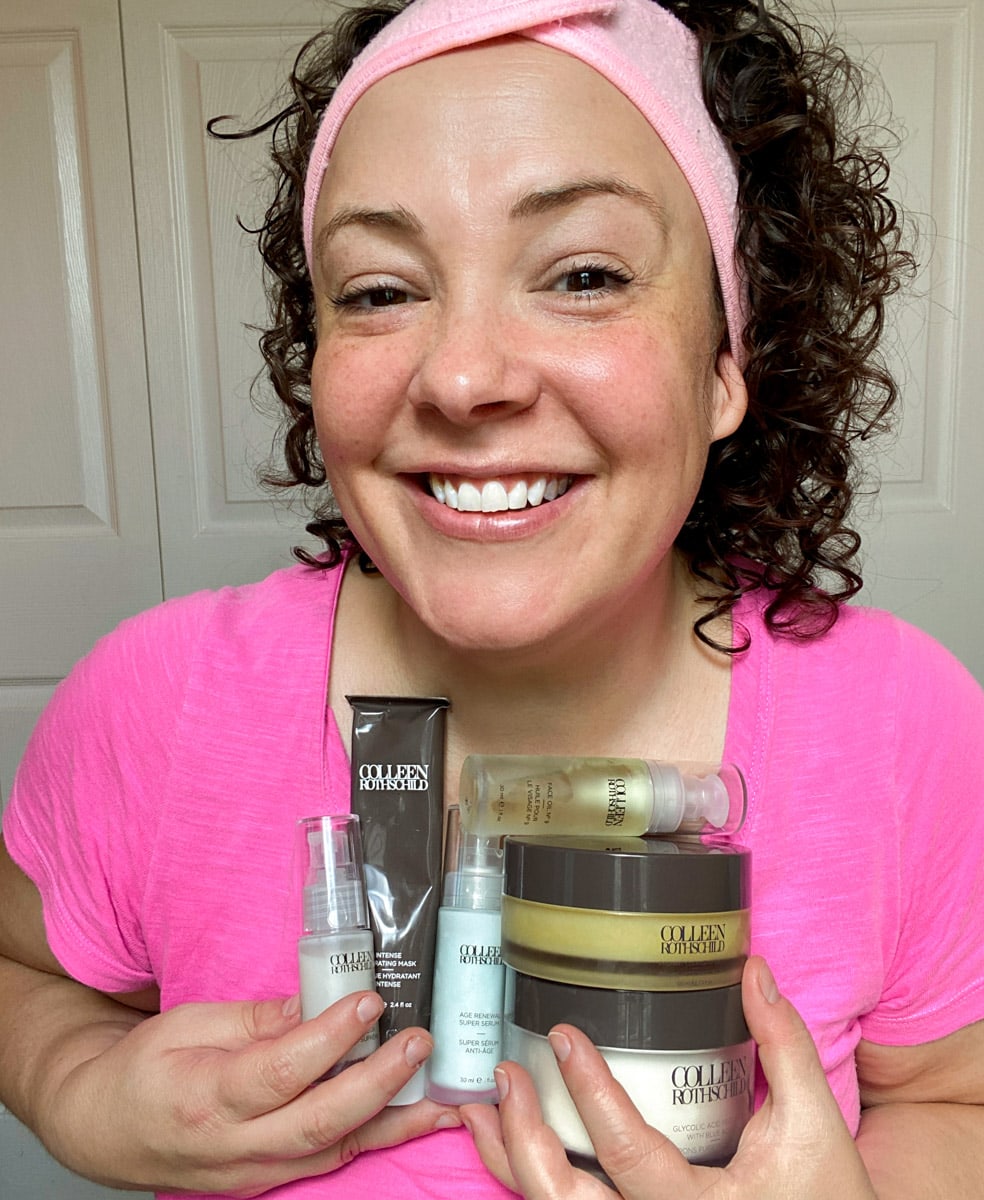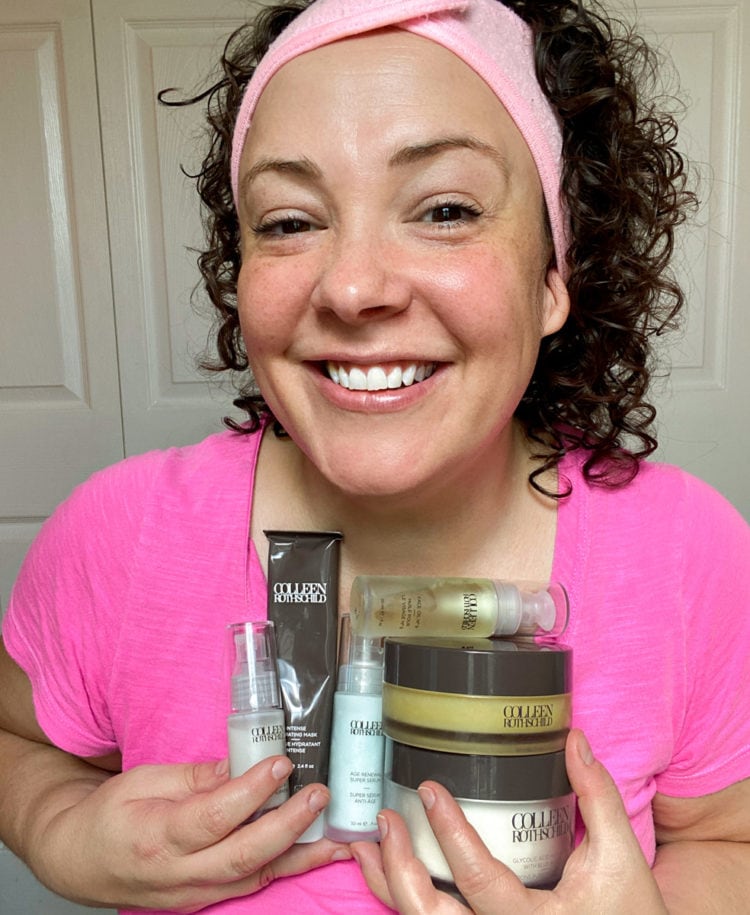 Colleen Rothschild Bestsellers Sale
With promo code BEST25 you can get 25% off Colleen Rothschild's bestselling products now through August 23. The items included in this sale are the Radiant Cleansing Balm, Sheer Renewal Cream, Face Oil N°9, Intense Hydrating Mask, Glycolic Acid Peel Pads with Blue Agave, Retinol Supreme Eye Serum, Age Renewal Super Serum, Matcha Tea Treatment Toner, Mandelic Acid Radiance Serum, and Complete Eye Cream. I have used every single one of these products except the mandelic acid one. Every single one of these products are ones I have liked the results of so much I have continued to use and many I have repurchased multiple times.
My Favorite Colleen Rothschild Skincare Products in the Sale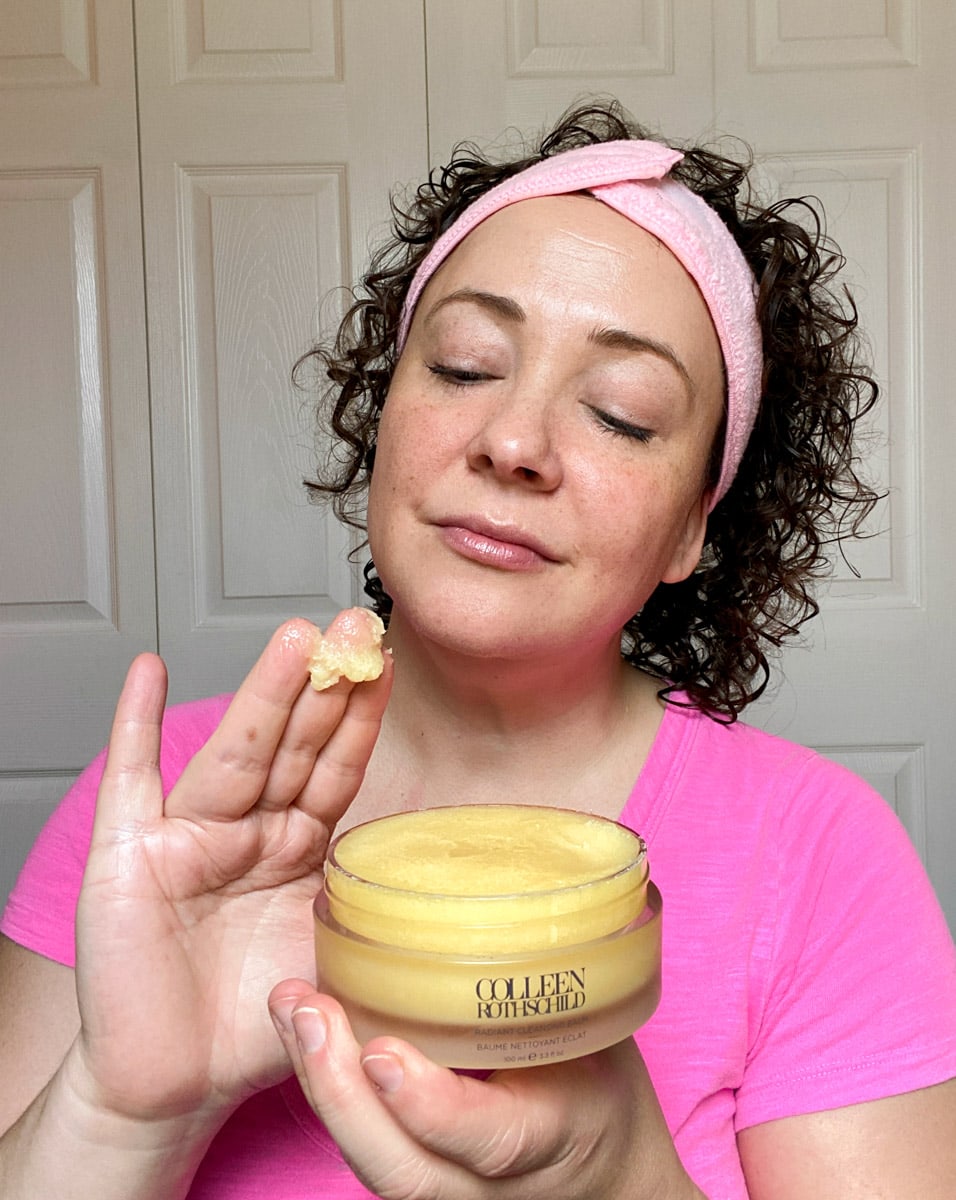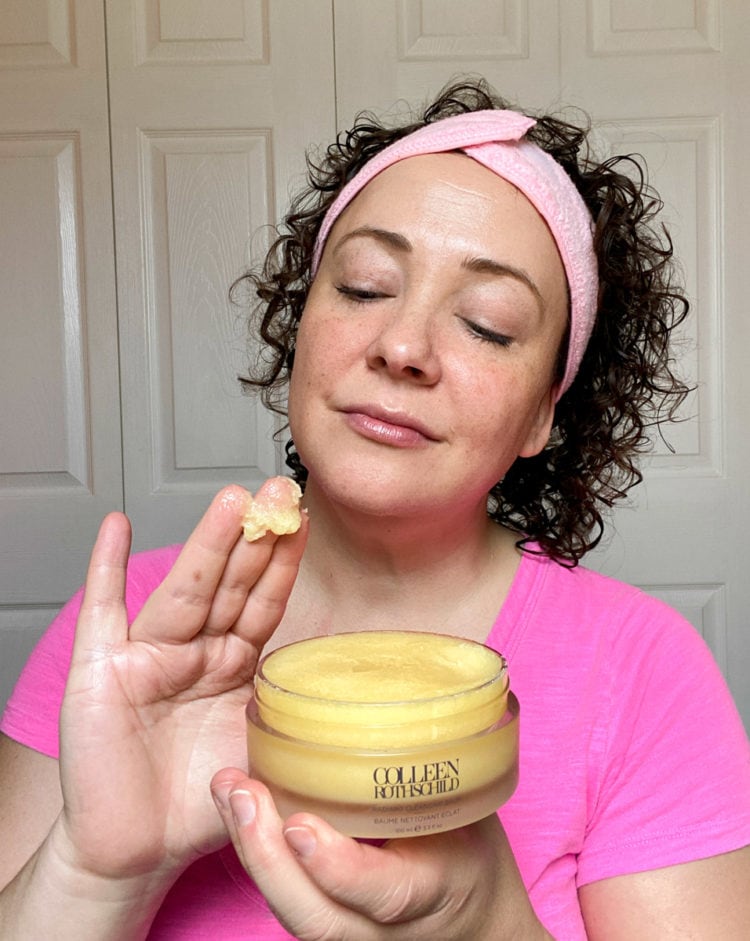 I am the biggest fan of the Colleen Rothschild Radiant Cleansing Balm. This is an oil-based cleanser but in solid form. The consistency feels similar to coconut oil in solid form. Oil-based cleanser… that sounds like a weird concept but it is a very gentle cleanser that breaks up and dislodges makeup, dirt, and even oil without stripping the skin. Yes, you can have oily skin and benefit from an oil-based cleanser; in fact, you may find it helps balance your skin! A little goes a long way; I take a dollop and warm it between my fingers and then apply it to my dry face. I gently massage it in, focusing on places like my lashes and under the eyes where there is more makeup. You'll see it begin to dissolve makeup. Then using the included muslin cloth or a washcloth wet it in warm water and then press to your skin to remove the cleanser. It's shocking to look at the muslin cloth afterward and see how much this cleanser can remove while leaving your skin feeling soft and hydrated! I've been using this facial cleanser for years. With this job, I receive opportunities to try new skincare products all the time, but I always come back to Colleen Rothschild Radiant Cleansing Balm. It has been a true gamechanger when it comes to my skin.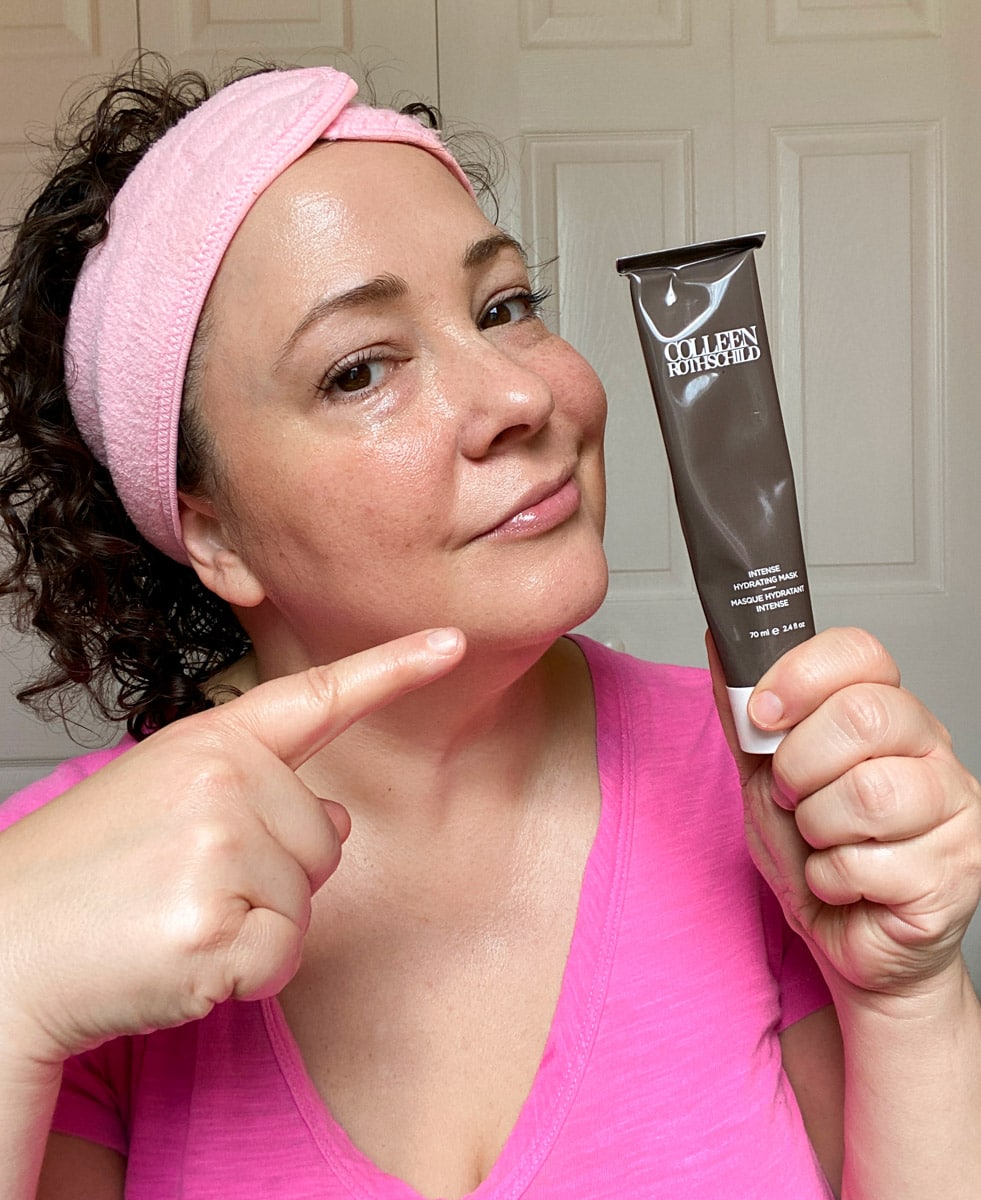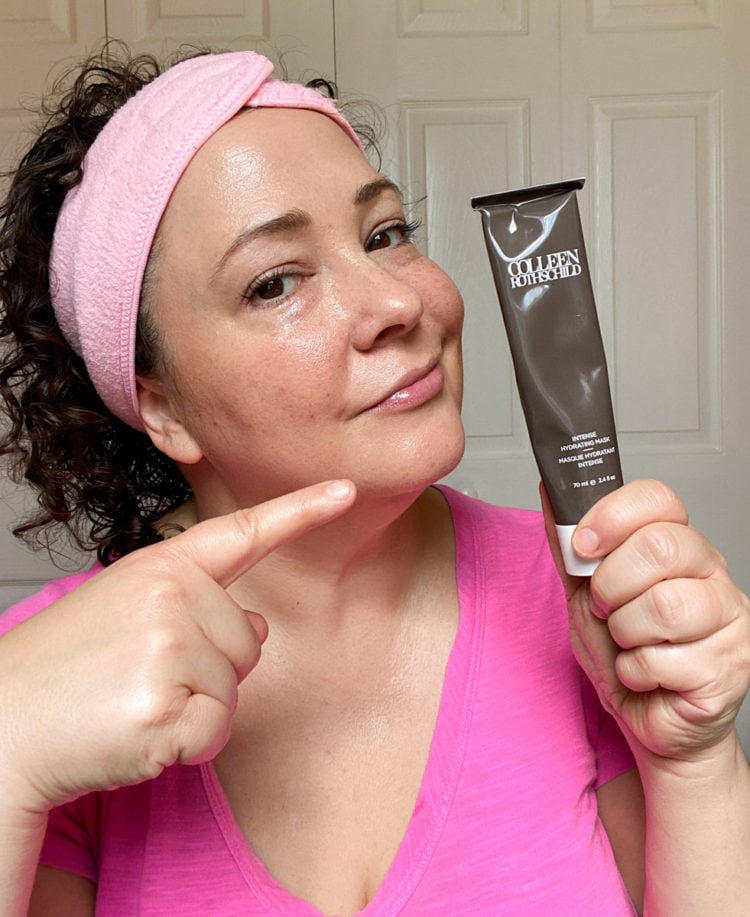 One of my more recent obsessions from this skincare brand the Colleen Rothschild Intense Hydrating Mask. This stuff is amazing! I bought it after I saw a fellow influencer say it was her go-to for plane travel. Planning for a cross-country flight where I had to go straight from the airport to an event, I boarded the plane with a bare face, applied this mask along with plenty of lip balm, eye cream, and hand cream and donned my eye mask and noise-canceling headphones to get in a power nap before we landed. When I arrived at LAX I went into the bathroom and was floored by my reflection. Usually, after a flight, I look gray and worn out, but this time I looked dewy and well-rested! This is a mask you do not need to rinse off (though you can if you wish). It's a creamy consistency and a little goes a long way. I often put it on before bed as a deep hydration treatment while I sleep, I wear it for flights and train trips, and the times when I do a face mask or a scrub, I will after pamper my skin by slathering this on. I never get breakouts from it, and I love that I don't need to worry about rinsing it off afterward. I know many who say the Colleen Rothschild Intense Hydrating Mask is amazing for sunburn, rashes, and other skin irritations. I haven't tried it but can imagine it feels great on sunburned skin!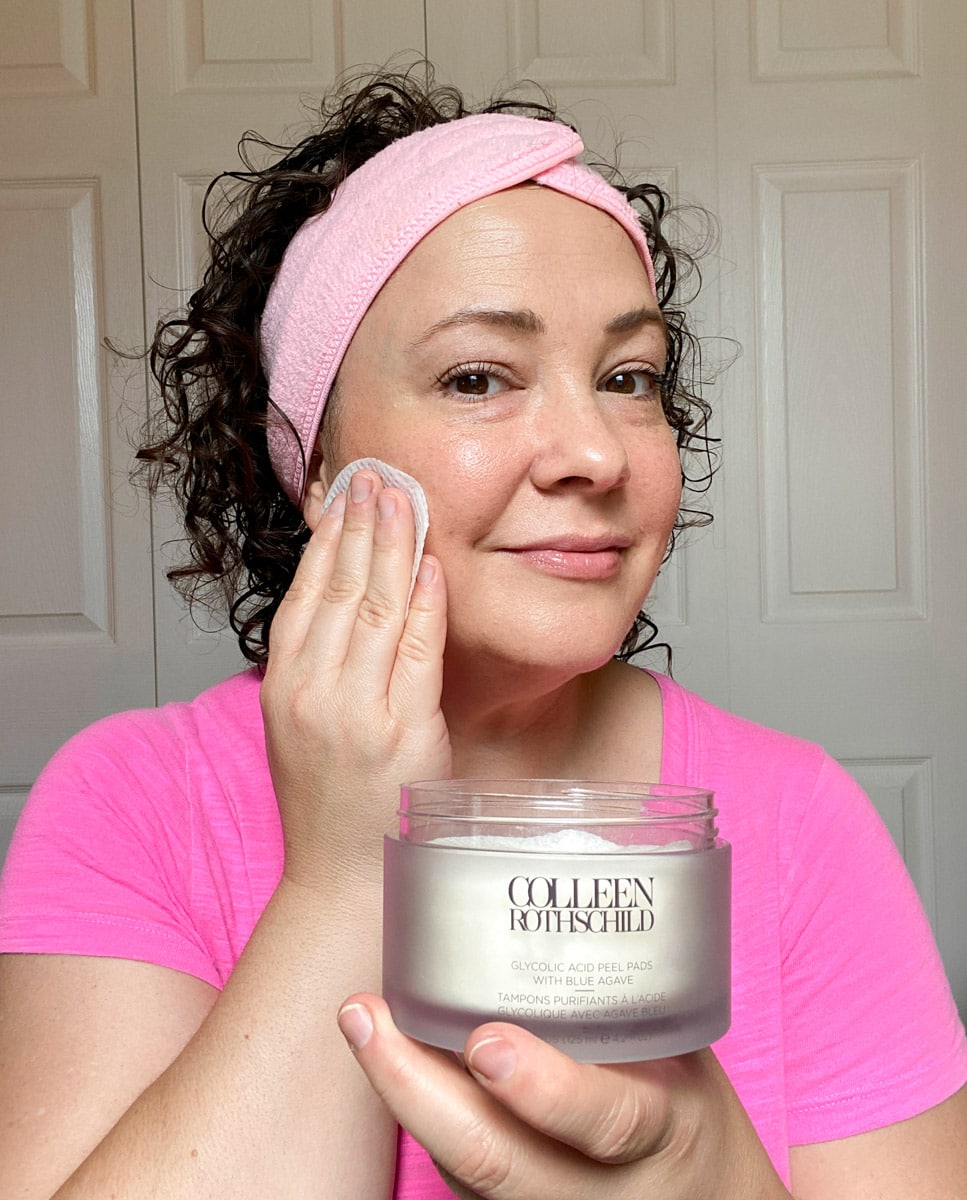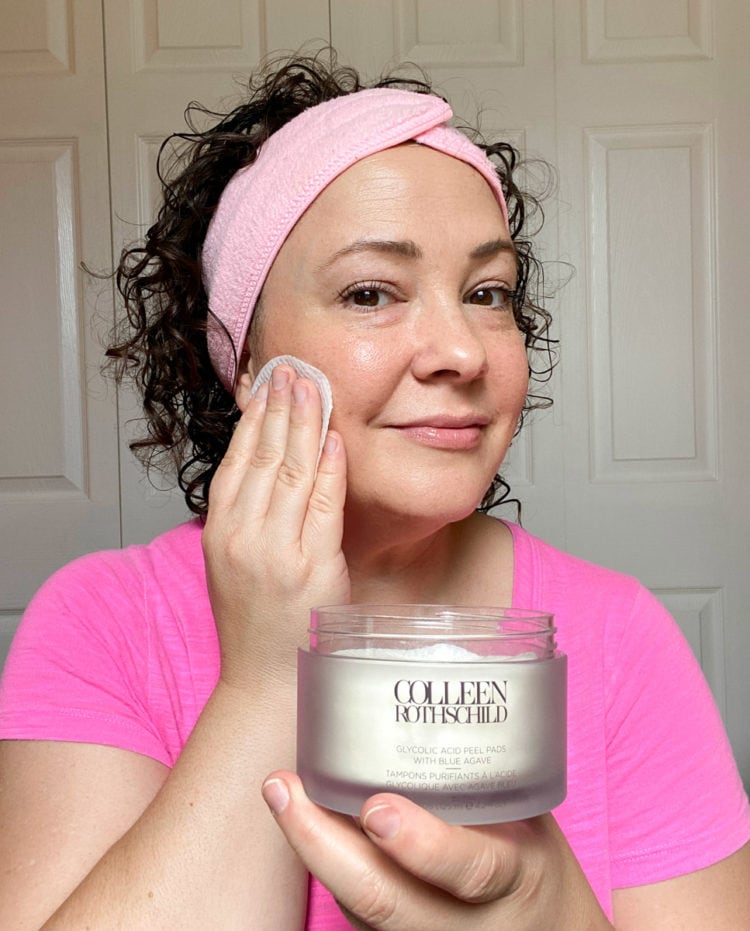 It's funny but my sister is the one who got me into the Colleen Rothschild Glycolic Acid Peel Pads with Blue Agave. I figured I had a glycolic acid toner I liked, so when Colleen Rothschild launched this product and sent me a tub of the pads, I offered it to my sister. She reported back that the pads were really good, she thought better than the toner I was using. I decided to try them and now not only am I a fan but so is my husband! The pads are large; you could easily cut them in half to have them last longer and still get all the benefits. The formula has a very subtle but elegant scent, very different from other glycolic acids I have tried. Colleen Rothschild's Glycolic Acid Peel Pads are formulated with 10% glycolic and lactic acids to improve skin's texture and appearance but also has blue agave and comfrey to soothe and calm and hyaluronic acid and niacinamide which infuse hydration into the skin and protect your skin's moisture barrier. It really does improve skintone and texture without drying out or irritating. Because this is spa-level ingredients it's a product I only use once or twice a week but still get noticeable results.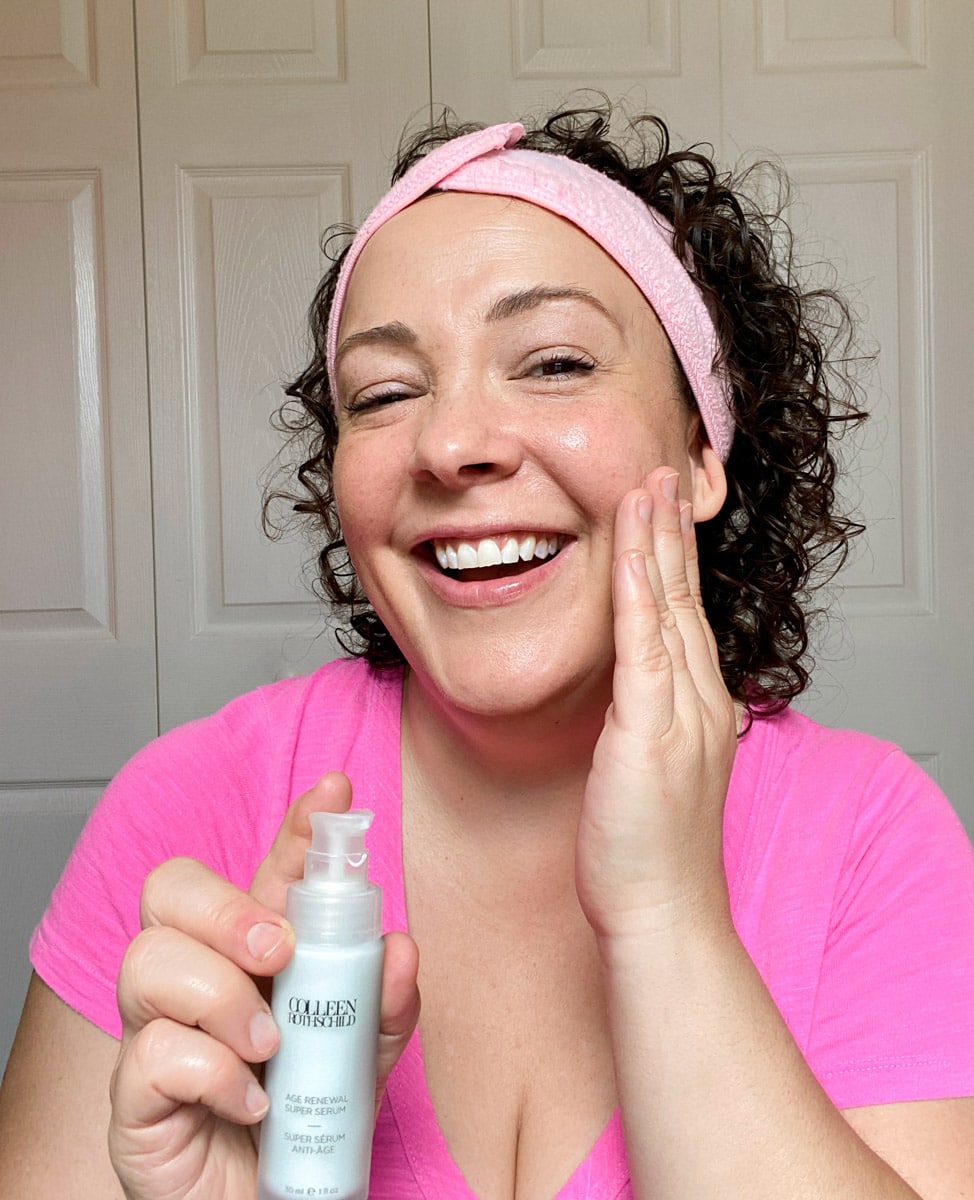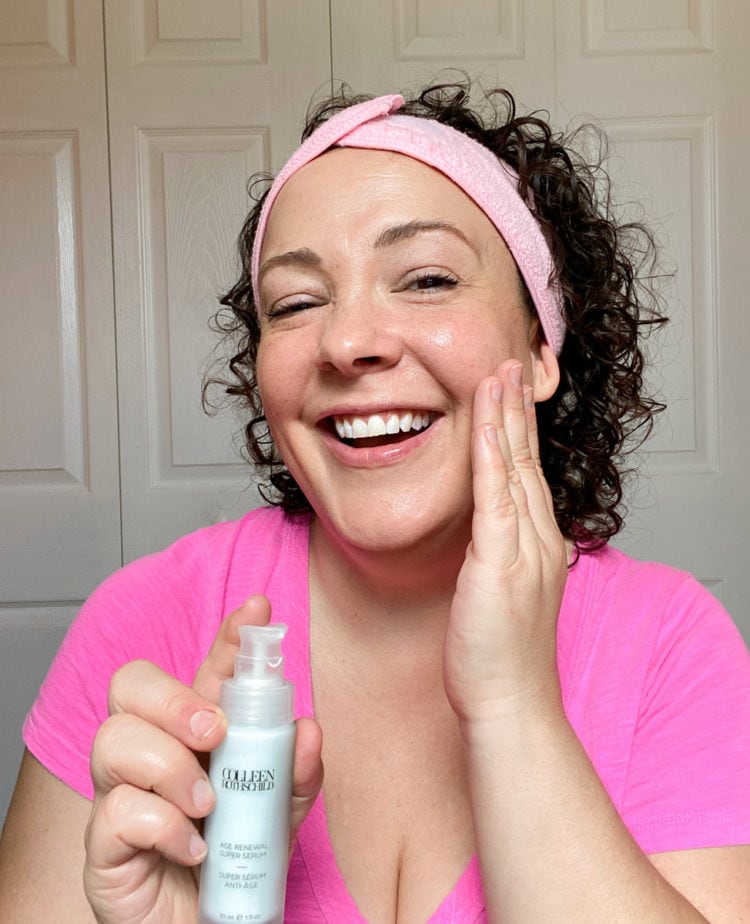 It can be so confusing what serums and treatments to use on skin. When people don't know what to use, I recommend Colleen Rothschild's Age Renewal Super Serum. Cleanse, apply this, and then apply a night cream. Super easy, and super effective. With more than 20 potent ingredients, including peptides, collagen boosters, amino acids, vitamins, and plant extracts, this serum improves texture and radiance, fights fine lines, increases elasticity, and provides hydration. All that, and I never have experienced redness, irritation, or any ill effects from using this product nightly. I am someone who loves dabbling in different treatments and serums, but some nights I just want to go to bed ASAP and those nights I know I can rely on Colleen Rothschild Age Renewal Super Serum to be easy and effective and wake with happy skin.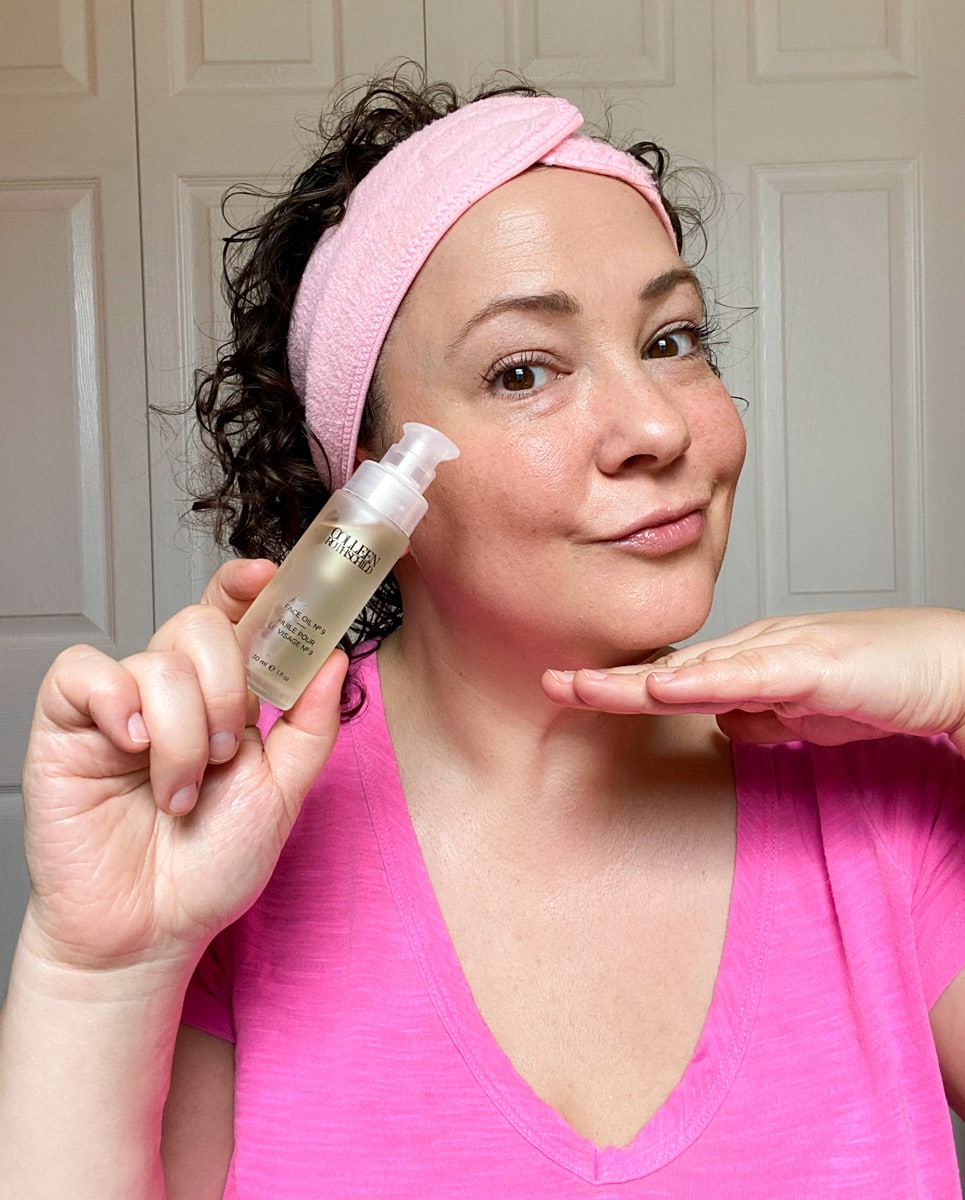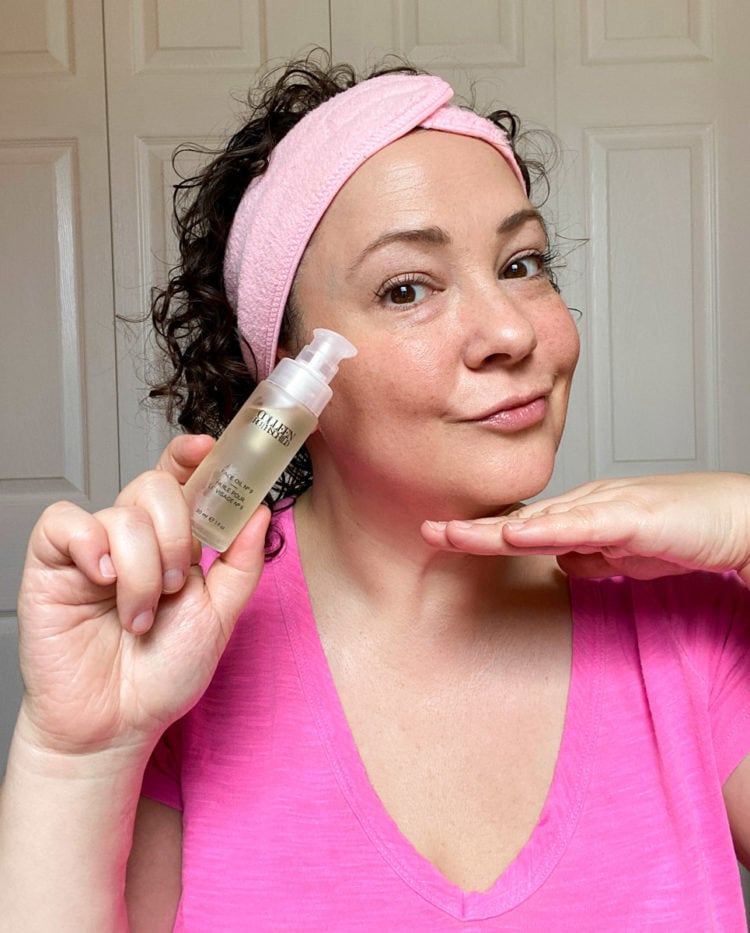 I find so many uses for Colleen Rothschild Face Oil N°9. I add a drop to my foundation in the winter to make it more hydrating and not so opaque. I pat it over lotions and creams at night to seal in moisture. I've put a bit on shoulders and my collarbone to add a subtle sheen when wearing sundresses. I've rubbed it into cuticles, the ends of my hair, and love applying it to my decollete before bed because it absorbs beautifully and keeps skin hydrated and supple. A little goes a very long way, one bottle lasts me for many months even though I use Colleen Rothschild Face Oil N°9 almost daily.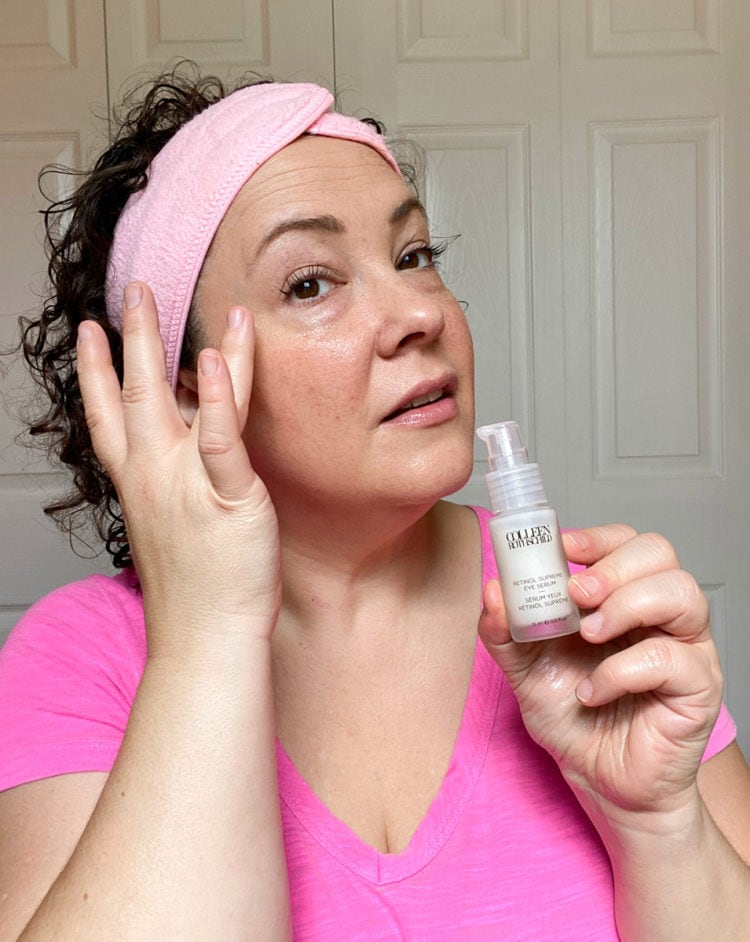 I've been working to "hit pan" and finish up all the beauty products I currently own. Just this week I finished a tub of eye cream that I liked… but didn't love. And when I finished I immediately opened a bottle of Colleen Rothschild Retinol Supreme Eye Serum. After a lifetime of allergies and rubbing my eye area, wearing contacts, and a college life where I spent more time in tanning beds (without the eye covers) than lecture halls, my eye area is as part of my face that has shows wear and tear. Most eye creams I think are bunk, and a lot of products to improve skin texture are too harsh for the eye area. I find that Colleen Rothschild Retinol Supreme Eye Serum makes a noticeable difference while also providing quick-absorbing hydration. I also love that it is a pump instead of a tub so I don't contaminate it with each use.
That being said, I haven't tried a product from Colleen Rothschild that I haven't liked. The other products in the sale are great, they just weren't as transformative for me. But read the reviews on the CR website from other customers; they are very detailed and share skin types, issues, and results to help you determine the best product for your skincare needs. And if you have specific questions, ask them in the comments and you know I will answer them completely honestly.
Shop Colleen Rothschild Skincare: