This article may contain affiliate links; if you click on a shopping link and make a purchase I may receive a commission. As an Amazon Associate, I earn from qualifying purchases.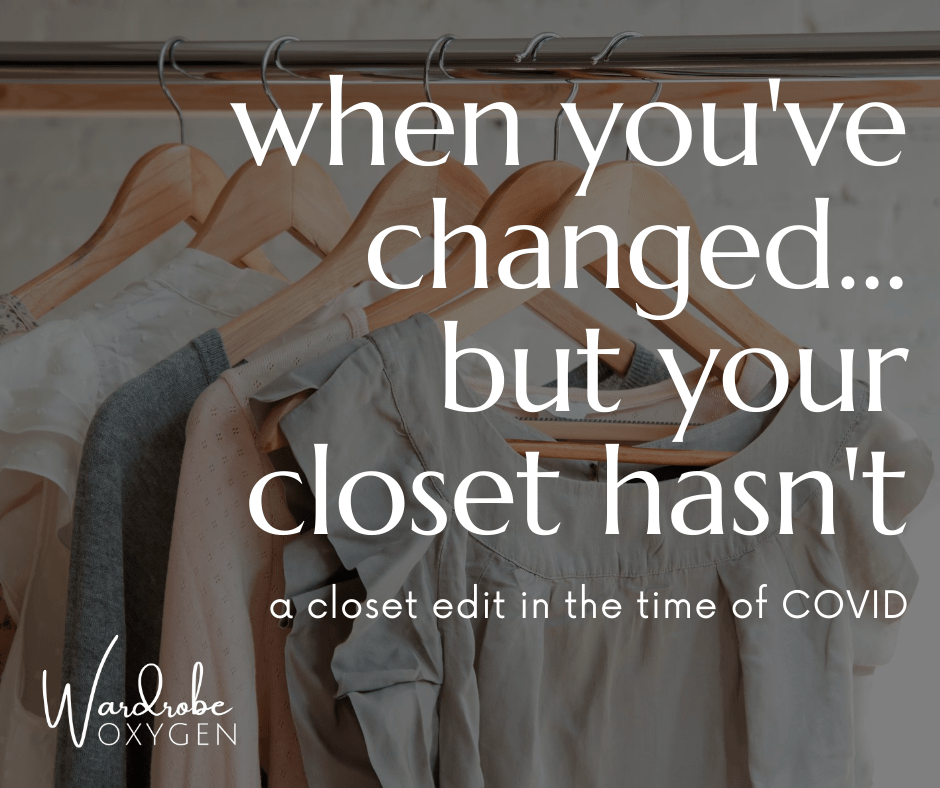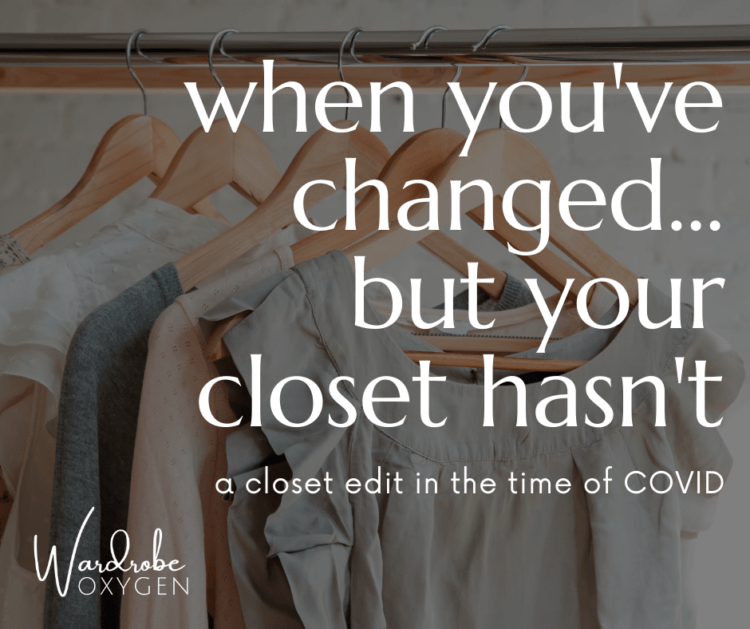 For most of America, normal life ended after the first week of March. We were told to shelter in place, office jobs became work from home jobs, teachers were in front of laptops instead of classrooms, and our social lives, which includes our shopping lives, were put on hold. We first thought this pause would be a couple of weeks, then we thought it would be over by Memorial Day, and then by July. And now it is August and there is no end in sight. Even parts of the country that opened up are realizing it was too soon and are returning to earlier phases with limited activity outside the home.
For many in Corporate America, they have already been notified that they will not be returning to the office for the remainder of this year. Many school systems have decided to have distance learning at least through the first quarter, if not until 2021. Even those who have small businesses and private practices are finding ways to continue in a virtual setting.
Closets in the Time of COVID
It has been five months and likely will be several months more, and where does that put a good percentage of your wardrobe? That may seem like such a superficial worry when thousands are dying, people are being evicted, and everyday companies are going under and laying off employees. But if you're like me, you find stability and even a sense of control from an organized and functional closet.
Along with societal changes, your body and priorities may have changed these past months and you find that the clothes and shoes in your closet may not work for the current you. You haven't worn a pair of heels in a very long while and don't know if you want to train your feet to get back in them. Your size may have changed due to a change in your everyday. Or maybe being distanced from your past life, you realize that even if the virus suddenly was eradicated tomorrow, you may not want to return to your old existence and the wardrobe necessary for it.
I know I am not alone when I look into my closet and see all the money spent on those things that are literally collecting dust. That expensive suit that I spent an additional $200 on tailoring that no longer fits and I can't see any reason or desire to wear it any time soon. That gorgeous cocktail dress I wore to only one event and planned to wear to three other events this year that ended up canceled. Those shoes that I justified estimating cost per wear that haven't been worn since January. Even well-worn and well-loved shift dresses and cashmere sweaters that were bought and have earned a low cost per wear that now don't fit my body or my life. It makes me nauseous to think of all the money I spent on this wardrobe, the hours of curating and perfecting and tailoring it, to have it all so pointless, sitting there every time I open my closet. I feel you, I really do.
How to Perform a COVID-era Closet Edit
We've gone beyond the point of thinking things will go back to normal this year. Things may improve, but it won't be like it was back in January. Let's get real and discuss what to do with your wardrobe that has nothing to do with your life. I'm going to break this down into real issues and how to deal with each of them.
Your Body No Longer Fits Your Wardrobe
Over the past few months, your life has changed. What you eat, how you move, where you go. There's no way to have such a life change NOT create a body change. This is not a time to beat yourself up if this body change is not what you desire, it's a time to be realistic and practical about your new normal activity level, location, access to food, etc. not just right now but through 2020:
Let's be realistic with ourselves, will this be in general my body size and shape through the remainder of the year? If no, what is happening, or what can I confirm will happen in the very near future to cause this change? There is no wrong answer, do not feel guilt or shame, but be honest with yourself so you can tackle your closet and not open it and see a rail full of clothes that neither fit now nor will before New Year's Eve.
If your body shape or size has changed, remove everything from your closet that no longer fits. The pieces you find you still love that don't fit but can be tailored or modified to fit, separate. If tailors are open in your area and you feel comfortable visiting one, consider scheduling an appointment to get those pieces altered so they are still functional.
If the clothes won't fit even with a visit to a tailor, analyze them. Do you think that a year from now you will still like them? Will they fit then? Will they even be necessary? If you answered yes to all three (not just two out of three), keep these pieces. You can use the tips in this article on how to store clothing to ensure they look great when you revisit them.
For everything that doesn't fit your body and life now and you honestly don't think will fit your life and body later, remove them from your closet for donation or resale. This article shares charities and sites open during COVID for donating and reselling clothing.
Your Lifestyle no Longer Fits Your Wardrobe
You used to travel for business, and now your job is 100% virtual. After five months in slippers, you have decided you will no longer wear heels. You changed careers, you moved, you married, you broke up, you had a baby, you became an empty nester, you decided to take that buy-out and retire early, you got COVID, you're recovering, you've used this time to reanalyze your life and have decided to make major changes. A lot can happen in half a year, even more so when you're in the middle of a pandemic and a social justice revolution. And it's hard to embrace change when your wardrobe is forcing you to stay in the past.
Is my life going to return to pre-pandemic normal in any manner before 2021? What aspects of my life can I not wait to have return and what aspects do I realize I don't miss or want to change?
If your lifestyle has changed, remove everything from your closet that no longer fits it. Analyze each piece separately. See it through new eyes. That suit that was your go-to for business travel, would you rock those pants with a graphic tee and sneakers? How about the blazer with joggers and a turtleneck? Try them on, style them with unexpected things, see if they can have a new life breathed into them. Right now is not the best time to be purchasing a new wardrobe, it makes more sense to see if you can work with what you have.
Maybe a tailor can also help. Change those pants that are perfectly hemmed to your 3" pumps work with flats or even sneakers. Turn long sleeves into short, a dress into a tunic to wear with ponte leggings, even add pockets. Tailoring an item you own, nine times out of ten, is cheaper than buying a new piece and you know you'll both fit and like the end result.
If your lifestyle has changed, stop being so precious with your clothing. If you reserved that blouse for power meetings that are no longer, consider wearing it with jeans. That maxi dress you wore to summer weddings with metallic sandals and a clutch purse can be worn now with bare feet and a messy updo at home. And hell, if it makes you feel good to glam up for a day of working from home, no one is forcing you into sweats. Clothing can change your attitude, use what you have to bring you strength, confidence, fun, and color.
If you have pieces that are wrong for now and even a year from now, but your life has shown that such items may prove necessary in the future, keep these pieces. For the items that no matter what are wrong wrong wrong for the new you and your new life, remove them.
Editing Your Wardrobe Beyond Clothes
This edit goes beyond your pants and blouses. Look at your shoe collection, your bag collection, your outerwear. Dig through your intimates, your loungewear and activewear, and even your accessories. You may find that a coat you forgot about is far more appropriate this winter than what you wore last year almost every day, that some of your bras no longer fit, that you no longer need or want a full drawer of control garments, and you forgot about that fabulous necklace that give your joggers and knit tops a new life.
This is the department where you may find a surprising amount of items still in great condition that you no longer want. Revisit my article on how to sell clothing during covid and the tips I share on how to be successful with Poshmark; this may be an opportunity to get a bit of money back on those purchases.
Quality, not Quantity
Our lives have changed, and one way they have changed is by having us reassess our priorities and our needs versus wants. A year ago, we felt we needed that item… and now it is collecting dust. Items and aspects of life we took for granted are now unavailable. It can really make you realize the value of choosing quality over quantity. And this holds true with your wardrobe.
You've learned over these five months that you don't need five of that one garment, but you do need more than one of that other. That some pieces have held up to repeated washings far better than others. That softness, fit, and color can be more valuable than any brand logo. Use these new skills to maintain and fill holes in your closet for this new normal. When you shop focusing on quality, you shop slower, you shop with intention. When you slow down with shopping, you give yourself breathing room to make decisions, time to do research, and you get to know your body and your personal style. And great style comes from the quality of what is in your wardrobe (not the price, but how well it works for you, your body, your life, your personality) not how much you can fit on the shelves.