This article may contain affiliate links; if you click on a shopping link and make a purchase I may receive a commission. As an Amazon Associate, I earn from qualifying purchases. 
This weekend my friend Shelly came over. "I got this new catalog in the mail," she said. "I really liked it; it was like J.Jill but it seemed younger, more stylish and lots of color. I really liked how everything was styled. I can't recall the name… it was…"
"Garnet Hill?" I asked. She couldn't believe I knew what company she was speaking of from such a simple description. I knew… because I too liked what I saw. In fact, I have had a Garnet Hill catalog on my desk for over a month, reminding me to write a post for Wardrobe Oxygen.
Several years ago, when I lived in Annapolis with my sister in our bachelorette pad, I had a bedroom done in all gray and white. Black and white prints on the walls, white furniture, gray carpet, gray and white bedding. I found it calming, modern, sleek. However I desperately wanted to find a subtle gray print set of sheets. I found them at Garnet Hill – they were the much coveted jersey sheets (hey this was the early '00s and Oprah recently deemed them a "Favorite Thing") and if I recall correctly, a soft gray snow leopard print. They were reasonably priced, especially when I got them and found them to be thick, soft, luxe, perfect. Garnet Hill became a company like The Company Store to me – a great place for bedding, who also sold a couple other random things.
And then their catalog arrived a month or so ago and I realized Garnet Hill is pretty fabulous, and not just for their selection of sheets. I saw page after page of really wearable fashion and realistic prices. Gorgeous summer dresses that would flatter so many figures, buttery soft leather bags with the same amount of style as designer brands but for a fraction of the price, stylish yet comfortable shoes from well-known brands like Born, and unique yet versatile accessories like covetable belts and elegant necklaces. Color me impressed!
Last week I received their sale catalog and I went through almost an entire stack of Post-it Notes bookmarking items I would want for myself. I was glad to be on a post-Bonnaroo shopping hiatus because I could have easily dropped half my paycheck on the lovely pieces in their sale.And I love their reasonable return policy.
Garnet Hill reminds me of a lifestyle blog – they don't specialize in just fashion, or just bedding, or just home décor. They offer it all, and it all works together to create a cohesive look for your life. Models are shot in what looks to be foreign locales or sunny beaches, their outfits styled to show the pieces would look great on a vacation to Morocco as well as a quick trip to Target. Their models are beautiful, but they aren't 18 and they aren't a size 00. I think a woman of 28 as well as a woman of 68 could see herself in Garnet Hill's fashion.
Visiting their website, I was even more impressed. Dozens of honest customer reviews on each page (and Garnet Hill's responses to any negative comments), detailed size chart, care instructions for each garment, more than one picture of each item (pictures of clothes on people instead of just mannequins or placed on a white surface!) and the ability to zoom to really see detail. Gosh they even have a glossary to define terms used in their product descriptions!  The only thing I do not like is that I can't right click and open an item in a separate tab in my browser; when i shop I usually scroll through the available options, open potential items in another tab, and then look at them in more detail when I get to the end of the main page.
Just as with most companies, the catalog gives a bigger picture of their brand and direction than the site; I liked having both resources to really have a better sense of what they sell and what items would be best for me and my life. I started following Garnet Hill on Twitter and like that they don't clog my feed, just mention new items, promotions, and customer reviews/feedback (and also promptly reply to customer Tweets – why don't more companies do this?).
A couple items from Garnet Hill that I am coveting:
Some days, you just want to throw on a tee shirt with some jeans and shorts and go.  You don't want to fuss with accessories, layers, cinching and ruching.  These are the days when I love tops like the Jalisco.  It's as comfy and easy as your favorite tee, but has this gorgeous embroidery which makes it unique, stylish, fun.  This would look adorable with denim cutoffs, dark crisp denim trousers, or even loose white linen pants.  I can't decide which color combination I like best, they all are pretty fab in their own right!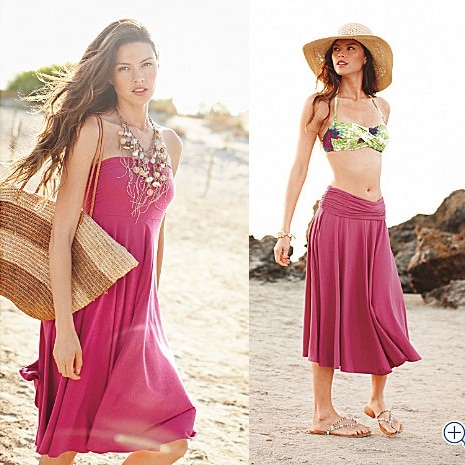 Convertible Knit Cover-Up – $44 (and free shipping!)
I recently wrote about this beach cover-up in an article on Savings.com and I like this piece so much I had to share it here as well.  I love a cover-up that can do double-duty on vacation as an actual piece of streetwear and this piece can do just that.  Pull up over the bust as a strapless dress, fold over at the waist for a knee-length skirt, or wear on the hips for a maxi skirt. Soft swingy knit is great over a damp suit, or with metallic sandals and a hip-slung belt for a beachside bistro.  I like the color choices but am partial to Graphite for it will look great with bright cheery bathing suit colors like pink and yellow, but can easily look glamorous with silver jewelery once the sun goes down.  If I was going on travel soon, I'd be sure to tuck this in my suitcase!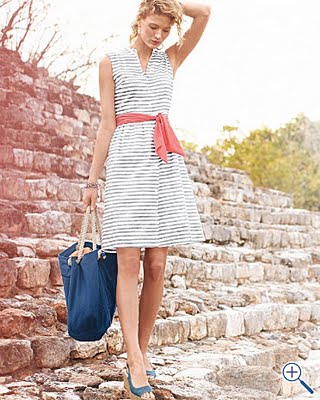 Come summer, I practically live in dresses.  They are breezy, one-piece outfits that work for most any occasion.  For work, I pair with heeled sandals or pumps; come the weekend I usually throw one on with flip flops and throw my hair in a messy ponytail.  It's just as easy as shorts and a tank, but more refined.  I love this dress because it's comfortable cotton, but with flair.  The neckline adds interest, the contrast sash brings a refreshing pop of color.  I love the gray stripe with the salmon sash – it would look adorable with wedge espadrilles for brunch with the girls, or with your Havaianas
to the farmer's market.  The Marine with purple sash could dress up nicely for work and transition beautifully into fall with a cardigan or denim jacket.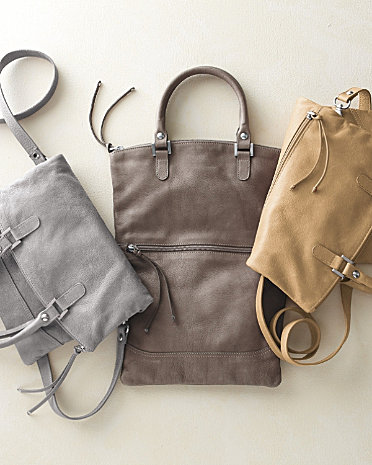 I don't think I am the only one who sees the similarities between this bag and another popular brand's bag that is being promoted by many fashion bloggers.  Similar, but not the same, not a copy and about $50 cheaper.  I like Garnet Hill's version because it is so timeless, classic, and not specific to a certain designer.  You could carry it this summer or ten summers from now and still look chic. This summer I have fallen in love with crossbody bags – it's so easy to carry everything you need plus an iced coffee, your purchases, and your child's hand.  As a woman with curves and large breasts, I don't find crossbodies to be unflattering if the bag is worn on the back of the hip, the strap isn't too wide, and the bag isn't too overstuffed and heavy.  All three color choices of the bag are fabulous, but I am partial to Dusty Fig which would go with every shoe and every garment in your summer wardrobe.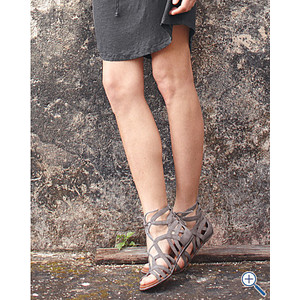 I know, many of you may be gasping at the price of these sandals.  The thing is, when you find something that is versatile, comfortable, flattering, on-trend without being trendy… it's sometimes worth it to splurge.  These sandals make me want to take a trip to Europe.  Reviews on Garnet Hill and other sites (Gentle Souls is not a Garnet Hill-specific brand) state that these sandals are really flexible, comfortable, and wearable all day long.  I read reviews where people said the suede and lace-up straps worked great with swollen feet from a plane flight or an entire day of walking, that they can be customized for narrow or wide feet, and that the memory foam shock-absorbing footbeds make you feel as though you're walking on a cloud.  The color choices are so elegant and neutral, they can go with everything in your wardrobe and also be flattering to those who don't look great in typical gladiator sandals.   I like the charcoal, which would be a soft neutral on most any skintone and would look lovely with pants, skirts, and shorts.
 

Have you shopped Garnet Hill? What do you think of them?
Note: Garnet Hill has no idea I am writing this post, they never contacted me, I am not compensated for this review.  I am just writing because I believe their fashion may be something you readers may also enjoy!
Follow Me | Twitter | Facebook