This article may contain affiliate links; if you click on a shopping link and make a purchase I may receive a commission. As an Amazon Associate, I earn from qualifying purchases. 
It really is possible to be chic AND comfortable. Just with everything else in life that is good, you need to work hard and do your homework. Sure, ratty sweats and a fake pair of Uggs will be cozy on a winter day, but is that really the "book cover" you wish to present to the world? Making conscious decisions and shopping carefully, you can achieve great personal style and comfort within one wardrobe.
The Long Walk
So you're a city girl and trek several blocks from your apartment to your office. Or maybe you live in a town where you can reach the grocery, bank and post office all on foot. Possibly you are a college student where you log a few miles a day trekking around campus. Whatever your reason, your life doesn't have room for 4" stiletto heels and bondage-like pencil skirts.
This doesn't mean you have to wear white tennis shoes or dowdy orthopedic loafers around town. These days almost every brand of shoe has a style made for comfort.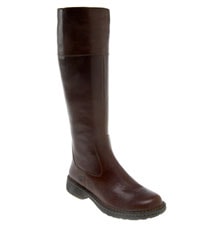 Tall boots are still the rage, but lucky for us they are now being shown on the runways and in the magazines with low to no heel at all. This leather boot from Born merges current trends with utter comfort and even classic style for a pair of boots you can put miles and years in easily.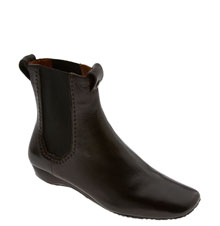 These booties from Gentle Souls are sleek enough to pair with your work attire, but with a low yet grippy heel and sole and a flaxseed pouch under the insole for support and comfort, you'll be able to walk all over town in utter comfort.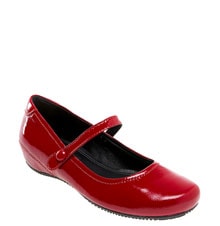 ECCO is a great brand known for making study and comfortable footwear. Take that reputation with a drool-worth red patent Mary Jane
style, and you have form AND function that would work with dresses and pants in almost every season. Red is the unexpected neutral that will work with almost your entire wardrobe – from brown to black to gray to denim, red is a great jolt of color that will boost your entire look.
For clothing, look for pieces that have lycra for stretch. A pair of boots over skinny jeans is a classic casual look for weekends or the campus, but can be terribly uncomfortable if the jeans are rigid and the boots are binding. Lycra will also give you a more custom fit.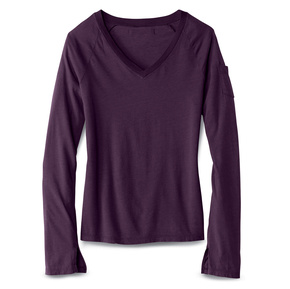 Moisture-wicking pieces will help with the cold outside to warm outside transition and the energy used to hike up those hills in town. Tops like this Teelicious V-neck from Athleta will work under all your sweaters and help wick moisture from the body, keeping you warm and dry.
Baby It's Cold Outside
To get from your door to your car you have to pass two-foot piles of rock-hard thawed and refrozen snow drifts, black ice and puddles of salty muck. Each day is an adventure just to get out the driveway, let alone slip and slide on the sidewalks to your destination. You laugh at suede booties and peeptoes, and seriously consider investing in snowshoes or ice-climbing boots to survive the season.
No need to sacrifice style or succumb to neon-hued marshmallows on your tootsies, there are great options that are weatherproof, insulated AND have good traction on the ice.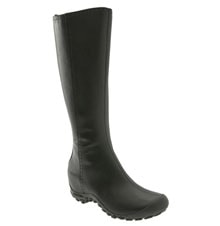 This weatherproof leather boot from Merrell offers style and a sticky leather sole for traction. Merrell is a company known for their high-quality action sports and outdoor gear as well as their comfort. This boot has a breathable mesh lining and an elastic gusset to these babies will fit over your jeans or your coziest knee socks with ease.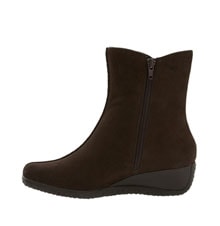 This waterproof short boot from Sudini is sleek enough to be worn once you reach the office, not just for the frigid trek to the building. The flexible sole helps with traction and getting around comfortably, and the removable insole means you can upgrade to an insole with more support or cushioning to make the time on your feet even more pleasant. Available in black or brown and a variety of foot widths, this bootie could work in almost any woman's wardrobe.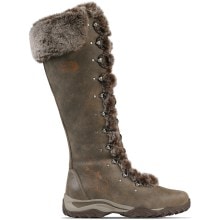 Make warmth the these of your look with these tall boots from North Face. Paired with a chunky fisherman's sweater and skinny jeans or a wool sweater dress and thick tights or leggings, these waterproof, Primaloft-lined boots can be stylish AND comfortable on the coldest and snowiest winter day. Best of all the TNF Winter Grip ™ outsoles are known to have amazing traction on ice, snow and slush.
As for clothing, layers are a great way to stay warm and still be comfortable. You can throw on a sweater or hoodie under your coat, and always remove it and tuck it in your bag if your destination has the heat blasting. Look for thin yet warm outerwear that will help you move comfortably, while protecting you against the elements.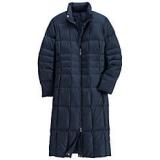 I recently purchased this reversible down coat from Lands End for my commute. The longer length keeps me toasty warm even if I am wearing a skirt, is water-resistant, and a sleek design made specifically to not add bulk to a woman's frame. Remember a scarf, gloves and hat to protect the areas where heat escapes. I love a pashmina in place of a scarf – it adds a nice shot of collar at the neckline, can double as a wrap if your destination is drafty, and the soft cashmere feels great against wind-chapped faces.
Jane of All Trades
You want a shoe that will look sophisticated, professional, even possibly dressy without making your toes screech in pain. Asking too much? No, not these days with modern technology and wonderful materials that can offer great classic style and all-day comfort.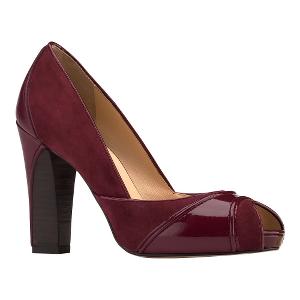 Cole Haan has partnered with Nike to create their Air line of shoes. These shoes have the beautiful style, class and quality Cole Haan is known for, but have Nike Air technology carefully hidden in the sole to provide extra cushioning. This suede and patent leather peeptoe pump is an elegant color and style that would work with skirts or trousers and be great three seasons of the year.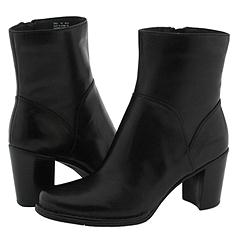 These dress boots from Clark offer the style of a traditional heeled city boot, but hidden in the sleek design is a soft foam footbed, a rigid ABS heel for easy walking on a higher heel, an SSR outsole with EVA-filled forepart to reduce load lift and extends the life of the boot, and cement construction where the upper is adhered to the outsole using a bonding agent, which creates a lightweight, flexible shoe.