This article may contain affiliate links; if you click on a shopping link and make a purchase I may receive a commission. As an Amazon Associate, I earn from qualifying purchases.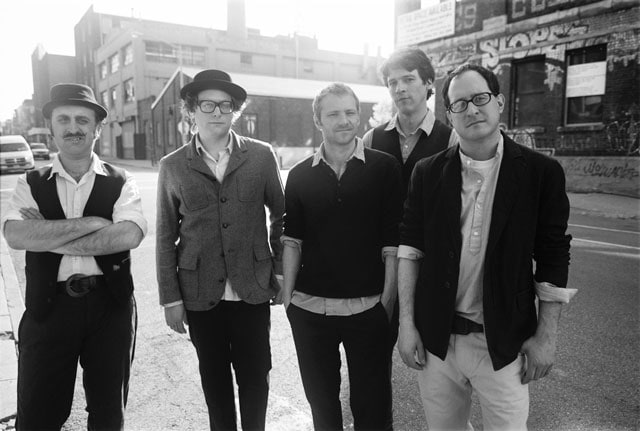 Last Thursday I went to see The Hold Steady perform at the 9:30 Club. I happened upon this band a few years ago when one of their songs was on a "year's best" list from some site like Pitchfork or the New York Post. I wrote about them before, how I totally didn't expect them to look the way in which they did. You readers commented and emailed me writing that The Hold Steady was a must-see live if they were ever in town. So when I saw they were going to be at the 9:30 I jumped at the chance.
Since it was a "school night," my husband and I made it a date night – he met me at the U Street Metro station and we walked to have dinner at Marvin. I had been to Marvin a couple times before, he had not and I knew he would love it. We got there before the dinner rush and had a leisurely meal, a couple drinks, and calm conversation without anyone begging to get down or throwing crayons. After dinner we walked over to 9:30.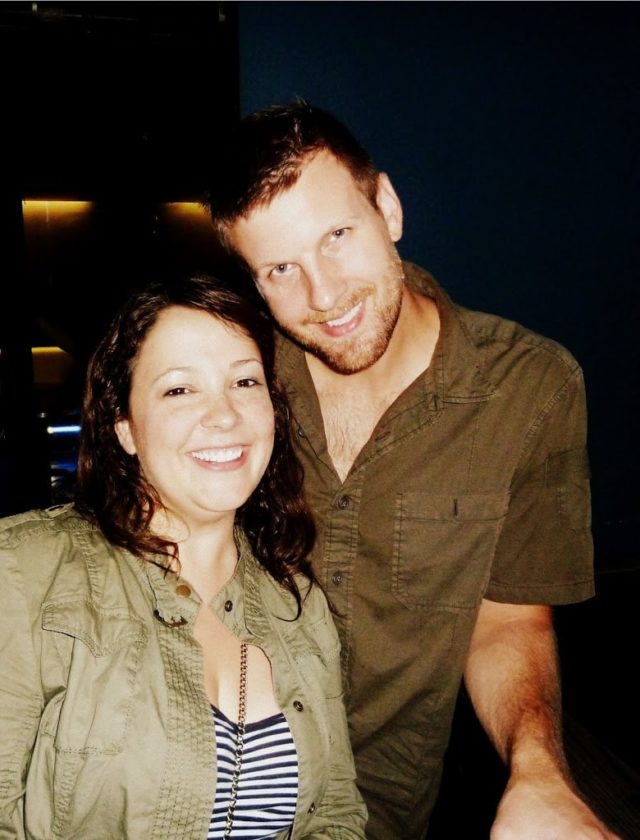 Me & my husband at the show – we didn't plan to dress alike!
We got there midway through the opening band's act. The opening band was The Donkeys; I had never heard of them but found them to be a ton of fun. I wouldn't buy their album any time soon, but I would go see them live if they were at a small GA venue.
I just want to thank those of you who told me I had to see The Hold Steady live, it was one of the most fun shows I have been to in a long time. They know how to put on a show – no fancy lights, no costumes, and even some pretty terrible dancing by Craig Finn, but gosh was it a ton of fun! It has been a long time since I have seen a band so fueled by their audience. Finn practically fell into the crowd, he was so into us, and the audience gave back that love, singing (and often screaming) every lyric to every song. If any of you are old enough to remember the old, dirty, tiny 9:30 Club and the fabulous energy of shows there, you would have loved The Hold Steady. I felt the same excitement, energy, and feeling of brotherhood with the audience as I did at shows at their old location.
The Hold Steady kept the energy through the entire 24-song set; Finn even yelled, "There is so much joy in what we do up here!" mid-song. And you totally felt that joy. You also felt how they must really enjoy performing together, and touring. For their last song, opening band The Donkeys came out to perform with them, showing they are good sports and true team players on the road.
The Hold Steady isn't considered a highbrow band, and many music folks I know dismiss them as being "frat boy rock." While the crowd seemed to be 80% 30-something slightly pudgy white dudes who kept checking their Smartphones for updates on the Redskins game, I find it ridiculous to judge a band's talent on the type of crowd they attract. If one is going to be such a music snob, they are going to miss out on one of the most entertaining live acts I have experienced. And their studio albums aren't half bad either – that is how I learned about them and fell for them in the first place!
Follow Me | Twitter | Facebook