This article may contain affiliate links; if you click on a shopping link and make a purchase I may receive a commission. As an Amazon Associate, I earn from qualifying purchases.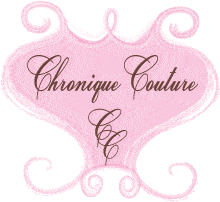 I was visiting my MySpace account and was approving friend request and as I usually do, I look at the pages of people who want to be my friends and inspect their friends. Through this process I came upon the page for Chronique Couture and just knew I had to write about this company on Wardrobe Oxygen.
Chronique Couture was created to give style, femininity and fun to the necessities for women who have chronic illnesses or conditions such as Ehlers-Danlos Syndrome, Lupus, Chronic Fatigue, Multiple Sclerosis, Fibromyalgia, Bi-Polar Disorder,Diabetes, Parkinson's, Asthma, Arthritis, Cancer, Osteoporosis, Raynaud's, Crohn's Disease/Ulcerative Colitis and IBS. Kimberly M. Flynn was diagnosed with Multiple Sclerosis in 2006 and realized that many of the items she purchased for comfort or necessity due to MS were generic, clinical looking and just plain ugly. She decided to create a company that offered these necessities but had a girly-girl look, as well as a message board for support and discussion for those who have these chronic illnesses and conditions.
As a woman who has a sister-in-law with MS, one relative with Parkinson's, another who requires a cane and several loved ones with Diabetes, I was highly impressed with this company – mixing necessity with femininity and heart. It's true, so many women are living with these conditions; each treatment, each step with a cane a reminder of the disability and a process that can inhibit one's personality and style. TO be able to manage one's health AND maintain one's style and girly-girlness is a wonderful thing.
A few of my favorite things:

For those hospital visits, nothing is more lady-like than a Lilly Pulitzer gown. Pretty pink limited-edition print, with all the functionality (yet more modesty and style) of a traditional hospital gown.

Check out these gorgeous pre-filled syringe cases decked out in Swarovski crystal! The site says it best with their product description: "Heads will turn to look AT you, not look away when you remove your syringe from this beautiful carrying case! If you have to self inject meds ~ might as well do it like a Rock Star!"

I love the trendy tongue-in-cheek look of this pill box decorated with a skull and roses. Far sassier than the standard-issue metal or plastic container from the pharmacy.
Chronique Couture also have items for children, mothers-to-be and even pets. With nine days until Christmas it may be a little late to get one of these wonderful items for a loved one's holiday present, but it is a great site for those readers with a chronic illness or condition, or a loved one who has one.