This article may contain affiliate links; if you click on a shopping link and make a purchase I may receive a commission. As an Amazon Associate, I earn from qualifying purchases.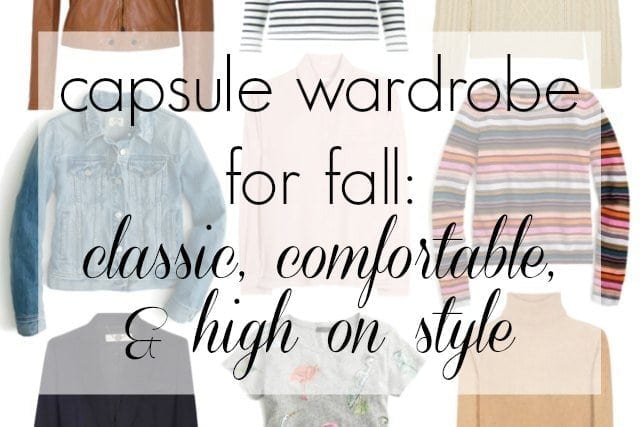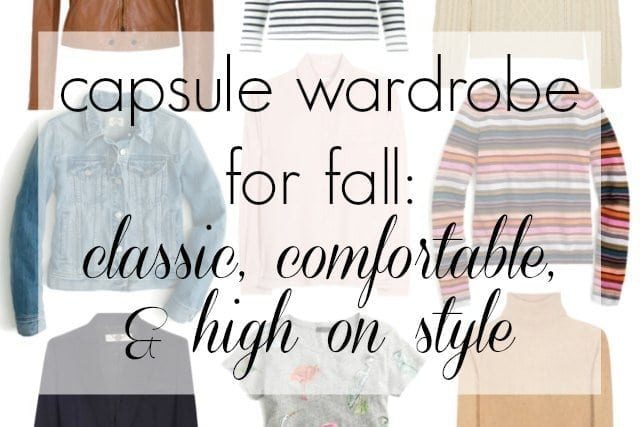 I've received many capsule wardrobe requests lately and they have been extremely specific. However many have had similar themes – classic clothing but not boring, comfortable shoes, and many desire a capsule wardrobe not based on black. I hope the following fall wardrobe capsule will provide inspiration and show you can have fun while keeping a wardrobe of classics, be stylish without a single stiletto, and it's possible to have a small and functional wardrobe without a single smidge of black!
Fall is right around the corner and this capsule wardrobe will get you into that autumnal frame of mind incorporating trends for the season that I feel will become wardrobe classics. Staying away from basic black, this wardrobe uses camel and navy as base colors with some unexpected touches.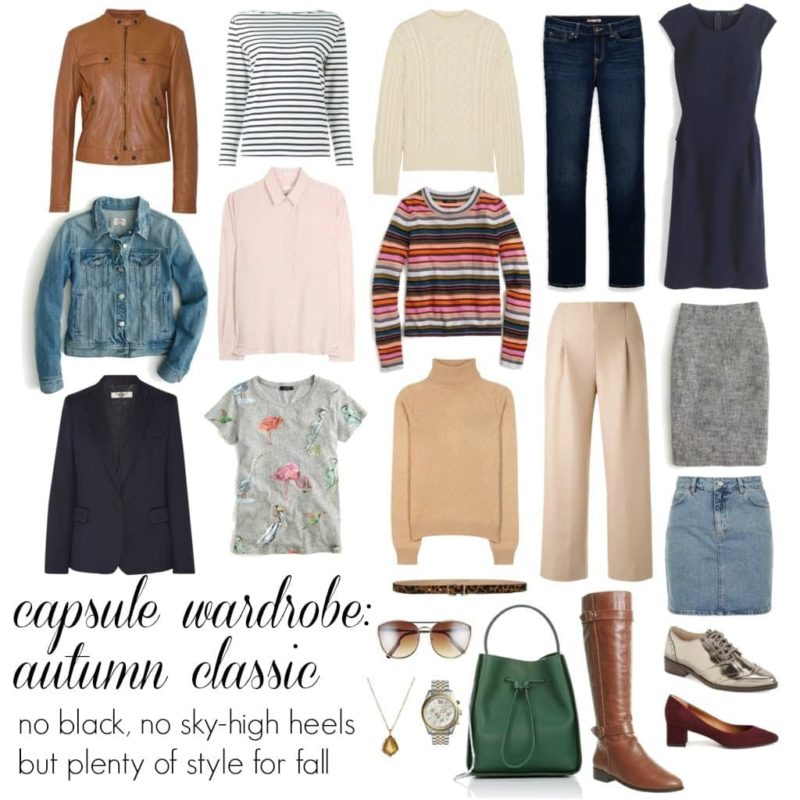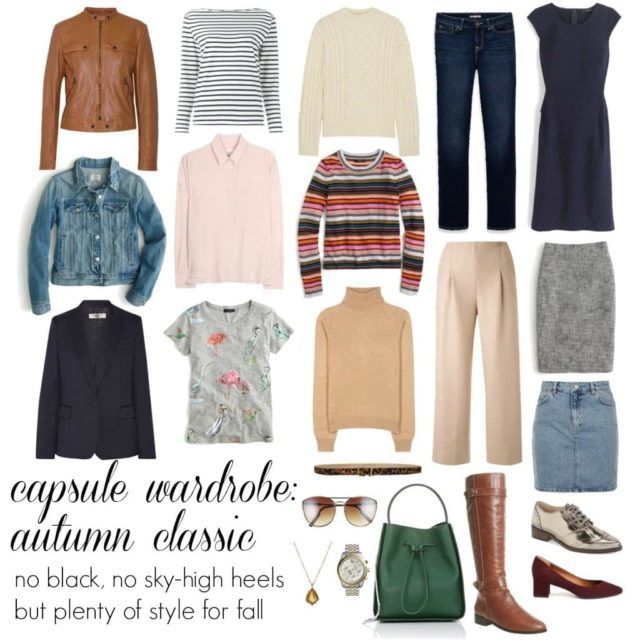 Shop Similar:
leather jacket | denim jacket | navy blazer | Breton top | silk blouse | patterned tee | cable-knit sweater | striped merino sweater | turtleneck sweater | jeans | trousers | dress | wool skirt | denim skirt | belt | sunglasses | necklace | watch | bag | boots | oxfords | pumps
The leather jacket and denim jacket can be fall outerwear, but can also be incorporated into an outfit replacing a blazer or cardigan. Many of you have written lately about mixing denim; note that all three denim pieces are different washes. I prefer a slightly distressed denim jacket in a lighter wash because it gives it an automatic different wash from most everything else while providing interest and texture. Pop the collar, push up the sleeves, add a few enamel pins, give it personality and that will also help in keeping you from looking as though you're wearing a "Texas Tuxedo".
A navy wool blazer is very collegiate, very preppy, very classic, and surprisingly versatile. I love pairing such a classic piece with something unexpected like a denim skirt, a printed tee, or some sparkle. If you wear with the Breton tee and jeans, add the shiny oxfords to keep it from looking like a uniform. With the trousers, switch it up by adding the printed tee so it doesn't look too matronly. Again, consider pushing up the sleeves, popping the collar, adding a vintage or jeweled brooch on the lapel and make the piece your own.
Tip for Variety:
Add a belt even if there isn't a need. Wear over a dress or even a buttoned blazer. Slip over an untucked sweater or top. Wear with a blouse and skirt even if there are not belt loops. A skinny belt is a great piece to cinch items, wear at the hip or natural waist. A texture (snakeskin, calf hair, metallic) will be more versatile and work no matter what shoes you wear.
Don't worry about your boots matching your jacket; in fact it's better if they're two different colors of brown. You can't go wrong with a classic riding boot, but don't be afraid of a boot with a bit of weathering, a different color, or even in suede. Often the most unusual shoes get the most wear. I thought of my silver oxfords with this capsule wardrobe; they were an impulse buy but one of the most worn shoes in my closet. This fall there are a ton of oxford shoes available in a variety of colors, textures, and prints. It's a great way to have a comfortable shoe that is stylish and also shows your personality. This fall thicker heels have come back, which is great for comfort. Show you're wearing the block heel purposefully by choosing a fun color, print, or texture. Oxblood suede is an unexpected neutral that looks great with warm colors, pink, green, purple, and navy. However, this shoe could be replaced with a snakeskin, leopard print, or a bolder color like teal or violet.
Tip for Variety:
Take your work clothes to weekend (and vice versa!). A tweed pencil skirt looks corporate with a silk blouse and pumps, but can look weekend chic with a denim jacket and sneakers or oxfords. A wool blazer is office appropriate with trousers and a shell, but pair with a band tee and girlfriend jeans for a weekend at the mall or out to a casual restaurant. Try a printed or striped tee under a suit or blazer for more casual days at the office.
With a variety of colors in footwear and leather products, the best way to have your bag coordinate is have it match nothing. While there may be a hint of green in the striped sweater, green is otherwise absent from the capsule yet the bag looks great with everything. This is an on-trend silhouette from an on-trend designer, but such a simple silhouette free of big logos or details that it could be a true investment piece and one you carry with style for many years to come.
With the accessories, I thought back to one of my favorite movies, the 1999 remake of The Thomas Crown Affair. The majority of the wardrobe was Michael Kors for Celine; Rene Russo wore few yet strategic accessories. These sunglasses are from Quay Austrailia, a very hot brand right now yet all their frames are under $100. Large, making a statement yet not too off the wall – perfect to complete these looks. A bit of shine at the throat and a practical yet large enough to make a statement watch is all that is necessary to finish this capsule wardrobe.
Shop the Capsule Wardrobe:

This is the sort of capsule wardrobe that can likely be started with pieces already in your wardrobe, built on with thrifted items or with slow purchases over the years, and stylish when you're 35 or 65. As always, these capsule wardrobes are not created for you to go out and buy every piece but to get you thinking in a different way about clothing, seeing versatility and how you can create a lot of outfits and style without a lot of clothing.
Sample Outfits:
Leather jacket over navy dress, pumps
Leather jacket with Breton tee, jeans, riding boots
Leather jacket with turtleneck, jeans, oxfords
Leather jacket with turtleneck, tweed skirt, pumps
Leather jacket with striped sweater, denim skirt, oxfords, add necklace
Denim jacket with striped sweater, tweed skirt, riding boots
Denim jacket with navy dress, leopard belt, riding boots
Denim jacket with turtleneck, camel trousers, oxfords… add the belt for interest
Blazer with Breton tee, jeans, belt, oxfords
Blazer with printed tee, camel pants, oxfords
Blazer with striped sweater, jeans, riding boots
Breton tee with denim skirt, striped sweater tied at neck or waist, oxfords
Breton tee with camel trousers, oxfords (add scarf at neck)
Silk blouse with jeans, pumps, add the necklace for shine at the throat
Silk blouse with tweed skirt, pumps, with or without the belt
Silk blouse with camel trousers, pumps or oxfords, the necklace will complement the camel trousers
Silk blouse half-tucked with denim skirt, oxfords
Silk blouse under striped sweater with tweed skirt, riding boots
Printed tee with denim skirt, oxfords
Printed tee with camel trousers, oxfords… add the necklace for sparkle
Cable sweater with jeans, riding boots
Cable sweater with camel trousers, oxfords
Cable sweater with tweed skirt, oxfords
Cable sweater with denim skirt, riding boots
Striped sweater with camel trousers, pumps
Striped sweater with tweed skirt, pumps or oxfords
Camel turtleneck with camel trousers, pumps, and a wine red lip
Switch up the look of the navy dress with a crisp white shirt or a black or grey ribbed turtleneck underneath
If you don't like a lot of layers, consider buying a bib like these from ASOS to wear under the striped sweater or dress for a different look
Consider giving the pieces different looks – pop the collar of the blazer or denim jacket, instead of folding the turtleneck just leave it up, shoved down more like a funnel, wear a white shirt under the tee to make it more like a vest
Add a couple wardrobe basics to the collection for even more variety – I'd recommend a pair of trendy yet classic sneakers like these, a crisp white shirt, a pair of sweater tights, some distressed denim (love the name of these!)
There's many more, once you have a cohesive capsule wardrobe the outfits will build themselves!  You'll find you're more creative with a smaller wardrobe!
Save