This article may contain affiliate links; if you click on a shopping link and make a purchase I may receive a commission. As an Amazon Associate, I earn from qualifying purchases. 
Image via So Much to Smile About
Last Thursday I attended the
DC Sip and Swap
, hosted by the lovely
Amy & Melissa of The Swapaholics
and
Swap.com
. For those who didn't attend, you purchase a ticket
(between $10 – $20 depending on when and where you got it),
bring a bag full of gently used clothing, shoes and accessories and then get to grab all the donated items that work for you.  Anything leftover was donated to
Goodwill
.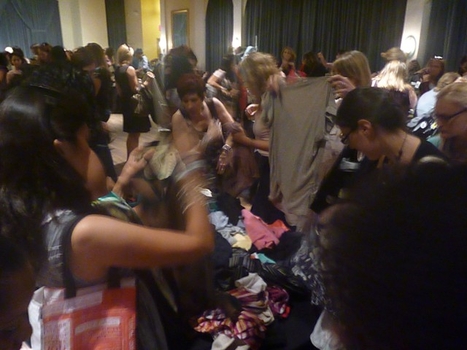 Image via The Feast
Have you ever seen footage of Filene's Running of the Brides? This was like that, but with less stripping of clothes in the center of the room and more black clothing.
I brought an XL LL Bean Boat and Tote overflowing with lots of great pieces – clothes from my now-defunct Shop My Closet as well as a few other pieces that no longer fit or no longer fit my personal style. While the Sip and Swap team organized all the donations, we attendees got to enjoy downtown Clarendon. Then we came back for the official beginning of the swap.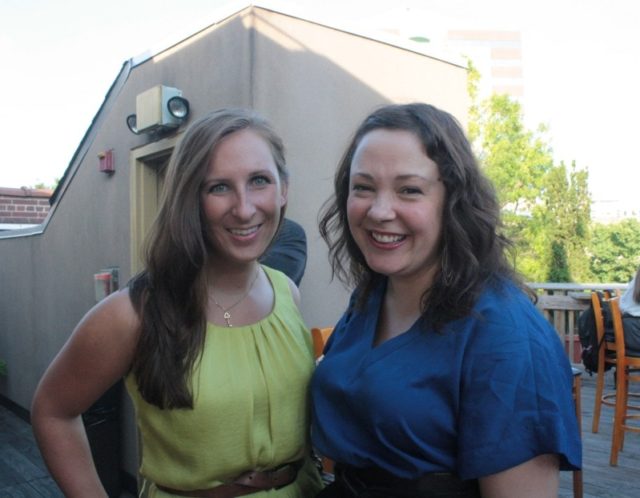 Images via
Fasshonaburu
,
DC Goodwill Fashionista
I was excited to meet many bloggers I have respected and read for a while, such as District of Chic, Megan Nielsen, Fasshonaburu, Cardigans & Couture, whippedSTYLE, and La Rue Neuve. I also got to catch up with DC blogger buddies like Heart Print and Style, So Much to Smile About, and MartaFacts. We sipped wine, chatted, caught up… and didn't realize that there were some rabid swappers in attendance.
I love this video from
Quarter Life
, which shows what the swap was like when they opened the doors. Since I was wearing a blue maxi dress, it's pretty easy to see me in the video
(I am in the center left, and it takes me a while to come in because I wasn't expecting Running of the Brides).
There were rolling racks along the sides of the large room, tables separating jeans from blouses from skirts from trousers. The stage at the back of the room held jewelry, scarves, shoes, and other accessories.
By time I got into the room, it was packed with women who were throwing anything they could reach into their bags. Fabric was flying, a few were stripping down to bike shorts and sports bras to try pieces and throwing back into the crowd the pieces that didn't work. It was crazy. I headed to the stage, figuring I would have a better chance finding good jewelry than clothing that would fit. I grabbed a mother of pearl bangle bracelet and a strand of pearls, turned around to apologize for bumping into someone, turned back and 90% of the jewelry was gone. I figure someone must have swept it all into a bag. I grabbed some bright purple beads, figuring I could take off the thread and repurpose, or give to Emerson as costume jewelry.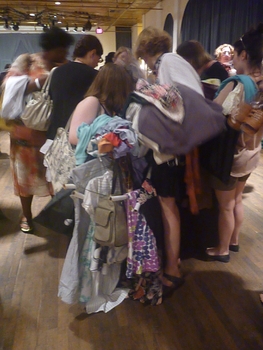 Image via The Feast
The crowd started thinning, I saw women with those giant blue IKEA bags overflowing, women crouched in corners hugging their scores. A woman walked by with two huge totes overflowing and a few items tucked under her arm. I guess I was looking with my mouth agape because she defended herself by saying,
"What? I have three kids I need to dress."
This was the swap in a nutshell. Many women who were there to donate, hope to get one or two good things, and mingle. And then there were those who were out for the kill, leaving no prisoners. I didn't let it get me down, I went expecting to not find anything, so I ended up being pleasantly surprised. I met some awesome readers of Wardrobe Oxygen (so great to meet you, I love it when readers introduce themselves!), some awesome bloggers, and the fabulous women of The Swapaholics and Goodwill. And really, I didn't go for the items, I went for the experience. And the experience taught me that I would definitely attend next time… but next time I'll be sure to put down the wine glass and wear flat shoes!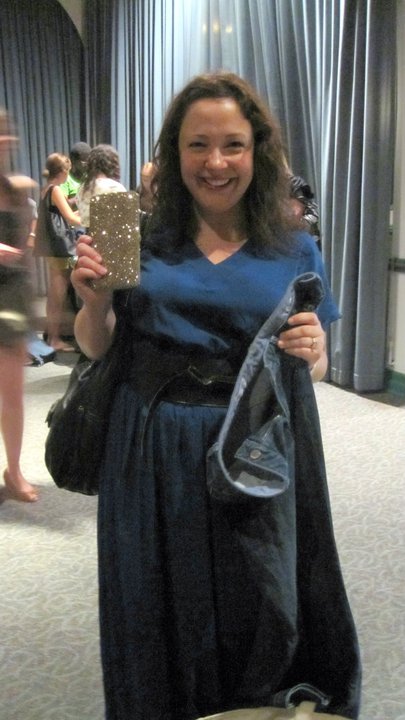 What I got:
A gold beaded frame clutch – when I got home I realized its actually a wallet, but I can fit my cell in it and it will still snap shut and not look ridiculous
Navy twill pants from Ann Taylor in like-new condition, wide waistband, flat front, straight legs, very classic
Dark denim sailor-inspired jeans from LOFT that will fit like a dream in five pounds
A strand of 30" small ivory pearls that look really nice (quality costume)
A slim gold bangle with mother of pearl panels
The purple necklace (which Emerson sported this weekend)
A pair of perfectly faded and distressed Levis 515s that do not fit and probably will never fit so I will be passing on to someone else
A black LOFT jersey dress that must have been shrunken in the dryer because it hardly covers my rear (will be re-donated)
A black jersey MICHAEL Michael Kors top that looked cute but wasn't my style – I gave it to my mom who totally rocks it
Have you ever been to a swap?  What did you think?
Follow Me | Twitter | Facebook