This article may contain affiliate links; if you click on a shopping link and make a purchase I may receive a commission. As an Amazon Associate, I earn from qualifying purchases. 
Every summer, my mom, sister and I enjoy a weekend at Rehoboth Beach, Delaware. When Emerson came into the world, she joined us on this annual Girls Getaway. We had our Rehoboth Beach trip this past weekend.
What I packed:
Paisley halter 1-piece swimsuit (Lands End Canvas)
Turquoise halter 1-piece swimsuit (via SwimSpot.com)
Red stripe jersey maxi dress (Gap)
Red-orange jersey sleeveless dress (LOFT)
White/navy stripe bracelet-sleeve scoop tee (J. Crew)
Denim cutoff shorts (Old Navy)
White jeans (Kut from the Kloth)
Navy/white stripe tank (H&M)
Olive cargo jacket (Caslon)
Pink oxford shirt (Lands End Canvas)
White floral cotton sundress (H&M)
Coral ruffle-neck tank (Lands End Canvas)
Tan braided leather thong sandals (Lands End Canvas)
Brown stacked flip flops (J. Crew)
Brown "Sandy" flip flops (Reef)
Tiny pumpkin-orange "Libby" crossbody purse (Hobo International)
Friday:
For the car ride I decided to be comfortable and wore a cotton sundress I got at Ross (worn here) with the leather flip flops. Nothing to write home about, but pulled together enough that I didn't mind stopping for lunch or checking in at the hotel (Avenue Inn). We took a power nap, and then headed out for the evening.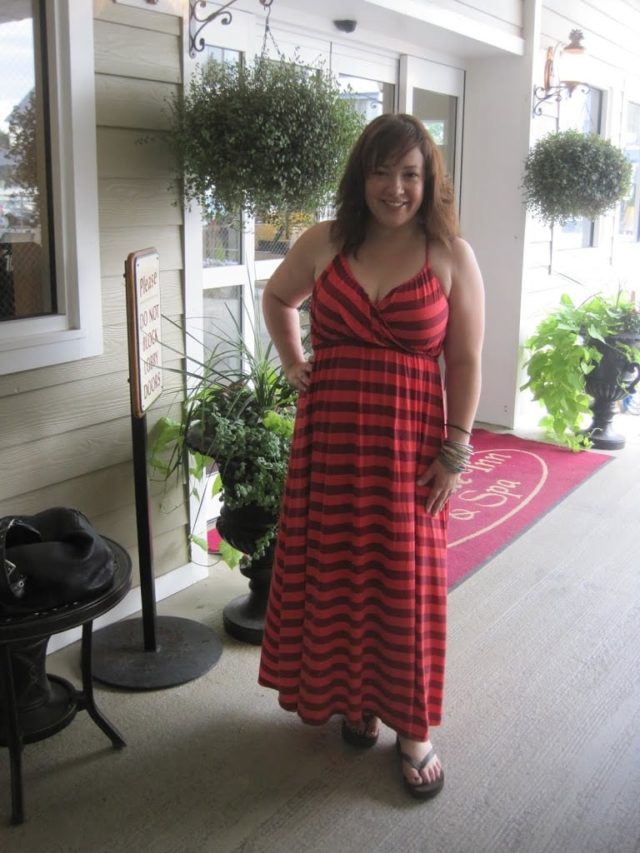 Outside the entrance to our hotel

Dress – Gap
Flip flops – J. Crew (no longer available)
While walking to the restaurant (Café Adriatico – we go every Friday when we are in Rehoboth), I broke my flip flops. I have had these for YEARS and I guess I shouldn't be surprised. I hobbled to our table and my sister was nice enough to dash back to the hotel across the street and grab me a different pair (the Reef flip flops
) which I wore the rest of the evening.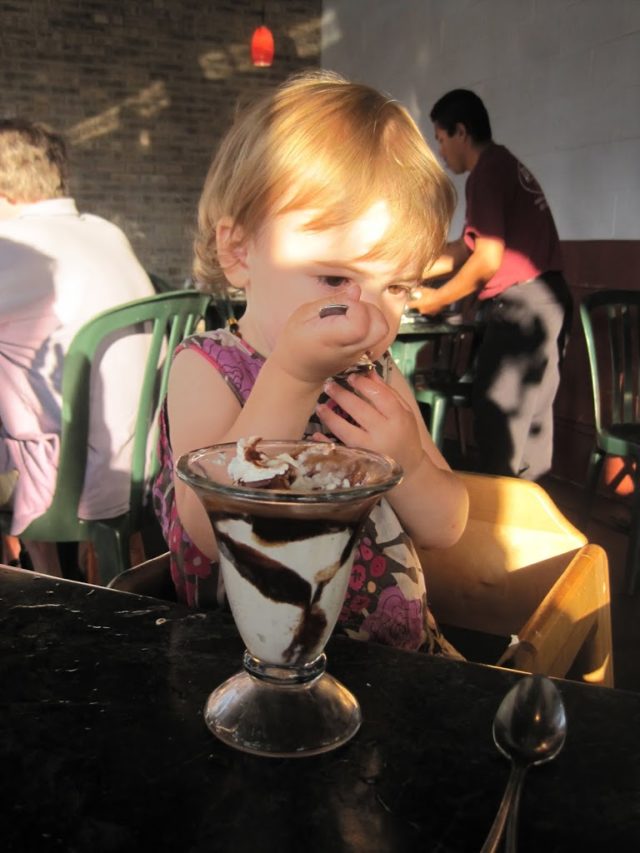 Emerson enjoys her first-ever ice cream sundae!
Dinner was great as usual. It's nice to settle in with a place we know we will enjoy (and it's awesome to find a place that is kid-friendly and has a great menu).  We started with the baked garlic appetizer, which is garlic bread, spreadable garlic still in the husk, diced tomatoes and blue cheese.  You can custom top your toast, and it's fun to share.  For dinner I had the steamed mussels in garlic-wine sauce (actually an appetizer) with a side of sauteed spinach.  I had the same thing last year and both times it was delish.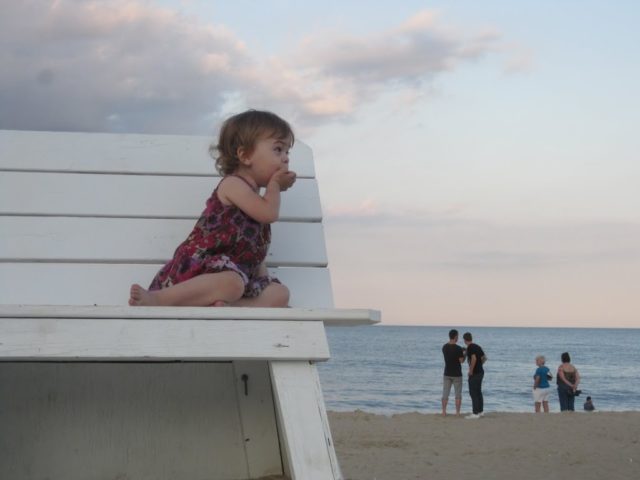 Emerson the lifeguard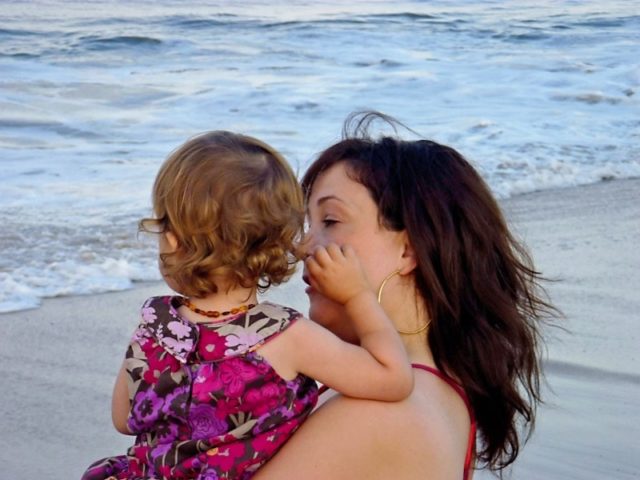 Checking out the Atlantic
After dinner, we stopped by the beach so Emerson could see the ocean.  She LOVED the sand, and we even put her in a lifeguard chair where she was cute enough to whistle like a lifeguard!  We then headed to the hotel and put Emerson to bed.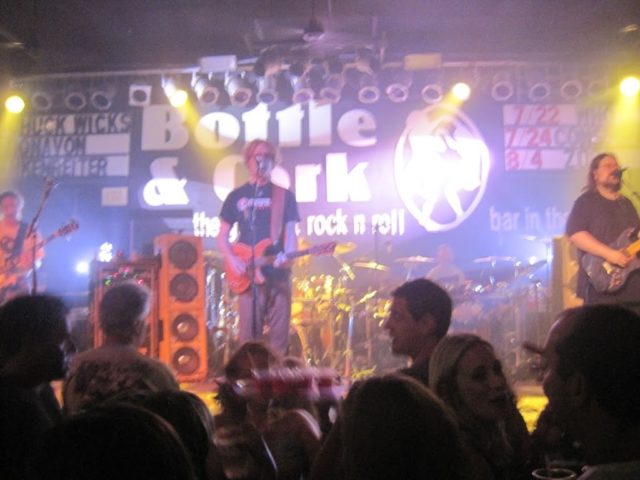 Dark Star Orchestra at the Bottle & Cork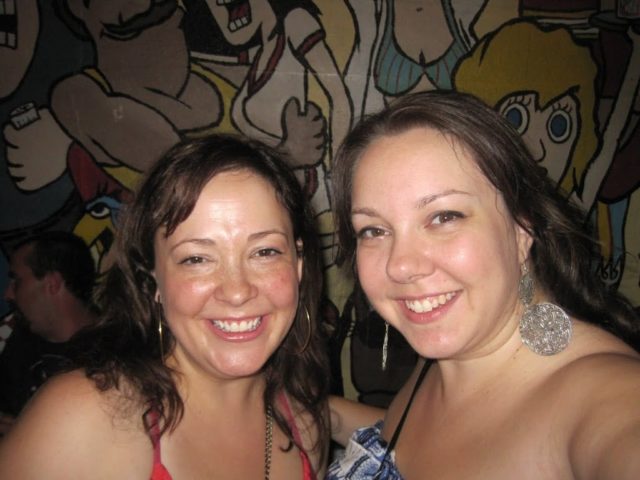 Me & my sister against the Bottle & Cork mural 
(at intermission, tad sweaty from dancing so much!)
My mom stayed at the hotel with Emerson while my sister and I headed to Dewey Beach. Dark Star Orchestra was playing at the Bottle & Cork and we knew it would be a fun time and great show. That it was, to be in our old stomping ground surrounded by dedicated Deadheads. DSO played 13 songs in the first set and I think 11 in the second, they didn't stick to a specific Dead show (they are a Grateful Dead tribute band and each night perform a Dead show in its entirety), but instead did a "Players Choice." Pretty cool!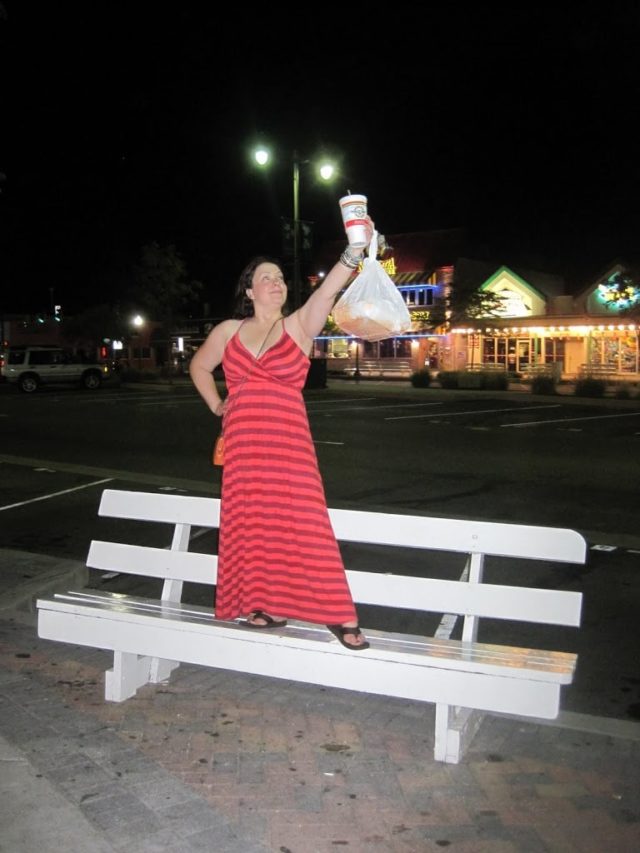 Now THIS is a pose for the fashion blogger books! 
I call it Lady Liberty with Hot Wings…
After the show, my sister and I grabbed a dozen hot wings from Wings to Go and hopped on the Jolly Trolley back to Rehoboth. We sat outside our hotel at the patio tables, snacking and chatting until 2am.
Saturday: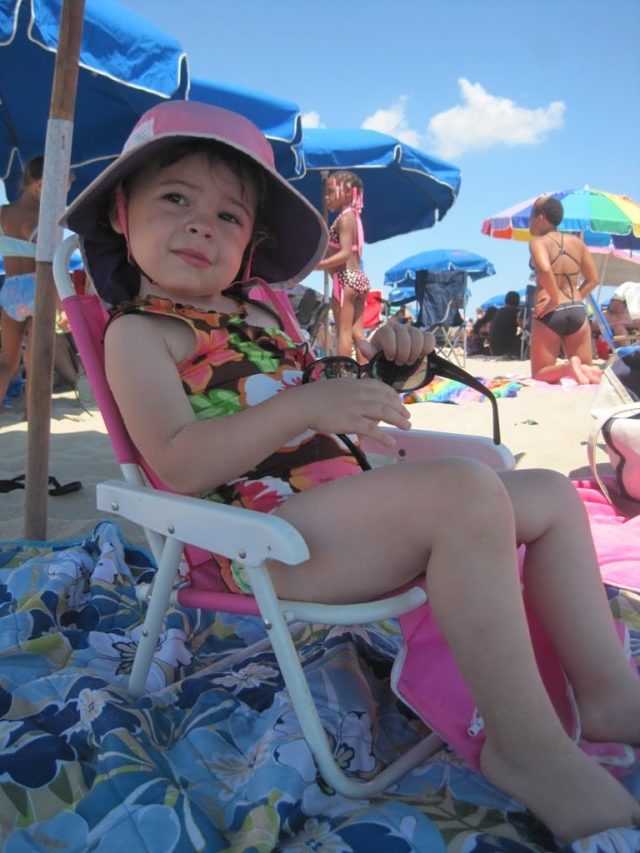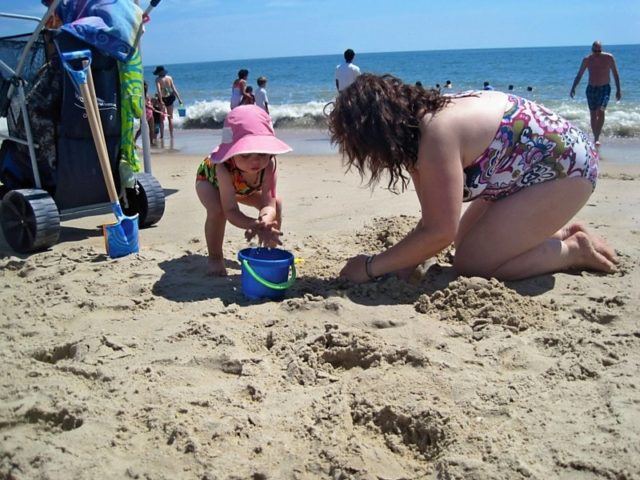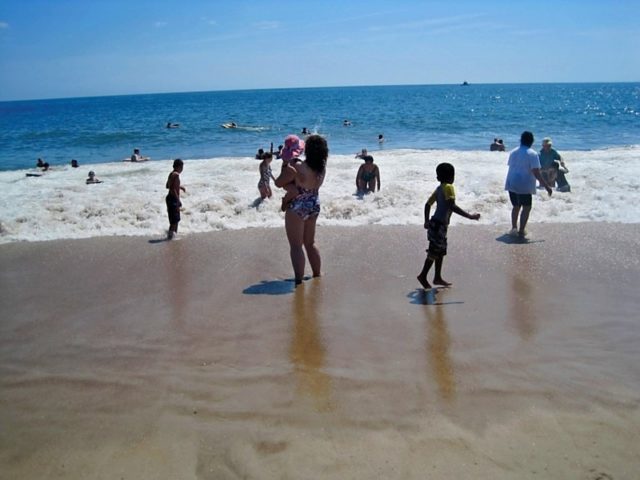 Oh snap, I just put myself on Teh Interwebs wearing a bathing suit! Keeping it realz…
Beach day! I wore the Lands End Canvas bathing suit (no longer available, from last year but bought this year on clearance for $19), over it I had the white floral H&M dress (purchased for Bonnaroo but now a dress I wear on weekends) and the Reef flip flops. I used a Lands End beach tote as my beach bag (Emerson wore an Old Navy bathing suit and Target hooded terry cover-up, REI hat and Old Navy aqua shoes).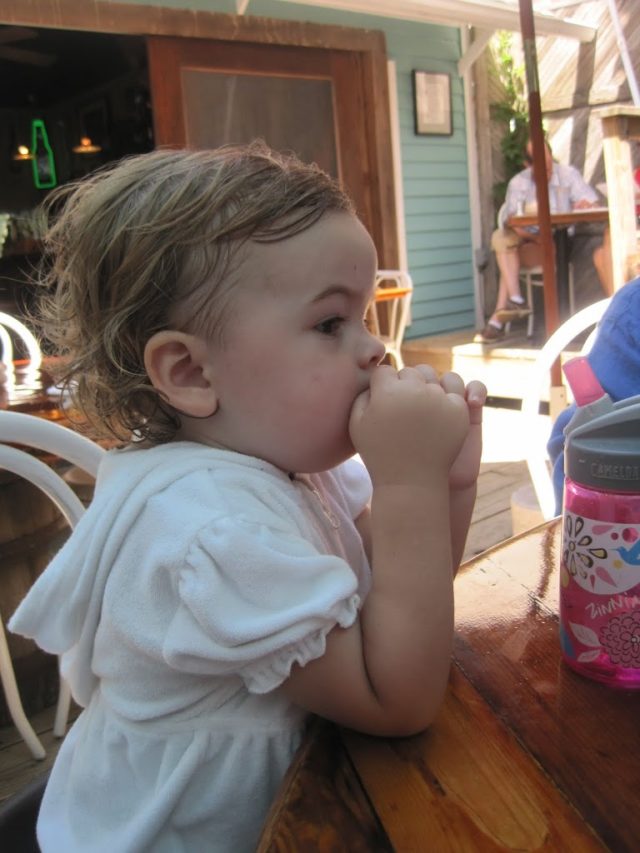 Emerson patiently waiting for her adult meal
When we had lunch (Back Porch Café) I again wore the H&M dress and flip flops. As I mentioned in my recent Savings.com article, I like using a dress as a beach cover-up for this very reason. I was able to head into a restaurant without feeling naked or underdressed.  The restaurant staff was very friendly, but it's not a kid-friendly place.  No high chairs (though they had a booster), no kid menu, and they couldn't custom make a meal of plain pasta, etc.  Emerson was so good, it's like she knew she had to prove all kids aren't holy terrors.  She sipped pineapple juice from a cocktail glass, and enjoyed a fruit and cheese plate and the basket of crackers offered at each table.  I had a roast chicken salad with a side of grilled asparagus and diced beets.  My sister and I both got "Cool as a Cucumber" cocktails, which were like a cucumber-infused Cosmopolitan and quite delish.
After lunch, my sister and Emerson went back to the hotel for a nap while my mom and I went back to the beach for a couple more hours.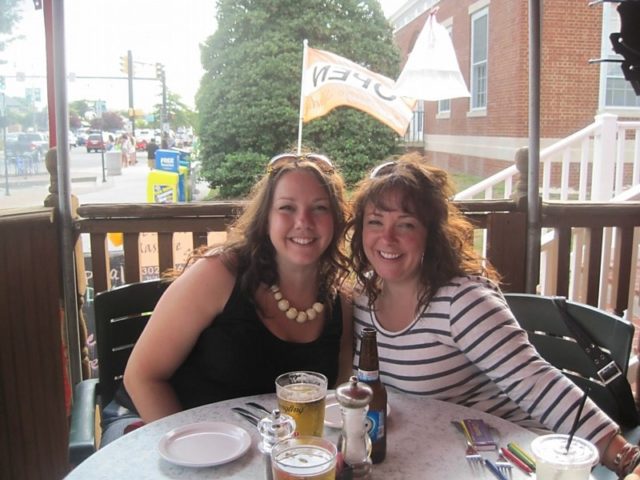 My sister and me at Claws
We came back to the hotel around 5pm and got dressed for dinner. I was slightly sunburned and exhausted from being out in the sun all day so I wasn't in any mood to get gutsied up. I just wore my denim cutoffs with my striped tee and the leather flip flops. We had dinner at Claws Seafood House which is a pretty laid-back place so the attire was quite appropriate. We got there in time for their lobster dinner promotion, which was $16.99 for a 1.5 pound lobster and two sides.  Not a bad deal at all, and it was so sweet and tender!  I had the asparagus and corn on the cob as my sides, but Emerson ate my corn with her spaghetti marinara (girl still doesn't like meat even though we as a family haven't been vegetarians for over a year).
After dinner, I took Emerson back to the hotel for a bath and bedtime. My mom and sister returned soon after. My sister decided to stay in, my mom and I went back out to do a bit of shopping (got a new purse at Sole Boutique and a fun cotton top from Downtown Cowgirl). Grabbed some green mint chip ice cream from The Double Dippers and headed back to the hotel where the three of us watched Pretty Woman while Emerson slept in the adjoining room.
Sunday:
I planned on wearing the coral tank with the white jeans, but it was just too hot out. I pulled back on the denim cutoffs. After breakfast at the hotel, we did a bit more shopping off Rehoboth Avenue (where I got another purse, again from Sole Boutique), and then checked out and headed to the nearby outlets.
Having Emerson means more strategic shopping – someone to entertain while others are in line or the fitting room, prioritizing so we don't spend all day roaming the shops while Emerson fusses and is bored out of her mind. This is a big reason why I shop online – I hate strapping Emerson in a stroller for any length of time, especially if it's so I do something I find as boring as watching me try on a dozen pair of jeans.
We hit Children's Place Outlet, which was having Friends and Family. The selection in her age category was utterly depressing, but I was able to get a pair of denim Bermudas, three tanks and a pair of footie pajamas for $23.00. At J. Crew, my sister and I both had success; I got a cotton sundress, an acid yellow ribbed tank, and two necklaces for $48.00. I didn't expect to have any luck at the Banana Republic Outlet, but ended up finding a good dozen things that were pretty cute. The store was 40% off the lowest price, I got two jersey dresses, a sleeveless cotton top, and a couple things for my husband and only spent $50.00!
We then drove to a different strip of outlet stores so my sister could check out Coach and my mom check out Fossil. Neither found a great purse, but Emerson had a blast in Coach walking in circles around the shop and charming the sales associates.
Home again, home again jiggedy jig; we were back at my house by 4:30. While I unpacked from my mom's car, she took Emerson upstairs for a short nap so she could still go to bed at her regular bedtime. I had a blast at Rehoboth, but it was nice to be home!
Follow Me | Twitter | Facebook