This article may contain affiliate links; if you click on a shopping link and make a purchase I may receive a commission. As an Amazon Associate, I earn from qualifying purchases.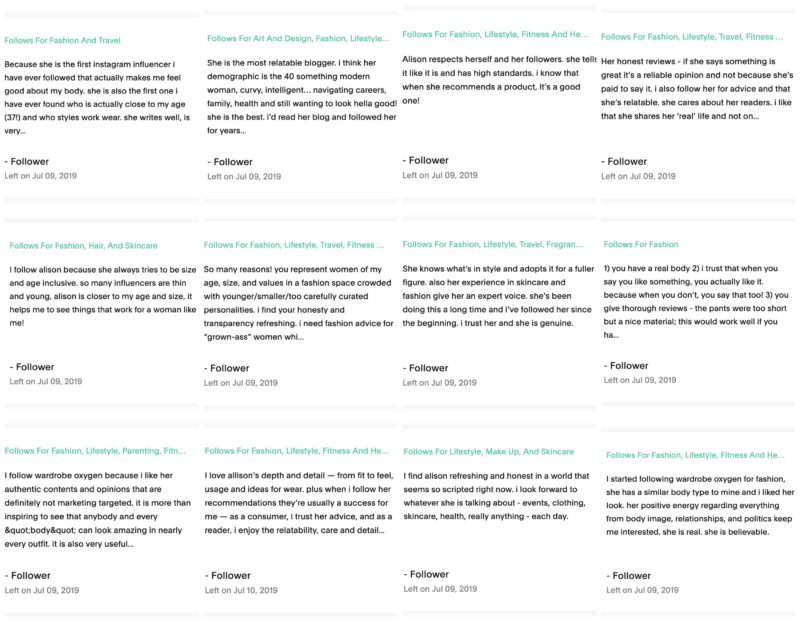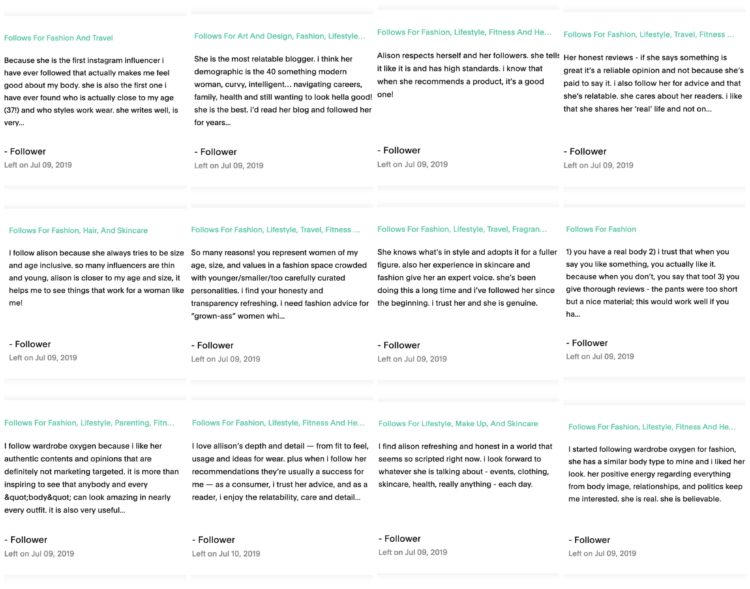 It's been proven that criticism can stay with you far longer than ten times as many compliments. In the profession of blogging, I experience this daily. I can get so many supportive comments but will latch onto the one that is critical. I catch myself writing, expecting those criticisms on my grammar, my styling, if I've worn or written about the same brand too often, if my pricepoint is too high, if my disclosure on monetization isn't transparent enough. I focus so much on this, I get compliments and don't let them sink in.
Years ago, I had a thread on a message board that snarks on bloggers and social media influencers. It coincidentally started the same weekend I slipped on black ice and shattered my radius and was on disability for five weeks. I lay on the couch, doped up on Vicodin, unable to do much other than scroll through my phone and my self-sabotage hobby of choice was scrolling through that thread about me. It colored my whole world, made me question everything about myself, and drove my friends and family crazy. The only way I was able to get a grip on reality was with an Excel spreadsheet. I went through every page of that thread, made a column with screen names, then tallied how many comments from each user, and whether that comment was Troll ("she's fat and ugly and stupid and her husband is gay"), Constructive ("I hate how she started this, I wish she wouldn't do that, she'd be better if she did this other thing") or White Knight ("I don't think she's that bad, I actually liked when she did that, I disagree"). It made me realize that while there were pages and pages, most were from just one screen name and in there were a lot of nuggets of constructive criticism. Each time I meet someone who is on that message board or another snark site, I encourage them to do this exercise, it helped me take it less personally and not drown in negativity.
The other way to rise above focusing on criticism? Step away. As a blogger or if you're the owner of any business, that's easier said than done. You can't really close down your shop or cafe or sealcoating business for a week or two and unplug and not end up with lasting financial issues. But I felt I had gotten to a point where I wasn't able to see the forest for the critical trees and took some leave without pay from Wardrobe Oxygen. I have three days left of this two-week vacation; I'm typing this on my laptop while sitting alongside a stream. I received an email from Fohr, an influencer network I am a part of, asking me to fill out a survey and see if I am a good fit for a future campaign. After, I went to check out my profile on the site and scrolled down to the follower recommendations. I shared a link on Instagram Stories and in the WO2 Community to this follower survey and scrolled through all of the entries and did some happy crying. So many reviews (sorry they're hidden unless you're a brand looking to work with me), and so many that totally get what I'm trying to do with Wardrobe Oxygen. Taking the time to do the survey, and write such thoughtful messages was so incredibly powerful. I am glad I did it now, with some space between me and the job so I could truly appreciate them. I can't tell you enough how thankful I am for this community and for your support!
Charity of the Month
I am a bit delayed with the month-end results since on vacation but wanted to get your thoughts on which charity I should donate to this month. As a reminder, I am donating $100 for every $1,000 I made in the month of July to a charity and will do the same for the month of August.
I will collect anonymous entries through the next couple of days and this coming week I will share a full recap of how my first month of my "summer vacation" went and which charity will receive the donation and for how much. If you would like a charity considered for August, leave a comment or send me an email!
Weekend Reads
Since I mentioned studies on criticism, I felt it made sense to share links on the subject…
We all know by now I love Dagne Dover bags. I have the Landon XL and the Dakota backpack with me on this trip and wish I brought my Ace fanny pack. The one thing I wished Dagne bags had was the sleeve to slide the bags onto the handle of a rolling suitcase. Well guess what? They're relaunching their 365 collection with luggage sleeves! I'm totally going to get them, they're going to make these bags even better for travel!
She practiced self-care for a month and realized her concept of the practice was all wrong. (EatingWell)
As a child, I had a nervous stomach. Our pediatrician told my mom never to keep me home for an upset tummy. He was right that it wasn't the stomach, it was just anxiety. One in eight children develop an anxiety disorder, this piece shares how to recognize it and care for it. (Awareness Act)
How to know a pair of shorts are awesome? When you specifically packed a small vacation wardrobe and realize you packed two of the exact same pair. I must have been so worried about forgetting them that I packed both pairs, one from last year and one from this. And last year's pair is indistinguishable from the newer pair! They from Kut from the Kloth and this link has a variety of styles in the specific cut and the jeans go up to 14W and 16 (for reference I am wearing a 14; I usually size up for shorts but 14 works for me).
Another good buy that I had on this vacation were my Lands' End water shoes. They're on sale for $14.99 and then I got them during a 40% off promotion. I got the black floral version and they have been awesome for walking around slippery rocks near the river, wading in the river, going to a water park, and I've even worn them after to go out for lunch. If you have wide feet, don't worry I do too and they're plenty roomy and comfy!
'Ghost fleet' of sunken warships in Maryland declared a national marine sanctuary and I need to visit it! (National Geographic)
Target is re-releasing 20 of its past designer collaborations. I often think of my zebra-print corduroy pencil skirt from the Isaac Mizrahi collection; I sold it to a reader over a decade ago. And I had a dress from the Proenza Schouler collection that was my JAM even through my pregnancy. Read about this release at this post. (Vox)
And another story about Tarjay – Target is releasing Halloween costumes for children in wheelchairs. (Kid's Activities)
Hey local yokels, especially those on the Virginia side: The largest collection of Ross' paintings to ever be displayed at one time will be shown in the Franklin Park Arts Center in Purcellville, Virginia, from Sept. 10 to Oct. 15. Just an hour outside of DC, the Loudoun County public arts center will present 24 original Ross works created during his time on "The Joy of Painting." (Washingtonian)
"In high school, my friends and I were inseparable. We grew up in the same church with the same faith. How did we all drift so far apart?" (Slate)
Your fat friends need you as an ally. This is how you can be one. (ABC Life)
For Your Entertainment
Well you KNOW if there's a new Lizzo video I'm going to share it. Even better when Missy Elliott is part of it! And now I want a faux fur cape for this fall and winter…