This article may contain affiliate links; if you click on a shopping link and make a purchase I may receive a commission. As an Amazon Associate, I earn from qualifying purchases.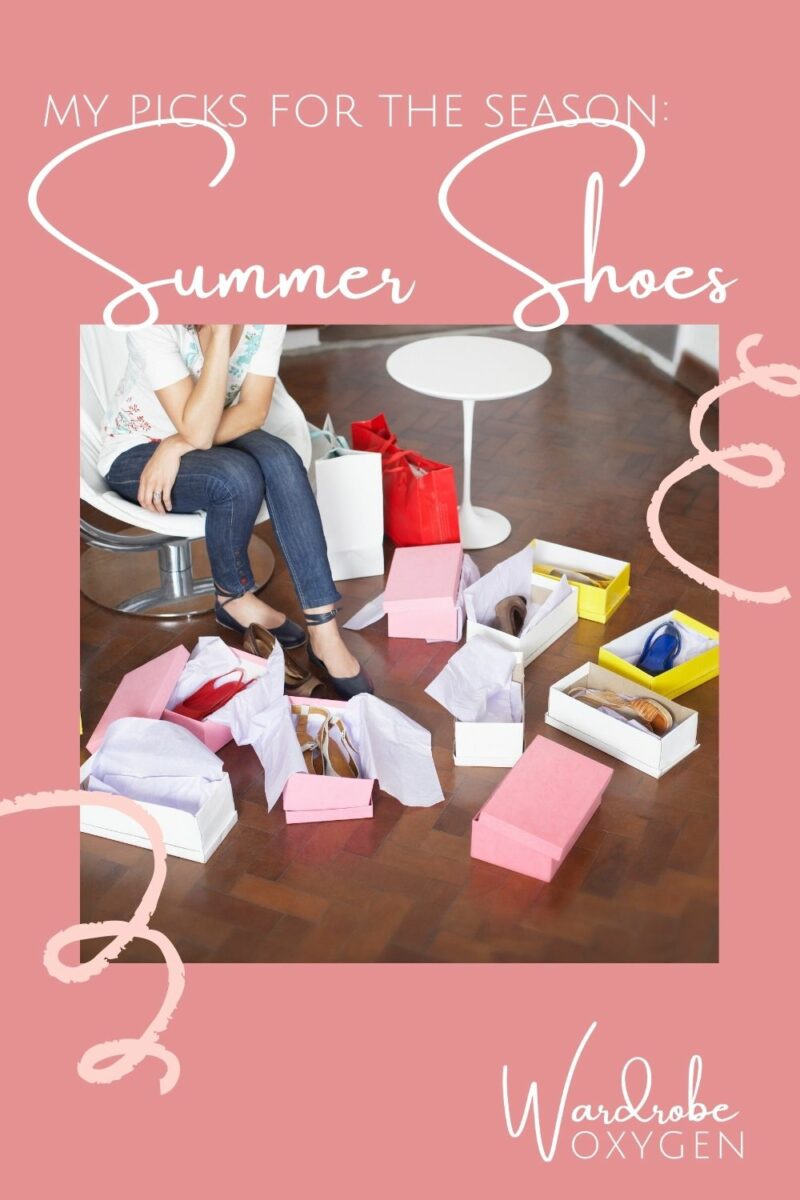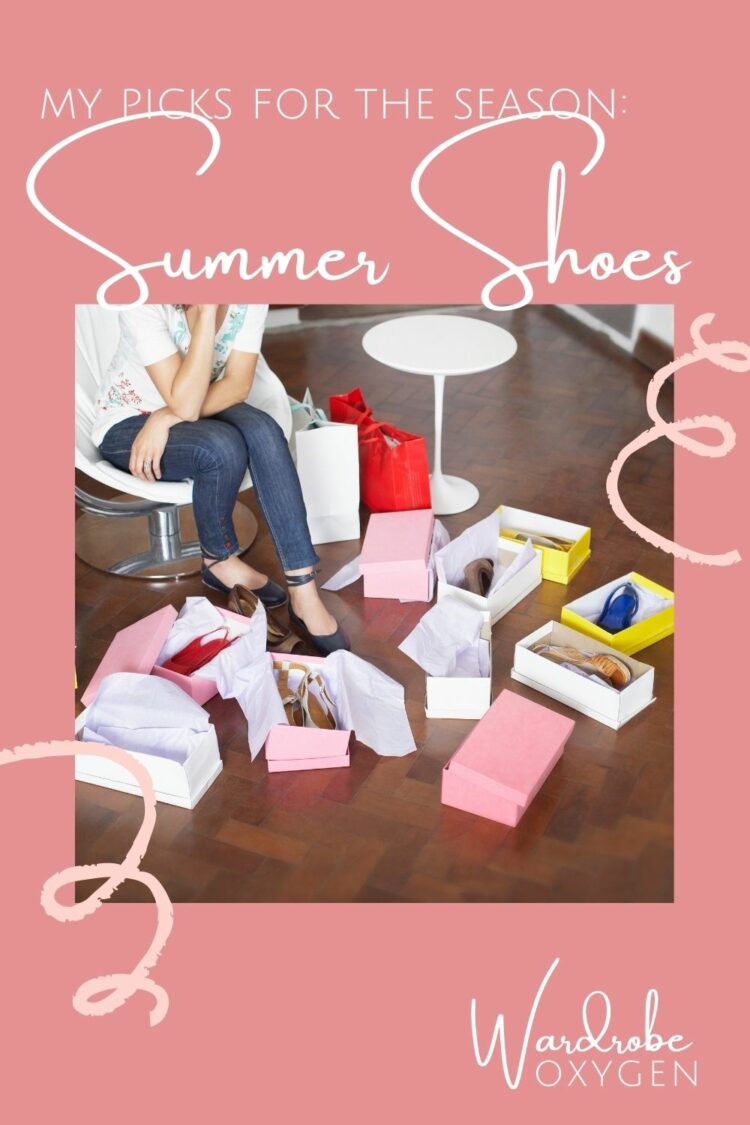 After writing about stylish wide width shoes for spring and summer, I thought it made sense to share what shoes I plan on wearing now that the world is opening up and the temps are rising.
These are all shoes that are either in my closet or because they are sold out, a worthy alternative. This is all I plan on for this spring and summer… but I cannot guarantee that I won't see some awesome new shoes over the next few weeks that I will justify adding to my wardrobe!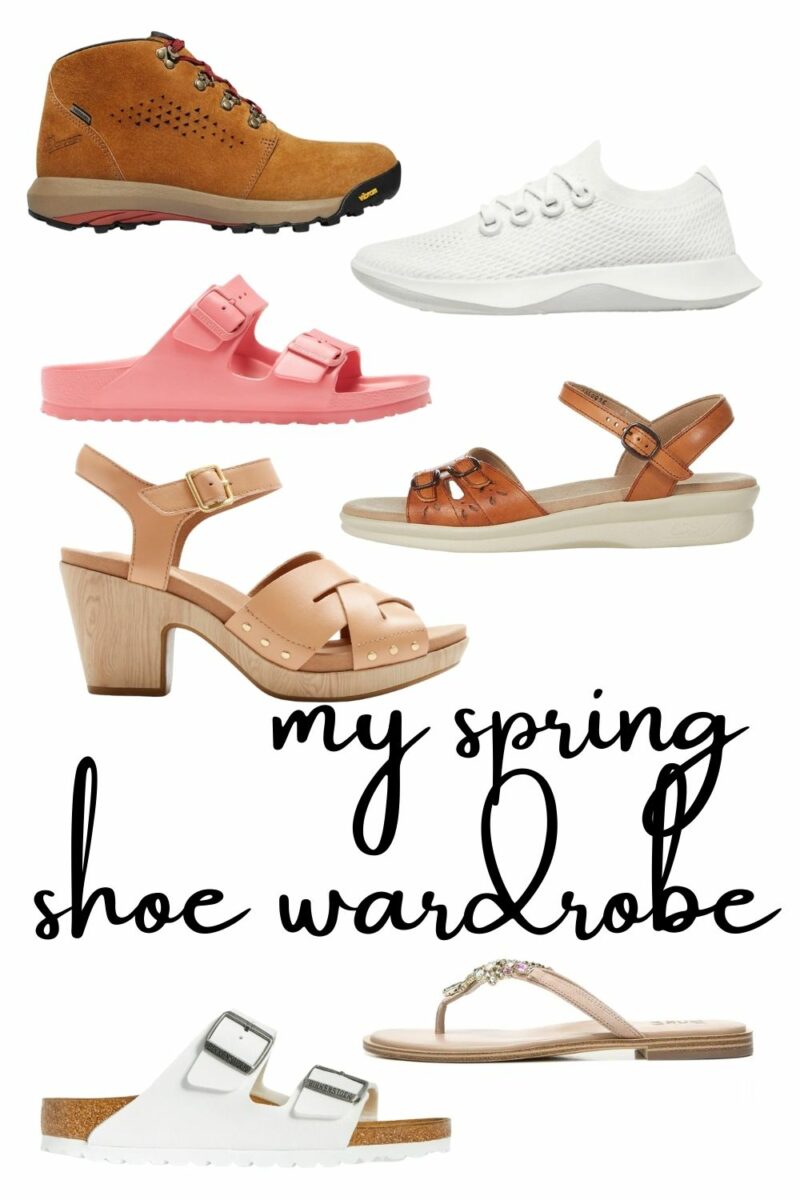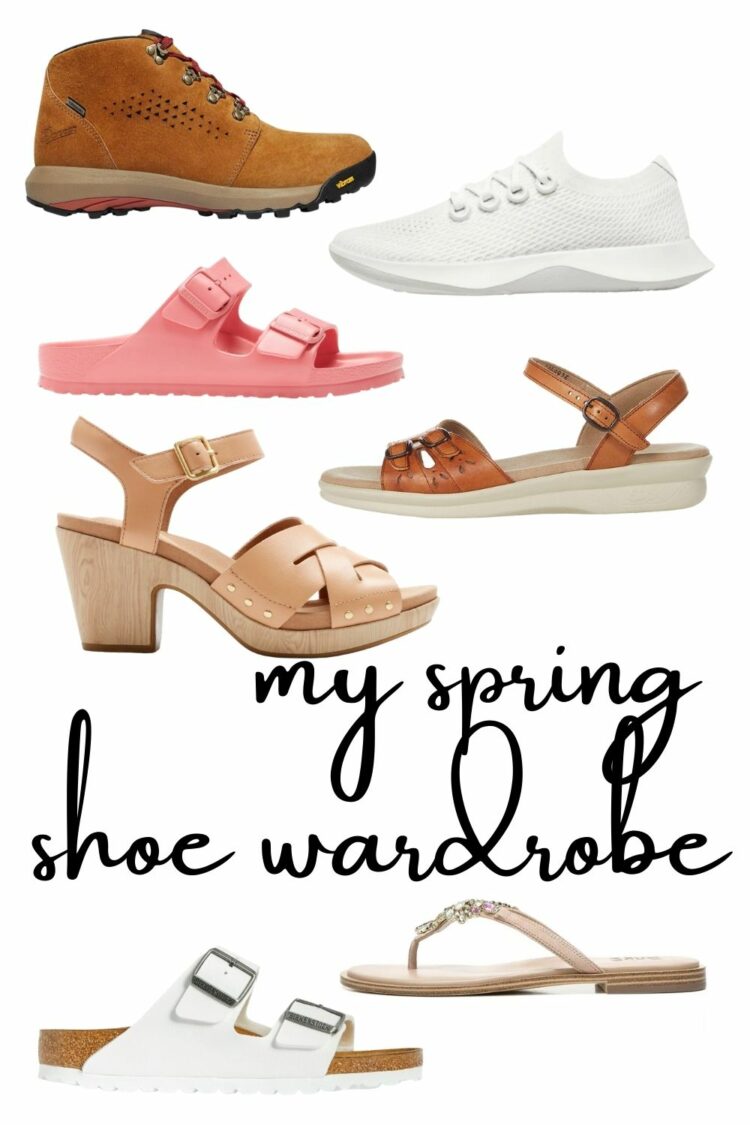 My Spring and Summer Shoe Wardrobe… So Far
The Dressy Flat Sandal
Beach and garden weddings. Maxi dresses. Elevating linen pants. I think a dressy flat sandal has been the hardest working piece of footwear in my closet for several years. I have a pair of gold lace-up flat sandals from Bella Mia that have traveled all over the country with me. They have been worn to Diner en Blanc, to evening weddings, to cocktail parties on the beach, on boats, and much more.
These from Naturalizer come in widths and a variety of colors; the bit of sparkle on them makes them dressy enough for most summer occasions and they're small enough that they can tuck in a bag (heck maybe even into your purse).
Shop Dressy Flat Sandals:

The Street-Friendly Waterproof Sandal
I swear by Birkenstock's EVA version of their sandals. With the molded footbed and adjustable straps, I get the comfort of my favorite Birks while having them able to get wet, hosed off, and scrubbed. I wear them to the beach, the pool, in changing rooms, out in the yard and garden. I keep them at the door to slip on to take stuff out to the compost or let the dog out in the morning. For travel, I often take them to be my sandals, my flip flops, my shower shoes, and to style with shorts and sundresses for everyday.
I know not everyone likes Birkenstocks, but I do recommend a shoe that is as versatile. Step outside the flip-flop box and look for a shoe that is kinder to your feet and your style while still being as sturdy in wet conditions. You'll be surprised how many styles are waterproof; while researching this article I came across Sea Star Beachwear which makes shoes that look like traditional espadrilles but are made with neoprene so they can handle getting wet!
Shop Stylish Waterproof Sandals:

The Waterproof Lightweight Hiking Boot
My husband is very into gardening and for the past few years has had a plot at our community garden. We often go on weekends as a family or just him and me to work on it. It's muddy and dirty and we usually walk there; boots are a must.
I got these Danner boots last summer and they are amazing. Not heavy, not sweaty, and waterproof. I can step in mud puddles and hose my feet down when I get home. I like the classic style of them; I have worn them with jeans and sweaters and with shorts as well as my gardening and hiking clothes. For beyond gardening I have worn these boots for hikes and sightseeing.
Shop Summer-Appropriate Hiking and Activity Shoes:

The Versatile Sneaker
My regular fitness is barefoot on my yoga mat, wearing cycling shoes, and a bit of weight training and walking. I used to have sneakers for weight training, sneakers for walking, sneakers for style… and I still have them but I find that I just wear my Allbirds for all the occasions. Click to read my Allbirds Tree Dashers review.
These sneakers are low-profile and lightweight and look cute with a t-shirt dress or a pair of shorts, but have the cushioning and support needed for fitness activities. As long as my fitness activities don't include mud, I will continue to rock these for most any situation.
Before having my Allbirds, these Adidas sneakers were my go-to (and they're on sale!). I still love them, they are classic and stylish and roomy but a bit more chunky. I've gathered some great sneakers below that are versatile and great for summer:
Shop My Picks for Versatile Sneakers:

The Sightseeing Sandal
With wide feet, I struggle to find cute, simple sandals that fit and are comfortable. It should be easy, but when you get into wide widths suddenly you get multi-colored straps, oversized buckles, contrast stitching, contrast soles, and lots of Velcro. Those things aren't bad, they just aren't what I've been looking for.
These sandals from SAS look like something I wore as a young child, but they're also so ordinary they sort of disappear. But I love them and wear them so much because they're darn comfortable. Like, I've walked miles in them comfortable. And especially in the summer, I find a sandal to be a better choice for sightseeing because of the comfort and also because it looks less like a "comfort shoe" when I leave the museums and historic sites for a nice lunch or to meet friends for dinner.
I find these sandals look best with midi-length sundresses, but honestly I wear them with everything because I know I can walk to the farmer's market or around the lake in town or take them on a trip and wear them all day sightseeing and be comfortable and supported.
Shop Sightseeing Sandals:

The Casual Summer Heel
This is something I was lacking in my wardrobe the past two summers. I recently ordered these clogs from Nordstrom after reviewing wide-width sandals. They're the style that would look good with maxi dresses and wide-leg jeans and pants. While I have wintry options for chunky heels, I have lacked the summer option.
I also have had a lot of success with Rockport shoes (though IMO if you're wide you may wish to size down because they are super roomy). I have also been admiring these sandals from ASOS which look chic, come in wide fit, and are budget-friendly.
Because I am short, I think I need this more to make clothes hang correctly. Even when having pieces tailored, I sometimes just think a chunkier shoe with a heel will complete the look I desire.
Shop Summer Casual Heeled Sandals:

The Dressy Heel
Unlike the clogs, this is a shoe that is more streamlined. I have these from Margaux which have been darn perfect for pants, dresses, skirts, and much more. The soft gold is neutral enough that they go with everything and transition from day to night with ease.
The perk is these sandals from Margaux are hella comfortable and can be worn for several hours without discomfort. Also the style makes them great year-round. \
Shop Dressy Heels for Summer:

The Everyday Sandal
A slip-on and go sandal is a must for me in the summer. My Birkenstocks achieve just that while giving me the support I need for comfort. I wear them with joggers, with jeans, with shorts, with dresses… you name it.
The past two summers I had a silver metallic pair; this year I decided to go with white which feels modern and fresh and complements my wardrobe.
If Birkenstocks aren't your jam, I have been admiring these sandals from Bella Vita, which come in widths and a variety of colors. I've owned similar and the subtle style is easy to dress up and down and the lightweight style is so nice for the hottest days of the summer. They look great with dresses, pants, and shorts.
Shop Summer Day Sandals:

Everyone's life, wardrobe, and needs are different. For some, these shoes may be useless or impractical, for others they are too basic. You may be the type who can go through spring and summer with one or two pairs of shoes; for others you may need many more than I show here.
Likely last spring and summer you didn't focus on footwear and you may be finding this year you need to start from scratch. I share my shoes not as gospel, but as a guide to get your sartorial juices flowing.
What shoes are your must have for spring and summer?