This article may contain affiliate links; if you click on a shopping link and make a purchase I may receive a commission. As an Amazon Associate, I earn from qualifying purchases. 
My company is hosting a team-building conference at a resort in Florida. I will be presenting several times, so I definitely want to leave a professional impression. The problem is that the entire conference dress code is casual. Not business casual – just "casual" casual. I'm finding it hard to come up with outfit ideas for a corporate get-together an a beach location without the clothes being a) too warm, b) too provocative, or c) too darn casual. There may be a dinner or two that calls for something a bit more dressed up, but for the most part, I need outfits that are versatile, comfortable, chic and yet somewhat conservative. Do you have any ideas for me?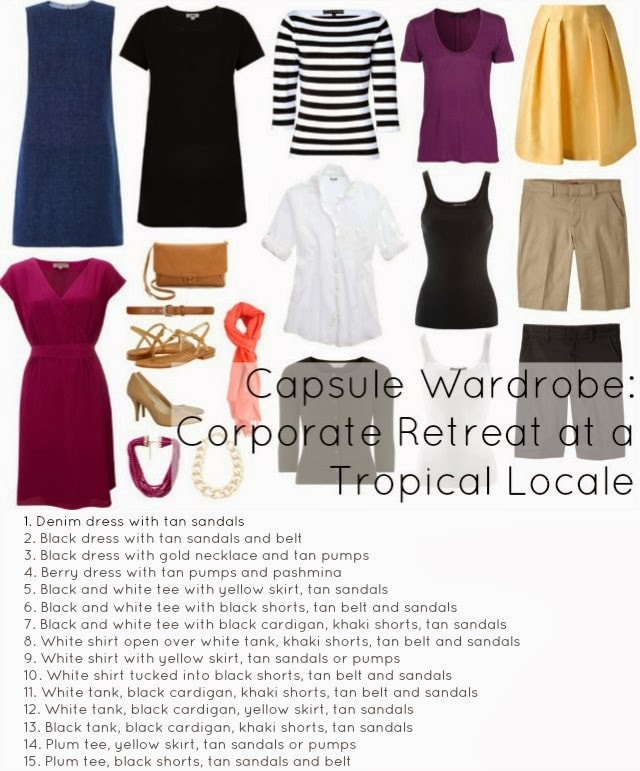 *note that more outfits can be created based upon your comfort level of having exposed shoulders, or the versatility of your specific garments
At first glance, such an event seems so hard to pack for. Men can toss a few polo shirts and khaki shorts in a duffle and call it a day. We women have so many options and so many warm-weather looks that are either too casual or bare too much skin for a work event. However we have something on our side – dresses. Dresses don't have to be reserved for more formal occasions, they are in fact perfect for such a setting because they can be loose and breezy without looking schlumpy, look casual with heels, or can dress up in a pinch with a quick change of shoes. However, dresses are more memorable so it's good to pack separates.
In recent seasons, shorts have become far more refined, even being styled for work and the red carpet. It's far easier now to find tailored shorts with a longer inseam that can be a tropical local alternative to trousers. I've included a belt which always adds polish to a look. Simple black and khaki chino shorts can look polished if you tuck in the top (or tuck in the base layer and leave the top one loose like a jacket) and add a belt.  Of course, based on your comfort level and personal style, these shorts can be replaced with pants at the length you prefer.  If you like color, this is a great place to incorporate some; shades of turquoise, red, and blue are great accent colors that work with neutrals and other brights and aren't too extreme for a casual yet professional setting.
A skirt is quite comfortable in humid climates, choosing one out of cotton or linen with pleats or gathering will look more casual than a tailored version. Such fabric is also expected to wrinkle with wear, so as long as it's pressed before your day starts you don't have to stress over creasing with sitting and movement. A skirt can also dress up quite easily with a change of shoes.
To minimize the number of accessories you pack, stick to one color story. I chose tan because it's easy to find, easy to match to other tans, works with so many colors, looks more casual than black, and doesn't steal the spotlight. A pair of flat leather sandals will work for day; they're casual without being unprofessional. Pack a pair of pumps, peeptoes, or sandals with a bit of heel to easily dress up pieces for dinners and evening affairs. A small leather bag with a detachable strap can be a purse for day and a clutch for evening. Clothing can be quickly transformed with necklaces; a beaded necklace in a statement color is great for day or more casual evening events, a gold one instantly adds polish for dinners.
While it will be warm outside, air conditioning will be on full blast indoors. A cardigan not only will ward off chill, but make tanks and tees look professional. A pashmina is a great travel buddy, but is also a great shawl, which dresses up any evening look.
With knits, choose a heavier weight, a more refined finish, and interesting necklines which will look more polished. A scoop, V, surplice, or boatneck tee will look more refined than a classic crew; choose one that doesn't dip too low to keep the look conservative.
Though not included in this capsule, be sure to pack for excursions. I'd include a pair of athletic sandals or sneakers, another pair of shorts and a tee that would be comfortable for a hike or if they got wet, a sun hat and a bathing suit. Team building often includes outdoor activities, and they will be far more fun if you're in comfortable and appropriate attire!
Follow Me | Twitter | Facebook | Instagram