This article may contain affiliate links; if you click on a shopping link and make a purchase I may receive a commission. As an Amazon Associate, I earn from qualifying purchases.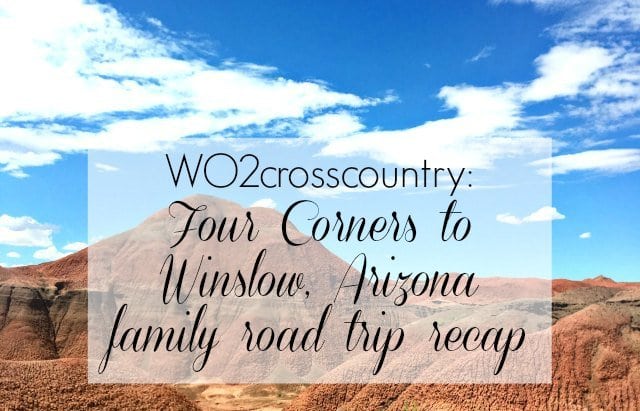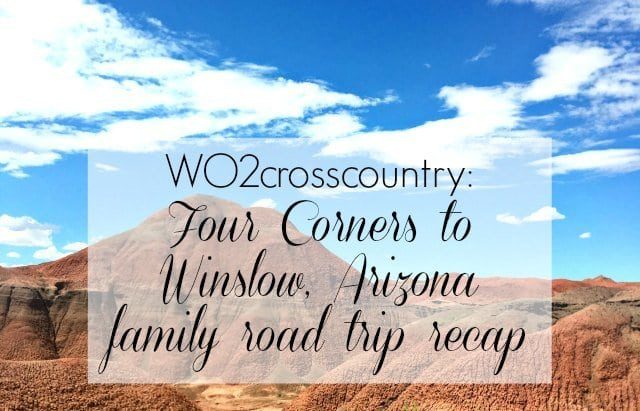 Read about our experiences in Columbus and St. Louis in this post, and our experiences in Dodge City and Durango in this post!
We left Durango on the 20th but didn't immediately leave Colorado. We had some stops to make to follow Karl's dad's road trip a decade prior. Right outside Durango and not too far out of the beaten track is Canyons of the Ancients National Monument. The Canyons of the Ancients National Monument contains the highest known density of archaeological sites in the United States covering 176,000 acres.
Canyons of the Ancients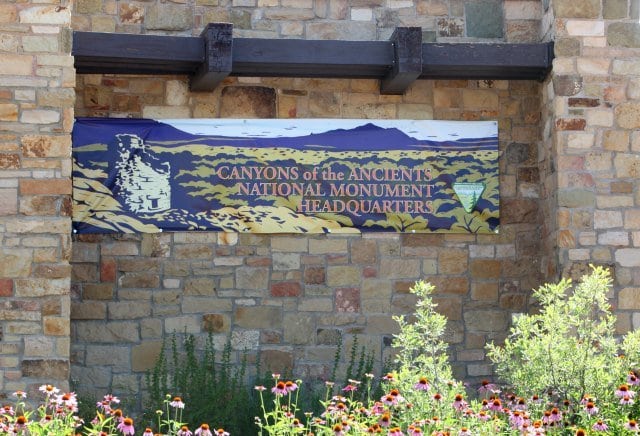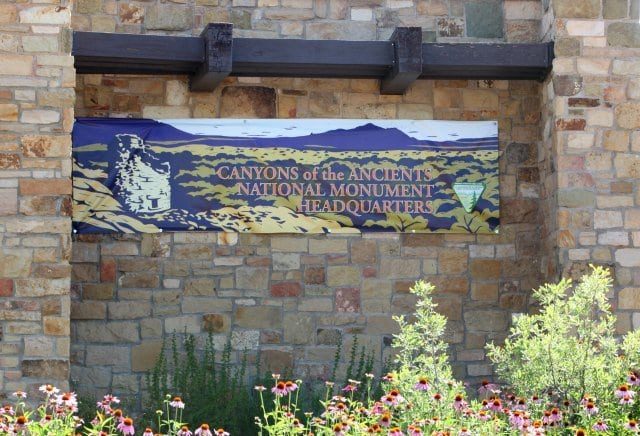 We first visited the Anasazi Heritage Center, a museum of the Ancestral Pueblo and other Native cultures in the Four Corners region as well as the visitor center for the Canyons of the Ancients. Like other National Parks, the price for adults is nominal, children are free, and if you're visiting a few in a year it's worth it to buy a National Parks and Federal Recreational Lands Annual Pass ($80).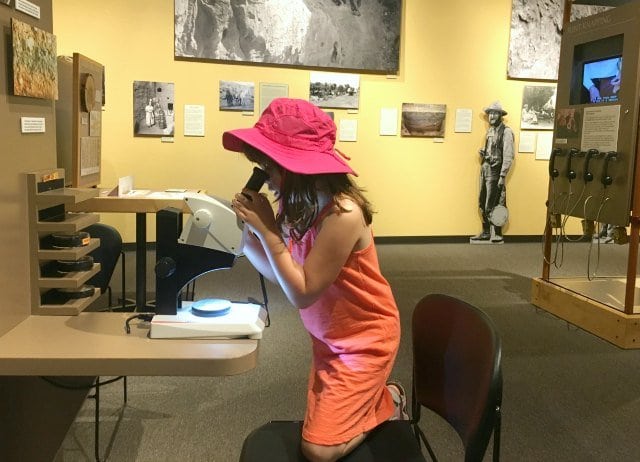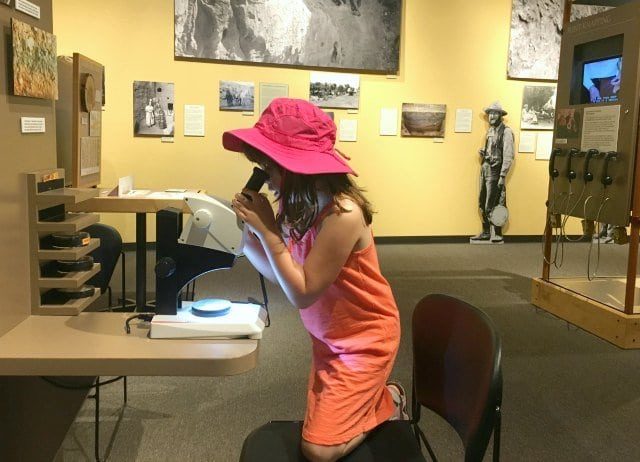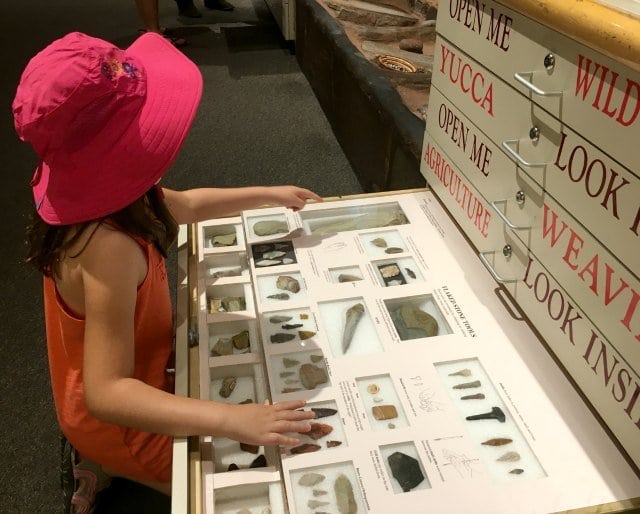 We went in for a map and ended up spending over an hour in the museum. While Karl and I liked it, Emerson was enthralled. There's microscopes so you can look at artifacts more carefully, drawers to open to see and touch artifacts and local plants and rocks, and hands-on projects like being able to use a loom, grind corn, or weave a basket. They had a replica pit-house which Emerson found fascinating, and a staff that was happy to answer all questions and offer more information.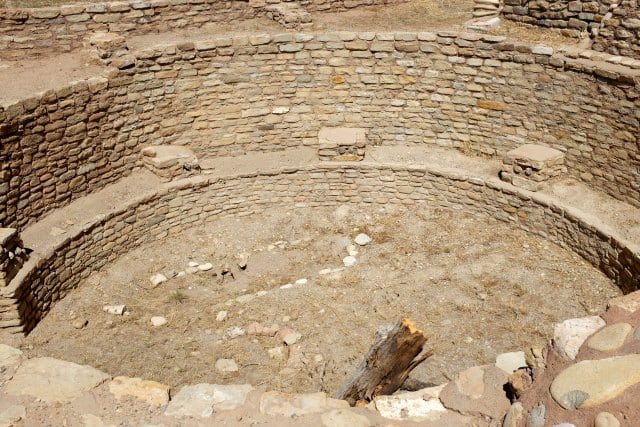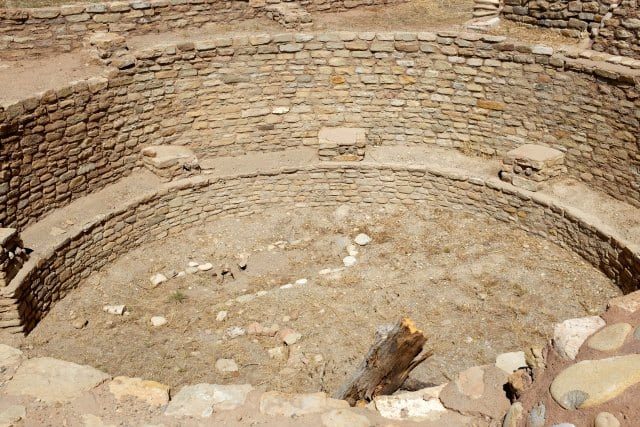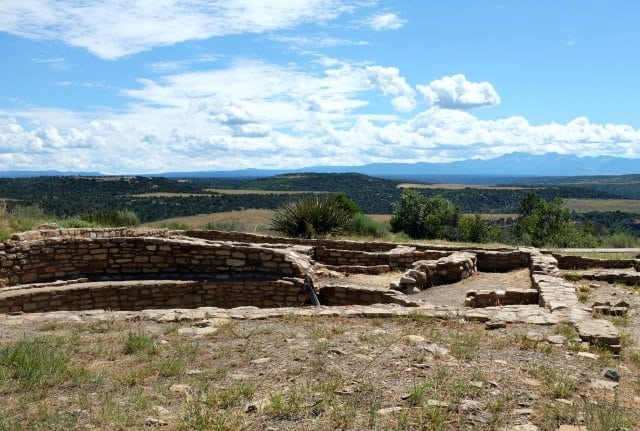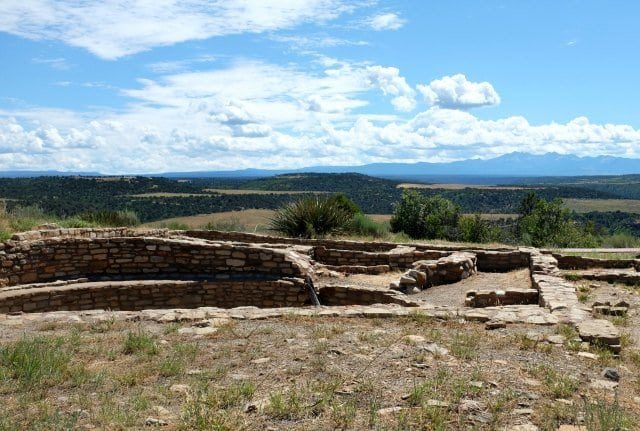 After, we decided to only visit Escalante Pueblo, the site in Canyons of the Ancients closest to the Heritage Center. An easy half mile walk (and wheelchair accessible) up the hill, there's signs along the way pointing out plants and animals and how they were important to the Pueblo community. At the top of the hill are the remains of a small village and the most spectacular view of the Colorado River.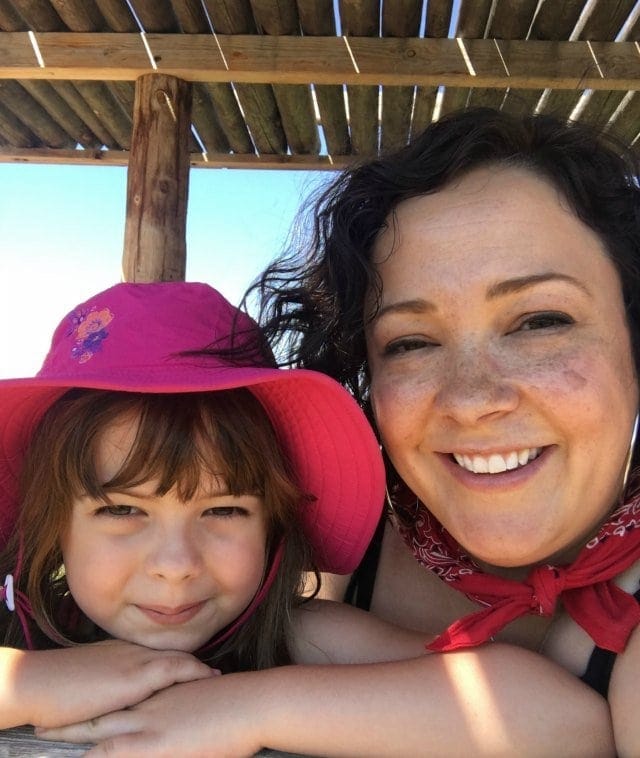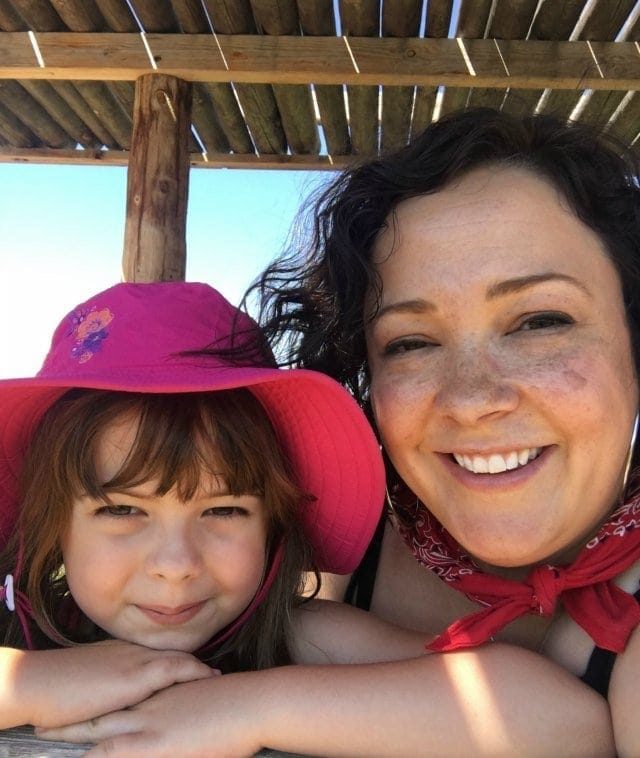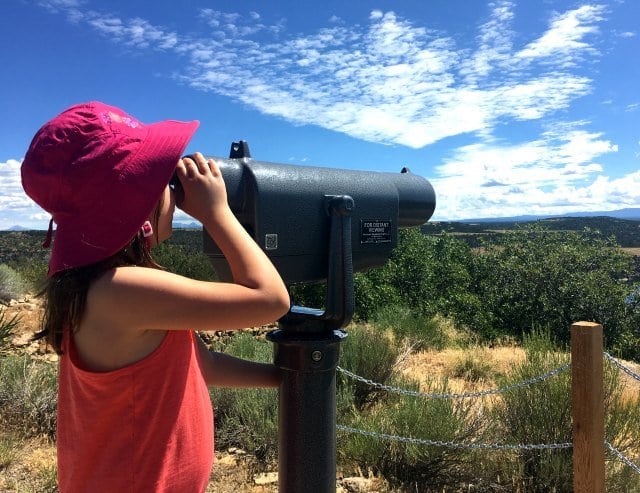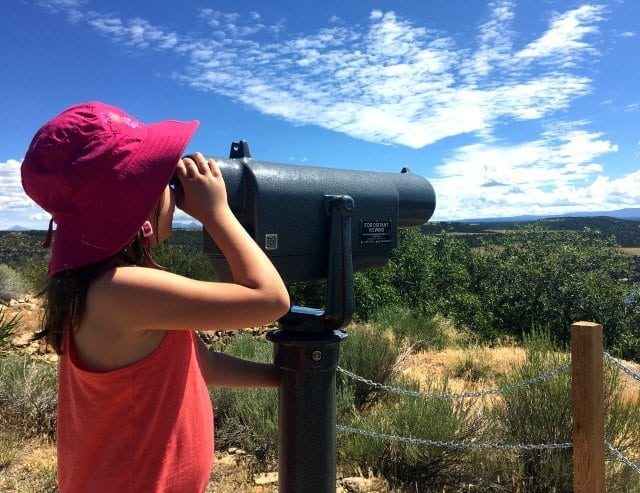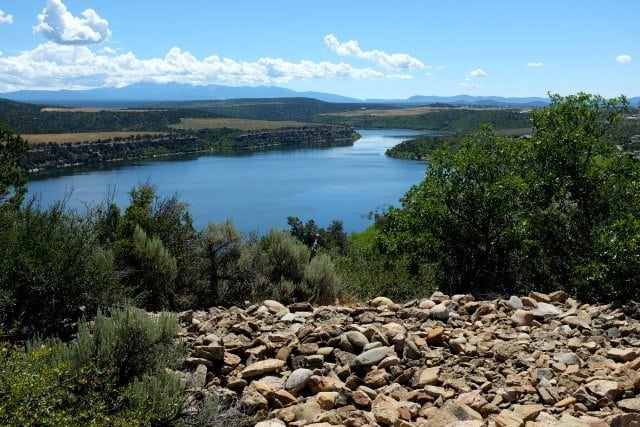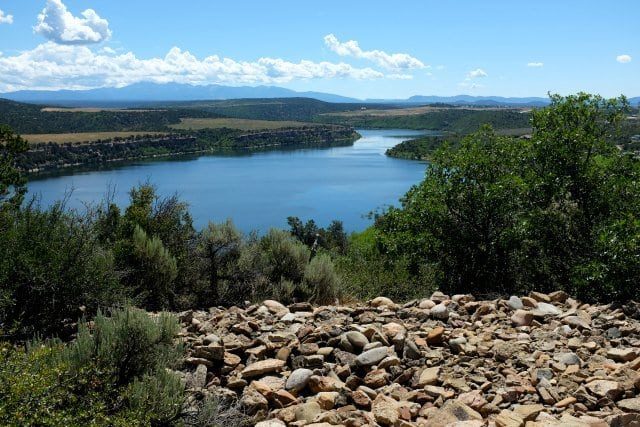 Archaeologists believe the Escalante Pueblo was occupied three different times, based on tree-ring dating of the wood used in its construction. Ancestral Pueblo people built the main complex in 1129. Around 1150 after a short time being abandoned, the pueblo was briefly reoccupied by people from the local Northern San Juan branch of the Anasazi tradition. A final occupation, also by the Northern San Juan people, was very short and occurred sometime around AD 1200.The Spanish explorers Escalante and Dominguez made note of this site in 1776 during their trek across the Southwest. Some archaeologists believe villages like the Escalante Pueblo were part of an interdependent system spread across the Four Corners area. They also think Escalante Pueblo may have been a gathering place for religious or social activities of people in the smaller surrounding villages. I could see why, it was utterly gorgeous and had all the natural resources one could need to thrive.
Four Corners Monument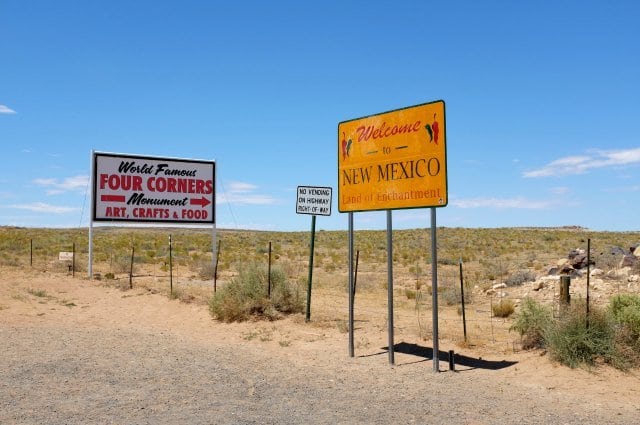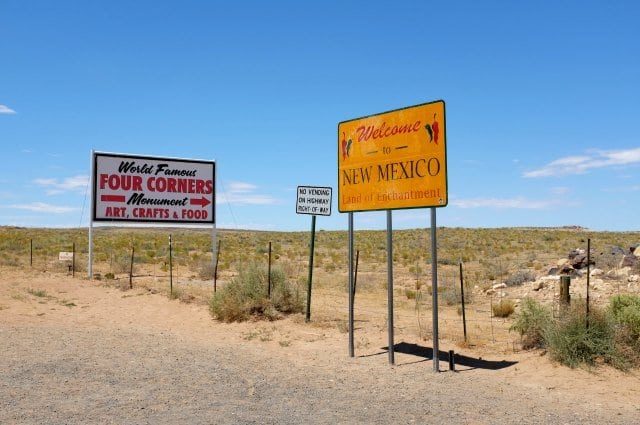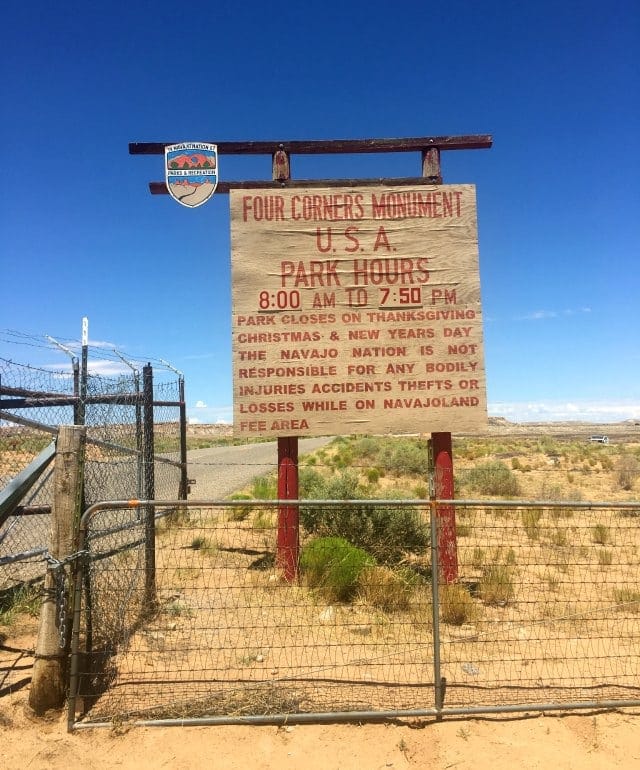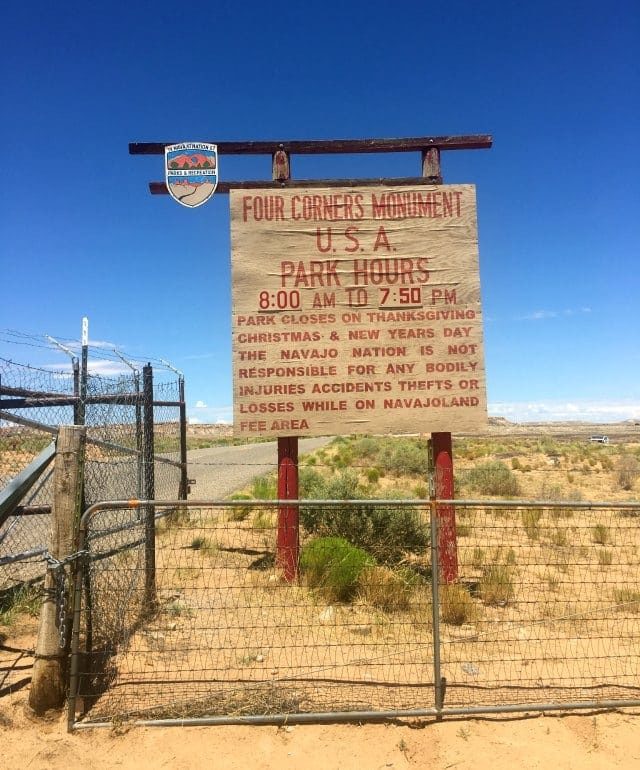 We then drove to Four Corners Monument, one of the two spots that determined the rest of the trip. Like Karl's dad, we thought it would be cool to stand in four states (Utah, New Mexico, Arizona, and Colorado) all at the same time. Four Corners is managed by the Navajo Nation and there's a nominal fee (cash only) to enter. There's four walls around the monument, which are stalls where Native American artisans sell jewelry, pottery, crafts, and more. In the center is the monument, which is a concrete base with markings showing the separation of the four states and the name of each state.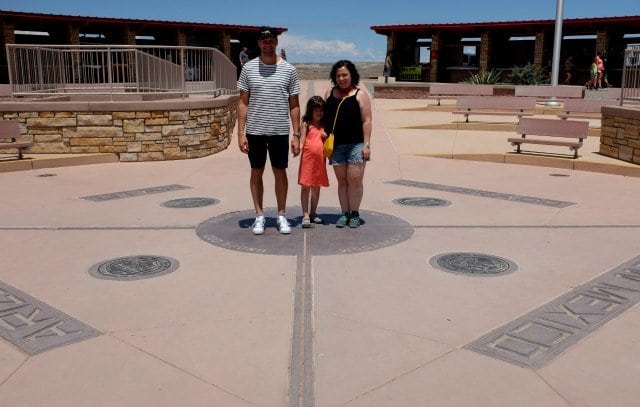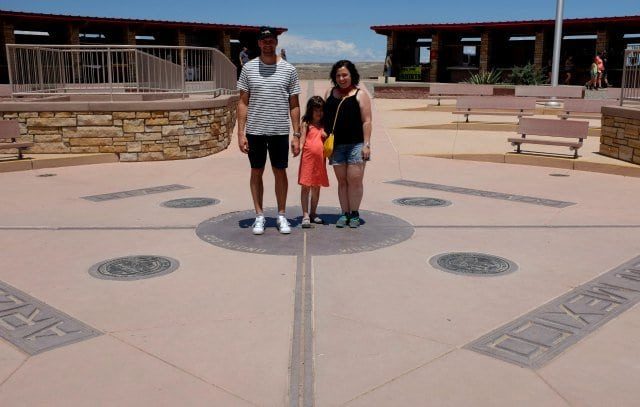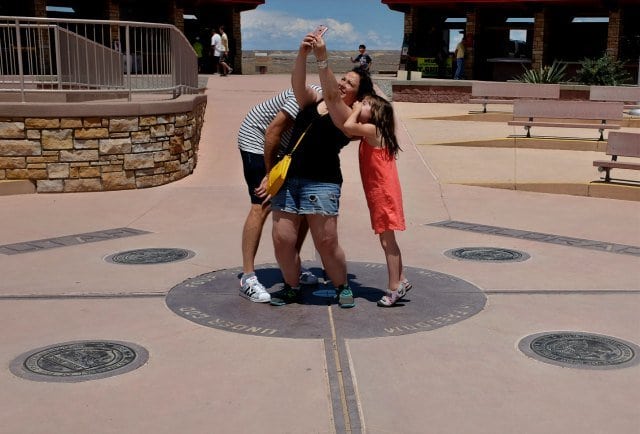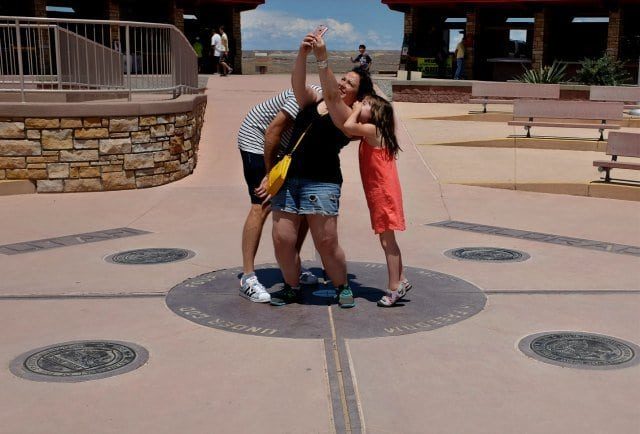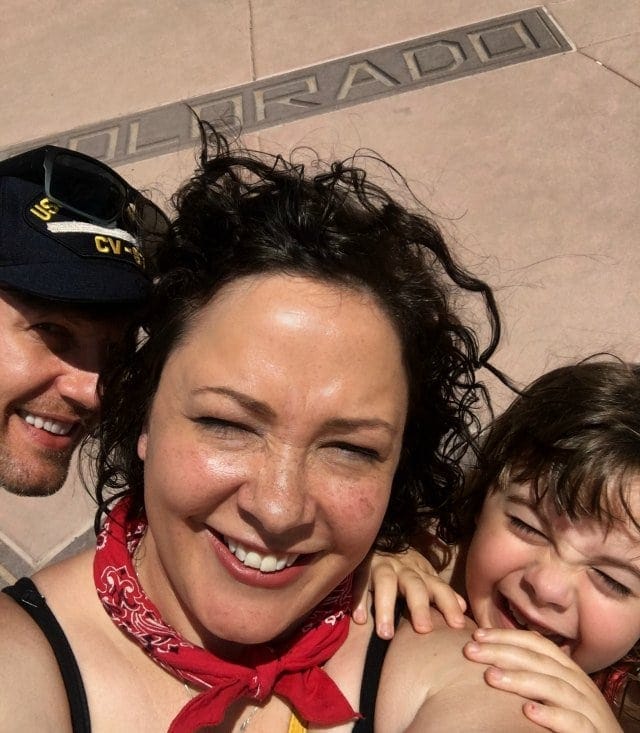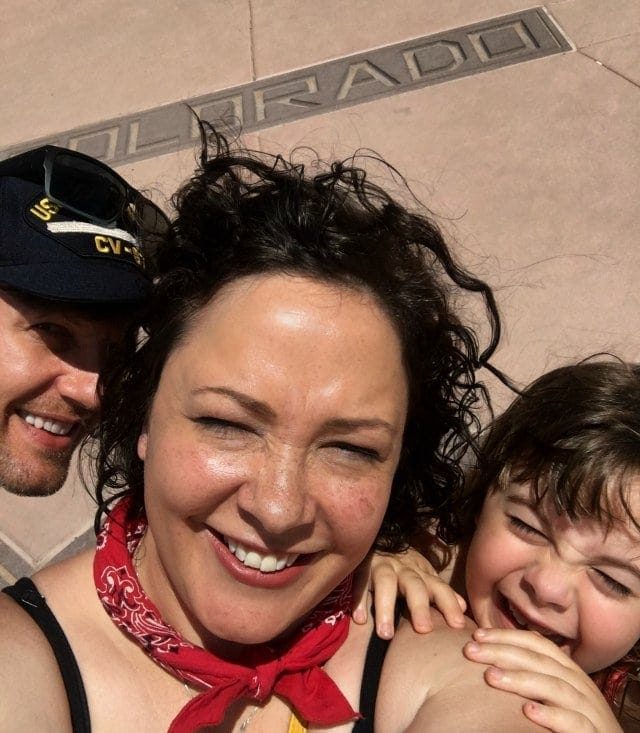 There's viewing areas, but there is a line you stand in to get your chance to stand in the center. There's a rule that you can only take three photos; while people do exceed this I was very impressed by how nice and polite everyone was in line. We chatted about where we came from, where we were going next, we took photos for one another, held each other's bottles of waters while we posed. I stood in line for the family while they checked out the vendors, this was a common practice by those of us in line.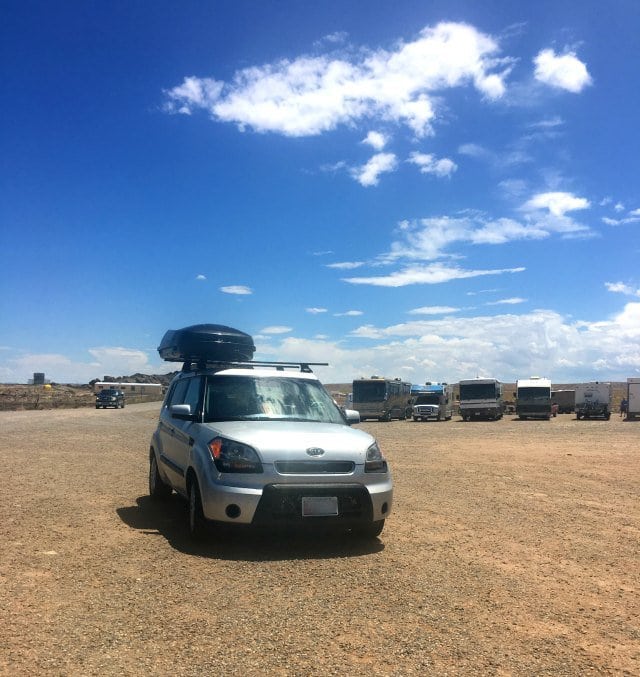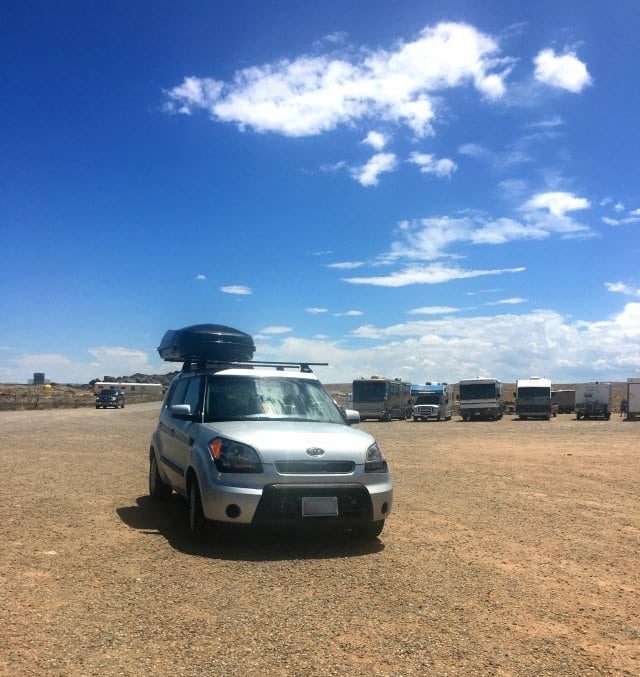 Karl then guided me to one vendor where he saw a bracelet he thought was perfect for me. Knowing how passionate I am about my personal style, he hesitated to buy it without showing it to me first. But he knows me well, and the bracelet was utterly gorgeous and my style so he got it. Emerson got a silver necklace with a heart decorated with turquoise chips, and a tiny lamb made of clay and wrapped in soft wool. We then headed back to Kia and headed to Winslow, Arizona.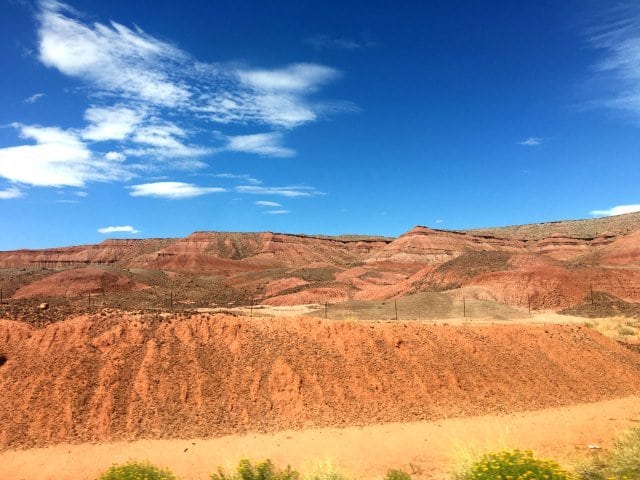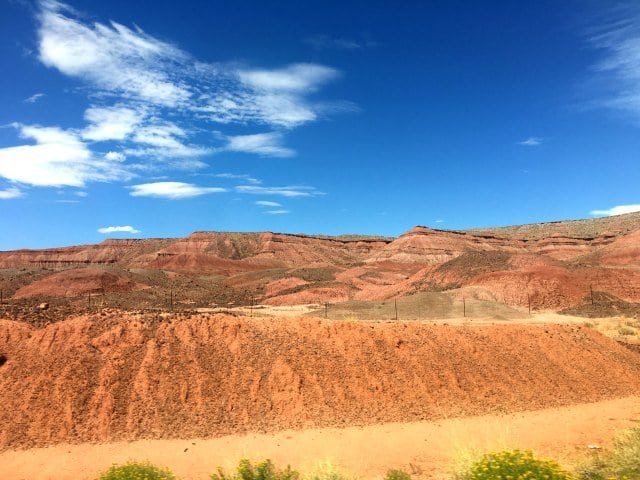 The desert in the Four Corners region is utterly gorgeous, the colors so intense it looks psychedelic. It was a clear day with a brilliant blue sky and I was constantly trying to capture the beauty with my phone and cameras while Karl drove.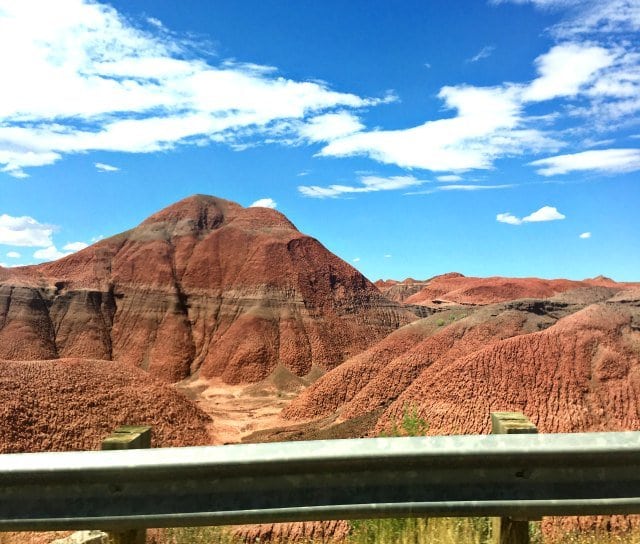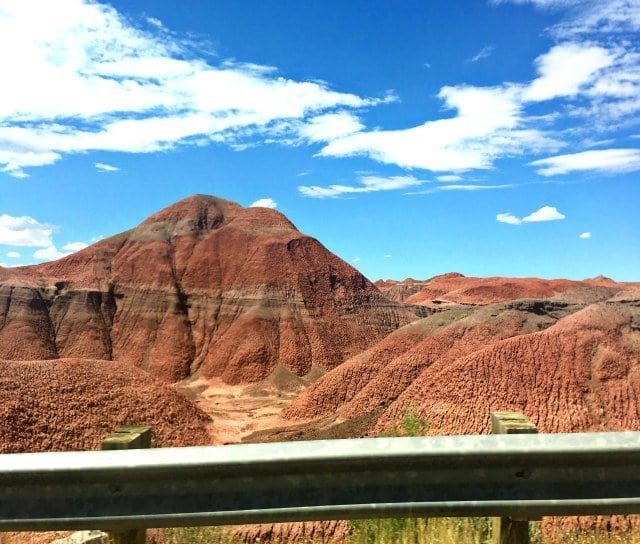 It was so tempting so many parts of our trip to stop and take beautiful photos, but we were deep enough in this trip to know that time is of the essence to enjoy the time away from the car. So we kept driving and I got quite skilled in taking still photos while in motion!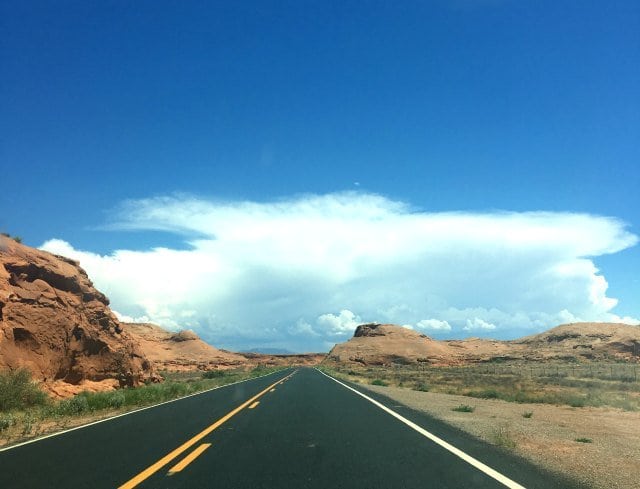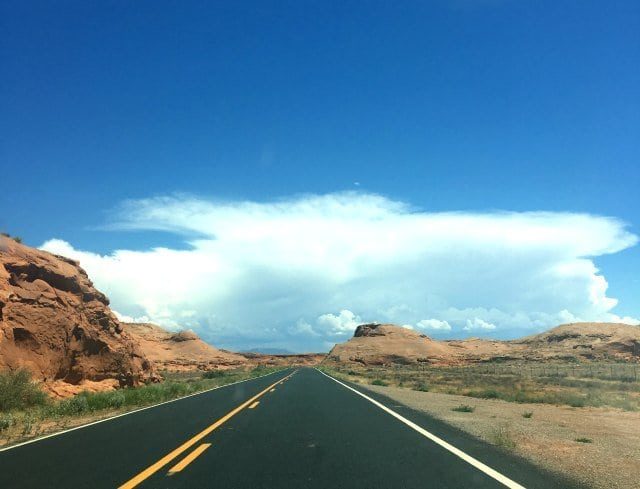 We drove through a few reservations, some extremely desolate parts, and areas where there was no cell service and our GPS wasn't recognizing the road we were on. Again, don't rely on technology when taking a road trip; those paper road atlases came in handy as did having a printed out old-school "Mapquest" itinerary.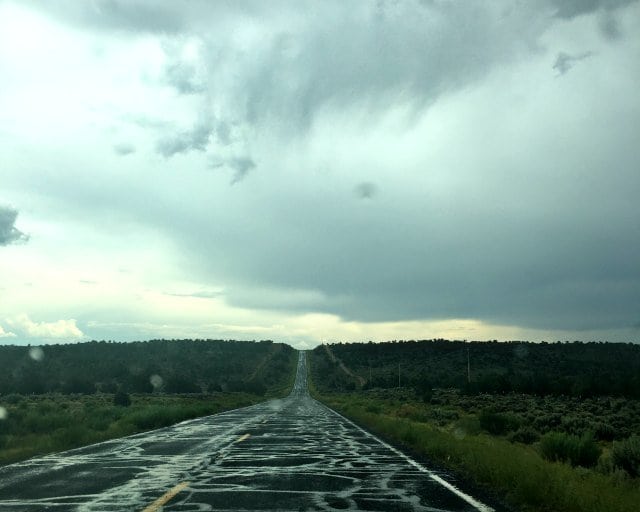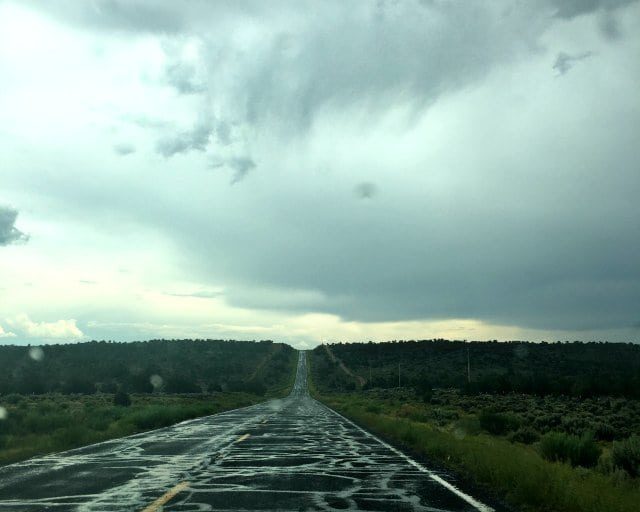 We could see a pretty major storm in the distance and figured it was about an hour away. We hoped it would end before we got there, or hoped suddenly the road would swerve to the left and we'd miss it. No such luck, for the second time this trip we were caught in a torrential downpour. We were so glad for our road atlases because the GPS was trying to get us to go down these road that were dirt but now were rivers. It was so intense we had to stop for a bit because we couldn't see well and worried the road ahead may have been washed out. Finally it ended, and it did a better job than the previous storm in removing some of the grasshoppers from our grill!
After some of the sketchiest truck stops, sketchiest weather, and most desolate parts of the country we had ever experienced we got onto Interstate 40 and started seeing signs for Winslow. We ended up reaching Winslow, Arizona around 4pm.
Winslow, Arizona
Winslow was a bustling city during the peak of railroad travel and was a convenient distance to natural wonders such as the Painted Desert and Petrified Forest. After World War II, cars took over as the preferred form of travel and Winslow reinvented itself by being a stop along Route 66. In 1972 Winslow gained fame with "Take it Easy," the first single from a then-new band called The Eagles which mentioned the city. When Interstate 40 opened, Route 66 and Winslow saw greatly reduced traffic. In 1999, the city took advantage of their fame from that Eagles song and built Standin' on the Corner Park. When Karl's dad took his solo road trip, he woke us at 6am on a Saturday calling from Standin' on the Corner Park and sang us that part from "Take it Easy." As a music and Eagles fan, it was a highlight from his trip and the first stop we confirmed for our road trip. Even with Standin' on the Corner Park, Winslow is no longer a bustling city. In fact, when driving through the city on a Friday to get to our hotel, we didn't see a single person or other car on the street.
La Posada Hotel, Winslow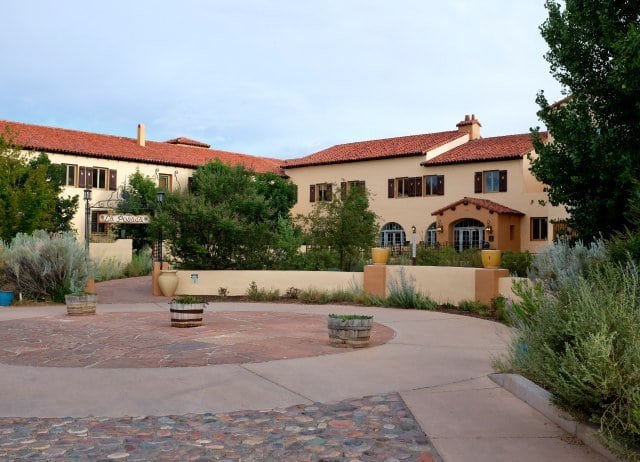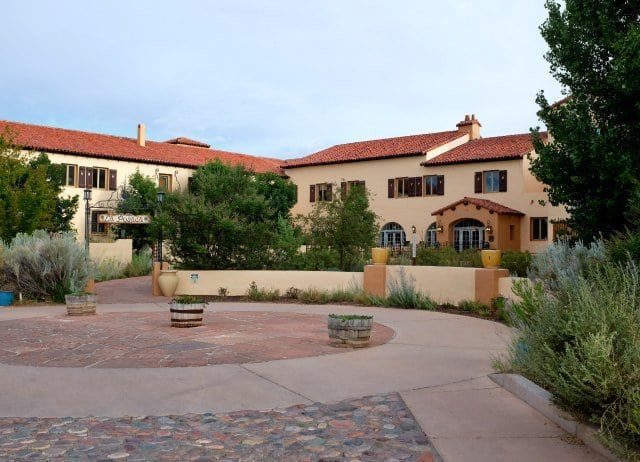 When researching Winslow, La Posada looked interesting so I booked us a single night in a room with a king bed and paid $10 additional for a rollaway cot for Emerson. It's not hard to find La Posada Hotel, it's right next to the railroad tracks but it's also the only place for blocks that had activity. Pulling into the place felt like pulling into a resort; the grounds are surrounded by a low fence, there's gated gardens, plenty of art and sculptures, and a terrace to go through to reach the path to the lobby of the sprawling building.
Have you seen the movie
The Harvey Girls
featuring Judy Garland, Angela Lansbury, and Ray Bolger? This movie was based upon truth and La Posada Hotel was one of the hotels from the Harvey House chain of 47 restaurants, 15 hotels, and 30 dining cars on the Santa Fe Railway that employed Harvey Girls.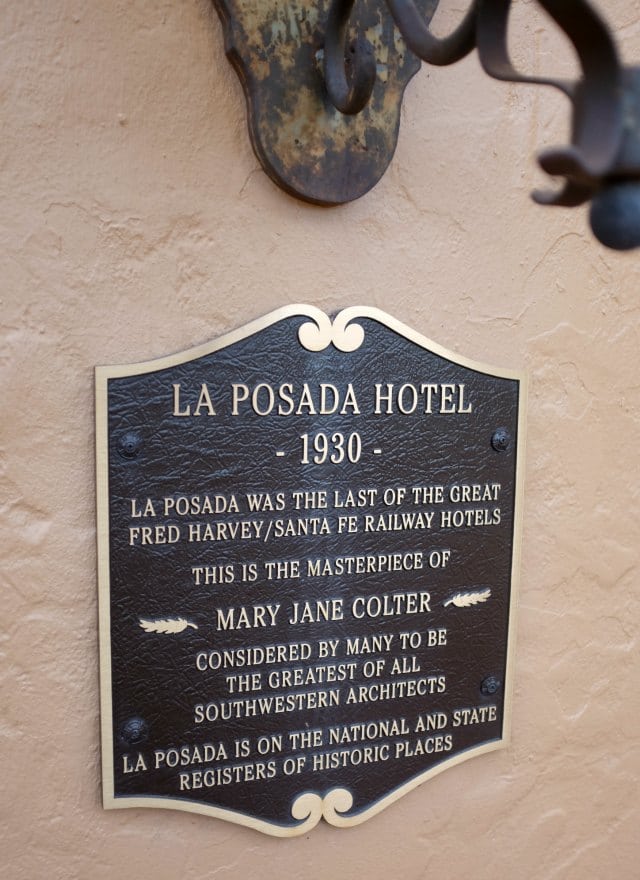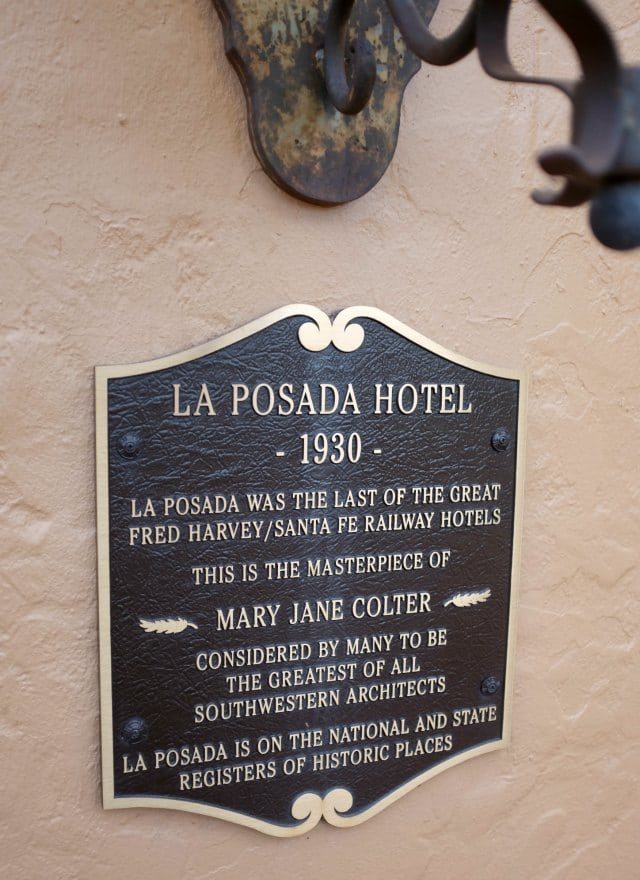 The Harvey Company would hire young women to be waitresses (known as Harvey Girls) via newspaper ads. The women had to be, "white, young women, 18-30 years of age, of good character, attractive and intelligent." If they were hired, they'd get a six-month contract, being paid $17.50 a month plus free room, board, and uniforms. This was an amazing opportunity for many young women who didn't have many opportunities for employment, travel, or adventure. Fred Harvey not only provided opportunities for these young women, but also Mary Colter, one of the few female architects in her day. Born in 1869, Colter designed many hotels for the Harvey Corporation but La Posada Hotel is the only hotel where she designed everything from the buildings to the gardens to even the furniture.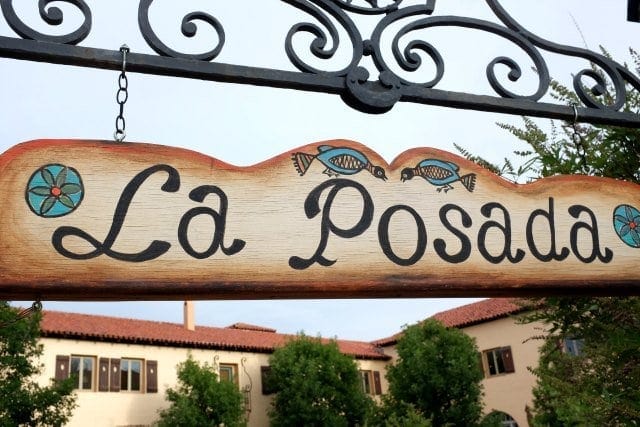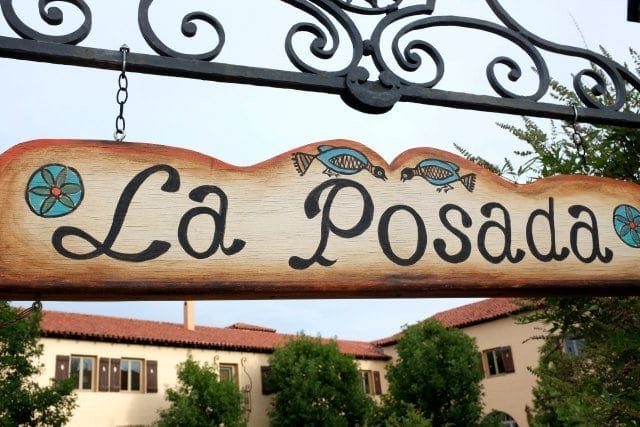 La Posada opened in 1930 as the Great Depression began and the era of cross-country train travel was ending.  It remained open for only 27 years. In the early 1960s, much of the building was gutted and turned into offices for the Santa Fe Railway. When the railroad no longer needed it, they abandoned it and let it fall into disrepair. In 1997 entrepreneur Allan Affeldt purchased La Posada to save it from demolition and put in an estimated $12 million to restore it to its original majesty.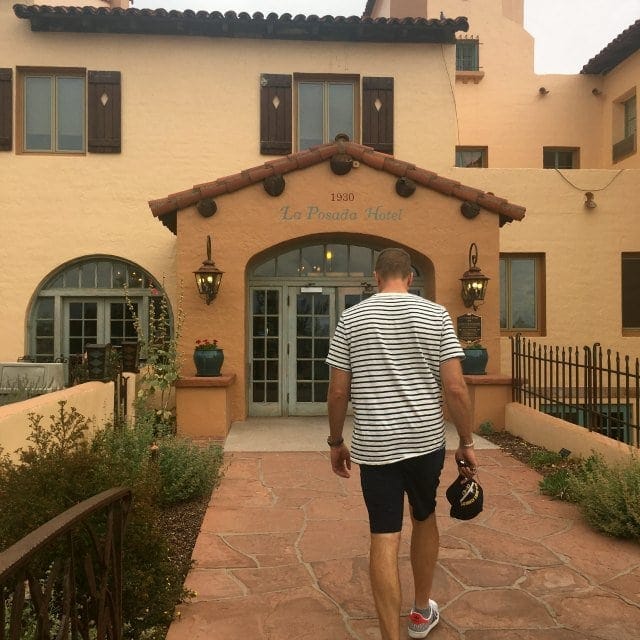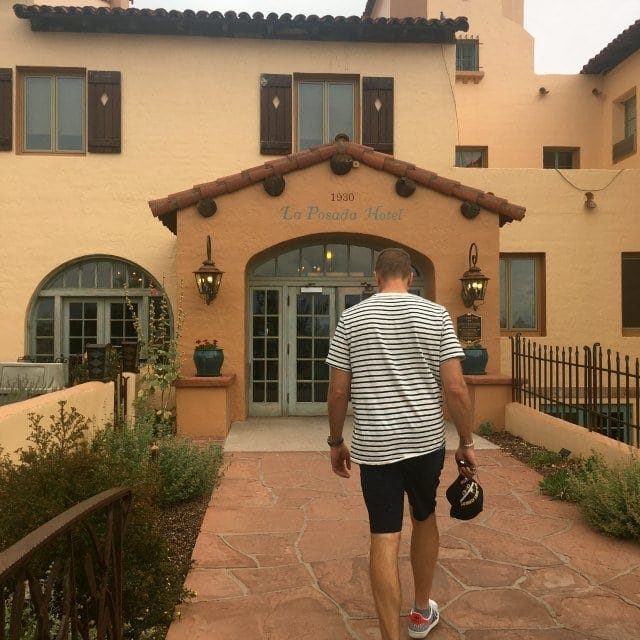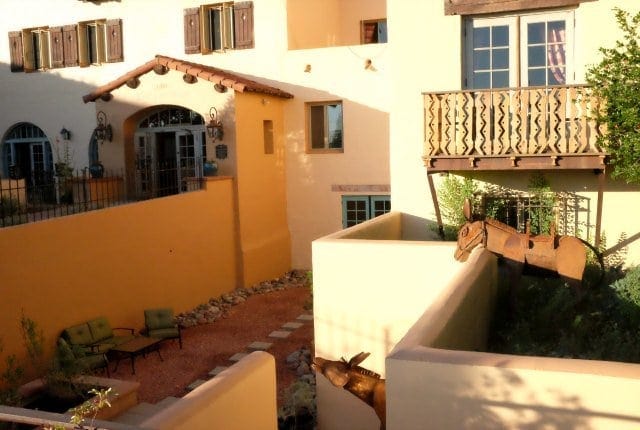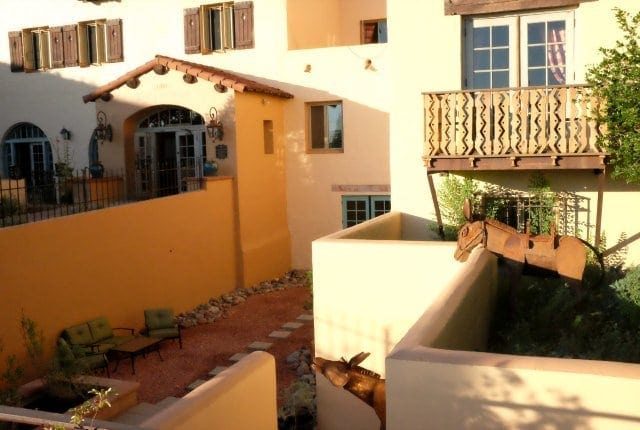 The hotel was built with two entrances, one for those arriving by train, and those arriving by automobile. Entering the hotel from the parking lot, you walk into a gift shop that is also the front desk. This is not your typical gift shop; while it has plenty of books and videos about the hotel and nearby attractions, it also has an amazing assortment of vintage silver jewelry (found by artist and Affeldt's wife Tina Mion on her travels), prints of Mion's work (which decorate much of the hotel), as well as beautiful pieces of art, décor, and crafts. I was drooling over a Mexican tin and Talavera tile full-length mirror and Karl purchased a sterling cuff with a turquoise frog on it. Emerson's nickname is Toadie and we both love wearing pieces with frogs or toads on them to represent her.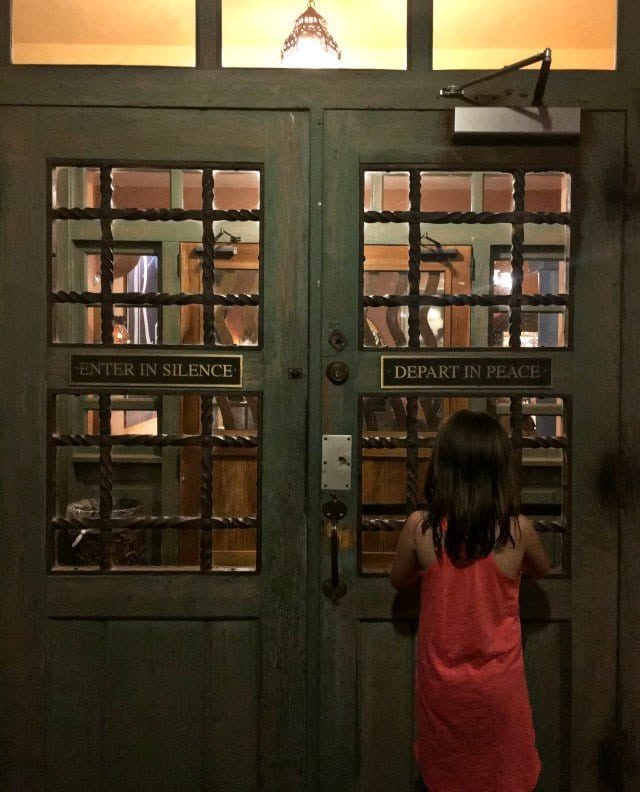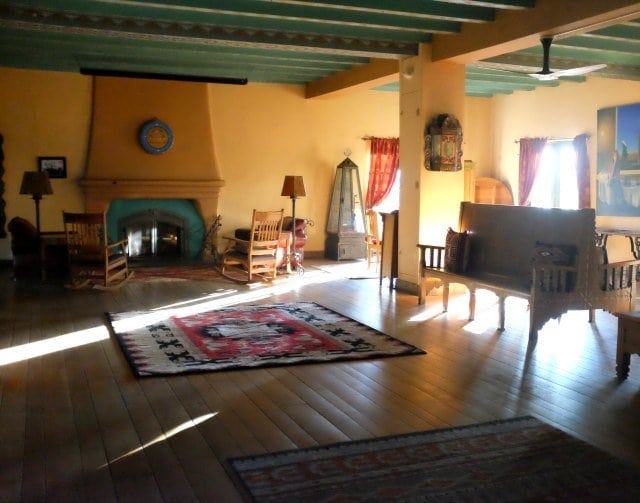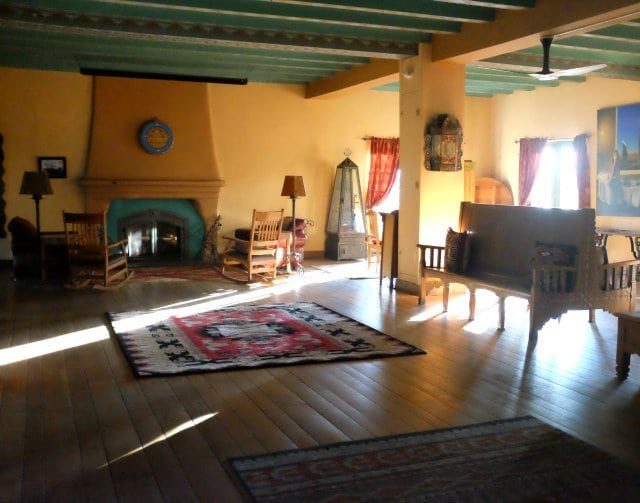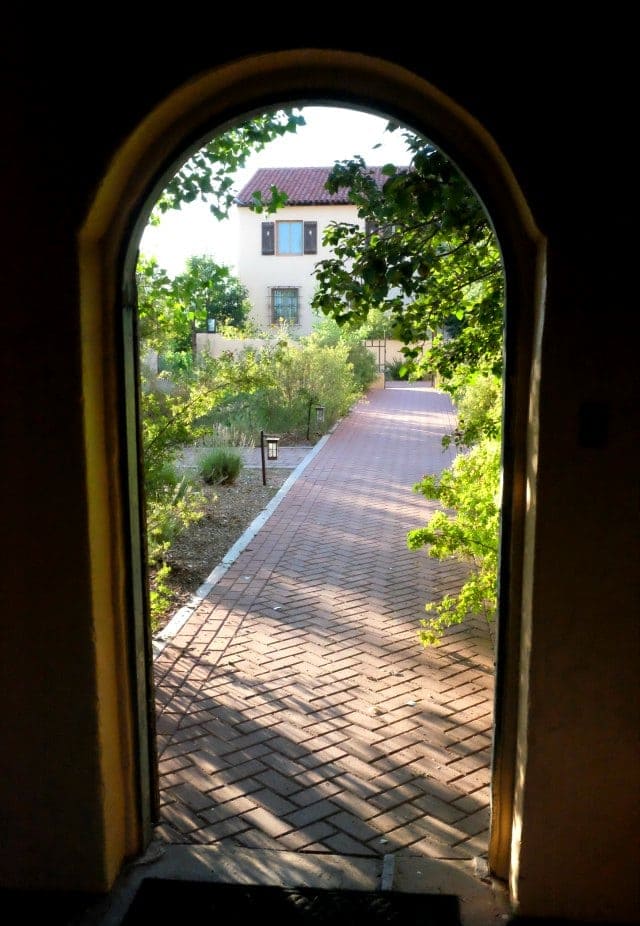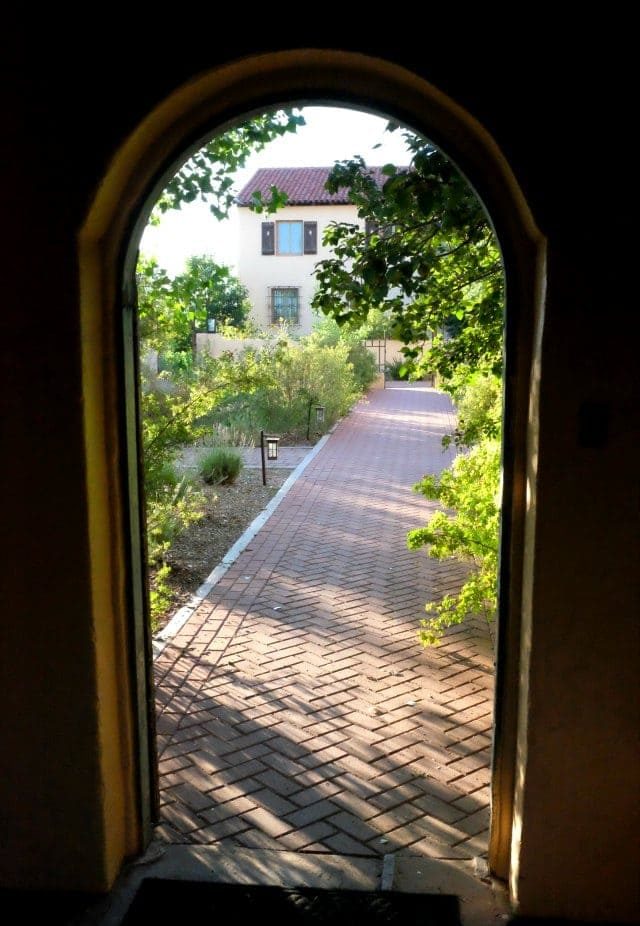 When you check in, you receive a booklet that provides history on the hotel as well as a self-guided walking tour. The hotel holds the Tina Mion Museum and her paintings are in common areas. I loved her work but signs said to not photograph it so sadly I can't share much with you.  This hotel is so massive and unique with so much history, it is easily a destination in itself and we wished we were staying more than one night to experience more of it.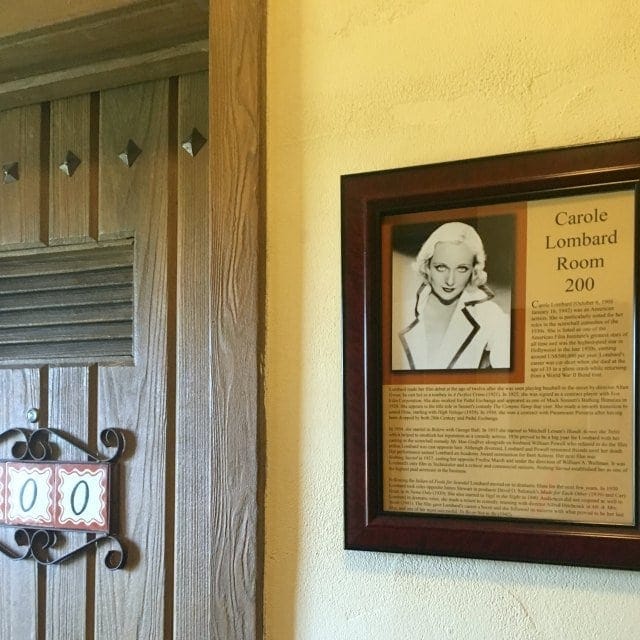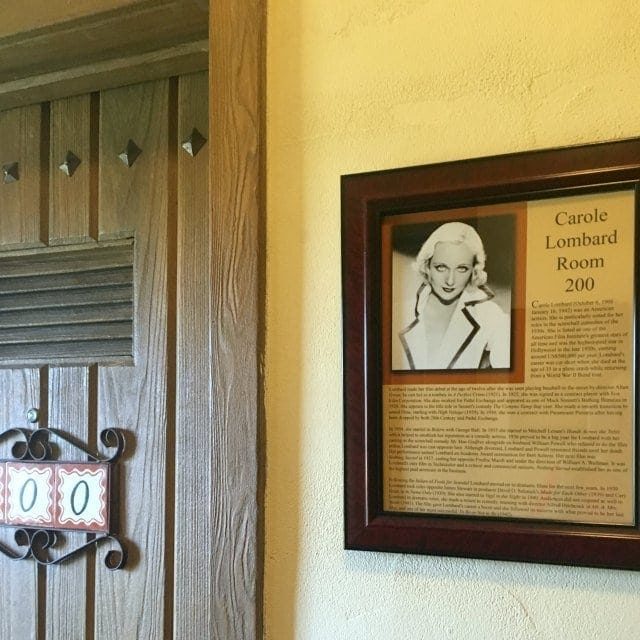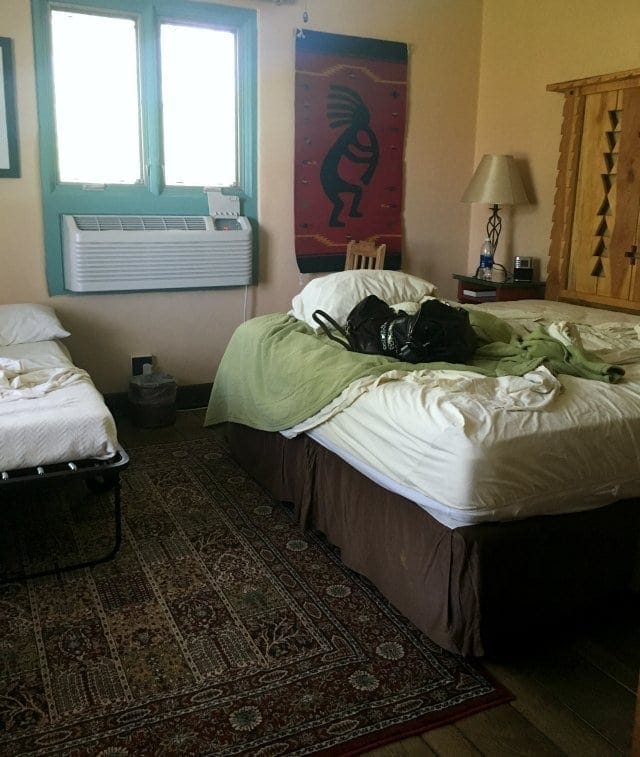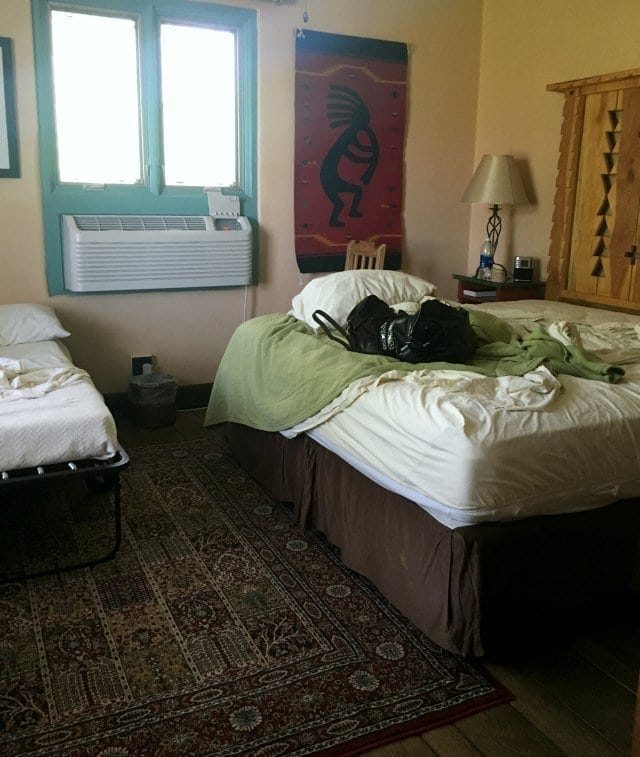 Each room in La Posada Hotel is named after a famous person who visited the hotel in its heyday. We stayed in the Carole Lombard room, which was at the top of the circular staircase and had a view of the railroad tracks. It's important to note if you have disabilities or trouble with stairs when booking your room; the hotel will do everything in its power to accommodate you but there was no elevator to the second-floor rooms. Our room was comfortable and well-appointed with all the necessary (and quite beautiful handmade) furniture and even a large bookcase full of books! The bed was extremely comfortable; sorry I didn't get a picture of it before we tore it apart! The bathroom wasn't large but very clean and came with full-size toiletries and a notice that the hotel participates in the Global Soap Project, a program I never before heard of but now wonder why more hotels do not do.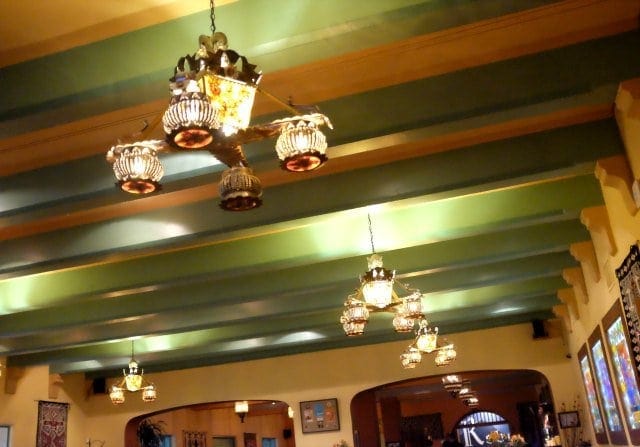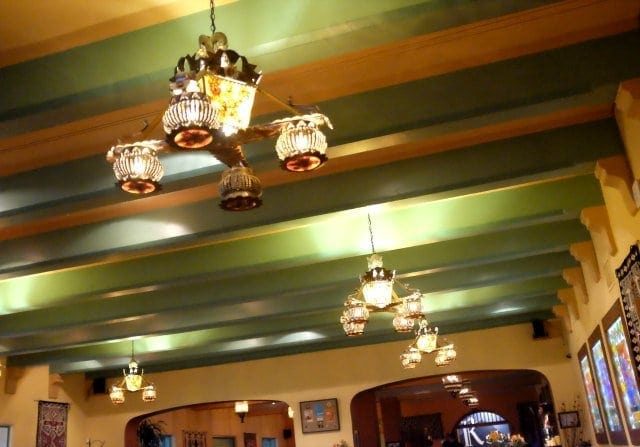 After seeing how empty Winslow was, we decided to not waste time exploring the city for a place to eat and went downstairs to the Turquoise Room for dinner. We all decided to dress up for the meal, as dressed up as we could be after almost a week living out of carry-on bags and not doing a proper load of laundry. I wore the black dress from this post with my gold sandals from this post and silver jewelry, Emerson wore a sundress, and Karl wore a white dress shirt with jeans and his driving mocs. I'm glad we made the effort because The Turquoise Room is a magical experience.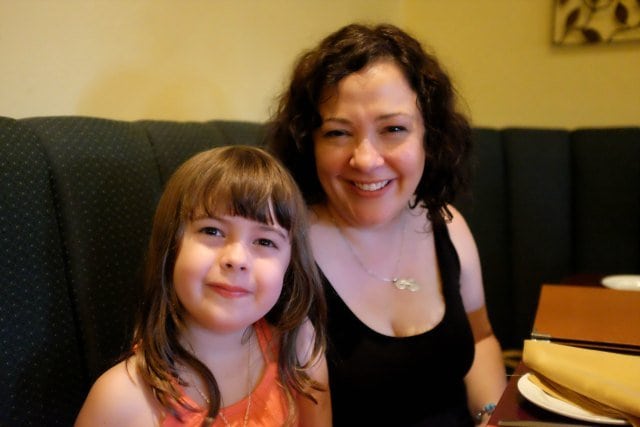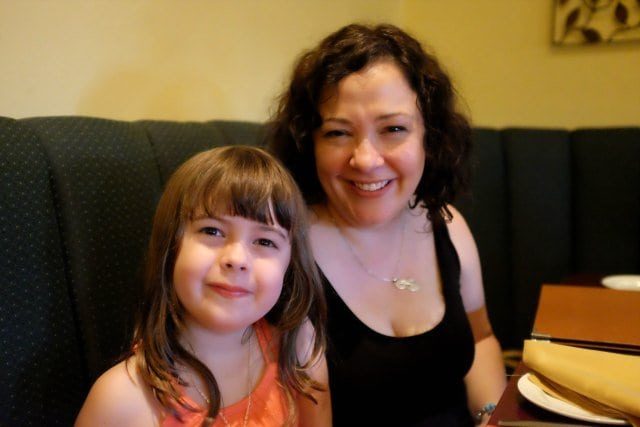 Entering the restaurant you feel transported in time to when La Posada opened. The lights were low, the atmosphere elegant, romantic, and unique. I didn't even have to tell Emerson to whisper, she too was in awe. Considered by many to be the finest restaurant in the Four Corners region and receiving rave reviews on Yelp, Google Reviews, and TripAdvisor, the Turquoise Room opened in 2000 under the direction of James Beard award-winner Chef John Sharpe, who oversees every detail of the preparation and service. They cook everything from scratch and incorporate locally grown produce. We were led to a corner booth and our waitress Alexandra quickly arrived to greet us. Reminiscent of the original Harvey Girls, the waitresses in The Turquoise Room are in all white blouses, full skirts and aprons.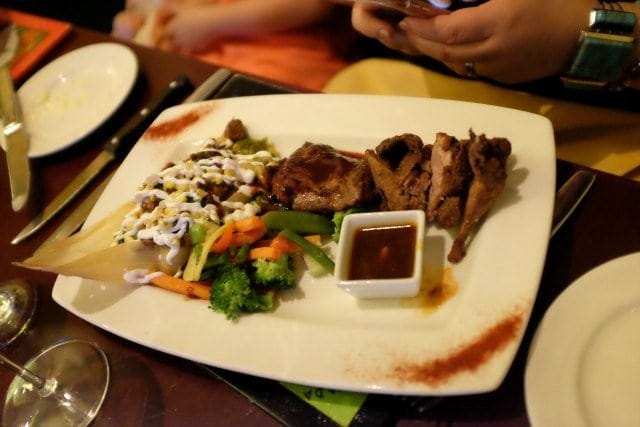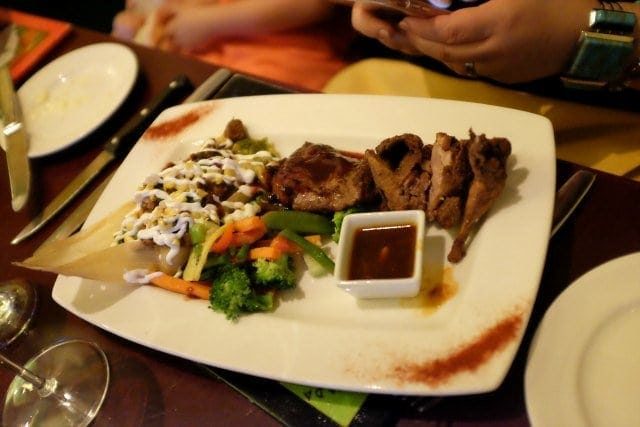 We proceeded to have the very best meal not only during our trip, but for the past few months. While Karl and I had stopped eating all meat except fish, this trip made it difficult to adhere to our diet. While The Turquoise Room had seafood and vegetarian options, by this time we were both sick of salmon and made a decision that we would eat meat, on this trip, if it was special. I went super special with the Wild-Wild Platter: crispy fried quail with orange Oaxaca sauce, Colorado farm-raised elk medallions with black currant sauce, a green chili and cheese tamale topped with bison, white tail deer, and wild boar chili, finished with a fresh vegetable medley. This is not a dish I would ever be able to find back home, and it was utterly phenomenal. I also wouldn't be able to find so amazing a meal and ambiance for such a reasonable price in the DC area. Even Emerson thought her kid's menu meal was the best ever, and was thrilled with the ice cream cone she received for dessert (all glammed up on a plate with chocolate drizzle yet only $1).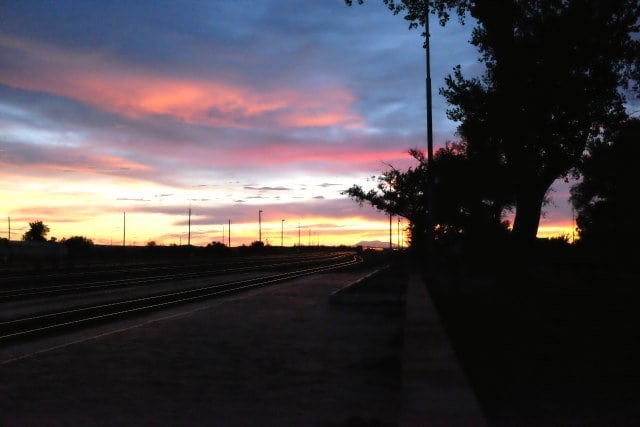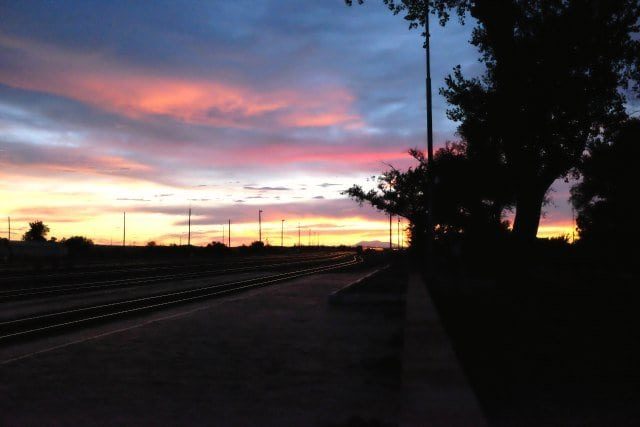 After dinner, we went outside where we saw the sunset over the railroad tracks. The sky was all orange, magenta, and violet. There was a large well-tended lawn with a fountain, and a pergola with rocking chairs angled for the best view. We sat on the low wall that separated the hotel property from the tracks and counted our blessings. Once the sun set, we came inside and explored some of the hotel; a gentleman was playing guitar in the main room and guests were quietly mingling and chatting in the many rooms of the common area, in the sunken garden, and the covered terraces. We felt as though we had chosen a truly magical place as our home for that evening.
We had ordered a bottle of wine to go (since the Turquoise Room is within the hotel, you can have beverages from The Turquoise Room consumed anywhere on the property), Alexandra provided us with two fresh wine glasses, and we retreated to our room. Emerson took a shower and again fell asleep before I finished a chapter in The Secret Garden. Our room was at the end of a very quiet hall and next to it was a door to a small balcony/fire escape. We put one of Karl's sneakers to prop our door open and one to prop open the balcony door and went outside to enjoy a glass and the silence (that was until a slow-moving train went by, which was lovely in its own way).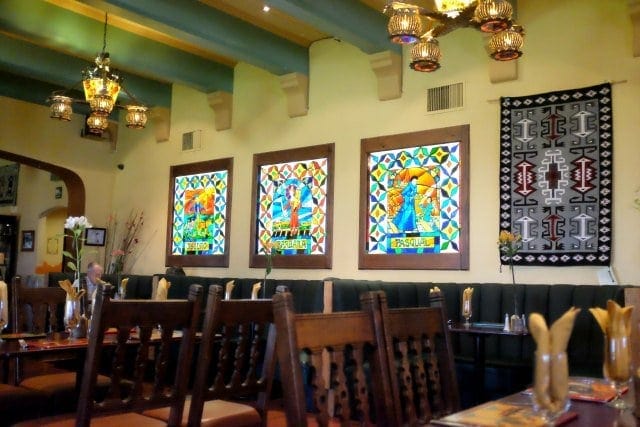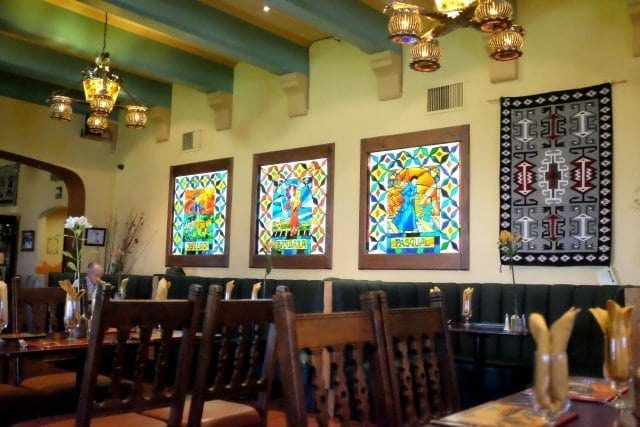 The next morning, Karl woke up before me and Emerson and did yoga in one of the lawns off the railroad side of the hotel and explored with his camera. When Emerson and I got up, we three went back to the Turquoise Room for breakfast. The breakfast menu was just as interesting and delicious and in the daylight, the restaurant was still beautiful but far more airy and open-feeling than the romantic experience from hours prior. I had The Corn Maiden's Delight, which was a bowl of warm yellow corn polenta topped with fire roasted tomatoes, fresh spinach, two poached eggs, Jalapeno jack cheese and a fresh roasted corn salsa. So yummy.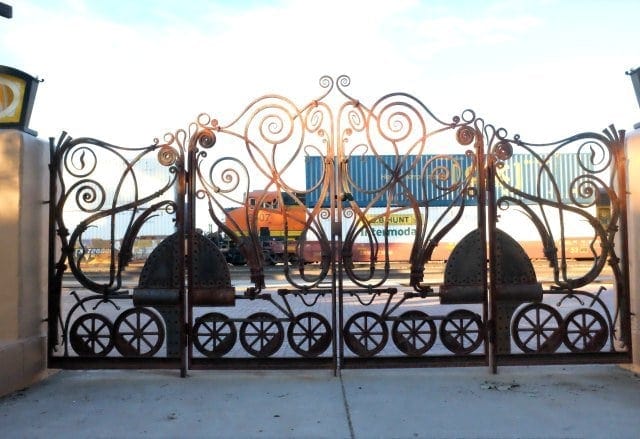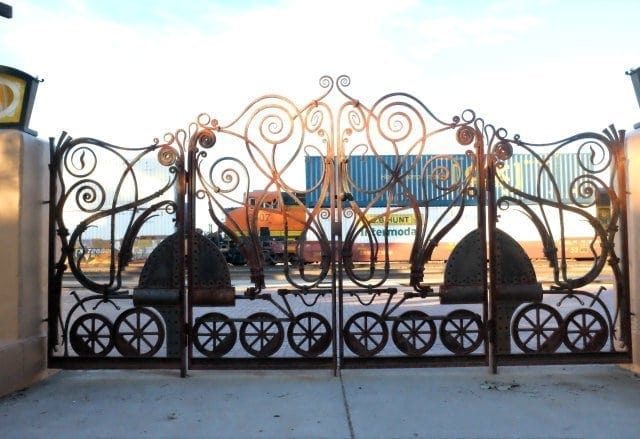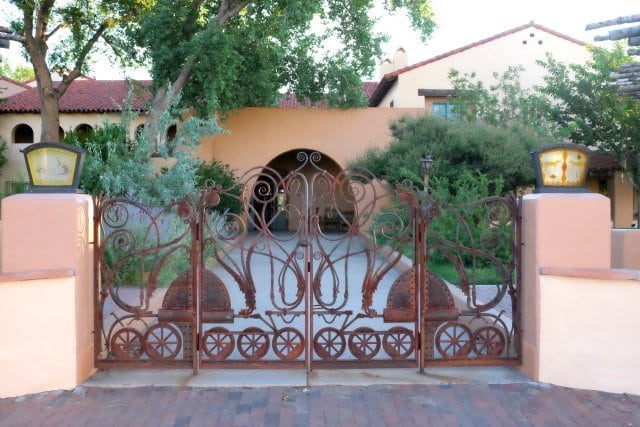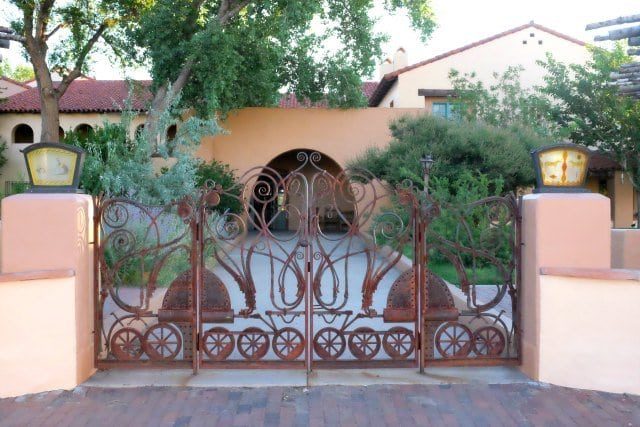 The night prior while Karl was taking our wine up to our room, Emerson saw a gated garden which she decided was THE Secret Garden.  The sun was setting, we went through the squeaky gate on the La Posada property and went down a path into the hotel's sunken garden.  No one else was there and there were nooks where one could sit, fountains, sculptures, and against the hotel wall a larger fountain and some patio furniture.  Emerson found the whole thing super magical and made a wish on a penny and put it into the large fountain.  In the morning she had to share HER secret garden with Karl.  While it didn't feel as magical in the daylight, it was still special, still empty, and she still talks about that beautiful spot.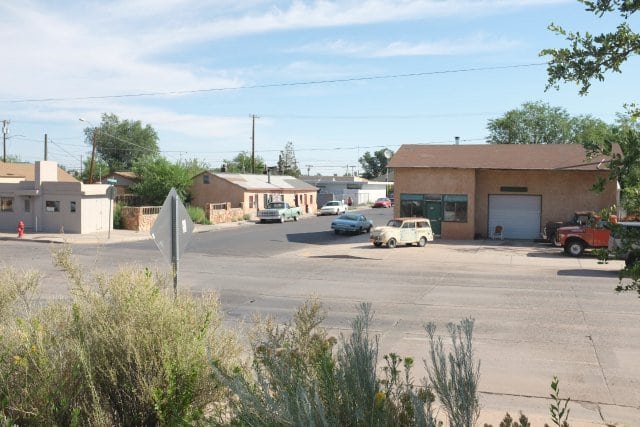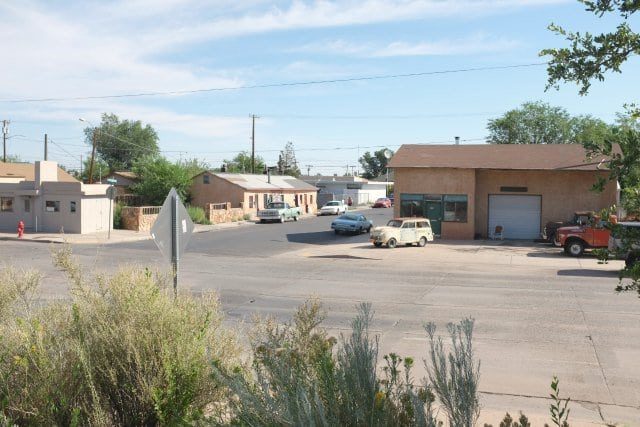 But yet again, it was time to pack up and get back on the road. By this time we had our methods down pat and could go from pajamas to fully-packed car in less than 30 minutes. It pays to be strategic with your car packing; we kept our toiletries at the top of the trunk and our carry-on bags and pillows in the cargo box on the roof.  This is the view of Winslow from the parking lot of La Posada.
Standin' on the Corner Park, Winslow
Standin' on the Corner Park was only a few blocks from La Posada Hotel.  Not hard to find, and on our drive to it that Saturday morning the only thing with a sign of life.  We came around the corner and even with the car windows closed we could hear a song from The Eagles.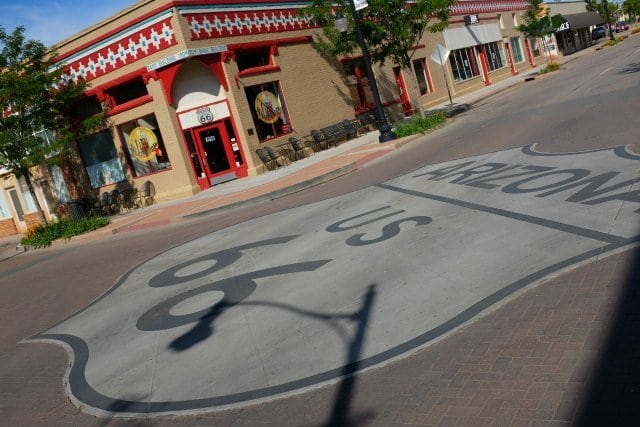 Standin' on the Corner Park is not really a park, but a wall painted to look as though it has windows, and in the reflection a red flatbed Ford with a blonde woman driving it.  On the curb right across from this reflection is an actual flatbed Ford, sans driver.  There's the bronze statue and sign you see in the photos, a big Route 66 sign on the street.  The building in the photo above is a cafe and diagonally across the street from it is a gift shop.  It was before 9am and there was a good dozen people milling about this corner with The Eagles blaring from speakers, completely surreal considering how quiet and empty the rest of Winslow was.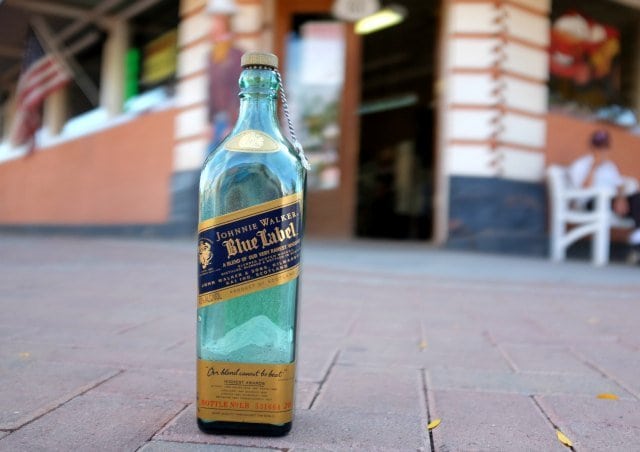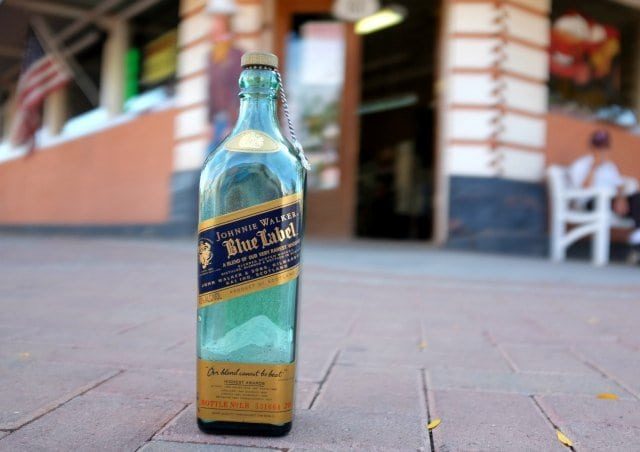 When Karl's dad "Chief" passed away, he was cremated.  A portion of his ashes are at his family plot, but Karl took a portion.  And yep, they're in a Johnny Walker Blue bottle.  Karl's dad would approve.  We had the idea to sprinkle some ashes each place we went but it's very disrespectful to do that on Native American land so we decided to not do it anywhere and just have Chief go on the trip with us.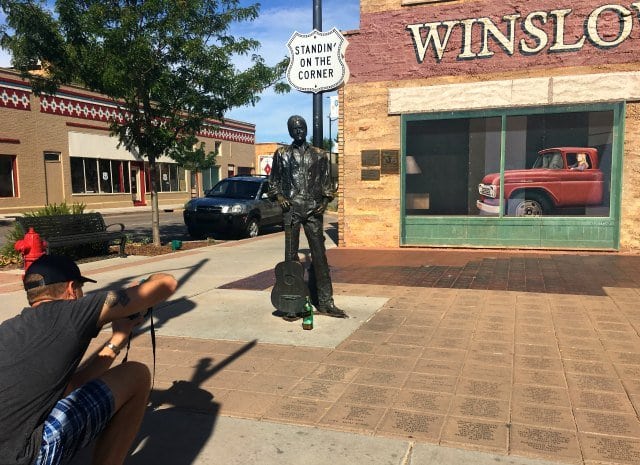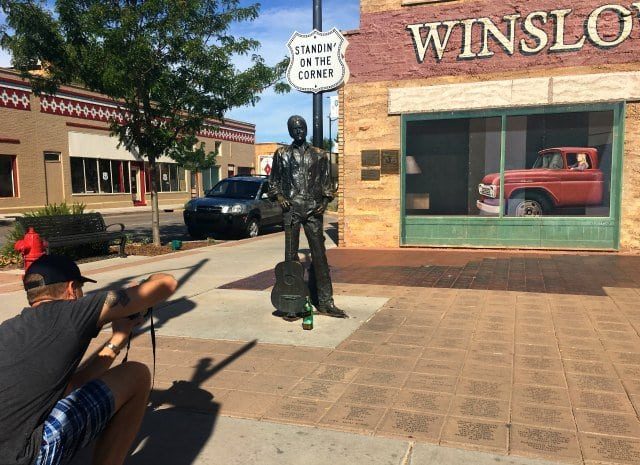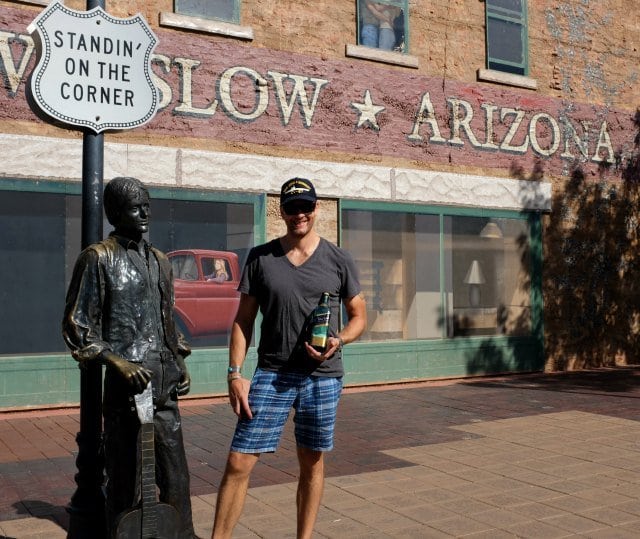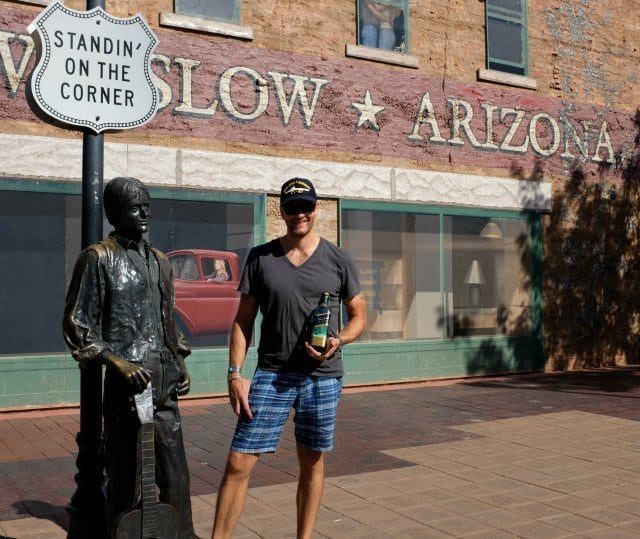 When we got to the park, we brought Chief out and got some pictures with him and pictures of him alone as he was on his original road trip.  Karl also took pictures of the bottle in front of the gift shop, which we knew he was standing in front of when he called us to sing to us that early morning.  We saw a few others who took pictures of non-human items at the Standin' on a Corner statue; it's clear the song and/or the location means a lot to many.  Everyone was very sweet, respectful, and helpful – locals and tourists alike.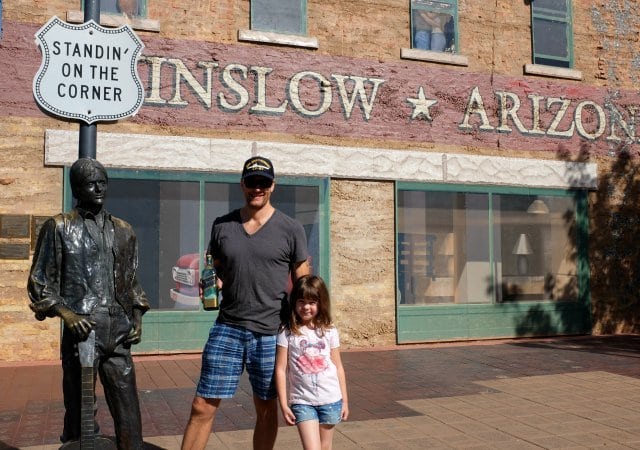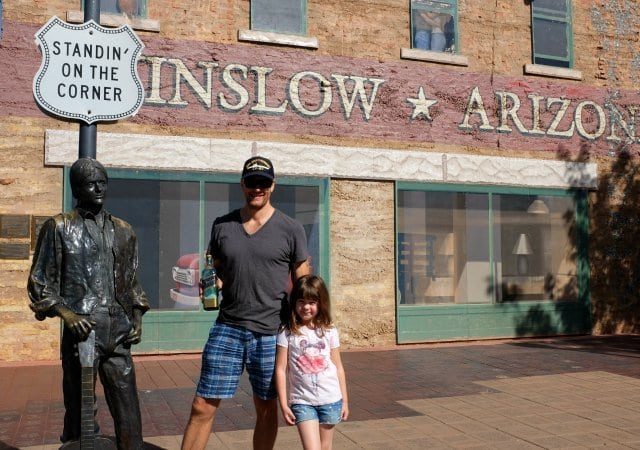 Considering we already had breakfast and had no interest in Eagles-themed memorabilia, after about 15 minutes there was no need to stick around so we hopped back in the car.  Next stop, Albuquerque!
What We Learned on This Part of the Trip:
Ask if hotels have rollaway cots.  I didn't even think of this when planning this trip until La Posada offered it on their site.  $10 is far cheaper than choosing a bigger room for kids.  Also if I had thought about it before booking, I would have packed our inflatable bed.
Let your child lead from time to time.  After dinner in Winslow, I let Emerson lead me around the La Posada grounds.  We sat in basket chairs that hung from chains, we ran through sprinklers, we walked along the wall near the railroad track, we found her secret garden, talked to animal-shaped sculptures, made friends with a cat.  Emerson's eyes caught things I wouldn't have, and after hours being cooped up in a car, it was healthy for her to have some control and make a few decisions.
Pack a nice outfit.  Even if you're not eating anywhere fancier than The Golden Corral, it's nice after days dirty and dusty to get glammed up and make a meal or situation more of an event.  Emerson and I drank with our pinkies up at The Turquoise Room and called each other dahlink and it turned a meal into a memory.
Don't be a beauty products minimalist (if you aren't usually).  I don't know why I did this, but I did.  I took a face wash, SPF moisturizer, shampoo, and conditioner I don't love but knew it was versatile for the whole family.  I left home my body moisturizer and got by with samples from hotels, brought a surf spray and small dryer diffuser but no other products and no hot tools of my own.  I figured I'd be beachy hair and simple face and while the simple face was great, the hair and my skin was horrible.  Having fewer products made me more high-maintenance because I was struggling so much to make myself look pulled together.  Each city had different water and some places I was ringlets, some places dry frizz, some places greasy strings and the "versatile" shampoo and conditioner stripped my hair… and its color.  Seriously, if I brought those items they would have taken up less than a square foot of space and would have made me a happier camper (and better road trip companion).  Learn from my mistake, take the products that make you feel good.
Don't live by the alarm clock and pre-made itinerary.  We purposely stayed in Durango because of how much was between it and Winslow.  Petrified Forest, Painted Desert, more Pueblo areas, petroglyphs, meteor craters, oh my!  We hardly saw any of them because it just seemed stressful.  We'd been on the road for almost a week, usually only one night in each place and were feeling a bit frayed at the ends.  Saying no to things kept us sane, helped us all feel in control, and likely prevented some heated arguments in parking lots. On the way to Winslow we decided this trip was more of a "wine tasting" where we sampled places to decide where to return to experience more.  The family unit is more important than ticking monuments off a list!
My next recap post will be tomorrow (Saturday) because it's just one city and one night.  Stay tuned!
Save
Save
Save
Save
Save
Save
Save
Save
Save
Save