This article may contain affiliate links; if you click on a shopping link and make a purchase I may receive a commission. As an Amazon Associate, I earn from qualifying purchases. 
Karl listens to music all day. He reads Rolling Stone and Bust, from there he heads to Spotify, and from there he listens to what is recommended if you like an artist. He records music videos, and when he finds an interesting artist he can spend an hour or more researching that person online. When he finds an album he likes, he plays it from beginning to end over and over for weeks and sometimes months. This is so interesting to me, who prefers to listen to a radio station or playlist with a variety of artists. Also, we have similar but not exactly the same taste in music so he gets me into artists I never heard of before, and helps me see artists I found meh in a new light. I'm sharing a song and video in each of the Saturday link-up posts and 99.9% of the time that will be a song that Karl introduced me to.
One artist Karl introduced me to is
Tanya Tagaq
. Tagaq is a Canadian Inuk throat singer who combines this Inuit female tradition with punk, industrial, history, and politics. While traditional throat singing is with two women, Tagaq does it alone and the result is fascinating.  Often compared to Bjork (
who she has performed with
), Tagaq's music is not mainstream, but it's passionate and awe-inspiring. It's the kind of music you hear and just HAVE to see it performed live. So when Karl found out Tanya Tagaq's tour would bring her to Easton, Pennsylvania the weekend after Valentine's Day, we decided to buy tickets and make it an overnight couple's getaway.
Tickets were easy; the performance was to be at the Williams Center at Lafayette College. We got tickets early in January and had our pick; we chose two seats front row on an aisle. Easton, Pennsylvania is a little over three hours away so I started researching hotels. There was one highly-rated one right near the venue. I tried my blogger thang and sent them an email pitching a sponsored post for a night. No response, no worries it always makes me feel awkward and obligated anyway. I went to their website to book a room… it said nothing was available. I gave them a call, all rooms were booked in a block for an event. Did a bit of research, come to find out a polar bear plunge supporting the Special Olympics was happening at the pool outside the hotel that Sunday. Not only was that hotel booked, so were all the hotels of all numbers of stars in the area, and the B&Bs, and the Air BnBs. I ended up getting us a room at a Courtyard by Marriott about 15 miles away.
Saturday was perfect driving weather and the trip was easy. We arrived at the Courtyard Bethlehem Lehigh Valley around 3. We had a standard king room, and it was really nice. The bed faced the window, and while the view from the window was a parking lot and St. Luke's Hospital, from the bed all you saw were the hills and sky. There was a little couch and ottoman/coffee table near the window and the room looked recently renovated with cool modern touches and everything super clean. Standard bathroom, plenty of space and awesome water pressure, but your standard issue hotel bathroom.
We realized once we arrived we didn't have dinner plans. I got on my phone and started checking out Trip Advisor and Yelp for suggestions. I used Open Table, made calls, and even a few emails but was either getting no answer or no openings. Quick shout out to Bolete in Bethlehem; while they had no availability they still called back and left the sweetest message while I was in the shower. Based on this and their Yelp reviews I would come back and visit this restaurant in a second. We did get a reservation at Ashley's in Easton, which had rave reviews on Yelp.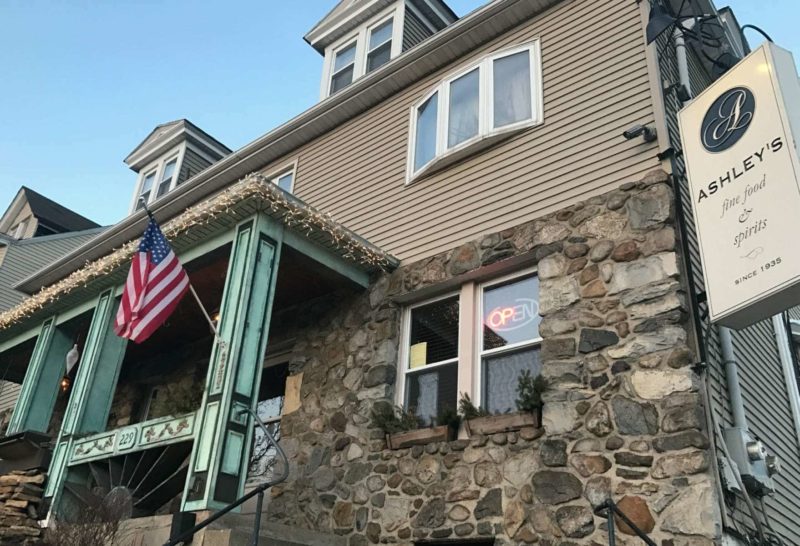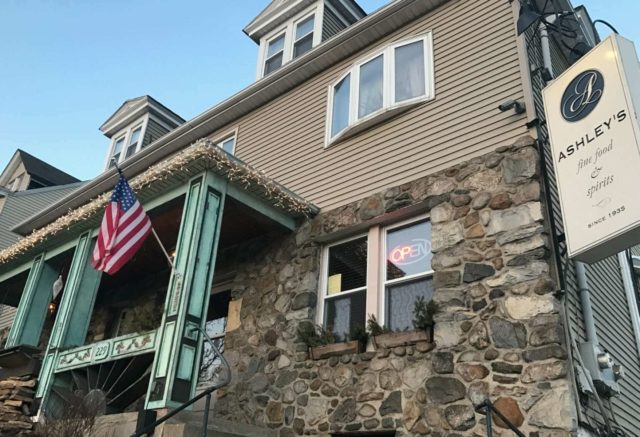 Ashley's is in a house in the middle of a neighborhood. Across the street was a bar that looked to be built in the early '50s; Ashley's sign said it had been in business since 1935. The house was adorable and quirky from the outside – fun colors, lots of items to catch the wind and sun. We entered and it was a dark wood bar. Everyone stopped and turned to look at us, we wondered if we were in the right place. Then a really friendly woman in the coolest green glasses came out from behind the bar, welcomed us, and led us through a hallway to the dining room.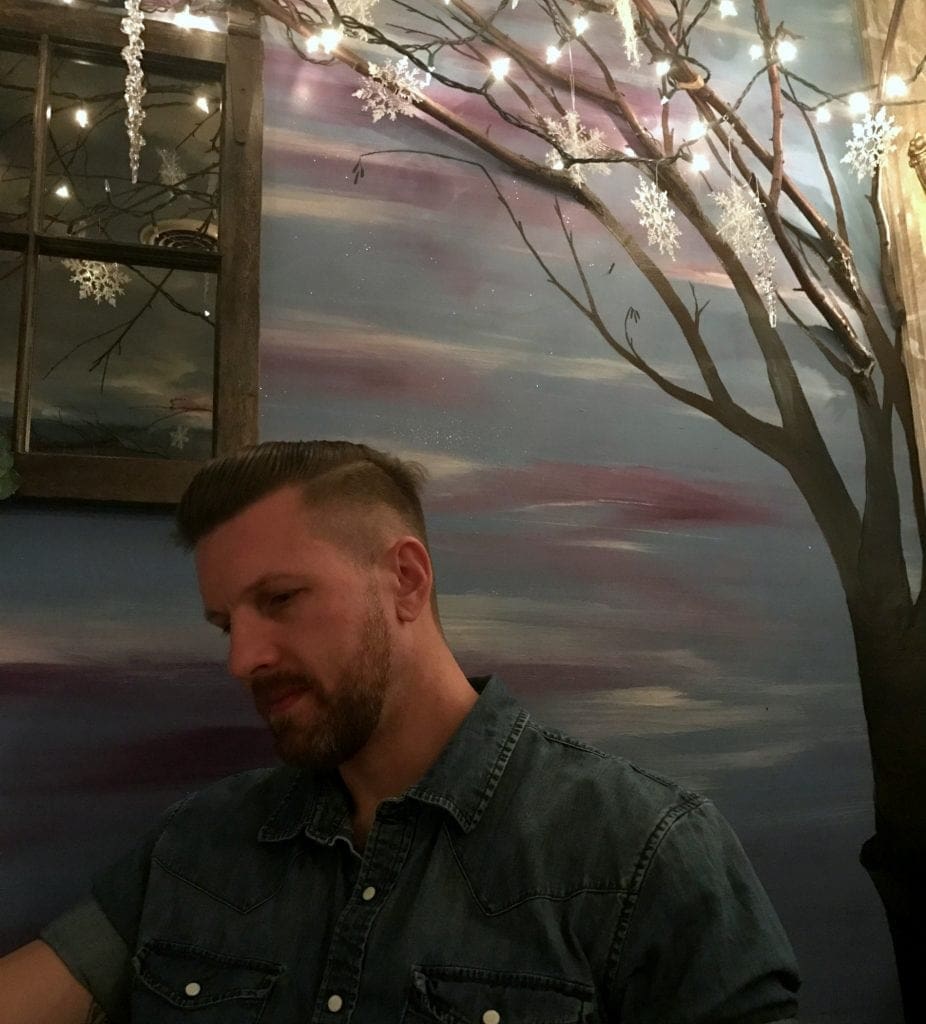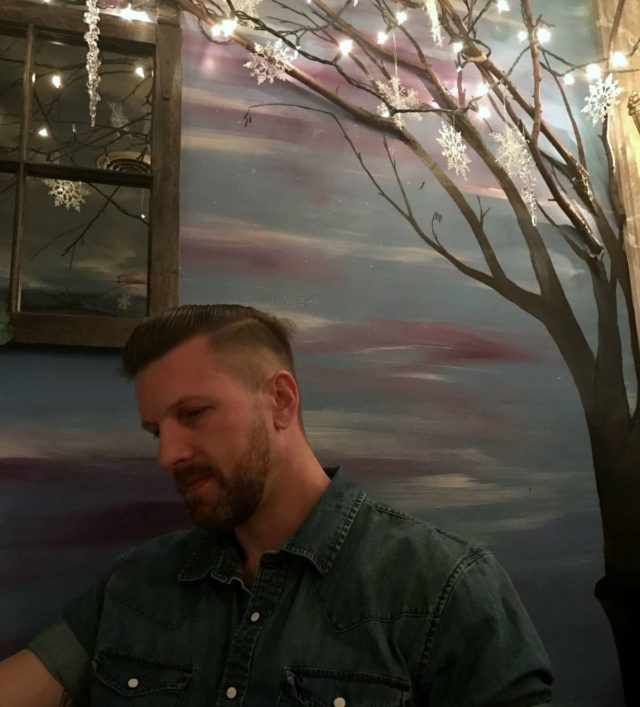 I now see why the online reviews said Ashley's was quirky, whimsical, and charming. In a room the size of my living room was ten tables of various sizes. The walls and ceiling were painted in a mix of purple, blue, and white to look like clouds or the sky at twilight. There were pillars and crown molding around the room to give the effect that you were outside on a porch or terrace. There were trees painted on the walls, with actual branches adhered to the walls to make the "trees" 3D. From these branches dangled sparkly and crystal icicle and snowflake ornaments and twinkle lights; every so often on a branch was a small fake bird. The floors were painted with an ivy pattern and a yellow brick road; there was a stained glass window and a stone arch to a smaller room with a working fireplace.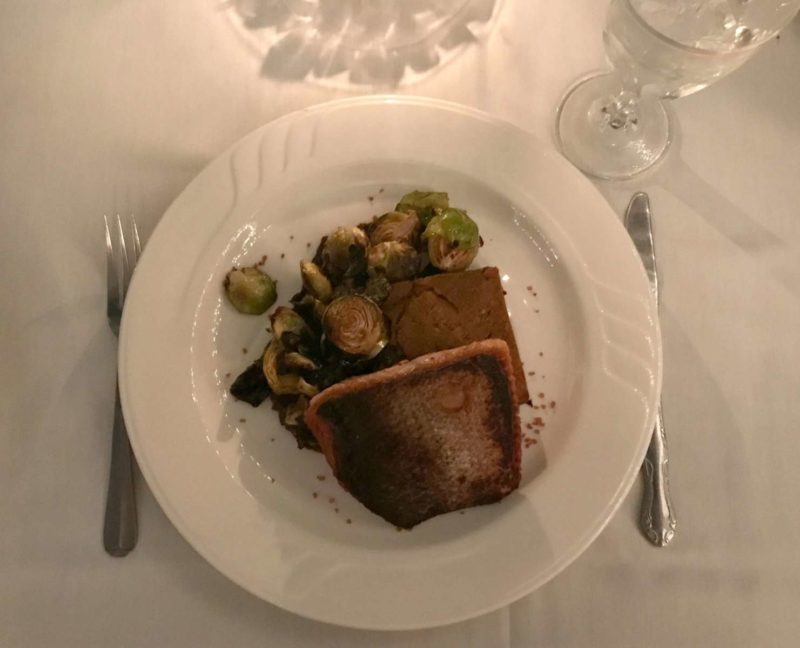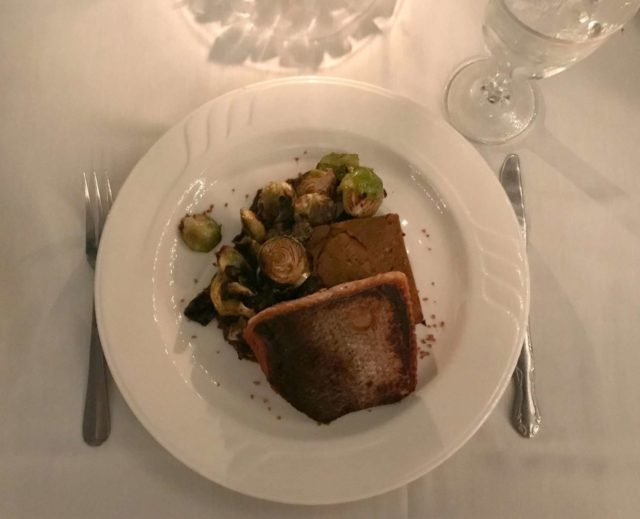 It was hard deciding what to have for dinner, all the options looked delicious. We started with the bacon wrapped scallops which were perfection – the scallops soft and buttery, the bacon crispy and smoky. The waitress also brought us a plate of crackers and cheese spread. For dinner, Karl chose the farm to table pork chop. I got the salmon which came with serrano chile polenta, roasted Brussels sprouts, and romesco.  Karl loved his meal; it was plentiful, cooked perfectly, and tasty. My meal was an experience. The mix of flavors and textures was unusual but it really worked. It was delicious as well as fun to eat. Unfortunately we were so full we didn't have room for dessert.
The woman with the fabulous green glasses we found out was the owner, and no her name is not Ashley. Her name is Melinda and her mother originally ran Ashley's (which at the time was called Shrope's Café). Melinda grew up at the bar and restaurant. When her mother unexpectedly died, Melinda, then 20, took over the business. In 1997, Melinda changed the restaurant's name to Ashley, after her daughter. While we were dining, Melinda visited our table several times, sharing history and getting to know us. At one point she entered the room with a gentleman; he let us know 30 years ago Ashley's sponsored the basketball team he coached. He hadn't been back since and was getting a tour. The dining room we were in used to have a pool table in it and the dining was upstairs above the bar. It was so cool to learn these tidbits during our meal! It was clear by how busy the place was that it is a favorite with locals. However, those from out of town also love it – the folks at the table next to us came from New Jersey and many come back to Easton just to visit Ashley's.
The service was impeccable, they didn't blink an eye when Karl requested his dish to be dairy free. It's sparkling clean – this can be tough with lots of tchotchkes, but the staff obviously cares enough to dust every detail. There's only street parking but we literally got a spot right in front of the restaurant. Do note there are steep stairs to get into Ashley's so if you have mobility issues this may pose a problem. We didn't feel rushed, and wished we had larger stomachs to try their highly-rated homemade desserts. If you're in the Lehigh Valley, I recommend a visit to Ashley's!
We left and headed to the Williams Center. We were a bit early, but figured it would give us time to scope out the parking situation. No need, just like at Ashley's we were able to get meter-free street parking right at the front door. We're clearly not in the DC Metropolitan area anymore!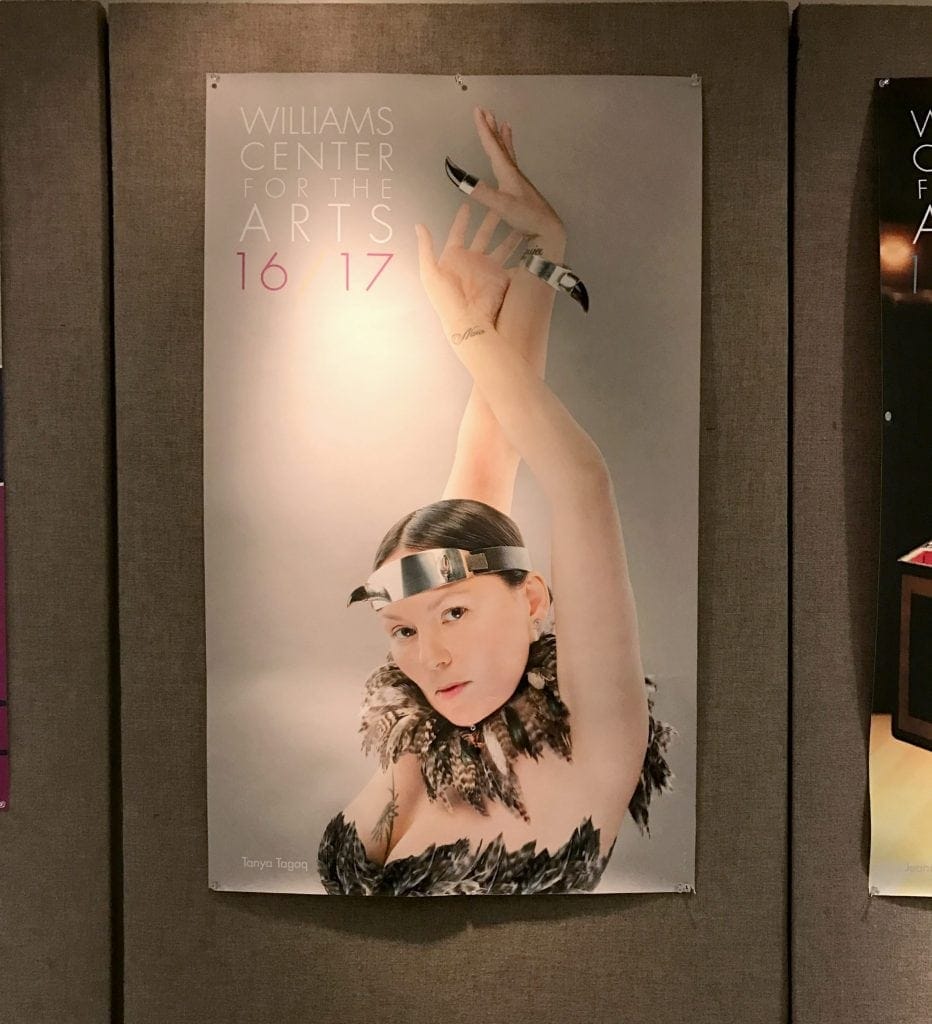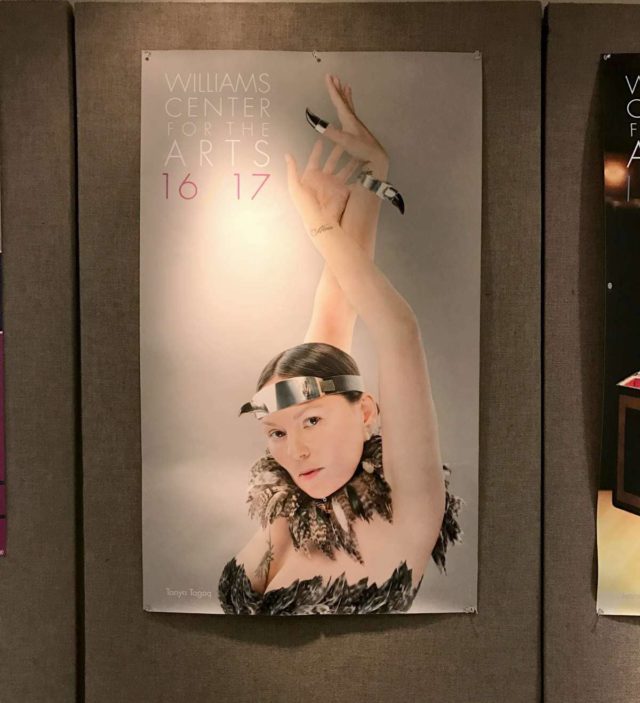 The Williams Center for the Arts at Lafayette University isn't a huge venue. I was surprised by how small the theater itself was. I was also surprised that only about 60 seats were filled for this performance. I was again surprised when I opened the program and realized this wasn't a concert, but Tanya Tagaq doing improvisational music to the controversial silent film, Nanook of the North.
I was a bad travel blogger for this trip, clearly. I did no research, made no reservations, didn't even know what I was going to see. I was just psyched about seeing Tagaq and it seemed like a fun quick getaway to somewhere we've never been before. Thing is, all these surprises and last-minute decisions really turned out for the best.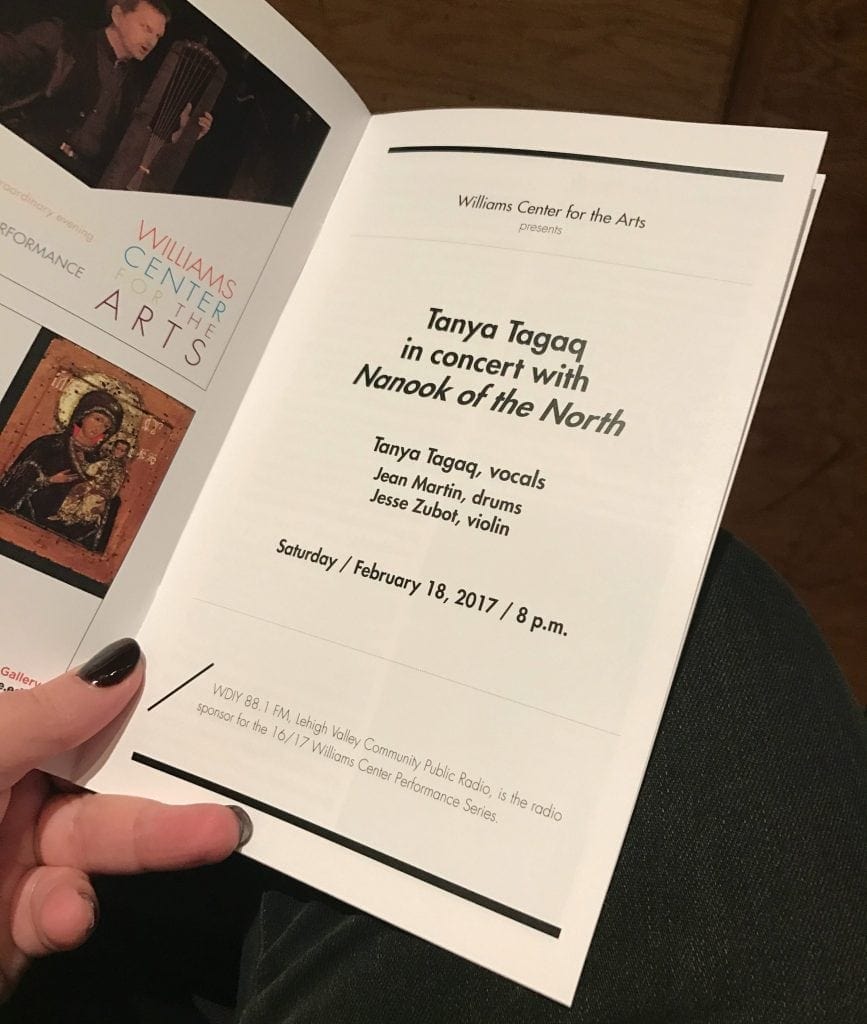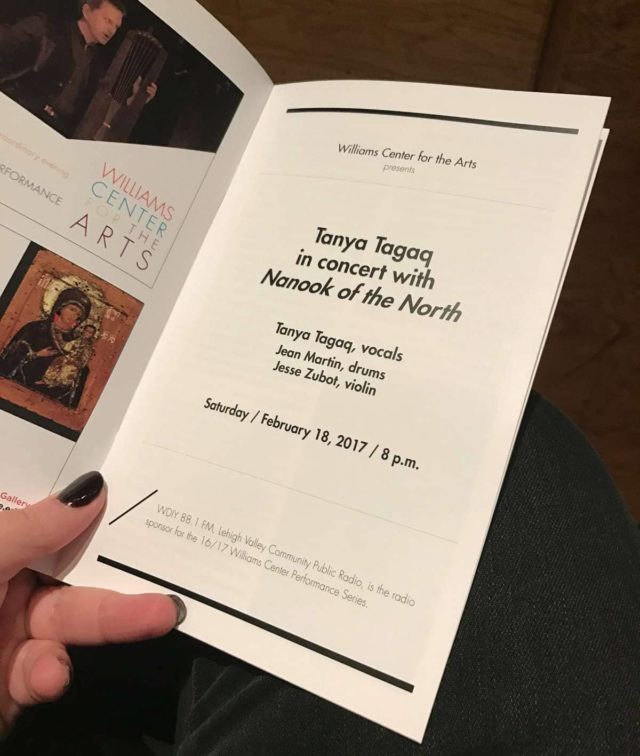 For those who don't know, Nanook of the North is one of the first documentaries (though due to how some parts were portrayed, parts were scripted, and other parts completely untrue, docudrama may be a better term). In 1910, Robert J. Flaherty was hired as an explorer and prospector along the Hudson Bay for the Canadian Pacific Railway. Learning about the lands and people on this trip, he returned in 1913, this time with a camera. The film from that trip was destroyed in a fire, so he spent the next four years fundraising for another trip. Flaherty's trip was eventually funded by French fur company Revillon Frères. If you haven't seen it, I highly recommend you do – the whole film is available on YouTube. But know it's not an accurate portrayal of Inuit life.
And that's where this performance comes in. Tanya Tagaq, an Inuit woman, discussed the inaccuracies on the movie and how it was filmed through, "1922 glasses." She spoke to the audience about how the part where Nanook (whose real name was actually Allakariallak) bites on a record was staged. That the Inuits were seen as "happy go lucky little Eskimos" but really were incredibly smart, strong people who fought the elements and won. And then the performance. While Nanook of the North played on a big screen, Tagaq along with Jean Martin on drums and Jesse Zubot on violin performed. Their music goes through a computer so they can alter, repeat, and echo the sounds they create. Each of these performances is different, the artists improvising and playing off one another. Tagaq went almost into a trance, swirling and even at one point crawling on the stage. I spent the entire performance with my mouth agape, like a tennis match, my eyes bouncing from the screen to Tagaq to Zubot to Martin and back to Tagaq. When it was over I realized I was shaking… more like buzzing from the intensity of it.
I have no photos because no cameras of any sort were permitted.  The room was very dark, a phone screen would be a distraction to the audience and the performers.  Also, I was so utterly engrossed the thought didn't even cross my mind.
And then after such an incredibly powerful, emotional performance, we all went out into the lobby where they had little paper cups of wine and punch and snacks. The lights seemed too harsh, the space too big, the paper cups seemed so strange after such an emotional experience. We checked out the art gallery in the Williams Center then headed back to the hotel, listening to Animism on the drive.
But when married to a 6'5" tall Viking, I know there's always going to be a second dinner or later night mega snack. There was a Ruby Tuesday's near our hotel so we went in and ordered food to go. Headed back to the hotel where we hung out on the couch and watched some lame TV that we usually don't watch because we're in bed by that time. We've gotten to the age where decadence is staying up late and sleeping in, not having to wash dishes or the sheets, and finding fantastic parking. While re-reading this post it didn't seem like the most glamorous or thrilling weekend, we had an amazing time.
Having kids and jobs, our bodies woke us up at 5:30am, but we decided to go back to sleep. So decadent! I got up, had some coffee, read in bed. We then went down to the lobby where they had a bistro (just like the Courtyard we stayed at in Amarillo) and we each got a breakfast sandwich and some Starbucks. Karl went to the gym and to pack up the car (holla noon checkout time!) and I hung out in the lobby to meet up with a friend.
See, my childhood best friend lives in Bethlehem, Pennsylvania. She went to college in PA and never left. We met in kindergarten and were BFFs right away. Our birthdays are only three days apart, and we lived on opposite sides of the elementary school, making visits to one another a breeze. Her mom was also a stay at home parent with sewing skills; our moms made us matching poodle skirts that we wore with matching saddle shoes. We in fact had many matching items of clothing, both had siblings three years younger, and both loved Barbies and Glamour Gals. In the middle of high school she transferred to a private school and we lost touch, but social media brought us back together. This was the first time we had seen one another in well over a decade yet it felt like no time had gone by. Karl joined us and we all gabbed for a while longer, but had to get back on the road and back to Emerson.
This trip was a great reminder that a getaway doesn't have to be big, pricey, and flashy. Just visiting another town is an experience in itself. The only cost difference from this past Saturday night and an in-town date night was a bit more gas and the hotel room. And considering how much cheaper shows and food are in the Lehigh Valley than in DC, it wasn't a huge dent in our wallet.
We obviously didn't do a lot of exploring; we'd like to return and see Bethlehem better (and also spend more time with my friend).  Knowing it's so close, and the people are so nice (seriously, everyone including patrons at the Ruby Tuesday bar were so open, friendly, and helpful), we're already thinking about another trip, this time bringing Emerson.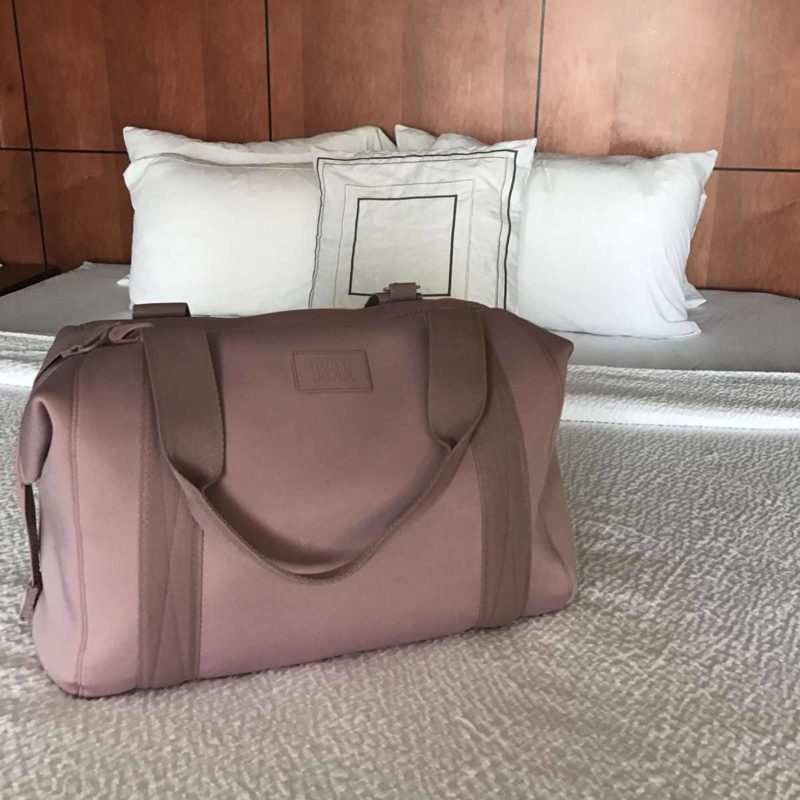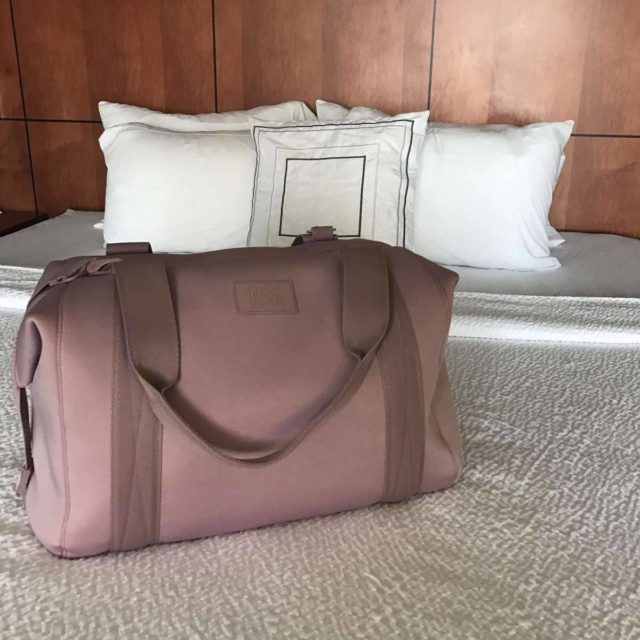 More Packing Details: