This article may contain affiliate links; if you click on a shopping link and make a purchase I may receive a commission. As an Amazon Associate, I earn from qualifying purchases. 
Bonnaroo – this would be our second year going. For those who don't know what Bonnaroo is, it is a four-day music festival on a 700+ acre field in Manchester, Tennessee. As for the type of music, well that is extremely varied. Rock, electronica, bluegrass, blues, soul, hip hop, rap, indie, heavy metal, jam bands, and even famous comedians. Over 100 artists are at Bonnaroo but a few names you may know that were in attendance this year were Pearl Jam, Metallica, Kanye West, O.A.R., Death Cab for Cutie, Vampire Weekend, Cat Power, Lupe Fiasco, Jack Johnson, Willie Nelson, B.B. King, Robert Plant & Alison Krauss, and Chris Rock.
Bonnaroo is 11 hours from my home in the Nations Capital – each year we drive down to Bristol, TN and stay overnight and then head out the next morning for the festival grounds. This gives us a last chance for a hot shower and a cool room to rest for when we do the Roo, we do it in General Camping. This means tents, no electricity, porta potties and the only water available is freezing well water from water stations (a fancy term for troughs with spigots in a trailer). Last year four of us went and with much research and help from message boards like Inforoo, we were prepared with a decent camp setup and all the necessities to survive the heat and long days of music and activity. This year our party grew to be seven folks with an even more awesome camp setup and plan of action to get the most out of the fest.
I was ready for the heat, the possible dust or rain, the long days, the lack of sleep, the need to stay hydrated, to stay up until sunrise to catch the best shows, the ability to be comfy without a hot shower or a shave for almost a week. I just wasn't prepared to go at it pregnant.
Yes pregnant. I am three months With Child. Knocked Up. Preggo. There's a bun in my oven.
This was not an accident – my husband and I decided to start trying this past Christmas. However with his medical history (think Lance Armstrong) and my almost two decades on birth control, I didn't think it would be so… swift. We were trying but not trying. Not charting, temping and "baby we better have sex NOW!" sort of stuff, but just not using protection and being a happy married couple. We thought it would be a couple more months… heck even a couple more years before we got pregnant. I joked with a few about how I could be pregnant at Bonnaroo but didn't really think it would actually happen.
I was 11 weeks along – long enough to have the morning sickness subside, my need to pee not be every 15 minutes and me start to have a twinge of energy again. For that I am eternally thankful. If Bonnaroo were two weeks earlier, I may have spent the entire time crying or sleeping in the fetal position in my tent.
So with this information… here's my review of Bonnaroo 2008!
As I mentioned, seven of us went together. It was me and my husband, his best friend and my sister (the four from the 2007 group) and then two close girl friends and one of these girls' boyfriend. They were all Roo Newbies, but music fans who had been well prepped by us regarding what they would experience when once on the farm. We considered shoving into two cars to save on gas, but decided to take three so we would end up with a larger campsite (you park directly behind your car) and not want to strangle one another before we hit Virginia.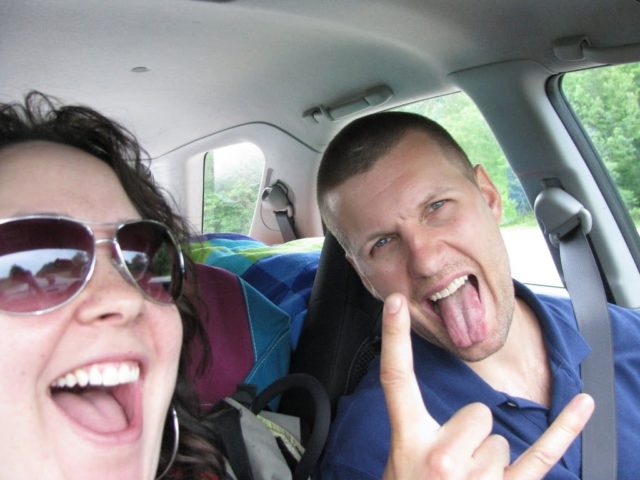 Traffic in DC was a beast on Wednesday morning; it took over an hour and a half to get from my house in the DC suburbs to my sister's apartment in DC to Route 66. We ended up not getting on the highway until around 10:30 am. Two cars headed to my sister's place, the other started their commute from near Baltimore at 10:30 and still caught up with us in time for lunch. We stopped at a little pizza joint in BFE, Virginia where I had an awesome mushroom calzone, refueled the cars and got back on the road. We arrived at the Bristol La Quinta around 5pm.
Our friend's dad lives only about 20 minutes from Bristol so we met him and his wife for dinner at Chili's. Did you know there is literally only ONE vegetarian entrée on the entire freaking Chili's menu? WTF! I was so not in the mood for a black bean burger that evening so I got super Meg Ryan from When Harry Met Sally on our waiter and made a custom meal. I didn't feel too bad when he then admitted he used to go to Bonnaroo too, but stopped "when all the crappy commercial MTV bands started taking over." I hate jam band snobs – there were still TONS of original Roo artists there (Umphrey's McGee, Widespread Panic, Disco Biscuits, Yonder Mountain String Band, Phil Lesh, etc.) so those snobs drive me batty.
After dinner, we hit the Wal-Mart for some necessities. Got some awesome battery-operated fans for $5 that were lifesavers at Bonnaroo, some Clorox wipes to prep the porta potty seats, eye drops for my allergy-prone and contacts-wearing eyes, and my husband got a water gun and a Frisbee. After, my friend and his girlfriend went to his parent's house for the night and five of us went back to La Quinta. Four drank beer, one drank water and we all played Roo-themed Pictionary and wrote goofy raps (sounds lame but we were giggling for hours).
We headed out a bit later than expected the next day, but with some advice from our friend's parents (construction in Knoxville, use Route 55 to get into the festival) we made great time and ended up in a very short line (less than an hour from highway to campsite) and funnily enough only about 100 yards from our camp location the previous year (Pod 6/Camp Dr. Rumack for those who went). Not a bad spot – like a 10 minute walk to Centeroo where all the events took place and less than a block from porta-potties and right near a main road so it was easy to find camp in the middle of the night.
Camp setup was pretty painless with seven people. Unfortunately it was near 5pm which is when I seem to get my Morning Sickness. I was really dragging, but trying to be helpful. Drank lots of very cold water, had some protein and plugged through. Soon we had our phat pad set up – two EZ up shelters, four tents (one for me and my husband, one for my friend and her man, one for our guy friend and one for the two gals), tarps over all to block from heat and pounding rain, a mini kitchen made from a grill and folding table, a bunch of tailgate chairs, Christmas lights around the shade shelters and even a shower/toilet tent!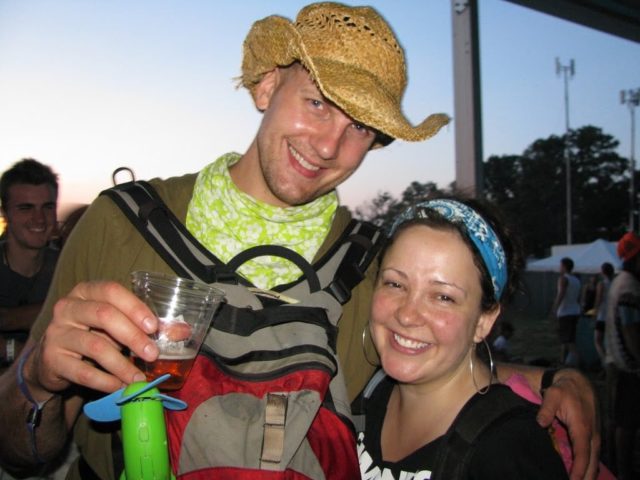 We all cooled off with some beers (me with some Vitamin Water) and headed to Centeroo. One friend had a couple he knew who were also there and they suggested we start the evening with seeing Grand Ole Party. Never heard of this band before, but knew I would like them once I found out the lead singer was a woman AND the drummer! They totally rocked and put on a good show. After we took a quick walk through Centeroo to get our bearings and headed to see a few more shows (Grupo Fantasmo, Back Door Slam, The Sword). I would have LOVED to stay up to see Vampire Weekend and Dark Star Orchestra but the kumquat (that's what size the books say the baby was at the time of Bonnaroo) wasn't having it so back to camp I went. I was knocked out by midnight.
Day Two – Friday. Started the day with a makeshift shower at the Water Station. This entailed me tossing on a pair of cargo shorts holding a hair towel, bar of soap, shampoo and a razor. Got in line with all the other campers with my own spigot of well water and washed my hair, shaved my pits and washed what was accessible. This year I had no fear and stripped off my shirt to just a solid hot pink cotton Victoria's Secret bra so I could really feel clean. For the rest of the body, I went back to the tent and made do with Tea Tree cleansing wipes from The Body Shop and some Target brand personal cleansing wipes. I must admit I did add some girliness to the day – brought my Matrix Curl.life Contouring Milk to add to my air-dried hair and Cover Girl LashBlast waterproof mascara (BTW like it just as much as the non-waterproof version). Packed the Camelbak with Life Water, regular water, granola bars and fruit for snacks after slathering on tons of SPF 30 and donning a sloppy straw hat.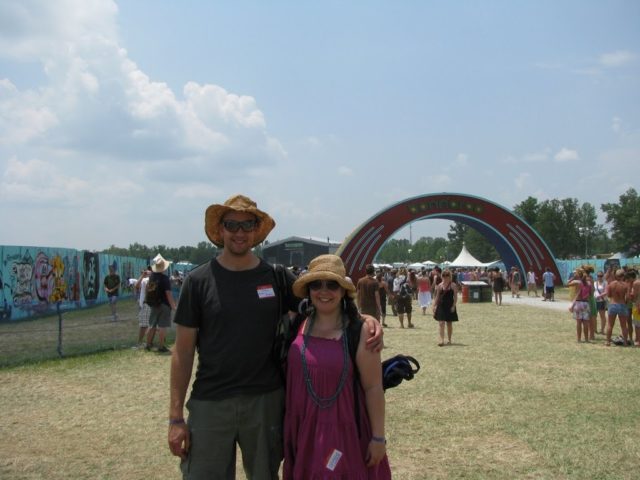 We started the day by attending a brunch for members of the message board Inforoo. May sound dorky, but it was totally awesome to meet so many people I had corresponded with for the past two years. We didn't stay long because only half our group were members of the board and felt a bit left out. We also wanted to catch some music! We began the day's music with Steel Train which I liked okay but found it more to be background music to my conversations with friends and People Watching. We then caught the end of Drive By Truckers' set, which was pretty fantastic. We then headed to the Which Stage (second largest stage) to see Umphrey's McGee. My husband saw them at Caribbean Holidaze this past December and we have a good friend that is a pretty rabid fan of theirs, but I had yet to experience them live. While half our group went near the stage to see the band, I stayed with a few friends near the back of the crowd under a tree to get shade and to relax. Still loved them and had an awesome experience. We stayed put for Les Claypool, who was on next. Another great performance.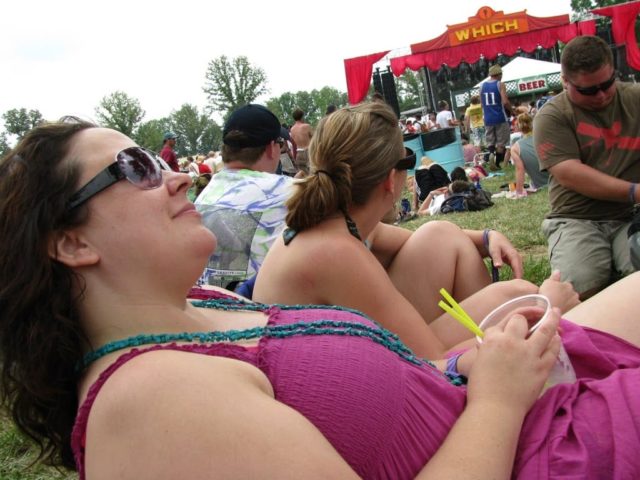 After Les, I had great expectations. I wanted to see Swell Season, Rilo Kiley, M.I.A., Willie Nelson and Chris Rock. However Kumquat was exhausted so I headed back to camp for a late afternoon nap. I ended up sleeping until 9pm. Most of our group had left to go see Metallica; my friend Shelly and I chilled out, changed clothes, repacked and headed later into Centeroo to get good seats for My Morning Jacket.
My Morning Jacket is the reason we even went to Bonnaroo in the first place. My husband wanted to get his best friend a DVD for his birthday that showcased an amazing guitarist he didn't know too much about (his friend is a guitar player). After doing some Googling he decided to get My Morning Jacket's Okonokos DVD. We watched it together and I was addicted. I started researching MMJ and found they were regular performers at Bonnaroo. Though they weren't performing in 2007, it still sounded like a cool festival so we decided to go. So this year they were performing and it would be my first time seeing them live and I was very excited.
We got a good spot (to the left of the beer stand for anyone who attended) and chilled out listening to Metallica's set (not sad that I missed it) over the trees and enjoying the cool temperatures. Then it started to rain. Just a bit of drizzle, not too terrible. After Metallica, my sister, husband and my friend's boyfriend caught up with us and it really began to rain. No worries, we were all prepared with ponchos and trash bags!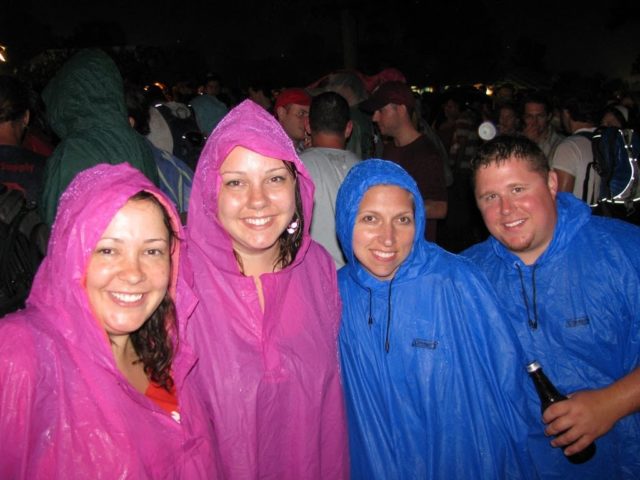 MMJ didn't disappoint. It was so good, the vibe of the crowd and being with my favorite people and yes, even the rain made such a magical moment that I teared up. Definitely the highlight of the weekend. However the rain started getting to be very strong and my friends wanted to head out to see the Superjam (rumors were flying that Ton Waits was going to show up) so I regretfully left MMJ and headed with them to a different stage. We stopped at a tent selling hot tea and coffee to warm ourselves up. The barista told me my herbal tea was very hot, but I didn't realize HOW hot it was. It was so hot, the cup collapsed on itself and spilled all over my left hand. I burned myself so bad the skin today is all leathery and wrinkled on my ring and middle fingers and I can't get my wedding set back on. That, plus the rain, leaving MMJ, being tired and pregnant… I started to cry. No romantic tearing up, big heaving sobs. Friends got me ice for my hand and we all agreed it was a gross wet and very late night (around 2am) so we headed back to camp.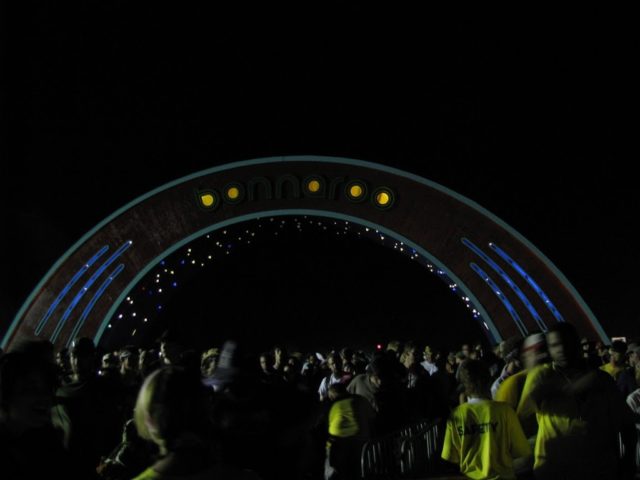 I was till a bit sad about how the night ended, but as I snuggled in next to the love of my life I heard MMJ perform "One Big Holiday" as clear as day and I smiled and knew things happen for a reason.
The next day, it was still raining. We trudged through off and on showers to get ready that morning. I can't recall whether I took a shower or not – think that day due to the rain and mud I just washed with wipes in my tent. I decided to wear my Duo boots since I waterproofed them prior to Bonnaroo. I had brought Crocs as my main footwear because they are perfect for such a festival, but didn't want nasty Roo mud seeping in through the air holes. As with the previous day, clothing of choice was a lightweight cotton sundress (Saturday was Old Navy, Friday was Target).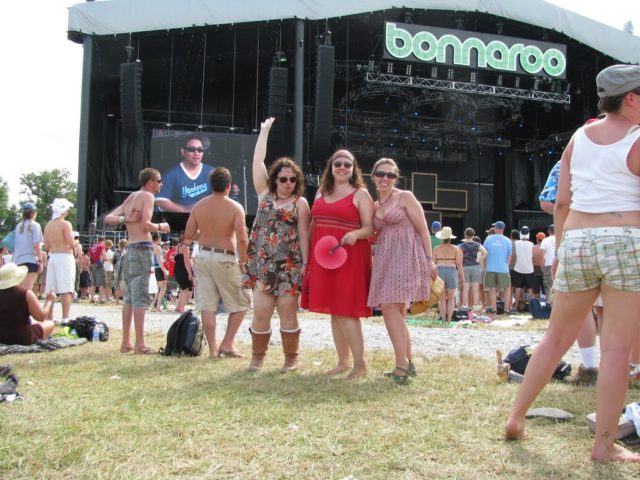 We started the day with an acoustic set by The Two Gallants at the Sonic Stage. Not bad, but I was distracted and spent a lot of time taking pictures of the crowd. We walked by and caught a few songs by Sharon Jones and the Dap Kings and then headed to the What Stage (largest stage) to see Ozomatli. I knew NOTHING about this band, but heard great things from friends on message boards. I again was not disappointed – had an amazing time and danced my booty off. It was a true Bonnaroo moment – fun music, good weather (rain had disappeared), good friends, thousands of friendly people dancing with me. We stayed for their entire set and then headed to the Which Stage for Gogol Bordello – another band I heard was amazing live. Maybe I was worn out from Kumquat or Ozomatli, but I wasn't enthralled with Gogol Bordello. I pretty much chilled out (brought a Crazy Creek stadium seat which was phenomenal for field seating at these shows and easy to bungee to my Camelbak) with a frozen lemonade and People Watched. I then headed back to the big stage to see the legendary B.B. King. I stayed long enough to hear "The Thrill is Gone" and then found my friends at the That Tent where Zappa Plays Zappa was ready to perform.
Was never a fan of Frank Zappa, though I respected his talent. However I heard it was a must-see show and had a mini crush on Dweezil when I was a kid (I can still recall an interview with him on Nickelodeon where he said he hated making left turns while driving). They started and they sounded great, but I knew it was just the wrong scene for me. It was hot and dusty under the tent, a few guys near me smelled of BO and weed, a chick in front of me was smoking a cigarette, Kumquat was getting restless and Morning Sickness was starting (surprise, surprise it was a little after 5pm). I left my friends, wandered a bit and then decided to head back to camp to have a semi-healthy meal (as good as you can do with a 5-day cooler) and a quick power nap.
That power nap ended up being a doozy for I didn't wake up until almost 10pm, completely missing the Jack Johnson set. Oh, no worries, I figured Jack would be kind of chill and I really was needing high-energy music to keep my own energy going through these long days. I changed into some long linen pants, a tank and a hooded long-sleeved tee and found my friends who were at the What Stage waiting for Pearl Jam.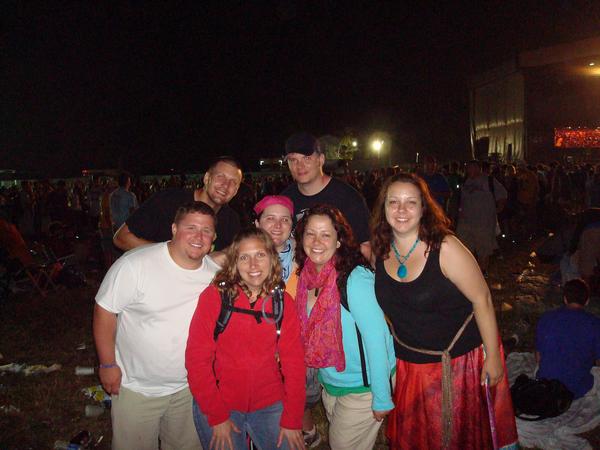 Yes, Pearl Jam! One of my favorite bands and by far the most favorite band of my husband. Eddie and team have never disappointed us, and I was super excited to see them here were they would be more likely to play rarities and really jam out. Again, my expectations were exceeded. The show went over schedule, they played really rare songs, they jammed out, got personal with the crowd and sounded phenomenal. My Morning jacket made me tear up? Well my husband's were shining during this set. Totally fabulous.
We then packed up and headed across Centeroo to see Lupe Fiasco at The Other Tent. We got a spot to the right of the tent. Standing, my husband and friend could see the stage pretty well. I was tired so I pulled out the Crazy Creek and had a seat. Lupe was pretty amazing and had the entire crowd wrapped around his finger. I was trying to get in a nap but couldn't because the beat was infectious and the crowd so pumped.
We then headed BACK to the What Stage to see Kanye West. This was another must-see for me because I wanted to see what Kanye would pull out. There was much controversy about him even being at Bonnaroo – was he the right "feel" for the festival? Why did he get switched from a day spot on a smaller stage to a late night spot on the biggest stage? Would he be a primadonna? Would he live up to the hype? Rumor had it that he would performing the act from his Glow in the Dark tour which would have been pretty awesome to see.
We got a spot almost where we were for Pearl Jam – to the left side of the stage and a third from it. Good view, and good access to beer and porta-potties. I think we were settled by 2:30am and Kanye was supposed to start at 2:45am. I was pretty pumped, as were some of my friends. Others were starting to get sleepy. They were playing popular hip-hop tunes over the speakers until the show started and I was singing Rob Base and Beastie Boys with my girl friends. I was really shocked that no one in the audience knew all the words to Paul Revere. Is it because were are old? Because we grew up near DC? I feel that Beastie Boys' Paul Revere is a rap classic, one that all ages would know all the words to. Anyway, us old ladies sand all the words and shook our booties!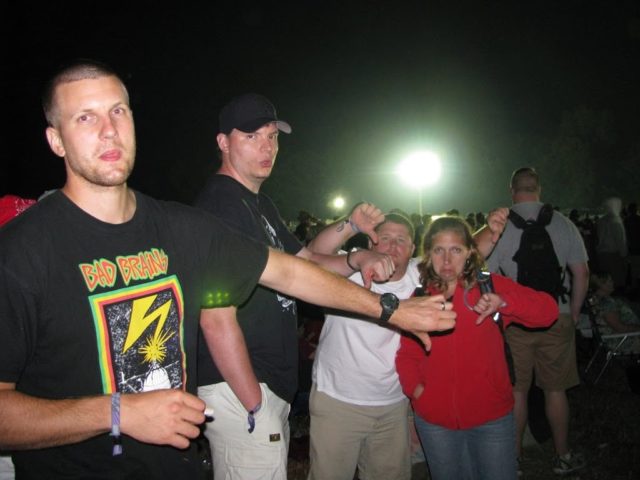 3:00 and no Kanye. We get a message on the big screen that the show is delayed until 3:15. At 3:15 another notice of delay until 3:30. At 3:30 we get the message "Kanye West up Next!" There were a BUNCH of angry hippies by this point. People were booing, throwing things at the stage and many were chanting, "Fuck Kanye! Fuck Kanye!" I had pulled out my Crazy Creek again and got some shut-eye. I wasn't going to miss this show, no matter how late it started. People started leaving and at 4am three of my friends gave up and headed back to camp. We persevered. The show FINALLY started at 4:29am. About 20 minutes into it, my husband and sister left because they were falling asleep standing up but somehow my one girl friend and I had a renewed sense of energy and stayed and even pushed forward so we were pretty near the front of the stage.
If you Google this show, you will get many mixed reviews, most negative. Most people were angry from the get-go for the show being almost two hours late. His show was also 30 minutes shorter than scheduled. It was NOT the Glow in the Dark tour performance, but one I had also heard about where he acts out having his space ship crash on an unknown planet.
Personally, I loved the performance, the cheesy parts and all. I knew many of his songs casually but found myself singing along to all of them. I wondered if the delay was purposeful when he began singing "Good Morning" right when the sun was rising, but honestly I didn't care. I was pregnant, sober and up with the sun dancing my heart out to Kanye West with a good friend and a thousand new friends around me. I was damn proud of myself for sticking through. Kanye sung his heart out and I found him to be a powerful and talented rapper and singer (though his acting skills are SEVERELY lacking). The screens really added to the performance and I loved the lights, the video, the dancing, the whole effect. My friend and I were super pumped and glad to have had the experience.
The show ended around 5:30am and we trudged through Centeroo to head back to our camp. We were so physically and mentally exhausted we could hardly speak. However we were both so psyched by what we just shared.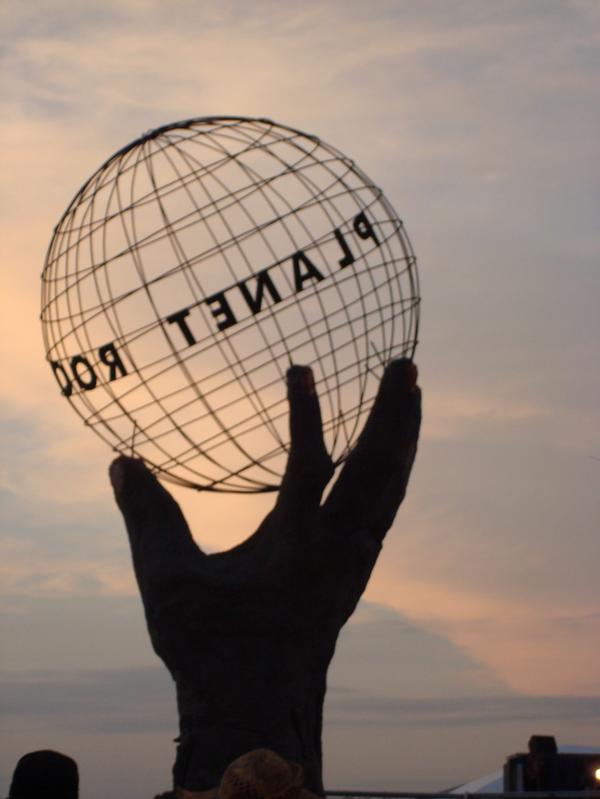 Surprisingly, my body woke me up around 7:30am. Well maybe not so considering I rarely sleep past that point even on a weekend. Got up and got a burrito of egg and cheese from a nearby vendor. Sunday's music started a bit later, so it gave me time to have a makeshift shower, even take another nap before heading back for our final day of music. It may sound disgusting, but I put on my same boots (new socks) and the same dress as the day before. I know, ME of all people! However I was going to be gross no matter what I did and the dress was so perfect – it was airy, not lined, super comfortable and my dress I had for Sunday had a lining that I KNEW would stick to my legs. Not only that, my breasts had grown a lot since I bought it and it just didn't fit the way it was supposed to on top.
We started back to Centeroo around 2:30pm to catch Robert Randolph. He was phenomenal, and others thought so too. He was at the That Tent which is not a huge stage and the crowd spilled out from the tent to the side grounds, over an access road and into a common area. The sun was blazing and there was no heat and after about four songs I had to cry Uncle and move on. I think they put him on a smaller stage because he was with The Revival and not The Family Band, but honestly, he could have filled the What Stage just as well as Ozomatli the day prior.
I headed to the What Stage to catch Yonder Mountain String Band. The sun was insane, I was reapplying sunscreen every 30 minutes and kept wet bandannas on my neck and head. Guys were dancing around with misters and spray bottles which felt like droplets of heaven. I finished a two liter of water and had to go get more. My husband and I sat with our backs to the stage for a while so that the sun wasn't beating on our faces. The rest of our friends met up with us just in time for the band to start.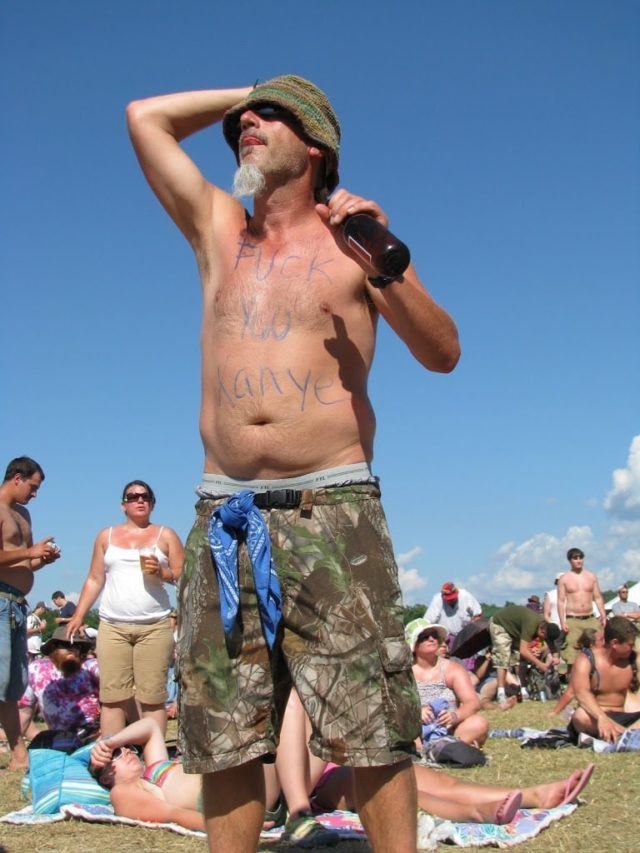 Another Bonnaroo hit with Yonder Mountain String Band. Not my typical choice in music (bluegrass) but they were incredible talented, personable and the audience was energized. We were along the gravel access road on the left side of the stage and the road was full of dancing people – hippies, wookies, preps, rockers, ladies with hula hoops, tons of bouncing dreadlocks. It was an awesome sight and you couldn't help but dance as well. My friend commented, "now I see why Black people say that White people can't dance" and it cracked me up. It was true, the majority of the people had NO rhythm and seemed more to be doing a jig than traditional dancing, but they were so happy and full of life, it was beautiful! (picture depicts the feelings the next day by many festival attendees)
 We left and headed to get some sustenance and caught a few songs by Solomon Burke. Pretty talented man. We then went to catch O.A.R. It was 5pm and yet again, Kumquat was getting restless so I was feeling anxious, hot, sick and miserable. They were cleaning nearby porta-potties at this time and the smell almost knocked me over. There was no sun anywhere so we just tried to find a spot where we could hear the band and not smell sewage. My sister tells me she got a weird call from my mom on her cell. My mom was dog sitting and when she stopped by my house that morning, there was an alarm going off in my home. It wasn't the smoke detector or a house alarm and she didn't know what to do. By time we got the message and called her back, she had called my father-in-law who was also on vacation but called a neighbor of ours who is a handyman. He came over and helped my mom. Come to find out our water heater overheated and a bit overflowed onto the floor, where we have a moisture detection alarm. They cleaned up the bit of water, turned off the alarm and turned off the water heater's circuit breaker and all was fine by time I called but to have that on top of Morning Sickness and heat and exhaustion… well I wasn't as patient and nice to my mom as I should have been. I had to walk from my group of friends to hear her and when I returned I couldn't find my camera. I totally went ballistic screaming that some wookie stole my brand new camera and then my friend found it under his backpack. I knew at that point I needed a major break from it all. The heat, the noise, the ridiculous crowds (65K in attendance), the music, the everything. It wasn't bad being pregnant at Bonnaroo, but I did have a much shorter fuse than I usually would.
We headed for some food and some shade and I chilled out by myself regrouping. When I finally cooled down, my husband and I decided to go see Robert Plant & Alison Krauss, but find a spot in the shade away from the crowds. Eventually my friend and sister joined us. I lay down and relaxed and sort of vegged out. Honestly, I don't remember much of that performance except that Alison Krauss' voice can soar like an angel, and I heard Plant wail a la Led Zeppelin and it sent chills down my spine and made me glad I toughed it out.
After a bit, my sister and friend went to check on other shows. My husband and I decided to roam Centeroo alone, checking out various smaller tents and vendors. It was nice for when you go with a group of seven to a festival attended by 65,000 there's little couple time available. We held hands and walked slow and it was a nice finale to the day.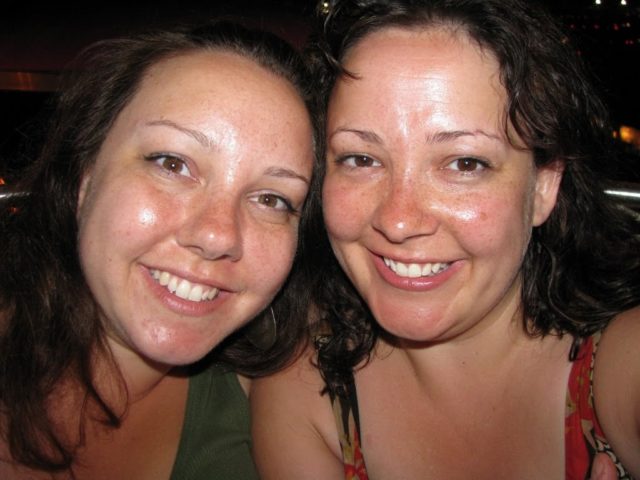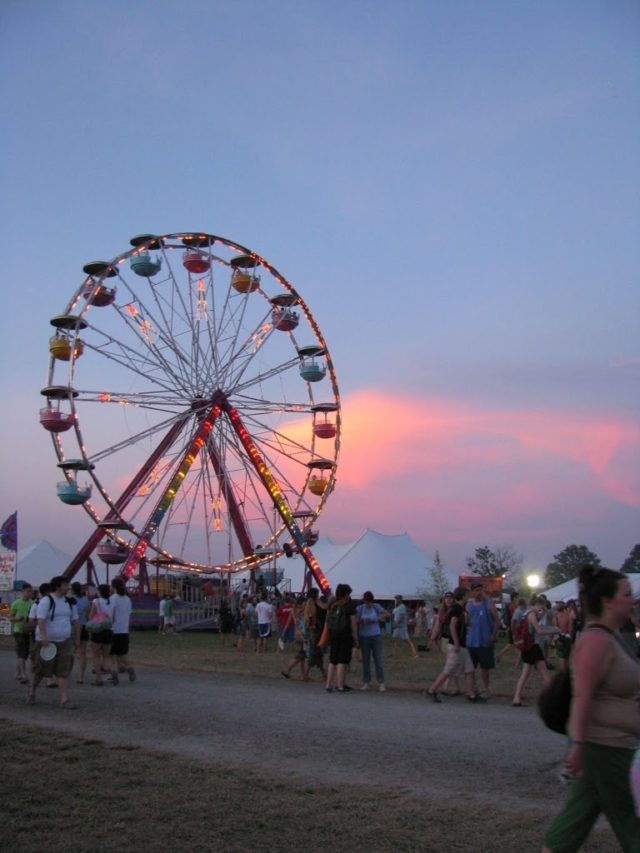 At 8:00pm the whole crowd reconvened at the karaoke tent to see our karaoke-obsessed friend perform. This was not any old karaoke tent – this tent offered you to perform with a LIVE BAND. When we showed up it was a hard rock band all decked out in lycra and crimped hair and bandannas. It was fabulous, and T totally rocked the house with her awesome rendition of Bon Jovi's Living on a Prayer. The karaoke tent shut down soon after her performance; a few went to see other shows, my husband and some went back to camp, my sister and I decided to get a trip on the Ferris Wheel. It had just gotten dark and we were able to see all of the camping and festival grounds lit up. It was a nice way to end the fest.
After the ride, my sister headed to see Widespread Panic. I was planning on seeing them but really felt it would be pushing myself too far. I instead kissed her goodbye and walked back to camp alone. I got myself a last Bonnaroo treat – an ice cream cone for the journey and took a long leisurely route so I could People Watch, Camp Watch, and see all the cars already leaving Bonnaroo.
I got back to camp and two friends were up drinking beer. I attempted to stay up and chat with them but soon started falling asleep in my tailgate chair. Said goodnight and was in bed by 10pm. I was so tired; I slept through all the fireworks and craziness of the last night of Bonnaroo. My husband did as well – we remarked that we had a surprisingly restful night of sleep!
The next morning my husband and I were up by 6am and we immediately started packing. I believe we were on the road by 8:30am. We stopped around 10am for breakfast at Cracker Barrel, made two pit stops and were home by 10pm.
All in all it was a wonderful and actually quite a restful experience. Four days without Internet, TV, newspapers, bills, work, and life drama was exactly what the doctor (and the kumquat) ordered. Finding nutritious vegetarian food was really not a problem – I brought plenty of snacks and there were many food vendors that offered healthy veggie-filled vegetarian and vegan meals. I really enjoyed being sober for the whole time because I didn't miss a thing and never woke with a hangover or regrets. It was fun to have this crazy experience this summer, knowing next summer I will be caring for the new member of my family!