This article may contain affiliate links; if you click on a shopping link and make a purchase I may receive a commission. As an Amazon Associate, I earn from qualifying purchases. 
Hi Alison: thank you so much for all of your broken arm-related posts, they have been lifesavers. In December, I badly broke my left forearm and needed surgery to fix it. Although I haven't been in a cast, I have two hideous incisions that are still healing. They were fine while I was on short-term disability, but now that I'm going back to work, I'm at a loss for what to wear. Do I cover them up? Do I just bare them for the world to see? I love short-sleeve dresses and shirts, but I am now feeling the need to buy new clothes to cover them up. I'd love your thoughts and advice as someone who has gone through this as well. Thanks!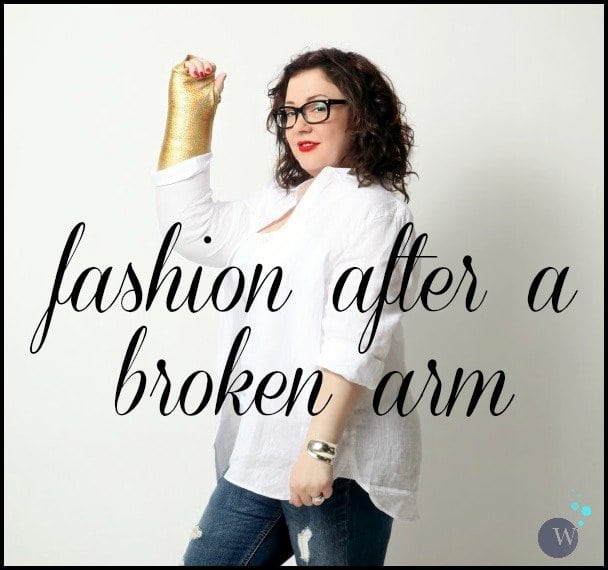 After my third arm surgery, I had bandages for a while but not a cast. While my doctor used this surgery as a chance to minimize the scars from the previous two surgeries, I still ended up with a long red gash running from my wrist to an inch or so from the crook of my elbow complete with visible suture marks and other lovely things. It made me cringe to look at it, and I lived with it every day. I couldn't imagine the stares, questions, and comments I'd get when others experienced it. I really worked myself up imagining what people would think when they saw it, even people I hardly knew, envisioning uncomfortable conversations with strangers in the office elevator or the man making my sandwich at Subway.
I went back to work wearing loose long sleeves. But the fabric irritated my incision while I typed and I ended up pushing them up anyway. And there were the comments I expected ("ew!") and those I didn't ("I would DIE if I had a scar like that!") but in general people saw it, sometimes remarked, and then moved on. I gotta say the best way I got over it was going to the nail salon; my technicians are not shy in asking questions and sharing their thoughts. They've told me I needed to lose weight, have more babies, wax my chin, and color my roots so I expected some awful comments on my arm. Nope, they asked how it happened, am I healed, and how I am caring for the scar. At work, I had client meetings and attended conferences in short sleeves and I saw people take a second glance, but no one really thought much of it and rarely commented other than to show concern.
I realized it wasn't that shocking, and I realized how many people I knew had visible injuries or situations I never thought twice about. I saw their whole self, and people were seeing my whole self. I went from despising my scar, to being proud of it. My injury may have literally broken part of my body, but it did NOT break ME. The scar was a battle wound from a war I fought and WON. Each time I massaged it to break up the scar tissue, I sent love into it. My arm dealt with a helluva lot, it deserved some affection.
For a while I considered counteracting the ugliness of the scar with a beautiful tattoo, maybe a vine of flowers. I then came to see it as a badge of my toughness and considered getting a tattoo on the other forearm to balance it out. Then life happened, months went by, and the scar became as much a part of me as the age spot on my cheek, the little scar over my lip, my birthmark on my ear.
While there's plenty of products and home remedies out there that will minimize scars, it's likely you will have this scar forever. It is now a part of you and you are in charge with how it will be perceived and how it will affect you.
My scar has faded to what looks like little white cat scratches around a long pink line. It peeks out even from a long-sleeved top and it will always be there. But it's okay because it's now part of me, and proof that while I may fracture my radius, I will not be broken. And you too aren't broken. You have survived, and while your arm may be weak for a while you are now a stronger person from this experience. If you wish to talk more about the experience, do not hesitate to reach out again. Many dismiss such an injury as it's so common and you do recover. But the time from injury to 100% healed can be long, frustrating, and upsetting and each situation is different. Let me know if I can help.
As for the original request – fashion after a broken arm, I found short and elbow-length sleeves the most comfortable.  For long sleeves, either cotton sateen or silk was my favorite as it didn't scratch or catch on the scabs or when I had them, sutures.  Instead of cardigans and blazers which could be tight on the forearm, I loved shawls and pashminas to ward off chill.  Soft jackets were great because they won't constrict and could be shoved up if my arm got irritated.  I didn't use Mederma or any other scar-lightening product but I did massage a Vitamin-E based ointment into my forearm each night to soften the skin and help with massage (it's also great for cuticles, elbows, and lips!).