This article may contain affiliate links; if you click on a shopping link and make a purchase I may receive a commission. As an Amazon Associate, I earn from qualifying purchases.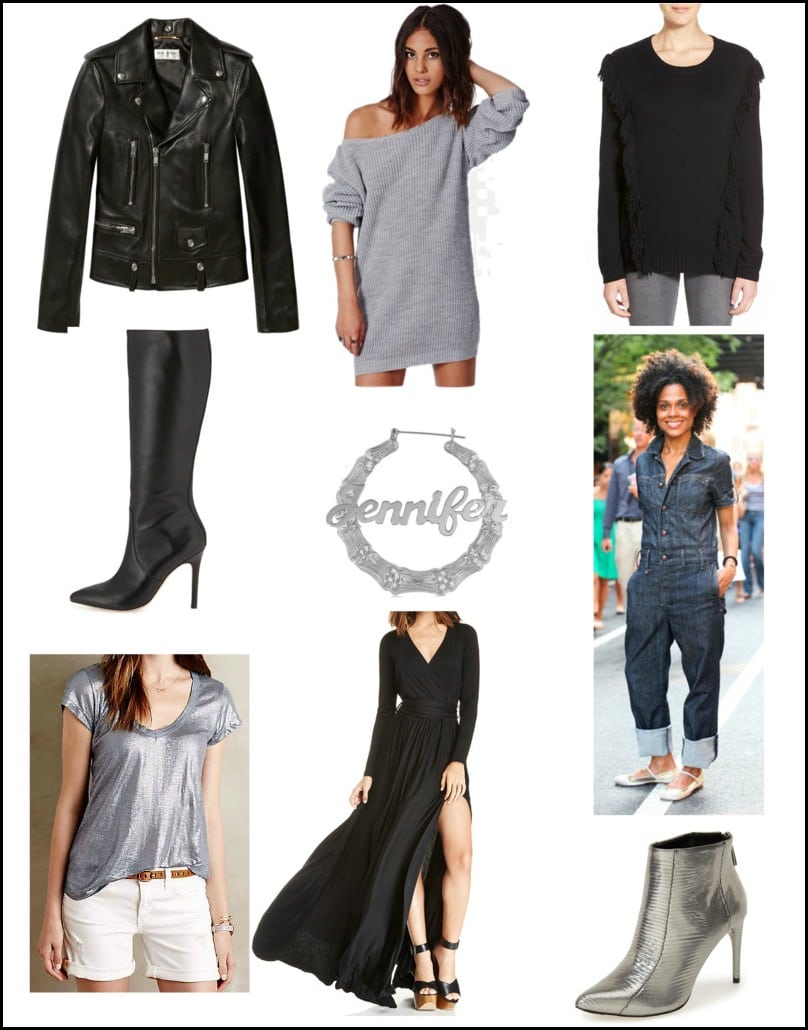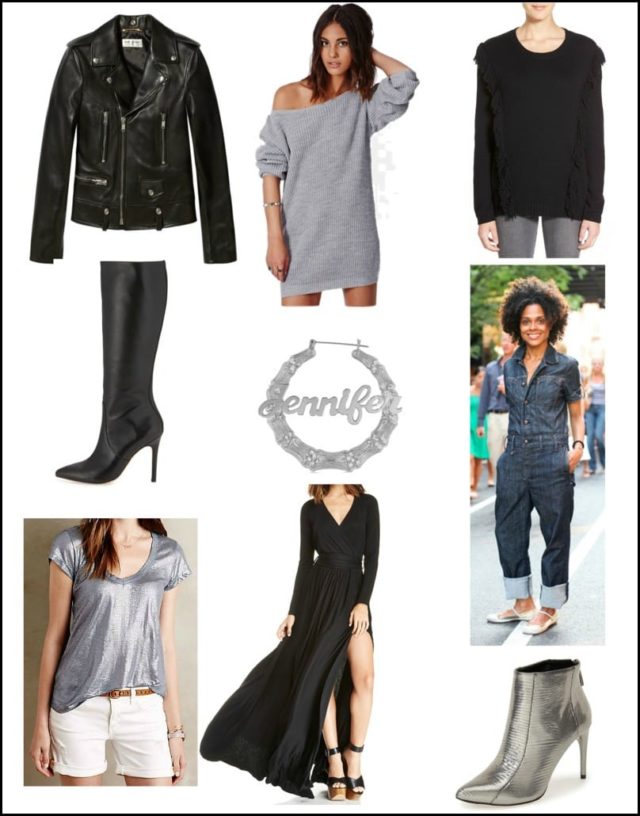 This is the time of year where I dream of new closet additions. I spend a lot of time perusing online stores pretending to do research for future blog posts but am really looking for that necessary something to complete my wardrobe. Over the years I have gotten better with this, I ask if I need it, I ask if I'm buying it to emulate another or better define my own style, if it works with my real life (I don't go to as many parties and blog events as I imagine), and then I ask if it will work with at least three different looks in my wardrobe. Well these are the things that through all that I still dream of adding to my closet:
Black Leather Biker Jacket
All through college I had this buttery soft lambskin jacket with silver hardware that I wore daily. I paired it with babydoll dresses and Doc Martens, with flannel shirts and skinny jeans with zippers on the ankles, with oversized tee shirts and severely distressed cuffed denim shorts, and every other '90s trend. Come college I still wore the jacket from time to time and while I still own it and it still fits, the cut is so utterly retro it's not charming, it's a costume.
Thing is, I am round and I am soft and I look like a linebacker in a stiff leather jacket. However, the softer leather jackets I've found seem to have skinny arms, too long of arms, too many details, or too few. I don't mind a too-long sleeve if it doesn't have zippers; sans zippers I can get it tailored. But most jackets that fit in the shoulders and upper arms are 5" too long in the sleeve. I want the effect of a classic biker jacket – no fabric insets, no gold hardware, no belt, no shearling, no drapey parts, no funky finishes, and I want it solid black. I want it to be a staple just like my denim jacket or my biker jacket from the '90s.
Black Heeled Knee-High Boots
Technically I own these. I had a cobbler taper the shaft so they didn't stick out on the sides and make me look like a pirate. They fit like a glove, I love them but they've seen better days. One zipper lost its pull and I can't unzip it; I pull the boot on and that works, but it ends up being a bit slouchy at the ankle. The leather-covered heels have been repaired by my cobbler so many times but they still look dreadful and this past week I was wearing them and no clue how but I tore a whole strip of the leather and ended up holding it in place by wrapping Scotch tape around the heel. Not chic.
I'd like them the same soft leather, a slightly pointed toe, but a slimmer heel that is slightly higher. Something a bit more fashion-forward without being stilettos or too trendy. Has to be mega wide calf, and I am okay with having my cobbler tailor them to properly fit my lef.
Solid Black Sweater that Isn't Boring
Cheat, I started writing this and then this sweater from Trouvé arrived in the mail. I haven't laundered it yet, but it's just what I was looking for – soft but thick enough to be warm and not show my bra or belly button, loose but not boxy, a standard neckline that isn't too high but doesn't show my bra/is appropriate for work, and some interesting detail that keeps it from being boring without being too ridiculous.
Thick Cashmere Off the Shoulder Sweater Dress
A few years ago, I bought a black dress from Tart Collections. It's heavier than a tee shirt but not as heavy as a sweatshirt, and super stretchy. It falls off one shoulder, has long sleeves, a gathered waistband that can be adjusted from waist to hips, and a maxi skirt that isn't tight. I wore it in this post, but it doesn't really show its awesomeness. I wore it to a New Year's Eve party last year, wore it to a party the night I broke my arm (and still love it), wore it to a couple blogging events over the years. I can be a 12 or a 16 and it fits and flatters, it keeps me warm, and the off the shoulder style is sexy without having to show the rest of my figure.
I'd love a similar concept except out of a soft luxe fabric, and something that ends above the knee. I'd pair with very opaque tights and booties or the dream knee-high boots. It would skim curves without clinging, be completely opaque and substantial. I'm of course drawn to black, but if it existed in a deep rich color like teal, berry, or indigo I would be swayed away from black.
Sterling Silver Bamboo Name Earrings
This summer I bought a pair of what I thought were silver bamboo name earrings. They were not. They ended up tarnishing, and they broke. And the Etsy store went out of business before I could rant about them.
I want a new pair, and I want them Sterling Silver, not plated or filled or colored. I don't want the diamond-cut names, I don't want any frills, just a round bamboo hoop of a substantial size (3" would be good) with my name (I prefer Allie to Alison in the earring).
Dark Denim Coveralls
Eons ago (okay it was 2007) I saw this post on The Sartorialist and ever since I have been on a mission to find something similar. I have ordered plenty of jumpsuits and coveralls over the years, tried on so many in shops and all fail. When I dressed as Rosie the Riveter one year for Halloween I realized the reason… I need coveralls designed for a man.
I regularly scout out eBay and when I have visited thrift stores have checked out their selection but no luck. I don't want railroad stripes or a houndstooth texture. I don't want them of chambray or navy canvas. I don't want them light, and I want them to look like they're made of denim, not a dark saturated wash that replicates navy canvas. I don't care if they're too long, that's easy to fix; I'd prefer that it has sleeves (which I will cuff or hem to a desired length) but I rarely find any that look cool and aren't either $300 or too big in the waist.
Pewter or Silver Ankle Booties with a Heel
Another cheat, as I just bought these BCBG Max Azria booties and they are so freaking badass! And of course I get them right when the weather has gone south and I won't dare leave my house in such high heels. I'd wear them with black skinny jeans and my non-boring black sweater, I'd wear them with the cashmere dress, I'd wear them with distressed girlfriend jeans, I'd have them peeking out of maxi dresses. I have fun pumps and heels for going out, but had nothing fun that will keep my ankles from freezing. Now I do!
A New Bag
I know, mega vague, right? I have my Rebecca Minkoff Mini M.A.C. and it's so perfect nothing else compares. So really I don't NEED this, but I've had it for three years and am itching for a change. I just am not really feeling the current trends of bags this size. I have big bags, I have clutches, I want a daily purse that can fit my wallet, my paper planner, my sunglasses case, a small makeup bag and a pair of gloves without being ginormous. I'd prefer it to look good as a shoulder bag as well as a crossbody.
Silver Metallic V-neck Tee
I had this one, and Karl put it in the dryer by accident. I wet it, stretched it and it worked though it lost it's amazing drape and perfect length. And then it went in the dryer again and it's a crop top. Le sigh. I've tried other brands and they're just not as sparkly, as perfectly drapey and flattering. Maybe this spring Anthropologie will restock it.
Black Matte Jersey Maxi Wrap Dress
I have a very specific dress in my head. It has the wide band trim at the neckline and the same width belt. It's a true wrap dress, but the skirt is sorta full so there's plenty of coverage in front. The sleeves are slightly blouson with button closure at the cuffs (and the buttons are either fabric covered or black faceted/jet). And it has pockets. I'm okay with having it hemmed to the right length, but I want it to fit in the body so I don't have to safety pin it closed or have the waist in the wrong place.
Seriously, if this dress exists and fits me correctly, I'd buy it in every color (and would love those colors to be emerald green, blood orange, maybe a bright navy or indigo and maybe a green or blue snakeskin or stained glass or peacock print). It could also be silk jersey, as long as it's a nice weight and not clingy/showing every lump and bump. Eh, now that I'm thinking about it, let's keep it matte jersey so I can machine wash it on the gentle cycle.
Do you have a dream closet list? I'd love to hear what you wish you could own in your closet if size availability and cost were not an issue!  And if you know where I can find my dream closet additions I'd love to know!