This article may contain affiliate links; if you click on a shopping link and make a purchase I may receive a commission. As an Amazon Associate, I earn from qualifying purchases. 
A big request that comes in my mailbag is suggestions for work-appropriate flats. I'm glad to see such requests, because not every flat is created equal. I hate to burst your bubble, but standard issue ballet flats and the patent elastic-backed flats do not give an air of professionalism, no matter the brand name. Not only that, such shoes offer so little support they aren't very comfortable or healthy for your arches. Luckily, flats have come back en vogue the past few seasons and there's a wonderful assortment of stylish, chic, and supportive heel-free shoes available that will give you an air of professionalism. A few styles I am loving this fall: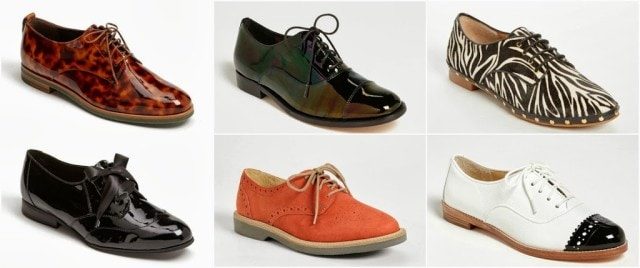 The Oxford
I wrote about the oxford or brogues trend last fall/winter, but this trend is still quite hot. With the second season, there's more variety and style available. From animal-print calfhair to metallics to more classic wingtips, there's an oxford shoe that works with most any personal style. A plus to the oxford is it is a style of flat that looks quite chic with hosiery.
Such a shoe looks amazing with trousers, be you channeling Katharine Hepburn with a wide-leg menswear style, or a trim ankle-length cut. I also like oxfords with boyfriend and ankle-length straight jeans. I have seen many women carry off oxfords with fuller skirts of every length from mid-thigh to ankle, but you need to have a very defined personal style and understanding office to carry off that look.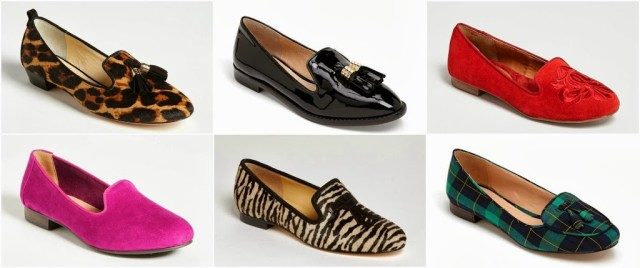 The Smoking Slipper
Another flat trend that has carried over from last year, the smoking slipper, is easy, comfortable, elegant, and work appropriate. Such a shoe looks great with trousers of any leg width, and with all the prints and fabrics available, can add a personal touch to a more traditional suit.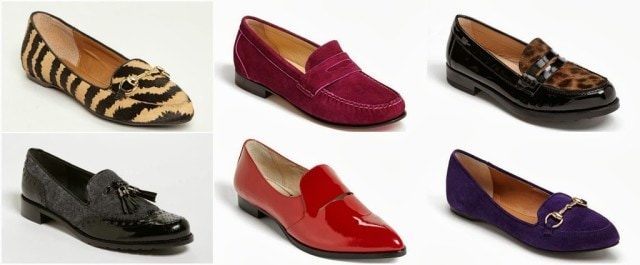 The Loafer
The loafer has returned, and in all styles and heel heights. The flat loafer is a classic and looks excellent with jeans and trousers, as well as pleated skirts and kilts. The collegiate look is trending this fall, and a tassel or penny loafer fits the bill perfectly and comfortably. Like oxfords, this style of flat looks chic with a sock or other form of hosiery.
If your style is more eclectic, consider a loafer with a pointed toe, an unusual fabric or finish, or unexpected hardware. I love the juxtaposition of a tough leather moto jacket, jeans, and then a classic penny loafer.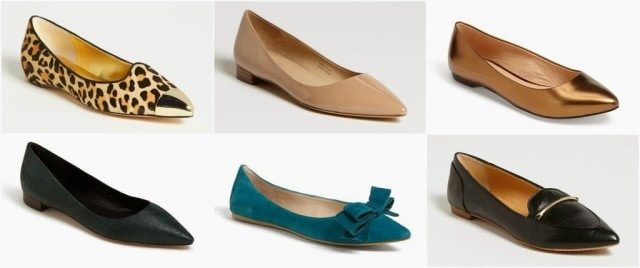 The Pointed Toe Flat
While a pointed toe may seem like torture for a heel, a pointed toe is more of an accessory on a flat shoe. Without the angle, the toes aren't shoved into the narrow front, but sit comfortably in the normal-width body of the shoe.
As a petite woman, I love the pointed toe flat because it extends the look of the leg. It looks fantastic peeking out of trousers, as well as being paired with cropped and narrow pants. I also find it more flattering with skirts than rounded-toe ballet flats.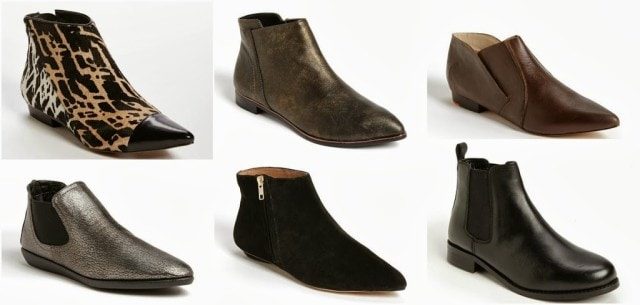 Flat Booties
This season, two popular flat ankle-height boot styles are the Chelsea boot (more of a riding boot style with elastic gussets on the side) and the Beatle boot (very sleek, slim profile with an elongated pointed toe). Both styles are far more professional looking than the chunky bulbous ankle boot styles that are also available in stores this season. Like the oxford and loafer, this form of flat begs to be worn with socks to keep you warm this winter.
Both styles of bootie are extremely versatile and lend to the season's pant trends. They can peek out of classic or wide-leg trousers, but also look very on trend with narrow, cropped, and pleated styles. Both also look quite modern with skirts, from a pencil to a pleated midi. A black flat bootie with black tights is a wonderful winter base for dresses and skirts.
How to Determine if a Flat is Work Appropriate:
Fabric.  Canvas, denim, metallic twill, jelly, rubber, cartoon prints… if you're looking for flats for Corporate America you should likely steer clear from these fabrics.  Leather, patent, haircalf, matte velvet, suede, croco-embossed, snakeskin… choose a more traditional fabric for a more traditional and professional feel.
Details.  While I find the stud trend to be quite fun, it may not be appropriate for the office.  With the return of the flat has come some very wacky details – rhinestone-encrusted toes, plastic heart shoe clips, 1″ long spikes, clear vinyl cutouts… if it's not appropriate to be worn to work on your torso it likely isn't the best choice for your feet.  Also look for details that make shoes too casual – lug or gum soles, visible stitching, visible logos, industrial-style lacing.
Trim.  The quickest way to make a shoe look casual is the trim around the opening.  A lovely leather flat, and then a polka-dot grosgrain trim.  Sleek patent shoe, and then an elasticized opening.  A work shoe should be more polished, and an easy way to achieve that is having the shoe be consistent from top to sole.
Structure.  If one can see the shape of your toes through the shoe, they're not structured enough for the office.  If your foot is spilling over the sole onto the ground, they're not structured enough for the office.  If you look as though you don't have feet under your trouser legs, they're not structured enough for the office (ballet flats are infamous for such a travesty).
Condition.  Color worn from the toe, sole peeling away from the shoe, scuffed, the back bent up from wearing as slides… your place of work is why you can buy shoes in the first place so show it a bit of respect.  Keep those shoes for the commute to the office and change once you arrive; this way your work shoes last longer and stay looking crisp.
My list is not all-inclusive.  There are many styles that are out there right now, and fashion is so accepting this day and age, you don't have to stick to just the current hot trends.  The goal is to look polished, structured, and professional, and you can achieve this no matter the height of your heel!
Follow Me | Twitter | Facebook | Instagram