This article may contain affiliate links; if you click on a shopping link and make a purchase I may receive a commission. As an Amazon Associate, I earn from qualifying purchases.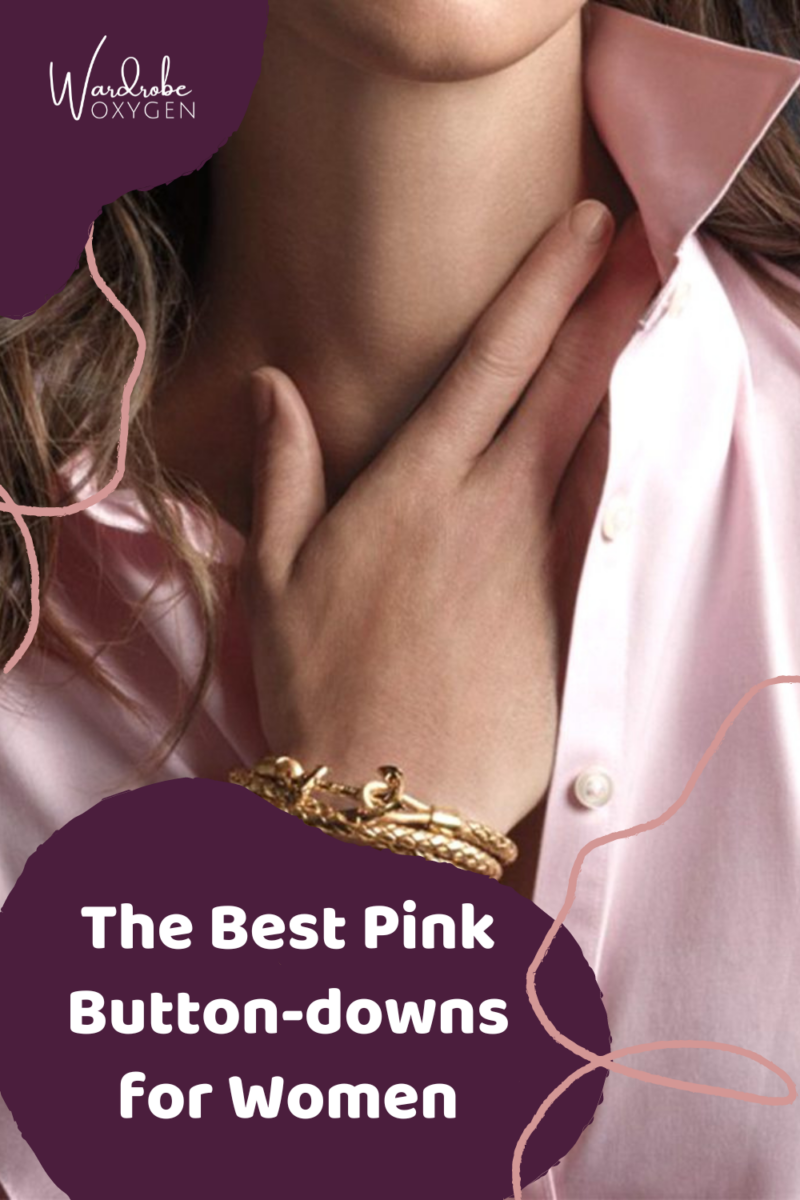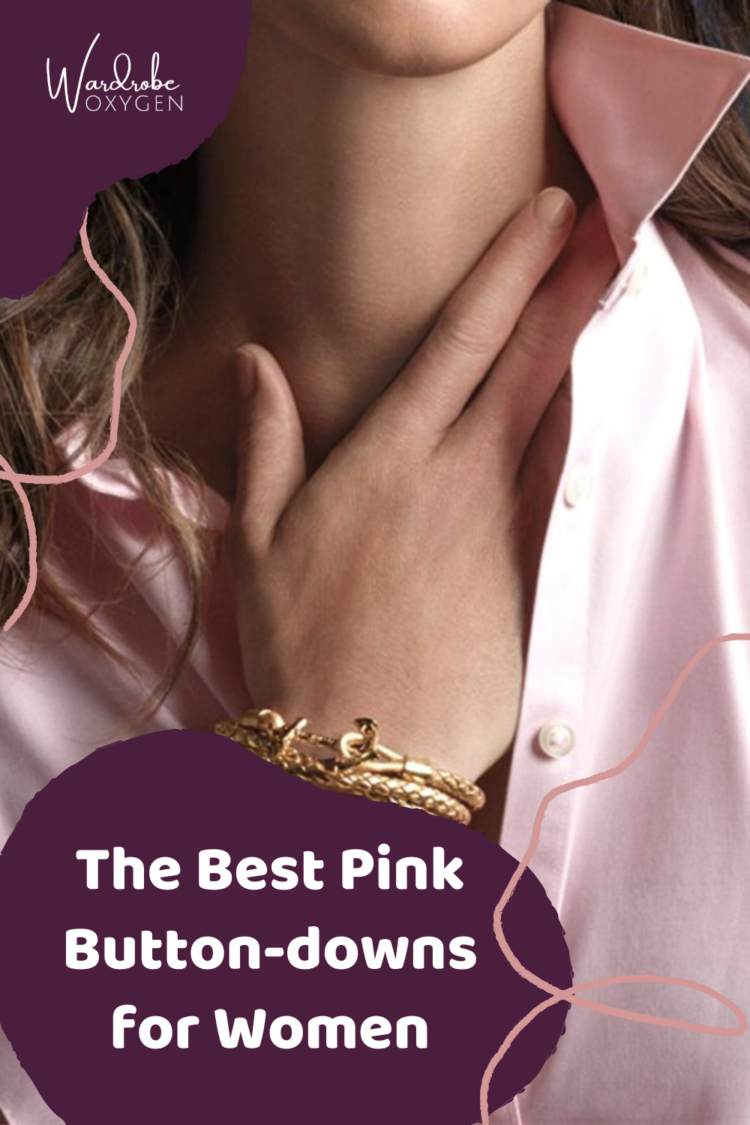 No one would call my personal style aesthetic preppy, but all of a sudden I want a pink oxford shirt in my wardrobe. Let me explain…
It started with my sister. She has a pink linen shirt from Lands' End that is the length where it looks good untucked over denim shorts, as a swim coverup, and tied at the waist with a midi-length skirt. I've always liked it, but didn't want the exact thing (sisters and all). The closest I've found online to this shirt is this one from L.L. Bean. It has been in my online shopping cart all summer.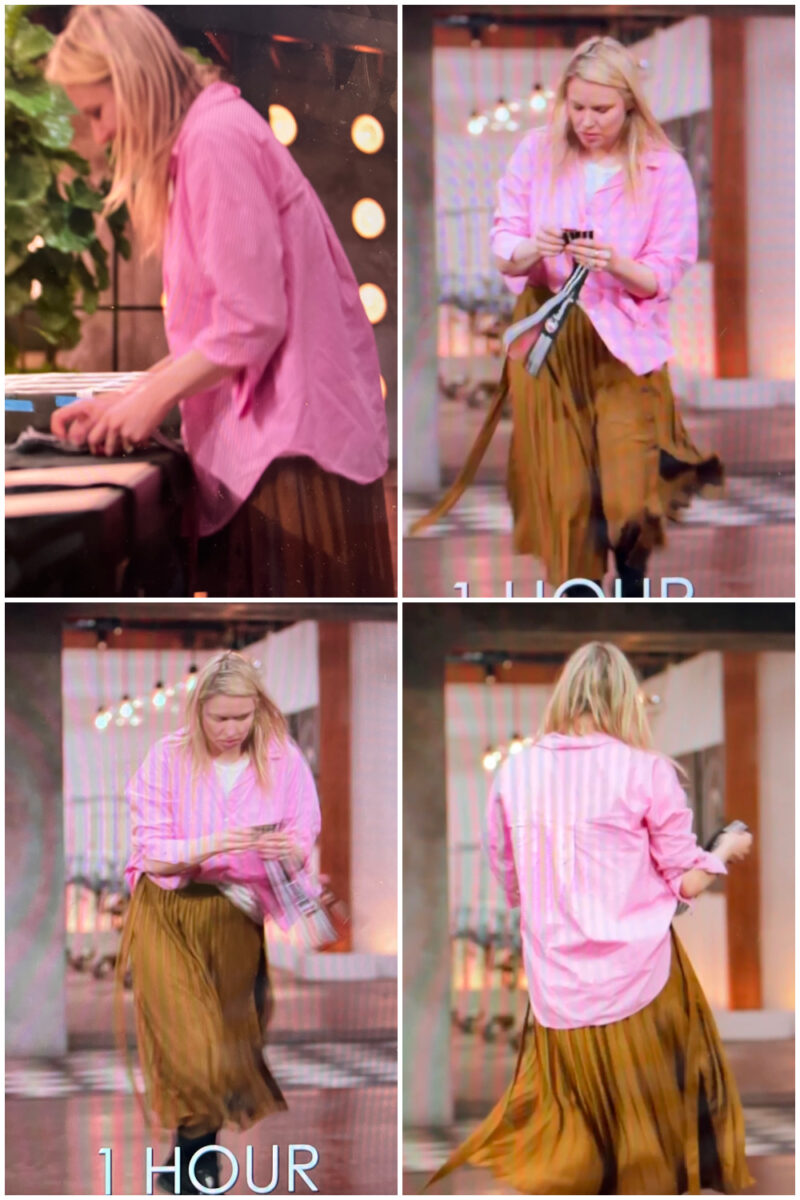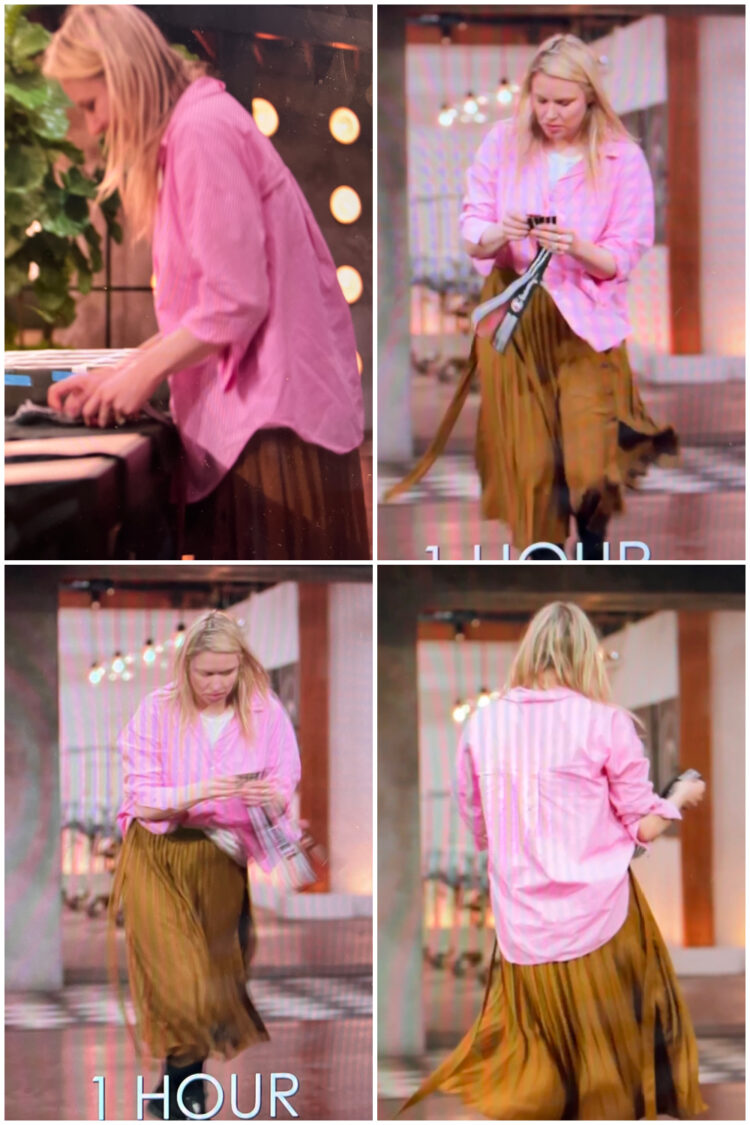 Then I was watching Making the Cut this weekend, and in Episode 2 contestant Georgia Hardinge was wearing a pink shirt that reminded me of my sister's. It was over a white tee, casually half-tucked into a bronze micro-pleated midi skirt, the sleeves sloppily rolled/pushed up, it was styled with black boots and I was intrigued. Like… I think I would wear that or a variation of it. Her shirt was oversized yet fit nicely (clearly tailored). Her body is relatable to me, her age as well and she doesn't look try hard and she looks comfortable, chic, effortless. And that color combo… I dig it.
And then I saw a New York Times article shared on Twitter about Matilda Djerf, an influencer I have never heard of, nor my TikTok-loving 13-year-old. But looking at her style, I see how it actually has infused a lot of current styles (for example, my daughter has curtain bangs that look very much like Djerf's). I saw Djerf's Instagram post and was like oh snap that looks great. And one can be older or bigger or just not vibing on the whole cottagecore thing going on these days and rock this (maybe with a few more buttons buttoned).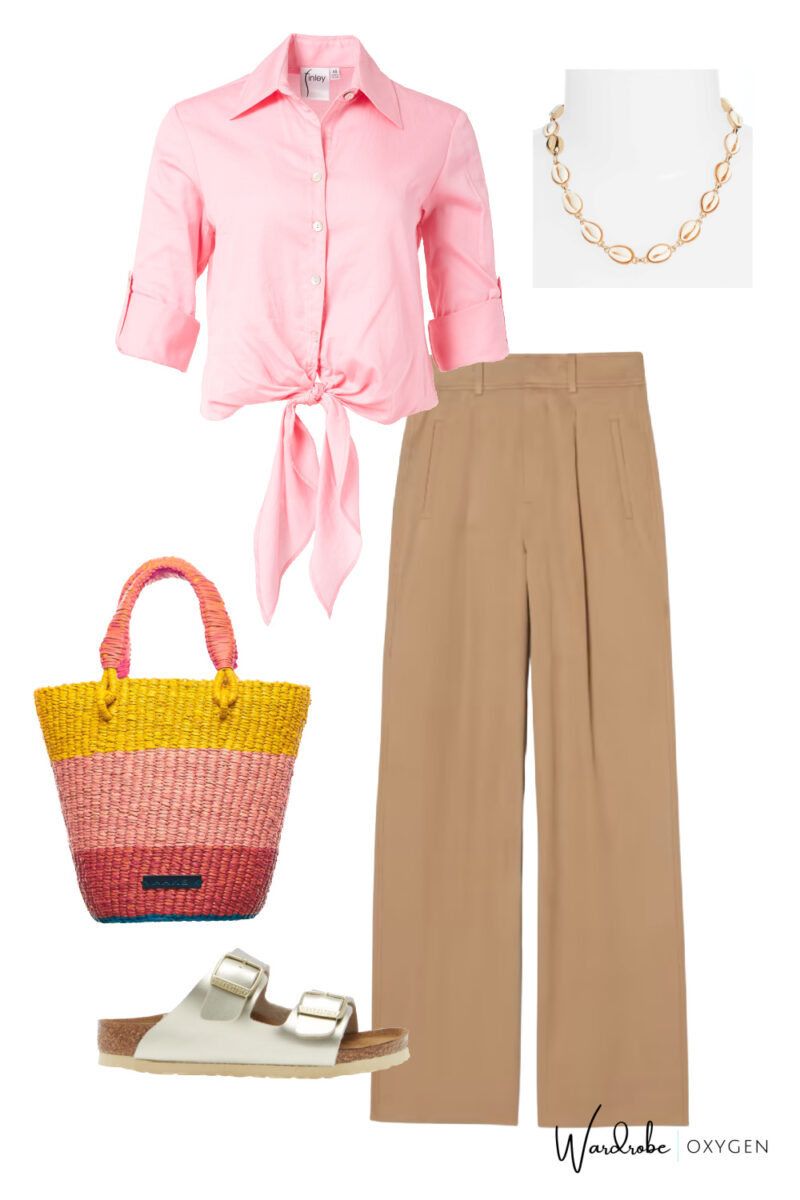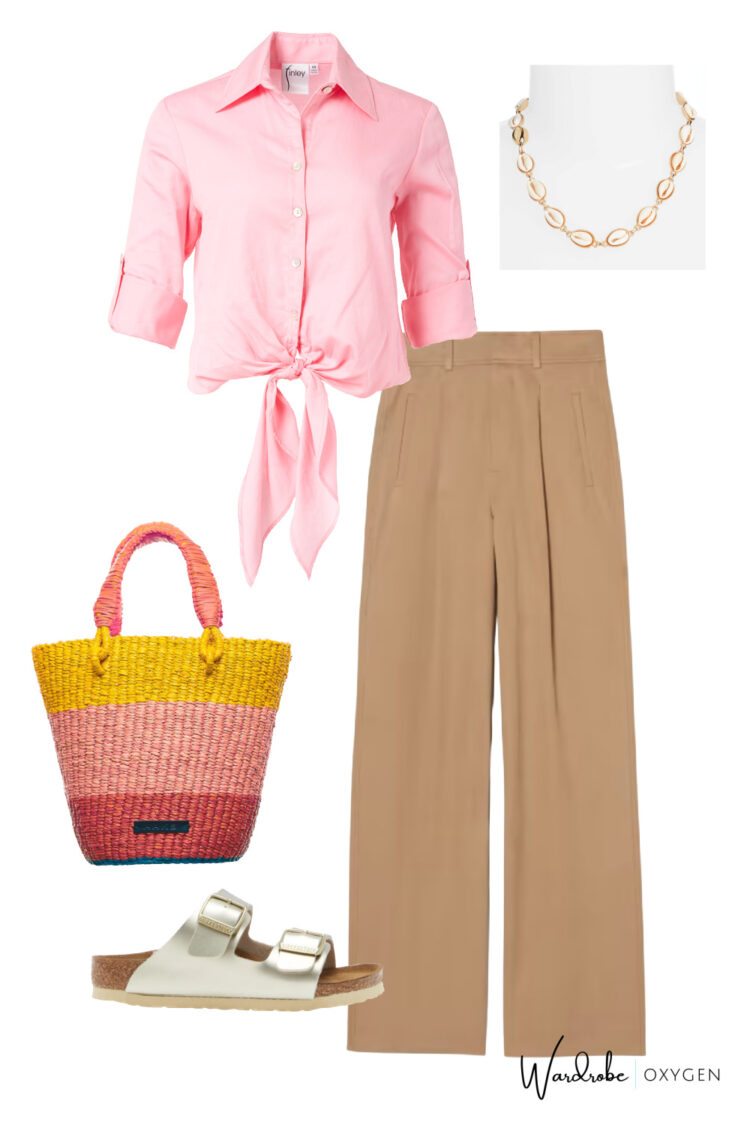 One can rock it with pearls and Jack Rogers. One can rock it with Wayfarers and some Docs. One can make it fierce with a bunch of gold chains and some gold strappy sandals or go hippie with a shell necklace and a pair of Birks. And what makes it chic and not "Employee at Blockbuster" is the pink.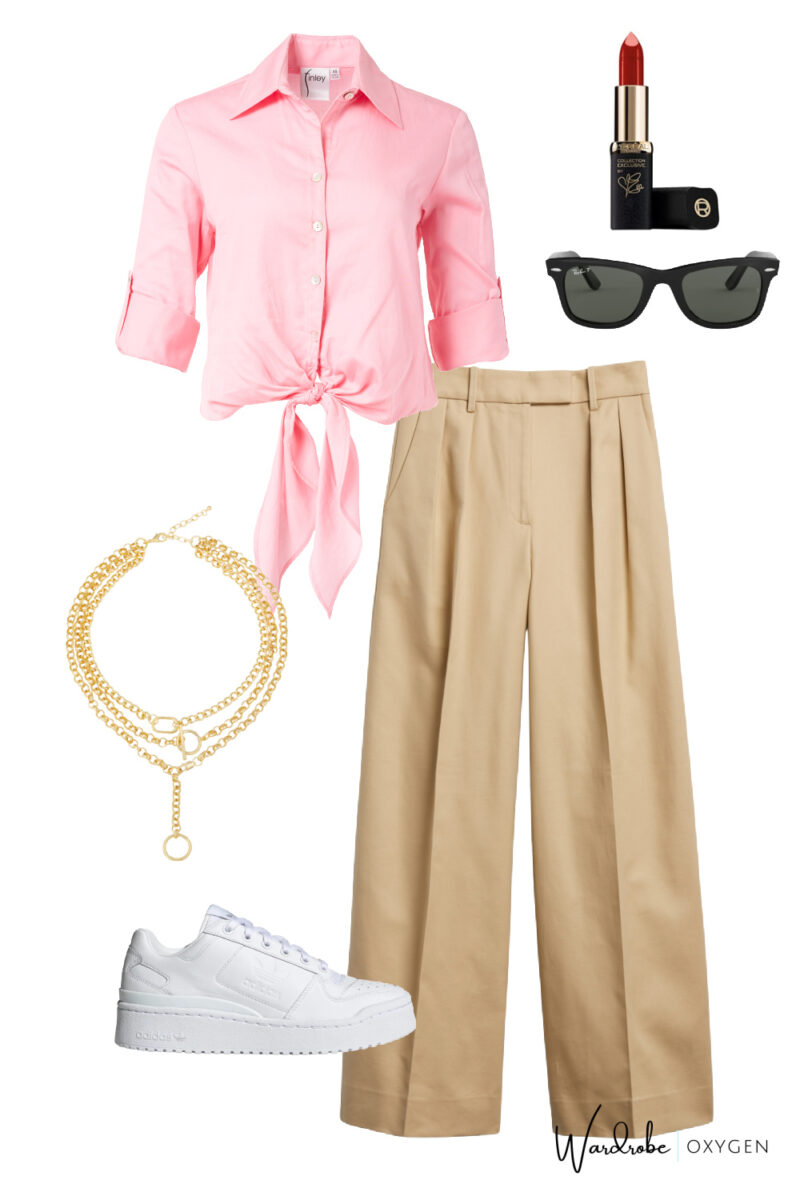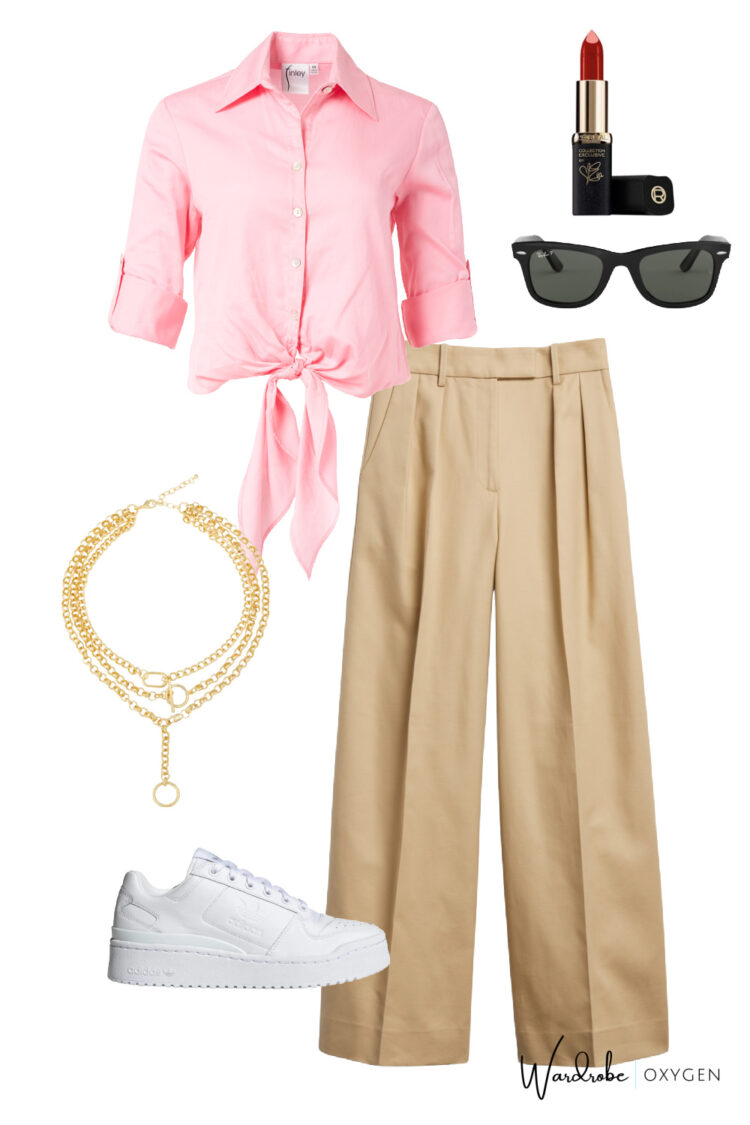 And now want a pink oxford shirt. Or at least a soft and relaxed pink cotton button-front shirt. Where does a woman my age find one? I don't want tailored, I want to be Matilda Djerf on a boat. I want to be panicked Georgia Hardinge looking chicly rumpled. I want comfortable, relaxed, but I don't want to look like two scoops of strawberry ice cream in a cake cone.
The 6 Best Pink Cotton Button-Front Shirts for Grown Women
And so of course, I went on a journey to find the best pink oxford or button-front shirt for myself, a grown-ass woman. And I figured if I am looking, you may be too, so below I share the greatest pink oxfords and button-front shirts I found online. And in true Wardrobe Oxygen fashion, I have stylish options in a range of sizes and silhouettes!
If you want the classic…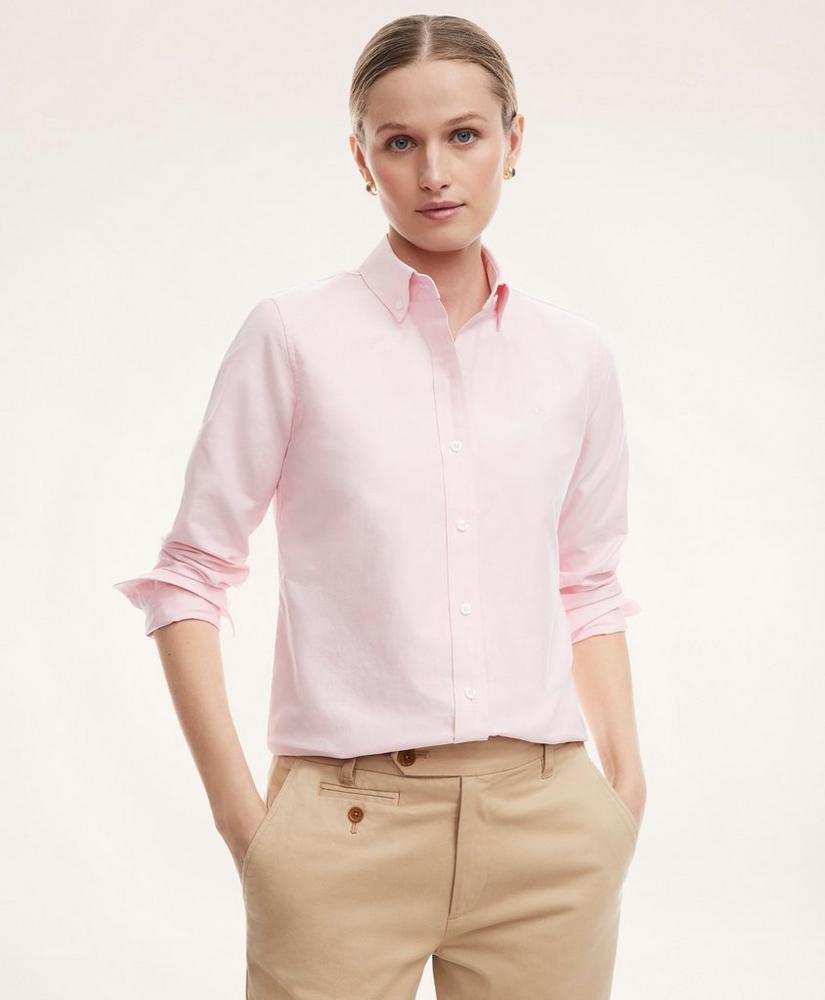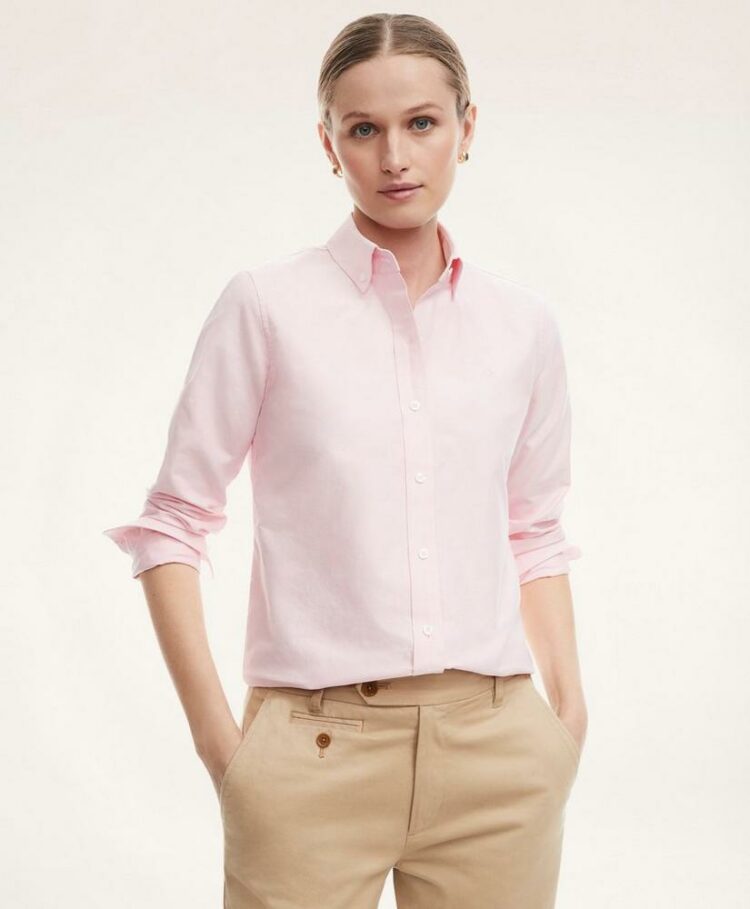 If you want a classic pink shirt for women, why not go with the original? Seeing their pink oxford shirts for men and boys fly off the shelves, Brooks Brothers teamed up with fashion editors and in 1949 debuted their pink shirt designed just for women.
Still offering a variation on their classic, the Brooks Brothers oxford is 100% cotton with button-down collar and classic styling. Available in sizes 0-16.
If you hate ironing…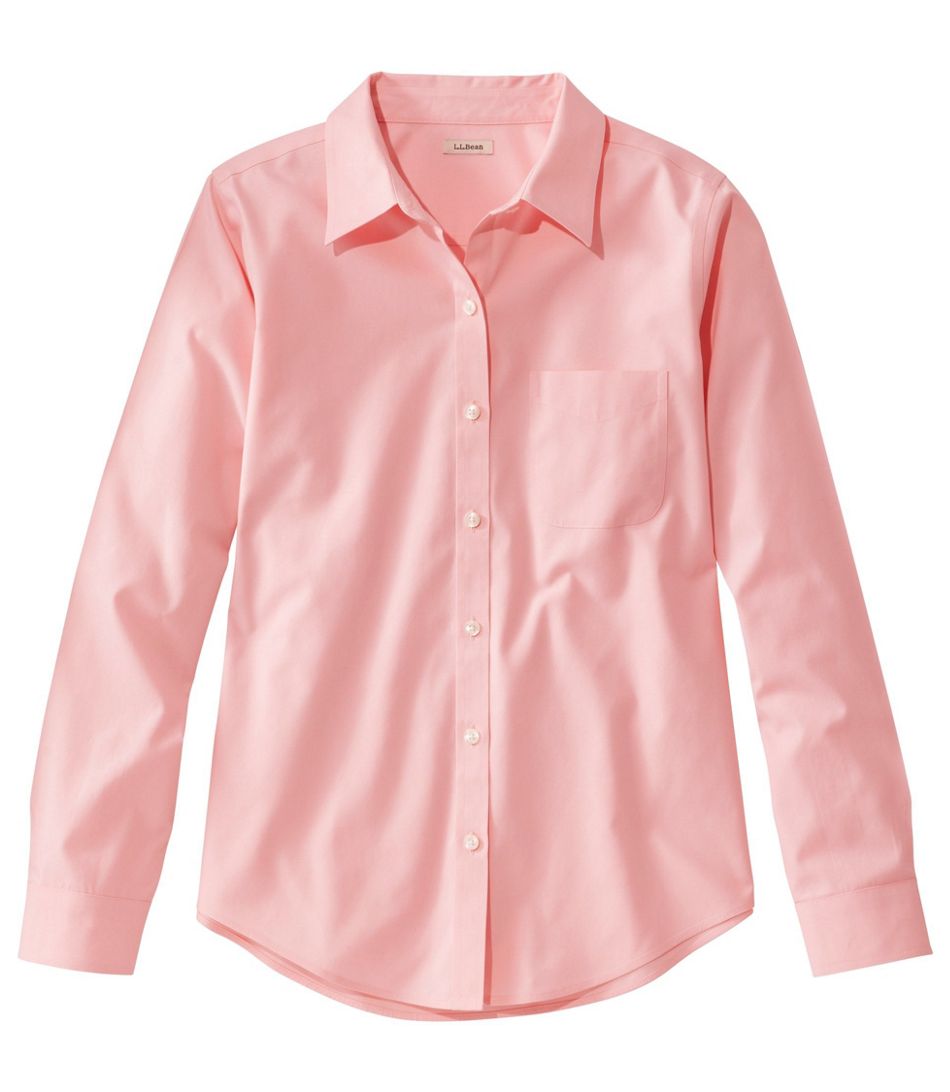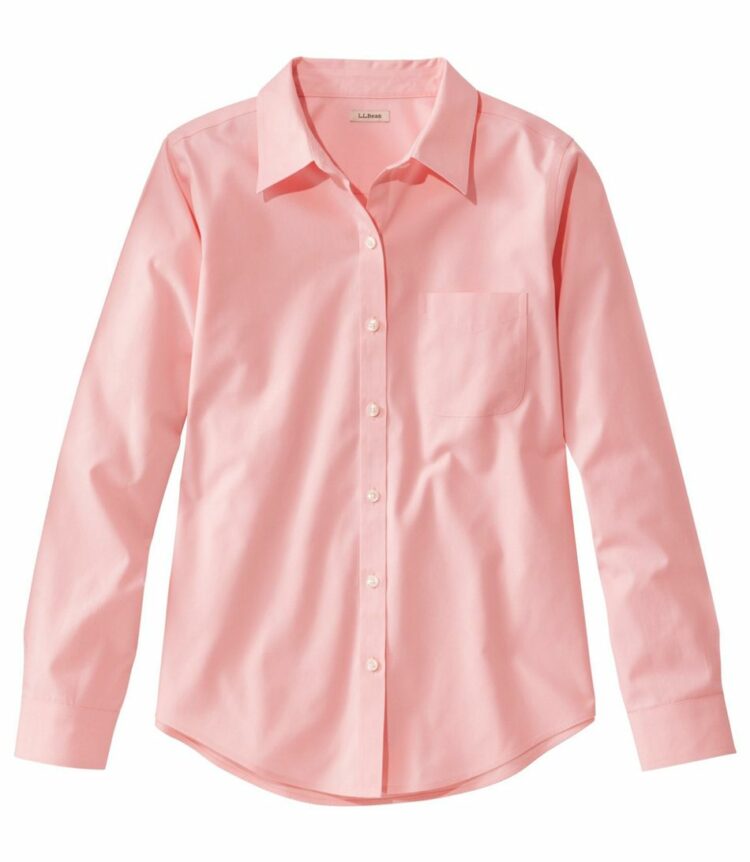 The relaxed fit of this well-rated L.L. Bean oxford shirt gives the effortless vibe, but the wrinkle-free fabric and classic styling makes it perfect to transition from the workplace to being thrown over a swimsuit and denim cutoffs for the weekend.
Come fall, style with menswear trousers or go super collegiate classic and tuck under a cableknit sweater. Regular and Petite XS-XL and Plus 1X-3X.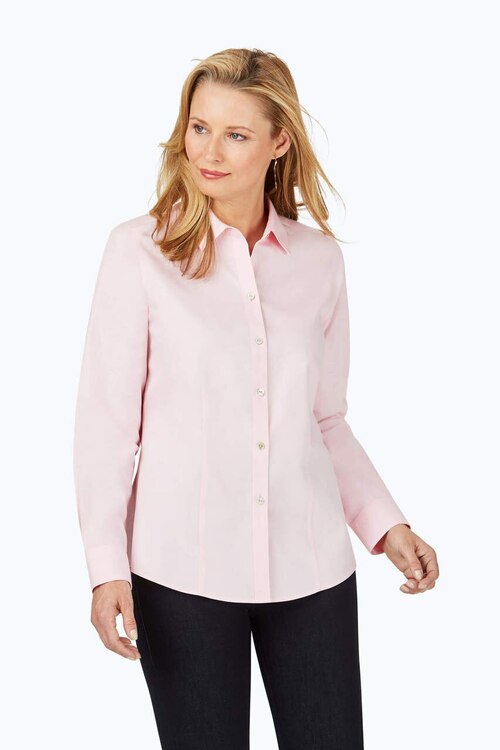 I've been a fan of Foxcroft for years (back in 2013 Foxcroft invited me to NYC to style teachers in their latest collection). The quality is great, the style classic, the fit made for curves (very bust and shoulder/upper arm friendly IMO).
The 'Dianna' is a classic button-front shirt in the perfect shade of petal pink that won't require ironing after laundering. This link offers the shirt in sizes 14W-24W and this link offers the shirt in sizes 2-18.
If you need petite or tall…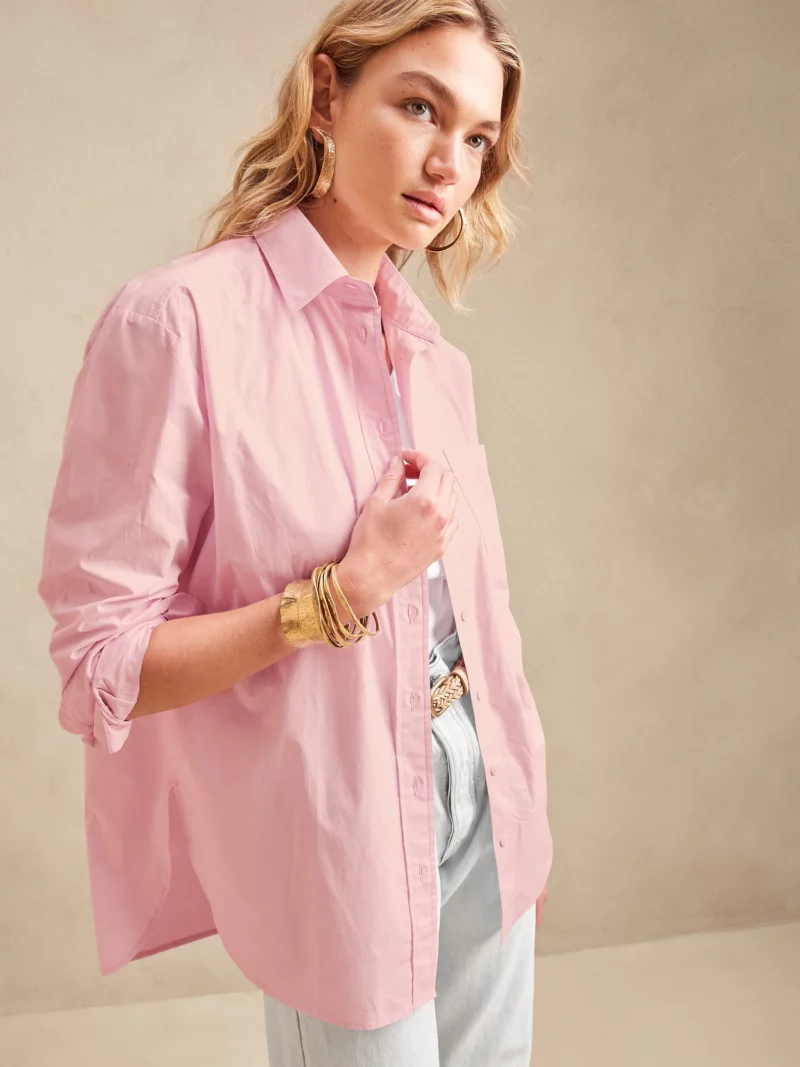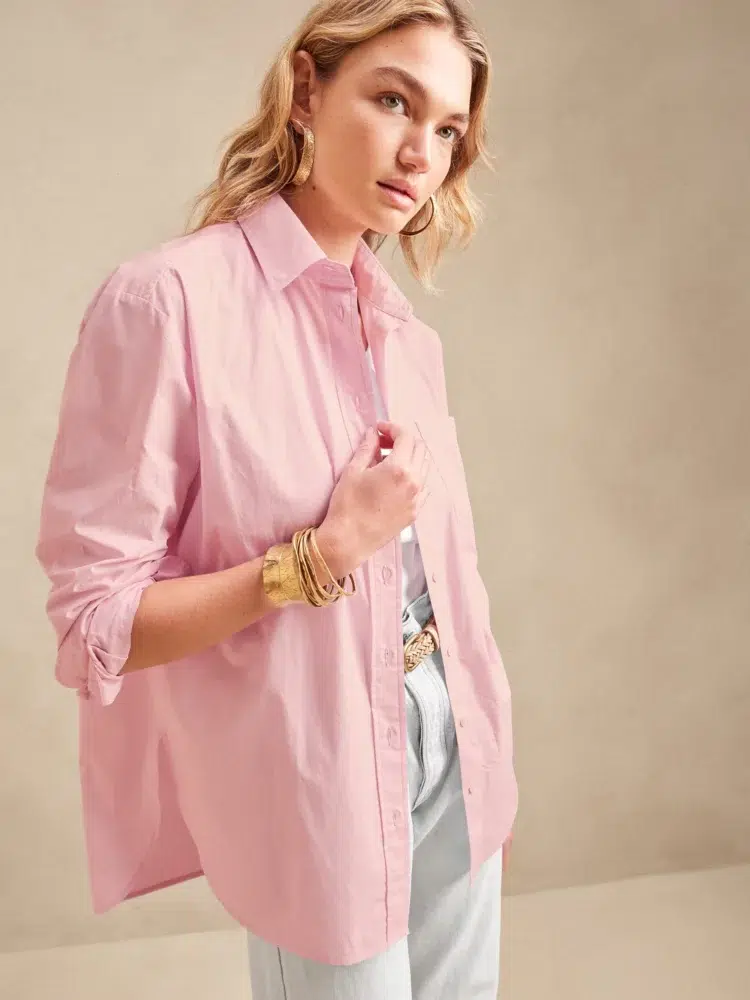 This shirt from Banana Republic gives me the I'm on a boat vibes I was desiring, in a really pretty shade of pink. I've ordered one and will share my thoughts once I get it!
Meant to be oversized, this 100% cotton shirt gets good reviews for fitting over a bust and soft curves. Available in sizes XXS-XL with petite and tall options.
If you don't want to spend a lot on a trend…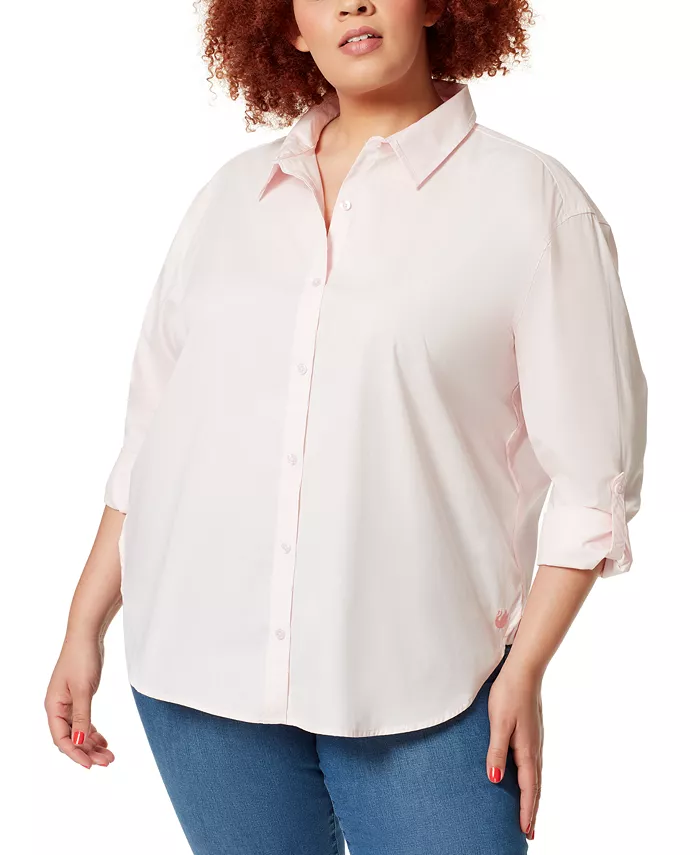 Under $50, this cotton shirt available at Macy's is an oversized pale-pink classic that will give you the vibe for less. Reviews say this runs big, but this style isn't about tailored and trim.
This is the kind of shirt you wear half-tucked into a pleated midi or half-buttoned on a boat. This link goes to sizes S-XL and this link goes to sizes 1X-3X.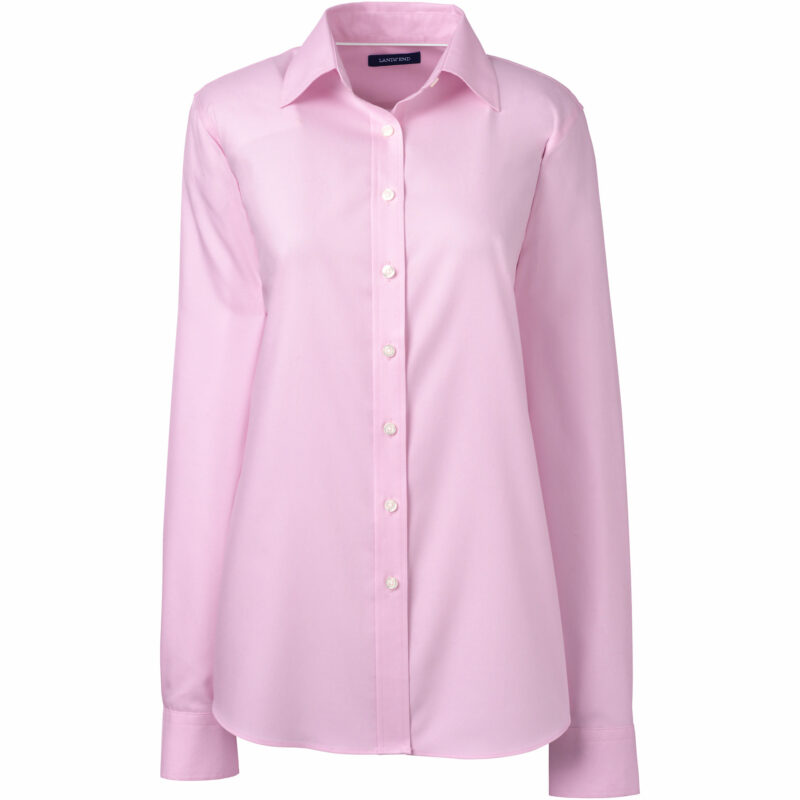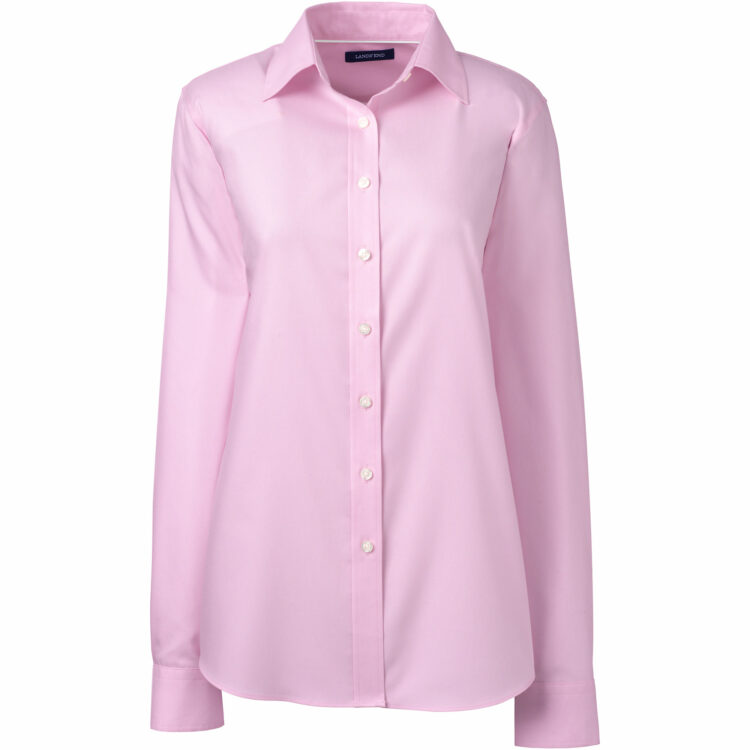 I hesitated to share this shirt from Lands' End because while it's a great color, it comes in a decent size range (even petite!) and is good quality, it really doesn't give that "I'm on a boat" vibe. But for $55.99 (and at the time of writing this, on sale for $33.57) and 5-star reviews especially for the plus sized version, this is worth a try.
I'd personally go up one size and if you usually take petite, maybe go with regular to get the relaxed style that's so on trend. Don't be afraid to throw this into the dryer; the softer it is the better it will look. This link goes to sizes 18W-24W and this link goes to sizes 00-18 with petite options.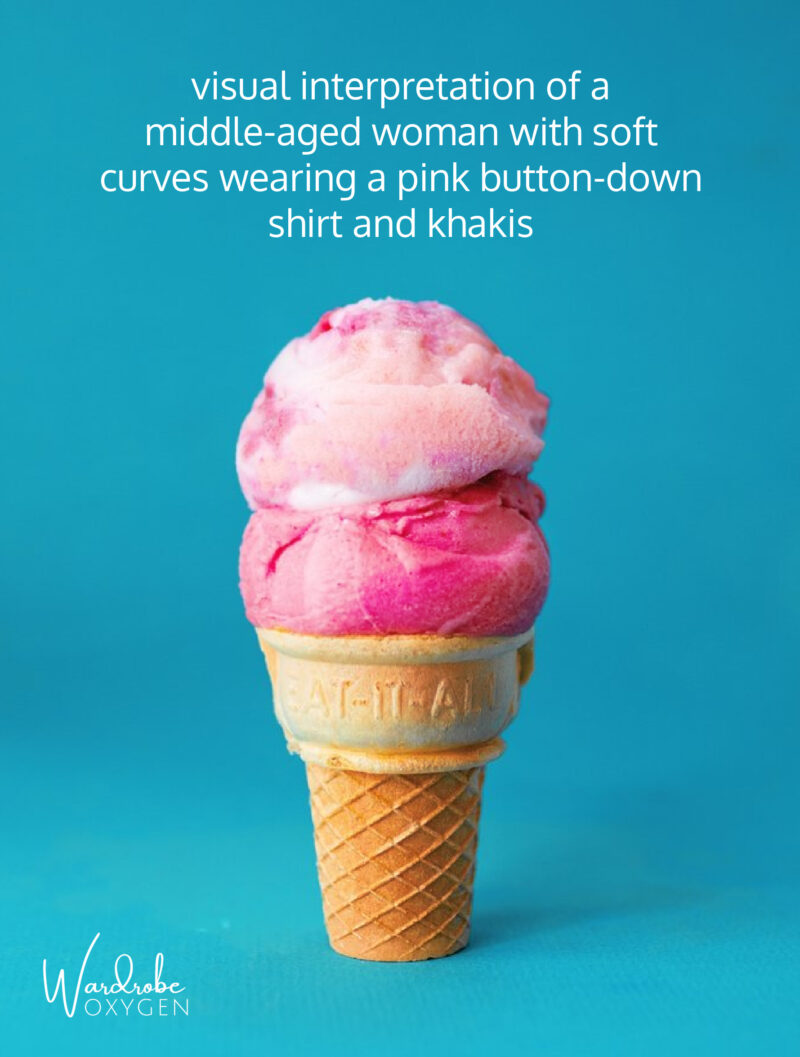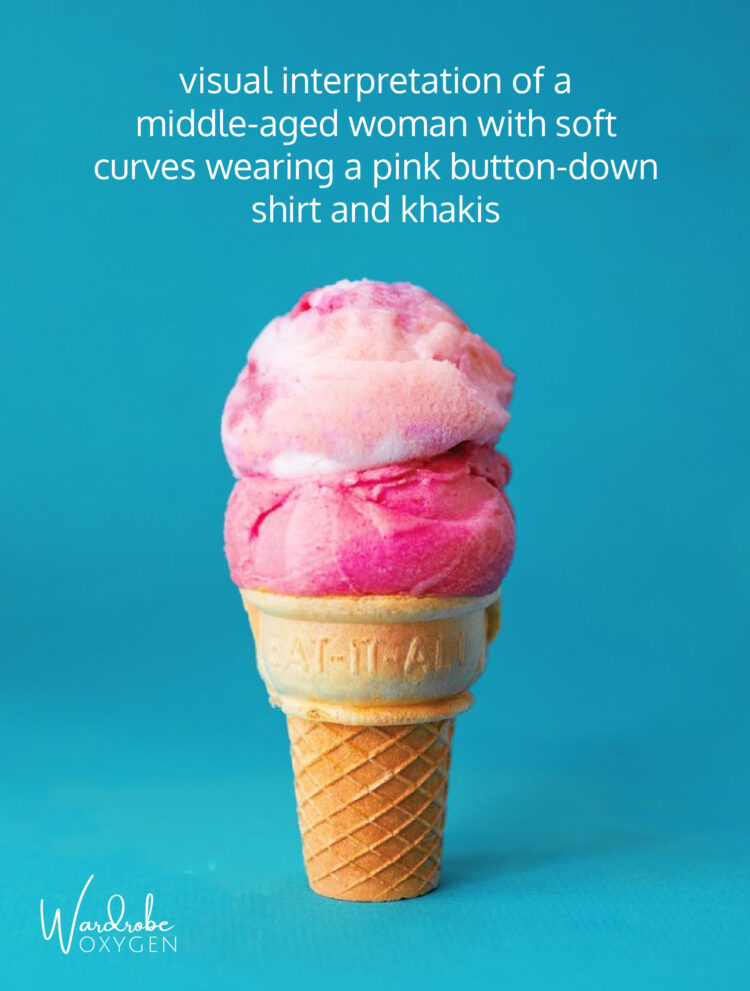 Tips for Styling a Cotton Button-Down and Not Looking Like an Ice Cream Cone
So now we have the pink oxford or cotton button-down, how the heck do we style it? A few tips below:
When Pairing Loose with Loose, Have some Definition in the Middle
If you're looking to pair a relaxed-fit shirt with looser pants or a skirt with some volume, the key to making it work is creating some sort of waist or definition in the middle. It doesn't matter your size or shape, you can be a perfect hourglass or be fuller in the middle and this definition will work and keep you from looking like an ice cream cone.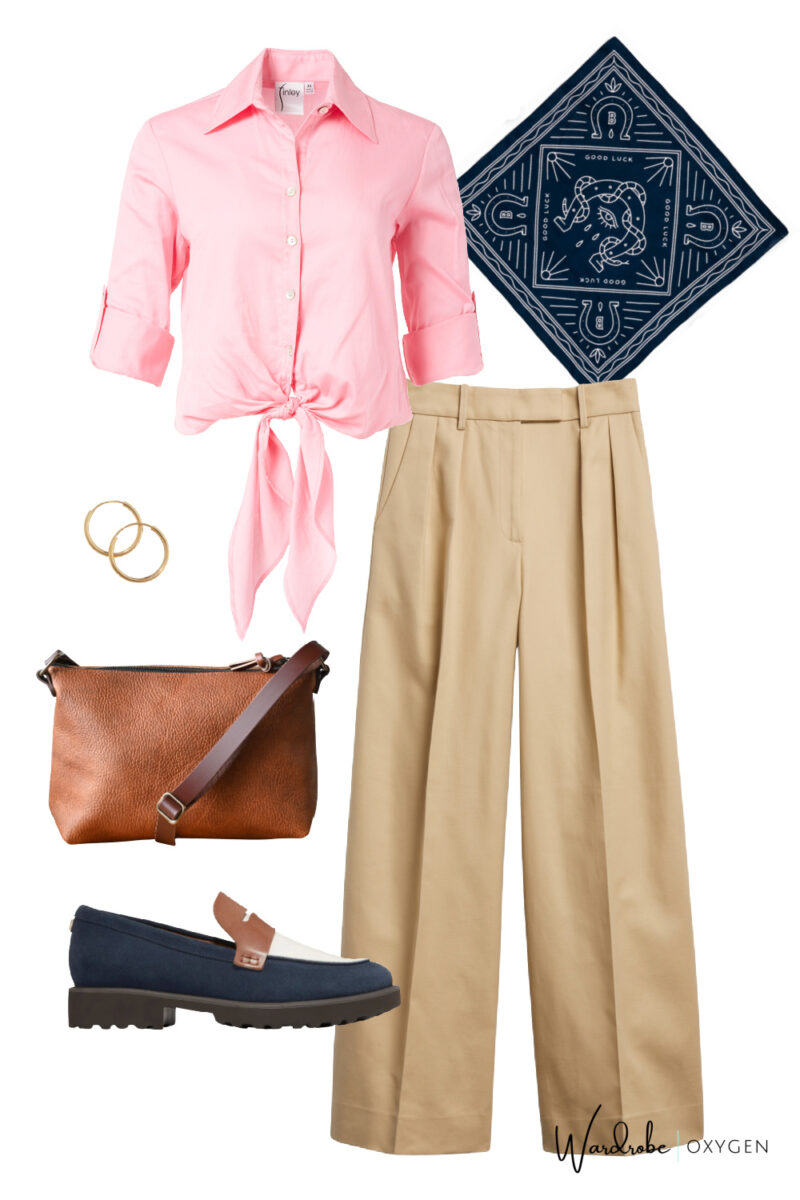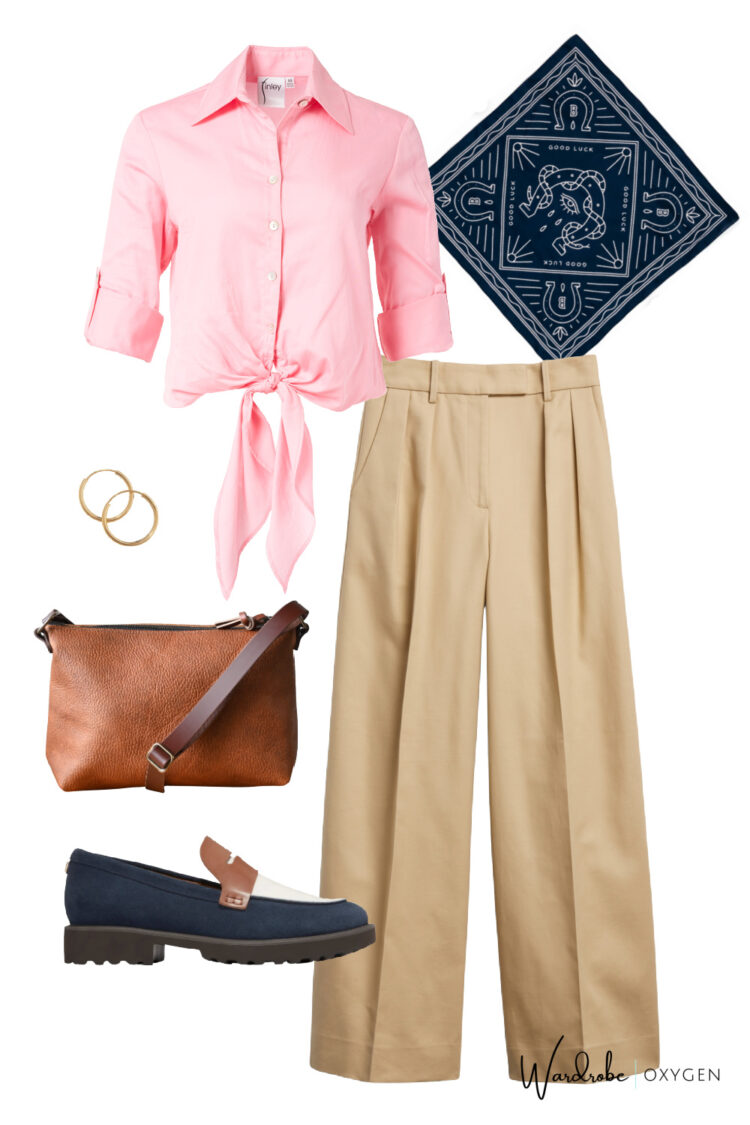 This can be done with a half-tuck like Georgia Hardinge above, a French tuck (tucking the front but not the back of the shirt), tying the shirt in front (back loose or tucked under), or wearing it open over a fitted top tucked into your skirt or pants. If you do a classic full tuck or even a French tuck, don't blouse out the front as much as the back and consider adding a belt or even a scarf through the belt loops to create that definition.
Reconsider Your Tried and True Chinos
Again, if this is your usual personal style aesthetic, I am not speaking to you. You know you, you do you, I support you 100%. But if you're putting on a pink button-down shirt with the khakis you've been rocking for years and either look like an ice cream cone or in a uniform to dole out ice cream cones to customers, it may be the pants that are the issue.
Try a boyfriend style with a tapered leg that is cuffed and instead of Keds or loafers, try something unexpected like a flat in a bold color. Consider a wide-leg style that is a higher rise; it can be full-length or cropped. Style with chunky white sneakers or a lug-sole loafer in an unexpected color. Switch out the chino fabric for something dressy or heavier or textured to add interest and modernity.
Mix Rumpled with Polished
I struggled for a term to describe what I meant and chose polished though it's not exactly what I mean. My point is, as we go into fall, pairing a rumpled pink oversized shirt with a pair of elasticized or drawstring cotton or linen pants is going to look like you just hopped off a plane from Key West or just woke up from a nap. The key to making this look current and purposeful, especially as a grown woman, is to balance what could be seen as sloppy with something that clearly states you're not sloppy.
Well-fitting trousers with a mid- to high-rise. Fabrics that would feel at home in an office setting (tweed, wool, and other suiting fabrics). Skirts with a defined waist. Jeans, even if they are relaxed or wide leg, fit well at the hips and rear. Shoes, whether they are Docs or D'Orsay Pumps, that are polished and in great condition.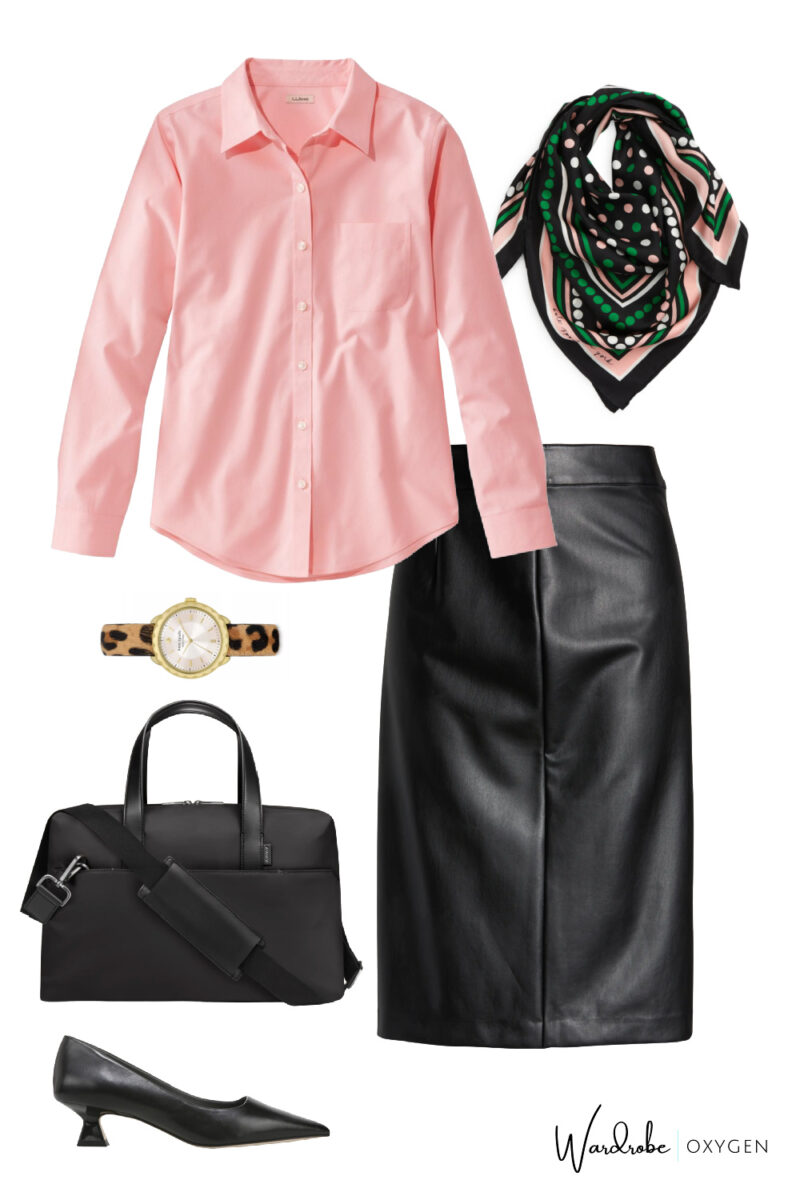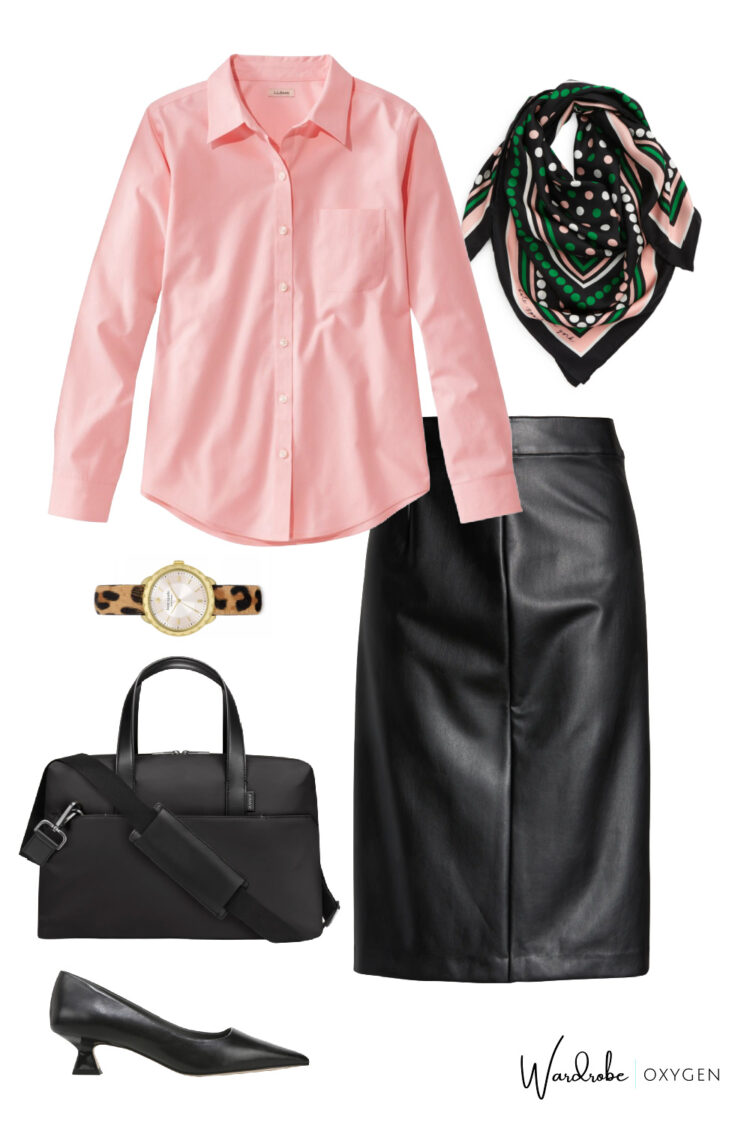 Mix Classic with the Unexpected
Want to wear a well-fitting oxford or cotton shirt? Rock it my grown-woman friend. If your existing style already incorporates such shirts, you likely already have just the perfect way for you to style such a shirt, whether it is tucked in or left out. But if this is new to you (or at least new to your current grown-woman body) I recommend cutting the classic with some edge.
Think pairing a pink oxford shirt with leather. Tucked into a leather skirt or pants, half-tucked into faux leather joggers.
Instead of crisp indigo jeans, consider a well-worn vintage pair with a hint of slouch, or go with a high-waisted flared or wide-leg style.
Have fun with jewelry and accessories. Cuff the sleeves and add an armful of bangles, fill the open neckline with several gold chains, tie a well-worn bandana around your neck, open an extra button or two and underneath wear a silky or lacy cami or bralette.
Do unexpected color and fabric pairings. Wear that pale pink oxford with a bright coral lip. Tuck it into a bronze metallic skirt or purple silk trousers or red polyester track pants.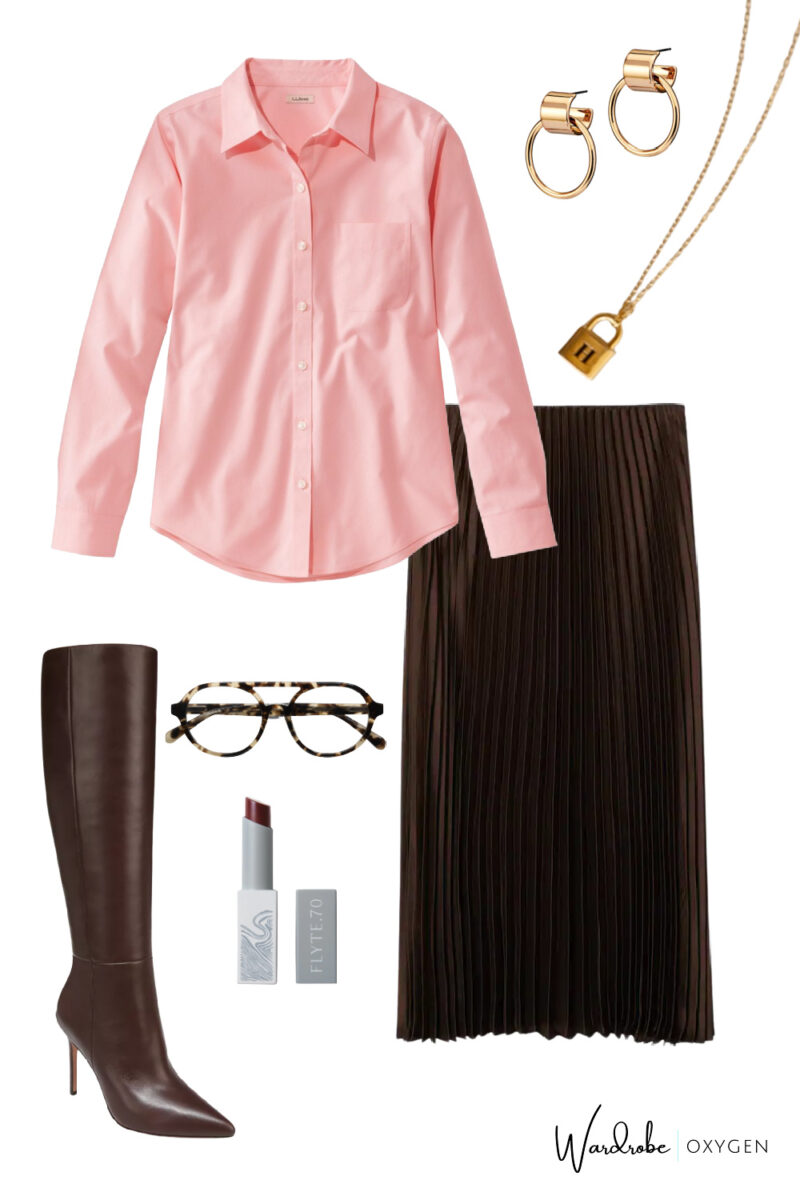 Treat it Like a White Shirt
Is the color pink appealing to you but you're struggling to fit it into a wardrobe that normally doesn't include pink? Treat it like a white shirt. There really is no color that this shade of pink will not go with, except something darn patootin' close with a different undertone (AKA don't try to match pale pink with pale peach or pale rose).
Pair it with camel, and denim, and gray, and black. Tweed and leather and satin and lace. Throw it over a t-shirt dress or a swimsuit, knot it with a ball skirt or a denim midi. Seriously, you will be surprised how an unexpected color like light pink will add brightness and modernity to the most curated and minimalist of wardrobes.
And best of all? With all the different shades of pink on the market this season, you're likely going to find one that you really like with your skintone and a perk? Pink hides stains better than white and is easier to launder!
Tailoring Is Your Friend
My fellow grown women, no one, except the fit model for that specific brand, designer, or retailer, can shop off the rack and find a fabulous fit. If you're loving something, whether it is a pink button-down or any other kind of garment, and it doesn't fit right, know it's not you that is the issue, it's the clothes.
Style does not come from how much is in your closet but how you wear it. And tailoring will make everything look more expensive while also making your body look even better. Think tailoring is too expensive? Take a moment to jot down the price of the items you bought in the past year that you realize you don't enjoy wearing.
Maybe you donated them, or sold them at a loss online. Possibly you wear them regularly and each time hate how it fits at the shoulder, the waist, the bust, the rear. Or maybe they collect dust in the back of your closet, mocking you and preventing you from buying more because you don't really need another of what you already have.
If you relate to any part of the paragraph above, you do not need a pink shirt. You need to take the money you would have spent on the pink shirt and find a seamstress or tailor or dry cleaner in your area to take what is almost good in your closet and help you make it great.
Start small: have pants or a dress shortened to a length that works best with your everyday footwear and makes you feel more confident. If you like the result, try having a shirt or pair of pants nipped and tucked, even in small increments, for a better fit. Tailoring may help you realize you have all you really need already in your closet.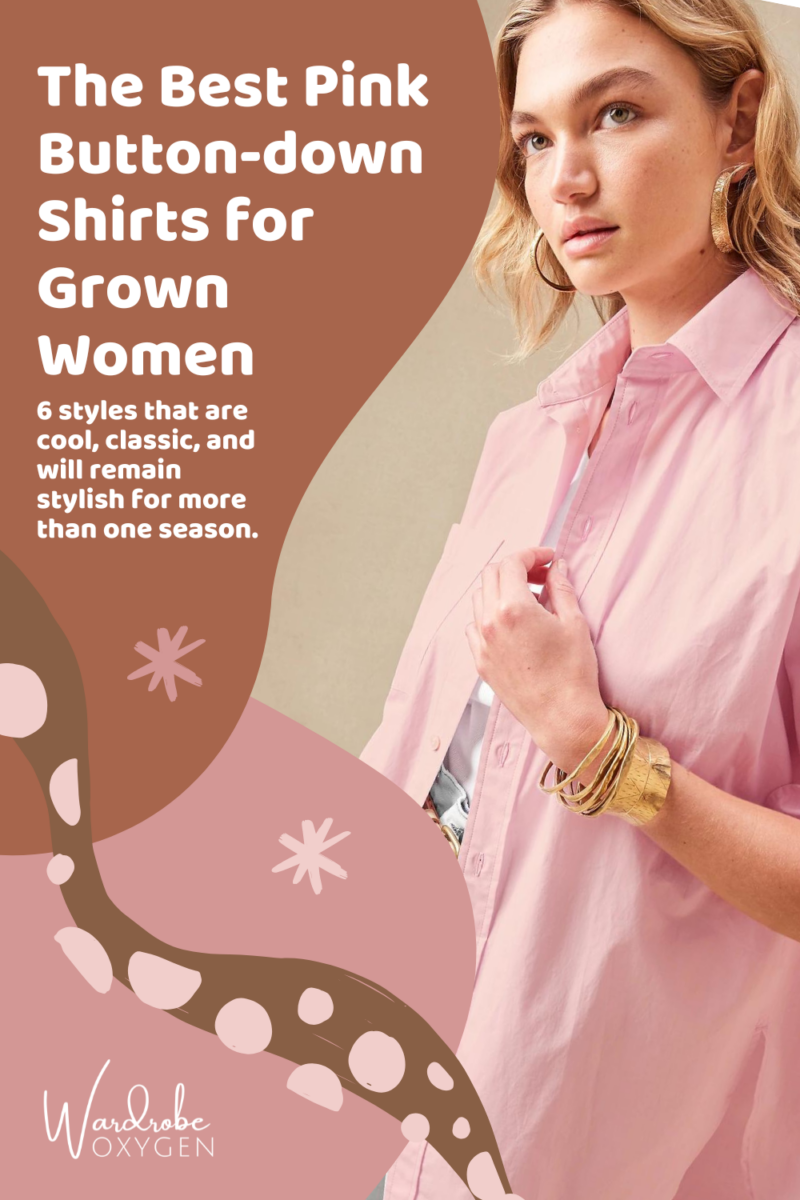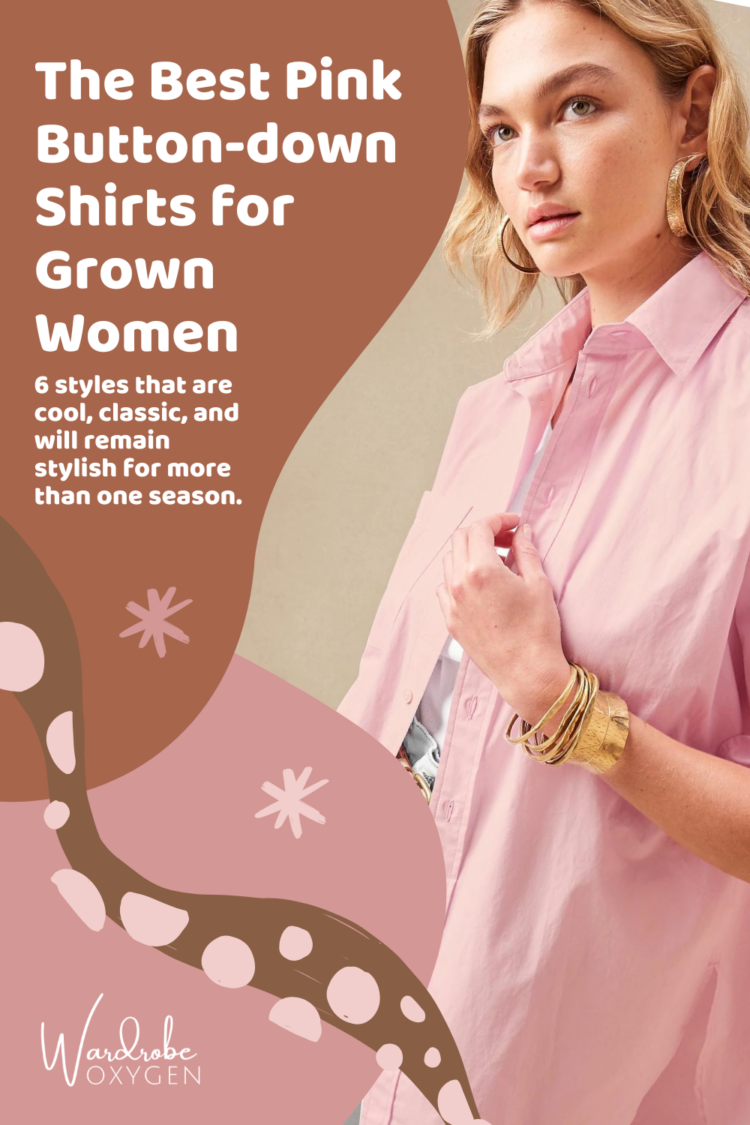 Shop Pink Oxfords and Cotton Button-Down Shirts for Women: