This article may contain affiliate links; if you click on a shopping link and make a purchase I may receive a commission. As an Amazon Associate, I earn from qualifying purchases.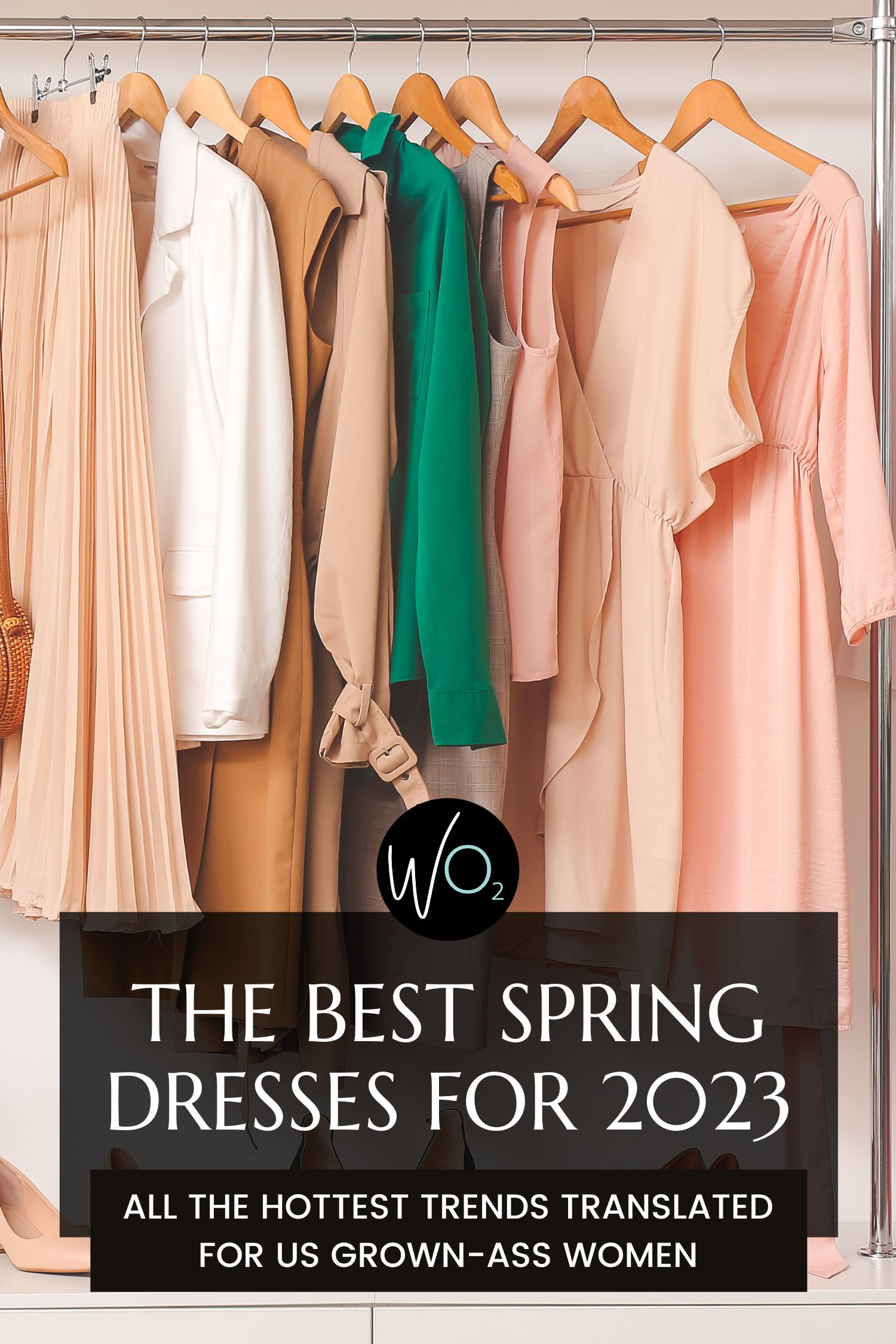 Spring is a season for dresses. From Easter to graduations, baby and bridal showers, spring weddings, and just wanting to let a bit of skin be exposed to air make dresses perfect for this time of year. Dresses are also a great way to incorporate current trends without doing a wardrobe overhaul, and most of the trends this year are wearable now and many seasons beyond. Below I share the best spring dresses for 2023 separated by trend and tips on how to wear them.
The Best Spring Dresses for 2023
As you prepare for the warm weather, consider adding some versatile pieces to your wardrobe, such as floral dresses, midi dresses, mini dresses, and slip dresses. These styles are perfect for spring and can be dressed up or down depending on the occasion. This is not an exhaustive list, but I hope that these collections of spring dresses for women get you thinking not just about what to add to your wardrobe this season, but what you already own that will feel fresh and modern due to already incorporating spring trends, or by styling slightly differently.
Before you start shopping, take a look at what you already own and see if there are any pieces that you can style in a new way to give them a fresh, modern feel. I always recommend shopping your closet before clicking a single link or driving to the store. By shopping your closet first, you can save money and reduce your environmental impact. So, whether you're looking to add some new pieces to your collection or simply want to refresh your existing wardrobe, start by exploring what you already have and get creative with your styling.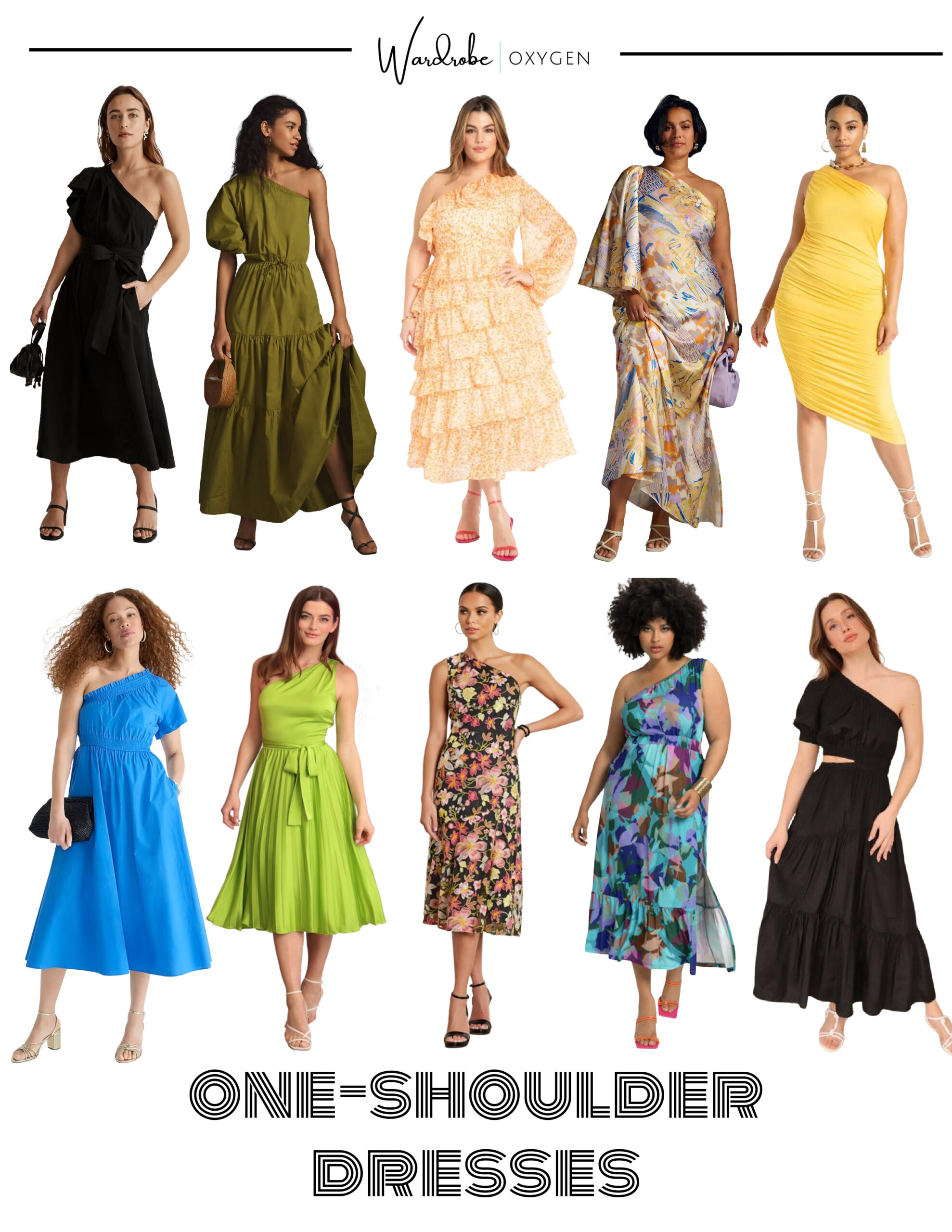 One Shoulder Dresses
Top row, left to right: one (00-28) | two (XS-L) | three (14-28) | four (XS-3X) | five (14-32)
Bottom row, left to right: one (XXS-3X) | two (0-18) | three (0-12) | four (12/14-28/30) | five (XS-L)
The one-shoulder trend may feel familiar; I know I had a one-shoulder dress from Express that I wore in the early 2000s. Well, this look is back, and it's a way to feel cool and look chic (and a bit sexy) without showing a lot of skin. From body-con styles to flowing trapeze styles, the one-shoulder dress look adds interest with ease.

I know you're thinking, but what sort of bra do you wear under a one-shoulder dress? Most strapless bras come with straps so you can wear one on the side of the shoulder. Depending on the neckline and how many loops on your bra, you may also be able to extend the strap to the other side and have it cross over and clasp on the opposite side. Multiway or convertible bras are essentially strapless bras with straps and loops designed for different configurations.
Tank Dresses
Top row, from left to right: one (2/4-18 & petite) | two (14/16-30/32) | three (XS-XXL) | four (XS-4X & petite) | five (XXS-XXL & petite)
Bottom row, from left to right: one (XS-XL) | two (XS-XL) | three (XS-4X) | four (XS-XL & petite/tall) | five (XXS-XXL)
Another classic revisited, the tank dress is back, and what's great is this is a look you can get for less. From ribbed jersey to heavier ponte, this is a classic dress that can glam up or go casual with a change of shoes and accessories. Wear now with a denim jacket, or boyfriend blazer, or tie an oversized linen shirt over it. Come summer, it's the perfect travel piece (of course with some slip shorts) that can be everything from your beach coverup to your dinner attire.

Cutout armholes are a current trend for tank tops as well as tank dresses. While this look can make shoulders look fantastic, it can also cause bra straps to be exposed. Look for convertible bras, which have a clip that can connect the back of the straps to create a racerback effect. You can also achieve this with a gadget like this added to your favorite t-shirt bra.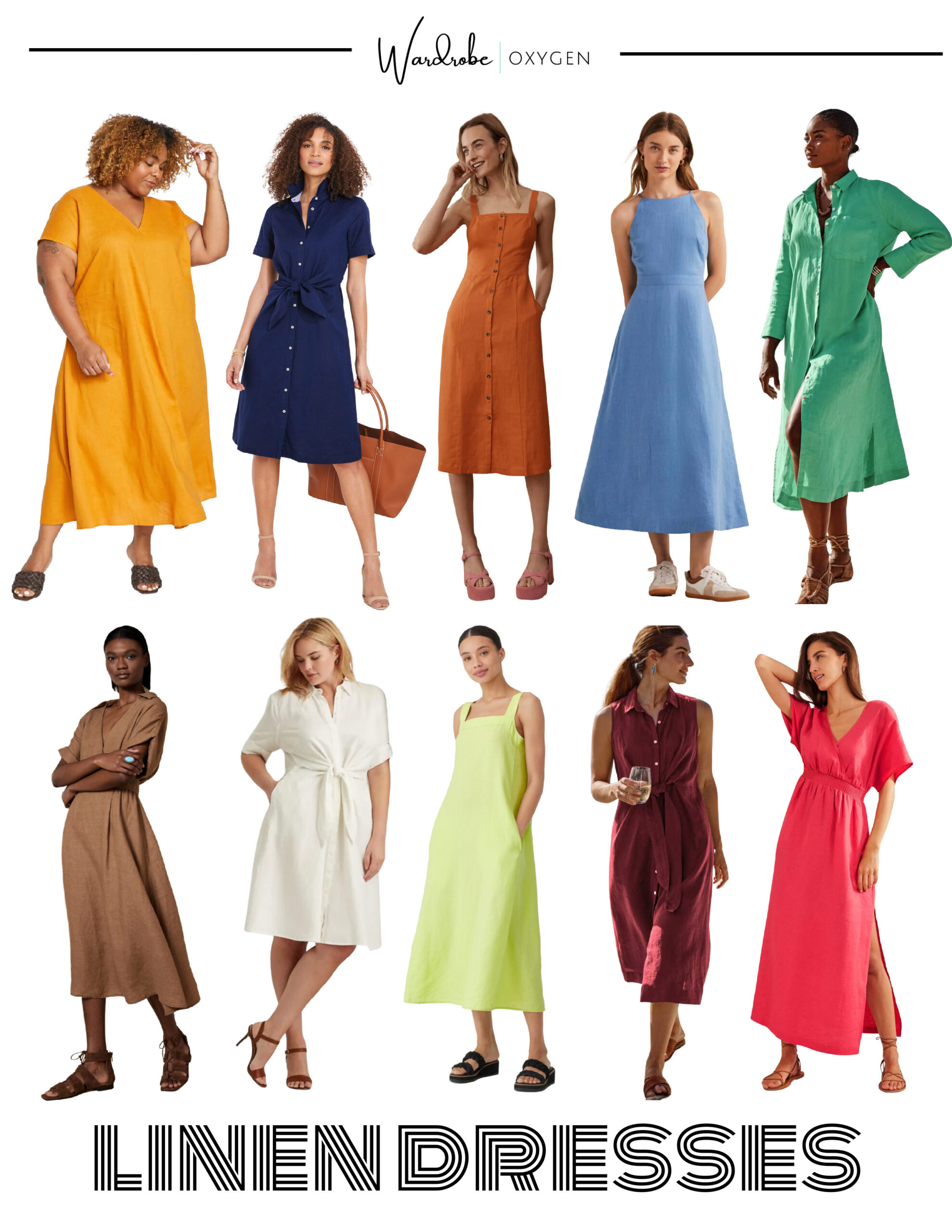 Linen Dresses
Top row, from left to right: one (00-40) | two (00-24) | three (2-20/22 & petite) | four (2-20/22 & petite) | five (XS-4X & petite/tall)
Bottom row, from left to right: one (XXS-XXL & petite/tall) | two (14-20) | three (XXS-3X) | four (XS-4X & petite/tall) | five (2-20/22 & petite)
Linen is THE fabric for Summer 2023. Don't stress about wrinkles and creases, just be happy that a breathable natural fabric is on trend and plentiful at almost every price point, color, and style! I'm also grateful that so many of the linen dresses available this year are relaxed styles that catch the breeze while looking coastal chic.

Linen can be sheer and slips defeat the purpose of the breathable fabric. I recommend in place of traditional underwear, find a pair of slip shorts in a color close to your skin tone. This doesn't mean they have to be beige or tan or brown; a maroon or terracotta will work with darker tones and a mauve or celadon with paler skin. It still will disappear under white and lighter colors. Choose a t-shirt bra again in a color close to your skin tone so the linen dress will steal the spotlight.
Puffed Shoulder Dresses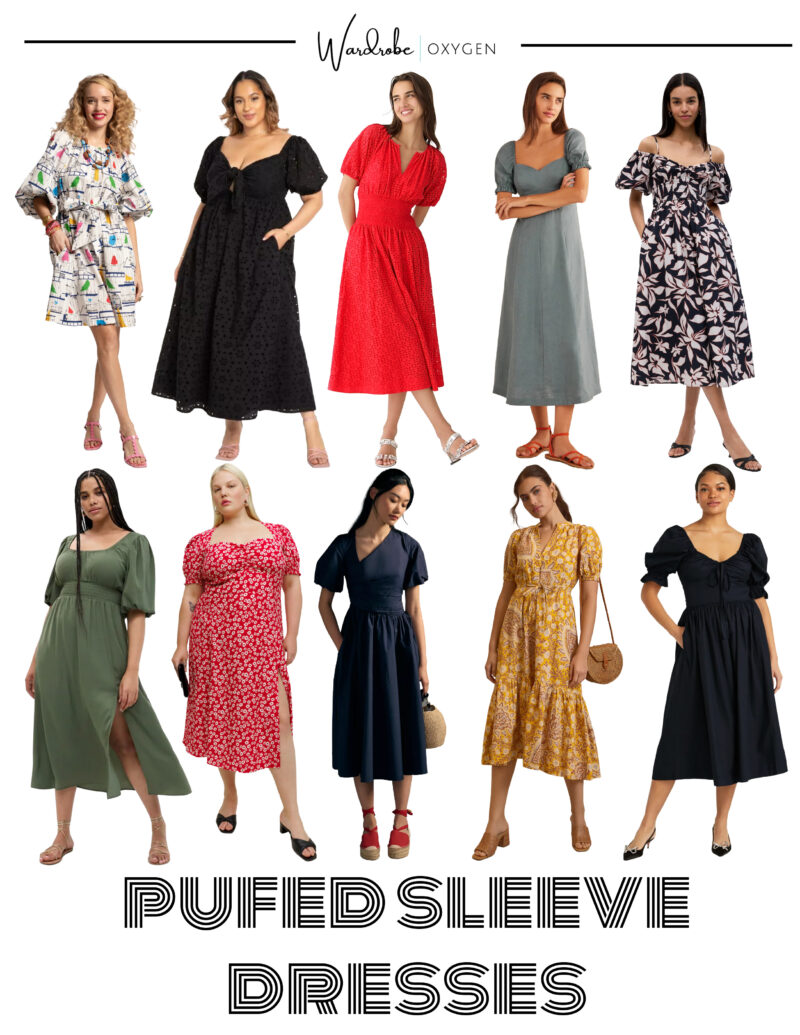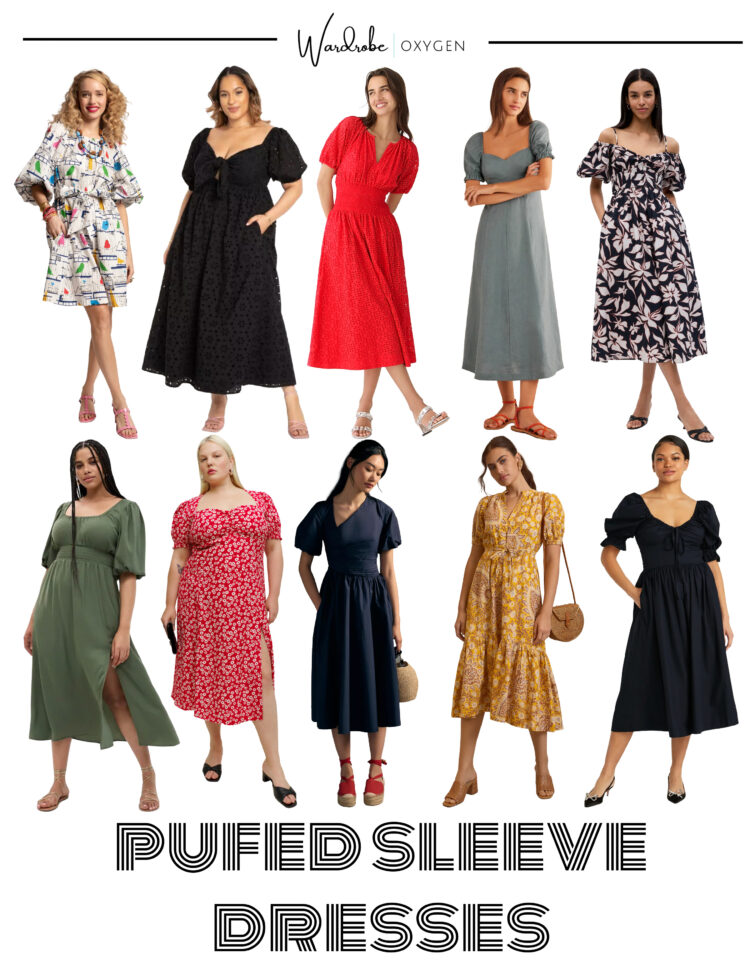 Top row, from left to right: one (XS-3X) | two (14-32) | three (XXS-3X w/ petite & tall) | four (2-20/22 w/ petite & long) | five (XXS-XXL w/ petite & tall)
Bottom row, from left to right: one (XXS-XXL w/ petite & tall) | two (14-24) | three (0-14) | four (XXS-3X & petite) | five (XXS-2XL)
Anne Shirley would love this trend for 2023. Puffed sleeves have been a trend for a while now, but this year there is so much variety you can rock the trend without looking like a toddler or a cupcake. In fact, if you have sworn off the puffed shoulder dress trend before, you may actually like it now.

I recommend balancing the volume of the sleeves with a fuller skirt. Puffed sleeves with a fitted dress may feel a bit linebacker, but with a fuller skirt, especially below the knee to below the calf, it can be breezy, romantic, and blending the cottage-core and coastal chic trends.
Shoes To Wear With Spring Dresses
If you've got your spring dresses all picked out, it's time to start thinking about the perfect shoes to complete your look. Whether you're looking for something casual or a little more fancy-schmancy, there are plenty of options to choose from. No longer is it required to wear a certain style of shoe with a certain style of dress. So slip on those sandals, slide into those mules, or tie up those sneakers and get ready to step out in style.
A canvas sneaker is breezier than leather and still on trend. As previously mentioned, don't discount black sandals which don't feel "dad" in 2023 and add a modern touch to floaty frocks. Teva sandals go beyond the beach and look great with cotton and linen dresses. Mules and slides are popular this year, whether they are flat or block heel. Espadrilles are always a classic, from flats to wedges. And you know I love a good pair of Birkenstocks!
Shop the 2023 collection of dresses for misses, petite, and plus-size women for spring:

The spring dresses for 2023 are here, and they are hotter than a jalapeño in a sauna! No matter your size or shape, these dresses are designed to accentuate all the right places. Whether you're sipping mimosas at a brunch or hitting up a music festival, these dresses will serve.