This article may contain affiliate links; if you click on a shopping link and make a purchase I may receive a commission. As an Amazon Associate, I earn from qualifying purchases. 
I recently graduated from university and have started job hunting and I realized that I don't have much clothing that is very appropriate for interviews. I have a navy blazer that I sometimes wear with jeans for going out, but I don't know what I can wear it with besides jeans. Do you have any ideas for a navy blazer that are more work-appropriate once I have the job?
Considering your navy blazer looks great with jeans, I am going to assume it's a classic style (one or two buttons, single-breasted, hits mid-hip) and of a versatile fabric that can dress up and down nicely. Something like the 'Ela' blazer for Halogen, available at Nordstrom.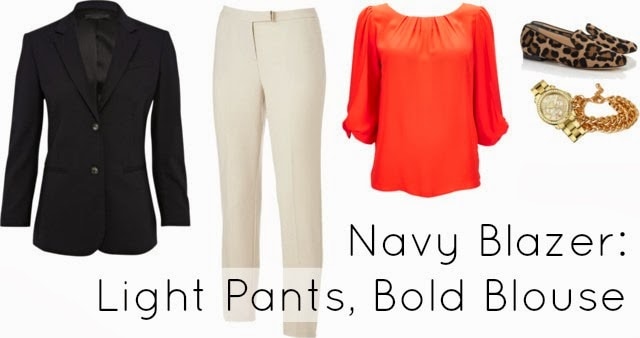 Navy looks fresh with white, cream, and ivory. I paired a navy blazer with cream flat-front trousers and a silky blouse. This combination could be done with most any color blouse, from pastels to brights to another neutral (or the same color as the pants for a long line). With such color combinations it can be hard to figure out what shoes to wear; in such a situation I regularly fall back on a leopard or printed shoe. Having such a shoe in your wardrobe means it will work with navy, black, brown, or other neutrals and it adds a pop of interest to your look. Gold jewelry pulls the look together and adds interest.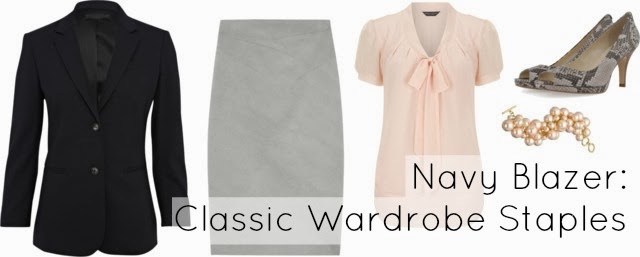 A blazer's tailored cut looks great with a pencil skirt. With navy you can actually get quite creative pairing it with pastels, neutrals, or jewel tones. For this look I considered what is easy to find in many retailers and at many pricepoints – a gray pencil skirt. Gray is a color that works year round, and is as versatile as navy, meaning it is a good choice to add to a new professional's wardrobe. I added a pale pink blouse, but really any color would work in this situation. Again shoes can be hard to match in such a situation so consider this a great time to wear your more interesting shoes. A snakeskin pump that incorporates a few different colors (I was thinking of my Joan & David pumps when creating this ensemble) becomes a neutral with such a simple ensemble but also adds personality to your look.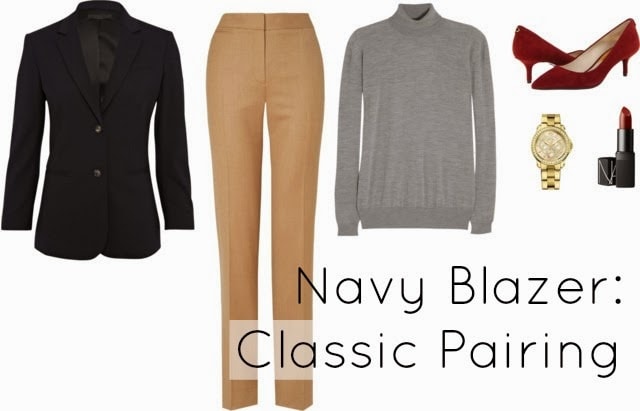 A navy blazer is a classic, showcase it with classic pieces. A pair of camel trousers is great to have in your professional wardrobe because it works with other neutrals as well as pastels and deep shades like dark red and teal. With a thin gray turtleneck sweater, the look is elegant and classic. This is another type of outfit that works with a statement shoe; you could do leopard or a snakeskin, but I decided to use footwear for a pop of color. A dark red suede pump is fun without being too crazy for the office; with a fresh face a swipe of dark red lipstick isn't too extreme and pulls the look together.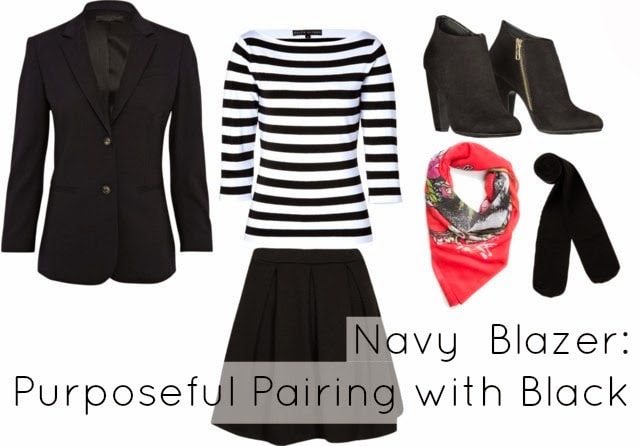 Navy seems like a tricky color, but these days old style rules are being broken left and right, which makes navy more versatile. I love the combination of navy with black, it's an unexpected pairing that looks quite sophisticated. The key is to make it look purposeful and not as though you dressed in the dark and thought black and navy were the same hue. I think a navy blazer over a black dress with black tights and shoes is a chic office look. I decided to have fun with the color combination, putting the navy blazer with a black skirt and a black and white striped tee. With so much black, the navy will look more blue and work as an accent color; the printed scarf will tie it all together. This ensemble also shows how a pleated skirt (soft pleats or a drop waist/kilt style) works great with a blazer. Keep the skirt at the knee or just above so it doesn't look dowdy.
For details on the pieces used in the collages, please visit my Polyvore account. 
Follow Me | Twitter | Facebook | Instagram