This article may contain affiliate links; if you click on a shopping link and make a purchase I may receive a commission. As an Amazon Associate, I earn from qualifying purchases.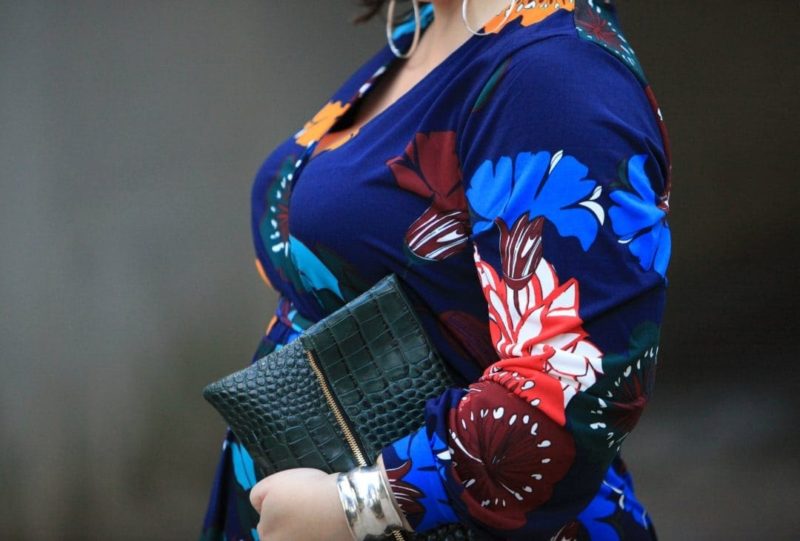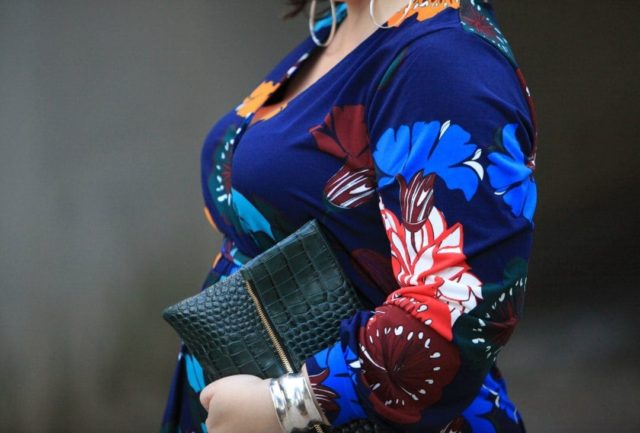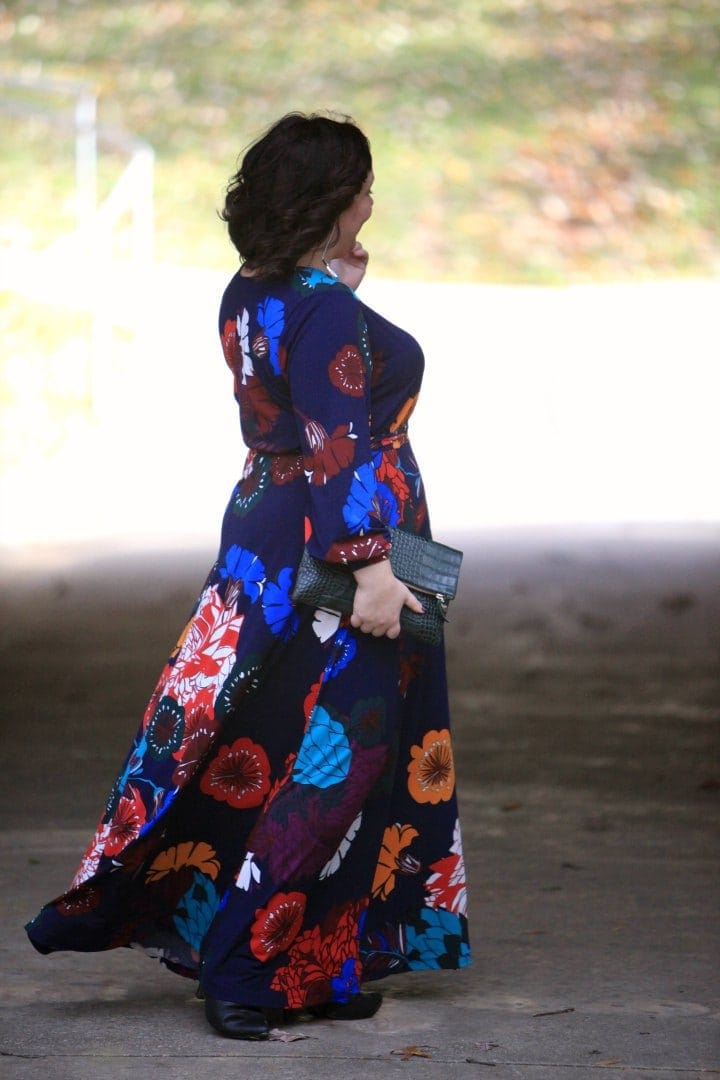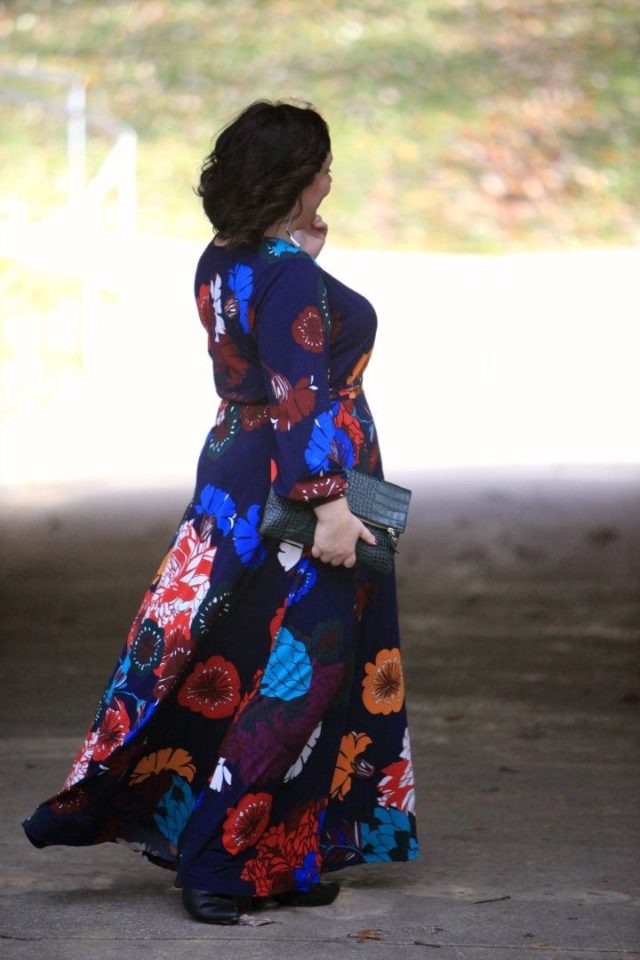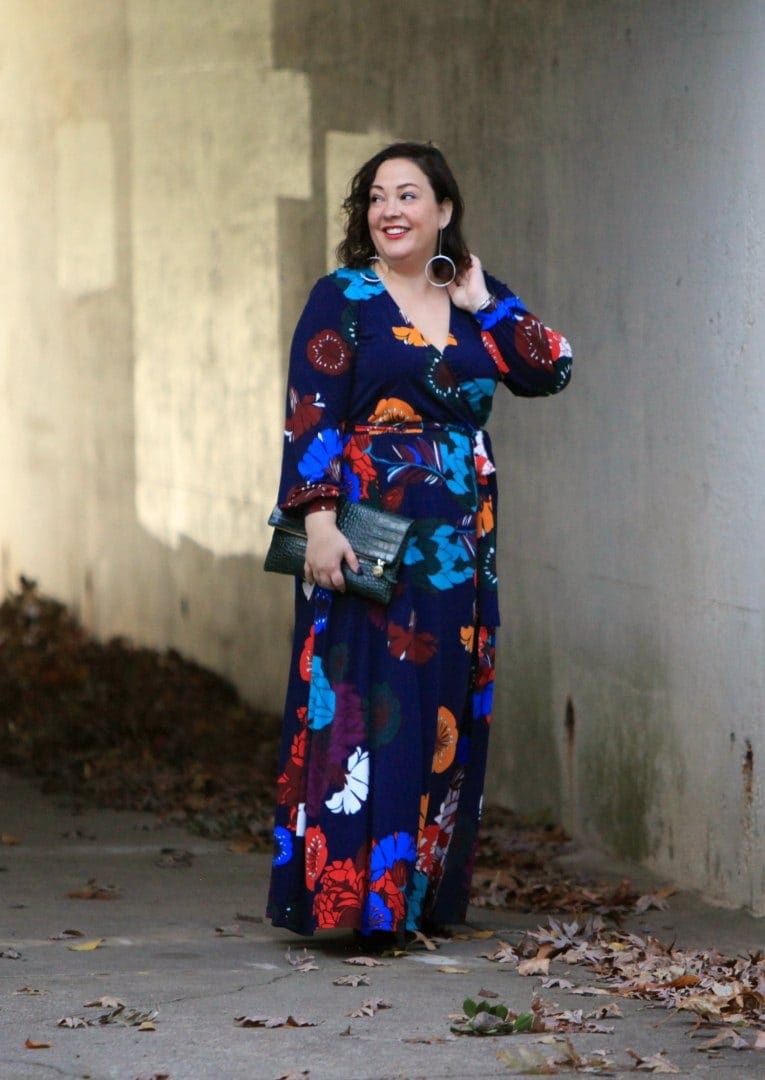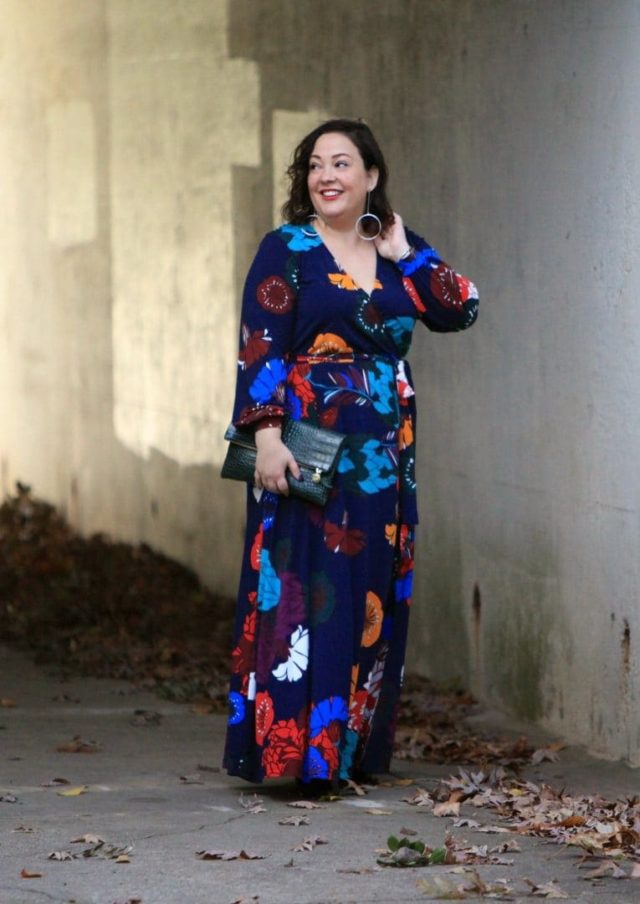 ELOQUII comes out with new pieces so often, pretty much weekly I'm checking out their New Arrivals. And when I saw this dress I HAD to have it. See, I journaled my personal style a bit ago and saw there was a constant in my closet – colorful maxi dresses. While some find them to be too much of a statement, I find them some of the most worn items in my closet and the ones I tore of the least.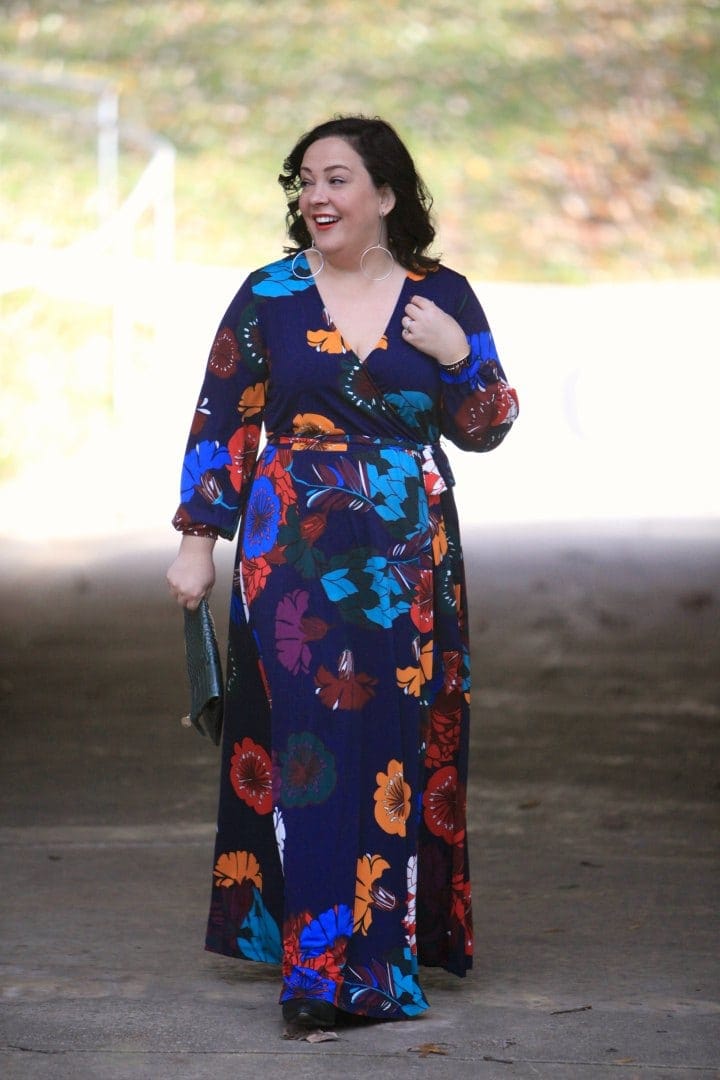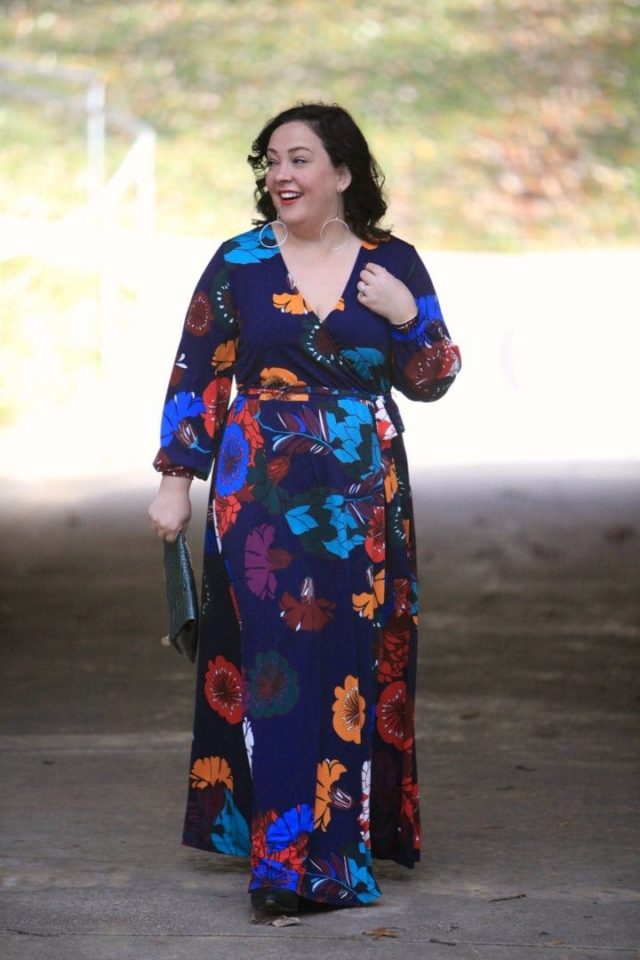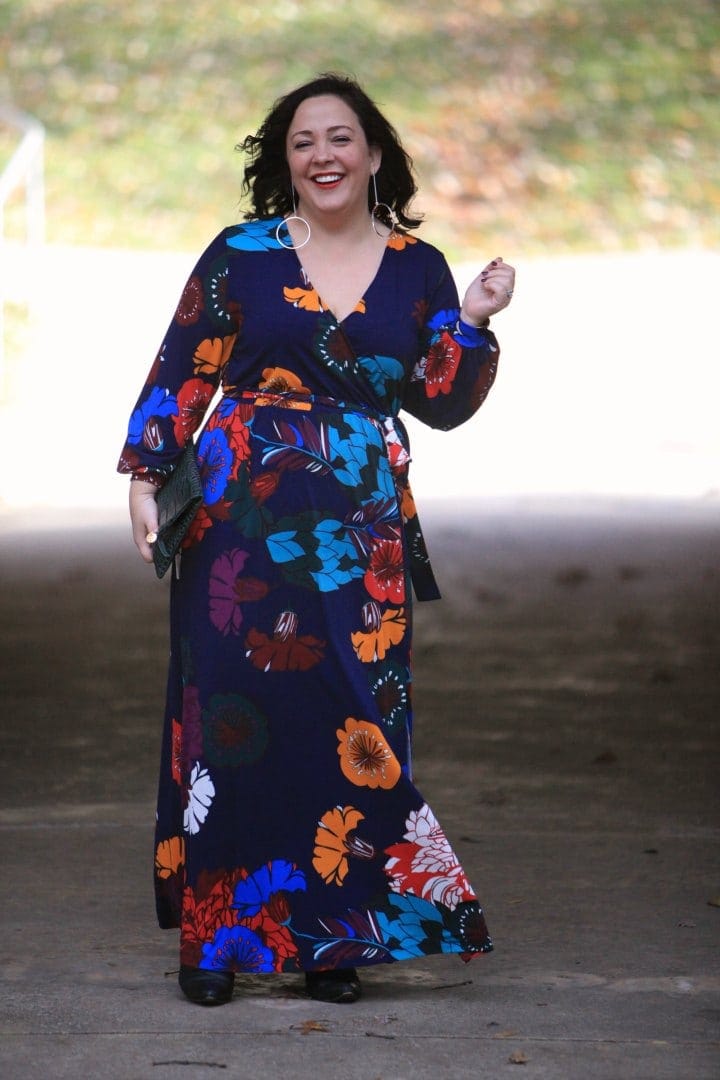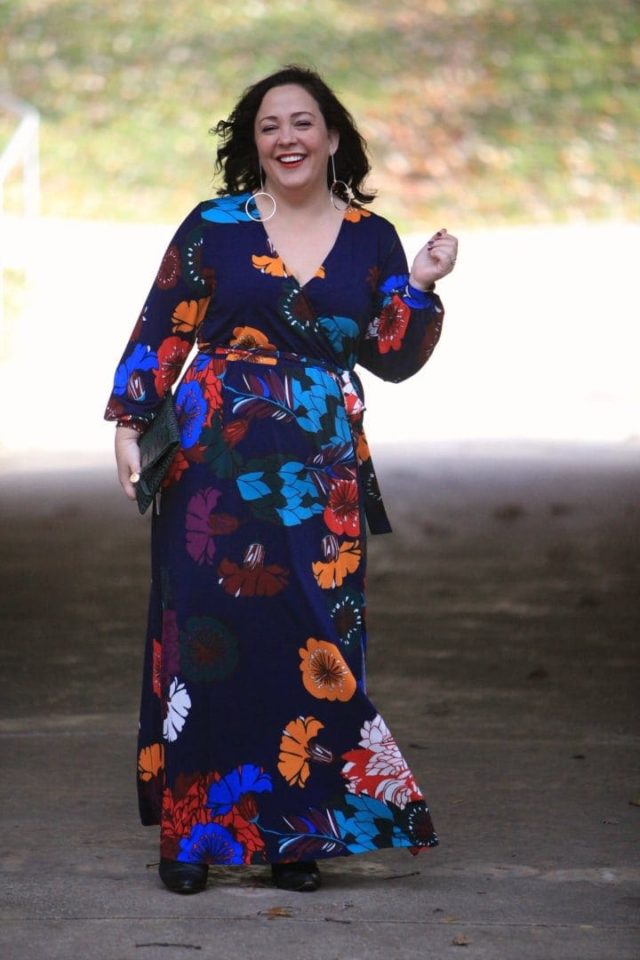 Dress: Printed Kimono Maxi Dress c/o ELOQUII (14) | Coat: Faux Fur Snap Front Coat c/o Ellos (M) | Boots: Ros Hommerson (similar) | Earrings: Jenny Bird | Bracelet: Had forever (budget-friendly alternative) | Bag: Clare V (budget-friendly alternative)
I love that this one is a faux wrap so I don't have to worry about flashing anyone in a strong wind (like the day we took these photos), and I love that the sleeves aren't skin tight (why do so many dresses have leotard-like sleeves?). The slit is fun and functional, and the neckline has a snap built in to keep things covered (as an FYI it was too low on me so I unsnapped it and used a safety pin).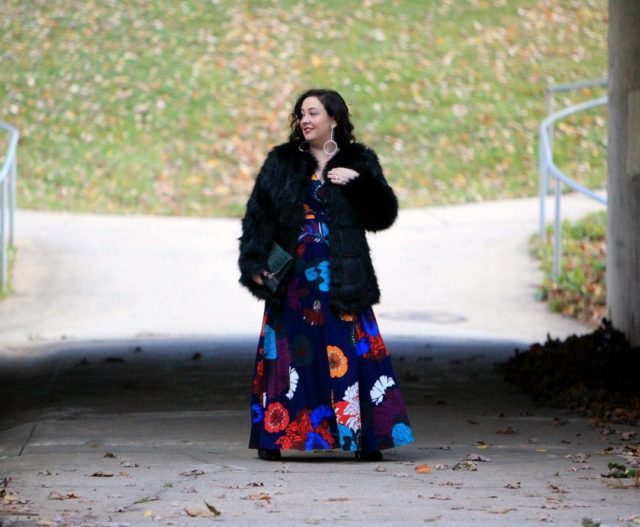 Sunday morning my friend hosted a surprise birthday party for her husband at our local movie theater and I decided to wear this dress. Maxis like this are great in winter because you can layer underneath without looking bulky. Since it wasn't too chilly I just did knee-high boots, but often in winter I'll wear a maxi like this with fleece tights, Thermaskin layers, wool socks, shearling insoles, and a full slip and it doesn't ruin the drape or line of the dress. Added a bit of shine with my silver cuff and these awesome statement earrings from Jenny Bird. I'm all about a bag that doesn't match but still "goes" and this clutch has been my go-to since I got it a couple months ago. So funny, I arrived at the party and my sister was there also in a floral maxi dress and Jenny Bird earrings! Great minds think alike!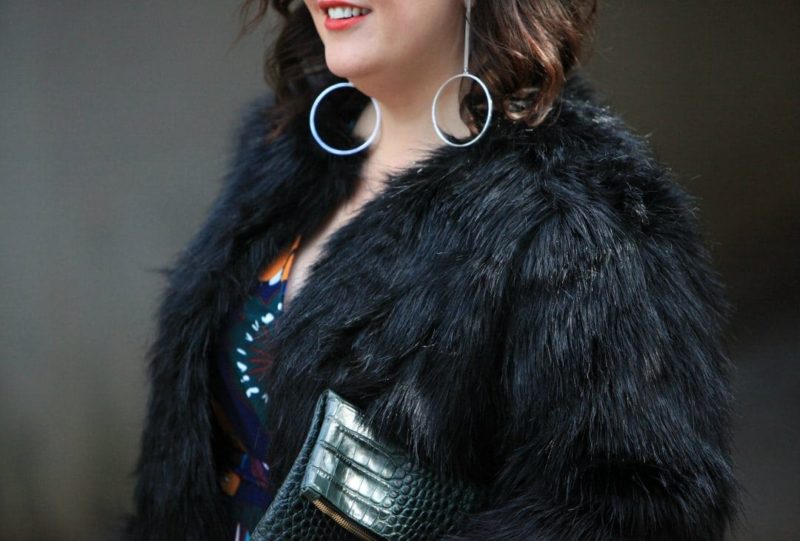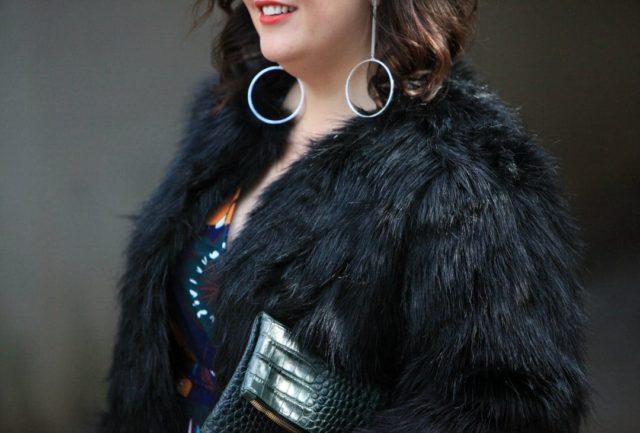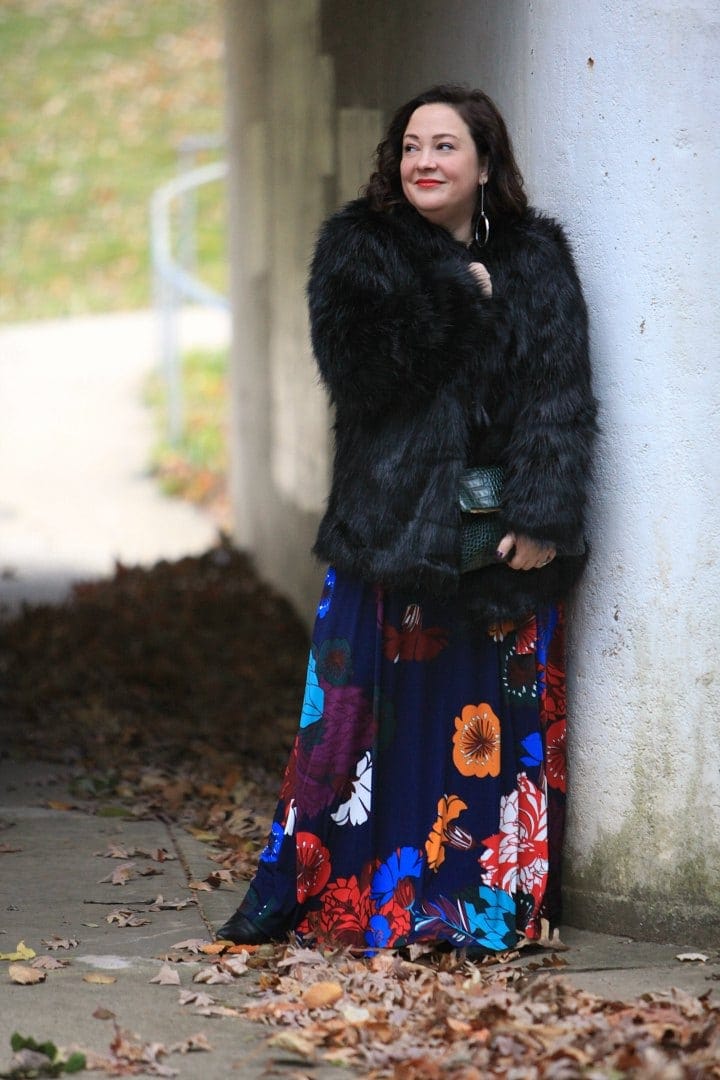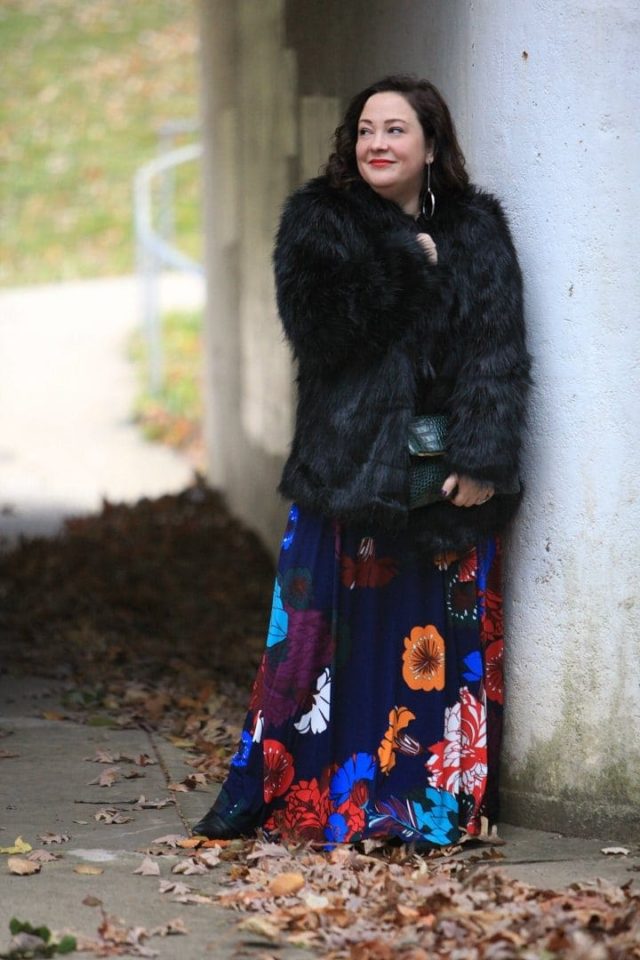 For this shoot, I added this phenomenal faux fur coat from Ellos. I like that it's a bit longer than a lot of the fur "chubbies" that are for sale this season. It makes it look more elegant and is more flattering too. The fur is really nice on this, clearly faux but not in a cheesy or cheap manner at all. It has large black snaps for closure that hide in the fur so it looks great open or closed. I continue to be impressed with Ellos, and I love their size range and prices!
As an FYI, ELOQUII asked me to promote one of their events at their DC store and offered a piece in thanks and I chose this dress (I already had my eye on it). As for the coat, I asked Ellos for it thinking it would be a perfect piece for this season of festive dressing and I wanted to see the quality of their outerwear in person.  Sometimes people complain that bloggers have too much gifted clothing and it's hard to tell what bloggers actually like.  I never feature gifted merchandise on this blog unless I was able to choose it myself and I actually like it.  Friends IRL will likely get sick of these two pieces, as I think both will be getting a ton of play this season (I very well may be wearing this dress again tomorrow for Thanksgiving!).
SaveSave
SaveSave