This article may contain affiliate links; if you click on a shopping link and make a purchase I may receive a commission. As an Amazon Associate, I earn from qualifying purchases. 
What I Packed (what I ended up not using is in italics):
Ivory and brown zebra-print strapless one-piece bathing suit from J. Crew
Light aqua halter one-piece bathing suit from J. Crew
Navy crinkle gauze v-neck beach cover-up from J. Crew
My distressed denim mini from Old Navy
Dark denim pencil skirt from Gap
Black scoop neck short-sleeved sweater with empire waist from Old Navy
Black knit tube top from Torrid
Black tank from Banana Republic (in case not bold enough to go strapless)
Black and ivory graphic print knit circle skirt from Rachel Palley
Black, turquoise and lime print matte jersey short-sleeved faux wrap dress from London Times
Plum jersey surplice-bodice sleeveless dress from Gap
Black matte jersey surplice-front empire waist sheath dress from Old Navy
Kelly green crewneck "Perfect Fit" tee from Old Navy
Black matte satin bootcut dress trousers from Ann Taylor
Cadet blue silk jersey sleeveless drape-front top from Banana Republic
Black leather heeled thongs from Mossimo for Target
Black flip flops from Reef
Brown stacked flip flops from J. Crew
Black cotton sweater-knit shrug from Target
Gray "CBGB" vintage tee shirt
Sneakers
Yoga Pants (for the gym)
Susan Tedeschi Band tee shirt (for the gym)
Black glossy leather clutch
What I Wore There:
Black kimono-sleeve v-neck lightweight sweater tunic from Ann Taylor Loft
Denim trousers from Gap
Black round toe pumps from Jessica Simpson
Cream cable-knit hooded belted sweater jacket
turquoise pashmina looped around neck
Our flight arrived in Orlando around 9am, we sat around in the airport for about 30 minutes until the bus came to take us to Port Canaveral to catch the ship. My sister had gone on a cruise the previous year and encouraged me to pack a bag of stuff for that day as that our luggage may not arrive to our cabin until 9pm. I was happy to have it and my Reef flops in there to change into while waiting in line to be boarded.
We got to our room, I changed to the green tee and the dark denim pencil skirt and the brown stacked flops. Started walking down the hall and realized my semi-new flops had all the squeeks and ouches of a brand new pair. Went back to the room and switched to my trusty Reefs. We hung out on deck at the pool area, dipping in our toes and drinking pina coladas.
We then had to get ready for Muster. While standing in our highly fashionable orange life vests, we met two women our age, on our floor of cabins, from a nearby town in our state AND sitting at the same table for dinner!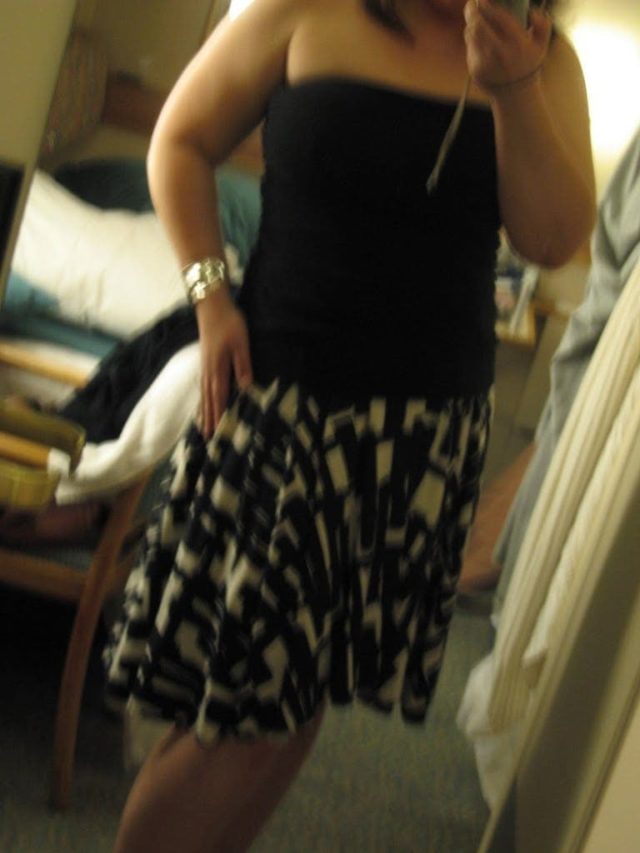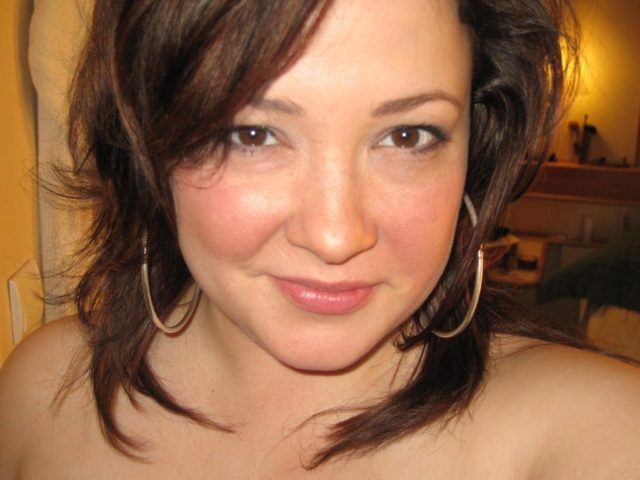 After Muster, we showered, unpacked, got settled and dressed for dinner. I wore the black tube top, the black and ivory skirt, the black round-toe pumps and brought the clutch purse and the shrug. Wore my big silver hoops and silver cuff bracelet. Women, do not be ashamed of your shape on a cruise or beach trip because I can GUARANTEE that there will be several women who are built similar to you and even more that are flatter/fatter/lumpier/saggier/veinier than you. I packed a tank for fear of my arms and fleshy chest being on display, but then I realized in the tube top I looked festive and stylish and confident. So I wore my highest heels, and walked like a diva and felt like a dive and got the looks a diva deserves. So anyway, I wore this to dinner, then to the disco where we watched some drunken karaoke and then danced for about an hour at the disco, and then went to a piano bar and sang along. the outfit was great, if maybe a bit dressier than some of the other guests (but I am used to being the most dressed up in a room).
Saturday, we did an excursion where we took a boat ride (so some may call it a "booze cruise") around Nassau. We saw all the big homes and fancy resorts, the boat had a live band and plenty of rum punch. my sister and I sat on the top level and enjoyed the warm sun and met some nice people from a different ship. We then docked for an hour at a beach of white sand, crystal-clear water and an area where you could snorkel with stingrays. Then we took the boat back to Nassau where we walked around a bit, and then hit Senor Frogs for a few drinks and some socializing. For this, I wore the zebra-print bathing suit, the black scoop-neck cotton sweater and the distressed denim skirt with my black Reef flops. this was perfect, because it was quick-drying, but cute enough to walk around the streets of Nassau and hang out at a bar or restaurant.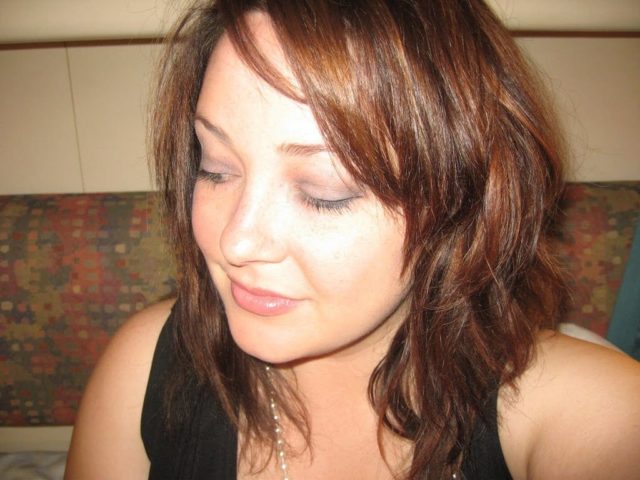 Saturday night was Formal Night. I wore the black matte jersey sheath from Old Navy with my long pearls from Limited, short pearls from Monet and again the Jessica Simpson pumps. I brought along my pashmina in case it got chilly. People were decked out in anything from cotton capris to long gloves and floor-length gowns. I felt good in my outfit. After dinner, we went to the piano bar.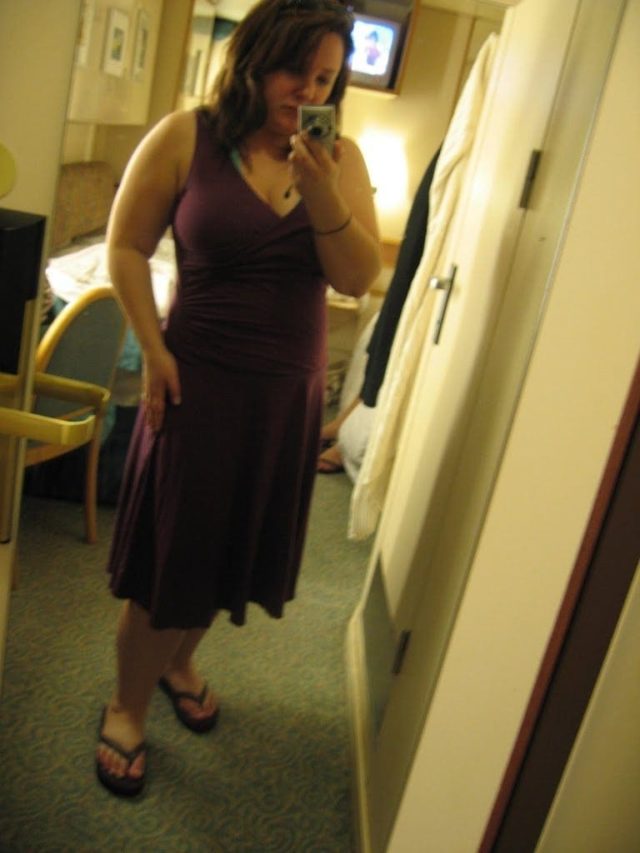 Sunday, we took a second excursion to the ship's private beach. I wore the light aqua halter bathing suit, the plum knit dress and again the trusty Reef flip flops. We went sea kayaking, I just removed the dress and threw on the life vest. We then checked out the shops, had lunch and enjoyed the beautiful weather until it got too breezy and cold. We then took the ferry back to the boat, spent some time on the deck, then returned to the room to get ready for dinner.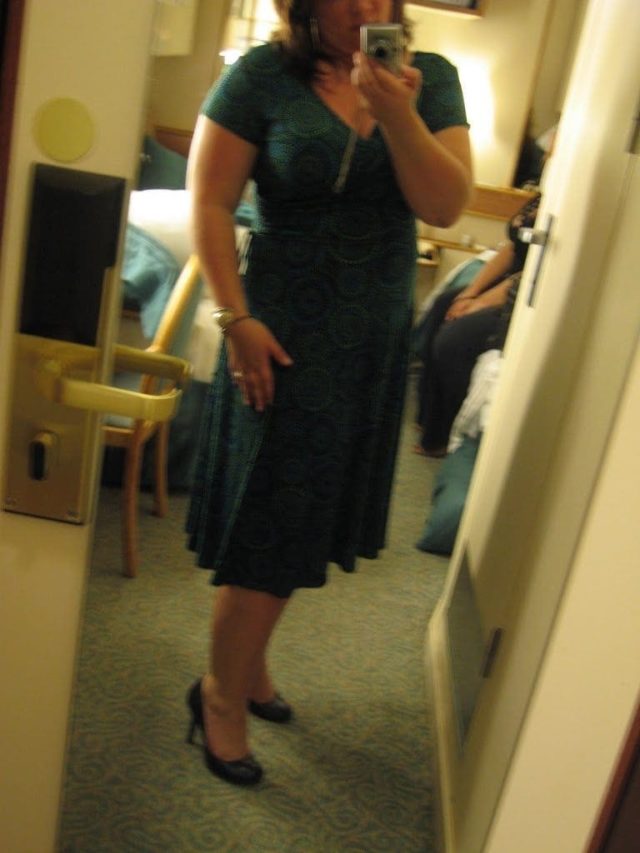 For dinner I wore the black printed matte jersey dress and again the Jessica Simpson heels, and brought along my pashmina. I was planning on wearing the leather thong heels, but that night you need to pack up everything that is checked luggage. I planned on wearing the pumps the next day, so it made the most sense to wear them that night. People were more casual this night for dinner, but I felt good and comfy in my dress (not too tight or itchy on the sunburn I happened to get despite all sunscreen efforts).
After dinner, we headed back to the room so my sister could get something and I reclined on the bed to watch some TV. Next thing I know I wake up, the room is dark and it is midnight! My sister is in the bathroom getting sick and I feel a bit woozy. I sit up, have some water and an orange and feel a bit better, but I feel as though I am running a fever. my sister and I have fitful sleep until 6am when we finally wake for good.
Last day I wore the same thing that I wore there. To go from 80 degrees to 21 degrees and snow… well I had to wear the only slightly-warm clothes that I brought! We ended having our flight delayed several times so we spent the entire day at Orlando airport. Thank goodness the place has many places to eat and shop. We even got massages! Was home by midnight with only a hit of a sunburn and a bunch of great memories!