This article may contain affiliate links; if you click on a shopping link and make a purchase I may receive a commission. As an Amazon Associate, I earn from qualifying purchases.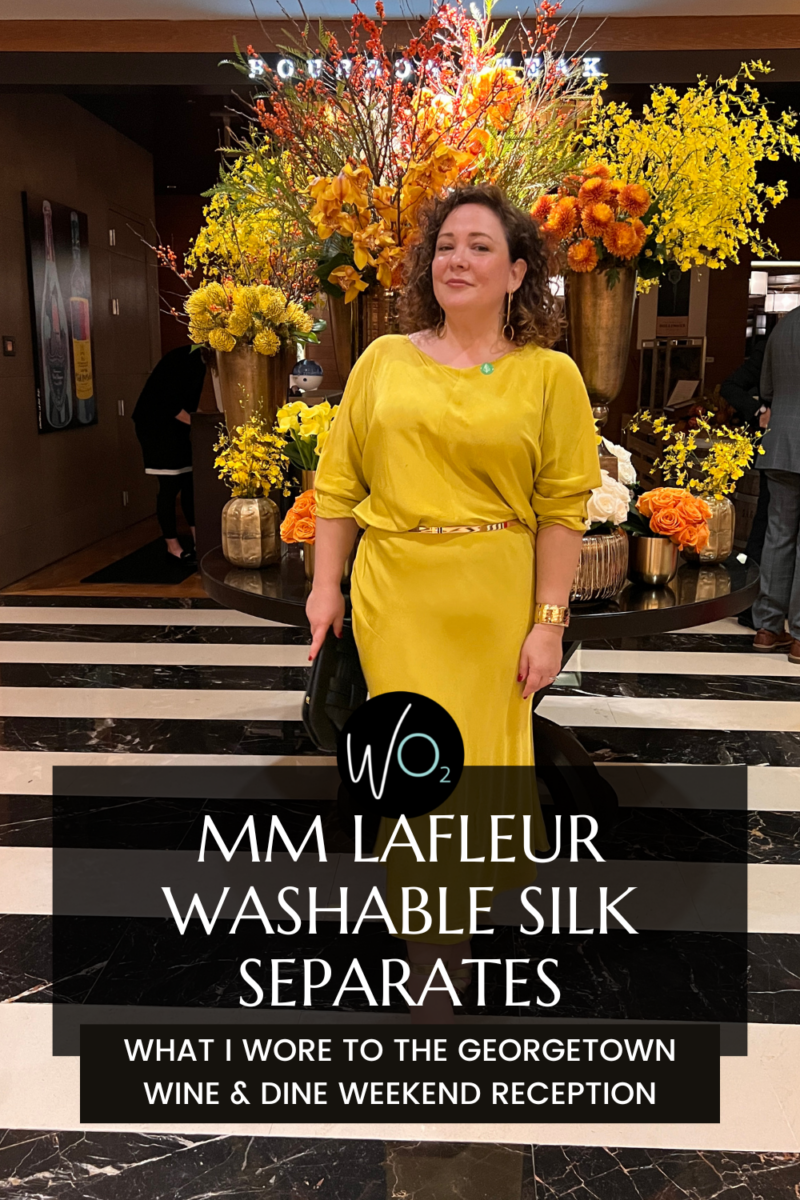 There is a new food and wine festival in DC, and this weekend it took place. Celebrity Chef Michael Mina created Georgetown Wine & Dine, a weekend of fabulous food and drink events that raised funds for World Central Kitchen. Hosted by the Four Seasons Hotel Georgetown and Company Fine Wine, the red carpet reception took place Friday night and I was invited to attend. Below I share what I wore and how I decided what to wear to this food-based event at a five-star hotel on a Friday night in DC.
Deciphering Dress Code: How I Decided What to Wear to this Event
The invitation stated it was a red-carpet reception from 6-10pm. It would take place in the courtyard at Bourbon Steak, the restaurant inside The Four Seasons hotel in Georgetown, and stated the format would be, "Heavy hors d'oeuvres with wine and spirit stations as well as Chef's stations."
Having a four-hour reception with stations meant this would not be a seated event, you could arrive and leave any time, and food would be eaten on small cocktail plates while standing at high-top tables or occasional seating arrangements.
Since the event started at 6pm on a Friday, I knew that there would be attendees arriving straight from work. That plus a courtyard environment and food stations made me decide that while the red carpet detail made me think I should go glam/cocktail, I would be better off in something a bit more… versatile. Like if I stood next to a person who came straight from the office, it wouldn't look like one of us was lost but I'd also look okay next to someone wearing feathers.
The day was one of those weirdly warm November days in DC so bare legs and open-toed shoes were comfortable. However, I planned the look a bit in advance and wanted a versatile look that could work with heeled tall boots and sparklier jewelry if a cold front came through the city that week.
I texted with two friends who I knew would also be attending and we discussed dress code. We all have very different personal style aesthetics, lifestyles, and personalities, but we all ended up wearing outfits that didn't look out of place at the same event.
What I Wore to Georgetown Wine & Dine Weekend Reception at Bourbon Steak
I have attended events like these, and I knew there would be a mix of folks. Part of the crowd would be local personalities (newscasters, magazine editors, influencers, creatives), part would be the food scene (gourmands, chefs and food producers, food influencers and writers), and part would be folks where buying tickets for a celebrity food experience sounds like a fun way to start the weekend.
Point is, there would be folks who were wealthier, more stylish, and far more badass than I at the event. And there was no point in trying to look like them. I had to choose what felt comfortable, gave me joy, and would let me be confident being myself, not a cheap copy.
Wearing color is an instant way to look confident. And, despite what style books and magazines and capitalism and the patriarchy have led us to believe, it doesn't matter what color or fabric or silhouette or Spanx you're wearing, your body will always look like your body so go on ahead and choose comfort and joy.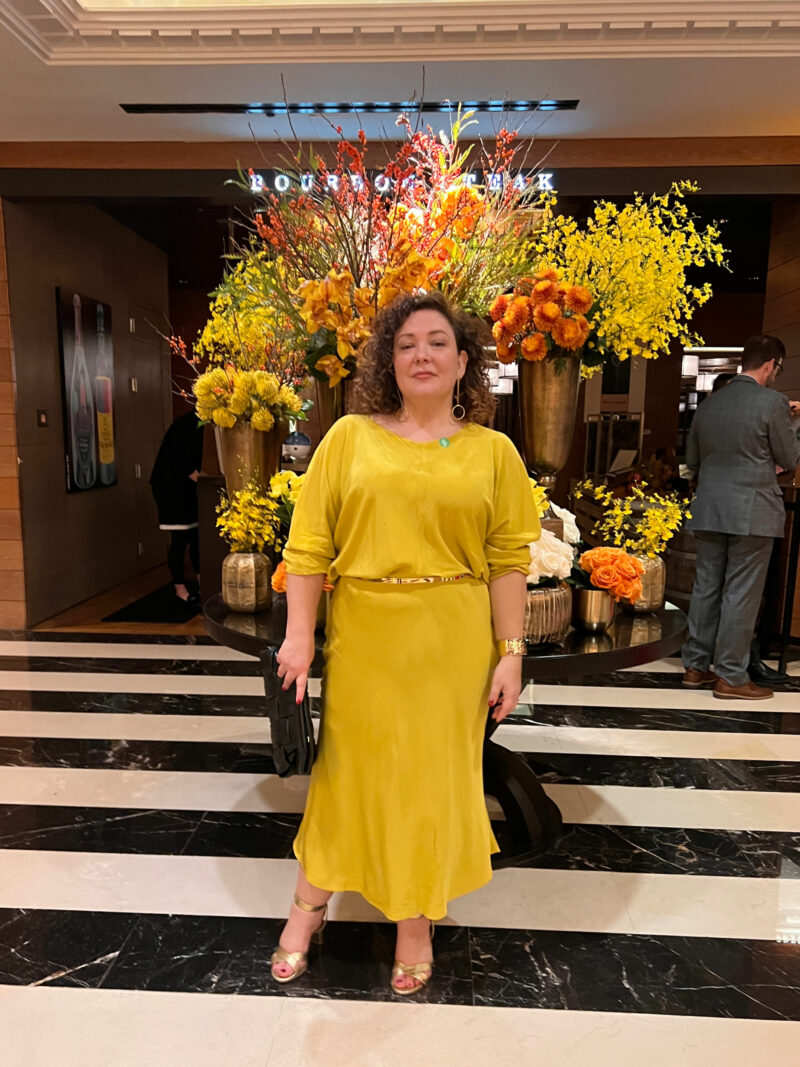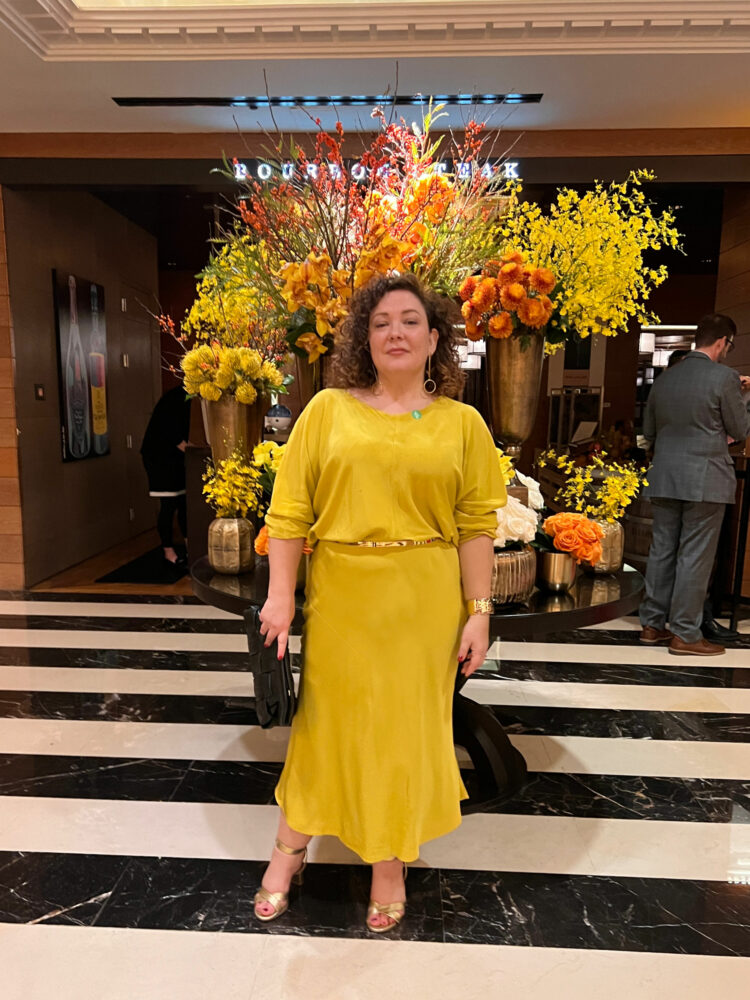 Shop the Look:

I chose this washable silk blouse in L and matching washable silk skirt in 14 from MM.LaFleur. I featured this skirt in black in this travel capsule wardrobe and I already own this blouse in a print previously seen in this travel-friendly capsule wardrobe and when we had a DC staycation, and here and here and here on Instagram. I knew that they didn't crease super hard, the silk would look luxe in evening light, and I would stand out on my terms in a sea of black.
I knew this look sort of blended work and cocktail. If I added a leather belt and tall boots I could wear it to the office, but if I added dressy accessories it would be D.C. red carpet ready. And I knew I'd be wearing my Margaux Uptown Heels because they're comfortable enough to stand in for hours while looking dressy, festive, and not so standout-y that folks would be trying to guess the label.
I felt this look needed a belt. Something to say, "Hello, I am a waist." I went through my scarf and belt collection, trying a few different options. I bought this gold metal belt at ASOS almost a decade ago. I think the last time I featured it on Wardrobe Oxygen was when I reviewed the Ever by X dress. ASOS doesn't have this style of belt now, but you can find similar at Etsy and Amazon. It doesn't hide the waistband of the skirt, but adds a bit of shine and shape definition.
The cuff is from Chico's and is at least a year old. I love it because it's curved inside and has a hinge and perfectly snaps over my WHOOP fitness tracker so I can wear it to nicer events without it ruining my look. The earrings are from Jenny Bird and are several years old. They are no longer made but occasionally you can find the "Medium Edie Hoop" on resale sites.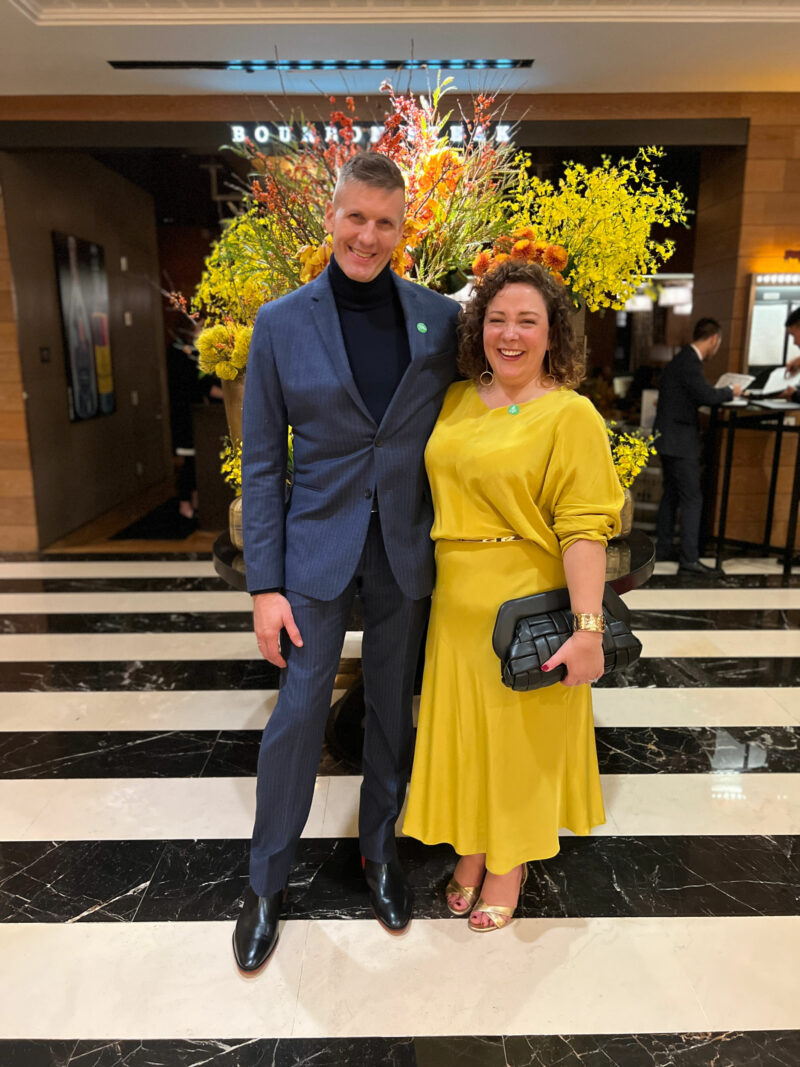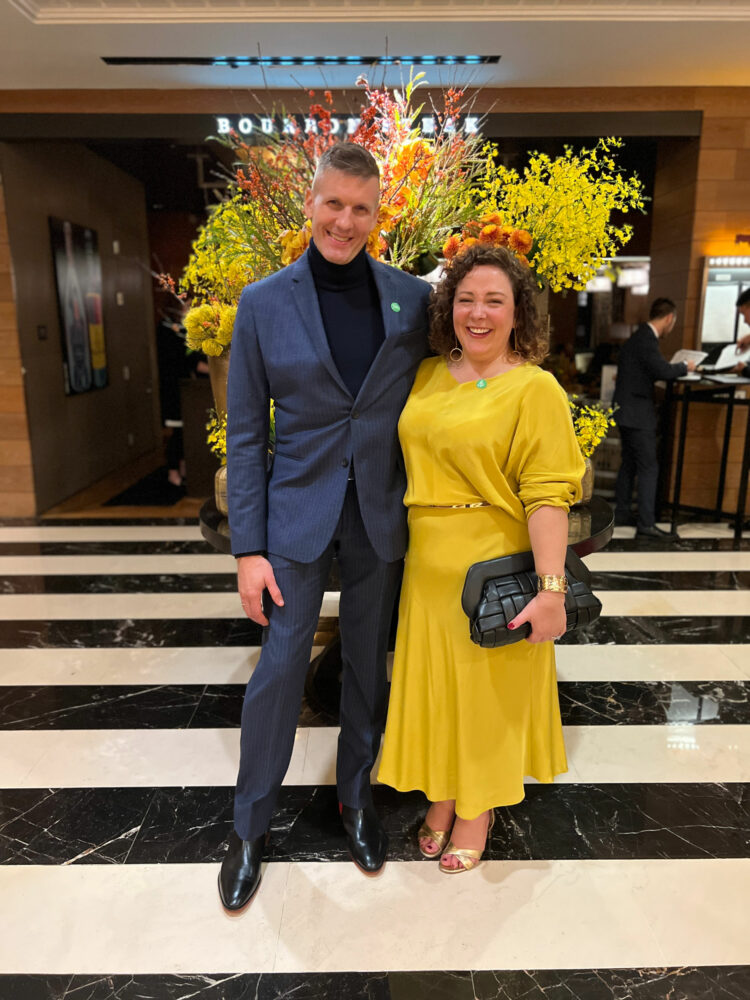 The bag is from Rent the Runway. I have a monthly subscription and the biggest reason I like it is for bags and coats. The apparel selection in my size and then considering my height (5'3″) is pretty limited, but the accessories are well curated, current brands and styles, and will elevate my closet basics. This oversized clutch is from Themoire, an ethical and sustainable bag brand and new would cost over $500. It had a removable strap I considered using to have my hands free, but it totally dressed down my look and de-elevated the bag so like others, I left my bag sitting on the table as I ate, had friends or my husband watch over it as I stepped away.
I kept my makeup pretty simple. I used an illuminating primer, a touch of tinted moisturizer and concealer, and set it with this powder which doesn't look matte. A warm-tinted blush I also used as shadow, mascara, brows, highlighter (this one), and then my go-to lipcolor: NARS Pigalle with Fenty Gloss Bomb in Cheeky over it. Once I ate, I didn't worry about the two layers and did a quick re-application with just the red-tinted gloss. I also added a dab to each cheek when I went to the restroom mid-event to brighten up my face a bit more.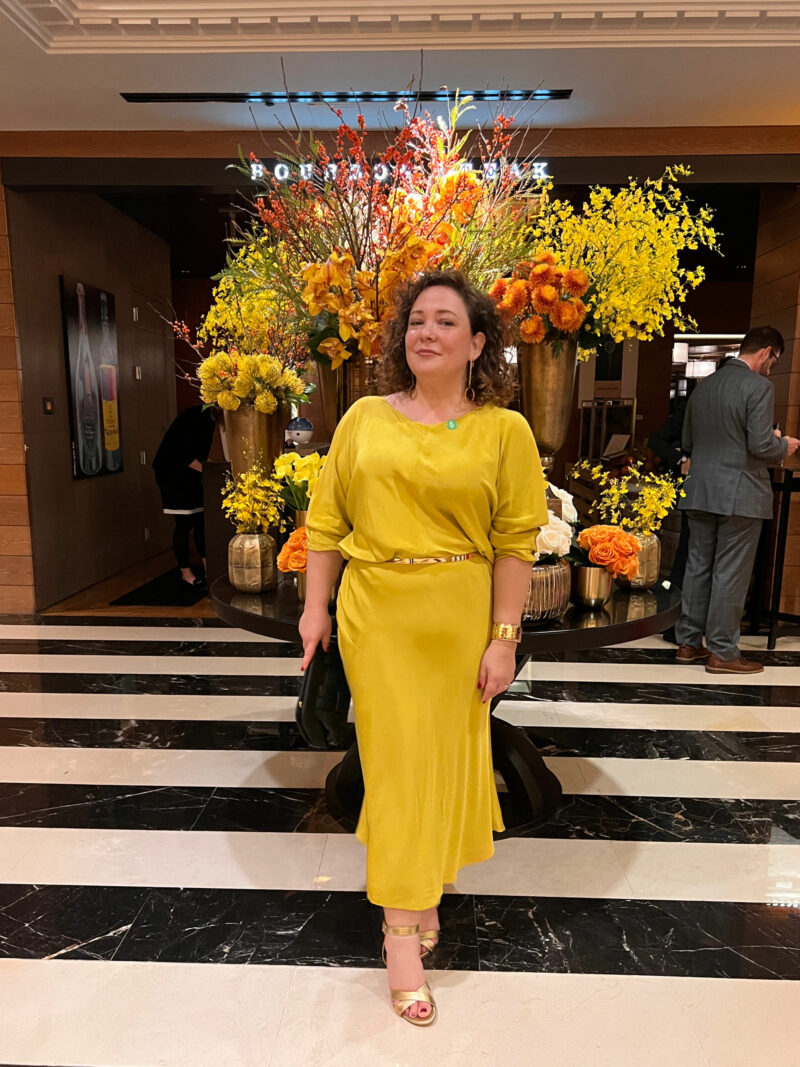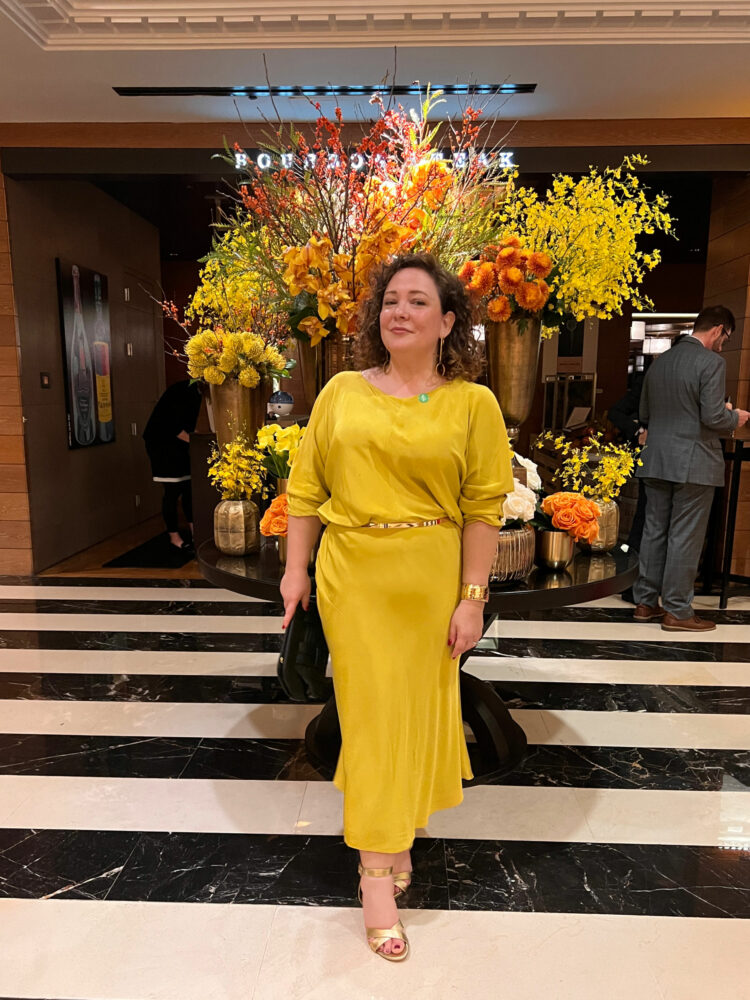 I did wear shapewear. If I could see the blouse hem through the lined skirt I didn't want to also have my belly button show. I also need something to prevent thigh chafing. I wore this open-bust shorts item because it's not super restrictive but will give a smooth line from bra to mid-thigh and has a gusset so I don't have to remove it to use the facilities.
The look was comfortable, elegant, perfect. So perfect, I ended up coordinating with the floral arrangements outside Bourbon Steak! And I ended up being the pop of color in group photos. It was a seasonally-appropriate color, a color that doesn't scream for attention yet still stands out in a crowd.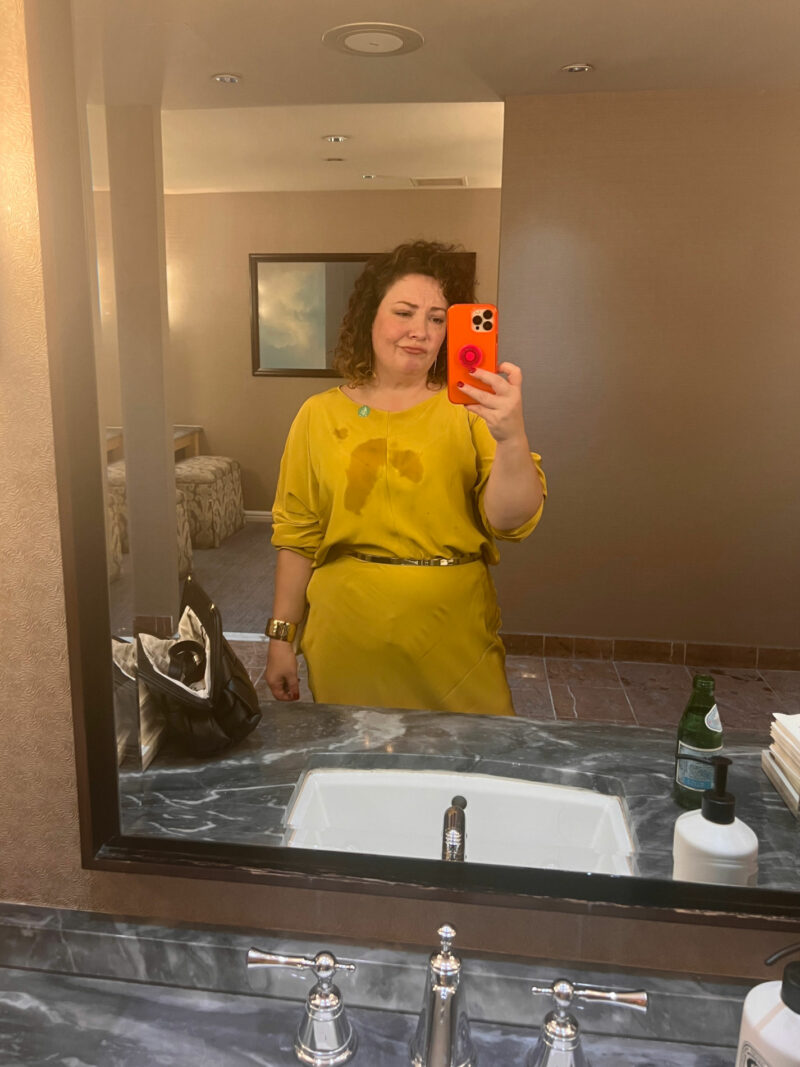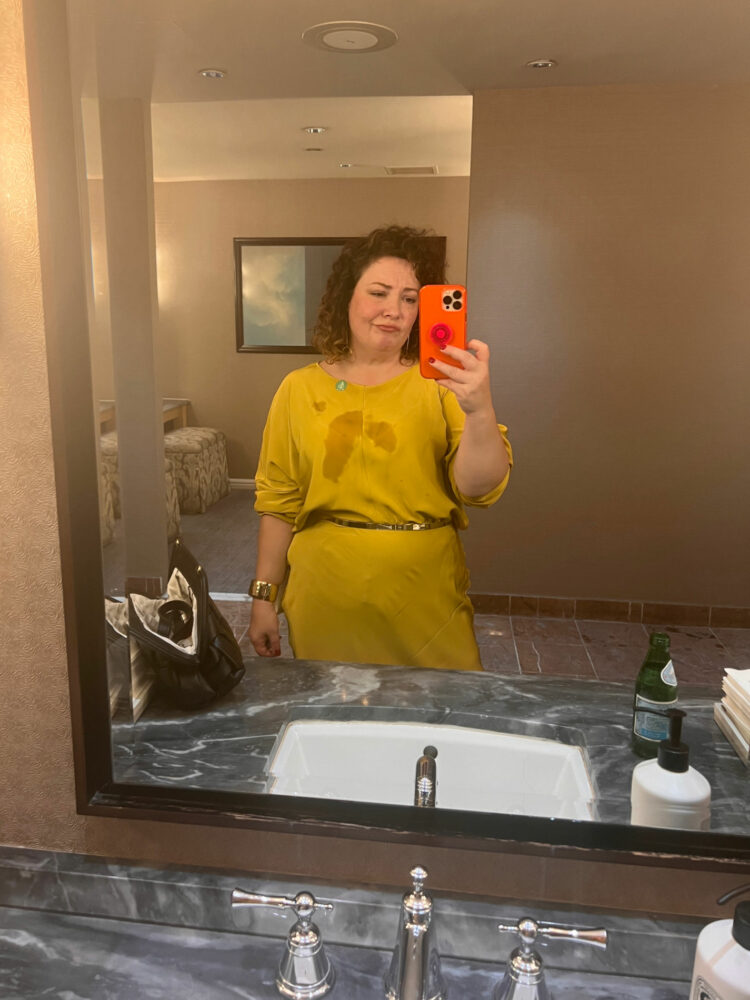 And I was glad for the washable silk component of this look because I did end up spilling raw fish with a vinagrette on it onto my chest (being short, busty, and eating food at tall tables makes me a prime target). My husband got me some sparkling water from the bar and I headed to the restroom where I dabbed and dabbed. By time I had returned to the event, the blouse was almost completely dry, and it was dry by time photos began being taken. And by then, the oily splotches were so subtle one couldn't tell if they were spots or shadows.
What Did Other Grown-Ass Women and Men Wear to This Charity Event?
Events like this can be overwhelming, and not knowing what to wear can create additional anxiety. I like having a job that puts me in situations I would normally not attend so I can get a temperature gauge for what folks are truly wearing now, and not when that style book was published.
Last night there were two general looks worn by men. There was one sea of men wearing suits over sweaters or shirts (no tie), and another sea of men in navy or tweed blazers with a shirt (again no tie) and flat-front trousers. A few were wearing jeans. This is a pretty standard combination in the DMV (D.C., Maryland, and Virginia).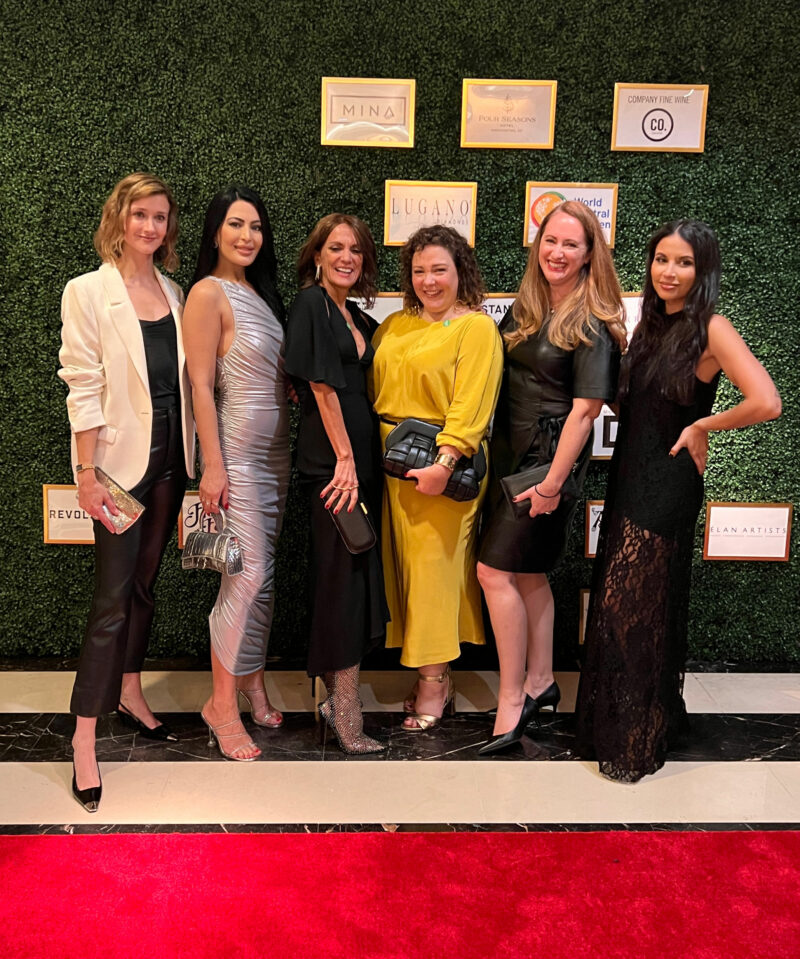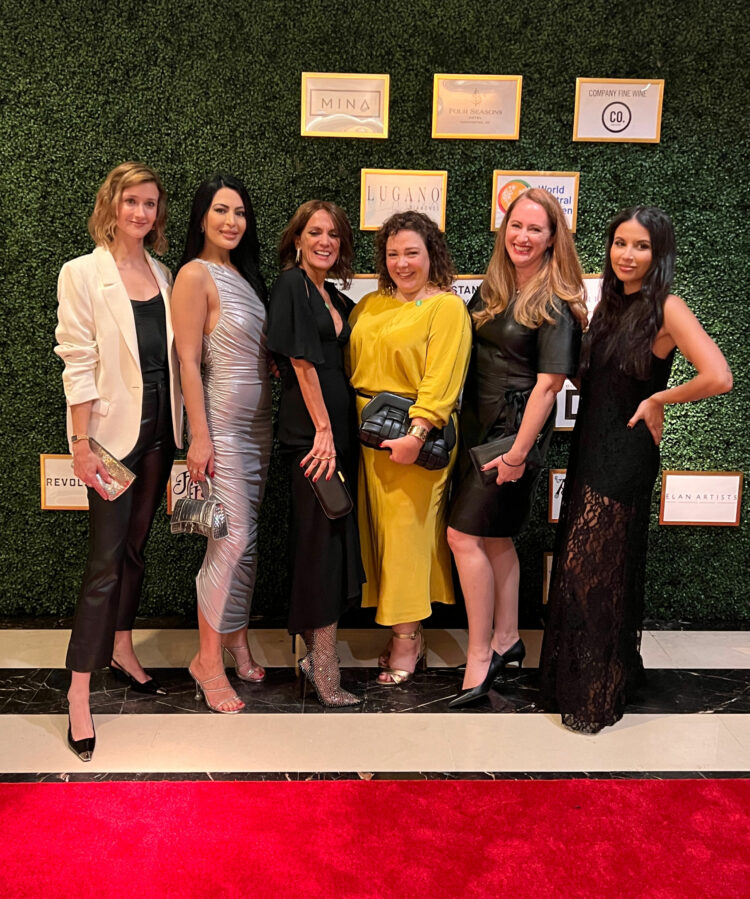 Women were in everything from colorful trousers with a printed blouse to strapless dresses with trains. I found that those who were the most dressed up were influencers and local personalities known for their statement-making style. Most women were in dressier trousers with fuller legs paired with blouses, classic pantsuits with a dressier shell, and the kind of sleeved dresses that are suggested by online department stores for fall and winter cocktail parties.
As with the men, there was a mix of colorful, creative, and classic. Plenty of black, but a few colors and a lot of ivory. Sparkle was primarily reserved for accessories: crystal-embedded shoes, lamé and metallic leather handbags, statement-making earrings, a colorful or smoky eye with a hint of shimmer. Faux leather is a big look this season and several stylish guests were wearing dresses and separates from it.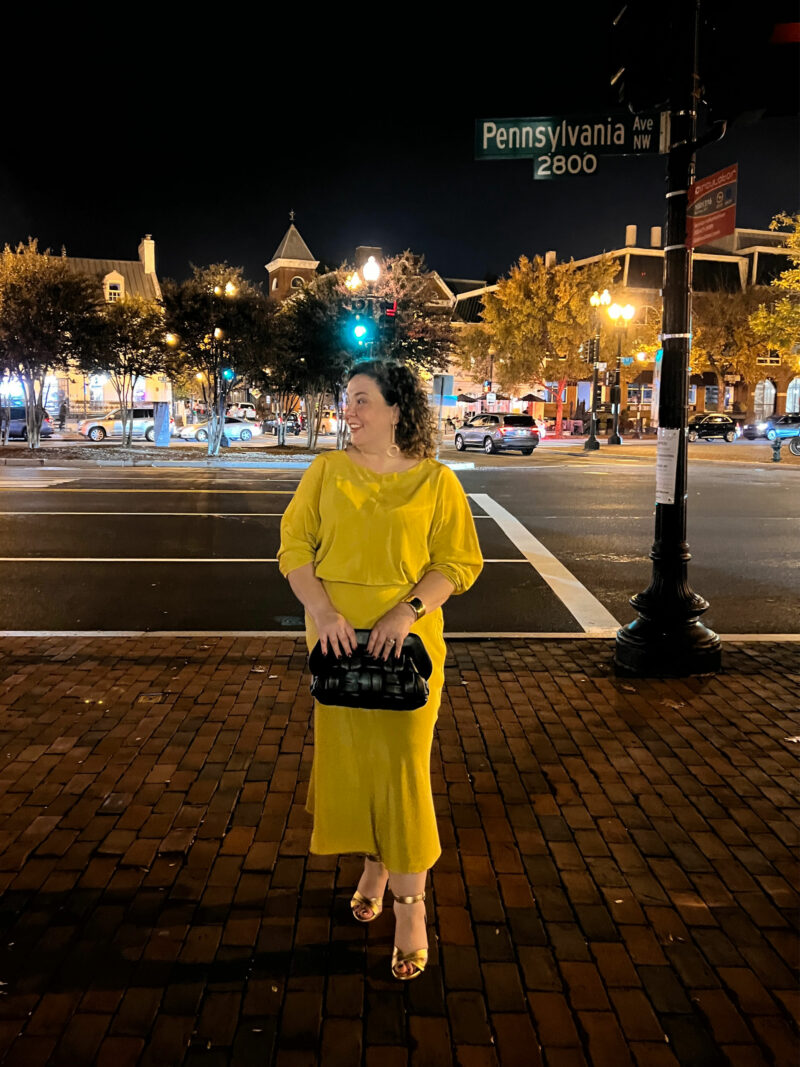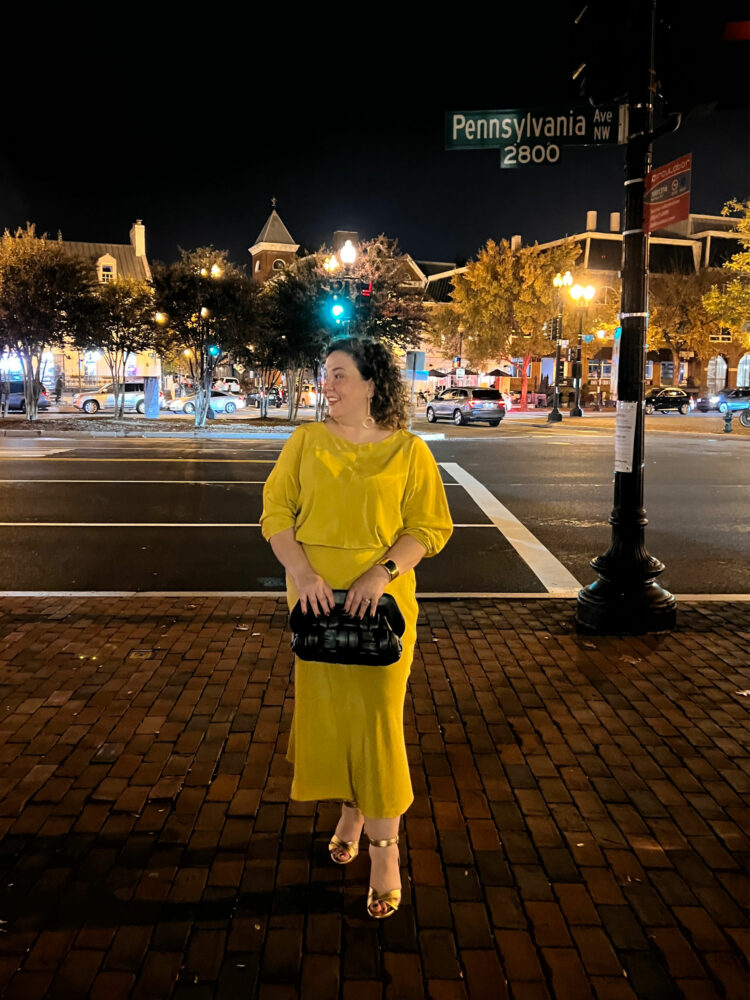 For such events if you wish to shop your closet, a well-fitting pantsuit with a shell of a fabric that catches the light will be perfect. Black, purple, hot pink, ivory… the color doesn't matter if the condition and fit is good. If you don't have a suit, a knee-length to calf-length dress will work. You could do a wrap dress, a sheath, a shift as long as it is an elevated fabric (pass on the stretchy poly blend and ponte for a chiffon overlay, crepe, silk, or even matte jersey). A solid color usually dresses up more easily but a chiffon overlay or flowing dress can do a seasonally-appropriate print.
Add dressier earrings than you'd wear to the office, switch your handbag for a clutch, and if you wear makeup, consider going a bit darker or bolder with either your lip or your eye (not both) and/or add a bit of highlighter to catch the candlelight and twinkle lights of an evening affair.