This article may contain affiliate links; if you click on a shopping link and make a purchase I may receive a commission. As an Amazon Associate, I earn from qualifying purchases.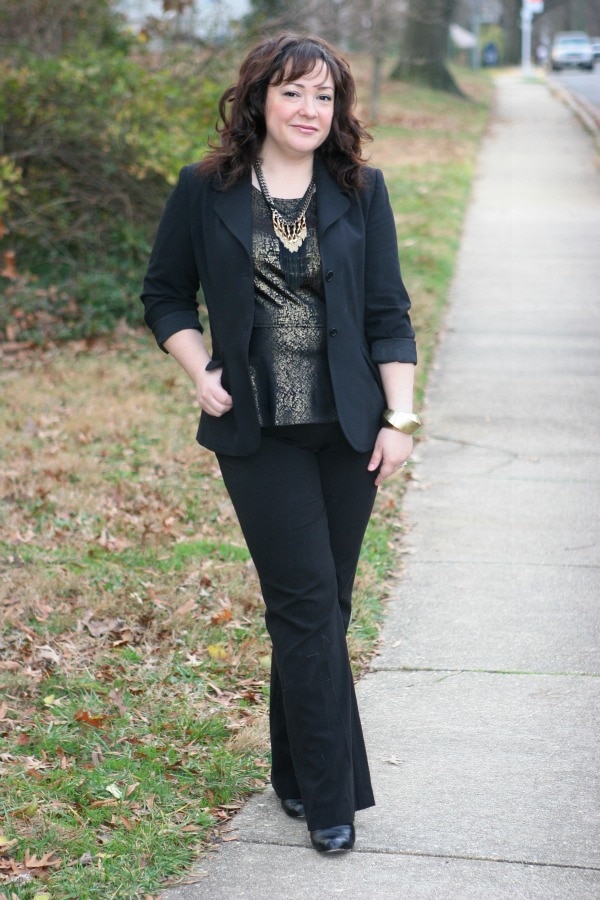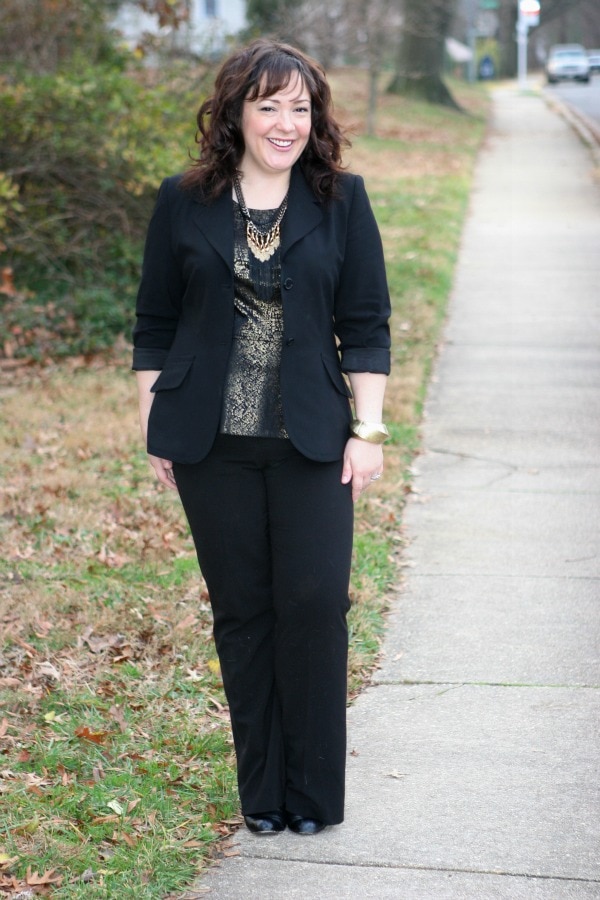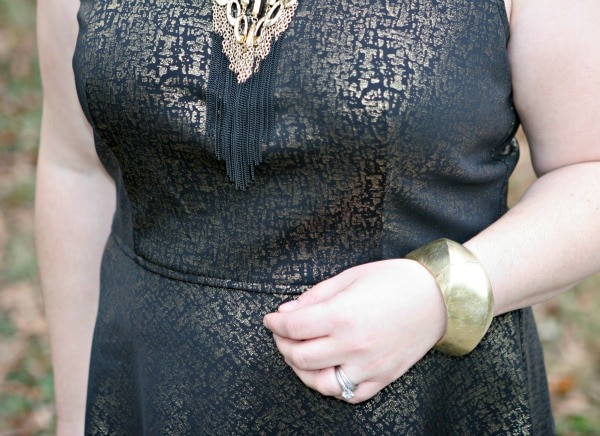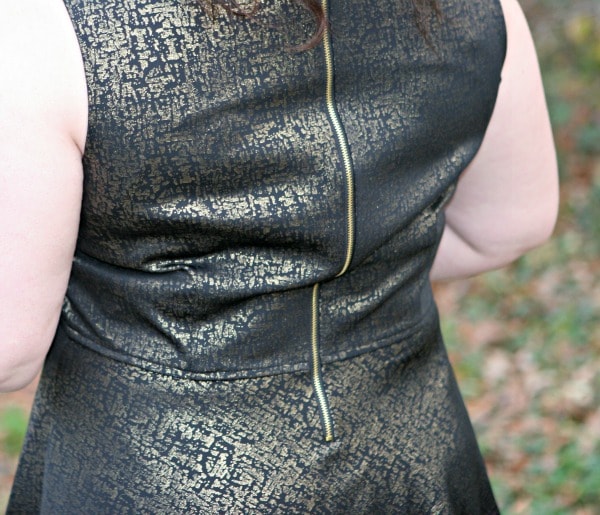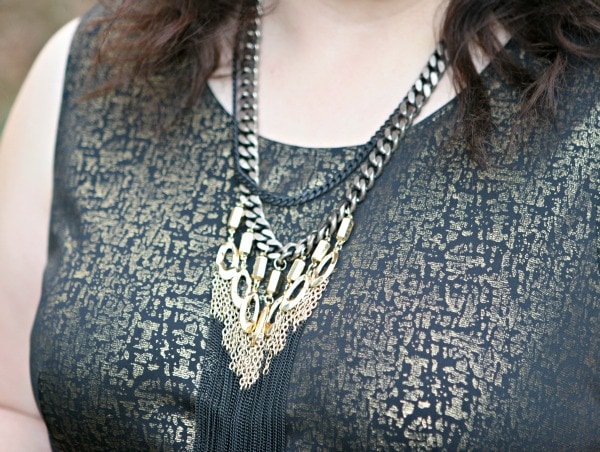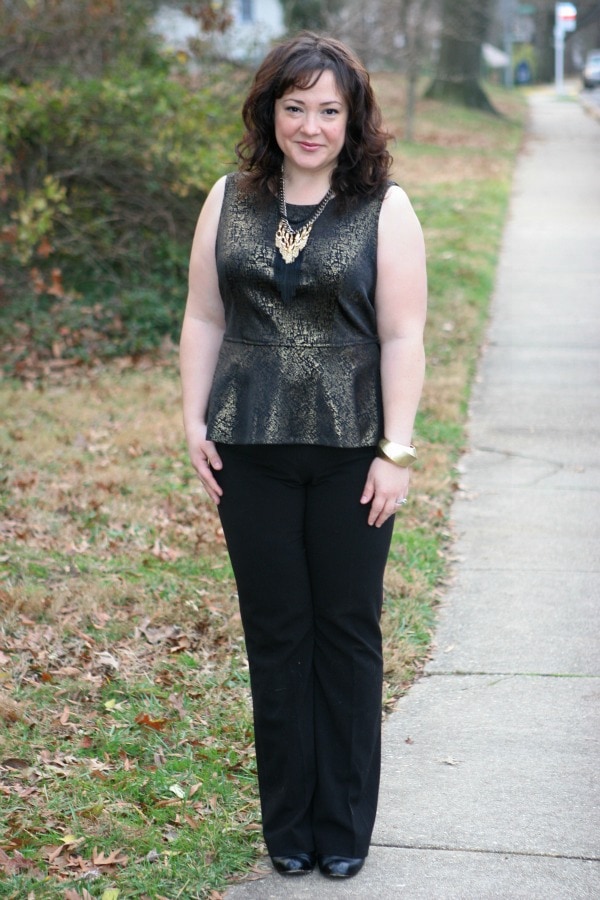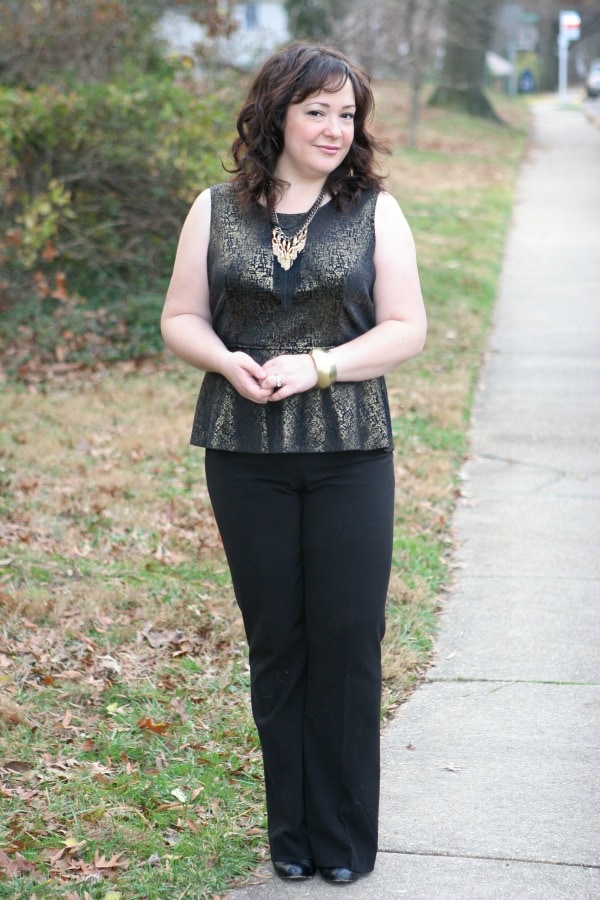 I love Gwynnie Bee for the holiday season – they have so many fun dresses, skirts, and tops with that hint of glitz and glam that is perfect for the office holiday party, a New Year gala, or a fete at your friend's house. This top is a soft stretchy fabric with a nice weight that won't let it cling – perfect with some skinny jeans and heels for a happy hour, or a pencil skirt for a dressier event. I paired it with simple black work separates to make it more day appropriate, and liked adding this necklace to make the gold look more tough.
Speaking of Gwynnie Bee, they are continuing their trial subscription promotion through the month of December.  Until the end of the year, if you sign up for Gwynnie Bee and Mention Wardrobe Oxygen, you will receive a free, 30-day trial subscription (up to 3 items at a time).  No risk, no committment, and many of you have told me you have tried and enjoyed this promotion.  If you like Gwynnie Bee, awesome!  If not, cancel on or before your 30 days are up and you won't be charged (though Gwynnie Bee needs their clothes back).  New Gwynnie Bee Guests, request an invite (the site is invite-only at this time), tell them that Wardrobe Oxygen referred you, activate your account, browse around and give it a try. You will receive an email with the invite and the trial instruction. Existing Gwynnie Bee guests: you are also eligible to receive the 30 day free trial. You can use your current guest account to browse, then go to the "subscribe" part of the site to activate your trial. Remember to tell them Wardrobe Oxygen referred you so you can get the trial!
If you wear a 10 or larger and are intrigued by Gwynnie Bee, I encourage you to read my review of the company here. I have chosen to partner with Gwynnie Bee because I believe in the company.  I know how hard it is to find fun and fashionable clothes when you are plus-sized or cusp-sized, especially when you don't live in a metropolitan area.  Gwynnie Bee offers the best plus-sized brands to you with free shipping, free returns, and a constantly updated collection of current trends.  Their customer service can't be beat, and in my few months with Gwynnie Bee I have been amazed at how they have improved and grown their collection, much thanks to the feedback of their customers.  If you have additional questions about Gwynnie Bee, feel free to leave a comment or email me, though I do receive a commission on each person who signs up, I'd far prefer you to not sign up because you have the right information and know it's not for you, than to sign up and regret it.  I promise to be completely honest with you about any brand I mention, partner with, or feature on this blog.
Follow Me | Twitter | Facebook