This article may contain affiliate links; if you click on a shopping link and make a purchase I may receive a commission. As an Amazon Associate, I earn from qualifying purchases.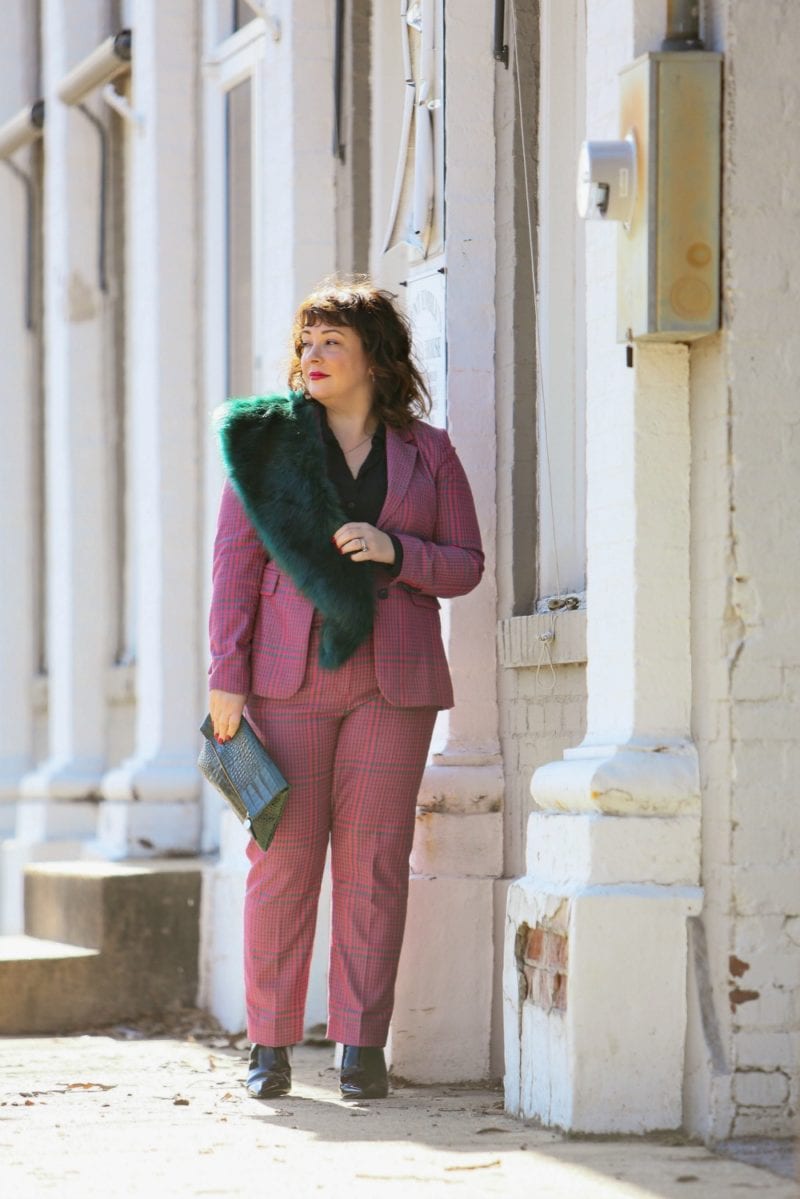 I'm on a suiting kick. It's a hot trend right now (and based on NYFW runways will continue to be one) but it's such a great way to feel and look strong, powerful, polished, sexy, sophisticated. I recently tailored all my old suits to fit the new me and when I put them on all perfectly shaped for my shape I feel like a badass. Plaid suits are the hottest of the suiting trends and I wanted one; when I saw this pink plaid pantsuit from 1901 at Nordstrom I felt it was a good choice. The crazy pink plaid but a classic suiting silhouette felt fun yet cool.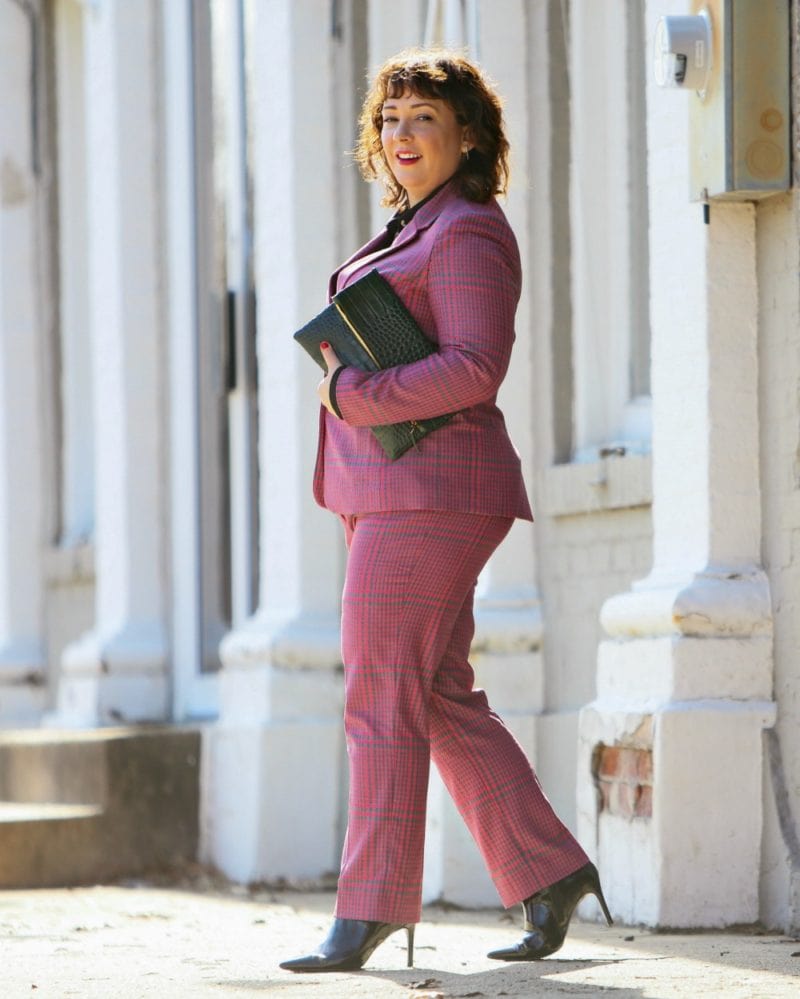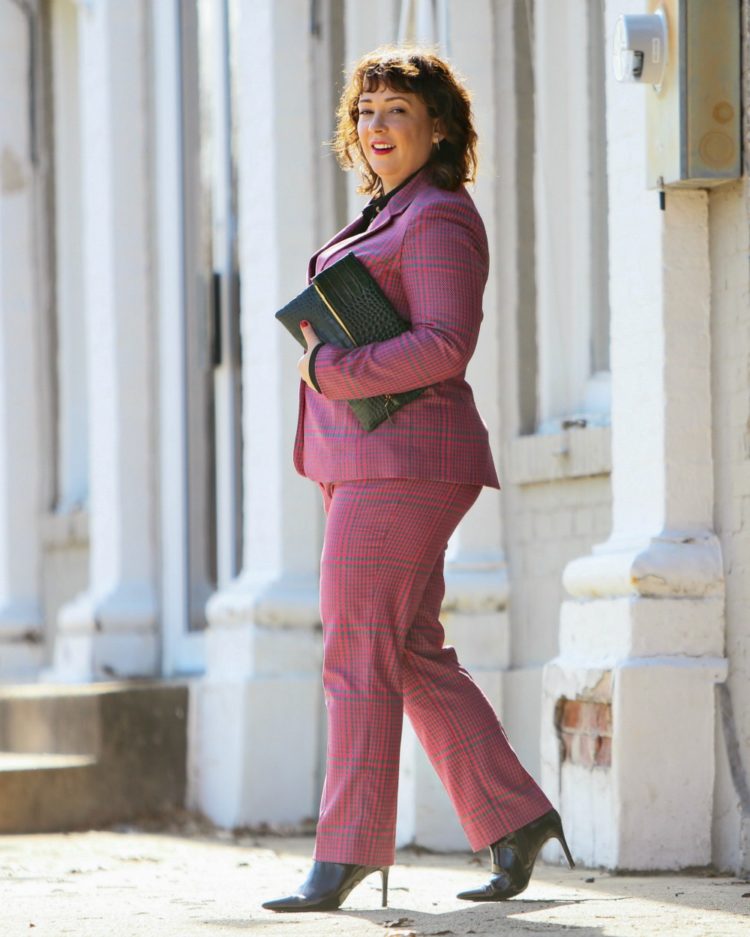 jacket | pants | blouse | boots | faux fur stole | bag | earrings | lipstick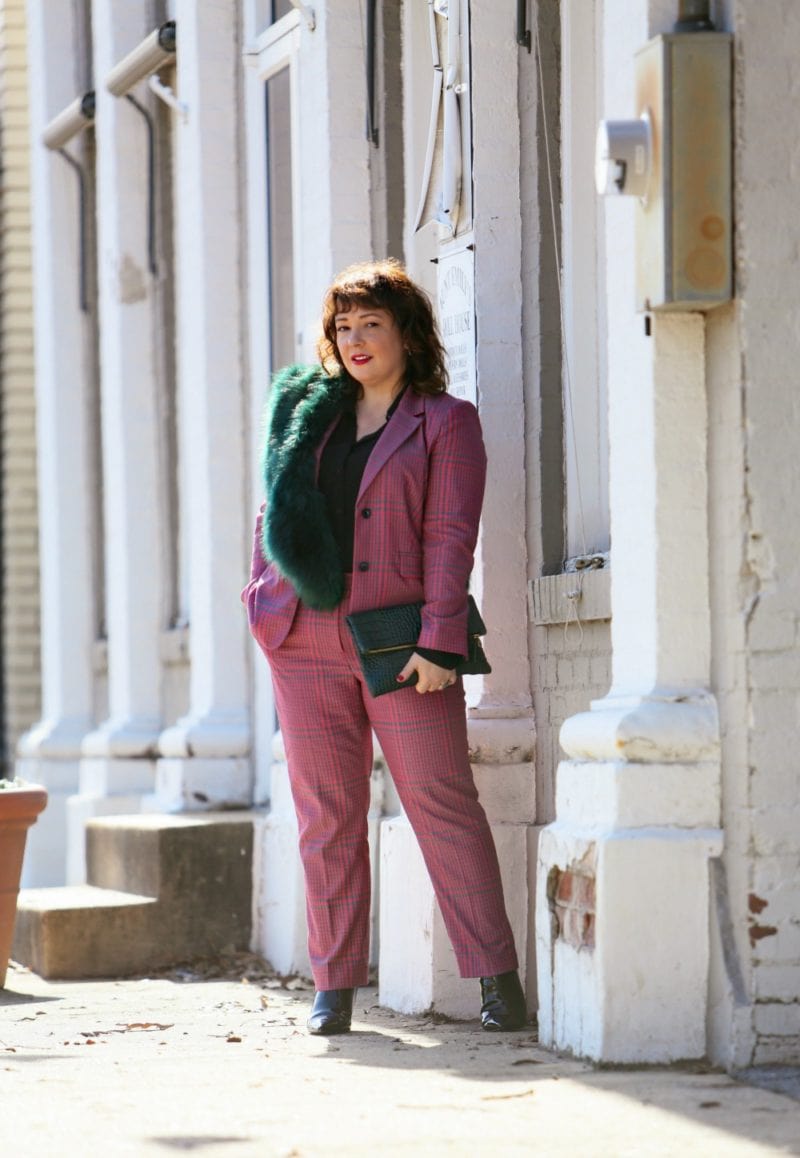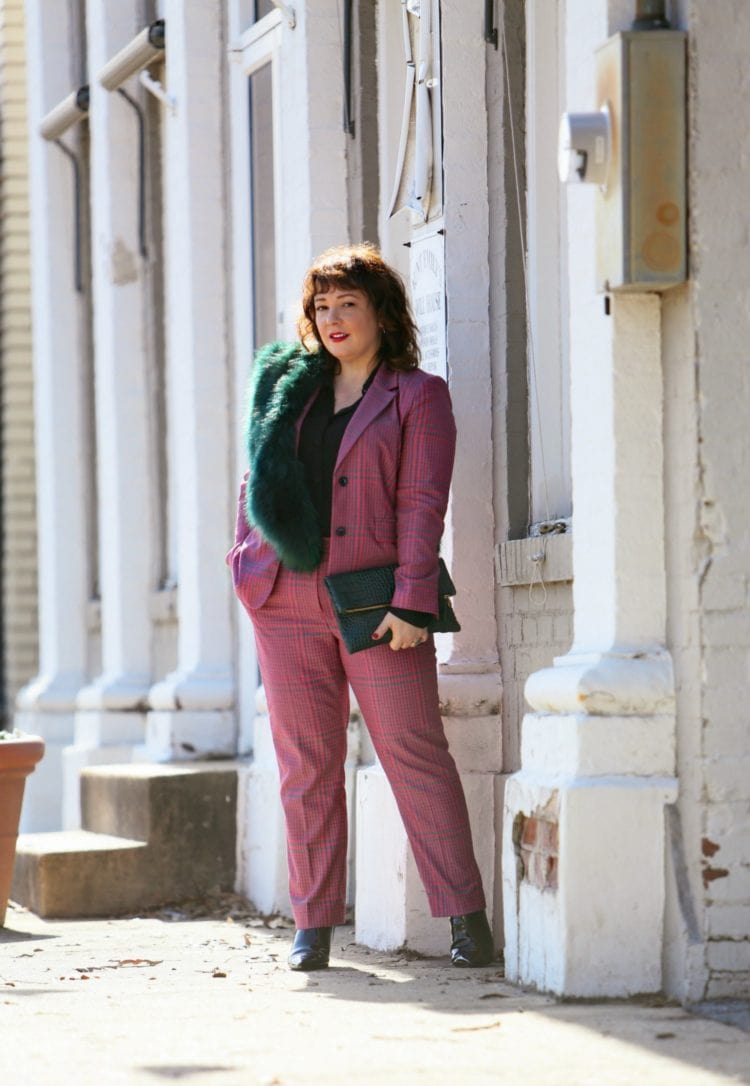 Jacket: 1901 (14P) | Pants: 1901 (12) | Blouse: Ann Taylor (old; similar) | Booties: ASOS (similar) | Earrings: Lovestruck Earrings c/o Jenny Bird | Faux Fur Stole: Sole Society (similar) | Bag: Clare V. (back in stock!) | Lipstick: L'Oreal in True Red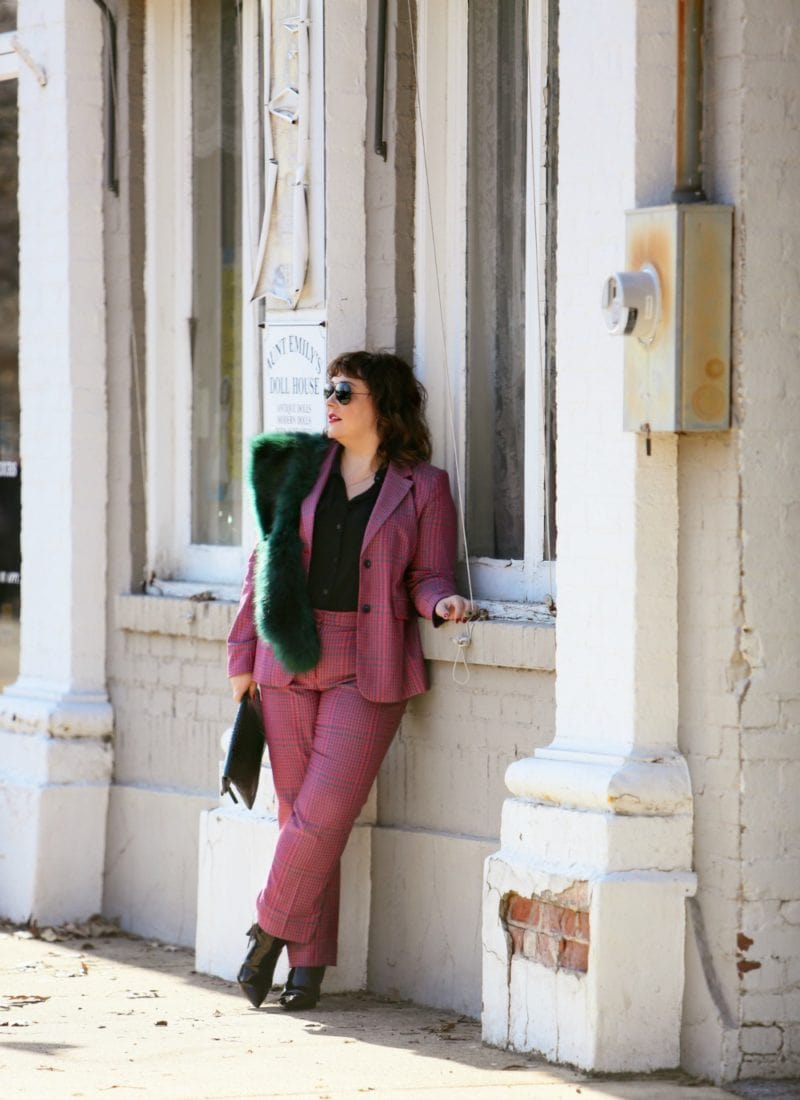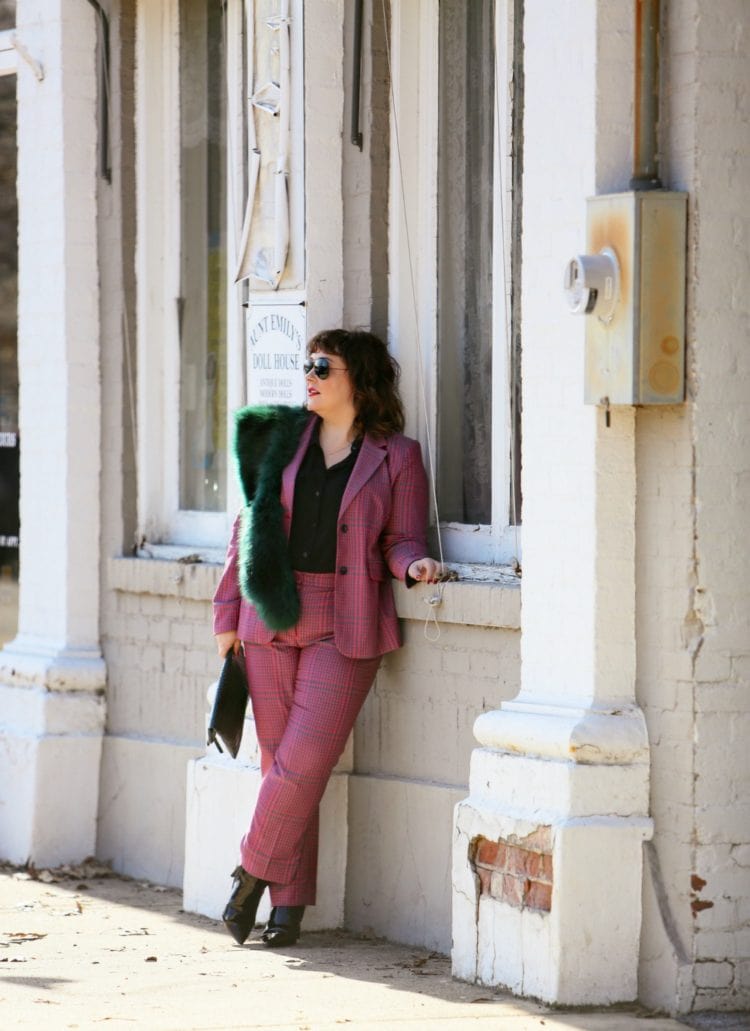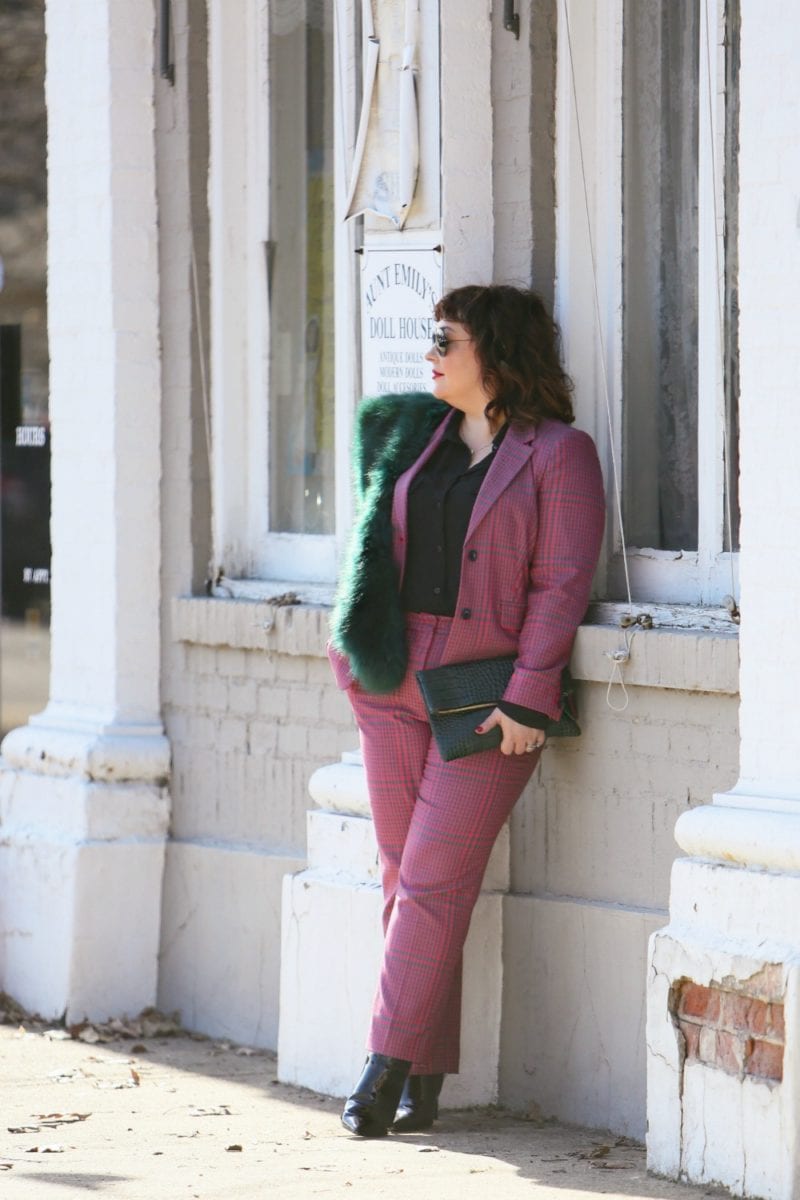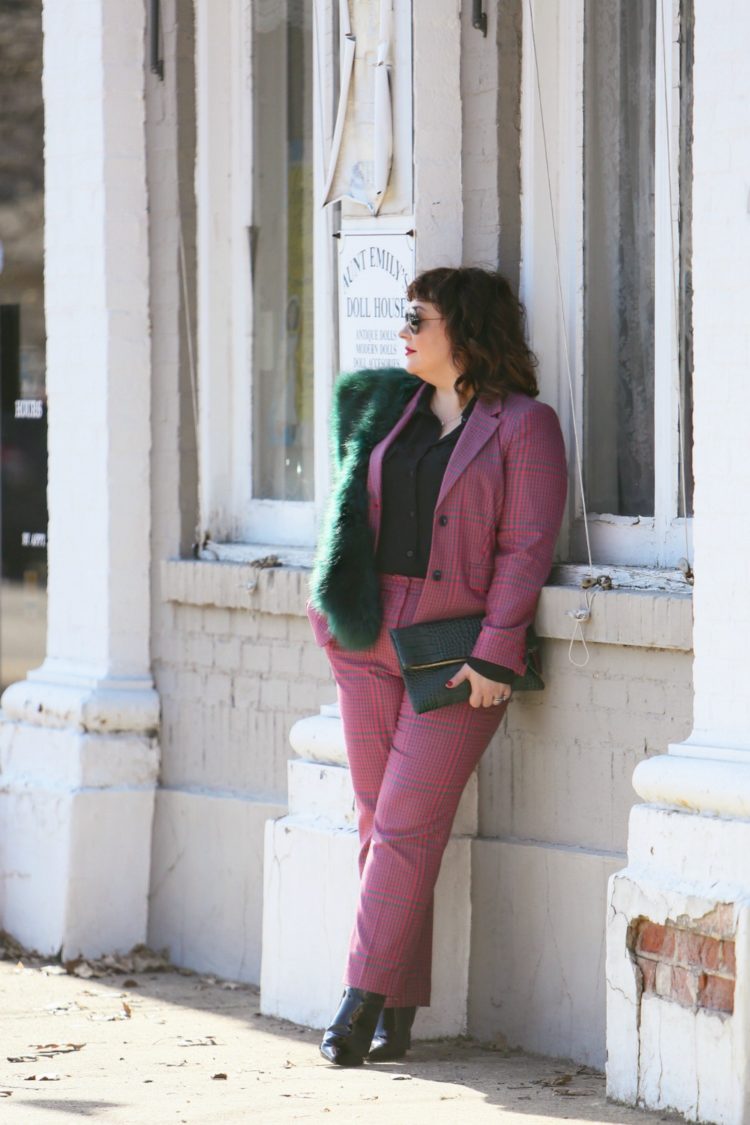 I usually love suits with camisoles; the lower neck I elongates my body, gives a feminine vibe, balances my large bust. But lately it just feels so… typical. And I'm really down with the covered up yet sexy vibe, the masculine made feminine. Similar to how I styled my navy pinstriped suit, I decided to style this pantsuit with a collared blouse with drape and taller ankle booties. This blouse is the one I mentioned in my core wardrobe; it's far too big and you can see in the photos that the sleeves kept sliding down out from the cuffs of the blazer. These boots I've had for a while; even though they were cheap I regularly take them to the tailor to reheel and resole so they've lasted several seasons.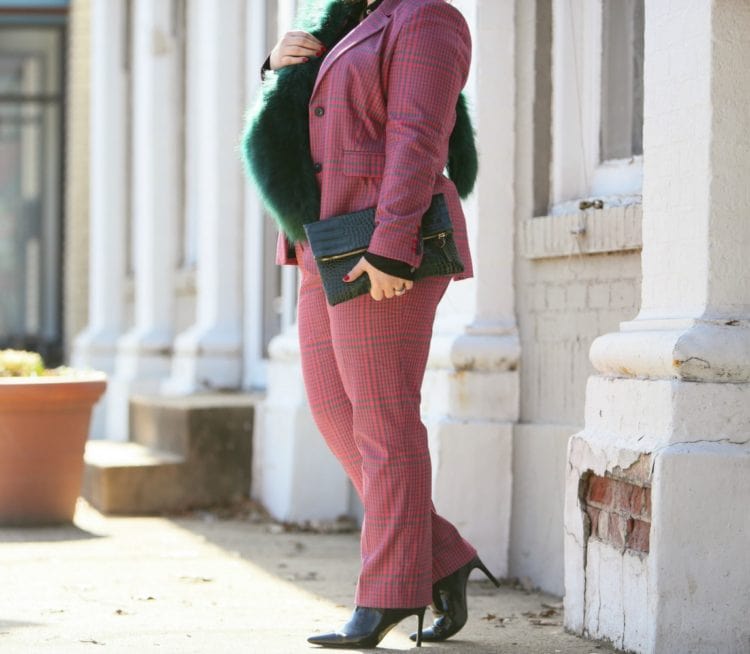 I'll admit the first time this suit was worn was for this photo shoot. It arrived, I tried it on, and wanted to shoot it. I plan on taking it to the tailor; I'm doing that with so much of my wardrobe these days because it really elevates pieces and makes the body look way better. I originally tried this one with pumps and liked the pant length, but now with booties I'm thinking I will shorten the pants a bit. They were sold as ankle-length pants; they didn't have petite so they are long but I like the fit in the rise. I also will shorten the blazer sleeves a bit. Nothing major, but such details make a difference.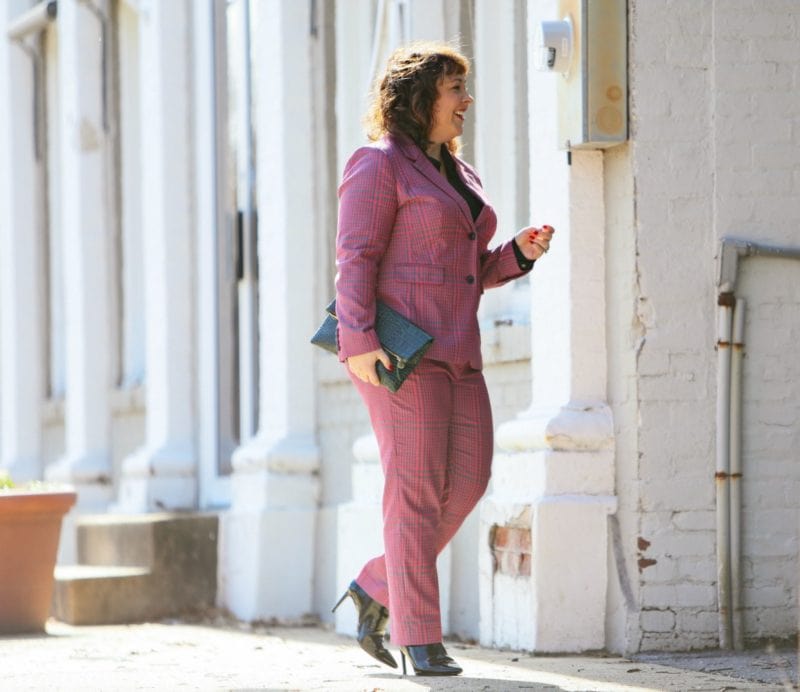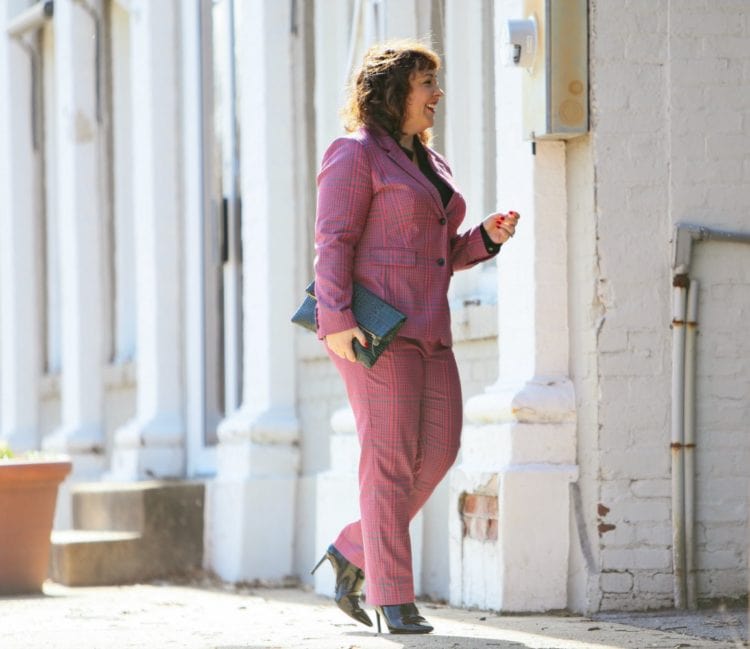 While I styled this suit with black, the plaid is actually green, pink, and a very dark navy. You'd never notice unless you saw the navy jacket lining. I don't think things need to be matchy-matchy and preferred it with black. I think this is the kind of plaid that looks great with other prints; I was considering wearing it with leopard pumps and think a striped tee (not wide stripes, primarily white with narrow darker stripes) would be two great pattern choices. I also would love to wear this suit with a graphic t-shirt and maybe a pair of brogues.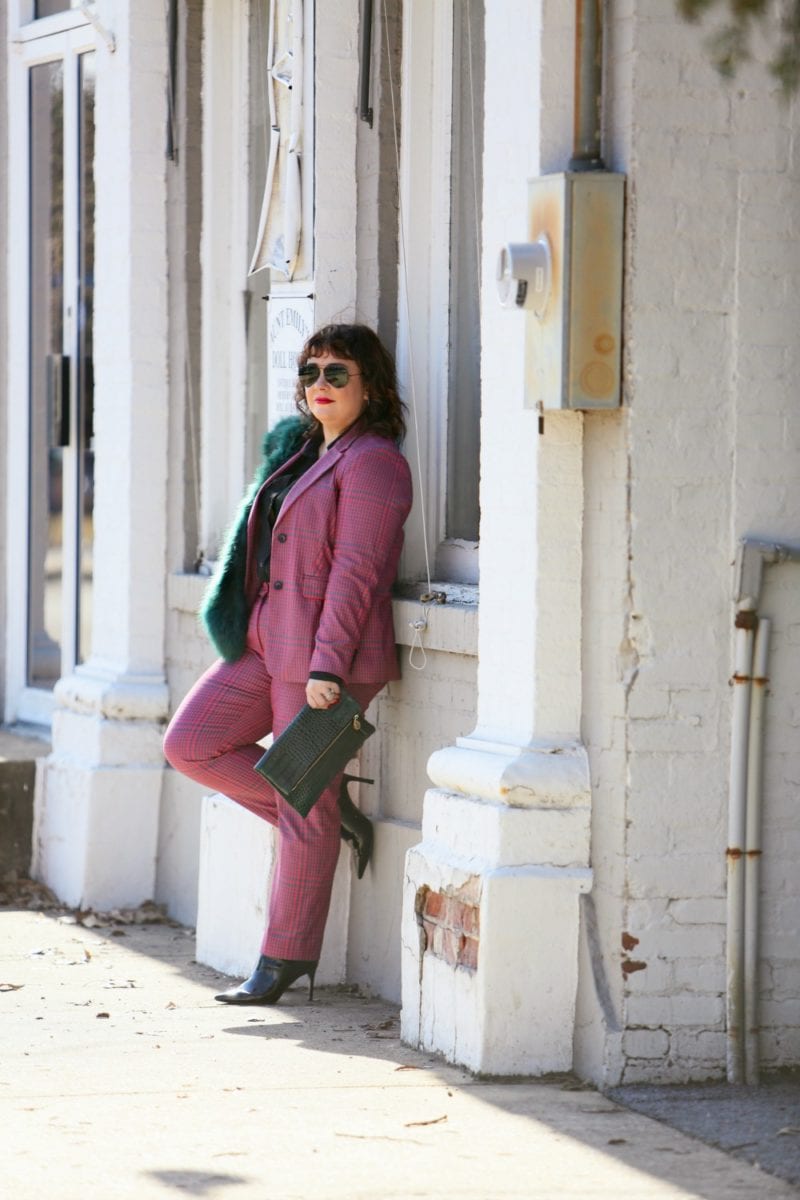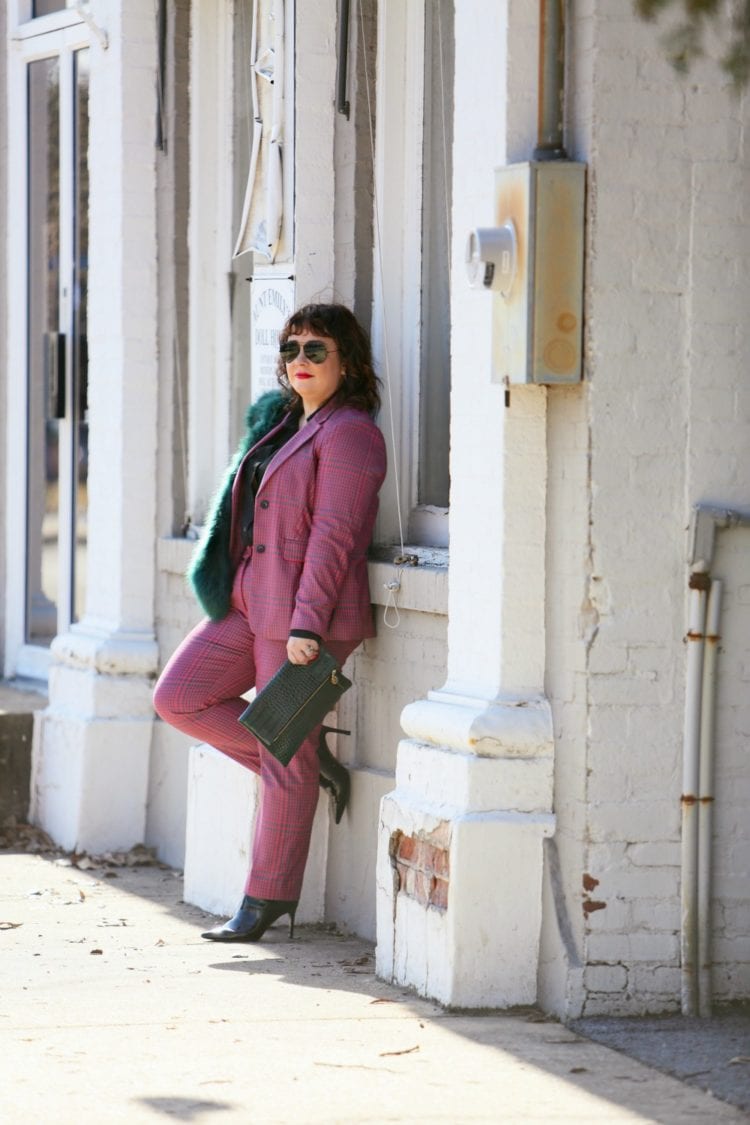 The pieces are also great separately. I saw a promoted Instagram post by Cynthia Rowley that had the most gosh-awful styling, but it did have orangey plaid pants with a pink crewneck sweater that inspired me for a future outfit… maybe a red sweater? And this plaid blazer will look so fresh with a pair of jeans – blue now, and white in the warmer months.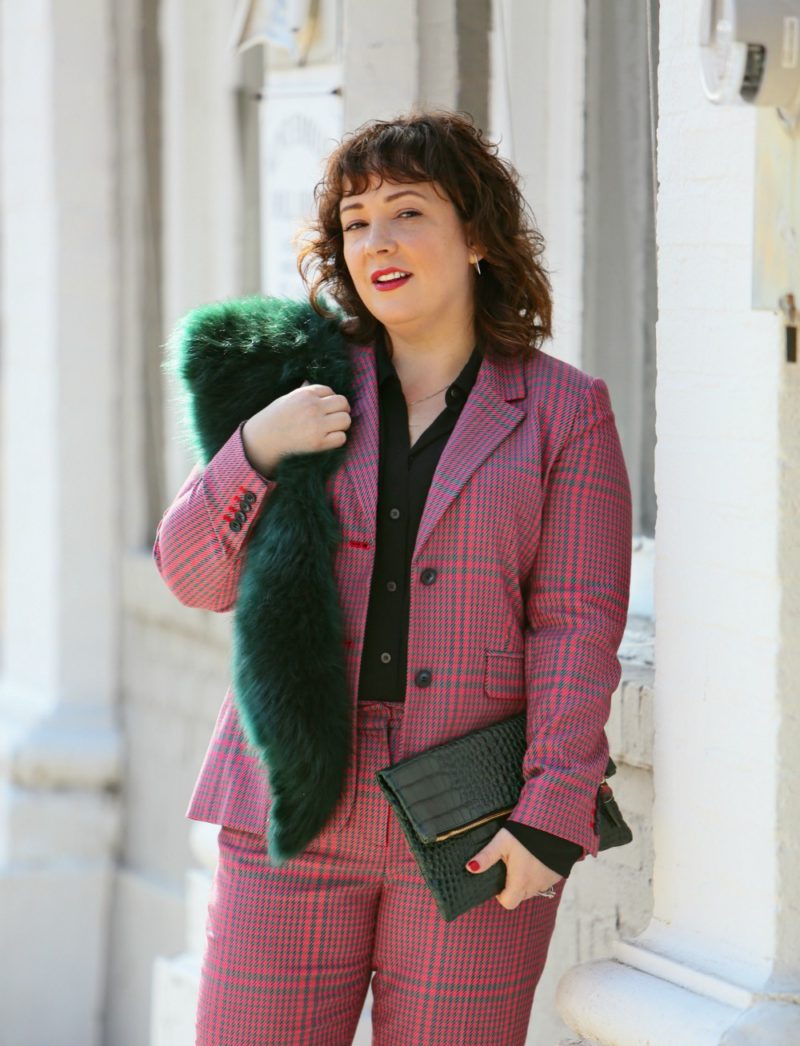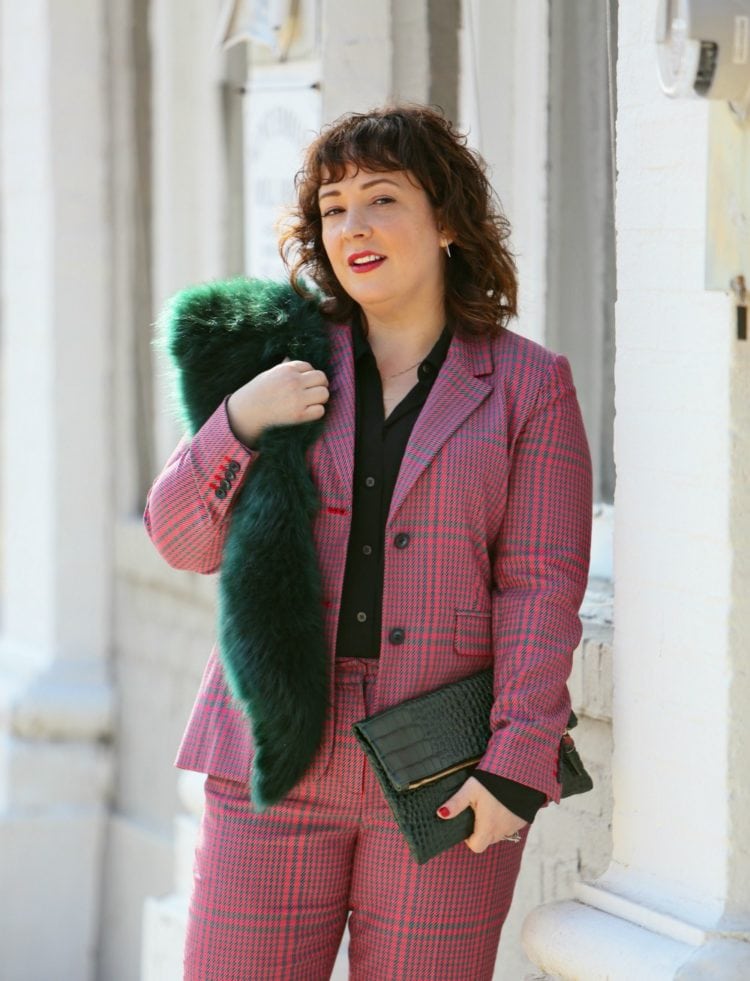 As for the green? I often grab this clutch to wear with items that have no green whatsoever because it offers contrast without being a spotlight stealer (see here with an outfit that has no green in it). When pulling it out of the closet I remembered this stole (seen before here) and thought… why not? Suits are no longer just for the office, in fact they're my favorite thing to wear to parties and events. They're more low maintenance than dresses or jumpsuits – plenty of pockets, easy to use the facilities, work with low shoes and normal bras, you don't even need to shave your legs!
Shop the Look: