This article may contain affiliate links; if you click on a shopping link and make a purchase I may receive a commission. As an Amazon Associate, I earn from qualifying purchases.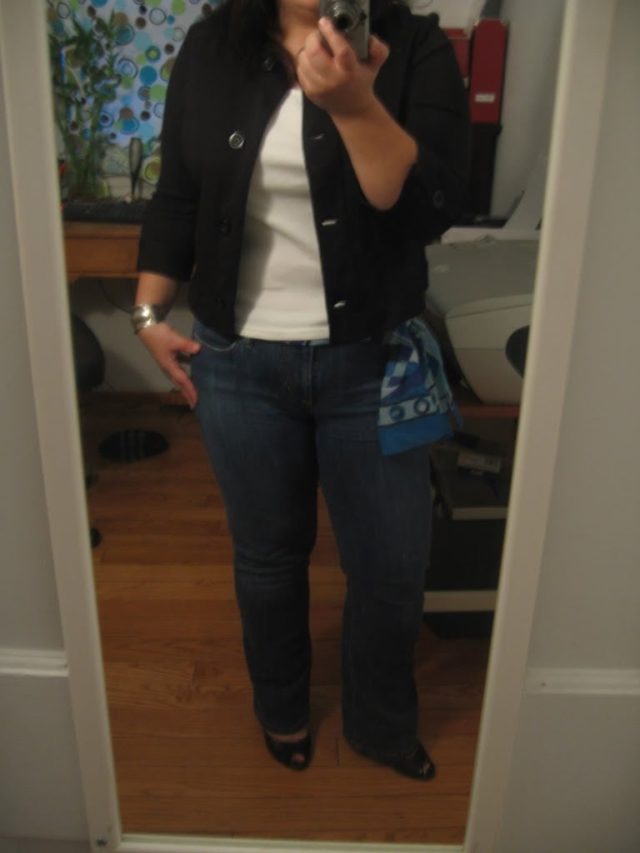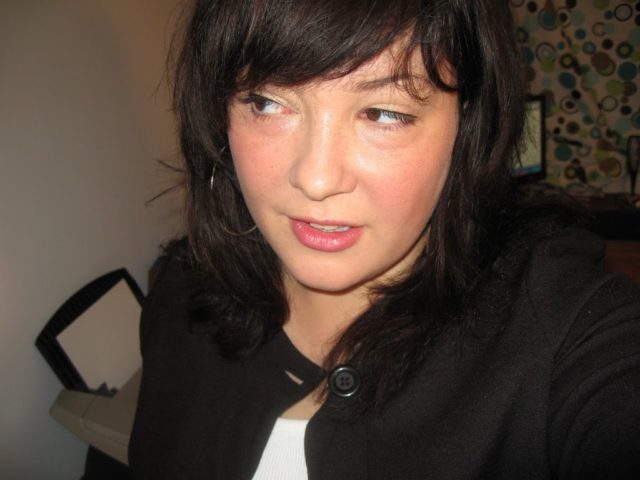 White ribbed tank from Old Navy, black ponte de roma knit jacket from Banana Republic Outlet, Joe's "Provacaeur" jeans, black croco peeptoe heels from BCBGirls, blue Pucci-esque printed chiffon scarf from Express (pulling out the old accessories, ya'll!), silver hoops and cuff.
I hardly ever get rid of accessories; they always seem to come back in style and take up so little room. I know I haven't photographed my closet yet, but I am telling you it is SMALL. Like size of most coat closets small.
There's a bar that is maybe five feet long, and then one on the side wall that is probably 3 feet long. An L-shaped shelf above these bars… oh and did I mention the left wall that has the smaller bar is slanted because it is over the stairs? Yeah, so it can only hold short stuff. And I share this closet with my husband who lives in button-downs and polos and dress pants for his job, and can't handle putting any of these items in a drawer. So I have about 3′ total of bar space, and one of those canvas thingies you can hang on a bar that has spaces to fold items or put little canvas drawers. Two drawers are dedicated to scarves, shawls, wraps, bandannas and the very few pairs of legwear I own. One shelf for hats/visors/caps, one for things I only wear on vacation (actual pajymas, bathing suits, sarongs, beach coverups, etc.) and one that holds small purses and clutches. Then my 3′ of bar space holds garments nicely monkey-hung and then I have one hook that has a large belt/tie ring off it, holding all my daily purses and belts. On a shelf is a box with the rest of my belts (I have a ridiculous belt collection even though I never wear them. Back in the late 90s/early 00s I wore belts almost daily – very Express Chic), and on the floor are shoe boxes with my special occasion shoes and a large tote holding all my canvas bags and totes. In the office closet (which is shelves holding books and a space to hold the vacuum and ironing board) is an over the door canvas shoe rack holding my daily shoes, and flops and sneaks are stored in a Rubbermaid storage box on the deck.
Anyway, after this rambling my point is I have very little fashion real estate, yet I keep accessories because they rarely go permanently out of style and are a quick way to jazz up basics. And this scarf I have owned since… I believe it was 1999 when this collection was in Express.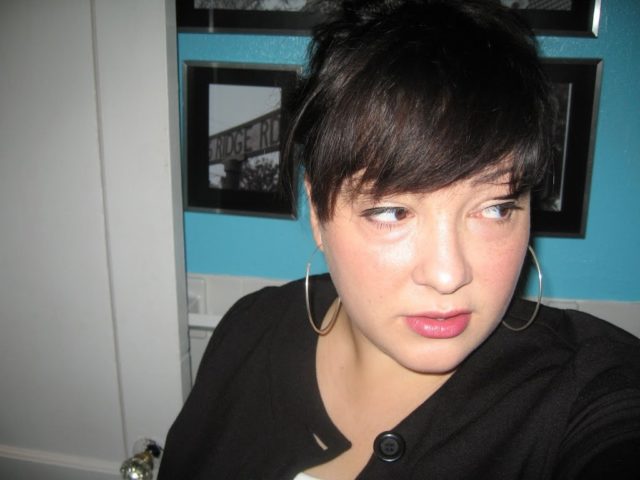 To the hair – figured second day, would be fine. Notsomuch, woke with a greasy scalp and looking a bit like a Ramone. Didn't budget time for a full hair washing and drying, just a quick shower so I used very little shampoo and tried to keep it on the roots, got out, put in some Jonathan Silky Dirt while wet, and dried super fast with my dryer and a paddle brush. And above is the result. Needless to say, I still felt very Ramones-esque and the hair was thrown up into an updo. Here's another shot of my itty-bitty bathroom (and a good "thin line of Maybelline UltraLiner" shot)!
Makeup is L'Oreal true Match concealer in W4-5, philosophy's The Supernatural foundation in Beige, Nars blush in Orgasm, Pop Beauty's shadow set for brown eye s- the beige and yellow blended and put over the whole lid, lashes curled and DioShow in black applied, thin line of Maybelline Ultra Liner in black, L'Oreal Color Juice Stick in Berry Spritzer.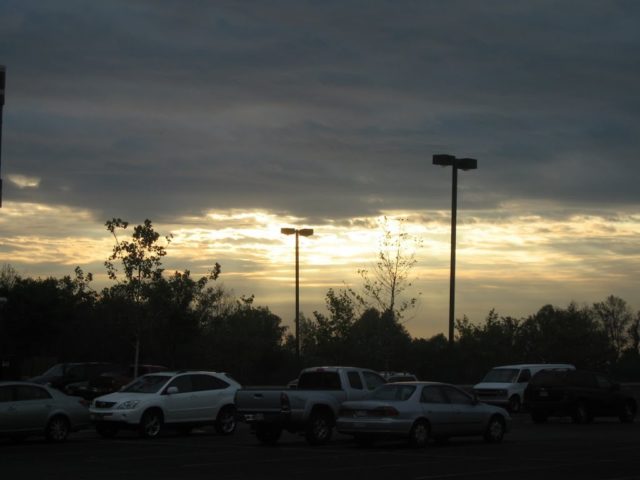 Early day – got to work around 7:45 and got to see this beautiful sight in the office parking lot.
Just wanted to share one of my favorite things – Stride's Forever Fruit gum. I don't like mint gums – they sting and I am allergic to artificial cinnamon flavor (blisters on the tongue, not a pretty sight). So I love the fruit flavors, and am glad that they have been making a comeback.
Well this morning, I ended up running late due to the extra minutes for the hair, and didn't have breakfast. So got to work, had coffee and a 100-calorie pack of popcorn to get through until lunch and then an hour later, had the raunchiest taste in my mouth from that combo. Leaned over to grab my purse and my Stride pack and found…
THIS! Ack! How did this happen, I always have a full pack – the hubby must have raided my stash again. Shall be stopping by the grocery at lunch time!