This article may contain affiliate links; if you click on a shopping link and make a purchase I may receive a commission. As an Amazon Associate, I earn from qualifying purchases.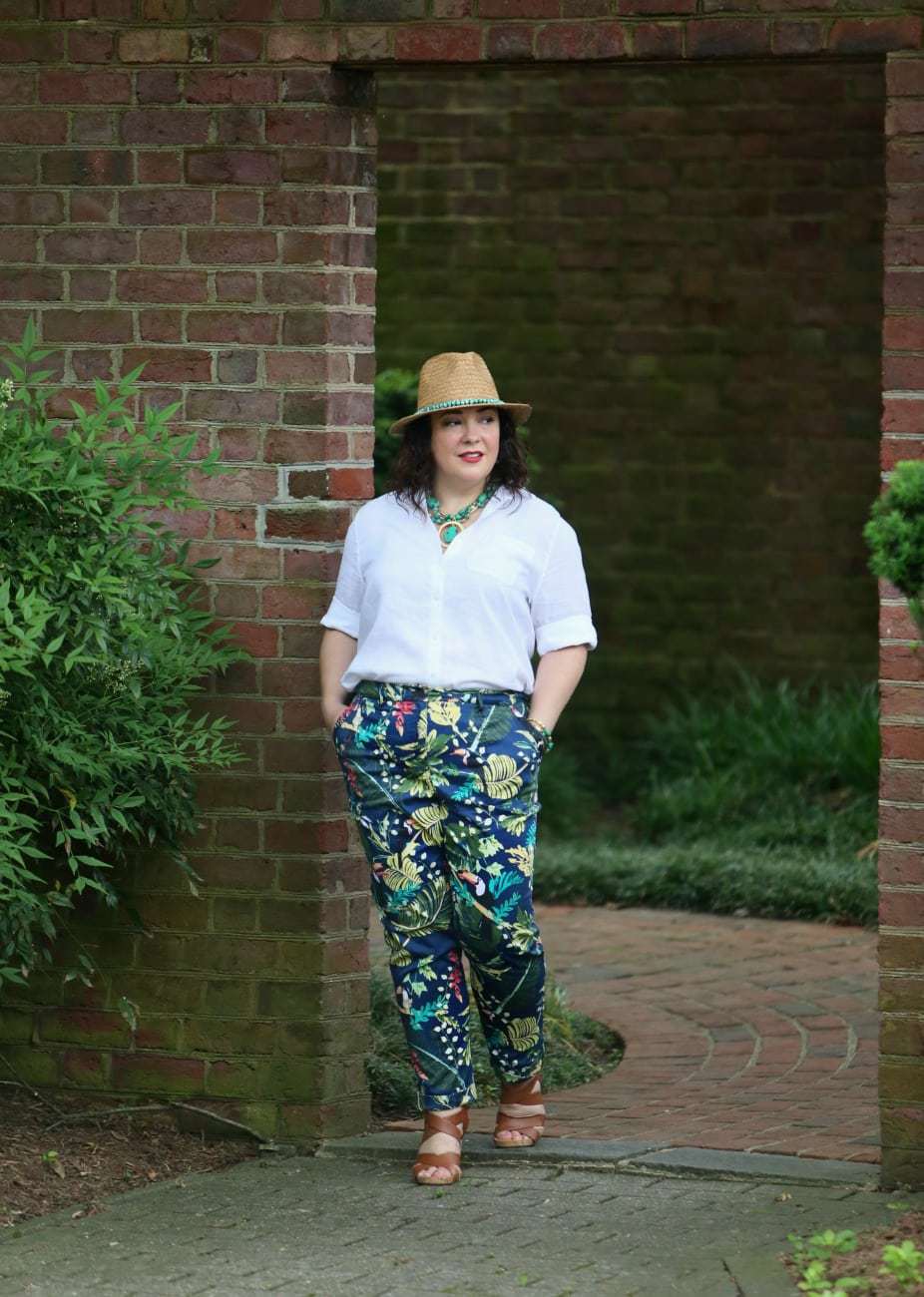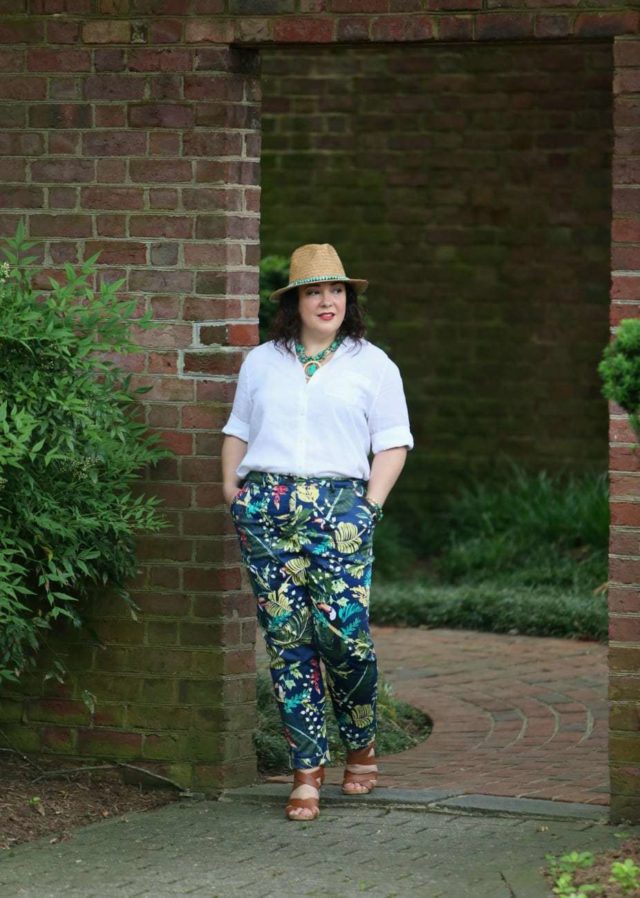 In the Wardrobe Oxygen Community, Diane mentioned Chico's no-iron linen; she and Christine asked me to try it and do a review. Your wish is my command! I reached out to Chico's and they sent me three of their No-Iron Linen shirts – one in stripes, one in white, and one in hot pink. I've washed them, I've worn them tucked in for long days in the heat shoved into tight jeans, washed them again before sharing my review. Does wrinkle free linen really exist?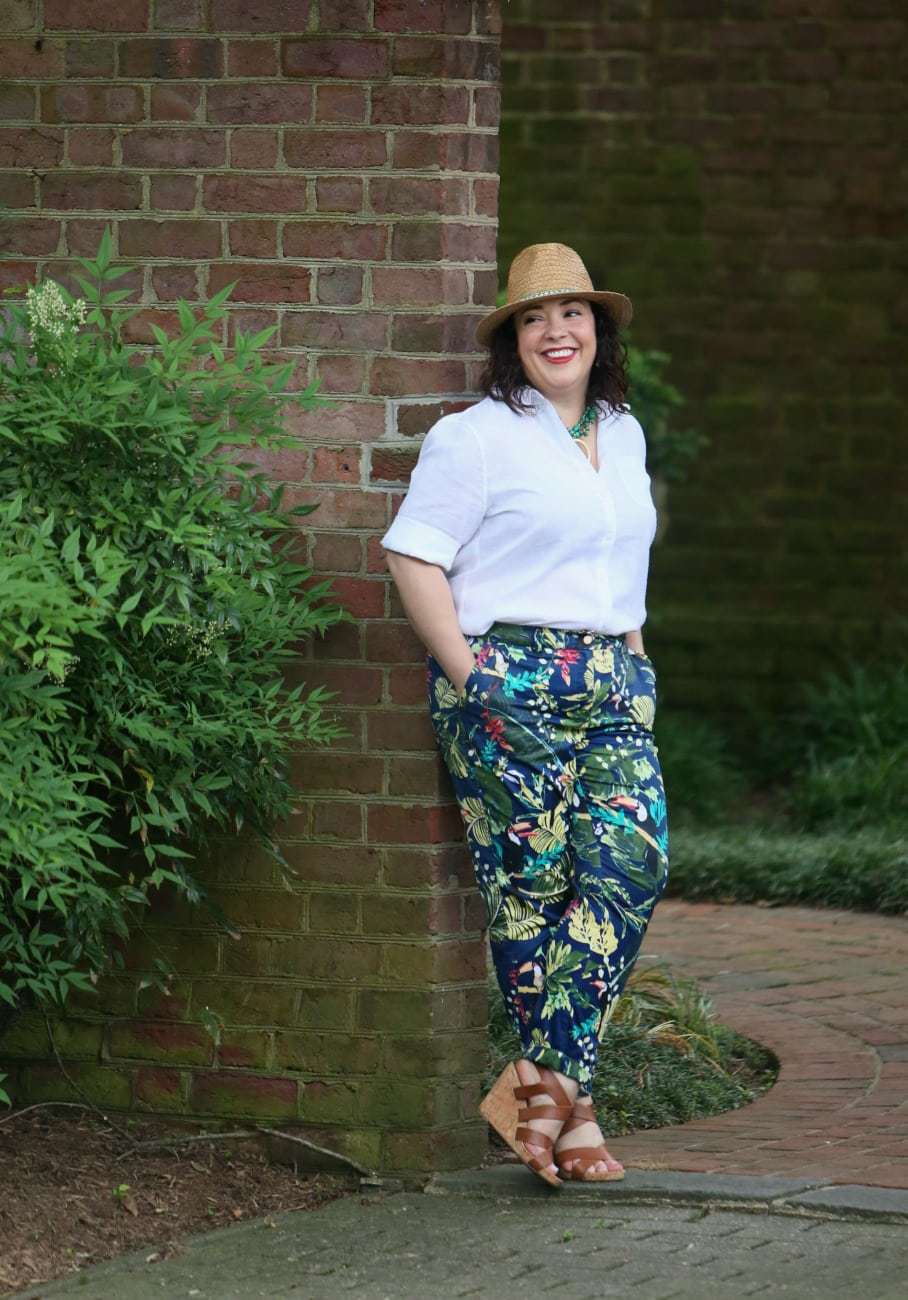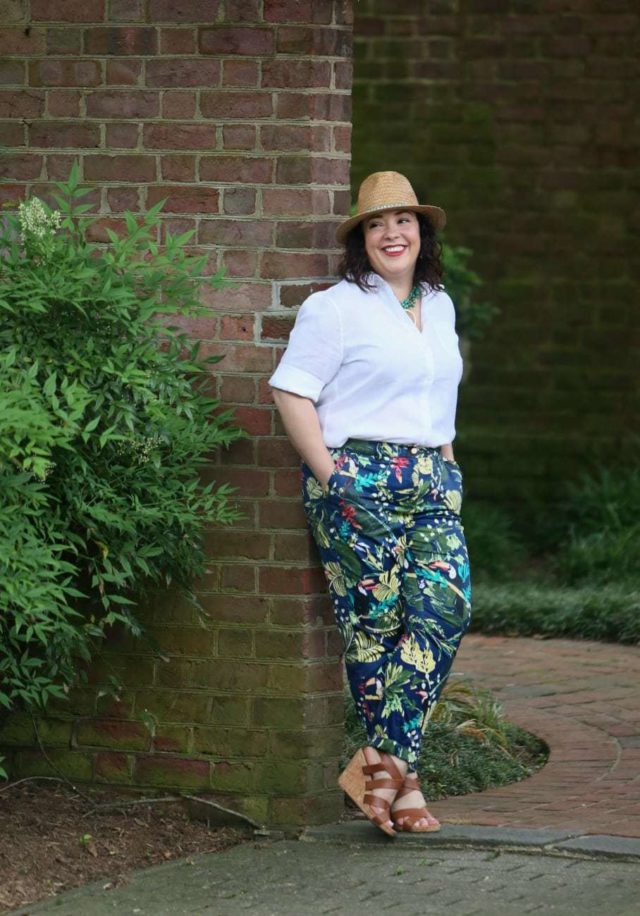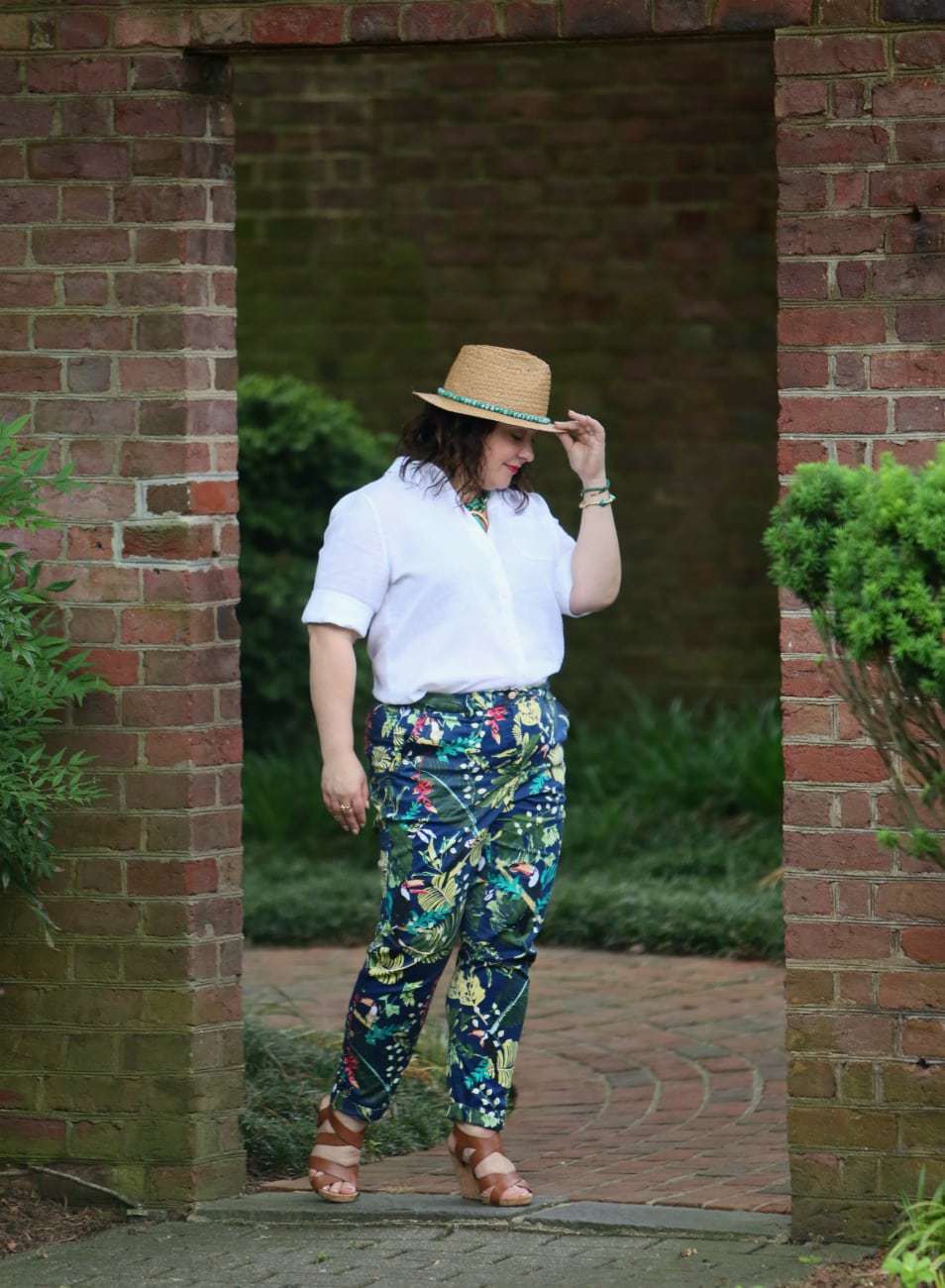 Shirt: No-Iron Linen Shirt c/o Chico's (2) | Pants: Comfort Waist Utility Crops c/o Chico's (2P) | Hat: Beaded Fedora c/o Chico's | Necklace: Green Stone Circular Pendant c/o Chico's (sold out; similar) | Bracelets: Green Stone Stretch Bracelet c/o Chico's (sold out; similar), Beaded c/o Lifetherapy (old), Metal Marvels | Shoes: I.N.C. Strappy Wedge Sandal c/o Macy's (previously seen in this post)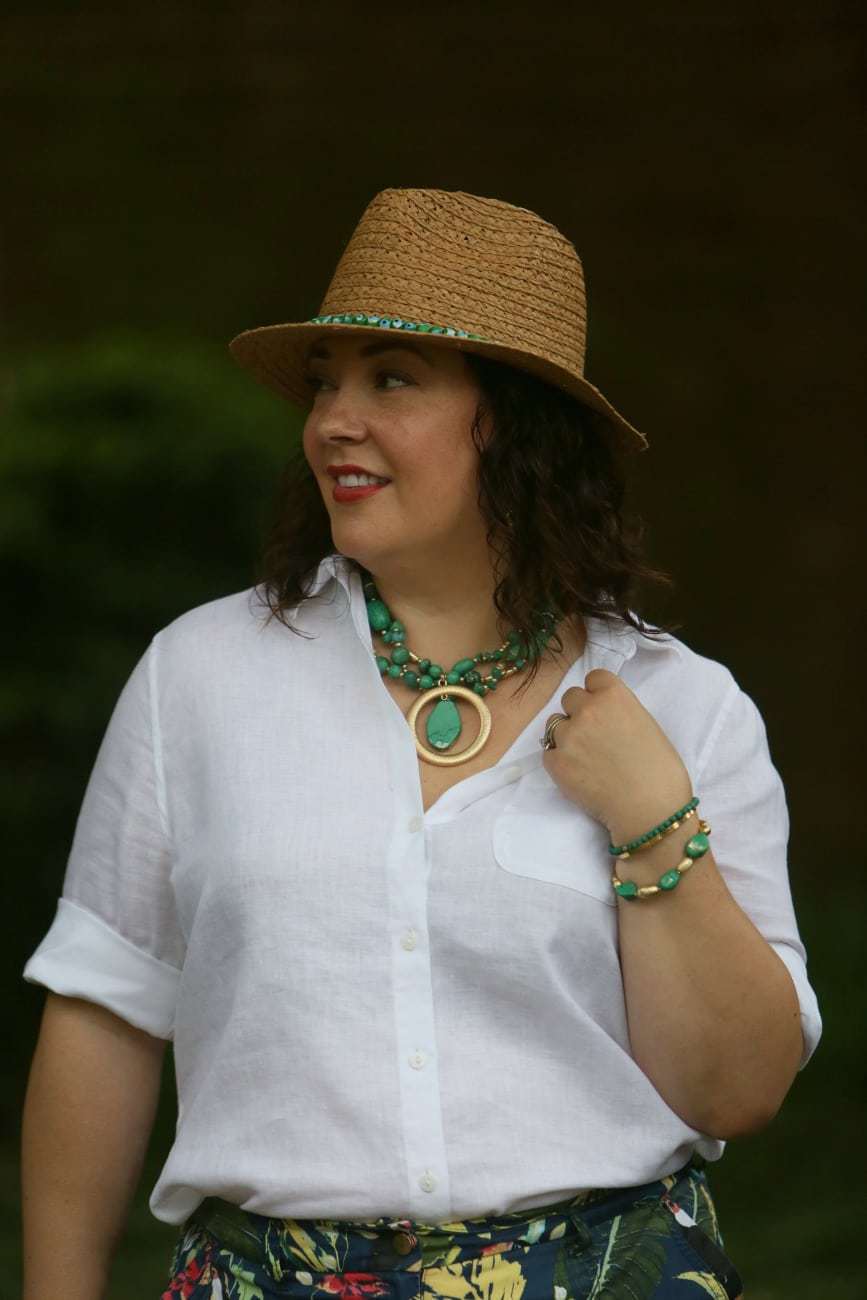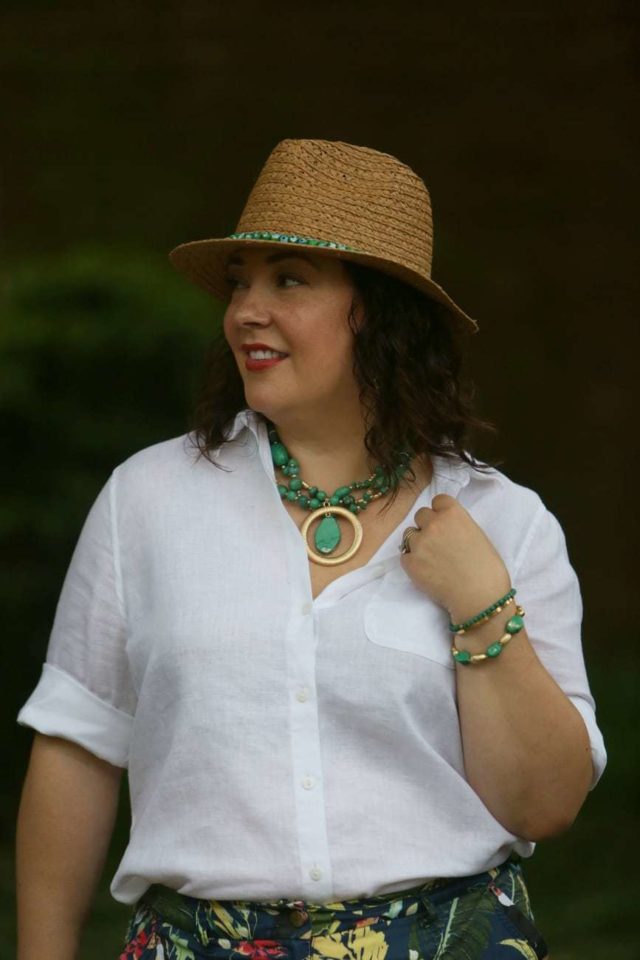 I chose to feature the white because white linen is usually as opaque as Saran Wrap. This shirt is not; I do have a nude T-shirt bra on underneath but it's a good opacity that would make this top appropriate even for the workplace. And speaking of which, linen is something I usually find a no-no for the office (too rumpled) but this one could work. The night before this shoot, I washed the shirt with other white items and threw it in the dryer. And then I left it there overnight. The next morning I yanked it out and threw it over a dining chair. I then put it on, tucked it in, and did work for about an hour until Karl was ready to go do this shoot. No iron, no steamer, no Photoshop, this is how good the shirt looked. Oh, I also find it just as cool and comfortable as normal linen (these photos were taken on an incredibly steamy hot day).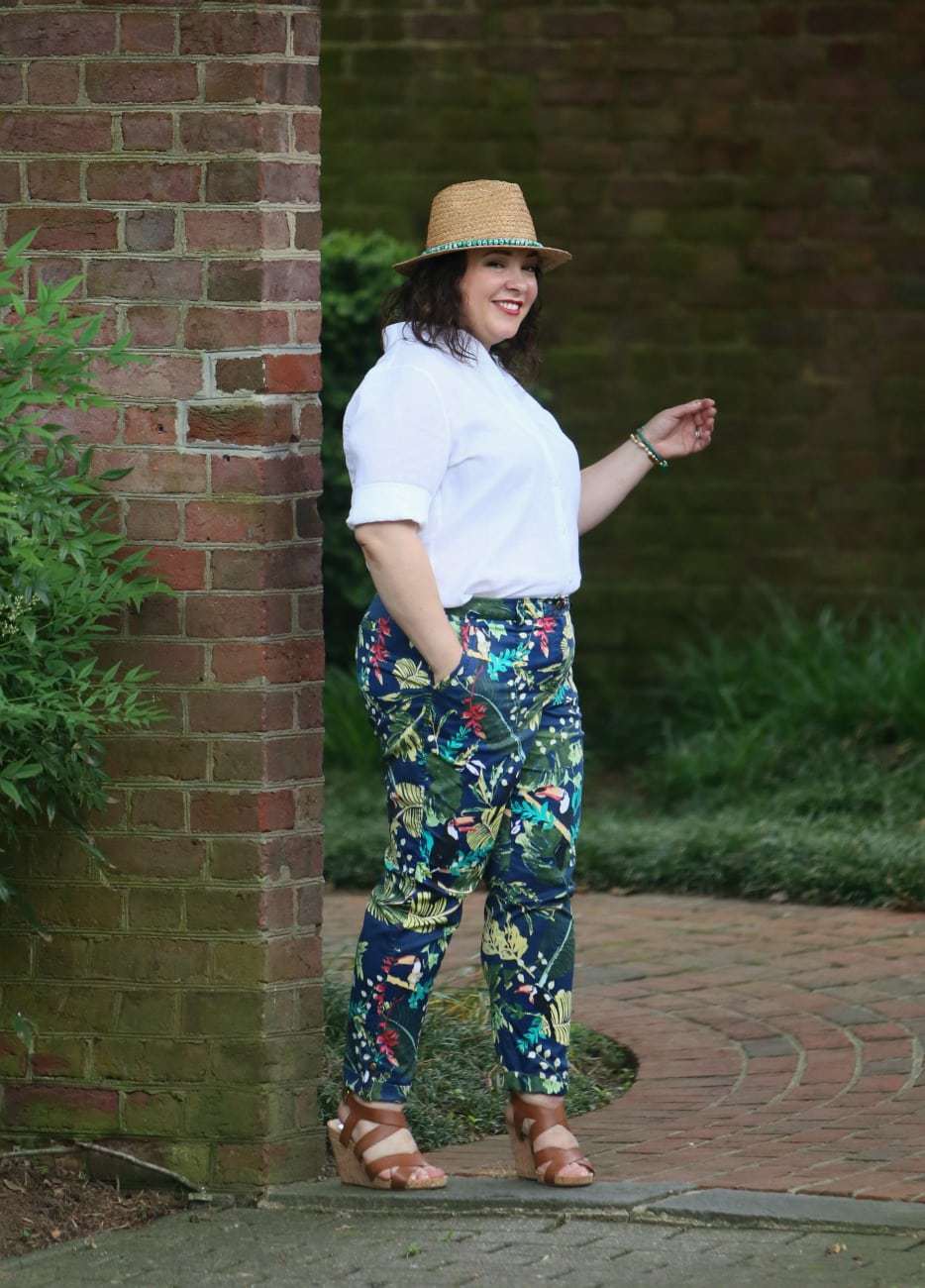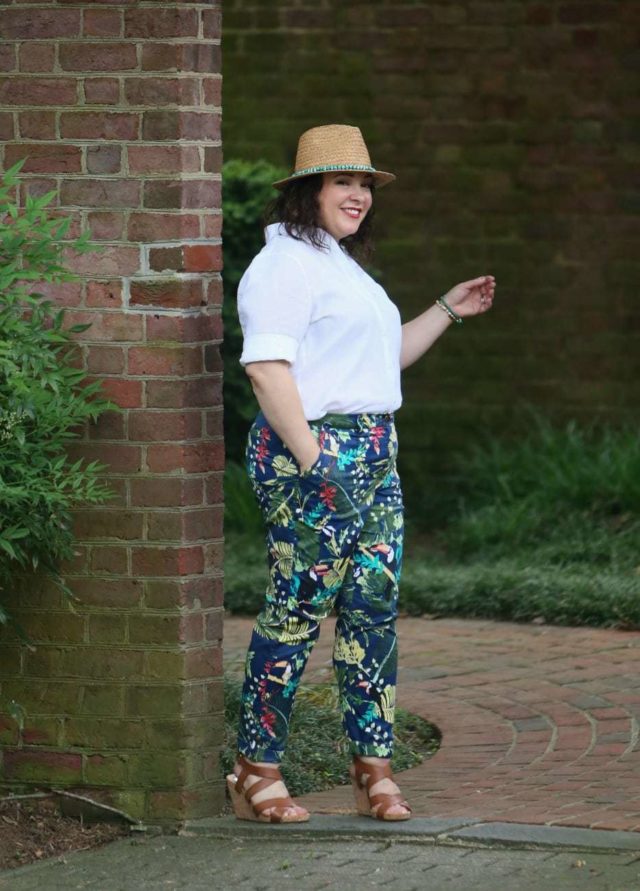 As an FYI, the stripe and bright colors also washed nicely. No bleeding, no fading, and they came outthe dryer crisp and ready to wear. I got those in a 2.5 as I am usually a 14 in shirt but found them too boxy for my taste. I got the white in a 2/12 and am happy to find that the fit is more to my liking and there's still plenty of room for my bust. The buttons hit at a nice place – no bra showing but still a flattering v-neckline.

Speaking of neckline, how awesome is this necklace? Talk about making a statement! Chico's makes some of the coolest jewelry, I've shared a few of my favorites above.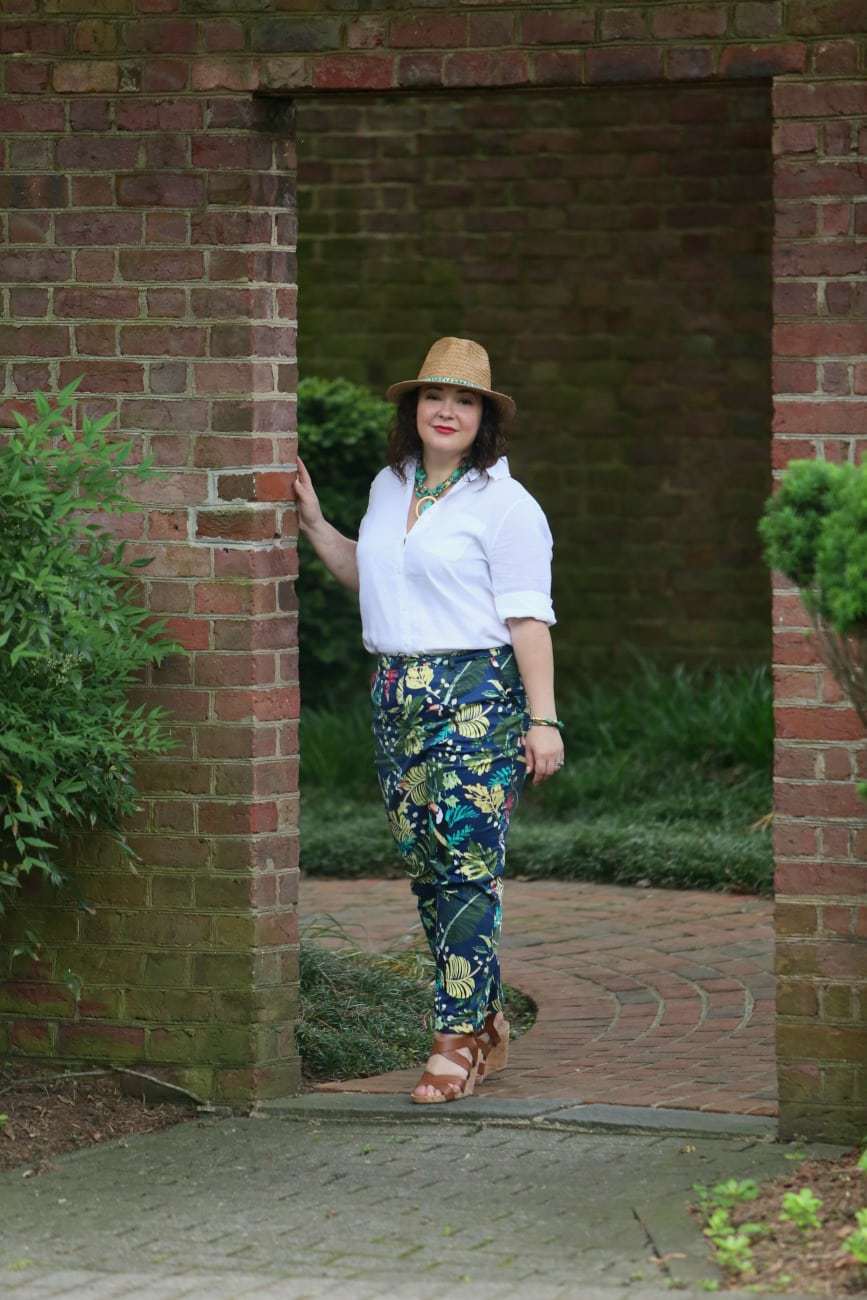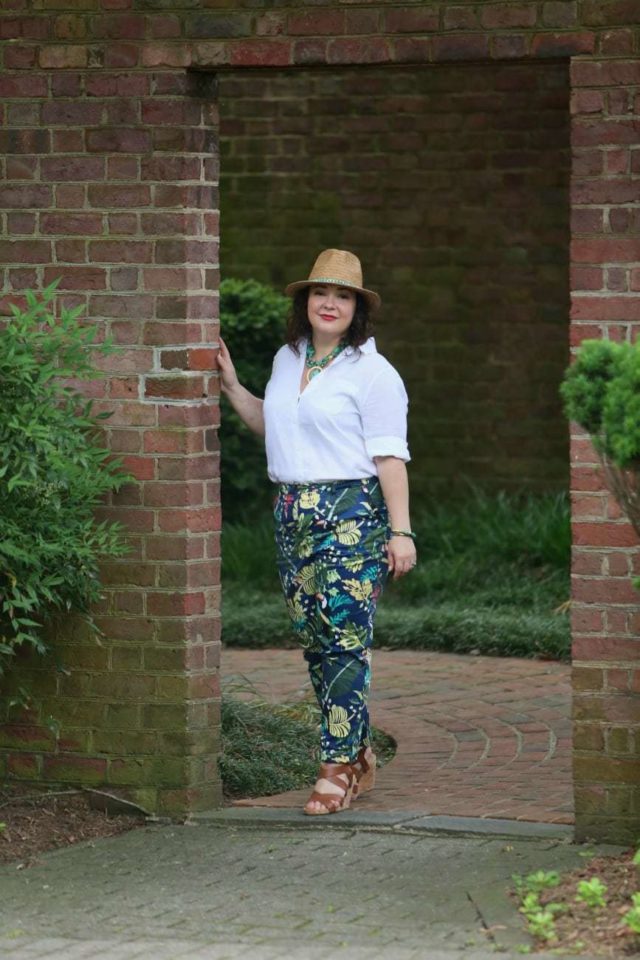 These pants are from Chico's Comfort Waist collection. The fabric is a cotton/nylon/Spandex blend that is soft, not too heavy, and stretchy. There's also hidden elastic in the back of the waistband. Seriously, you can't see it but you can feel it as these pants stay at your waist, don't dig, and hold up all day. The pants do stretch out a bit, but not in the pants falling down/I look like I'm wearing a diaper/I have a saggy bum way. Mainly in just not being too tight in the legs/if you're in between sizes size down sort of way. These too I washed and threw in the dryer and they handled it great.