This article may contain affiliate links; if you click on a shopping link and make a purchase I may receive a commission. As an Amazon Associate, I earn from qualifying purchases.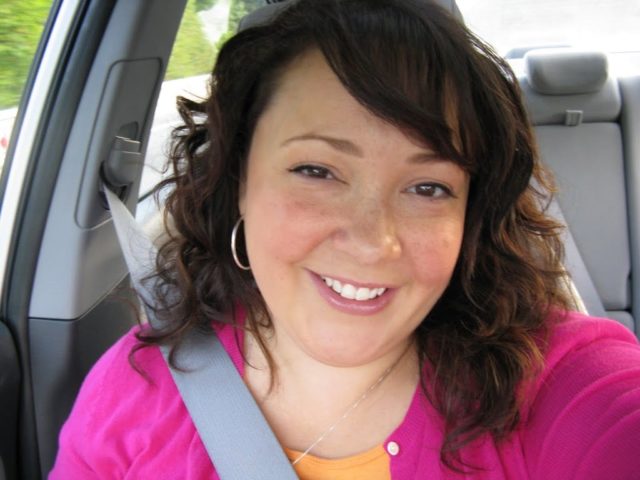 Attire:
Old Navy – Tangerine puff sleeve tee
Gap – Hot pink super fine cardigan, white low-slung flare trousers
Born – Orange leather thong sandals
Silver jewelery
Hair:
Next day, just did a light brushing with wood-bristle brush
Smoothed bangs with round brush and dryer (haven't mastered the bangs yet)
Tiny bit of Jonathan Silky Dirt
to finish
Beauty:
Burberry London Eau De Parfum
(I always forget to post my fragrance!)
Estee Lauder – Nutritious Vita-Mineral foundation
in Intensity 3.0; pink and gold shadows mixed together froma GWP compact I recently received
Nars – Blush in Orgasm

Cover Girl – LashBlast mascara in Rich Black
Maybelline – UltraLiner in Black
Benefit – Her Glossiness in Next Question Please (but applied pre-breakfast)
I am between a 14 and a 16 in these pants. Some days, the 14 fits like a dream, other days it's a bit snug and I feel more comfortable in the 16. Think it's all about how comfy I want to be and how much sodium or caffeine was consumed the day prior. These are the 16s which you can see look a bit slouchy/lumpy. Had another tough night with Emerson so I wasn't feeling like fitted trousers today or anything that required work or restriction.
I am also between petite and regular – the petites are fine until they are washed. I had this happen with a black pair and a khaki linen-blend pair thought it was because they went in the dryer. Nope – the white ones were air dried and still shrunk up a good half inch. So now I have a collection of too-short chinos. Fab. These are the regular length and I hemmed them myself the same amount as the hem (so could easily be dropped back down if they too shrunk in the wash). It's frustrating because my goal was to have the petites for flat shoes and the regulars for shoes with heels. Oh well, that's what you get for clearance trousers…
FYI: The lovely Boutique Girl is offering a very fun giveaway at her site – Things a Boutique Owner Sees. Head on over there and enter – you may win one of three pieces of jewelery. Contest ends this Friday. If one of you wins, you will HAVE to let me know! 🙂