This article may contain affiliate links; if you click on a shopping link and make a purchase I may receive a commission. As an Amazon Associate, I earn from qualifying purchases.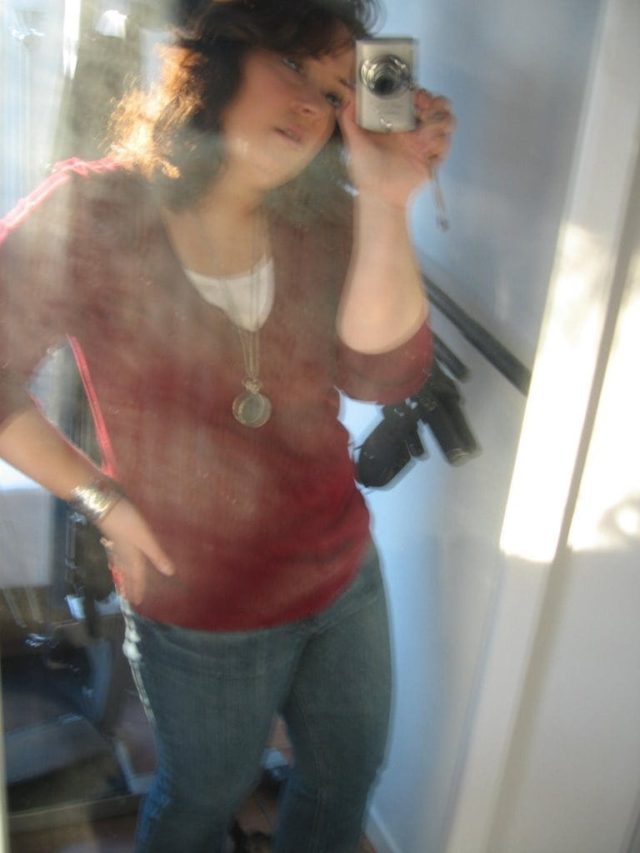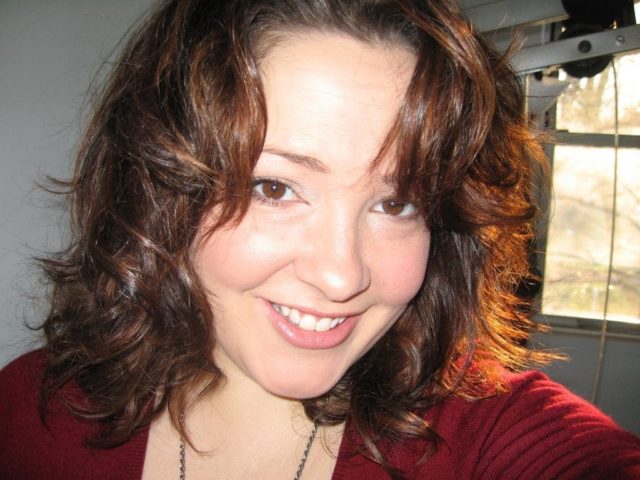 As you can see from the picture, it's sunny out again. Still warm, no need for a coat!
Sort of ran late today. Woke up at 5:30 for yoga, did the quick shower, the contacts, the brushing and flossing of the teeth and application of a bit of Suave Professionals Healthy Curls mousse. Then the yoga instructor called to say she was sick and cancelling. I decided to get back into bed, snuggle with the hubby and enjoy an extra hour of snoozing.
The alarm went off, I hit snooze…. must have hit it five times. Hair had completely dried and was a frizz-ball. Company potluck today and i didn't make anything. Suddenly in a tizzy. I curled what I could on my head, used some Biosilk to tame other pieces, ended up curling almost the whole head to make it look less Bon Jovi circa 1988 and more now. I thought it turned out okay, but these pictures make it look a bit like Leif Garrett back in the day and still frizzy. It is still frizzy – I ran to the grocery to get some pasta salad from the deli for the potluck, came back to the office and my hair is a ball of fuzz. I resorted to rubbing some hand cream (Philosophy's Lemonade) on my hands and then over my hair ( I feel like a Sunsilk ad!). And WOAH does my forehead look big! i need a haircut STAT!
Outfit is tissue-weight merino v-neck from J. Crew in Black Cherry, white ribbed tank also from J. Crew, Curvy Bootcut jeans from Gap, teal suede wedges from Seychelles, silver dangle earrings, cuff and then my pocket watch necklace from Ann Taylor Loft.
Makeup is L'Oreal True Match foundation in C3 and concealer in C1-3, Smashbox Soft Lights in Tint, Nars blush in Orgasm, Sally Hansen Diamond Lipgloss in Champagne Toast, Revlon ColorStay shadow quad in Neutral, L'Oreal Voluminous mascara in Black.
Oooh and a coworker who usually works at the client site was in the office today and noticed I lost weight! The first comment outside this blog! He said I looked as though I lost 20 lbs! Not quite, but THANKS!!!!