This article may contain affiliate links; if you click on a shopping link and make a purchase I may receive a commission. As an Amazon Associate, I earn from qualifying purchases.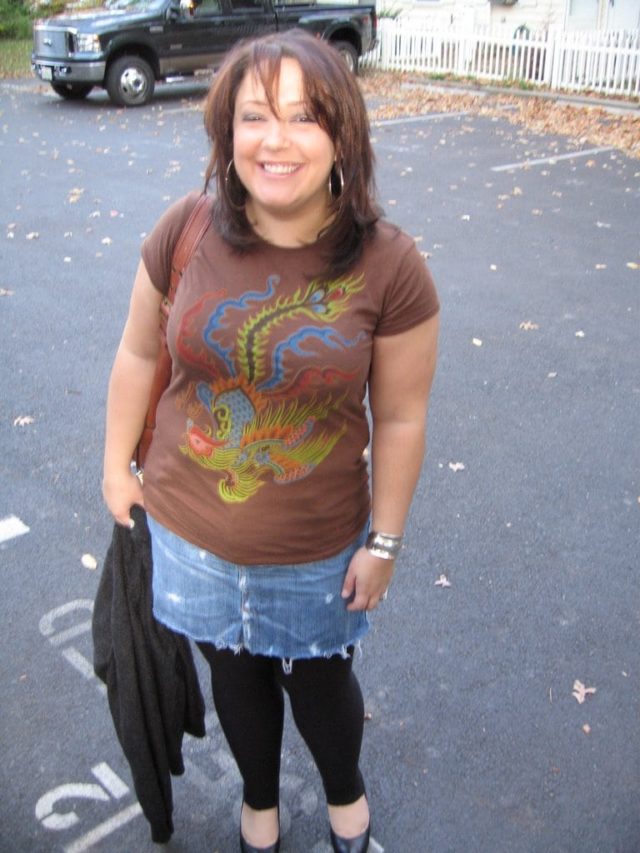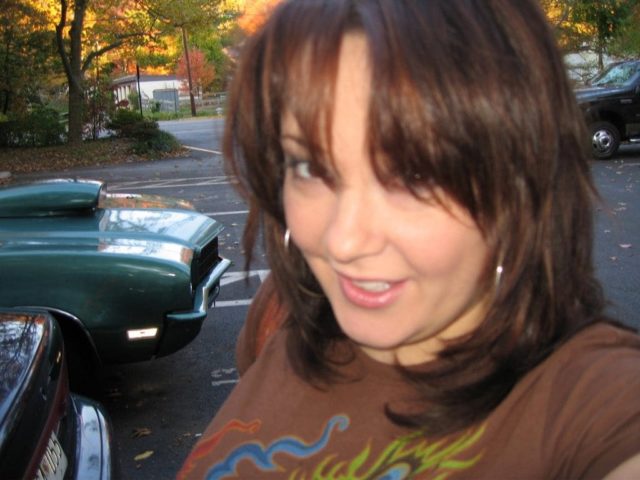 I missed thursday because I forgot my camera at work. No big loss, dark red scoop tee, tweed pants in a shade of tan/ivory/russet. Gold jewelry, same makeup.
So today is Casual Friday. And all my clothes are dirty or old or boring. And I have been feeling quite stagnant and corporate lately. So I did this combo, something that should be reserved for weekends, but whatever.
Brown tattoo-print tee from Target, denim skirt from Old Navy, distressed and cutoff by me, black thick tights that I cut off this morning, left tucked under my heels, so just part of the foot showing. Black round toe pumps from Target. Silver large hoops and cuff bracelet. In my hand is a charcoal shetland v-neck from L.L. Bean that was my father's – can wear that if I get cold. You can sorta see my daily purse – tan leather bag from this season's collection at Banana Republic.
Hair was washed, conditioned, a bit of VO5 mousse applied, blown straight. A bit of Jonathan Dirt in it to make it messy and piecey.
Makeup is L'Oreal True Match foundation, Body Shop stick concealer, Chanel pressed powder applied with a brush. Nars Orgasm blush. On eyes are gray and soft black shadows from The Body Shop, a bit of black kohl liner from Body Shop, Volume Shocking mascara in black from L'Oreal. On lips is The Body Shop's Sheer Lipcolor in 02, my favorite favorite lipstuff this season! It feels good, it smells good, it's sheer so I can apply it without a mirror….. good stuff.
Oh, and a story about these pictures. They were taken by my husband. the night before I went to Target and got some new workout pants (for a American Heart Association walk I am doing tomorrow) and a lampshade (got a new lamp for the bedroom) and a floor lamp (we rearranged the living room and needed a floor lamp) so I went to the car this morning to get the stuff out of the trunk. And left my purse in the trunk and brought in the stuff. And then realized I didn't take my picture. So my husband came out with me to the car so I could get my pic for the site. So photos by Hubby. then I got in the car and realized he had his professional camera in the car and I didn't want to leave it there all day in my office parking lot so I ran after him to give it to him, slipped on some leaves in the parking lot, went sliding, slammed on my knee, the professional camera slammed down with me. Camera fine, tights did not tear, though knee busted and bled through the tights. But since they are black, you can't tell so I dusted myself off and headed to work. Glad it was early in the morning and no neighbors were around to see how graceful I am. What a Dilly morning.