This article may contain affiliate links; if you click on a shopping link and make a purchase I may receive a commission. As an Amazon Associate, I earn from qualifying purchases.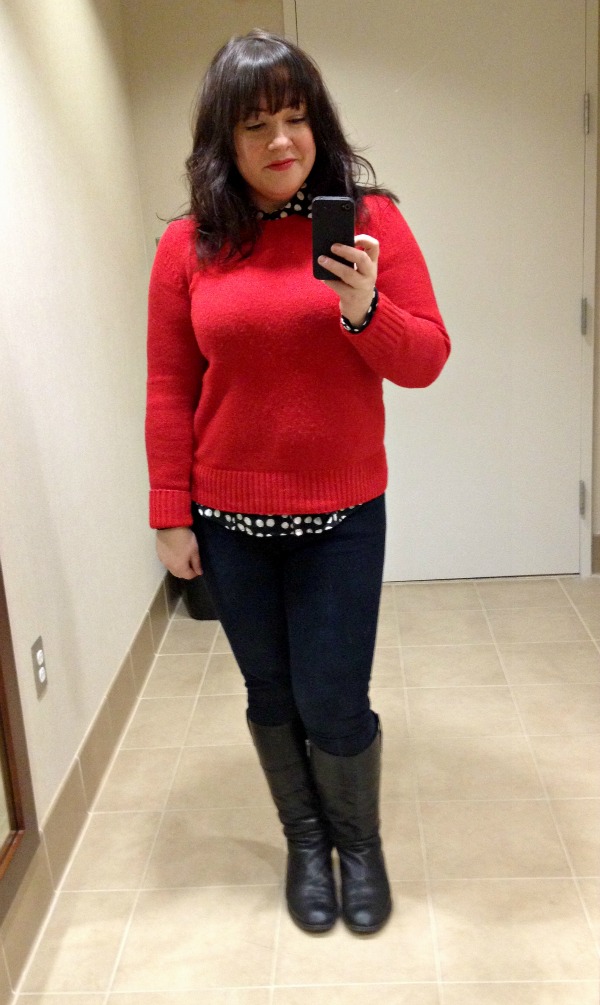 It's FRIDAY!! I know I only worked three days this week, but it was so hard getting back into the grind. It's nice to have a little break to recoup and get properly back into the swing of things. However, this weekend is Emerson's 4th birthday party and I have done diddly other than send out invites and make a grocery list. Tonight we'll be taking down the tree, tomorrow cleaning like mad people and trying to whip up some decor or theme, and Sunday we'll be overloaded with family and toddler friends. Last year we invited three of Emerson's friends to her party, this year we asked her who she wanted there. It's fun to have her at an age where she has favorite friends and knows them and is excited to "be a hostess" to them!
Since it was an early day, no fancy husband photos, just a MySpace-esque shot in the office bathroom. However I couldn't pass up on an outfit post because I have fallen madly in love with Liverpool Jeans. Last week I wore their Sadie Straight Jeans, these are their Abby Skinny Jeans. I must admit when I opened the package and saw they sent me skinny jeans my heart fell. I usually can't pull skinny jeans up over my calves, they are so wide. If I can shimmy them on, they looked painted on and highlight all the aspects of my legs that I don't want highlighted. I was really surprised that they fit, aren't cutting off circulation to my feet, feel great on, and don't stretch out so much during the day that I can slide them off without unbuttoning (hello Old Navy). Liverpool Jeans slim and lift like other popular brands, but with a lower pricepoint and cute details like Beatles lyrics printed on the inside. I love that they hold their shape during the day – no exposed undies or baggy knees by lunchtime. Over the holiday break I pretty much lived in my two pairs of Liverpools. Liverpool Jeans are currently available at Bloomingdales, Neiman Marcus, Nordstrom, Dillard's, Amazon, as well as 1600+ specialty boutiques across the country; also if you 'like' Liverpool on Facebook you can get your own pair of jeans by entering to win their weekly giveaway. They're pretty active on Twitter and Pinterest too!
Follow Me | Twitter | Facebook
Save