This article may contain affiliate links; if you click on a shopping link and make a purchase I may receive a commission. As an Amazon Associate, I earn from qualifying purchases.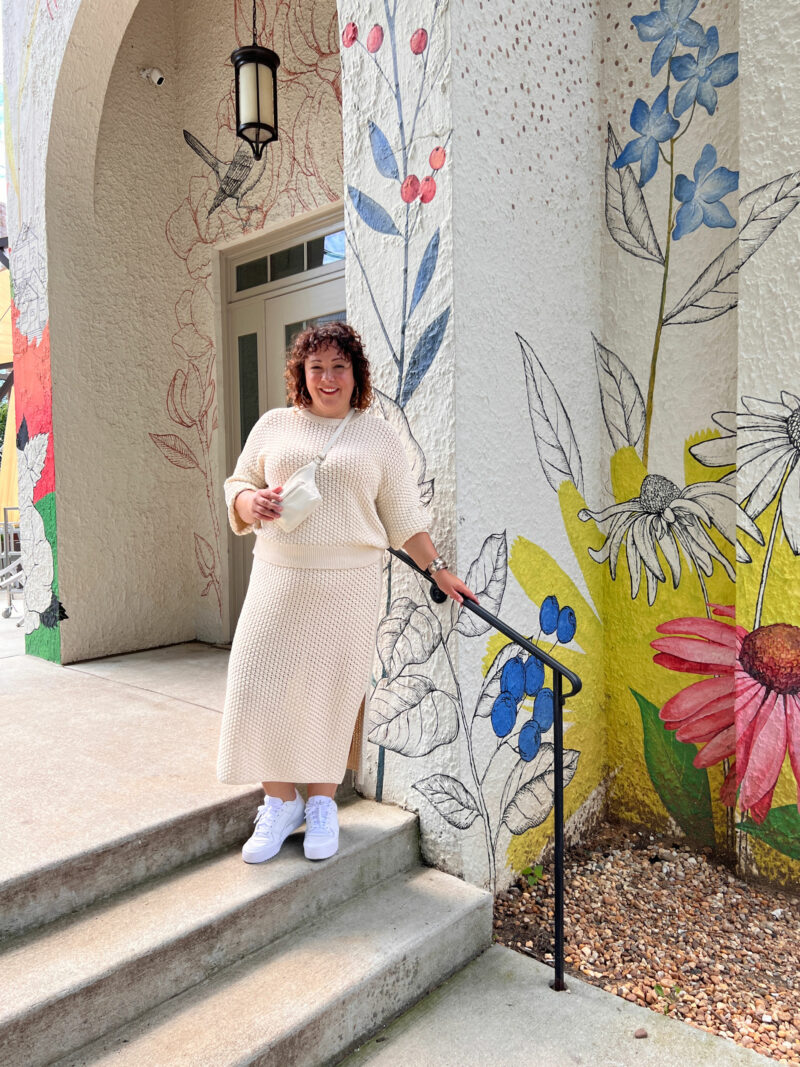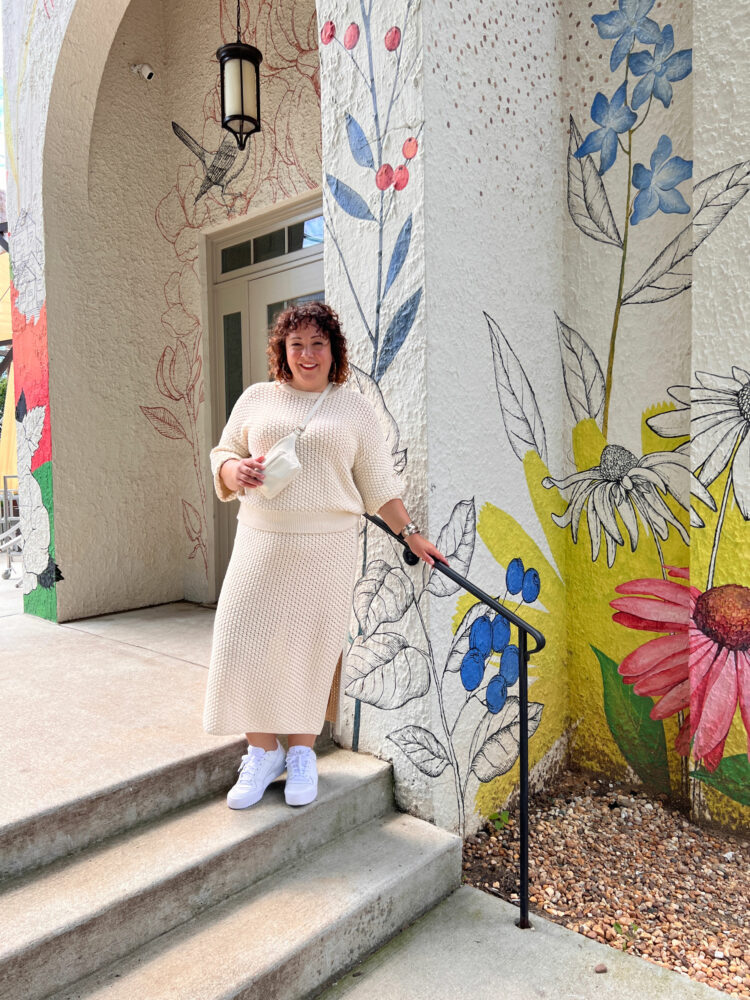 When researching the best fall fashion trends for grown women I saw sweater sets and knitwear in general were having a thing. I was psyched because in May I got this sweater and this skirt from M.M.LaFleur. On the first low-humidity and mild day where I had plans, I decided to style it. Below I share the ideas I have for how to style this M.M.LaFleur sweater set, and the mindset I had in choosing what I chose. Can you relate?
Disclosure: I received this sweater set as a gift from M.M.LaFleur in thanks for visiting their showroom and sharing my experience on social. I was able to pick which pieces I wanted, and after trying this set, I knew this is what I wanted even though the idea of wearing a sweater in the DC area from Memorial Day until the end of September is self-induced torture. It was just too beautiful to resist!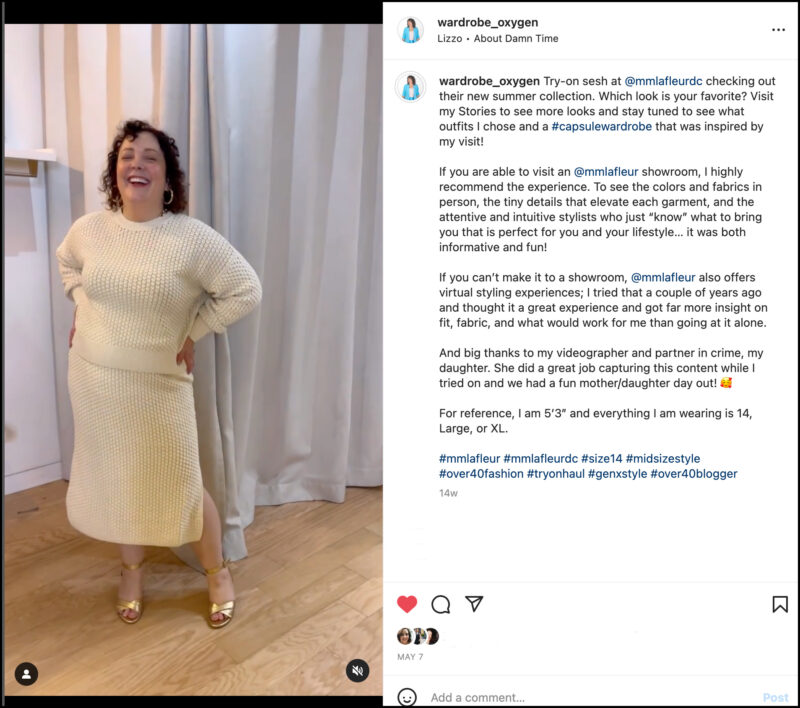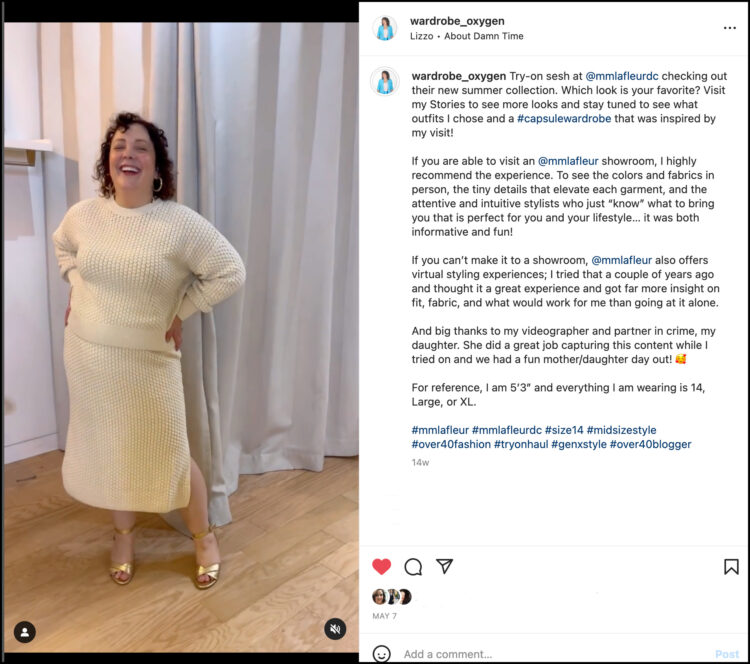 My Mindset while Styling This M.M.LaFleur Sweater Set
When I originally tried on this M.M.LaFleur sweater set at their K Street showroom back in May (as seen in this Instagram Reel), I was wearing my gold Margaux Uptown Sandals and I liked the effect. While the ankle straps cut my leg line and emphasize my wide ankles, they provide security and help make these shoes surprisingly comfortable for being high heels. And with my height and shape, heels help to balance my figure. I saw myself wearing this combination with gold hoops and this purse which I have in ivory for going to the theater or another fun/date night.
I also envisioned this sweater and skirt set with heeled knee-high boots. I have one pair of black heeled knee-high boots with an almond toe; the slim toebox elongates the body while looking sophisticated and I already shared my thoughts on heels when being a short, curvy body. While flat boots would be more practical and comfortable, the heel will provide better proportions. My black boots are literally disintegrating but I can't find any other boots with as nice of a style that come wide enough for my XX-wide calves and thick shins.
A whole column of nubby cream knit isn't going to do anything for my figure, so I would have to accessorize. Maybe my Maxwell Scott saddlebag I've had for years which can be a shoulderbag or a crossbody and hits at a flattering point on my hip and maybe a scarf at my throat or probably a gold link necklace to finish the look (the necklace is better for my short neck and full chin than a scarf, especially with this neckline).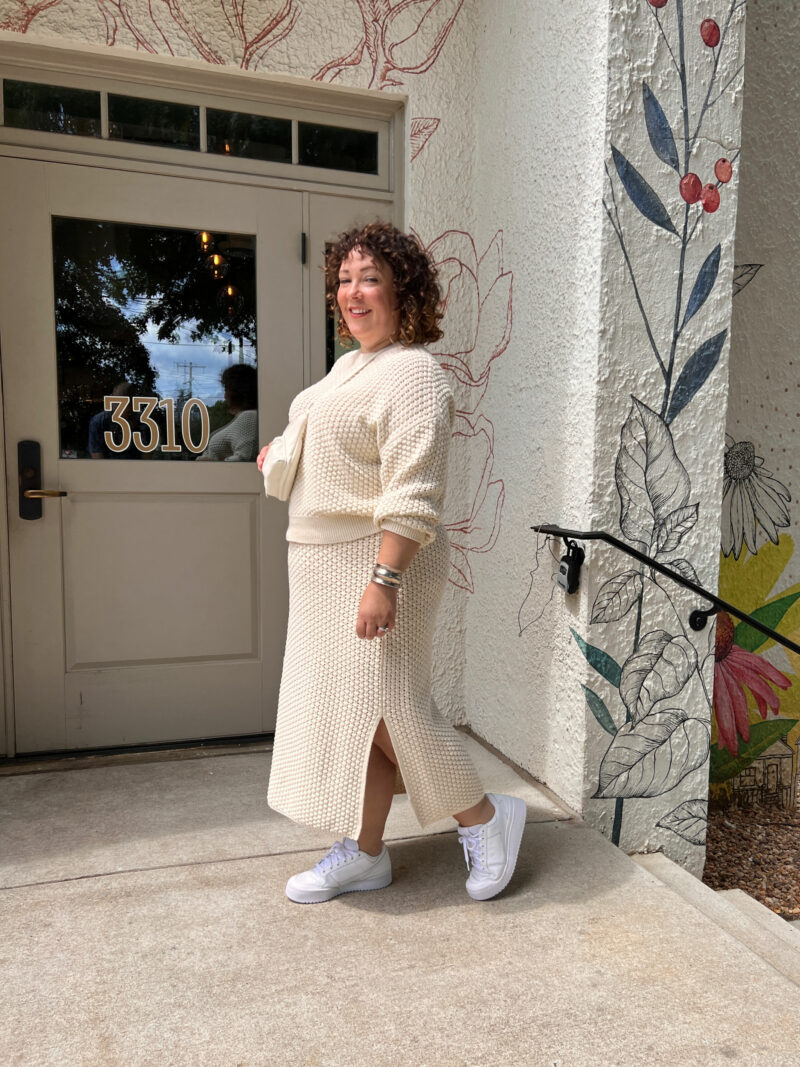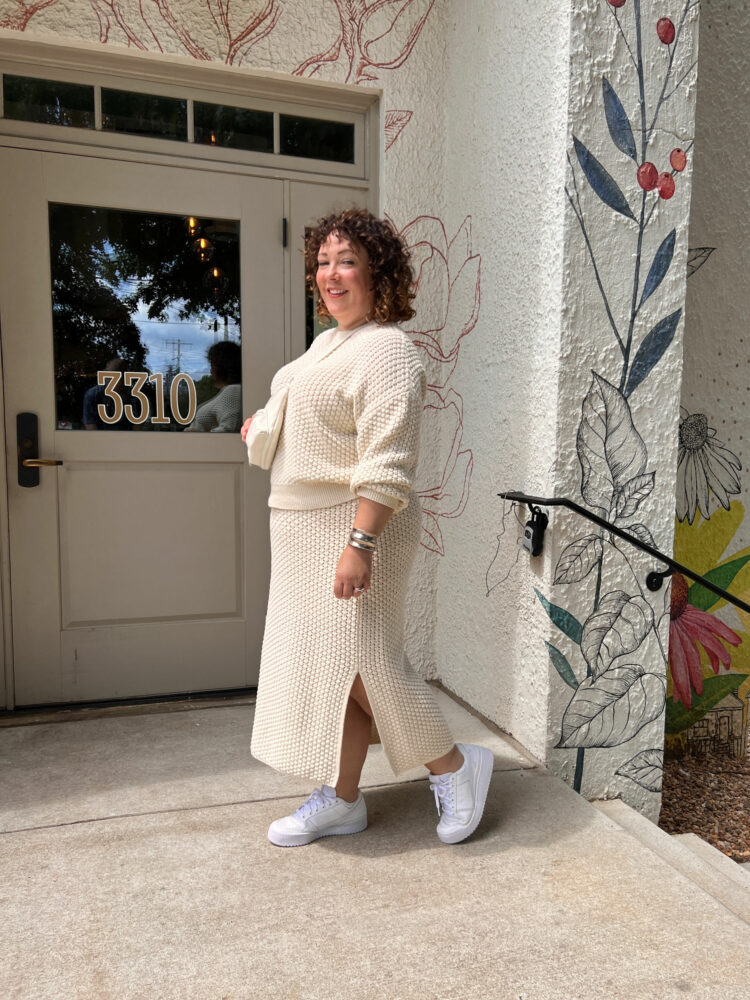 But for an afternoon lunch date, sneakers seemed like the right choice. I recently got these from Adidas. My Superstars were looking a bit raggedy even with my usual sneaker cleaning hacks and I was thinking of getting another of the same but then saw these in that widget that shows you what is popular or recommended to those looking at this product. They're not what I'd usually get, being higher up on the ankle, which reduces the slim part between my feet and calves. But my daughter suggested I try them and I'm glad she did.
The belt bag is from Brandon Blackwood and I got it last year. It was the same color as the sweater set so I immediately tried it. I wondered if my ivory braided leather crossbody from Chico's (sold out, from this early summer) would be better since the longer slim strap wouldn't add bulk to my chest. But I really like this belt bag and don't wear it as often as I think I would if I didn't have a couple of followers on Instagram DM me over the past year and tell me that the bag wasn't as flattering as other bags in my wardrobe.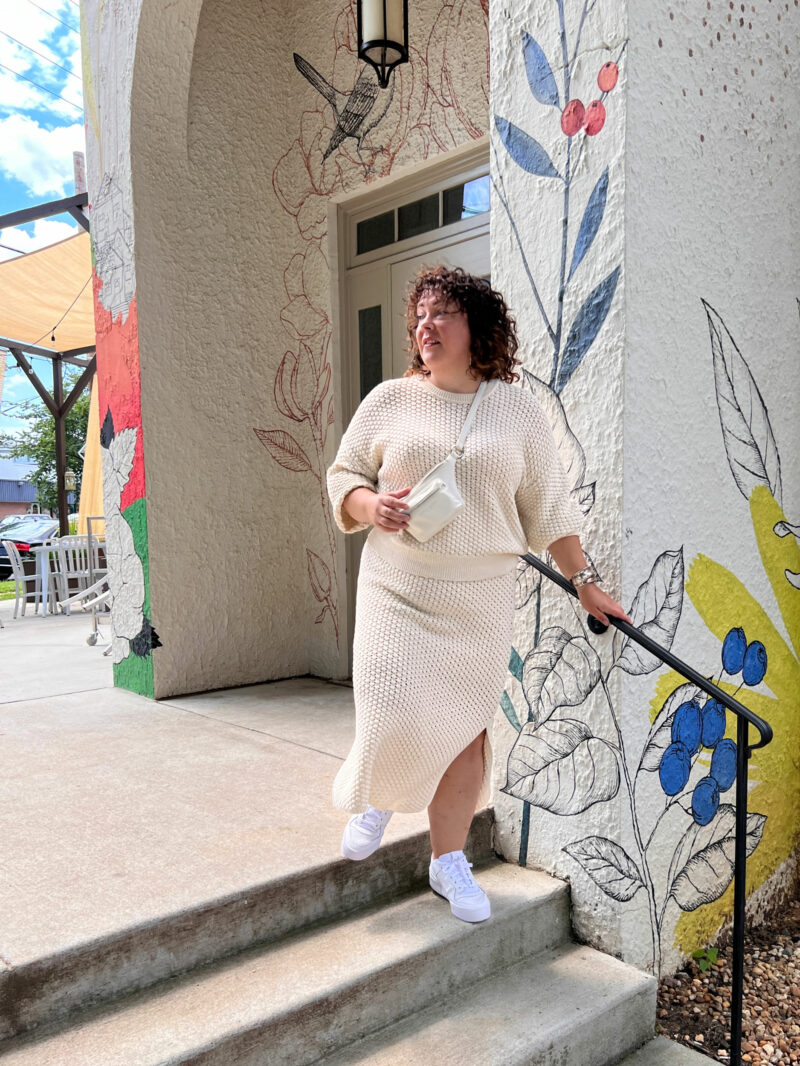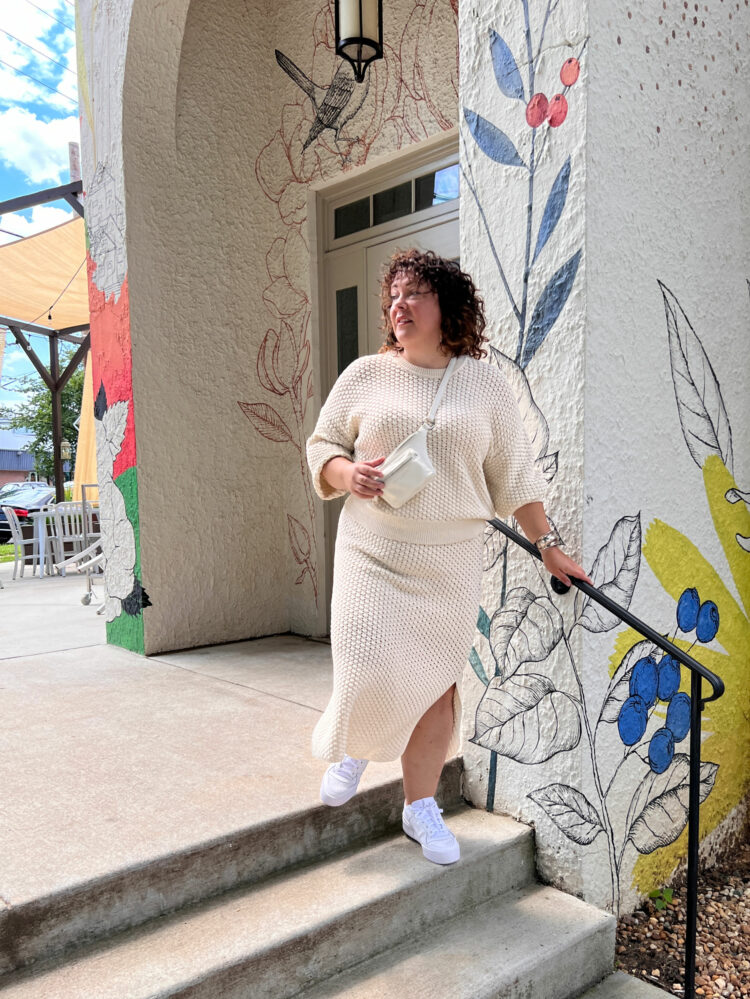 Since I chose this bag with silver hardware, it inspired me to wear silver jewelry. These hoops are from Denisa Piatti; I share how I acquired these custom hoops from Denisa Piatti in this post. The cuff I bought back in 1997; I bent it to fit over my WHOOP tracking bracelet.
I've always liked big chunky jewelry, on me and on others. I think it looks more proportional on my short curvy frame, though I usually get comments that smaller pieces would be more flattering to my petite stature. However, I also get comments that sometimes my jewelry is too delicate for my curvy frame (especially when it comes to rings and my chubby fingers). It's hard to know what to do with comments like these; you can ignore them but they still gnaw at the back of your mind, especially when they trigger self-image issues you've been battling all your life.
When I tried on this M.M.LaFleur sweater set in the K Street Showroom, I also hiked up the skirt to my rib cage. Being 5'3″ with wide calves, I knew a skirt at this lower-calf length would just make me look shorter and my calves wider. But I felt the skirt at a shorter length with the sneakers looked too much K Street Employee and brought it back down to my natural waist.
That Internal Dialogue As We Get Dressed
Did any of these thoughts about styling and figure flattery sound familiar to you? Do you ever have such conversations with yourself while getting dressed or going shopping?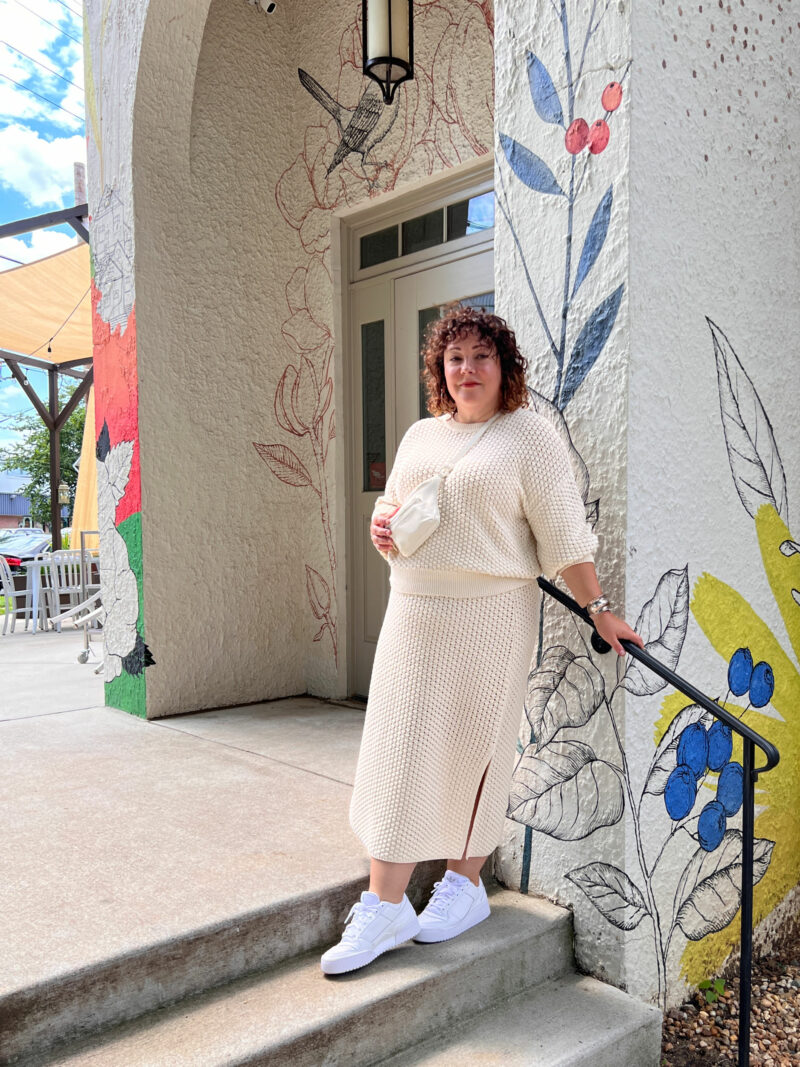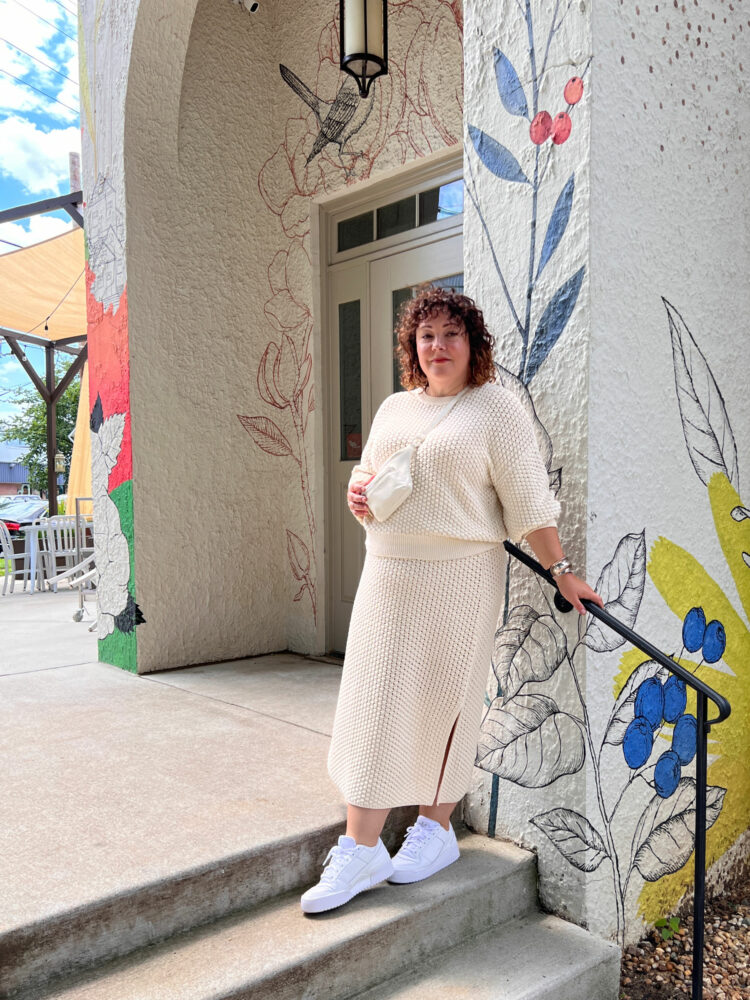 As someone who has photographed herself and her outfit almost every day for the past 17 years and then shared it on the internet, I've gone from questioning every millimeter of my skin and every personality quirk to having a helluva lot of respect for my body and way more grace for my self. I share the mindset for each piece above not to garner pity or compliments, but because I think many of us do this on a daily basis.
No matter the confidence we have, the therapy we've attended, the self-work we've completed, many of us still are focusing on proportion and figure flattery as we get dressed each morning. It's whispering to us as we pull a garment from a clothing rack at a store, considering clicking "buy" from a website. That whisper often has us choose a flattering silhouette in a meh color over a silhouette we've been told isn't flattering but is in a color of print that brings us joy. It's hard to let go of what has been ingrained in us since we were very young.
I purposefully break style rules to break the diet culture that has been fed to me since I was a toddler. Each time it forces me to see myself differently, less like something for others to admire and more for me to admire. And sometimes I wear outfits that embrace all kinds of rules purely because the outfit combination made me feel good on that day for whatever reason.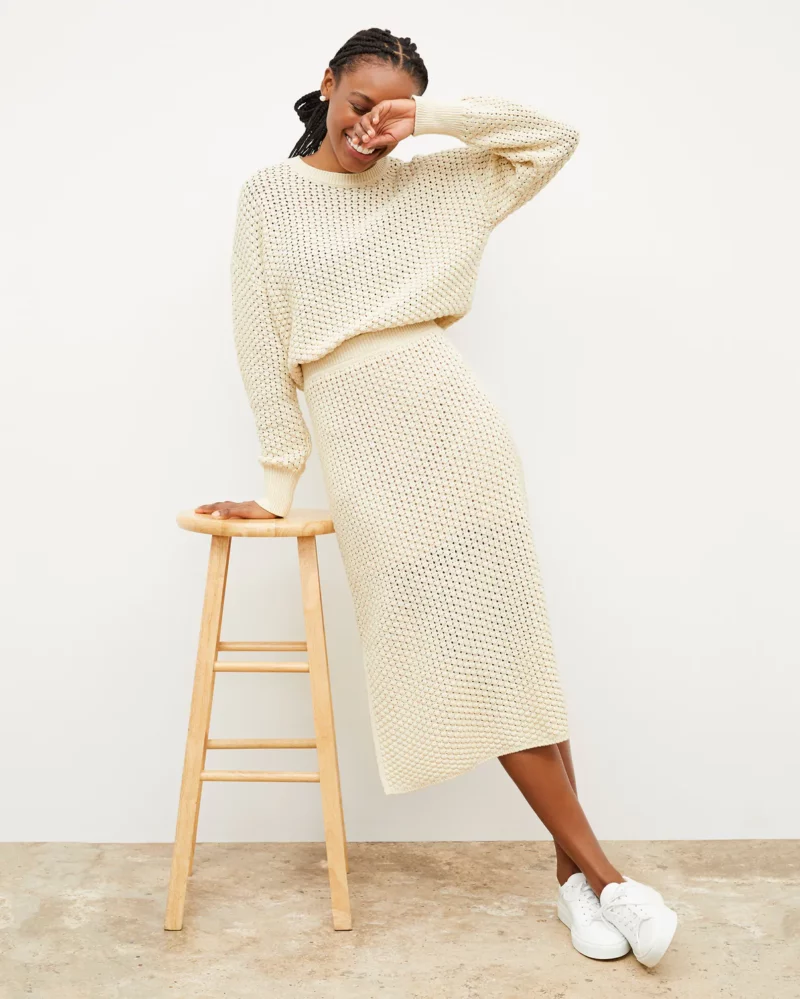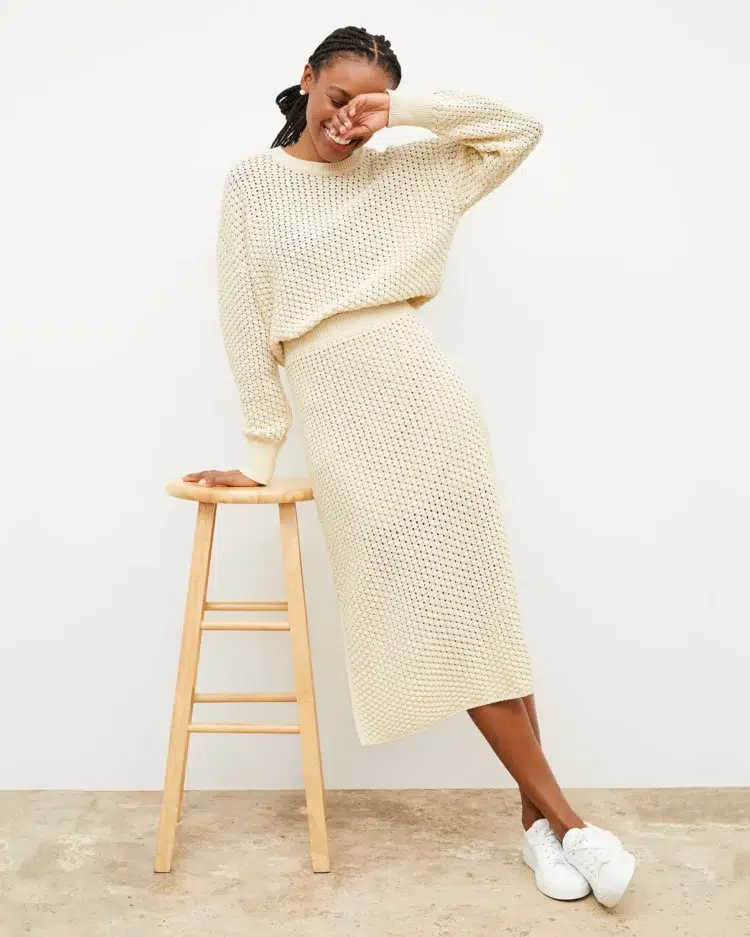 I don't know if that feeling good has to do with figure flattery and I don't really care to figure it out right now. But exercises like this, and the comments I get on blog posts and social media, it makes me realize that the internal dialog I have after all these years of working on my self image and confidence is one almost every woman, especially women around my age and older, has on a daily basis. And that we women are helping to create the image issues in others (and ourselves).
Let's Talk About Flattering as a Compliment
Let's start with using the word flattering as a compliment. This is a word I have received often in my years of sharing outfits, whether folks found my look to be flattering or not. Flattering is a term I used to use quite a lot myself to compliment others and to describe fashion trends and silhouettes here on Wardrobe Oxygen.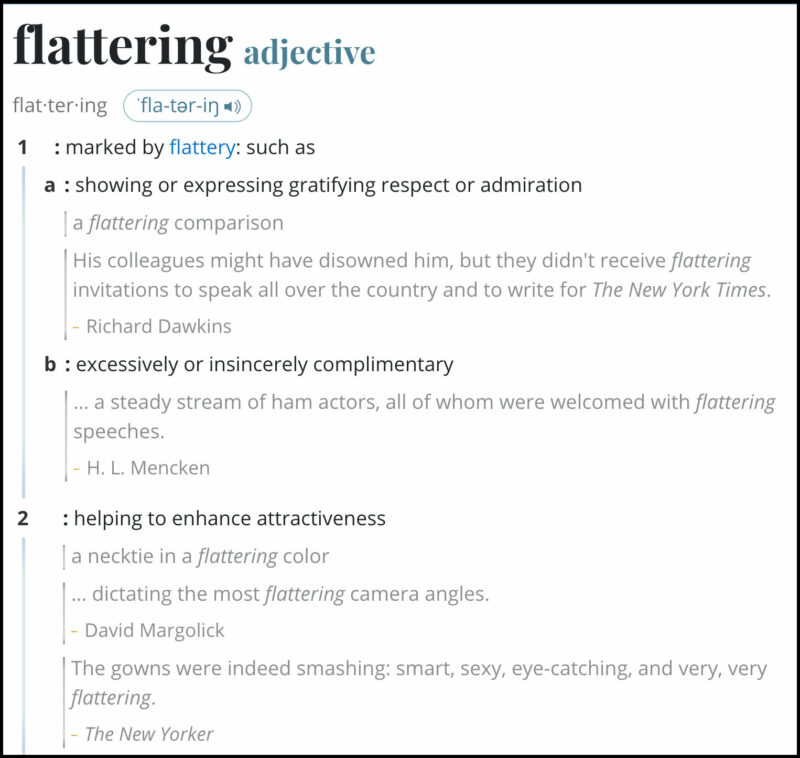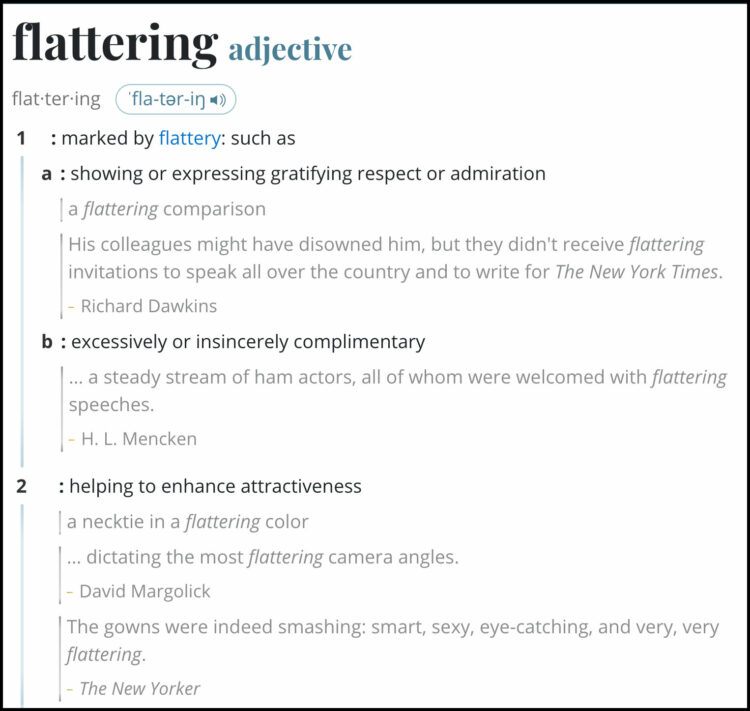 Mirriam-Webster defines flattering as, "helping to enhance attractiveness." We could write a whole thesis on that (who defines what is attractive, that a general idea for attractiveness is tied to the patriarchy and is problematic beyond that in regard to health, youth, size, race, skincolor, hair type and style, ability, etc.). There are plenty of think-pieces out there about this already, and a lot of you have told me you think word-shaming terms like flattering is taking political correctness too far.
Instead, I'd like to focus on how flattering is a term to help enhance. We use the word flattering but we don't explain what is being enhanced. Many have grown up having well-meaning (and not-so-well-meaning) folks use flattering to describe looks that make us look slimmer and more fitting with a proportional ideal than usual. Without an explanation as to why you are using the term flattering, it's hard for many of us to not immediately think of our size and shape.
The next time you want to compliment someone with the word flattering, consider using the word along with an explanation as to why you find that word the perfect compliment. Sharing the why helps illustrate your compliment and not have the receiver come to their own conclusions. That blue color is so flattering on you, it really makes your eyes pop. That dress is so flattering on you, it makes your butt look amazing. That print is so flattering on you, it really showcases your creative and colorful personality.
This exercise not only enhances your compliment, it helps you see when there may be a better word to use than flattering. And it may make you realize that sometimes when you're saying flattering, you really are meaning, "slimmer than usual" and may not want to be that person perpetuating diet culture and equating slim as most important.
Because the more thoughtful we are with the compliments we give others, the more thoughtful we are with the words we use for ourselves. Our weight does not determine our worth, our size does not determine our strength, and your life won't change by an outfit that makes you look a half inch slimmer or taller (but it may change if you wear what makes you happy).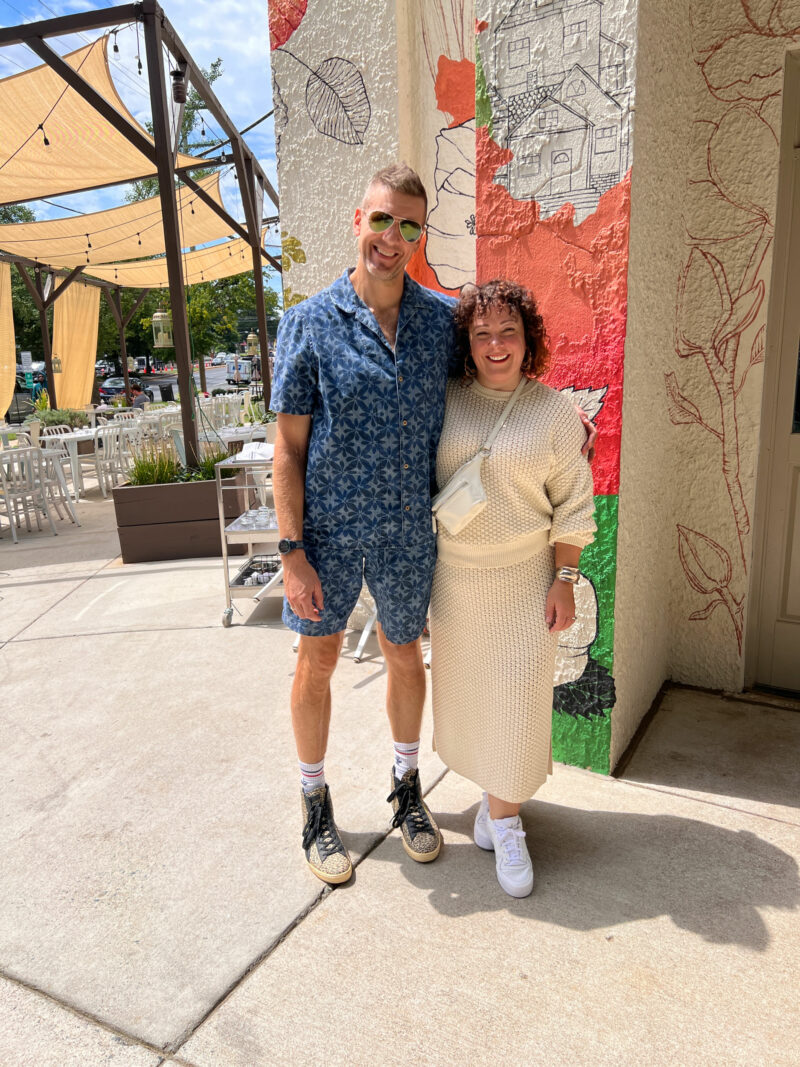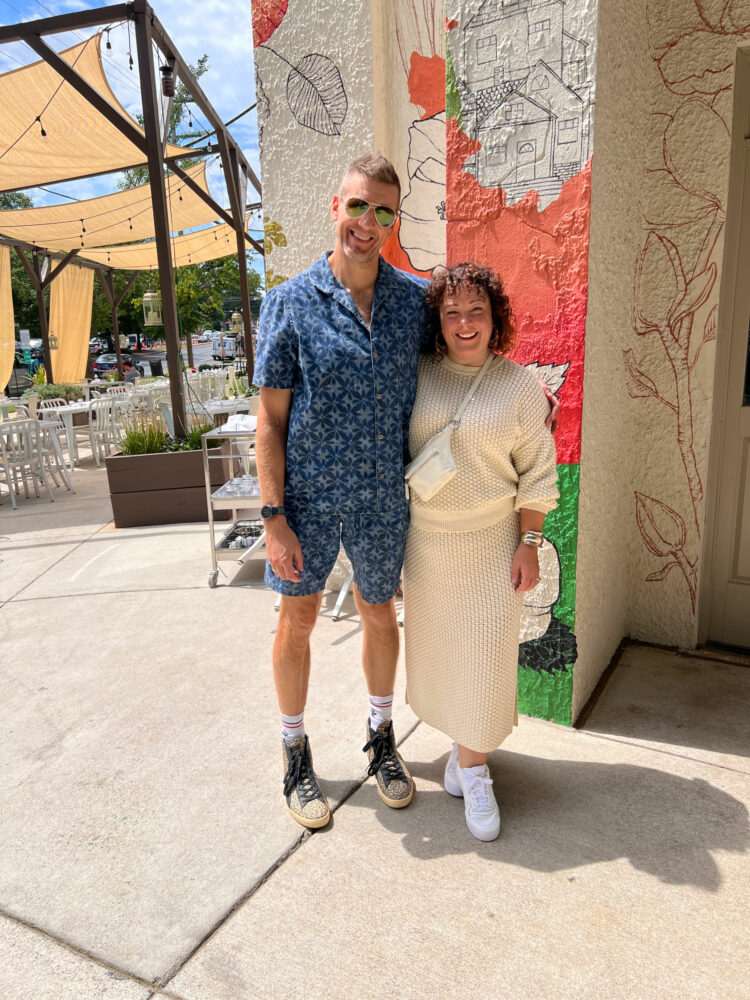 As for this location, my husband and I had lunch at Pennyroyal Station, a New American restaurant in Mount Rainier, Maryland. This place is so beautiful; a small but airy restaurant and bar, a beautiful patio shaded by sailcloths, and a front lawn where we dined. It was our first time and won't be our last; everything we ordered was delicious and we were happy to find a nice selection of vegan and vegetarian offerings!
Shop the Post: