This article may contain affiliate links; if you click on a shopping link and make a purchase I may receive a commission. As an Amazon Associate, I earn from qualifying purchases. 
It's been a while since I've done a Friday Favorite but would like to start back up the series, at least once a month. Since I have been purchasing less and researching to buy better, I've found lots of awesome things that deserve some love.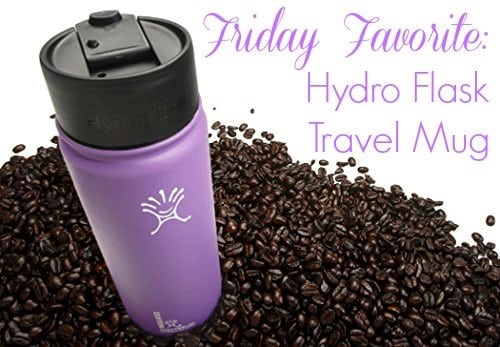 Travel coffee mugs… I have a love/hate relationship with them. I love them because they prevent me from spilling java all over my sweater on the commute to work, but I hate them because they always let me down. They leak, they don't insulate well, they can't handle a trip in the dishwasher. If they're attractive they're usually crap, if they're sturdy they often don't fit well in my cup holder. Karl's sick of hearing me complain about our travel mugs and at the end of last year bought me the Hydro Flask Coffee and Tea Flask.
At first glance, it didn't look like anything special. He did get it in orange (my favorite color), but it seemed like any other travel mug you'd get from a sporting goods store. It was a sweet gesture, I washed it, and used it the next day with my morning coffee. And then I was impressed.
The Hydro Flask was full of steaming hot coffee yet the exterior was cool… and remained cool. The top is completely spill-proof; like snap it shut and shove it in your pocket while fumbling for your keys and not a drop spill-proof. It flips open with one hand, and it's easy to drink from (no coffee dribbling on your chin or nose). But the thing that astounded me was the coffee stayed hot… all day! At lunch I opened it and it was still drinkable warm. At the end of the day the coffee was still warmer than room temperature. The other weekend I ran around doing errands; I started the day with my Hydro Flask full of super hot green tea. It was so hot I couldn't drink it. I went to CVS and had to wait for a prescription and then wait in a long line for the register, headed to the post office to drop off some packages and bumped into a neighbor where we chatted for at least 20 minutes. Came back in my car and the tea was still burning my tongue. Went to Target and by time I was in line for the register the tea was a drinkable temperature. Got an oil change and a manicure and still my tea was hot. Five hours after filling my Hydro Flask, I still was getting steam when I opened it up for a sip. All that, and the exterior was the same cold temperature as my car in December!
While the Hydro Flask says not dishwasher safe, I've put it in there a few times. However the wide mouth makes it super easy to wash and there's no weird crevices or cheap glued-in linings that will separate with time. The powder-coated exterior won't chip and doesn't get sweaty with condensation. All this and the Hydro Flask has a lifetime warranty!
I know I totally sound like an infomercial, but I am mega impressed. I've gone through dozens of travel mugs and they're never quite right. This one? A winner.