This article may contain affiliate links; if you click on a shopping link and make a purchase I may receive a commission. As an Amazon Associate, I earn from qualifying purchases. 
Dear Allie,
– Phyllis
What a great purchase! I hope you love the coat, I think it's a classic style and Lands' End is always known for their great quality and customer service.
Black is a great choice for outerwear as that it is versatile, can be worn many seasons, doesn't show dirt, and can dress up better than tan or a color. However, it can seem dreary when all the trees are beginning to bud and the birds are chirping. Here's some ways to add spring to your black trench: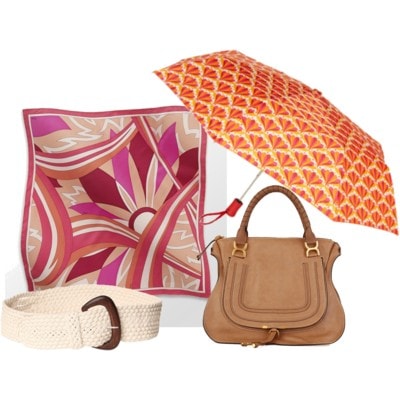 1. A Cheery Umbrella.
It's so easy to get a basic black or navy one (or carry the random swag umbrella you picked up at the last conference), but a colorful umbrella will help you stand out in a crowd and add a pop of color to your black rain coat. This year
Pantone
says the hot color is
Honeysuckle Pink
, but the runways have shown all sorts of cheery hues and designers have had a soft spot for
tangerine
this spring
(which is lighter than orange and won't make you look like a Jack O'Lantern).
2. A Springy Scarf.
For this time of year I am not thinking a cashmere muffler, but a cotton voile scarf in a sherbet color or a cheerful print. Florals as well as optic prints are hot for spring, and both would really pop against a stark black background. Tuck into the collar so just a bit peeks out, softening the look of the trench.
3. Switch out (or add) a Belt. The SunShower trench has a self-belt, the coat is sans belt but nips in at the waist. Both would work with adding a wide elasticized belt in a springy hue. This is a look I would have never considered until I started seeing women this winter wear their wool coats with belts that are obviously not for outerwear.
A wide belt will work with the fabric of the coat; choose a patent or leather buckle to balance the textures of the trench. You could do something simple like an ivory belt with black or wood buckle, or switch it up with a spring-like shade. To keep the proper line of the coat, don't cinch the belt too tight – just enough to keep it in place and show off your waist.

4. Think Spring with your Accessories. Come spring, a black leather bag can look dreary, tall boots heavy, big plastic sunglasses overwhelming. Think spring when purchasing new accessories and you will be amazed how just a change to peeptoes and a canvas bag can make a black trench suddenly look light and fresh!
Follow Me | Twitter | Facebook