This article may contain affiliate links; if you click on a shopping link and make a purchase I may receive a commission. As an Amazon Associate, I earn from qualifying purchases.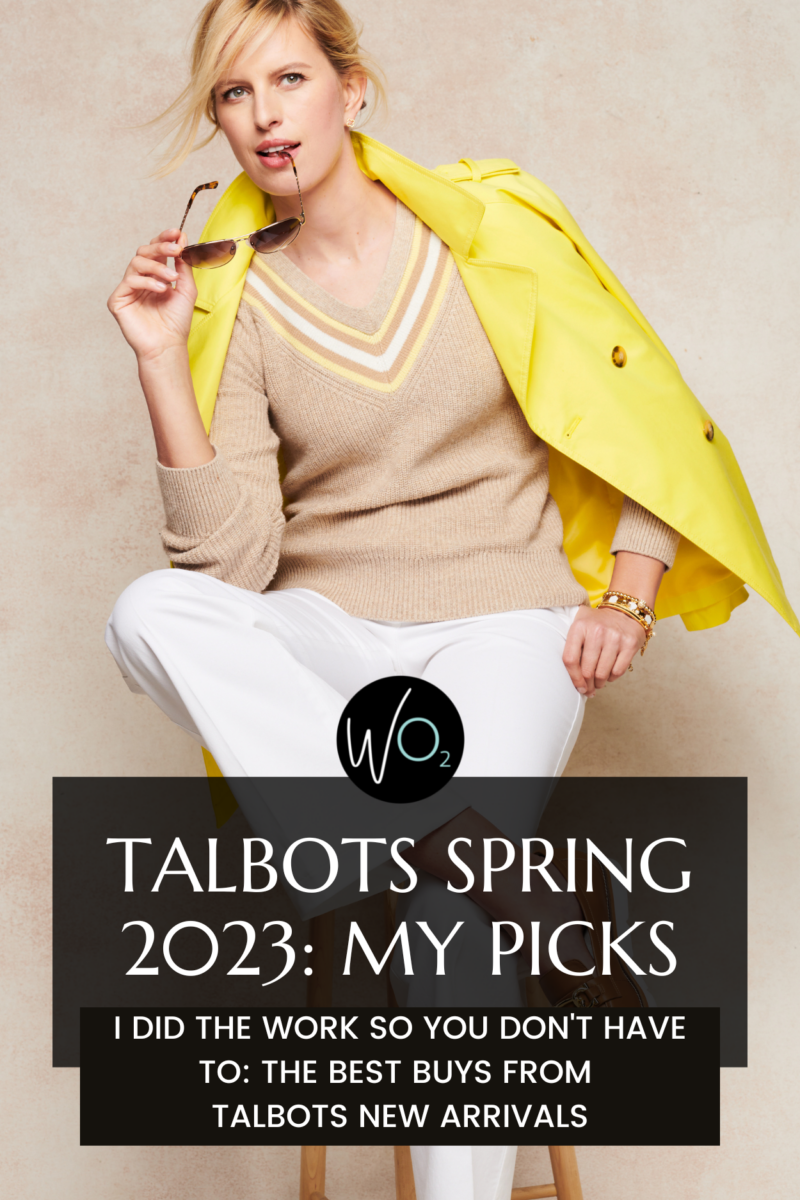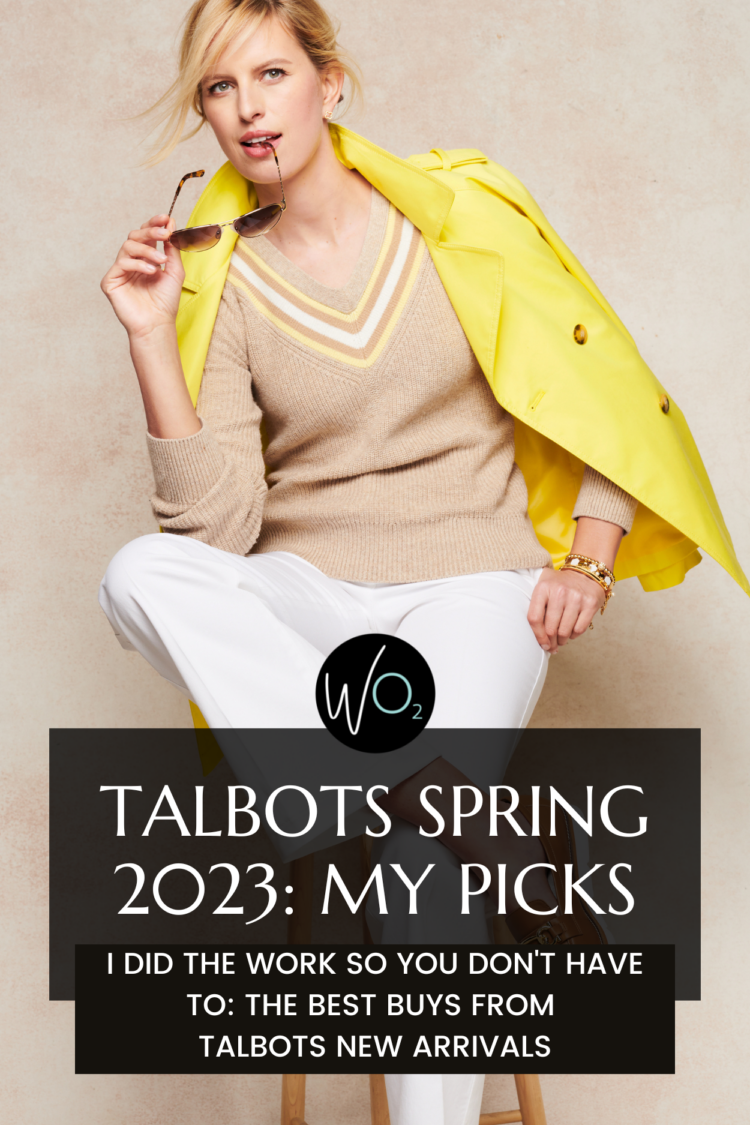 I always love Talbots' Spring New Arrivals. The pretty florals, the crisp chinos, the wearable dresses, the smart footwear, the accessories that are pretty but always with a little something that makes them fun. I was scrolling through Talbots' March New Arrivals for spring and so many things caught my eye I had to share and share my mindset.
I decided to stick with the pieces I feel are the most universal, and the pieces that may go under the radar. But don't miss out on the cute prints and accessories and details going on this spring at Talbots.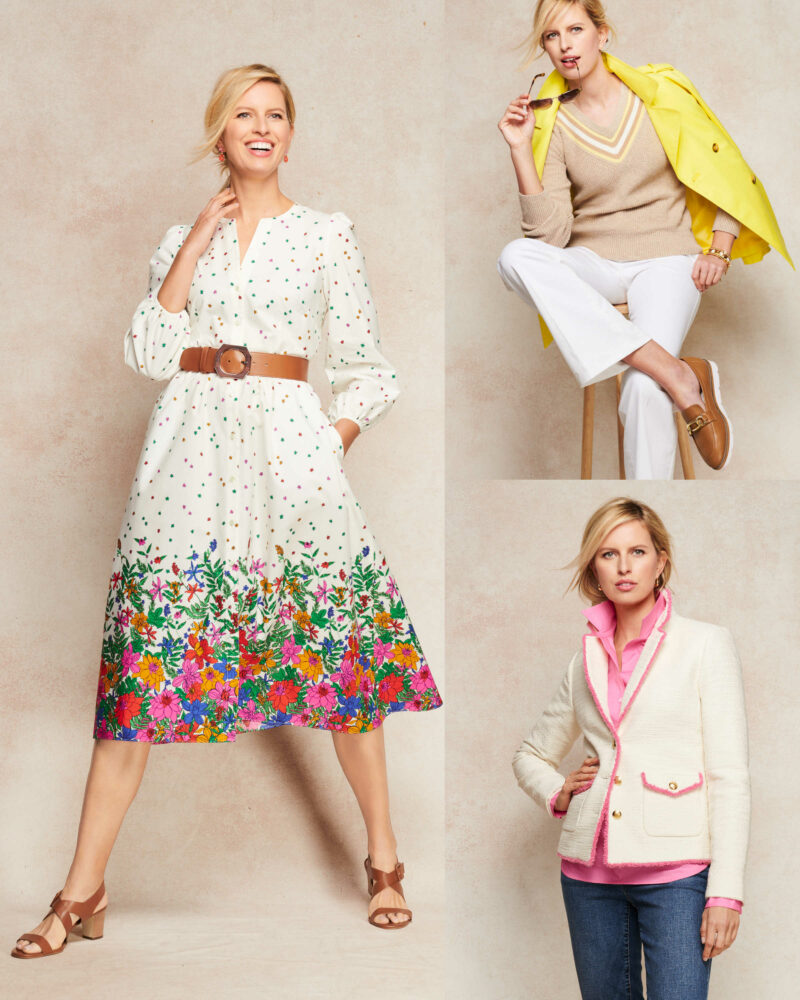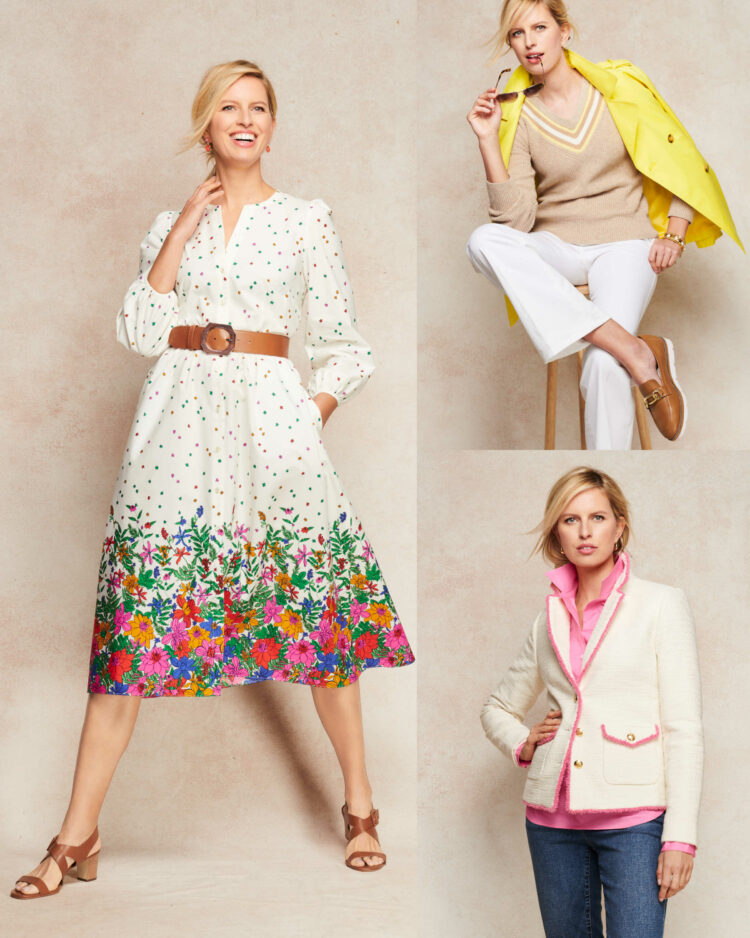 Talbots Spring New Arrivals: My Picks
While I love Talbots for spring, I don't love their styling or choice of images on their website. I don't get it; Talbots will send me their lookbooks and the photos are fabulous, gorgeous people on colorful backgrounds looking super chic. And then on their website, there are these mouth-agape models in these dorky poses that make it look like the photographer only took one shot in the office hallway and it had to do. So below I am going to share what caught my eye and why.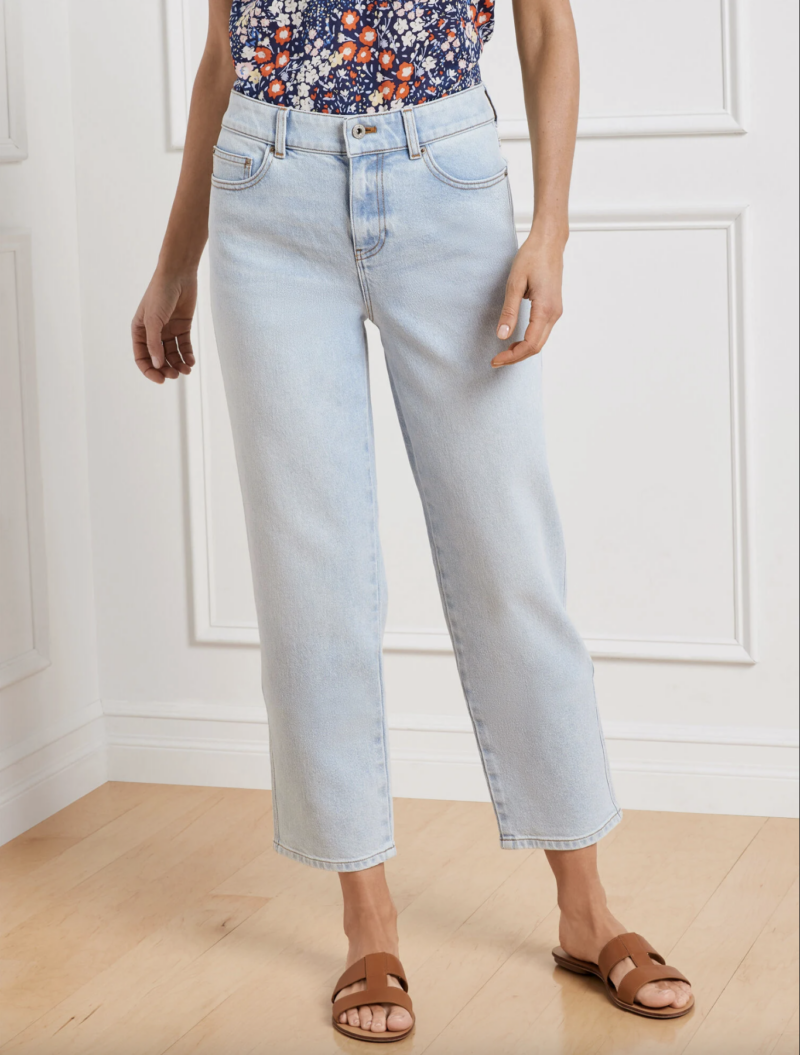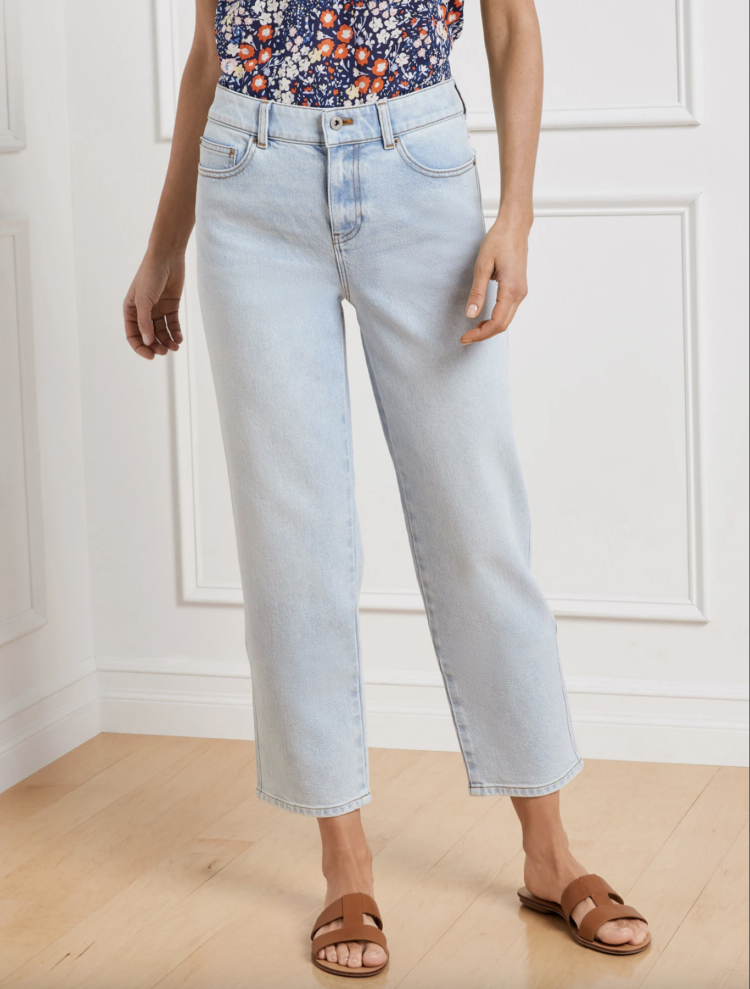 High Waist Straight Ankle Jeans
These are the High Waist Straight Ankle Jeans in what Talbots calls the Antiqua Wash and IMO this photo makes them look dorky AF. The crotch doesn't seem to be in the right place, it's tucked in with some Little House on the Prairie floral top I'd likely find less hokey with a pair of navy wide-leg trousers, and then those Target-looking quality fake Hermes sandals and the mannequin hands and only showing them on one body size… yeah I can see anyone scrolling right by these.
But I like these jeans, and I am going to ask Talbots if they will gift me a pair because I think they're actually quite perfect for spring and summer. They will be a bit lighter weight than regular denim but also stretchy thanks to a the fabric mix (62% Cotton, 25% TENCEL™ Lyocell, 12% Polyester, 1% Lycra® Spandex). They are a button fly, and come in misses, petite, plus, and plus petite. I think I'd be a 14 petite.
These jeans are a straight leg version of the Athleta jeans I've had for years and love for summer with sandals and low-profile sneakers but hate that they're tapered. Like my Athleta jeans I may rub the blade of scissors along the hem and the edges of pockets and such to make them look a bit more worn. These I see as beachy jeans to wear with linen boyfriend shirts, Breton striped tops, cotton voile tunics, and relaxed blazers with simple tanks.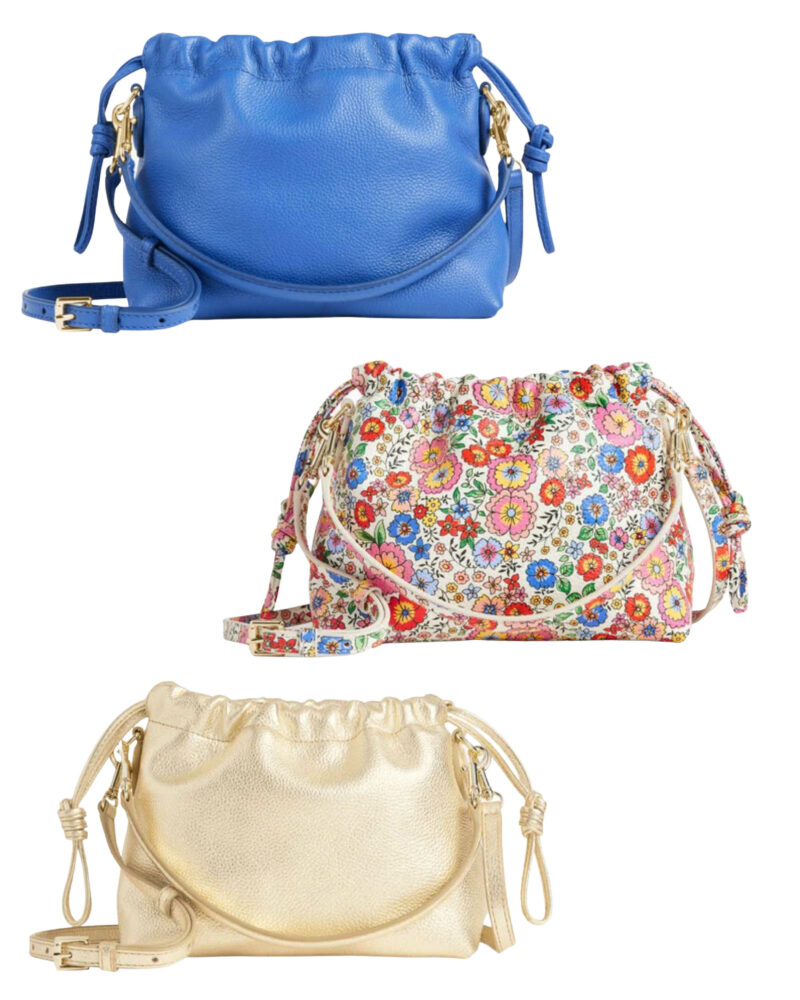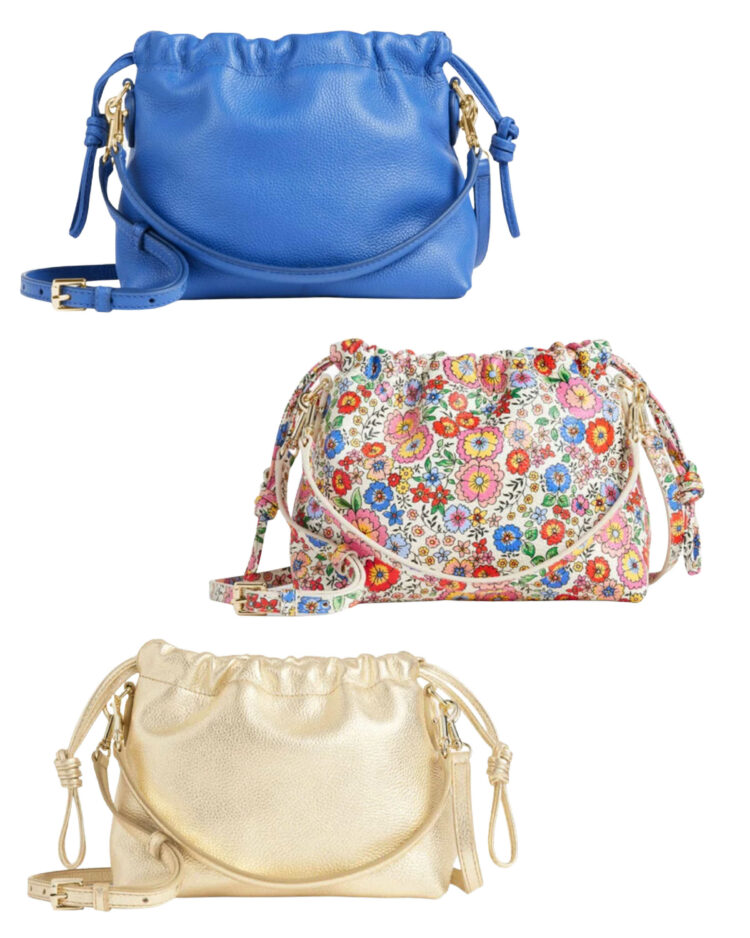 Drawstring Leather Bag
This is a drawstring leather bag Talbots has in gold leather, blue leather, and floral leather and I think all three of these look fantastic. Talbots creates high-quality leather goods, and I think the $139 pricepoint is reasonable for this style, which is both on trend and also something that won't look dated in a year or three.
All three options are cool. The metallic can dress up and down, the blue is a cool pop of color you will see a lot this year but remains eternally chic, and the floral is ecclectic yet classic, and a great mix of colors that will go with so much (and it has a matching scarf which is too cute of a pairing).
The drawstring soft leather bag is on trend this season, and carried by designers like Mansur Gavriel, Proenza Schouler, and Loewe. I like this trend because it's versatile, and it's not about the brand/logo but the silhouette.
I like that there are three different ways to carry this bag, making it even more versatile. There is the crossbody, the short strap to tuck under your arm or carry in your hand/elbow, but you could also remove both of those straps and cinch the drawstring and carry it like a clutch. There is an interior slip pocket as well as a zipper pocket. This would be a great bag for travel because it can be all the things for all your outfits.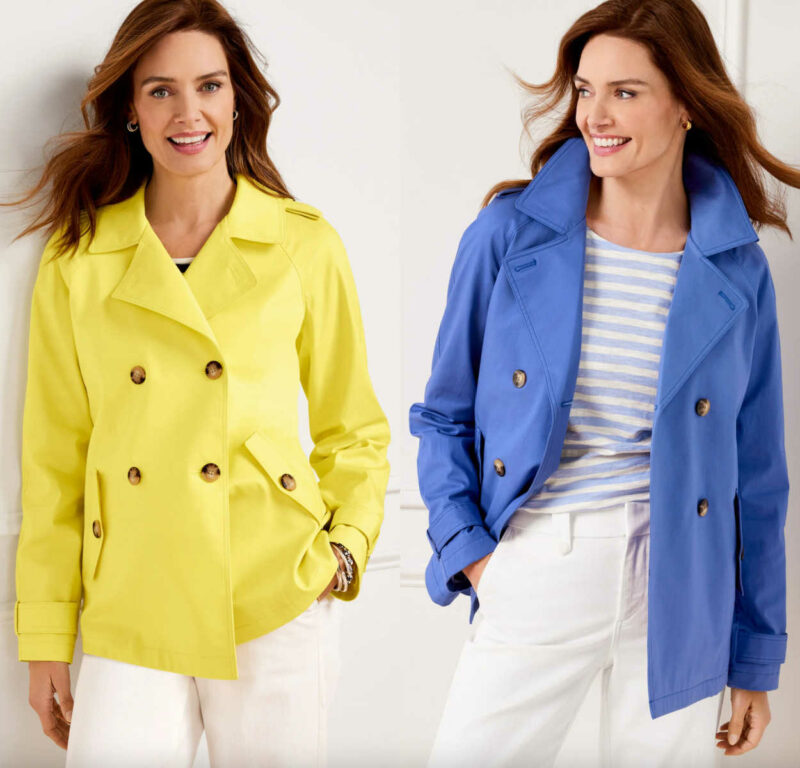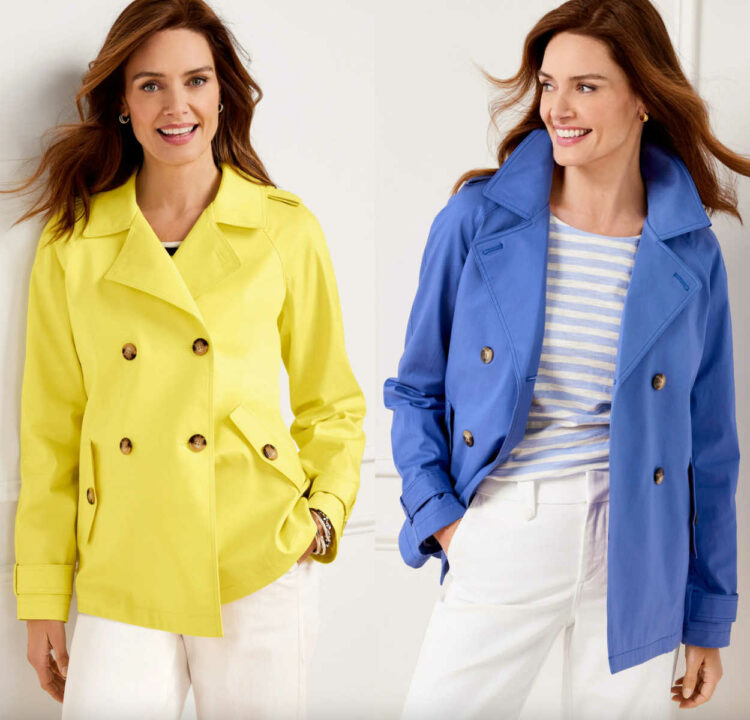 Short Trench Coat
This is the Talbots Short Trench Coat, which comes in misses, petite, and plus sizes in Biscayne Blue (same color as the bag above) and Pear Yellow which is both on trend, and a classic color. It is a cotton/Lyocell blend with a hint of spandex and lined. Talbots IMO always nails outerwear and I have coats from Talbots years old that still look great and are still stylish. I think this short trench is another trendy yet classic piece of outerwear from Talbots.
In 2017 I did a sponsored post with Talbots and for my outfit I chose a red wool blend peacoat and that coat continues to be one I wear the most for fall and early spring days. It's the perfect pop of color, a classic cut that doesn't go out of style, and the shorter length works with more looks and I am more likely to grab when rushing out the door. I think this is a spring alternative, and I think would be worn more than a full-length trench. And I think the colors are something that would be more joyful to wear than khaki, cream, or black.
The back pleat on this trench gives it a swingy silhouette which works better for a range of outfits underneath and you will feel comfortable wearing regardless your mood or time of the month. While we have been taught to not wear a double-breasted coat because it makes us look wider, it's very on trend and goes with the 2023 vibe of taking up the space you deserve.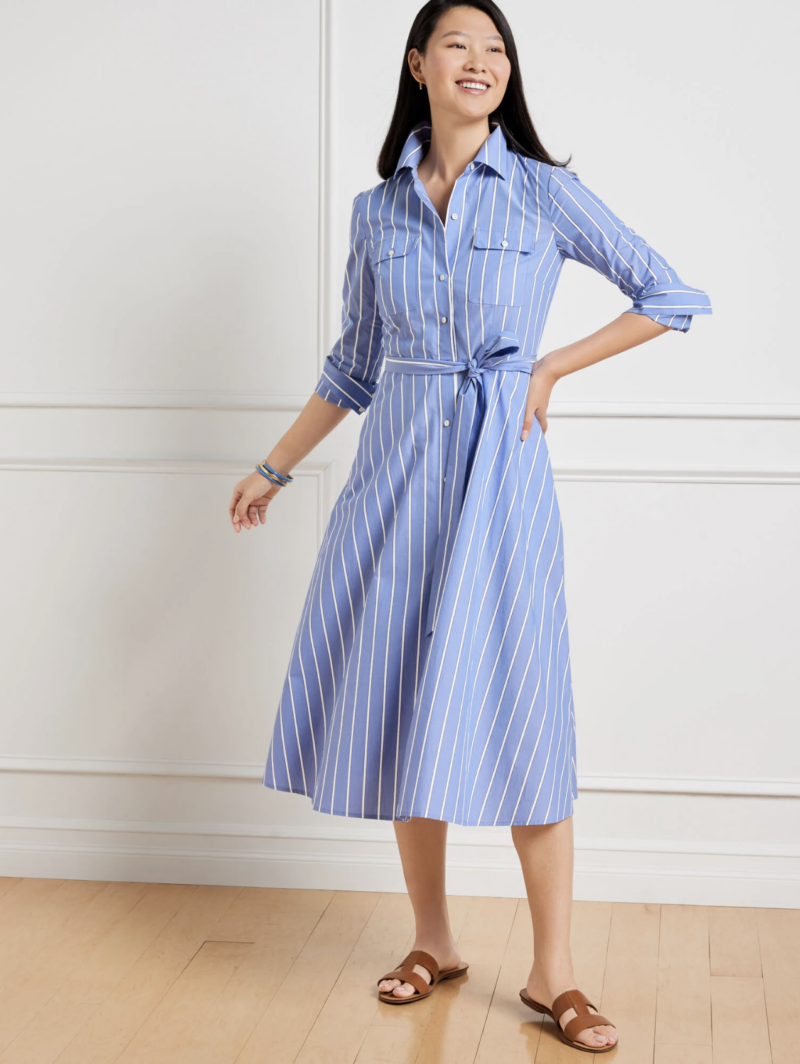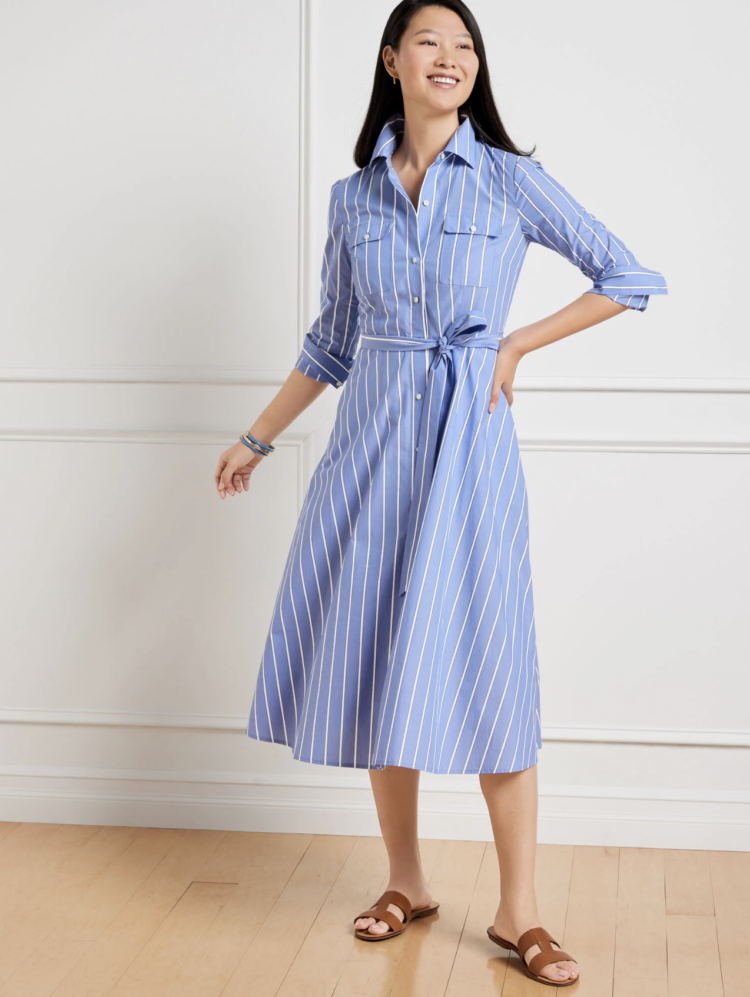 Poplin Fit & Flare Dress
This is the Poplin Fit and Flare Dress in Clover Stripe and it fits the whole Coastal Chic vibe going on this spring. Also, Talbots does shirtdresses really well, paying attention to location of buttons and pockets and such. The only thing disappointing me about this dress is there are no hip pockets, but I know some of you like that because it reduces bulk/bulging. Comes in misses, petite, plus, and plus petite.
In the past I have found Talbots' poplin shirtdresses to run too narrow in the bust for my F-cups; last year I sized up to 14W petite and it was a bit too big allover, so this time I am going to try 16 petite and see how it is. If you are a small to slightly large bust, your usual size should fit. The dress is 100% cotton so don't expect a lot of stretch, expect it to shrink a hair even if you wash on cold, and expect to have to steam or iron after laundering.
But this is the kind of dress you pair with wedge espadrilles and a straw bag for an outdoor wedding or brunch with friends, you pair with tan sandals or pumps for the office, and on the weekend you wear with your casual sandals or even sneakers. In fall, add a navy cardigan and flats or a denim jacket. And pull it out year after year, the cotton getting softer, the dress something you look forward to wearing each spring.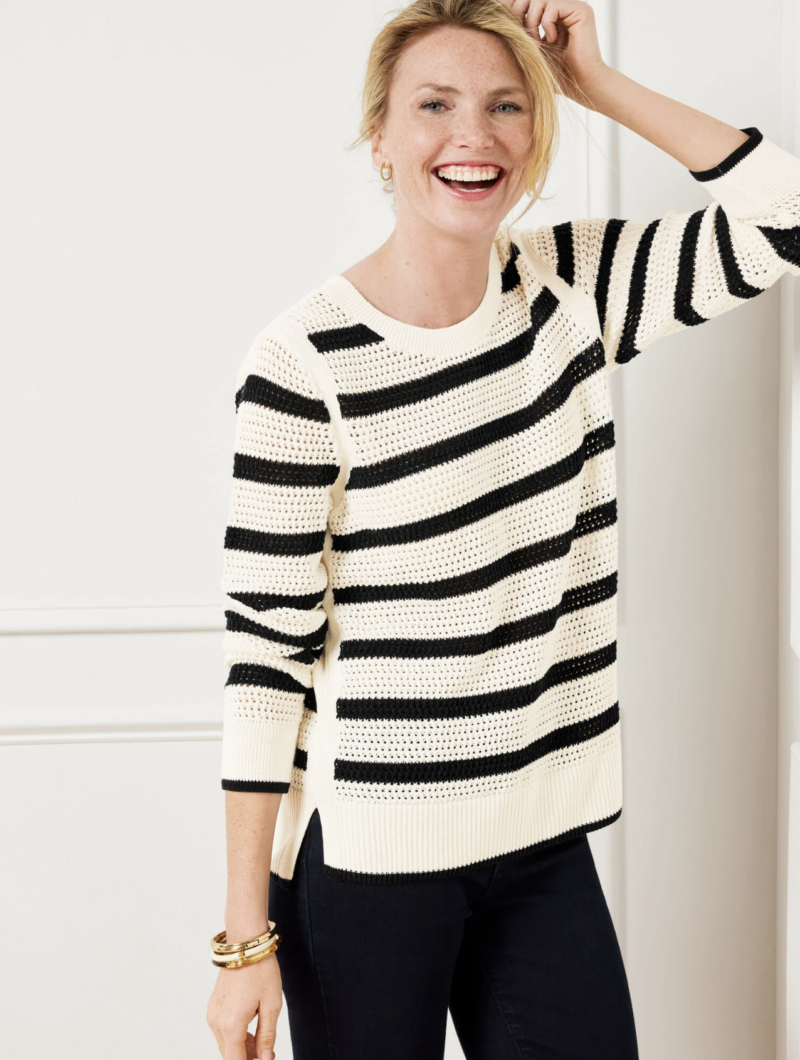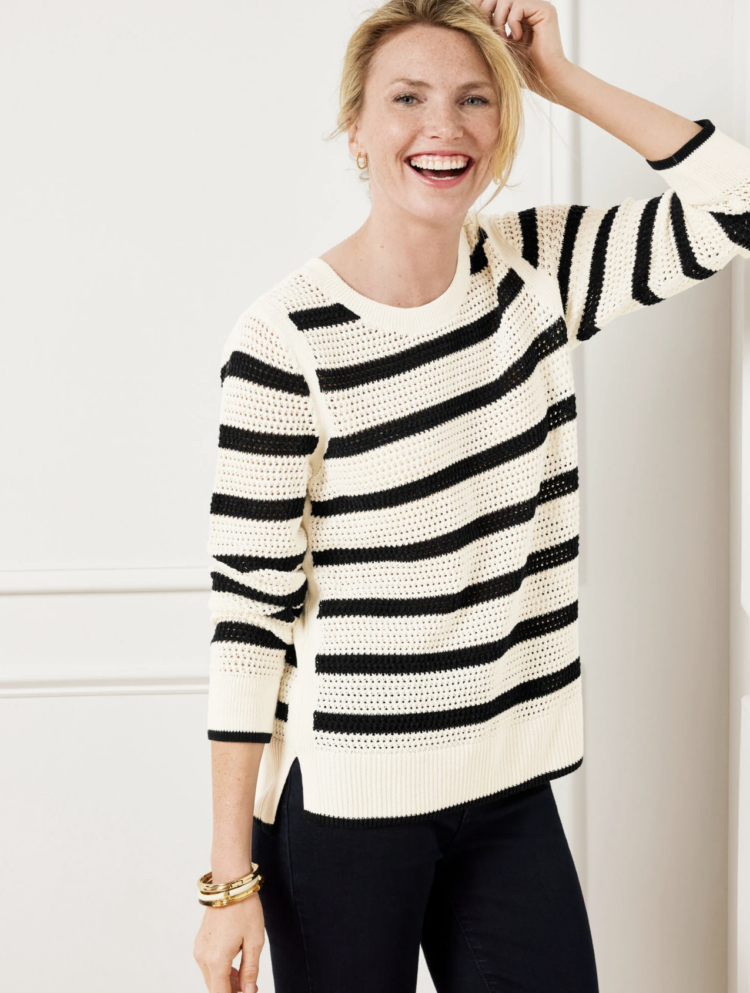 Bicolor Stripe Crewneck Pullover
This is the Bicolor Stripe Crewneck Pullover and in the tiny thumbnail in New Arrivals you may think this is a simple cream and black striped sweater. But when you click on it, you see it's this open weave that makes it a great beach/summer sweater. Some wear with a skin-colored cami, I just wear with a skin-colored t-shirt bra. I would go up a size in this sweater so it's extra slouchy and relaxed.
This sweater I'd throw on with shorts or some Old Navy linen pants with sandals, or half-tuck it into a pair of jeans and slip on some sneakers, or full-tuck it into a pair of chinos (cream, khaki, black, faded red, olive, camel, or mustard) with loafers. I'd take it to the beach and wear it over my swimsuit, and put it over my tank or lightweight t-shirt in the evening and when it gets too warm I'd shove it in my tote or even tie it around my shoulders.
This sweater is 97% cotton and 3% "other fiber" which I can only assume is some synthetic. It comes in misses, petite, plus, and plus petite. I would probably choose an X petite to get that slouchy vibe I desire without having it so long it will cover up my shorts when untucked.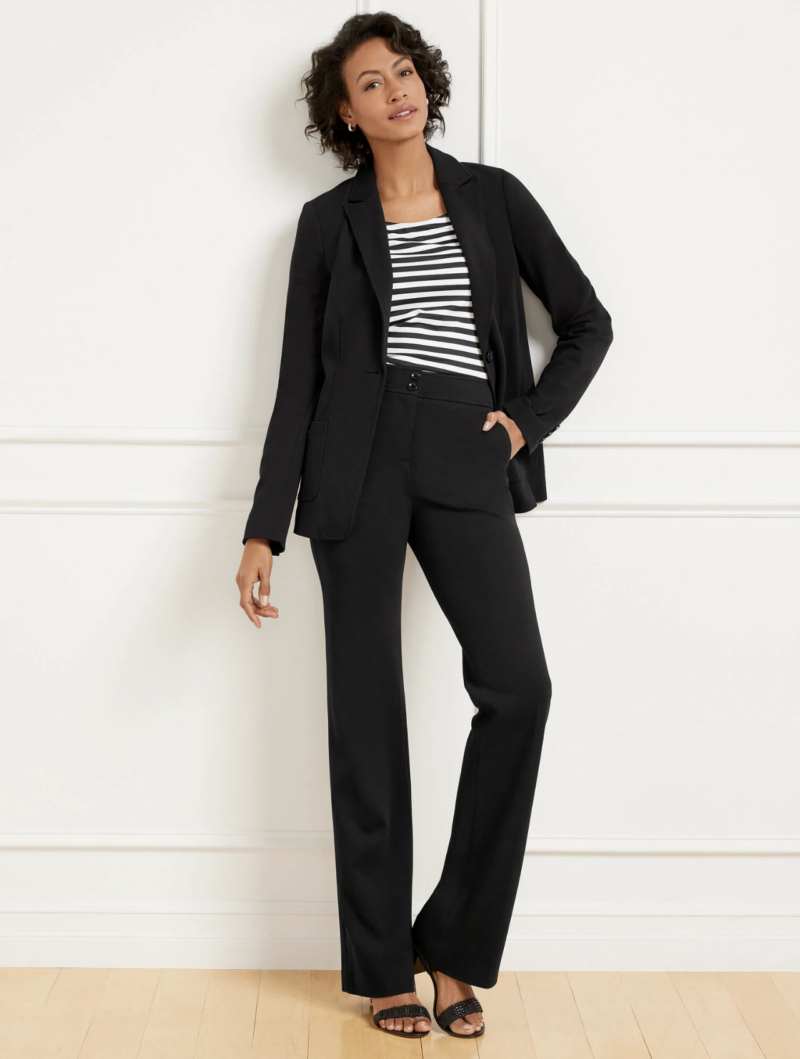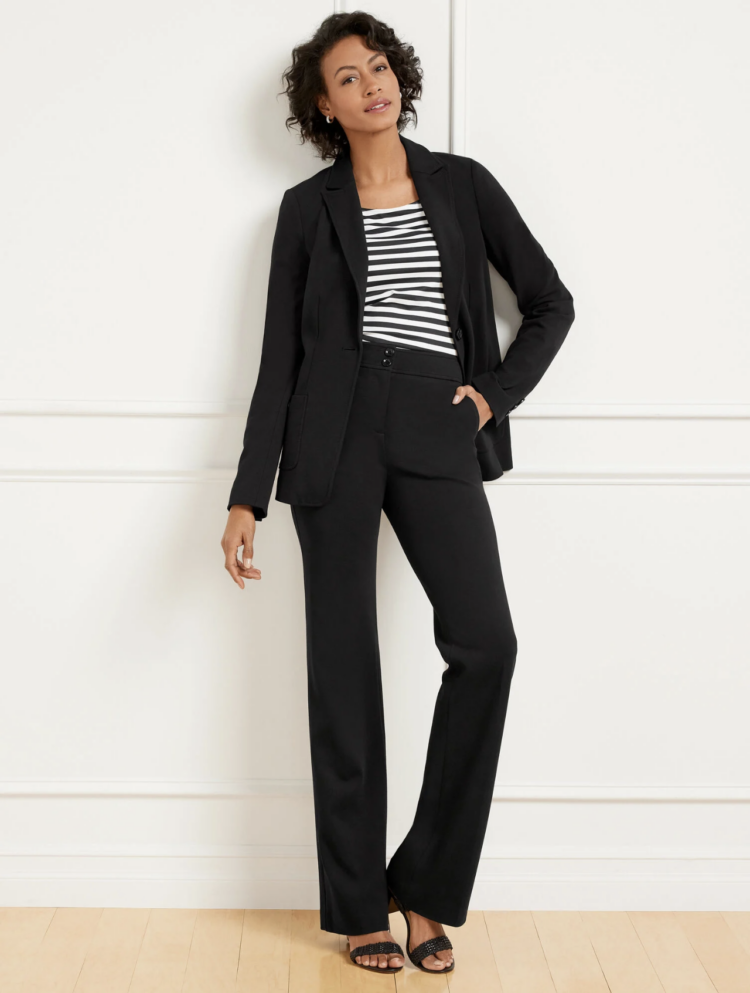 Luxe Knit Blazer & Flared Leg Pants
This is the Luxe Knit Blazer and matching Luxe Knit Flared Leg Pants. Both come in black and navy and both come in misses, petite, and plus sizing. I cannot guarantee this but I have a feeling this "luxe knit" is like a ponte knit. And if you love the idea of a suit made from ponte but the offerings from Universal Standard aren't your style this may be a good alternative.
I love a knit suit because it's comfortable, but can also look refined. It can be dressed up with a silk blouse and pumps or dressed down with a Breton striped t-shirt and sneakers. The pieces can mix and match; wear the pants alone, the blazer with jeans or chinos. And while the term "flare" can scare you off envisioning bellbottoms, I trust Talbots does this on-trend silhouette in a conservative and classic manner.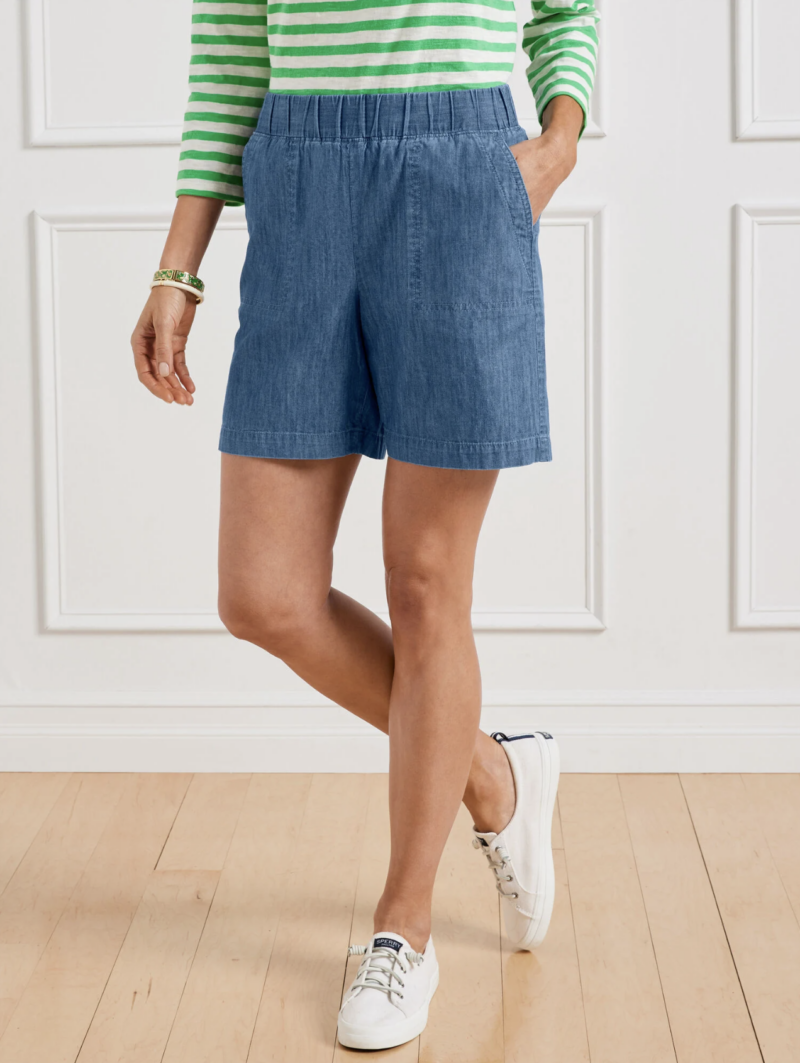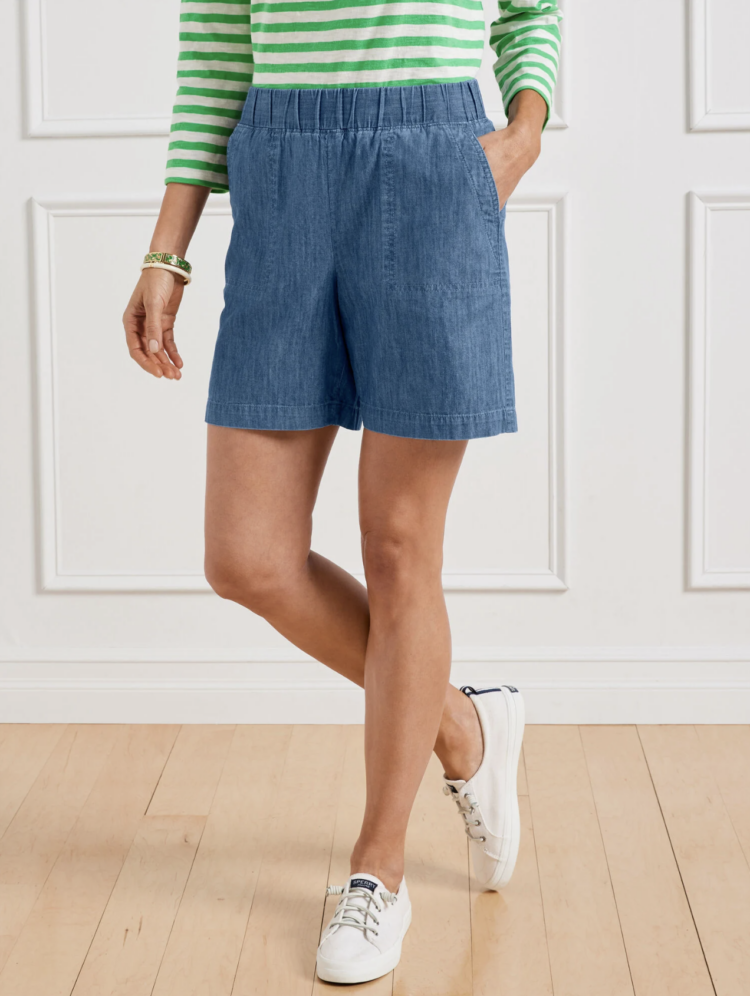 Pull-On Shorts
These shorts look really boring and kind of dorky but I actually think they could be pretty amazing. They are Pull-On Shorts in Chambray and they come in misses, petite, plus, and plus petite. They have a 6″ inseam for misses and plus petite, 5″ for petite, and 7″ for plus. They're 100% cotton so there is a chance for a slight shrink when laundering; I always recommend going up one size for shorts than what you'd wear for pants or jeans.
There are times in the summer when you wish you had a pair of throw on and go shorts, but not ones that look like activewear or sleepwear. Linen sounds great but can be sheer and really wrinkly. Chino can feel too stiff and thick, and denim can be restrictive or sloppy. Enter chambray. And with a pull-on style they're perfect for your breezy leave untucked summer tops that provide maximum airflow. These can be slightly rumpled and still look cool; treat them like linen but easier care.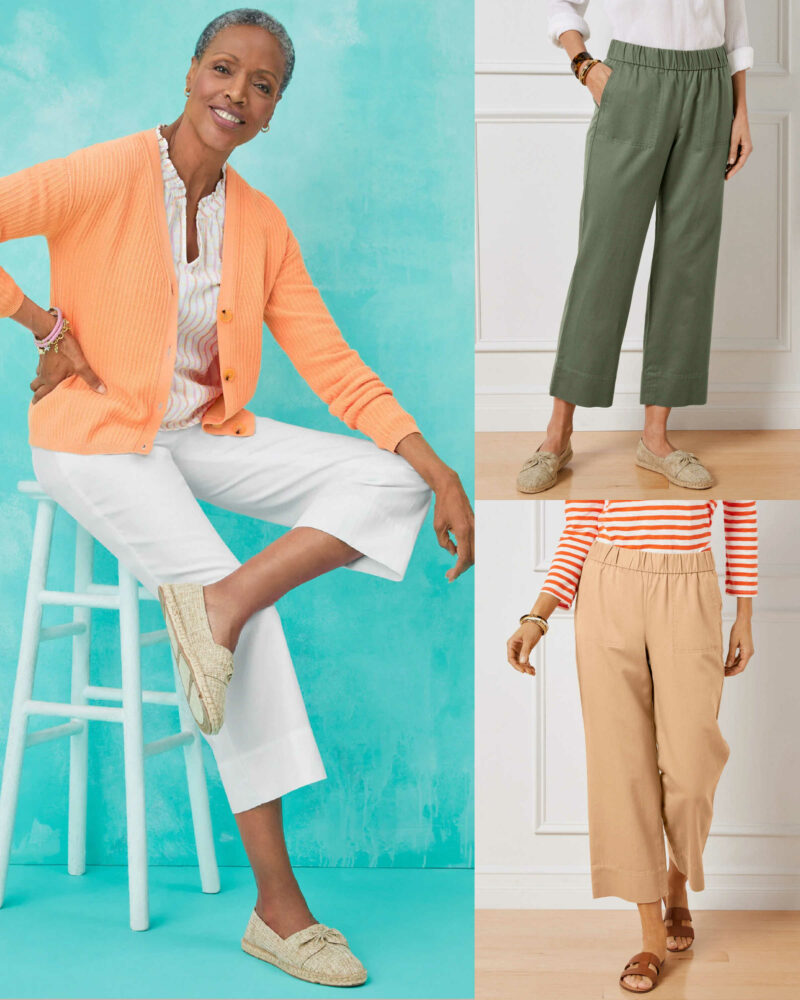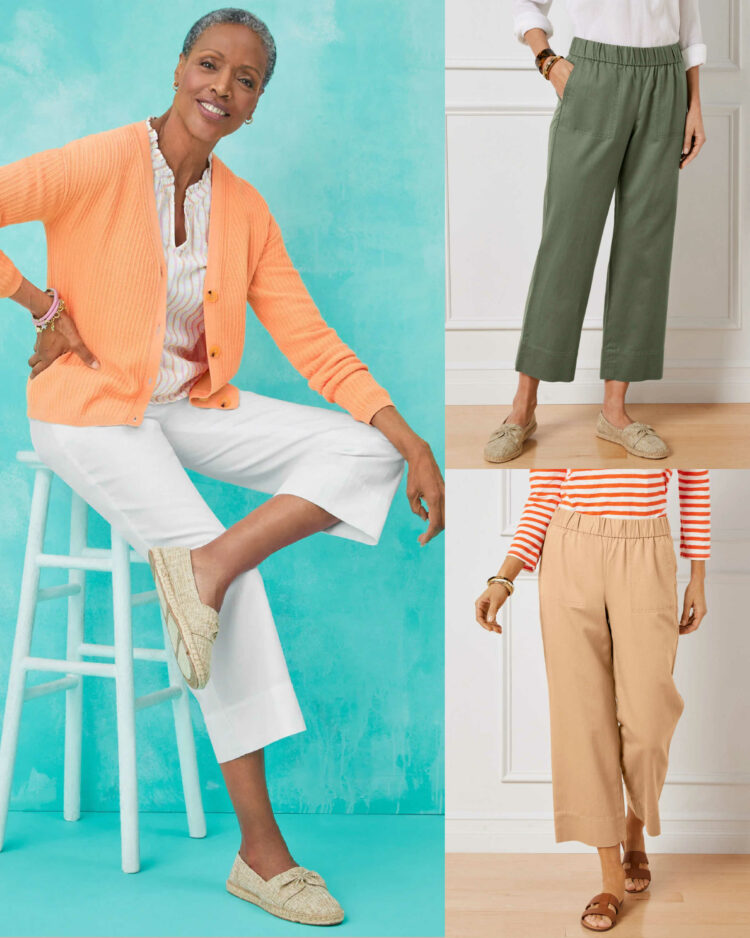 Pull-On Wide Crop Pants
I couldn't decide which photo of these pants to share because they are all hideous, even the studio photo that looks like it's a circa 1992 high school senior portrait. These pants look as terrible as the chambray shorts but I think they could possibly be as awesome as the shorts for the same exact reason. They are the Pull-On Wide Crops and come in misses, petite, plus, and plus petite.
Made from 55% Cotton, 23% Lyocell, 22% Linen these cropped pants will be breezy but not as sheer or rumpled as linen. They come in misses, petite, plus, and plus petite and can go in the dryer. They have that breezy summery crop length that works with sandals, espadrilles, loafers, and low-profile sneakers. I totally would be wearing them with a Breton striped shirt with bracelet-length sleeves (untucked) and Birks for those 60-80 degree days.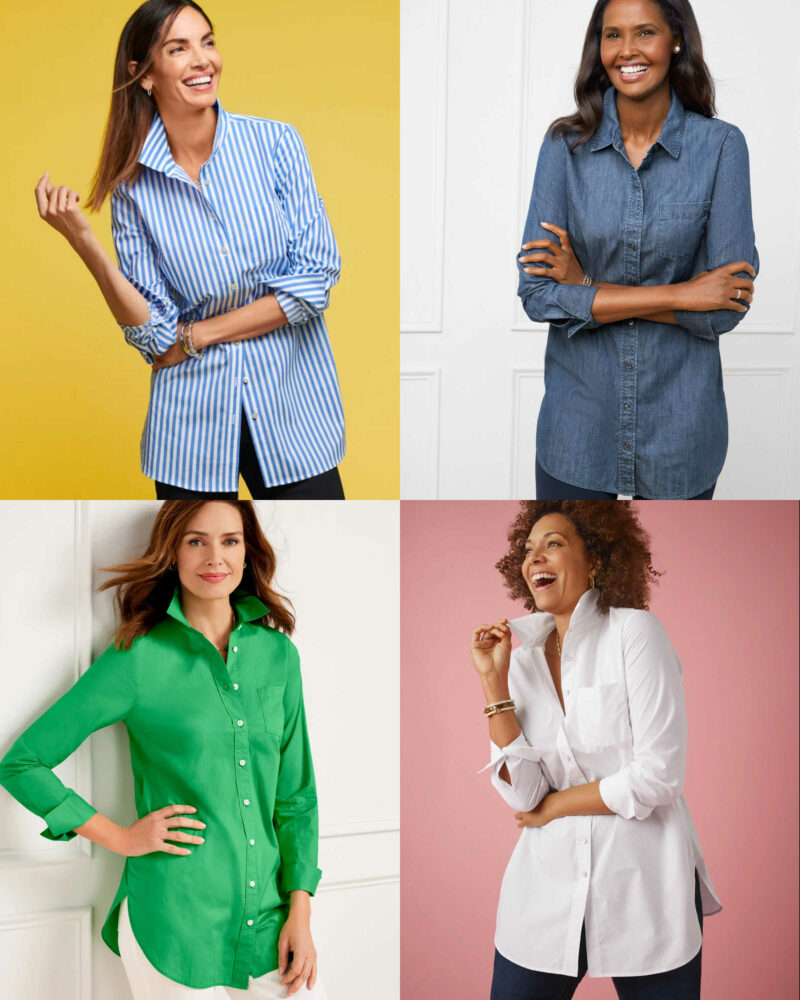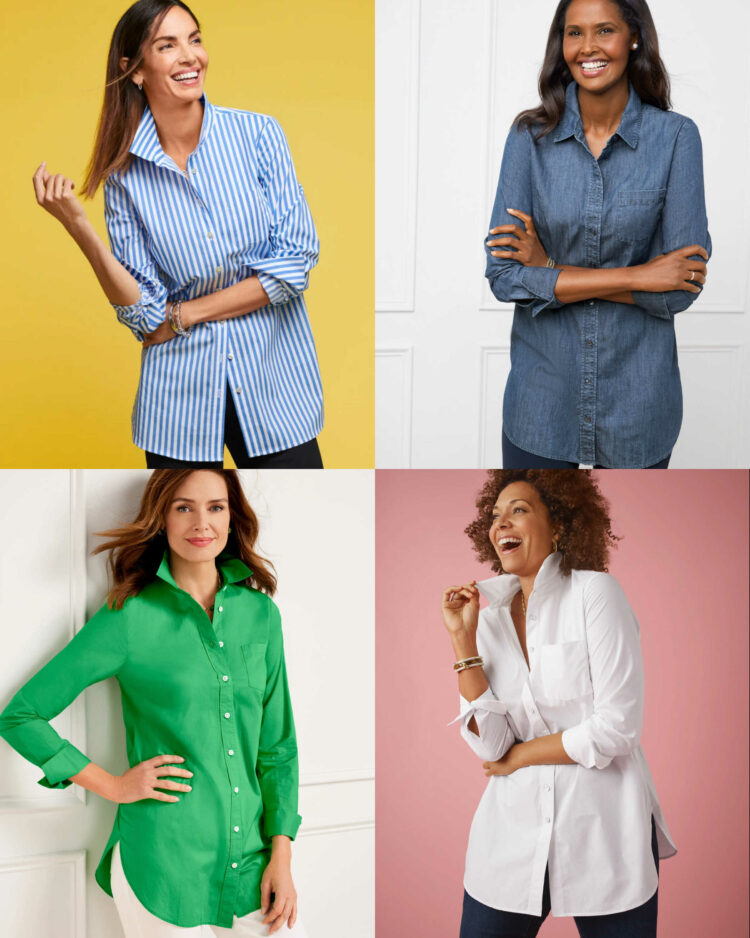 Boyfriend Shirt
This spring, Talbots has a shirt called the Boyfriend shirt and I think the only reason it's getting negative reviews because folks expect it to be as heavy and crisp as their classic button-front shirts, but a longer length. No, this is the shirt you want to get that breezy Coastal Chic vibe I mentioned in my post about styling skinny jeans. It's breezy, not crisp or tailored. Based on the reviews, go with your regular size.
Tuck it in, leave it untucked with the last two buttons unbuttoned. Wear it open over a tank and jeans (or your swimsuit). Tie it at the waist and flip up the back shirttail for a clean look in back. Pop the collar, unbutton an extra button, roll up the sleeves, and let this shirt look like it's lived life with you.
Shop the Post: