This article may contain affiliate links; if you click on a shopping link and make a purchase I may receive a commission. As an Amazon Associate, I earn from qualifying purchases.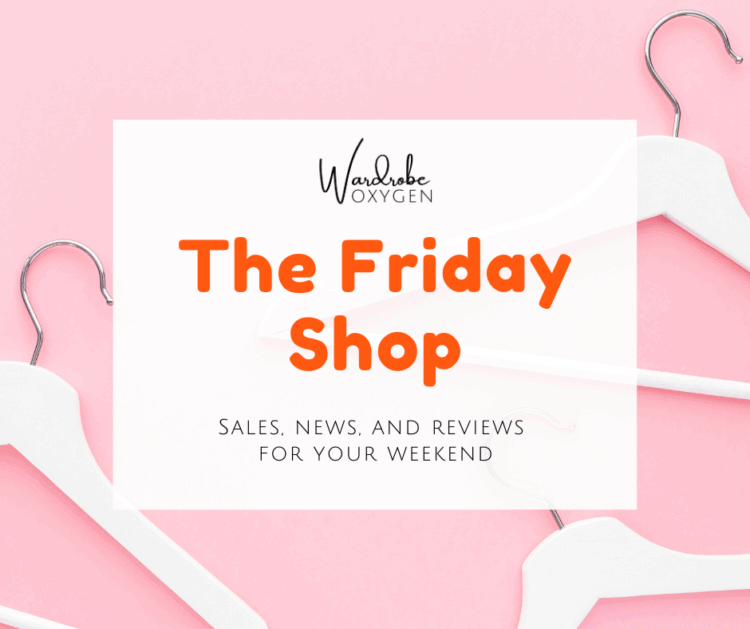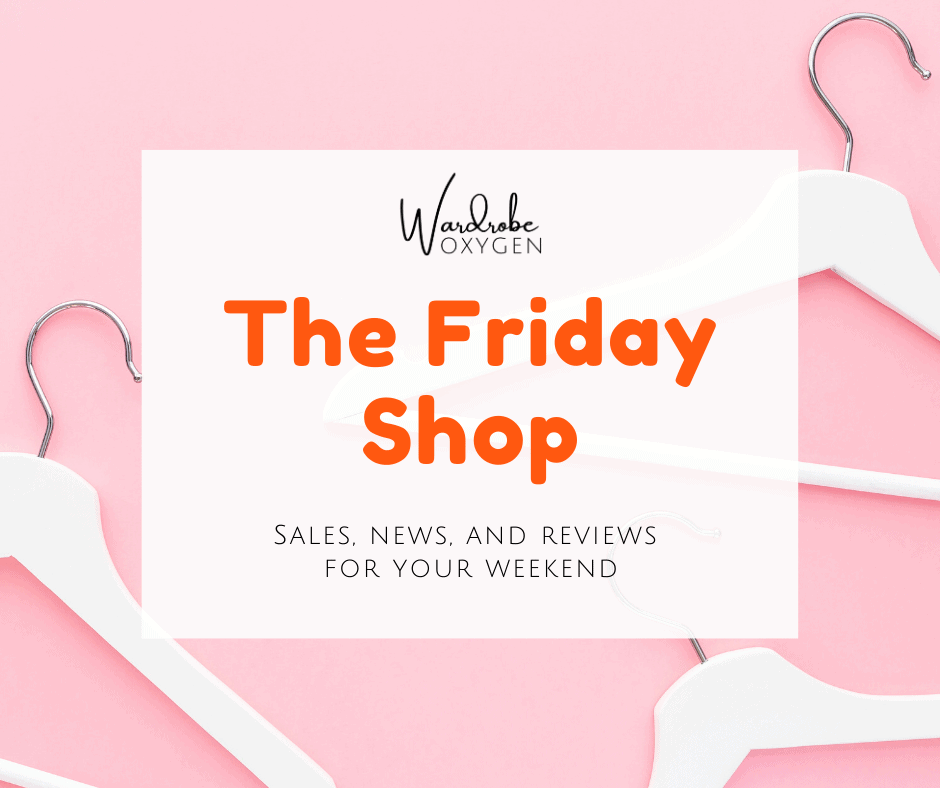 Sale Alert
Aerie: I was just updating a broken link in my post about the best plus size bras and undies and saw how so many recommended Aerie for undies. Well, their undies at this link are on sale through the 26th at 5 pairs for $25!
Anthropologie: Did you know Anthro has activewear up to size 3XL and some styles available in petite up to XL? Me neither. Well I also found through the end of the month, they are offering free shipping and returns on their activewear so you can try without buyer's remorse. If you do, report back and let me know your thoughts!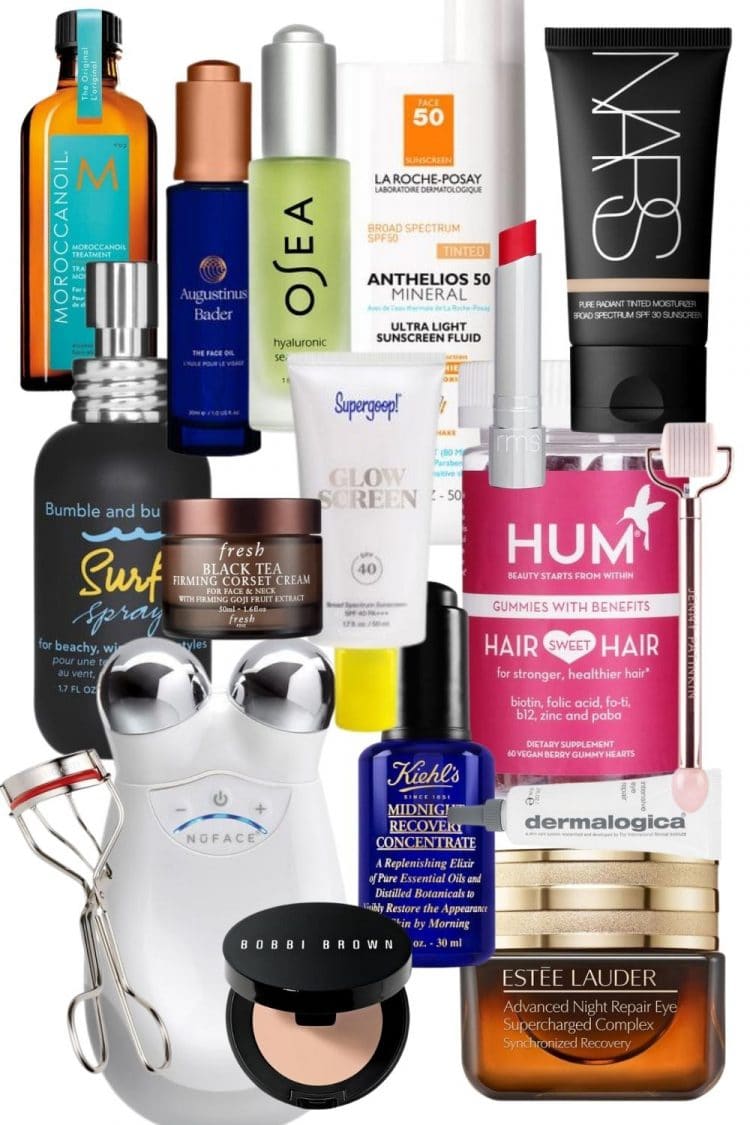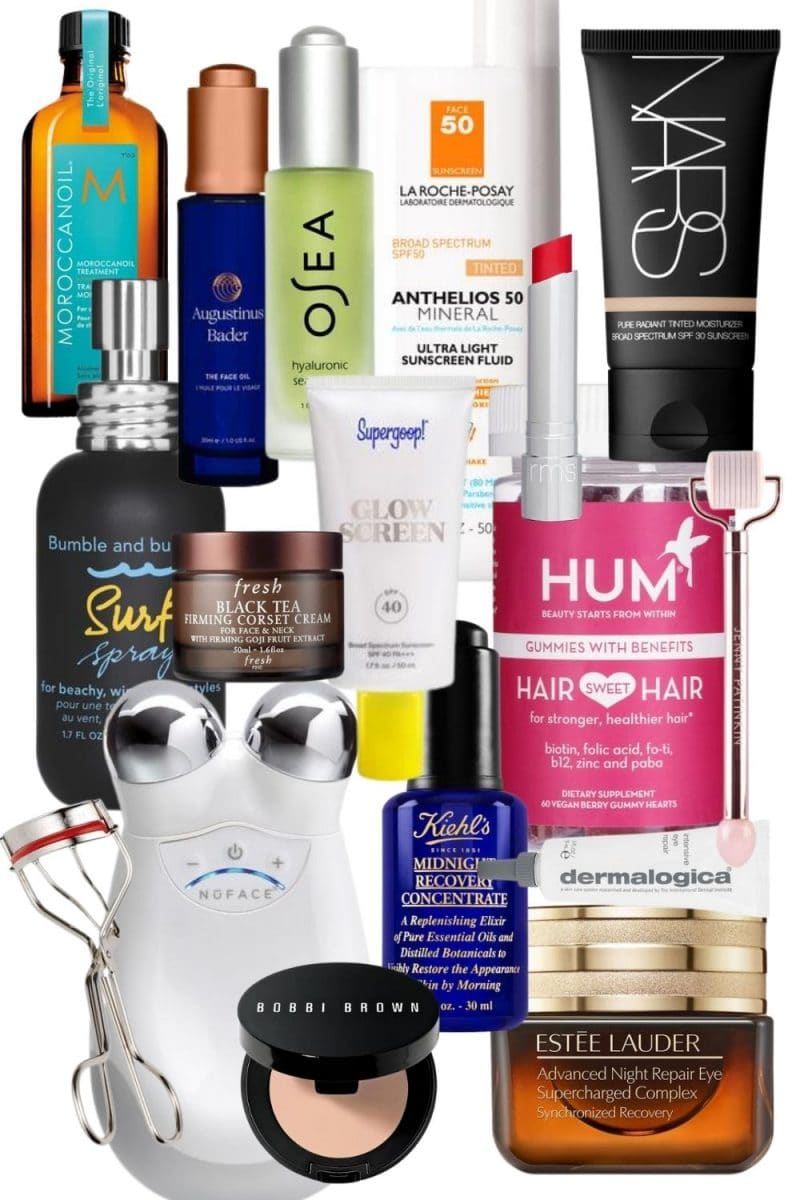 Blue Mercury: If you're looking to update your skincare, beauty, or body care routine this month, head to Blue Mercury, a woman-founded beauty retailer that started as a shop in DC and now is global and online. Blue Mercury carries many of the high-rated beauty brands; here you can find out all the brands they carry. Right now they're offering this phenomenal gift with purchase with orders of $175+. I mean really, they don't say how much the GWP is worth but I am guessing at least $50!
Colleen Rothschild: Colleen Rothschild Beauty is celebrating it's 7th birthday and you get the gift by getting 25% off sitewide with promo code 7YEARS. If you are new to this skincare brand I have used for years, I highly recommend their Radiant Cleansing Balm, or the Discovery Collection which is their bestsellers in reusable TSA-friendly travel sized containers.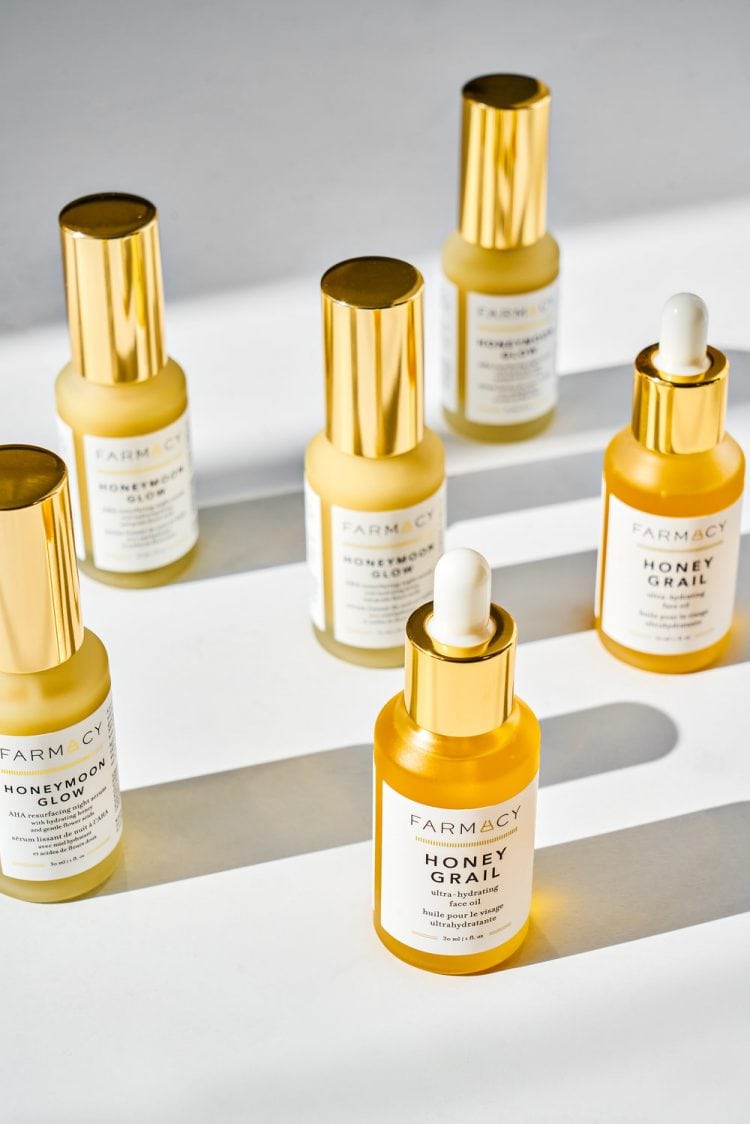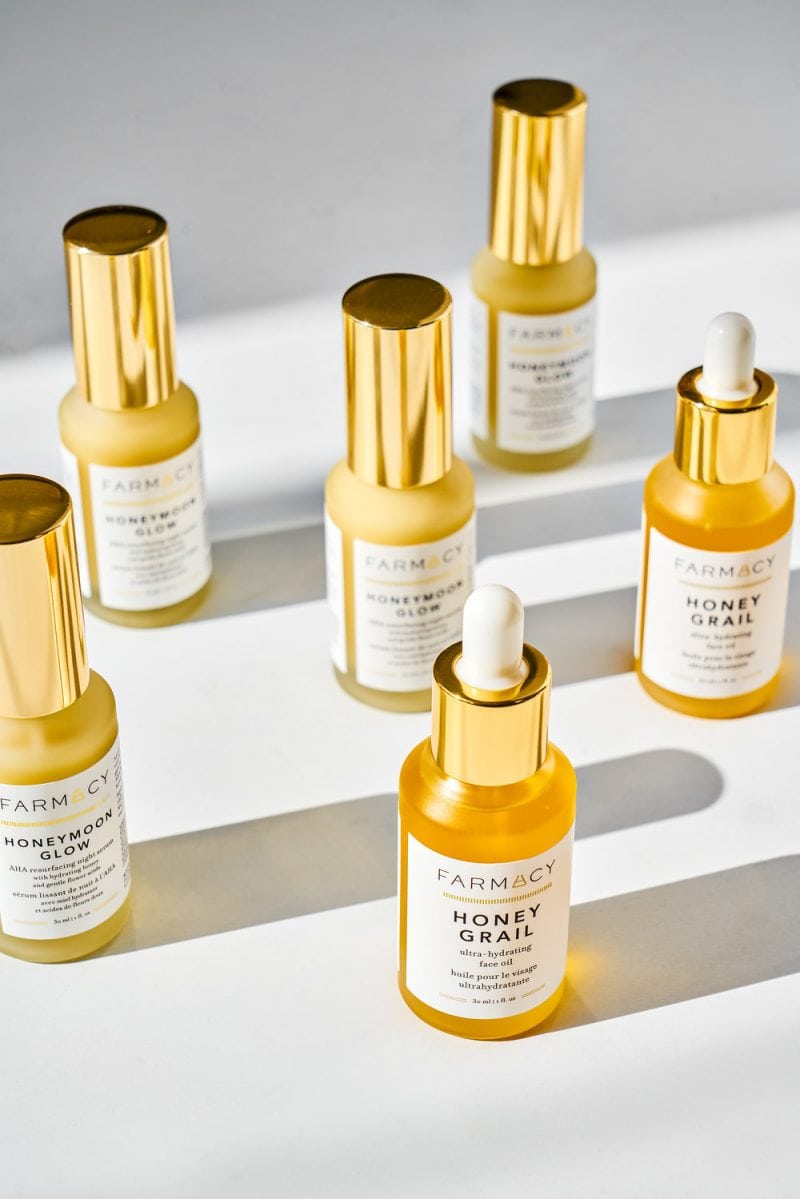 Farmacy Beauty: My sister gave me a bottle of Farmacy's Honeymoon Glow and I have been a fan of this clean, sustainable, and ethical beauty brand ever since. Farmacy has started a new rewards program, it's free and you get 50 points just for joining and can get points just for easy things like following them on social, writing reviews on their site, as well as points for purchases. These points become store credit for future purchases. You also get free shipping on orders $40+ and free samples with every order.
PLUS, through this Sunday, spend $100+ at Farmacy Beauty and get a free full-sized hand wash AND 3X rewards points! BTW, if you sign up for emails you get 15% off but the code is FARMACY15 so your choice if you want to get their newsletter.
QVC: Receive 30% off Urban Decay's 24/7 eyeliner pencil trio, volumizing mascara duo, naked cherry eye shadow palette, brow blade styling ink pencil and stay naked concealer. A bunch of other Urban Decay is 20% off at QVC; all the sale items are at this link. Dude, this is such a good deal of really great products. This sale ends on the 23rd so don't dilly dally!
Universal Standard: Have you heard about Universal Standard's new Reset, Recycle, Refresh program? It's the perfect way to try Universal Standard for less while updating your wardrobe!
Order a prelabeled recycling bag for just $4.50. Fill it up with 1 – 4 pieces of your old clothing. Your used textiles will have a new life as everyday necessities – old cottons will become yarn used for manufacturing new pieces, and polyesters will turn into pellets used for manufacturing plastic household goods.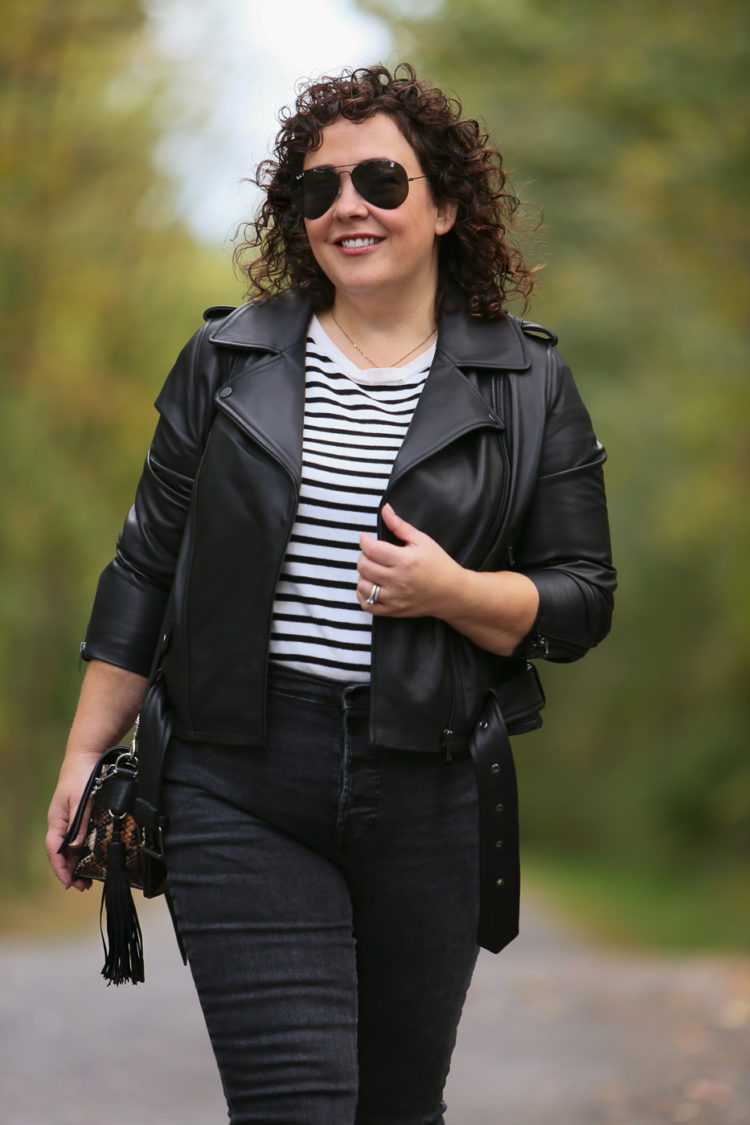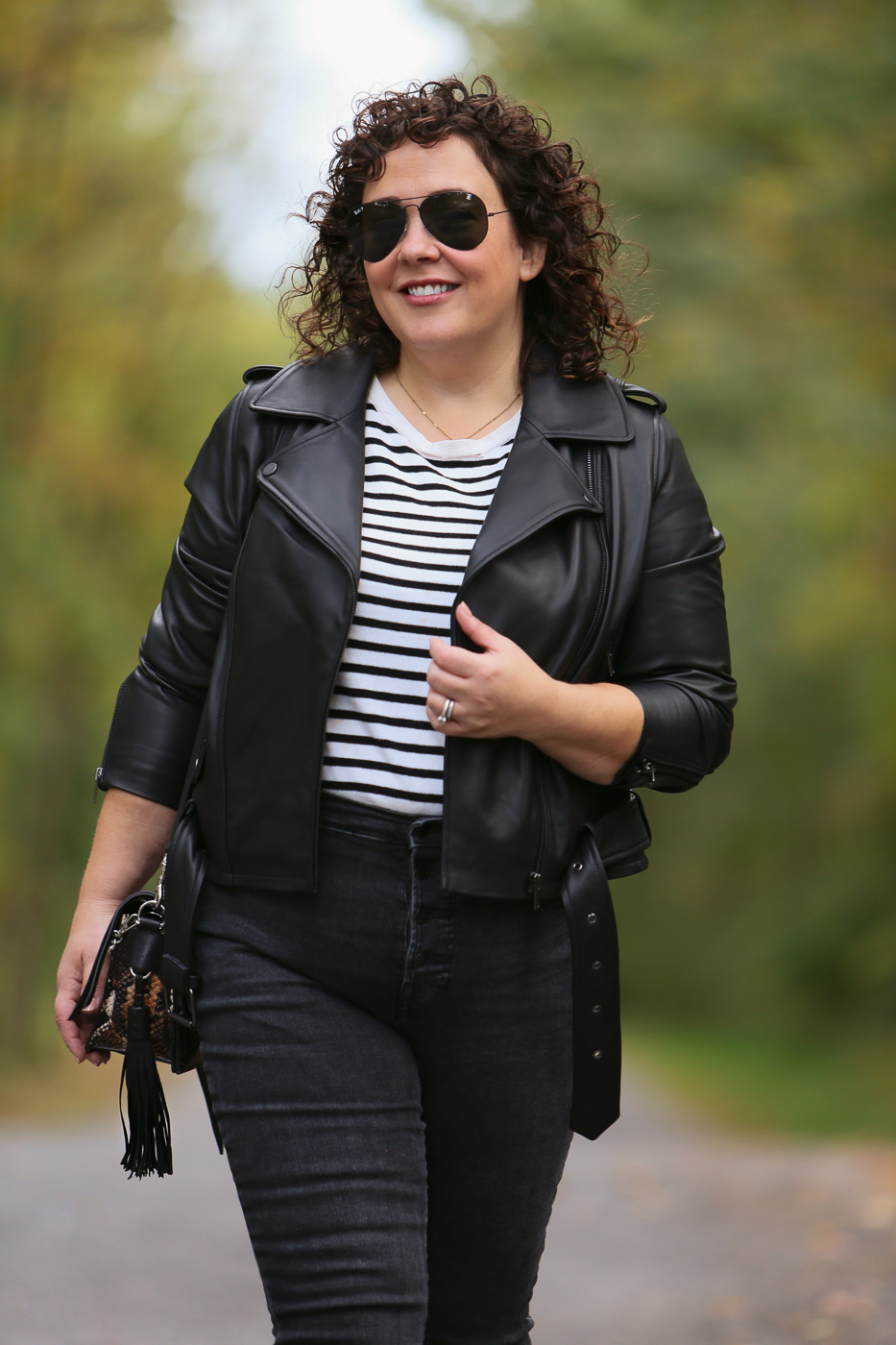 Once you order your bag from Universal Standard and send it in, you'll receive a unique code in your inbox within 10 days for up to $100 to shop with Universal Standard ($25 per garment sent in up to four garments). Please note you can't use more than one $25 code per order, but I still think this is a good deal. Learn more at this link.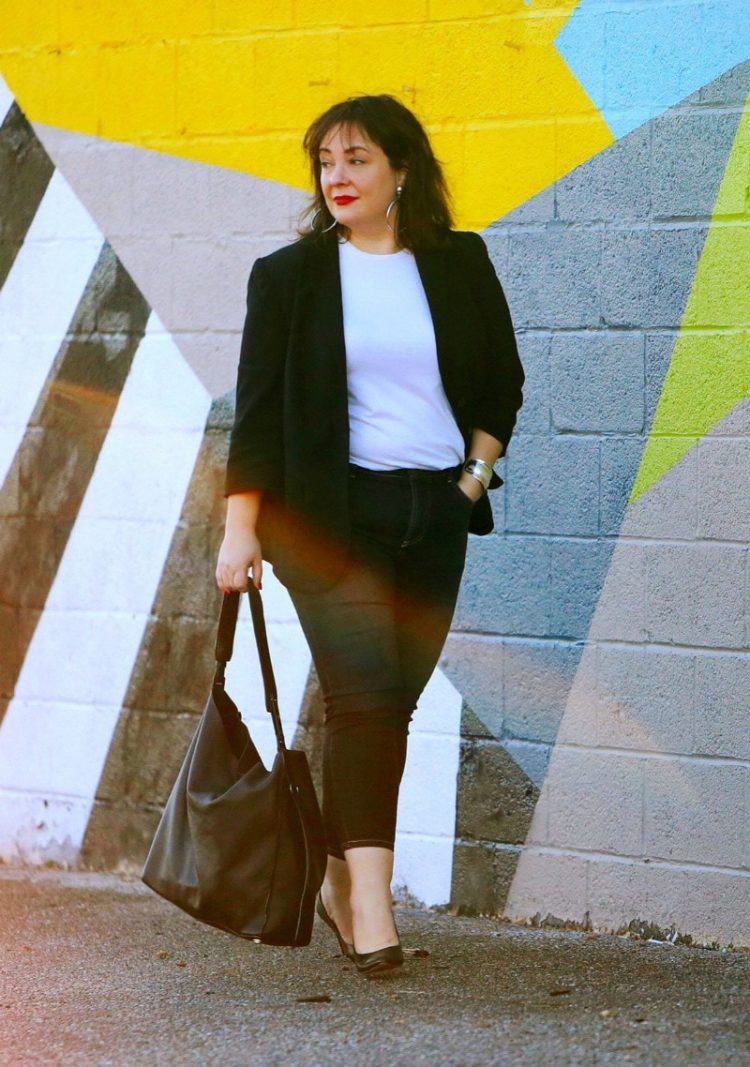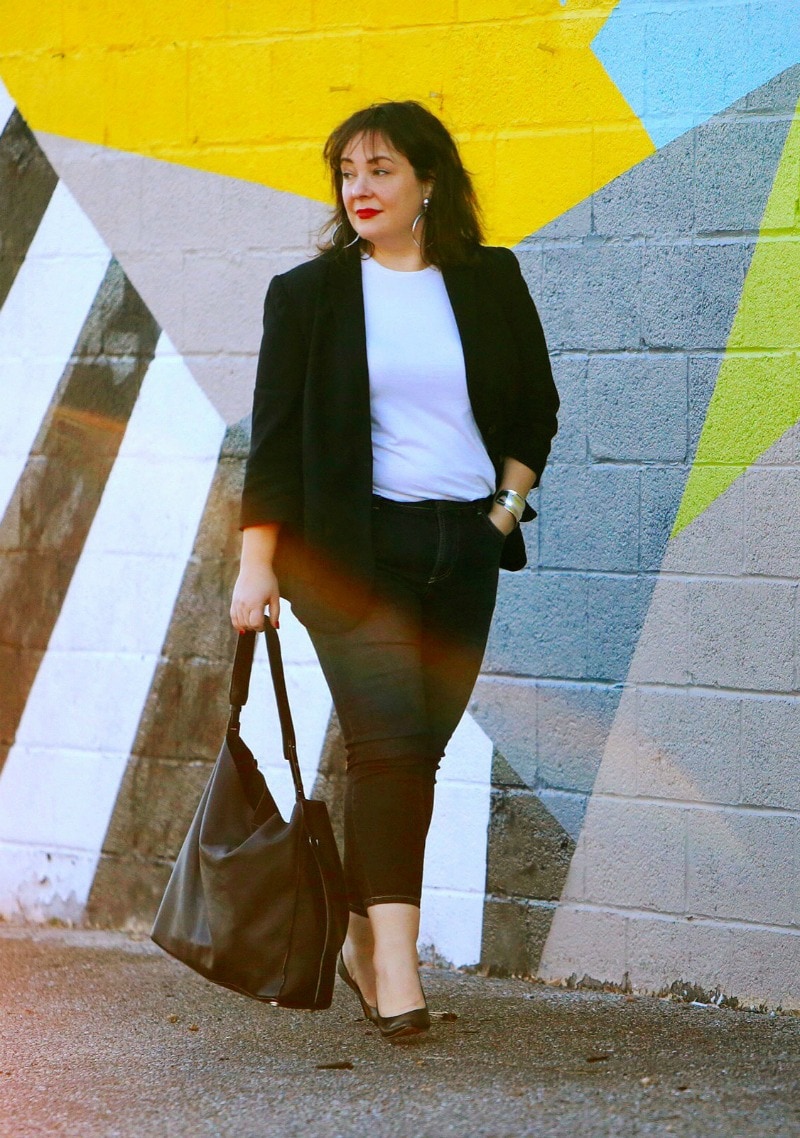 If you're new to Universal Standard, a company that offers sizes 00-40, and want to try this program and buy something not too costly with your $25 code, check out their selection under $50. I LOVE their Foundation Crew, I own three of them and one is two years old, has been in the dryer countless times, and still looks and fits beautifully. Their Tee Rex would be only $25 after the promo and I continue to find this tee to be the BEST out there, and so many of you have reported back to me that you agree.
What I Bought and What I Thought
NYDJ SpanSpring Denim Review: First Thoughts
NYDJ has come out with what they call SpanSpring Denim, which is their stretchiest denim yet. Instead of going by number size, you choose Small, Medium, or Large because these jeans stretch to fit three sizes. When NYDJ reached out asking if I wanted a pair, no strings attached, I said yes! I just had to try them and do a NYDJ SpanSpring Denim review!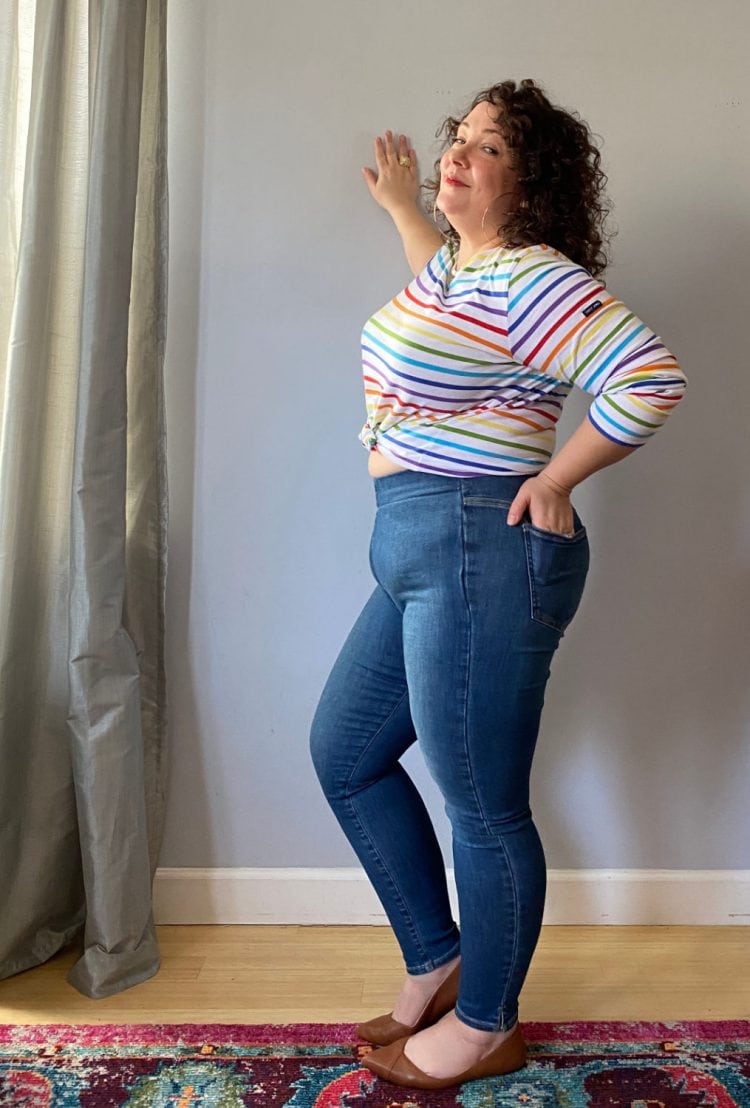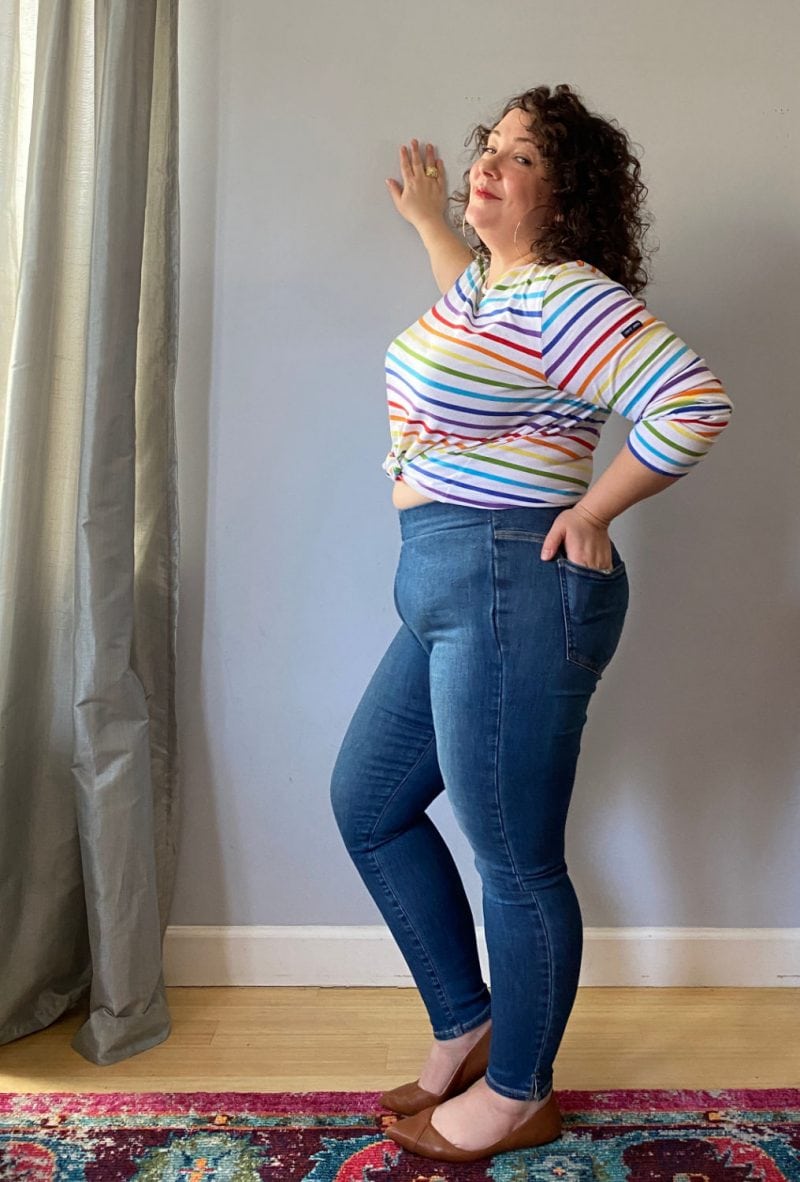 I asked for a size Large which is supposed to fit sizes 12, 14, and 16. They sent me their Super Skinny Ankle Pull-On Jeans in the color Clean Allure. I am usually a size 14, and in NYDJ a 12. The photos here are after wearing them for over an hour while sitting, walking, etc. My shirt is tied to show detail.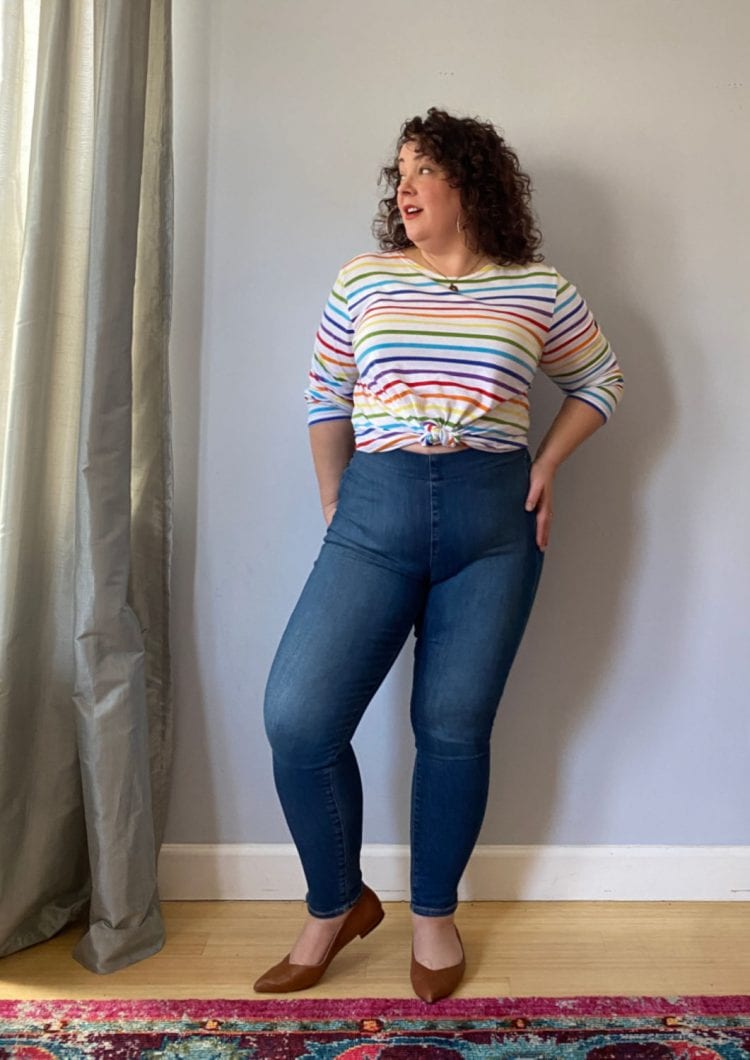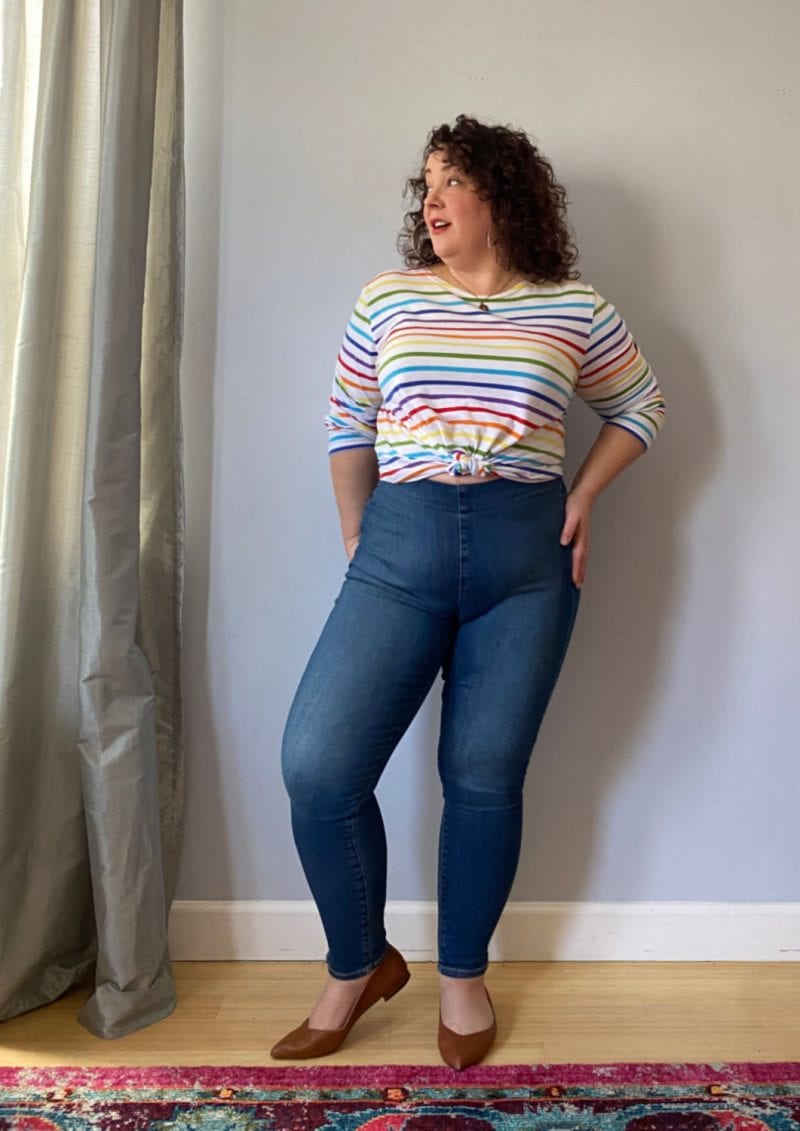 These jeans felt suffocating when I put them on, and at first I was like oh no, these are not good. But as I moved and the jeans warmed up they became super comfortable. Think like compression leggings for activewear; they're a bit thicker than typical jeggings stretchy denim, they have way better bounceback (like wear them all day and they're still snug and no baggy knees or rear).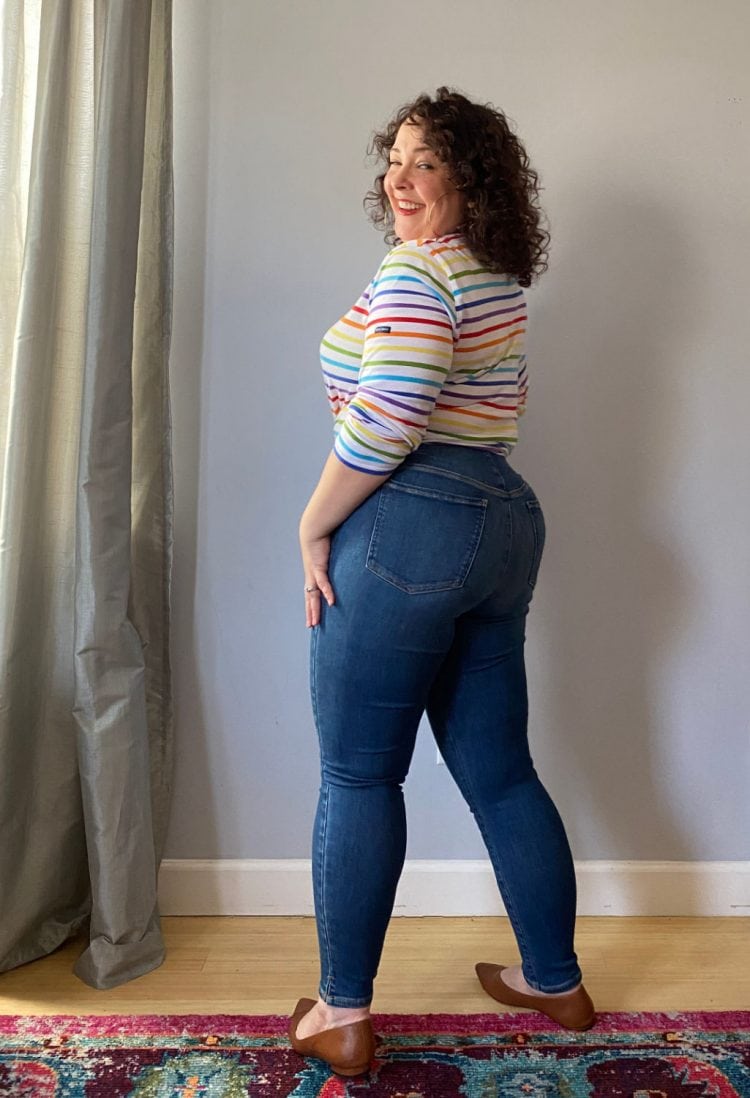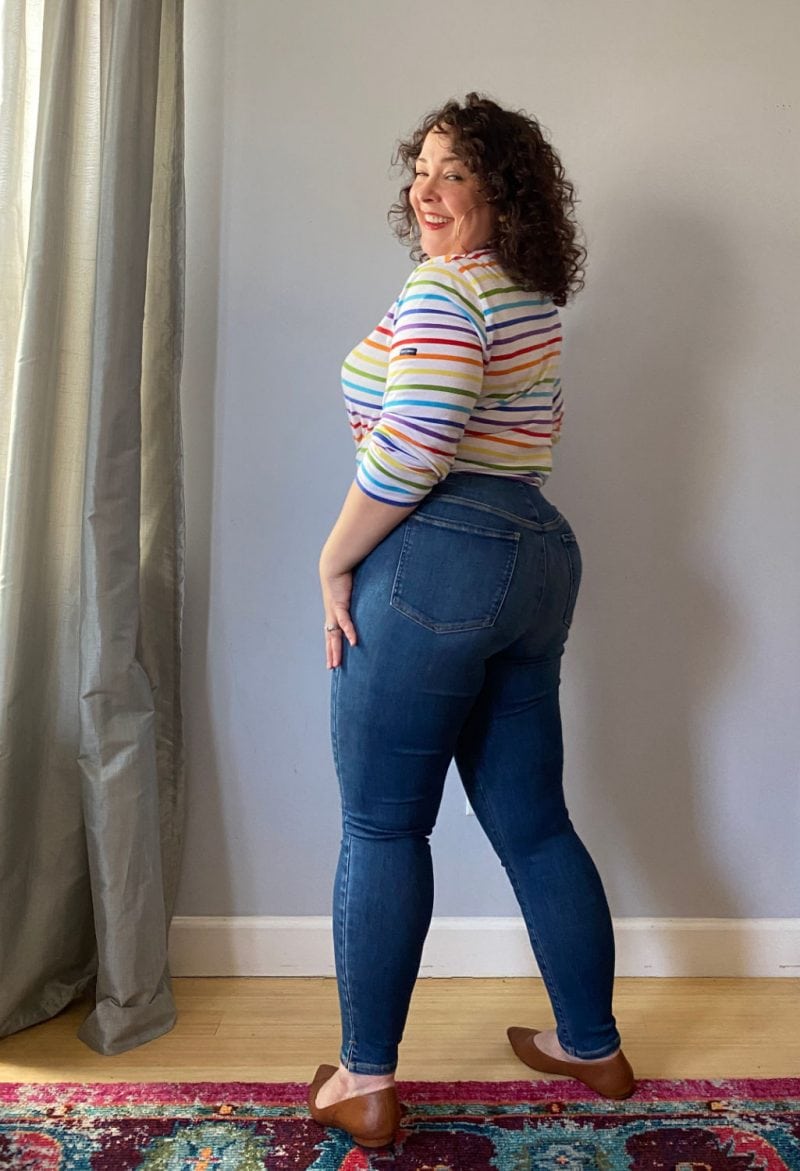 I don't love the cut of these jeans, it's a bit more hourglass than I am, and they don't come in petite. I also don't like that they don't (yet, I hope it's yet) come in larger sizes as I think most women regardless of size deal with weight fluctuation, especially in the middle of a 'demic.
I honestly don't think these would fit if I went up to a 16. They are comfortable now and I know they stretch, but I think they'd look painted on and be uncomfortable at the waistband if I went up another size. That being said, I think they would work if I was down to a 12.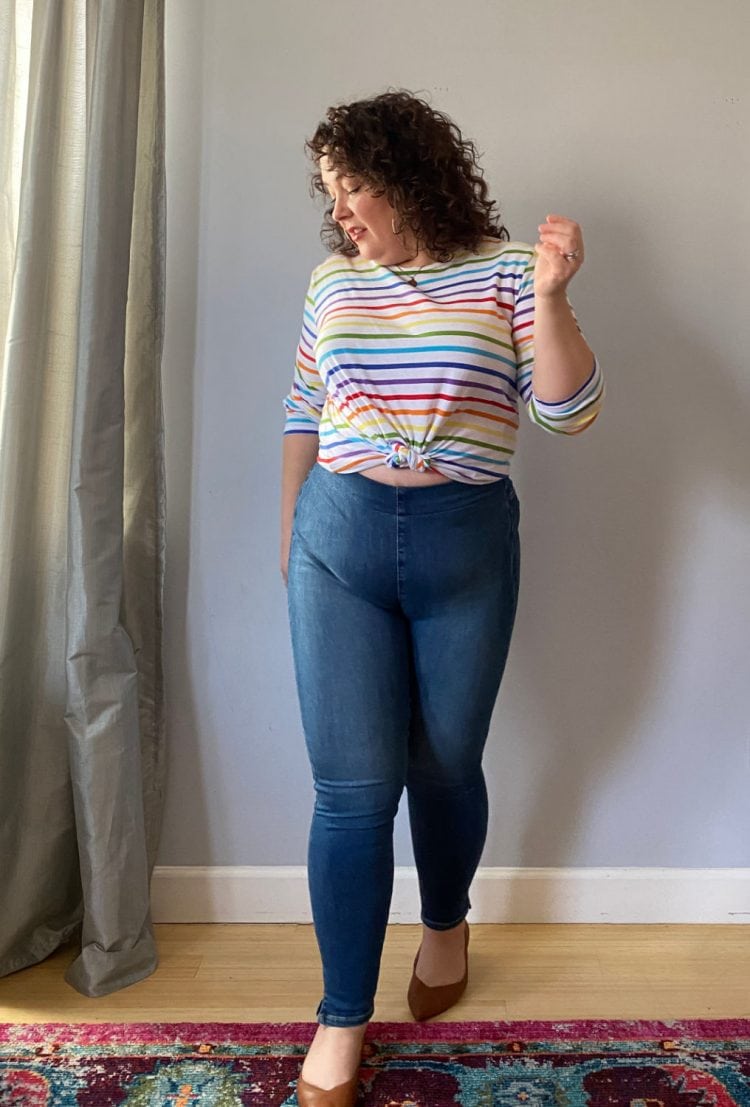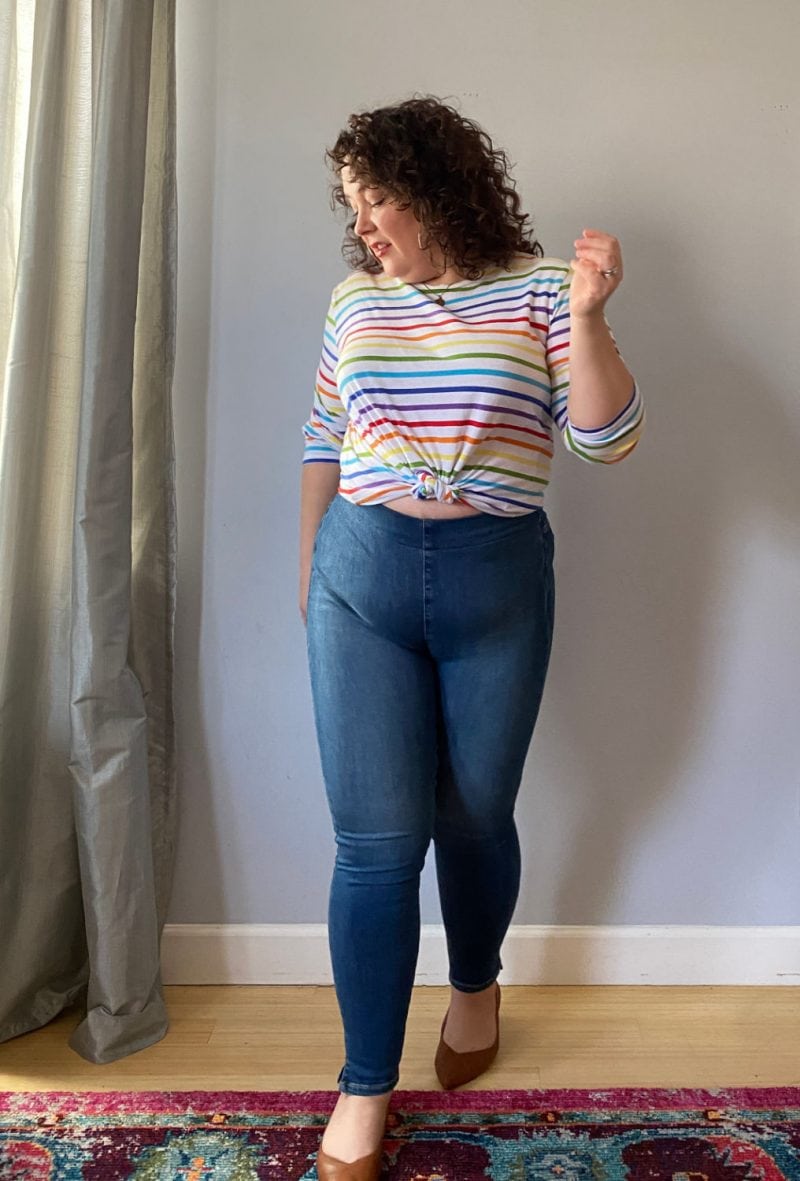 I also hope to see more styles in the future as a super skinny jean with ankle slits isn't my usual choice for denim. I haven't washed them yet, but will and will share how they hold up.
Right now these jeans are sold out at the NYDJ website but if you go to the link there's a red flag on the right side of the screen you can press to be notified by email once they are back in stock. The NYDJ SpanSpring Super Skinny Ankle Pull-On Jeans retail for $99.
Nightire Pajamas Review
I may be an influencer myself, but I am regularly influenced by my peers. When I saw that Grace Atwood came out with two styles of bamboo pajamas with the UK sleepwear brand Nightire and one was a gorgeous green color with tigers on them… I ordered a pair.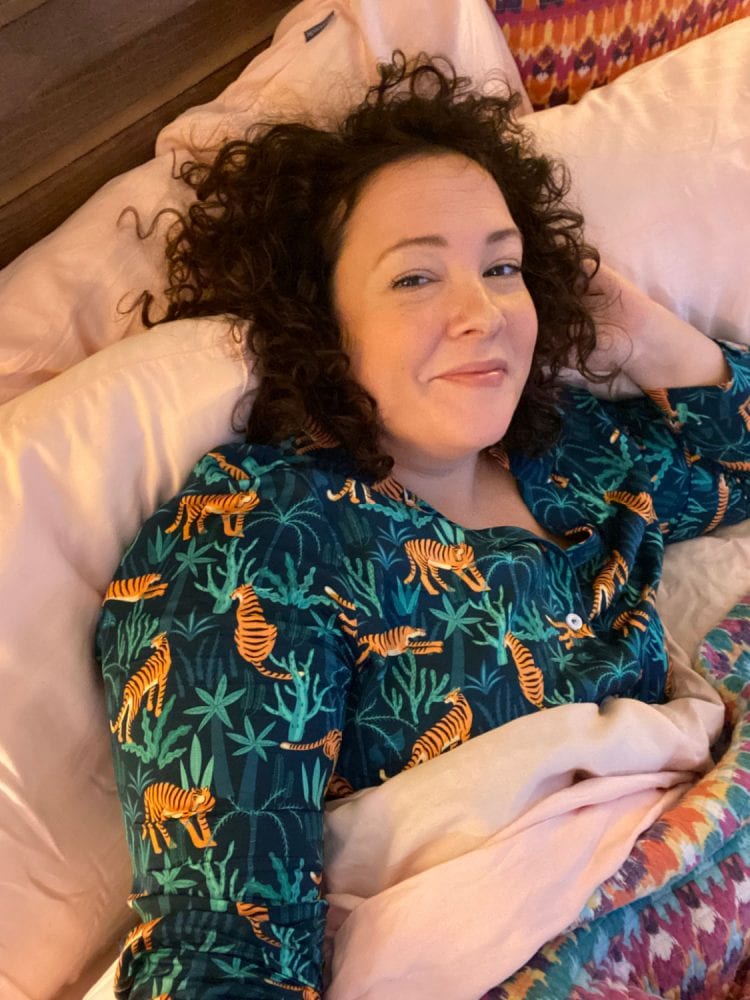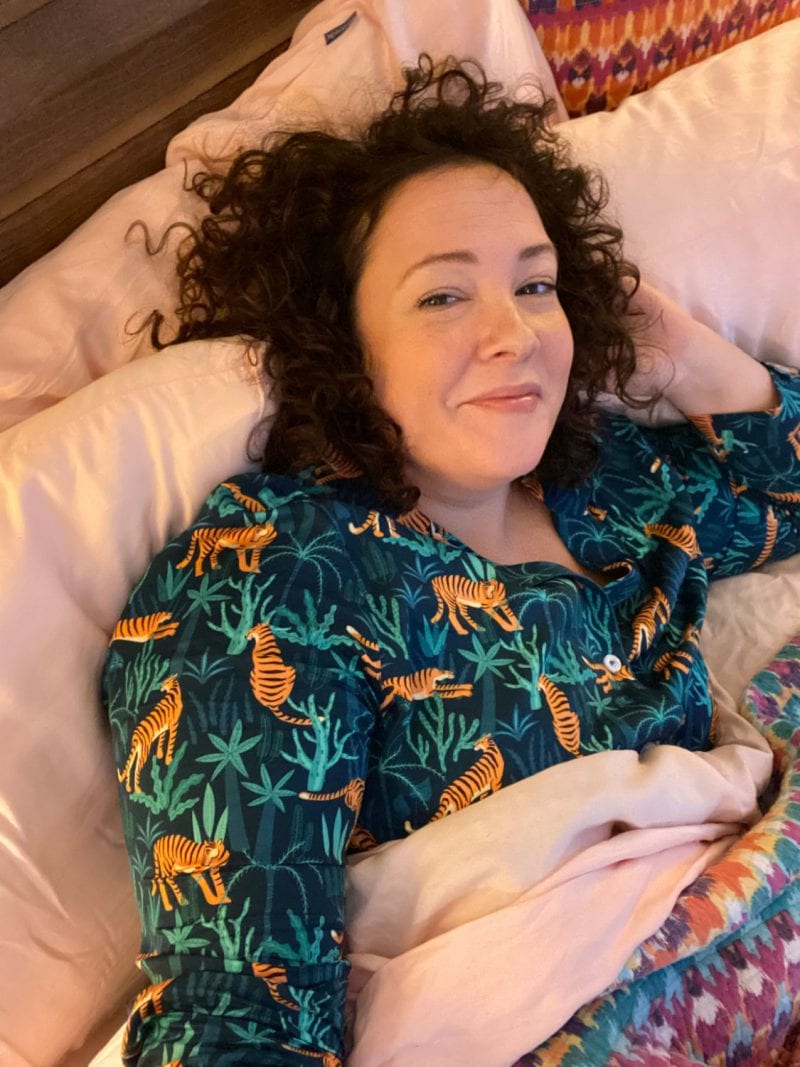 Nightire sets are made in China by a company that is ISO9001 certified (which basically means they consistently provide products and services that is of excellent quality, and their manufacturing practices are ethical). The fabric is sourced from a bamboo specialist supplier that is also in China. The bamboo fabric is FSB approved and 100% organic certified. Nightire offers their collection up to 3XL which is equivalent to US 16-18.
I got a pair in size XL. It was necessary to go up to XL to comfortably accommodate my bust and booty, because these are relatively straight cut and there is no stretch. This meant the sleeves and legs were a bit long but nothing so bad I can't wear them un-tailored. The XL is loose but not sliding down on my waist, comfortable in the rest of the body, the only issue is length. The fabric is nice, and still looks nice after being laundered at least 6 times, and at least two of those times in the dryer (though I usually line dry).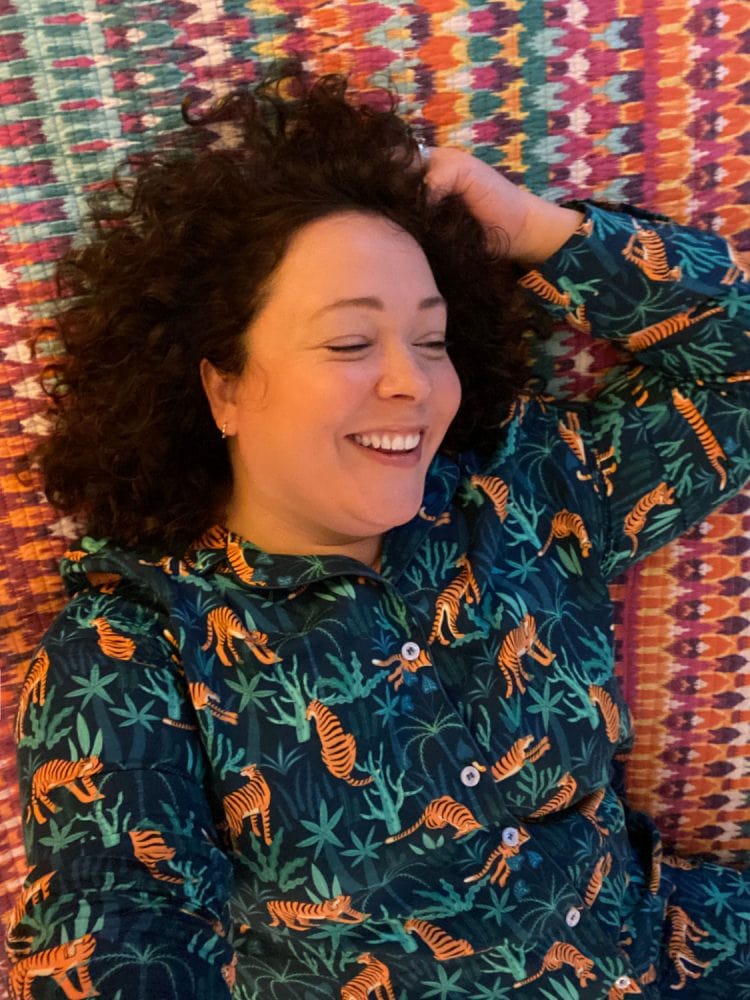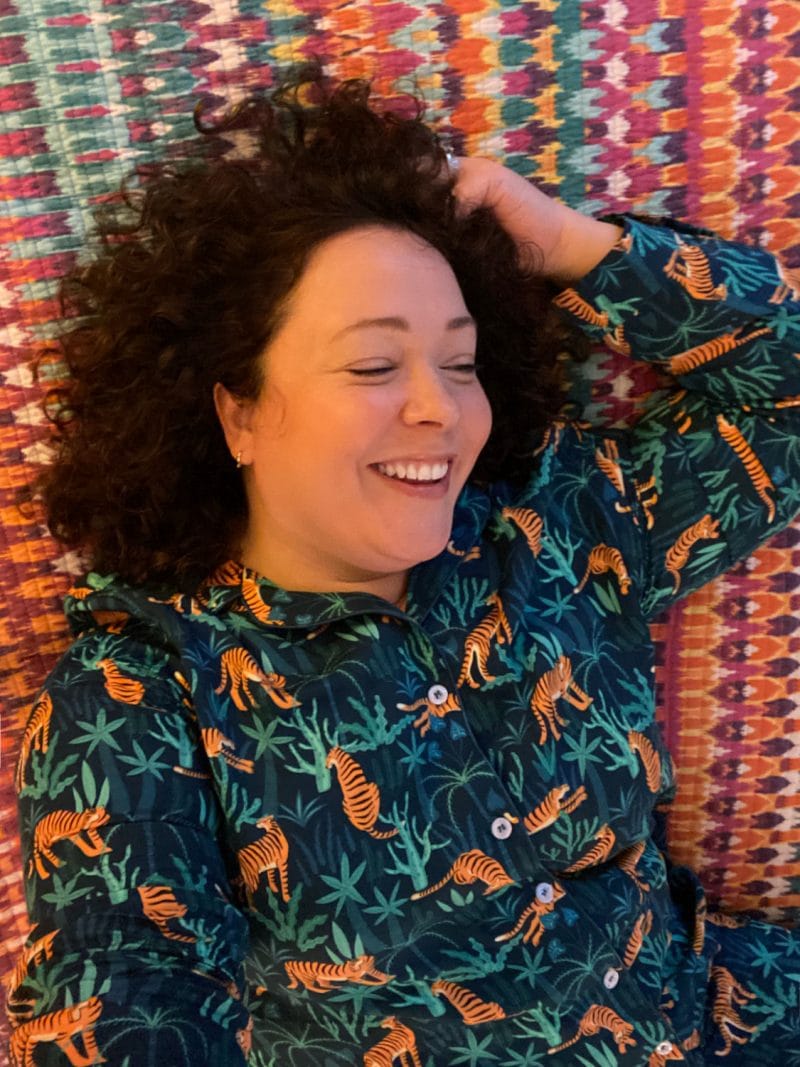 The colors are super saturated, the manufacturing well done. There are nice little details like buttons on the cuffs and wider arm holes to make it easy to move. No drawstring to mess with, and a neckline that is high enough to not flash the UPS man but low enough that it's feminine. My biggest issue? No pockets. I can't deal anymore with anything that doesn't have a pocket.
As for bamboo being cooler than cotton, I agree it is cooler than cotton and feels way more silky and nice against the skin. But I find the Soma Cool Nights sleepwear more cooling than these bamboo pajamas. The bamboo pajamas from Nightire are a tighter weave plus the lack of stretch can, at least for me, hold in heat.