This article may contain affiliate links; if you click on a shopping link and make a purchase I may receive a commission. As an Amazon Associate, I earn from qualifying purchases. 
Friday… what the heck did I wear on Friday? It was so long ago…
Anyway, Saturday my husband had a wedding to shoot and I assisted. I wore black trousers from Talbots (right now sale is an additional 50% off so I got $120 pants for $30!), a black ribbed tank from Gap and a black short sleeved cardigan from Ann Taylor. My black patent T-strap sandals from Sofft were comfy until the last hour and it was a 12.5 hour day! The outfit was purposely nondescript because my job was to move equipment, fix hair, that sort of thing. The outfit could let me get on the floor, run around, have plenty of pockets for memory cards and Tide to Go pens.
Sunday we headed to the farmer's market. I wore a pair of my white Gap low-slung flare trousers with my black Gap nursing tank and flip flops. We then came home to have lunch and do a couple of chores.
Monday, I sported the same cardigan from the wedding with a fresh black ribbed tank from Gap and my white jeans from Ann Taylor.
Tuesday I called out sick. I was just not functioning well by that day. Emerson is teething, we have been oh so busy, work has been hectic and I woke up feeling hungover though I hadn't drank alcohol, was fully hydrated, etc. I ended up going back to bed and sleeping for four hours until E needed to be fed again and took another nap later in the day.
That night I went to a concert and wore my blue print matte jersey dress from Ann Taylor with my red patent T-strap sandals from Sofft (sort of a retro look). This is me with my husband at the end of the concert. I dig guys with scars – that scratch looks so manly but was actually done by Emerson's tiny sharp nails! 🙂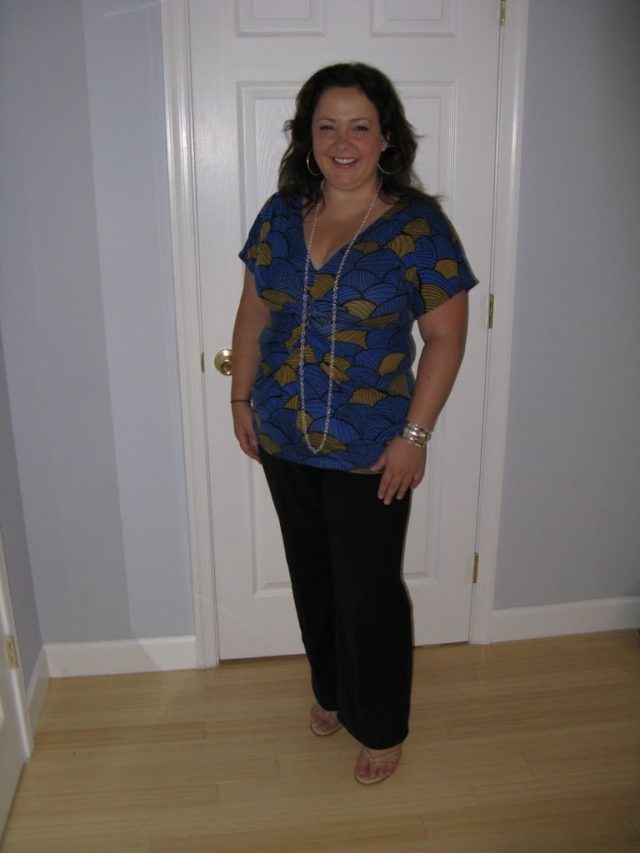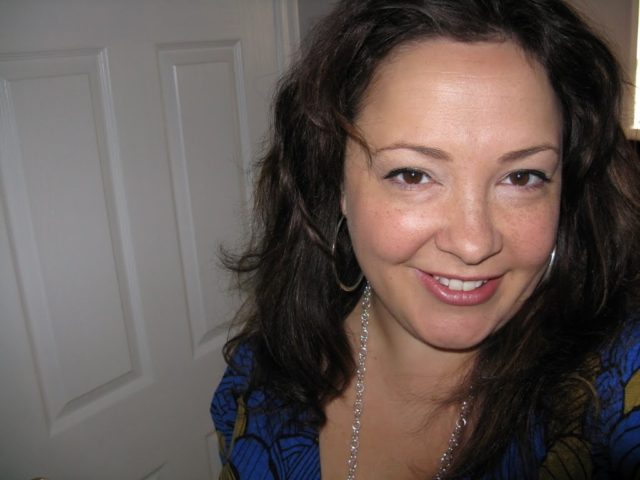 Here is me today. Obvious OBVIOUS need of a haircut and color – but I am going TONIGHT! I am so excited to go to Kathleen and get this mop managed!!!
Attire:
Nordstrom: Blue print rouched jersey top, silver necklace
Talbots – Black trousers
Callisto – Tan sandals (black shoes were in the car)
Silver hoops and cuff
Hair:
Hideous.
Beauty:
Estee Lauder – Nutritious mineral foundation in Intensity 3.0
Nars – Blush in Orgasm
Clinique – Longwear lipstick in Beauty
Revlon – ColorStay shadow quad in Neutral Khakis
Cover Girl – lashBlast mascara in Rich Black
Maybelline – UltraLiner in Black
Will be sure to post pictures of my hair after it has been cut and colored!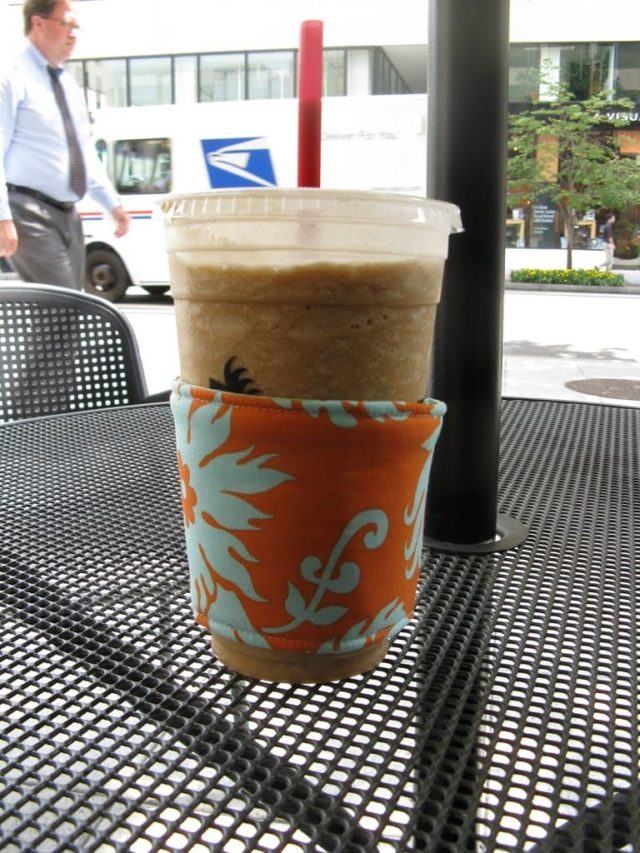 Oh, and I have posted about Etsy before and I have to share my newest Etsy love. This was actually a gift from my sister. I found them goofy until I owned my own and now I can't imagine not having one!
This is a reusable coffee cozy/sleeve. Right now it's on my Coffee Northern Light from Caribou, but it also works on hot drinks.
Instead of getting one of those cardboard sleeves and adding to landfills and the destruction of trees, you can have a reusable one that is cozy, better with heat and cold insulation, collects condensation better and looks oh so darn cute!
This specific coffee sleeve is from the Etsy seller Pink Gasoline. This seller puts a layer of thermo insulation between the fabric layers to protect your hand. It is slightly tapered to fit a coffee drink perfectly and is reversible too! I just think it is too cute!
Speaking of coffee, off to get myself a drink so I can survive the rest of this day and not snore in the stylist's chair at the hair salon tonight! 🙂