This article may contain affiliate links; if you click on a shopping link and make a purchase I may receive a commission. As an Amazon Associate, I earn from qualifying purchases. 
Hey folks, wanted to share some little ideas I have done in my life to make it more green without making it less stylish or more complicated.  Maybe you can implement a couple into your life.  And as always, please share your easy Going Green ideas in the comments!
1. Check out your deli. Instead of purchasing pre-sliced packages of Kraft or another brand, hit up the deli. The deli cheese is usually fresher, sometimes from local dairies, and there is FAR less packaging. We started getting cheddar from our deli and are amazed at how much yummier a grilled cheese sandwich is with it, than the sliced cheese on sale in the refrigerated section. Oh yeah, this is also a great idea for you omnivores who love your deli meats!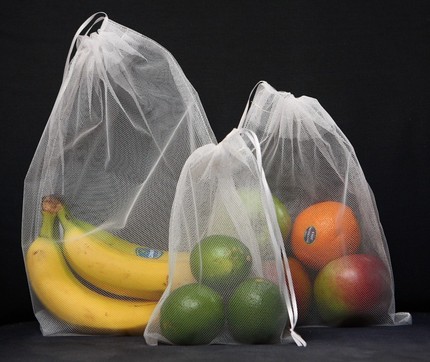 2. Bring your own bag… for your produce too! Almost everyone has a reusable bag in their stash and it seems that most people are getting on the "bring your bag" bandwagon at the market. How about taking it a step forward with your produce and bulk purchases? Sites like Etsy sell reusable produce bags made of tulle and other mesh fabrics, and bags for bulk grains and small items of lightweight washable fabrics. We have some silky little bags for when we buy bulk walnuts, almonds and oatmeal, and tulle bags for our tomatoes and bok choy.
If you are even the slightest bit handy, it would be tres easy to make such bags. They are essentially pillowcases with a drawstring through the opening. You could even sew on three sides (a la pillowcase) and then use a recycled twist-tie to hold it closed. I always keep all twist ties in my junk drawer – they are so handy and this would be a perfect use for them.
Reusable produce bag pictured sold by Etsy seller Fabrik.
3. Make stock. I always have a gallon-sized freezer bag in my freezer. In it goes the parts of produce I don't use – the last bit of an onion, the leaves from celery, the stems from herbs, the tips of carrots, the piece of the green pepper that has the pointy part from the bottom in it. Then once the bag is full, I make vegetable stock.
Simple recipe – throw the produce scraps in a large stock pot
. Cover with water. Bring to a boil and simmer for an hour, and then strain. You can get creative by adding other spices and herbs – I often add a couple cloves of garlic, salt and pepper or even ginger.
For omnivores, you can do the same and then add the veggies to the carcass of a chicken to make some really fantastic chicken stock that will blow any store-bought broth out of the water.
I store in 3-cup and 1-cup portions in my freezer and thaw when necessary and use in place of water for cooking rice, steaming some veggies, making soups. A double-whammy… having this extra stuff in your freezer makes your freezer work more effectively and use less energy!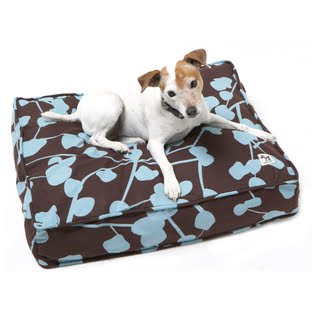 4. Need a new bed for your pup? Check out the adorable doggie beds from Molly Mutt. These dog beds are a duvet with a "stuff sack" that you fill with old clothes, blankets, towels and such. Makes for a great bed for your pet, and a good use for clothes that aren't even worthy of being donated. Best yet – this makes a pet bed that is completely washable.
I have been slacking with getting proper beds for the two new dogs in our family (poor guys are on piles of old blankets) and have decided to go with Molly Mutts – they have prints that match our bedroom, they get great reviews, and they will make those old blankets comfy and fab! Cute, AND eco-friendly? Love it!
5. Stop buying hand wash. I mentioned this before in this post, but I have to mention it again for it has made SUCH a difference in my household. Either buy a bottle of foaming hand wash, or a foaming pump bottle (we went the cheap route and bought bottles of Method Foaming Hand Wash
). Put in one part of Dr. Bronner's Castille Soap
to ten parts of water. Ta-dah. We buy the Almond scent
of Dr. Bronner's
because it makes for a pretty gender-neutral scent for hands, but we have used the Citrus in the past and have liked it (the Baby version
is unscented for those who hate any smells). Dr. Bronner's
is eco-friendly, gentle, and a little goes a LONG way. On top of that, your bottle of Dr. Bronner's can be used to wash delicates, wood floors, kitchen and bath fixtures (add some baking soda for a soft scrub paste), and even your body. We even use Dr. Bronner's
to wash the dogs!
6. Bring your cup… and fork, and napkin! As I walk through my office, I see most people have a coffee cup that they have on hand for their morning cup of Joe. Many also have a reusable water bottle. But when it comes to brown-bagging (or even take out), out comes the plastic forks. After lunch, there goes the plastic forks into the trash. Why not bring a fork to work along with your lunch? I also bring my own cloth napkin, and then I use the napkin to wrap up the fork so I can take it home without getting the inside of my purse greasy.
Not only is this reducing landfills, but it's also making PB&J quite an elegant affair!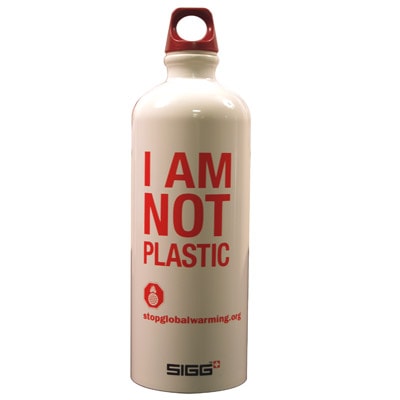 7. Stop with the bottled water. Seriously, please consider buying a reusable bottle. These days you can find them in your grocery store and even Old Navy. Plastic water bottles CAN be recycled (if they are given to a recycling facility and not tossed in regular trash), but it requires lots of energy and chemicals and resources to manufacture and ship those water bottles. I have a BPA-free sippy bottle from CamelBak that resides at work – I wash it here so I never forget it. I also have one at home for travel and the gym. Aluminum bottles (like the great ones from Sigg) don't absorb smells and come in a bevy of colors and prints. In the long run, you will save so much money, and in turn will be saving the planet.
8. Cloth napkins. I know you have some floating around your house. We got some as housewarming gifts and wedding gifts. They have lovely ones for great prices at discount shops like Marshall's and Ross, and you can always find them at thrift stores, craft shows, and big box retailers like Target. Try using them for meals in place of paper towels or napkins. Cloth napkins make you sit a little straighter, eat a bit more slowly, help you savor the meal and the moment. Oh, and they also cut down on landfills and cutting down of trees.
9. Freecycle. One woman's trash is another's treasure. Seriously. You have a bunch of pantyhose you will never wear? Don't toss them, offer them on your local Freecycle. There may be a woman who is all about hose and your same size, or someone who needs these for her candle-making business (they do a great job of making candles smooth and shiny). Recently a bag of broken costume jewelry was snapped up in seconds on my local Freecycle (great find for crafters or jewelry makers!). Before you toss, take a chance to see if there may be someone who can benefit from your trash.
10. Think before your buy. Do you REALLY need another lip gloss? How about that top that is ONLY $12.99? If you keep going back to the grocery store to purchase a certain item, why not consider buying that item in bulk (I know my local market will take special orders – yet another reason why you should shop your local independent businesses)? Only buy what is worthy of not just your money, but your space and your world. Before you buy, see if you can get it used (cheaper and more green). Check out Craigslist, Freecycle, eBay (and of course first go to Ebates and save!), Makeup Alley. Ask your friends – you never know what people are thinking of tossing. One woman's trash…!