This article may contain affiliate links; if you click on a shopping link and make a purchase I may receive a commission. As an Amazon Associate, I earn from qualifying purchases.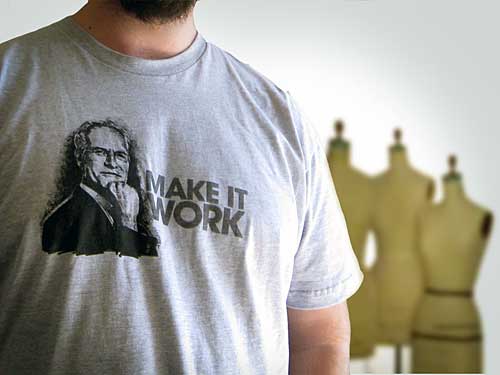 I love Project Runway, it's one of the only things I DVR even though I catch it when it airs. I adore Tim Gunn on the show – he is a straight shooter, but does it with class and poise.
"Make it Work"
This is Gunn's catchphrase, and an appropriate one for designers on a budget and a time crunch. Make do with what you have on hand, and make it the best possible.
This is NOT a great catchphrase for your own wardrobe.
I utterly despise those fashion shows and magazine articles that tell you how to shop from your own wardrobe. Take a stretched out old cardigan and pair with a skinny belt and it's suddenly chic with a pencil skirt. Take that crepe jacket from your interview suit and pair with a silk cami and jeans and suddenly it's perfect for a night on the town. Belt that which is too large, layer over that which is too small, and make those highwater trousers seem chic and trés Audrey Hepburn with a pair of ballet flats.
Come on ladies, let's stop fooling ourselves. These "closet shopping" creations NEVER look that chic. They don't even look good on the six-foot tall size 2 model, how are they going to look flattering on your real, feminine form?
If you have to make excuses for something in your closet, it doesn't deserve to be there. If you are making excuses before you leave the fitting room, DO NOT PURCHASE IT! I don't care if it's on super duper clearance for $2.99, if it doesn't fit well, doesn't flatter your shape, doesn't work with your personal sense of style or feel good on the body… it's not worth it. That money can go towards a coffee drink, and all those "great deals" you have purchased and never loved could add up to one highly coveted nice item that gets worn on a weekly basis.
So let's discuss those "make it work" pieces in your current closet. These are the pants that do weird things in the crotch, are not quite long enough for anything but your Old Navy flip flops, and have a strange texture that not only catches the light like a disco ball but also collects lint better than Velcro. Another may be that white shirt that is so sheer you can see the stitching on your nude-colored tee shirt bra and even that mole on your shoulder. How about that sweater that your aunt gave you for Christmas last year? Yes, it's from an expensive store and a coveted brand, but it's a bit itchy, you don't adore the color and it's not really your style. And let's include that suit you feel you need to keep just in case your dream job calls you up tomorrow to schedule an interview. It's a size too small, is a bit more conservative than your usual style and you have never been able to find a decent blouse that compliments the color and style of the suit.
Get rid of them all. They don't work, and try as you may, you can't make them work. I know I sound like a broken record, but you will be better off with very few items in your closet that fit and flatter, than a full closet of garments that take hours to even slightly "work".
Instead of staring at a bar full of clothing every morning, use that time to pare down to that which always works. Anything that requires mending, have repaired before next week (if you don't know how to do it, it makes more sense to pay a dry cleaner or tailor to do it than have it sit in your closet and collect dust). Sleeves and trousers that are too long- they too can be fixed for a few dollars at your local dry cleaner or tailor. If it's stained, Google for a stain removal solution appropriate to the fabric; if there is no hope for the item, get rid of it. Anything that doesn't fit, doesn't flatter, and just doesn't make you feel good should be removed.
It's ridiculous to think that you can shop your own closet unassisted. Usually that which is not being worn is ill-fitting or a bad purchase in the first place. Instead, follow these tips towards having a workable, flattering, and enjoyable wardrobe:
1. Stop falling for the incredible bargain. I am not saying ignore the clearance racks – believe you me, I love them and most of my wardrobe comes from them. However, stay on track. If you need a black skirt, why are you going home with red cuffed capris? Do you even need or LIKE red cuffed capris? You'll end up at home with pieces that don't work with what you own, and you'll be out the fundage for that still-needed black skirt.
It's only a bargain if it's what you need and want and also at a reduced price.
2. Don't make excuses in the fitting room. If you lose five pounds, if you purchase a different bra, if you get the pockets stitched closed, if you purchase a yellow sweater to match the print, if you wear some Spanx, if you get invited to a black tie wedding… then this item will be perfection!
We have all done this, and this is why these cheap retailers who sell crappy knockoffs of knockoffs stay in business. If you only buy that which you love and loves you back, you will have less closet regrets and actually more money.
Before taking something to the cash wrap, move in the garment. Walk in it, sit in it, stand up and see how it handled such movement. Find a three-way mirror and check out the back view. Ask a stranger what she thinks and don't just listen to what she says but look at her eyes to see what she REALLY thinks. Finally, don't purchase that which you cannot afford. A woman is far more stylish in the same pants every day and great posture from confidence, than a woman with an endless wardrobe and stress in her eyes from creditors on her back.
3. Shop smart so you never shop in a panic. How many times have you been at the mall the night before a holiday party or a wedding, searching for ANYTHING that will fit and be appropriate? How horrible of a feeling is that, dashing from shop to shop, and then dropping hard-earned money on something you don't really like but desperately need?
Having some basic wardrobe staples will prevent this situation from taking place. Having a simple black dress will work for an awards ceremony, a cocktail party, a wedding, a holiday party, formal night on a cruise, silent auction at the church and much much more. Have some versatile pieces like black trousers, simple skirts, a pair of pumps and a nice blouse or knit available for coffee with an old flame, a luncheon with the mayor, your first week at a new job. Shop when your calendar is light, when you can cruise the mall or Internet shops with ease and time. Have the space and ability to compare prices and fit, and take the item immediately to the tailor for any necessary alterations to make it utterly perfect for that unexpected last-minute event.
4. New doesn't equal better. It's so tempting to go shopping for that first date, for your high school reunion, a vacation. But here's the thing: those you will see won't know whether that dress is brand-spanking new or a decade old. If it fits, flatters and is in great condition… why do you need new? If you know you already own something good for an event, stick with what works. Consider spending more time on your hair, getting a new lipstick, or possibly a manicure or more expensive brow grooming to change your look and feel fresh. Rarely do we judge a woman by how current or trendy her clothes are; we see the whole package – how she is groomed, how the clothing fits her frame, how she accessorizes, how she pulls it all together. Often when you ask a stylish woman where she got a garment, she will admit she has had it in her closet for years. Quality, carefully chosen garments can be worn to your five, ten and fifteen year reunions without a single attendee realizing it is the same. Newness can come with an updated hair style, a current heel on your pumps, a switch in lipcolor; that sort of newness is far more chic than a once-worn dress gathering dust in your closet.