This article may contain affiliate links; if you click on a shopping link and make a purchase I may receive a commission. As an Amazon Associate, I earn from qualifying purchases.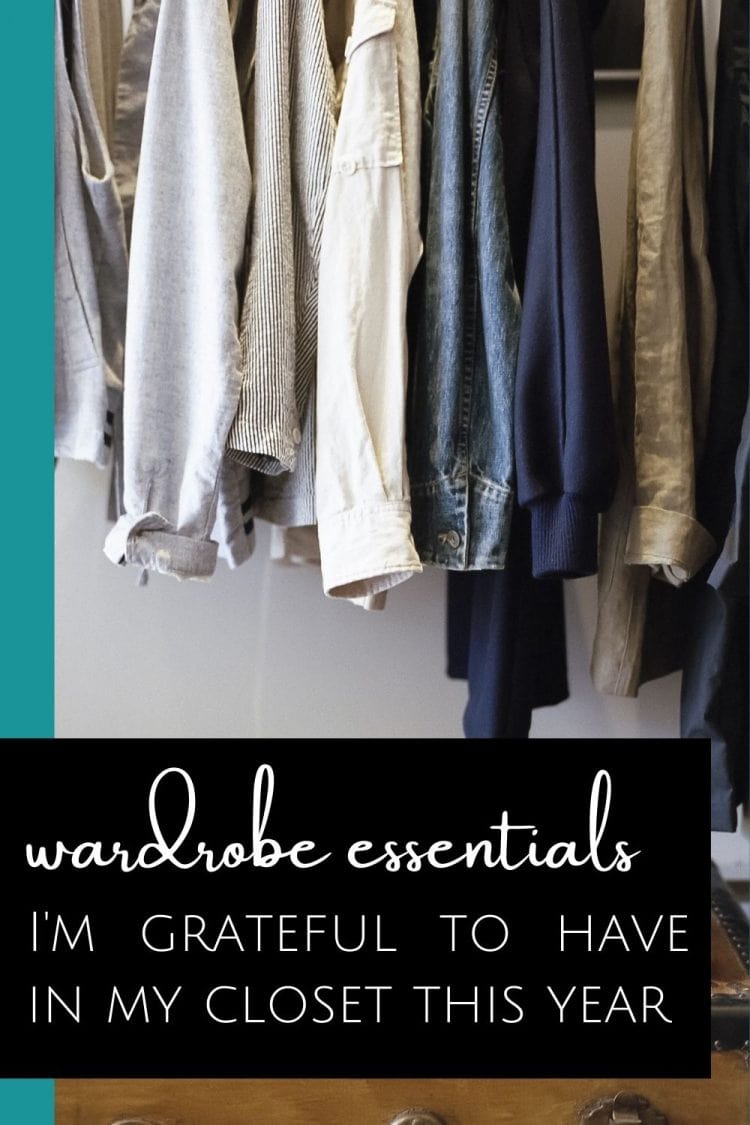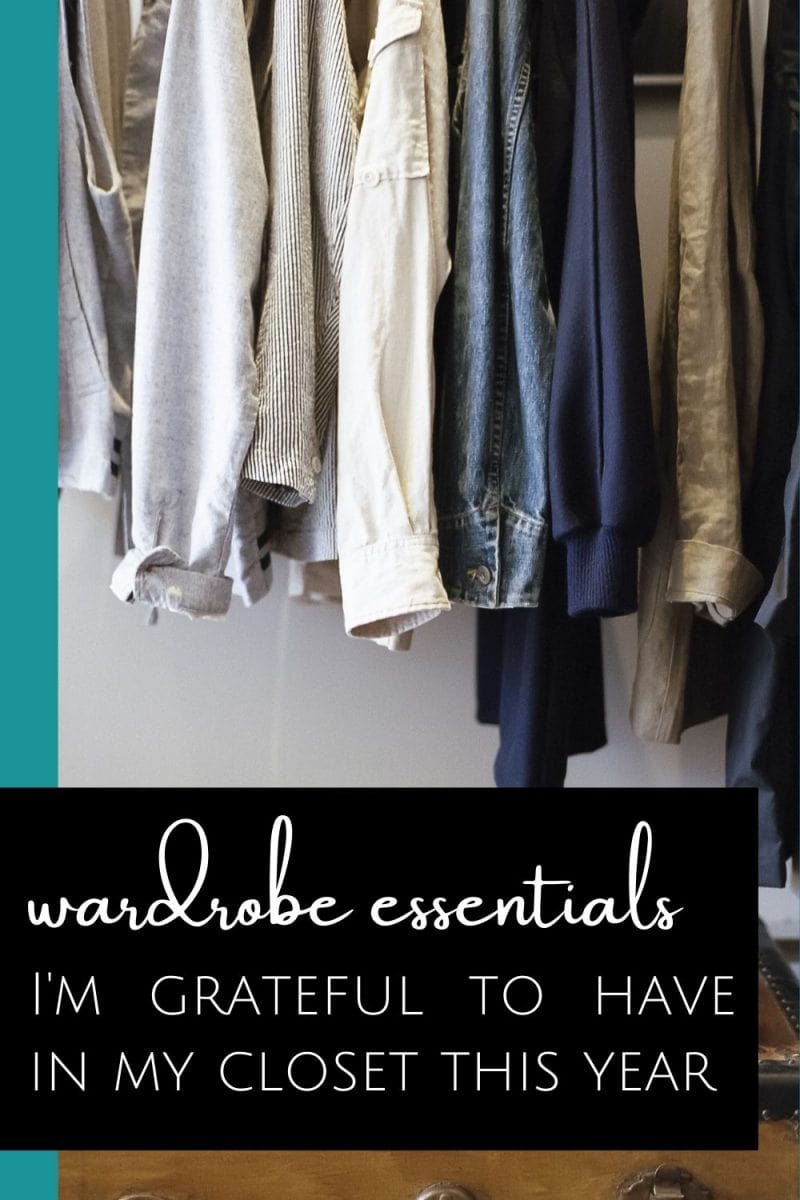 I know I am not the only one who looks in her wardrobe this many months into the 'demic and sighs. Oh the items I have no reason to wear anymore, the clothes that no longer fit, and also the items I bought out of desperation/frustration/boredom/desire for newness that hardly get worn because they were bought on impulse without really considering lifestyle, body, and needs. As I was putting away clean laundry yesterday, I was thinking about the pieces I have that I wear over and over. The ones I yank out of the laundry basket before I even put away the clothes because I want to wear it again. The pieces I put on when I want to be comfortable, when I want to be cute, when I want to feel strong, when I want to feel comforted. So I started making a list, a bit as a reminder of what I already have, and a bit to remind myself of what works and if I need to shop, need more that works with these personal wardrobe essentials. And then I thought, as this exercise was helpful for me, I should share the list to show what wardrobe items I'm really grateful for in 2020 to all of you, and invite you to share what items in your closet you find you're really grateful for this year!
I mentioned recently I got a discount fleece from another retailer and it was a huge disappointment. I returned it and went with a classic - L.L. Bean. I have their sweater fleece, it's many years old and still looks new and fits great so I decided to get their hi-pile fleece pullover in this teal color. It's so soft and cozy and has been washed and dried a few times and still looks new. I got an XL regular for my 12/14 self and it's roomy without looking oversized, big enough to slip over a turtleneck without feeling like the Michelin Man. The pocket is big enough to hold my little card holder wallet and keys and the kangaroo pocket is shaped well so my phone can go in it and won't fall out even if I sit.
Photo Credit: Wardrobe Oxygen
I love a graphic tee, but graphic tees don't always love me. They're often unisex sized and of stiff cotton that does nothing for my shape and isn't terribly comfortable. If I do find one of softer fabric, it's often with a v-neck, fitted, and/or has a hokey message on it. I visited The Outrage store in DC, saw this shirt, and bought it on the spot. It's a flowing fabric with a longer hem in back and shorter cuffed sleeves; this is a tee with style as well as a message! And while it's thin it's not so sheer my bra is on display. I wear it untucked with leggings and a sweater, tucked in with blazers, and knotted like this with high-waisted jeans and skirts. For reference, I have this in a size large.
Photo Credit: M.M.LaFleur
I have a post coming about M.M.LaFleur as they offered me an outfit in exchange for experiencing their virtual style appointment. It was a great experience, I learned a lot about the clothing line and my stylist was amazing at determining styles that would work with my shape, height, personal style, and lifestyle. My stylist suggested this sweater which did NOT feel like my style. The color was so neutral and as I mentioned lately, I am craving color this winter. It wasn't machine washable, it looked bulky, would it be itchy? But I took a chance since my stylist was so on point with every other part of the virtual style appointment. And oh em gee I love this sweater. It is incredibly luxe, it's the kind of sweater you see celebrities slip on at their Hamptons house when the temps get a little low, or what a character would wear in a Nancy Meyers movie with cashmere joggers as they sit out on the back porch sipping coffee and thinking about what transpired the night prior. It is not itchy and not stiff or bulky, but it's super warm like a hug. I wear it open and let the self-belt hang from the sturdy belt loops, or I wrap it and tie the belt closed in front. It's usually worn with a pair of leggings or joggers and a graphic tee, but I've also styled it with my faux leather joggers and a fitted black turtleneck when I want to look a bit more pulled together. This runs big, I have the L/XL and I think it would work up to a size 16 no problem.
Ever since I started Wardrobe Oxygen in 2005 I have preached that price does not equal quality. You can buy overpriced crap, and you can get really wonderful things for low prices. And these leggings from Old Navy are proof that price doesn't equal quality. Since getting a Peloton bike, I have cared a lot more about my activewear, needing it to perform beyond not sliding down or turning transparent during a squat. I want leggings that aren't too thick, don't stretch out, are fitted but not restricting, and can handle being washed over and over without falling apart. Being 5'3" I don't want them too long or too high rise, I want pockets, and I want them to look cute. I have spent $100 on leggings and these Old Navy leggings which are under $40 and regularly on sale for less are far better quality and fit. I now own four pairs. This main link is for the sizes XS-XXL but they also have them in plus sizes at this link. For reference, I wear a Large Petite.
Photo Credit: Wardrobe Oxygen
This is a year where I am eschewing anything uncomfortable or restricting and that meant a good percentage of my denim wardrobe. But I got these high-waisted flared jeans from Talbots this fall and I wear them all the time. They're high rise so they look modern while also making the waist at a place that doesn't bind or dig even when sitting. The fabric has just the right amount of stretch for comfort without making them clingy or thin. And I have washed and even dried them and they still look and fit great. They look good with tops tucked in and with tops loose over the flat front. And the wider leg not only is more comfortable but works really well with sneakers, clogs, and chunkier boots that are more comfortable and practical for this new normal. For reference I have a 14 petite.
I had a pair of Polartec leggings from L.L.Bean that I adored for many years but they no longer fit. When trying to find a replacement, every pair of fleece leggings I experienced weren't thick enough, stretchy enough, durable enough. I wanted leggings that I could wear outside for an extended period of time, that would let me go for hikes in winter, not just keep me cozy on my couch. And these are exactly that. The fit is fantastic; you can easily exercise in them and not worry about them sliding down or stretching out. They're not too shiny and no reflective details so they can look like streetwear. They come in lengths as well as plus sizes; I found I needed a Large Petite for the best fit. They have washed up great, I can't recommend them enough!
Spending more time outdoors, I realized I was lacking a good durable casual boot in my closet. I had winter boots with furry linings and gripper soles for snow and ice, I had heeled boots that looked chic while keeping me warm and dry, I had stylish leather boots that completed polished outfits. But I wanted a boot to hike in the woods even if it rained the night prior, a boot that would let me go to the garden without worrying about slipping in mud or getting soaked feet, and boots that would be cute enough if I wanted to wear them with denim shorts and a t-shirt to a music festival or similar event once such things happened again. Doing research on brands made in the USA with good ethics and labor practices, I chose these boots from Danner. And I am so glad I did. They aren't heavy, but they're waterproof. They don't cause me to overheat in the summer, but in the winter with my shearling insoles and wool socks, I am cozy for a winter walk in the woods. And I love this color and classic style.
Photo Credit: Wardrobe Oxygen
I never thought this bag that Maxwell Scott bags gifted me several years ago would be my favorite go-to bag in 2020. It's brown, it's so ordinary, did I mention it's brown? I don't usually "do" brown. But this bag has the perfect number of compartments, it's the perfect width and length of strap to work on the shoulder or across the body, and it's the kind of bag that if it gets beat up or needs to be wiped down it will only get cooler with wear and tear. This is a high-quality bag. It's not cheap, but when you experience it you'll see how it's so different from that bag you got on clearance at Nordstrom Rack. This is a lifetime kind of bag. And if brown isn't your thing either, it comes in black, teal, and a darker brown that is almost black. Oh, and it can be personalized!
I have bought my share of joggers in 2020 and I know I am not the only one. Some are so thin, some are thick and stiff, some have no shape, some are too snug on my calves, some don't have pockets (FYI retailers, it's 2020, EVERYTHING should have pockets). And then there are these joggers from Soma. They are pretty darn perfect. They look so nice I wear them out of the house but are so comfy I have napped in them. They wash up great, they fit great, they're the most worn joggers in my wardrobe and I'm psyched to see they're now offered in a color other than black! For reference, I wear a size large in them.
Photo Credit: Wardrobe Oxygen
Every time I want to look a little more put together, I put on this link necklace. It's a popular style that many jewelry brands of all pricepoints is offering; I got it from Baublebar because I trust the brand to offer great quality for costume jewelry at a great price. This necklace is $48 and has been totally worth the purchase. Months later it still looks shiny and new. The length is slightly adjustable, it's not so yellow it looks weird with real gold, it doesn't make me itch like some costume necklaces. It's stylish without being trendy, and it works well with other necklace like I have it here.
Before the 'demic my main fitness activity was weightlifting. While my trainer would occasionally put me on the treadmill and I'd sometimes supplement my workouts with visits to the elliptical at Planet Fitness, sports bras were chosen based on comfort, lift, and shape. I wanted a well-shaped, lifted bust, just in fabric that did better with sweat and strength training activities. But now my main fitness activity is a spin bike, and jostling is a thing. Also I sweat far more than I did with weightlifting, which can do a number on sports bras for longevity as well as comfort. While I like all my old sports bras, I love this one the most for jostle reduction as well as great lift and shape. It doesn't rub when it gets soaked with sweat, and it hasn't stretched out with multiple wears and washings like some of my other sports bras. I own two, and when I need to replace another sports bra I will likely end up buying a third. Note that the band runs snug; the first 2-3 wears the band may feel tight on the last setting but it molds to your body and it will be several months before you will need to move to closer hooks.
This shirt has been a staple in my wardrobe for many years. It's $39.50 and it lasts about a season, maybe two with weekly wear and washings. It's not stiff like many Bretons, the neckline isn't so wide your bra straps show but not crew, it has bracelet-length sleeves which is great for this klutzy petite woman, the length is perfect for me to wear it untucked or tucked in, it's not ivory but a true white so it looks crisp, and as it gets washed and worn more it softens and weathers in a cool way (that is until it becomes worn out and needs to be turned into rags and replaced with a fresh t-shirt). I would upgrade to a higher-quality shirt like this one from Sait James, but I really like the combo of white and navy, I think this width and spacing of stripes are flattering on a curvy frame, and it's just so good in so many ways I am okay with upcycling old ones and replacing when they wear out.
Photo Credit: Wardrobe Oxygen
I've raved about this wireless bra many times before. As someone who likes her bust and likes it to be lifted and shaped, I have struggled to find a wireless bra that achieves the shape I desire while also being comfortable. This bra from Soma is the best I have found, and I like it so much I now have three. This is a wireless bra I can wear out of the house and the look is so clean and minimalist, I've worn it with off the shoulder and wide neck tops and sweaters as it gives the effect of a tank. I've tried similar styles from other retailers that cater to a large bust and they're not as stretchy, or they're itchy, or after a few washes they're stretched out. My first Soma wireless is in just as good shape as the one I have bought most recently. It's available in bands 32-44 and cups A-G; I found it fits true to size compared to other Soma, Wacoal, Fantasie, and Freya bras.
Photo Credit: Universal Standard
I have never liked turtlenecks. I feel claustrophobic, they are too high on my neck, too tight, too heavy, too sheer. I buy them knowing they're practical and will keep me warm and then I never wear them. That is until I got my first Foundation Turtleneck from Universal Standard. I now have two and am considering purchasing a third. I wear it while I type this. It's stretchy and slim but not tight and not clingy and not sheer. The turtleneck is the perfect length where I can breathe but still feel cozy. It's the perfect base layer whether it's under a blazer or a fleece and I like it so much I have worn it without a layer, finding the fit pretty darn perfect. It also holds up amazingly well, one of mine must be two years old, the other over a year old and they've gone in the dryer more than they should. This is the turtleneck to winterize your jumpsuits and dresses, to wear with sweater coats and blazers and not look overstuffed, and to be warm without being sweaty.
I never cared about socks. I had thick semi-shapeless socks I'd pull up under winter boots or wear padding around the house, no-see socks to wear under loafers and sneakers, or thin black socks I'd wear with dressy boots and booties. This year, as the temps dropped, I realized how many of my socks sucked. I have had ZERO need for that dozen pair of black dress socks, but I needed an ankle sock that wouldn't slide down in my cycle shoes, wiggle off while wearing my Birkenstocks, and wouldn't dig or press or be annoying. Bombas socks seem custom shaped for my feet thanks to them coming in sizes instead of "fits 9-11"; they are not too thick or thin, don't make my feet sweaty or clammy, wash up great, and come in fun colors. I know not everyone loves Bombas, but I think they're great and I love that the company gives back.