This article may contain affiliate links; if you click on a shopping link and make a purchase I may receive a commission. As an Amazon Associate, I earn from qualifying purchases.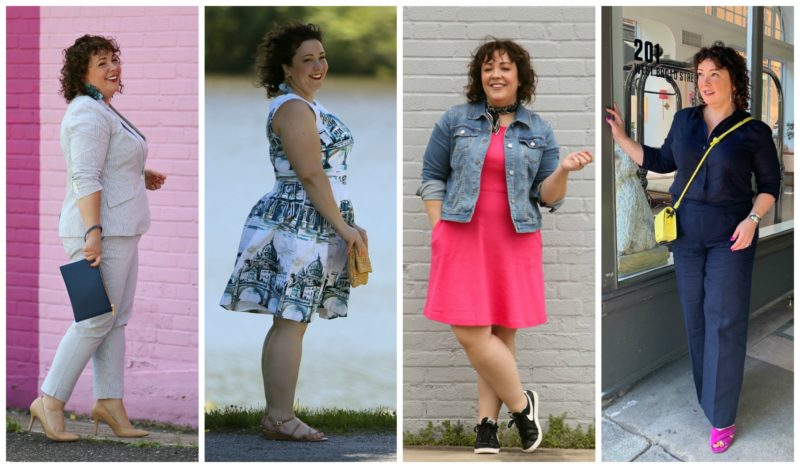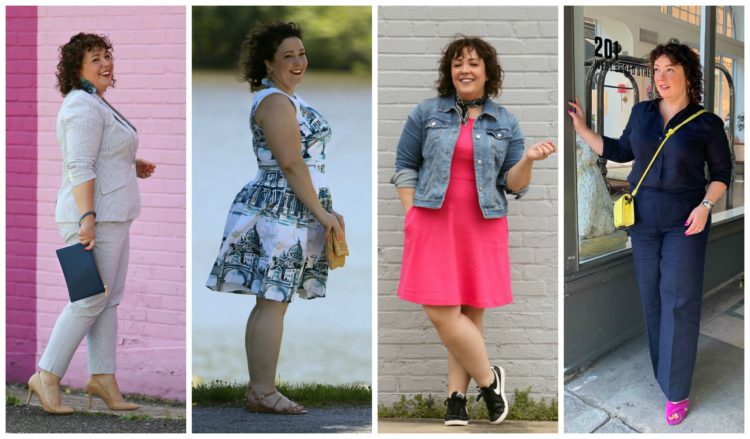 Talbots' Friends & Family event has started with 40% off your entire purchase with promo code FRIENDS. On top of this, Talbots is offering free shipping on all orders over $150. I am a big fan of Talbots; I appreciate their extensive size range (straight, petite, tall, plus, and plus petite) and high quality. Many find Talbots to be too conservative, preppy, or the clothing line for older women. As someone who is not any of those three things and has a huge quantity of Talbots in her closet, I am proof that Talbots has amazing clothing for all personal style aesthetics. Below I share my picks from Talbots and ways to style them. I'll also share the pieces I own, how they fit, and how I style them.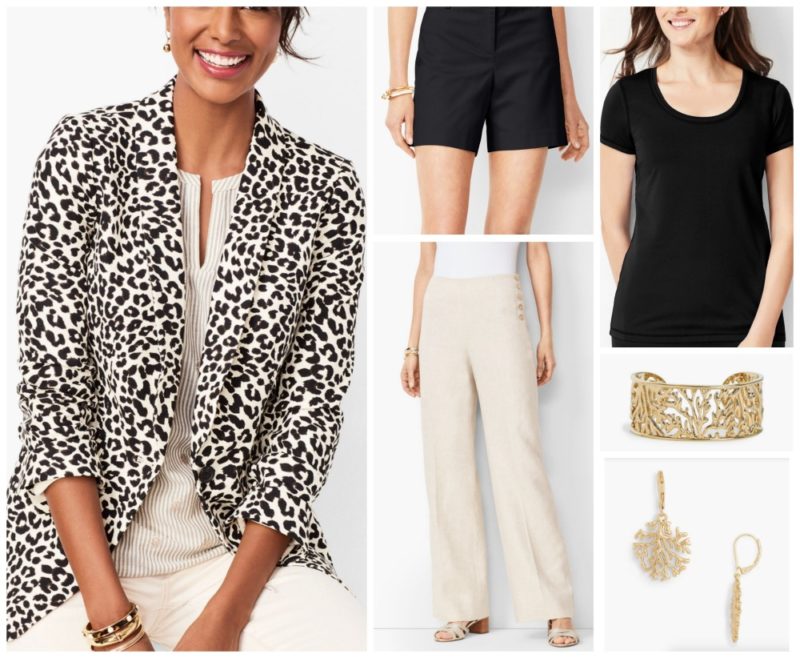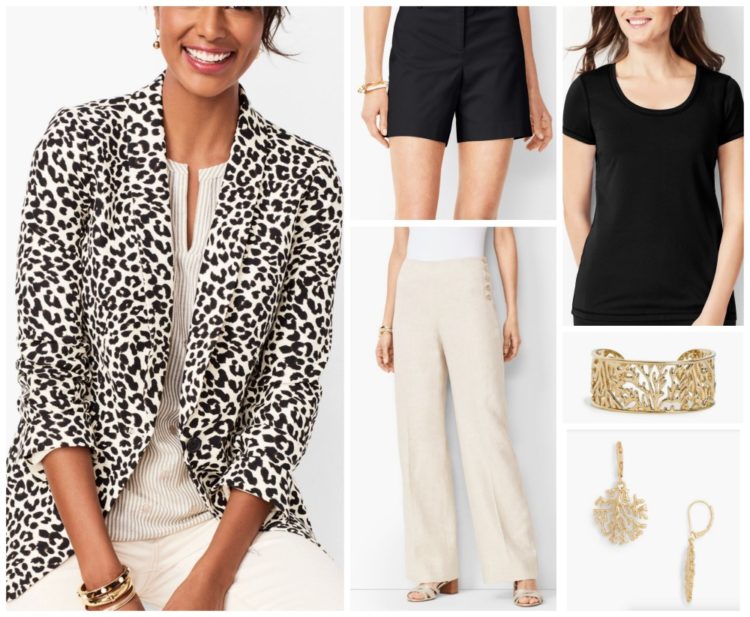 Blazer | Tee | Shorts | Pants | Bracelet | Earrings
Nothing like a linen blazer for pulling together an outfit. No need to keep it to summer; a linen blazer works three seasons, especially when a bold print like this gorgeous leopard. Pair it with the black scoop tee and black shorts and a soft metallic sandal for a night out (I have these sandals, they look great with shorts, dresses, and pants and come in widths), or switch out the shorts for these linen pants (I own them, I love them, they fit great and wash great) for the office. With such a print, no need for a ton of jewelry; a bracelet and earrings adds shine and polish. When the temps drop, pair the blazer with your favorite graphic t-shirt and ankle jeans (I have these jeans and love the fit).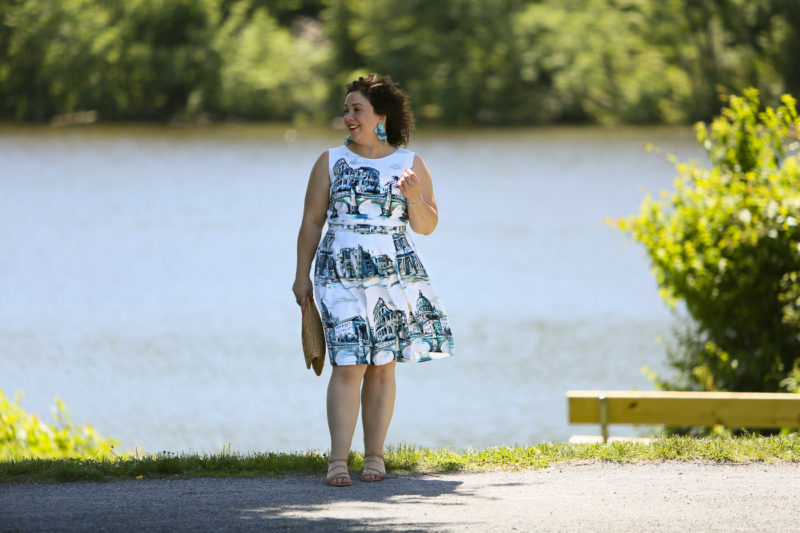 Dress | Sandals | Similar Bag from Talbots
Clearly, I own this dress and love it; you can find the details at this blog post. I wore it with these sandals, but I am using this opportunity to rave about Talbots shoes in general – they carry wide widths, they're comfortable, they're well made, and styles that look great for years to come. And I have this purse and it's slim yet holds a lot, has an optional chain strap, and looks good as a handbag or clutch.
Shop My Picks for Talbots Shoes: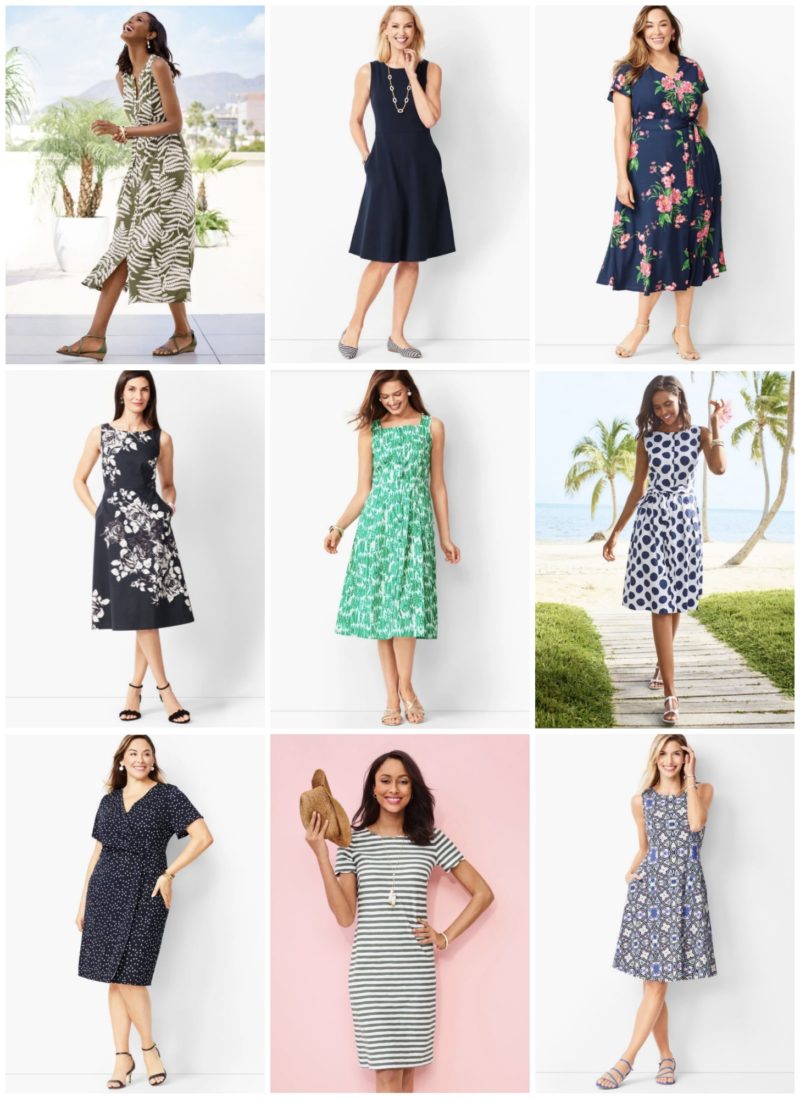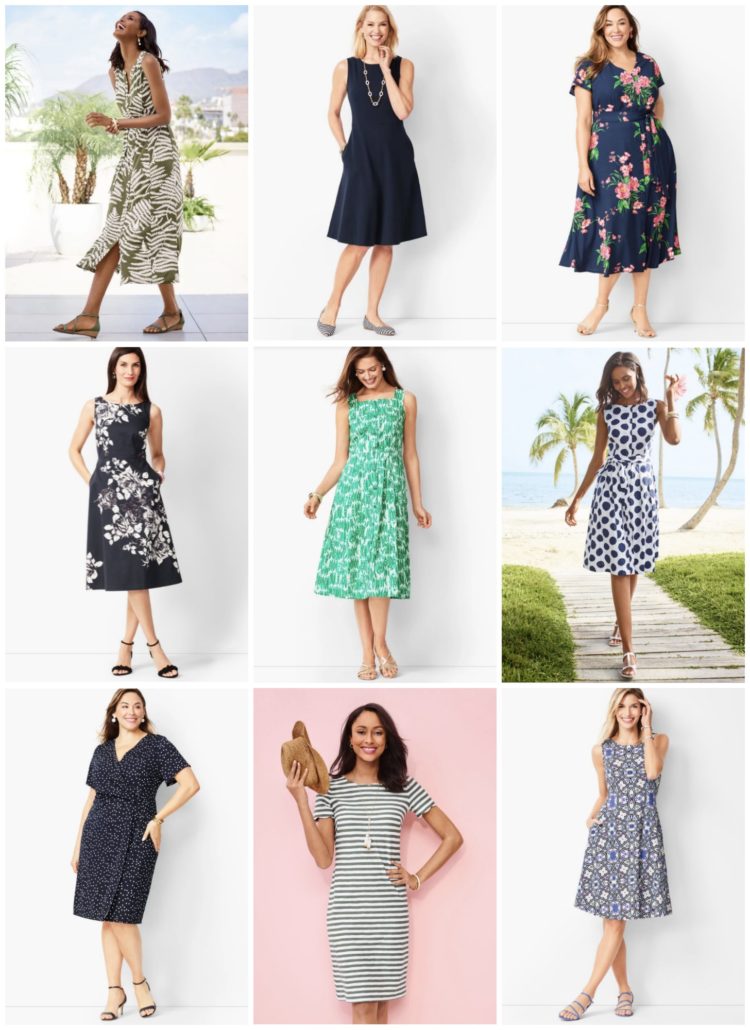 Top Row: one | two | three
Middle Row: four | five | six
Bottom Row: seven | eight | nine
Talbots is one of my favorite places for dresses as I find them stylish, to fit well, and they're dresses I wear for YEARS. Above I share my picks of my favorite dresses from Talbots' current selection. One of my favorites is the first dress. Envision with metallic Birkenstocks and a straw hat, with nude wedge sandals and gold earrings, with a denim jacket and tan suede ankle booties, with gold flat sandals and plenty of bangle bracelets. The second dress in navy, I styled the pink version of it multiple ways at this blog post. The polka-dotted dress (number six) is so elegant and classic! Honestly, they're all great!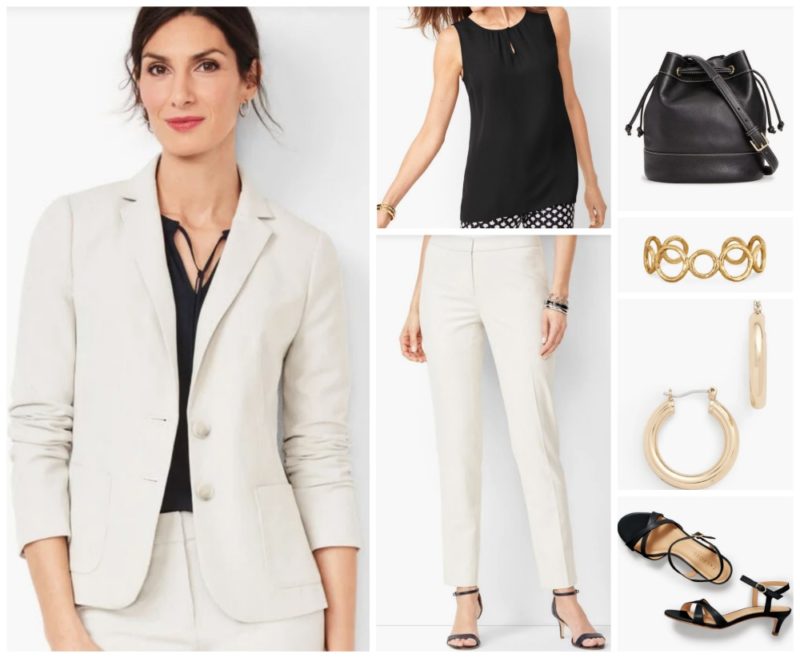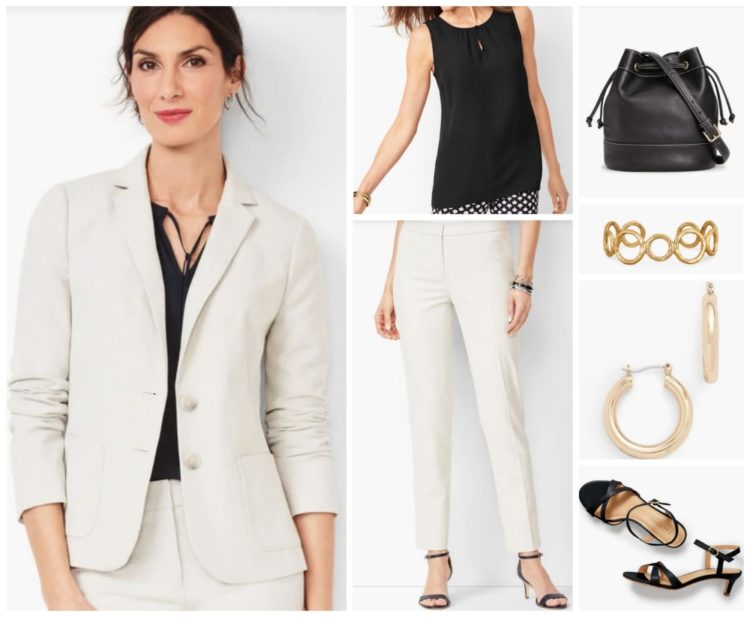 Blazer | Pants | Dress | Shell | Bag | Bracelet | Earrings | Shoes
Talbots is one of my favorite places to buy suits. I think the cuts fit my curves extremely well without making me look frumpy or dated. Go through my archives, you'll see me rock Talbots suits in a variety of colors and silhouettes, often with modern details. I love that the pieces are sold separately so you can get a blazer and pants to perfectly fit your shape. I think this is a pretty perfect summer suit, but the kind of fabric and color that can work through most of the year. I love that the sheath comes in the same fabric to create a mini suiting capsule. While I've styled it with black, this color would look amazing with colors like coral, teal, and navy but also pair with white or cream for an elegant mix of neutrals.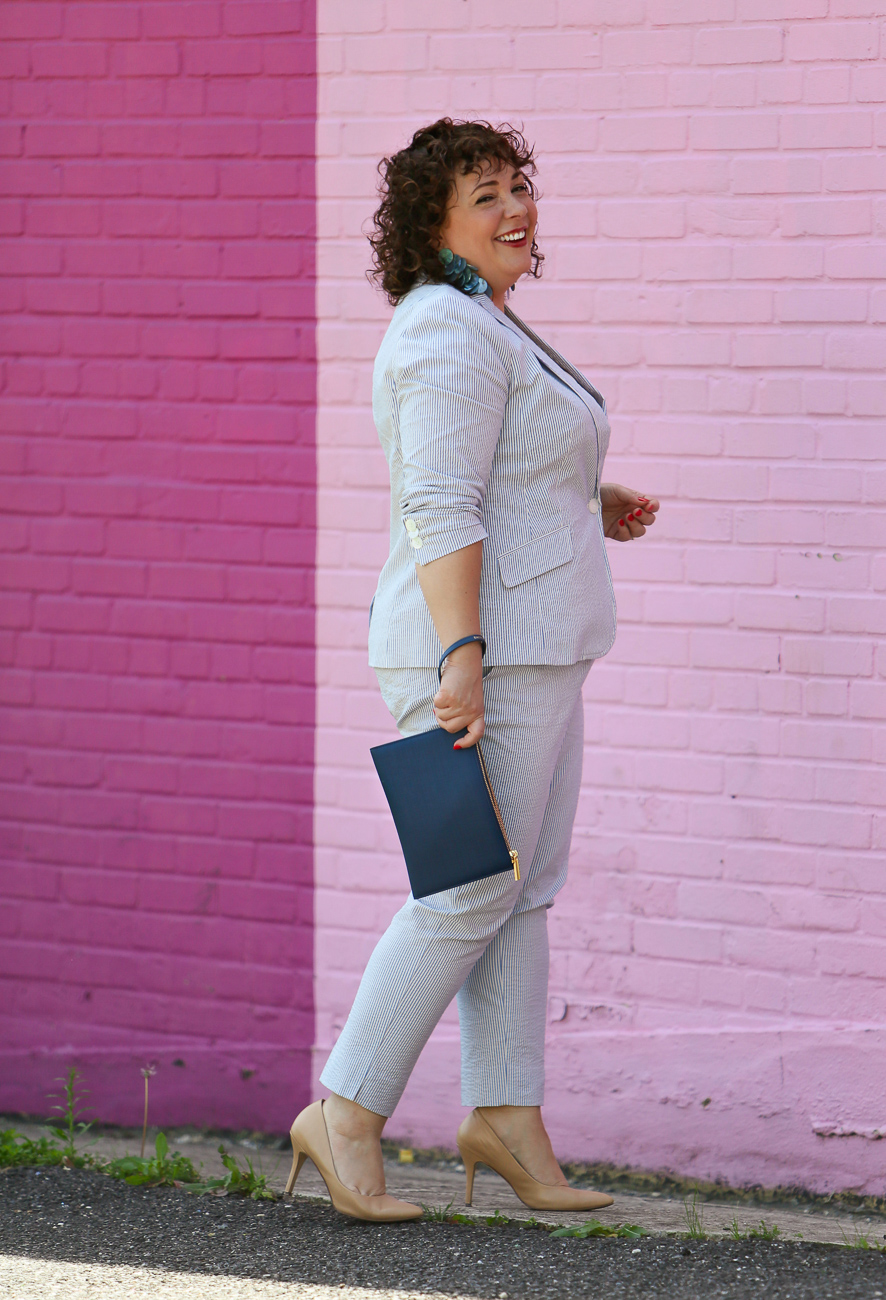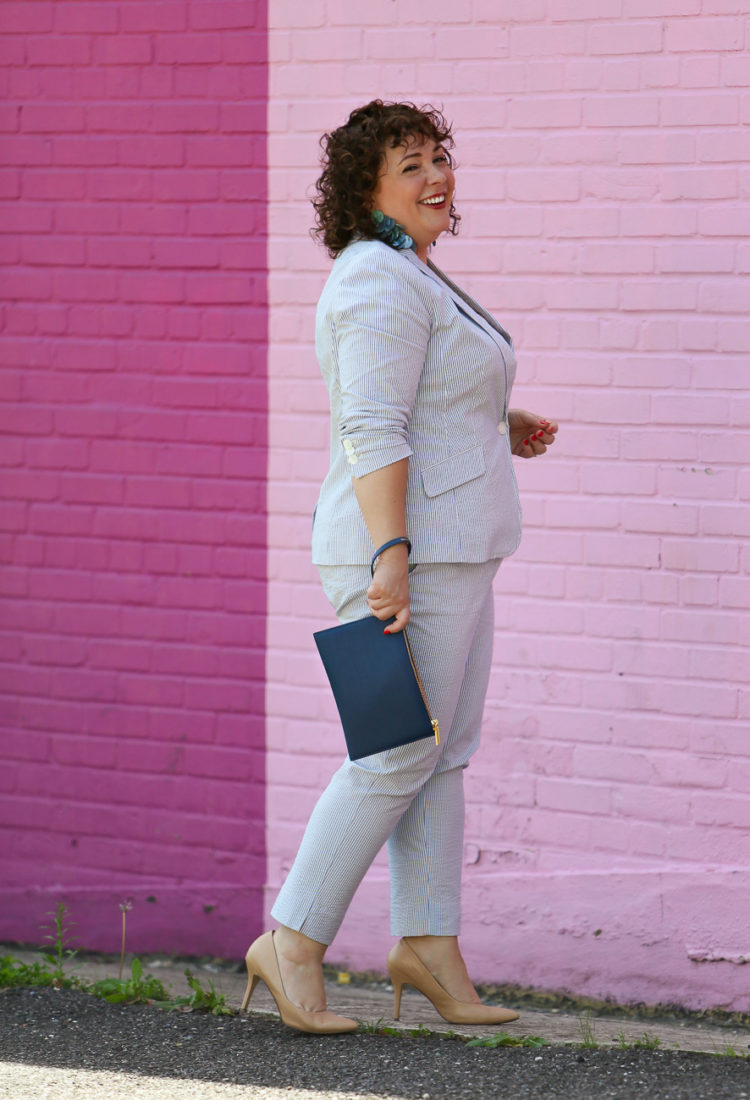 Blazer | Pants | Pants in Curvy Fit | Top in Similar Color | Similar Shape of Bag | Shoes that Would Look Better than My Choice
I own and love this pantsuit; you can see it at this blog post. Here I wore it with a shell and pumps, but I've also worn it with a graphic tee and loafers or sneakers, and worn the blazer with white jeans. Seersucker feels cool in the summer… but do know it will stretch a bit so consider sizing down in the pants.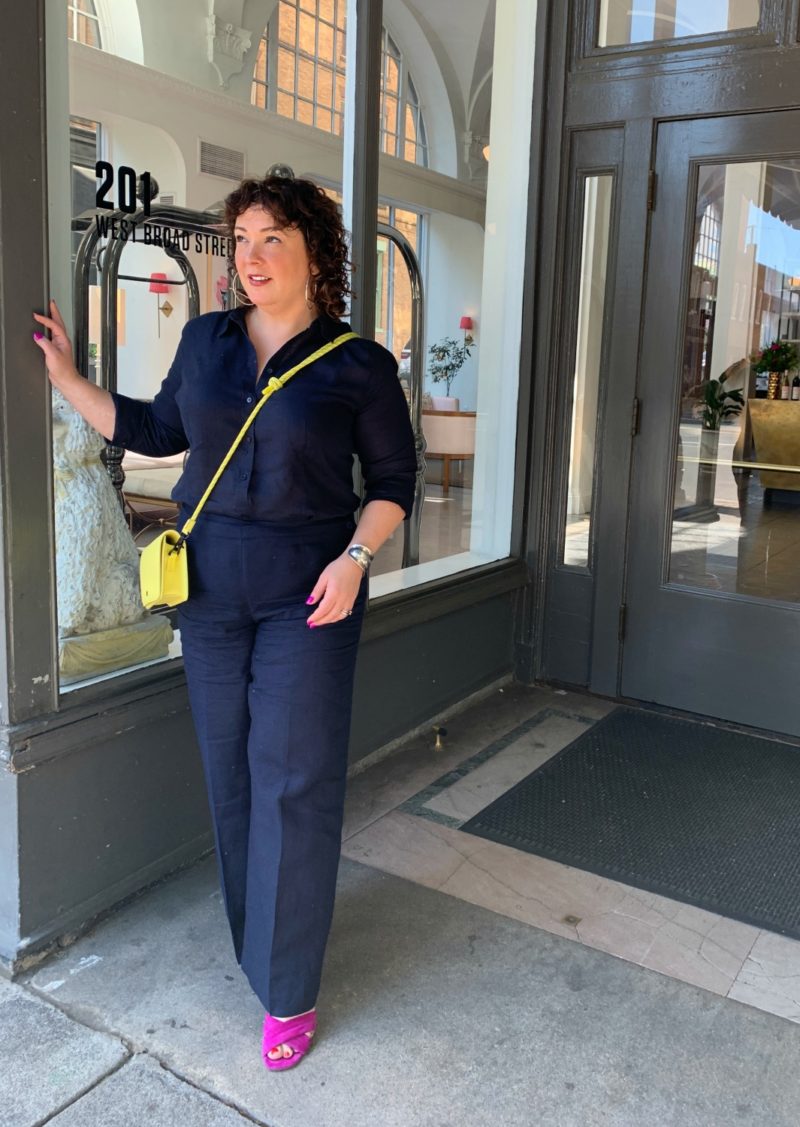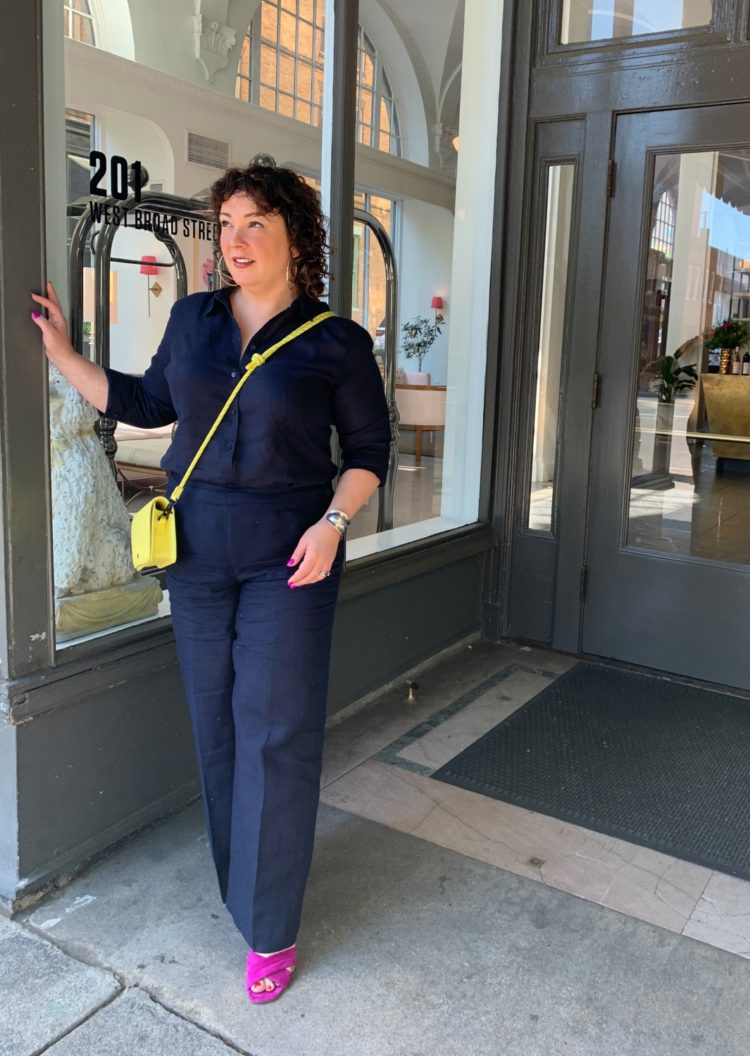 Some of my favorite linen pieces are from Talbots. They have easy-care that resists wrinkles (like the shirt above) and even their traditional linen pieces are high quality and don't wrinkle like crazy. I wore this look to a meet and greet where I was the guest host and it held up nicely through sitting, walking, and yes, sweating! I have the pants in 14 petite and I didn't have any alteration; the top is a 14 and fits my curves nicely. I also had these pants and LOVED them; see them at this post. I only got rid of them because they no longer fit otherwise I'd be wearing them all summer. Below I share my picks of linen from Talbots that will work for the office, weekend, and special occasions.
Shop Talbots Linen:

This isn't everything, but I hope this helps you see how versatile, stylish, and quality Talbots is and how GOOOOOOD this friends & family sale is! Have a great time shopping, and if you have any questions on fit, quality, or styling ask in the comments!
Shop the Looks: