This article may contain affiliate links; if you click on a shopping link and make a purchase I may receive a commission. As an Amazon Associate, I earn from qualifying purchases.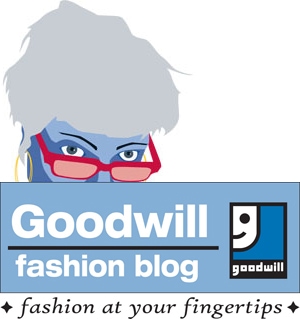 I am a huge fan of thrifting – it's a great way to shop on a budget, and I have found some ridiculous fashion scores at thrift stores.  
My favorite thrift store chain is Goodwill – they do an amazing job at organizing their locations, the money goes to such a great cause, and we lucky DC-area folks have the DC Goodwill Fashionista – a blog that brings high style to thrifting, and offers many amazing promotions and events to support the cause and show how fashion is available at your local Goodwill. 
I asked the DCGF if she would be willing to share some of her "tricks of the trade" for a successful thrifting experience:
Even after all these years, I find myself decoding the great mysteries of the Goodwill experience to the uninitiated. Case in point, two days ago a friend of mine mentioned that she'd seen something about Goodwill posted on a social networking site. And how totally awesome it was that I wrote a fashion blog for them. And how they have a great mission. She practically leaped at the chance to say all of this to me, but then concluded that she personally never shopped there. Wait – huh?
Actually, this happens all the time. People love the work that Goodwill does in their community. They love to donate their gently used goods. And they love an opportunity to be a part of the fashion scene by reading the blog or joining the Facebook page. But when it comes to actual shopping in the stores…that's a different matter entirely.
It's not that my friend – and others like her – are afraid of resale items, or don't live close to our stores. It's that mostly they feel overwhelmed. Like my friend told me, "I think it would be fun to go in a Goodwill store, but I wouldn't know where to start!" Aha! She feels overwhelmed by the selection and doesn't know where to start. It's a common problem for newbies. Ha.
I've given out some of this advice before, but it bears repeating. Hitting up a Goodwill or thrift store or garage sale, or really any place that merchandise isn't arranged into rows of identical items in a variety of colors and sizes, can be a scary thought. That's why I tell people these three tips to keep in their back pocket – literally, if needed! – in order to have a great experience when they shop second-hand for the first time: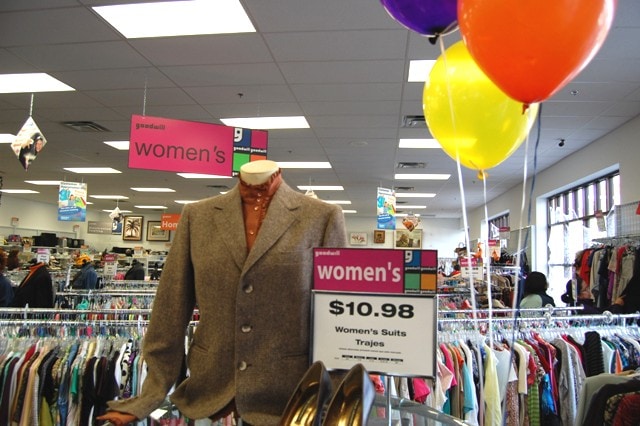 1. Determine ahead of time which department(s) you want to visit. Although it's fun to scour the whole store for that next treasure, take it easy on your first few trips. Identify ahead of time what you might want to purchase – say, a frying pan or a black dress – to help you zero in on that area. Our stores are easily labeled by departments to make it easy to find what you want. And if you don't find what you're looking for and you still feel like you want to browse for something else, go right ahead!
2. Be flexible in your expectations. If you go in saying that you only want to purchase a floor-length red sequin gown in a size 6 Petite, well, you might come out disappointed. Because we rely on donations to supply our stores, you never know what might be on the racks from day to day. Which means that particular dress might not be on the rack, but similar styles or colors or sizes are often available. On the flip side, there might be a dress so fabulous that you haven't even imagined it yet!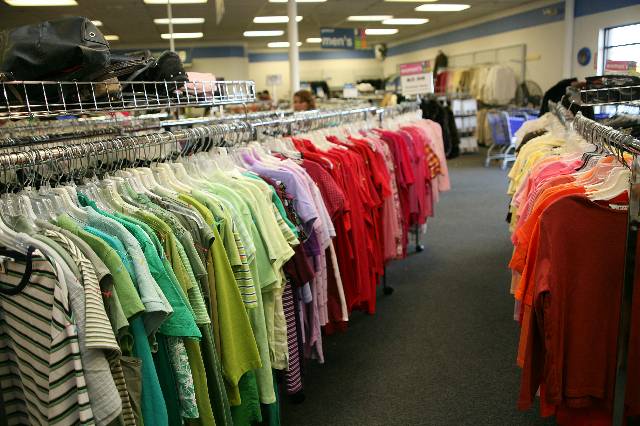 3. Learn the best days of the week to shop. If you want the best selection of the freshest merchandise at your local Goodwill, chances are you'll find it on Tuesday mornings. Why then? Well let me put it this way: the weekends are high-volume times for donations, but it takes a day or so to process all of them. Ergo, Tuesday mornings are the best! If you shopped the week before, but didn't find what you were seeking, check back in on Tuesday for all of the new goods we've put on the floor.
I hope those tips encourage you to take your first trek to a Goodwill. And if you're a seasoned shopper like me, it's still always good to keep in mind the best times to shop, and to remind yourself that you never know what's waiting on the racks and aisles! It's an exciting adventure for me every time I step into one of our stores, and I hope these tips will help YOU to have many great experiences like that, too!
And for those savvy thrifters in the DC area, Goodwill is having a Sweetheart of a sale:
On Valentine's Day, all donated goods (basically everything in the store) will be 50% off at the new Goodwill Retail Store located in Falls Church, VA (2936 Annandale Rd Falls Church, VA 22042).  How awesome is that?  Happy thrifting!!