This article may contain affiliate links; if you click on a shopping link and make a purchase I may receive a commission. As an Amazon Associate, I earn from qualifying purchases.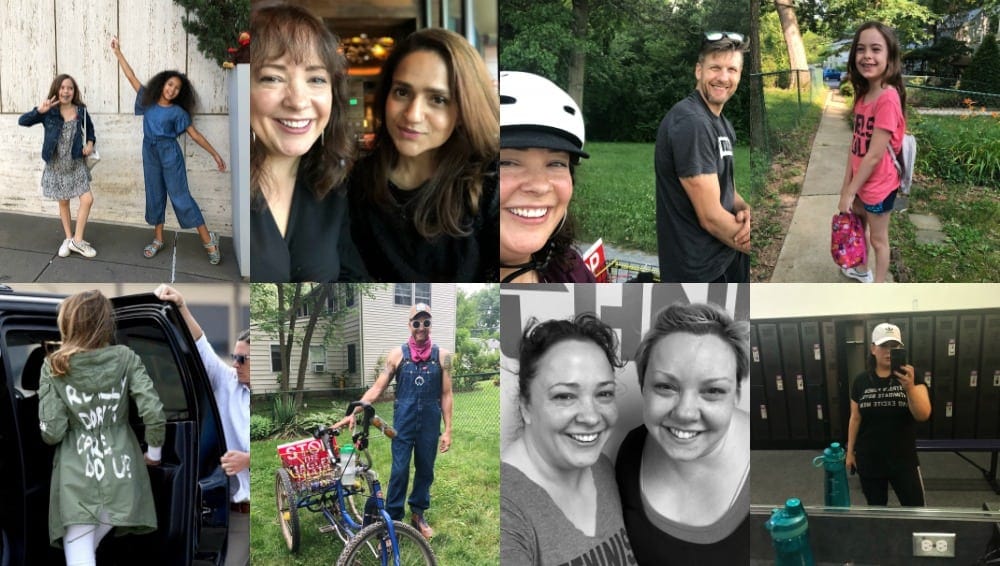 Emerson began a two-week day camp this week.  This is her third year part of it and she looks forward to it every summer.  They dance, they sing, they do art, go to the pool, learn songs and games and the last day do a performance for us parents.  It is such a phenomenally-run camp, we're so lucky to live in a community that offers such stellar opportunities at pretty reasonable rates.  She's having a blast. Karl has been busy at the community garden and we're starting to see the cucumbers and berries start to grow! This week I ended up spending most of it in my home office at the computer.  I wrapped up my contract, am writing two proposals, had a meeting with my business consultant, and trying to get some more systems in place to work smart not hard. I'm also trying to merge a business and personal trip to NYC together, will be visiting the Big Apple next week and the family will be joining me!  And for those who feel utterly overwhelmed by the news these days? Last night I watched Jumanji: Welcome to the Jungle and it was so delightful, I feel revived and ready to fight the good fight. Sometimes we need a happy distraction to keep us going.
While refugee children may no longer be separated by their parents seeking asylum, there are still thousands who have been separated and shipped all over this country with no concrete plans on how to reunite them with their families. If you are in the DC area, consider joining Priya and Jessica from Dining Traveler June 28th as they co-host a happy hour in benefit of KIND Kids in Need of Defense with Dino's Grotto in Shaw. Dino's Grotto will donate 20% of the bar revenue of the happy hour to KIND. The Grotto will offer their happy hour menu featuring $5 antipasti, $4 select local taps and more. In addition, their lasagne is half off and you can order from their full menu. KIND is the largest non-profit in the country that represents only unaccompanied minor children. This year is KIND's 10 year anniversary. KIND will use the additional funding to provide legal representation to as many children appearing in immigration court as possible. I'll be there and would love to meet you.
A friend shared this piece on Facebook; it's not a new article but it's a good one about what the Bible says about how to treat refugees.  I'll also share what another shared on social, I can't recall who or I would give credit.  If you were in a burning building with your family, you would do anything to help them escape.  Even if it meant breaking the law. If families are willing to risk their lives and imprisonment to come to America, it's because where they came from is as dangerous and deadly as a burning building. I made a donation this week to RAICES; if you're wondering who donate to consider visiting I Really Do Care.  I also bought some basics from an Amazon Wish List for families at the border that is no longer active because EVERYTHING WAS PURCHASED! Woot! But here's another: KIND partnered with Target to create Baby2Baby, a registry where you can purchase diapers and other essentials for immigrant children.
For those who say this has been going on before Trump and none of this is new… kind of but not quite.  This piece by Vox breaks down with facts and stats since 2000 to explain how the current administration is treating immigration differently and why America is up in arms.
One bright point from this week was Virgil Abloh's runway show for his debut menswear collection for Louis Vuitton.  Only three months in the position as artistic director of Louois Vuitton's menswear collection, his runway show was powerful in so many ways.  The fashion, the meaning, the color, the inclusion, the audience, the models, and having Abloh himself, Vuitton's first African-American creative director and one of the only Black designers to have ever been appointed to lead a heritage fashion house… read more and see shots from the collection in this piece from Fashionista.
Sometimes the simplest outfits have the greatest impact. I positively adore this summer look on Ashley of FabEllis. I love the pop of red and the ruffle detail on the skirt and shoes!
They're currently shooting the sequel to Wonder Woman in DC and brought back my old favorite Georgetown store, Commander Salamander (sadly only a storefront).  Washingtonian has some other ideas of what Wonder Woman should do in 1984 DC and a lot of these things brought back some serious memories.  The Post Office Pavillion was the BOMB back then!  They had wacky stores like the one on Facts of Life that sold awesome '80s things like Lisa Frank stickers, we kids would hang out there for hours!
I'm all about the local news today, but I am excited for the development happening in nearby College Park, Maryland. August 1st is the grand opening of the College Park Grill. It's going to have a wood-burning oven and live jazz music.  Expect to see outfit posts taking place here in the near future!
For those of you in NYC, I have something for you too!  Dagne Dover is celebrating their 5th birthday with their Dagne Summer Games this weekend and it looks like it's going to be a blast! Click here to learn more and see the schedule, there's going to be backyard games, hair styling, bag painting, classes, and more!
J. Crew named their new Chief Design Officer (AKA the position Jenna Lyons had with the company).  I'm curious to see how this affects the brand (hopefully more consistent quality, fewer ruffles, and more wardrobe staples that made them awesome in the first place).
What to do for gym hair? I've taken a cue from the other women where I work out and have started wearing a lightweight baseball cap. I've been wearing this black one I got from FOHR (an influencer company), but I also got this white one and it's a pretty perfect size and shape that hides the crazy curly wispies and sweaty scalp without giving me awful hat head.
Last week I mentioned how I loved Cate Blanchett's wardrobe in Oceans 8; I have often been inspired by the wardrobe in a film.  My friend Alison and I met and became friends over a mutual love of Rene Russo's Michael Kors for Celine wardrobe in The Thomas Crown Affair (that 1999 fashion is still on point today). So needless to say I enjoyed this piece in the New York Times where writers share their favorite movies for fashion.
If you follow my Instagram Stories, I recently received a gift from Urban Decay Cosmetics with pieces from their Born to Run collection.  One was their Vice Lipstick in color 66 and I am obsessed.  I love mauvy cool neutrals ( I regularly wear Pigalle from NARS) and think this will be a new favorite.  I wore it yesterday and it wore well, did wear off during a meal but not in a patchy or icky way. I also received the other two lipsticks from the collection and will be sure to try and review in the future!
And a fab tip from reader Aimee, the SARTO Franco Sarto 'Kristina' pink sandals I wore earlier this week are on sale on the Franco Sarto site for just $69.99. They have them in the hot pink/violet color as well as black leather. Also if you buy 2 or more pairs of shoes you get an additional 20% off your order AND they're offering free shipping and free returns.  Thanks Aimee!
And if you're not yet a member of the Wardrobe Oxygen Community, come join us!  This week we discussed MM Le Fleur, Madison Reed haircolor, what to wear to a garden party-themed event when you don't do florals, and members shared their experiences with Dia Active and Fabletics. We'd love you to be part of the conversation!
Let's end with some joy… James Corden's Carpool Karaoke, Liverpool edition with Paul McCartney! Get the tissues ready (happy tears I promise!)! Mommy, this goes out to you. <3