This article may contain affiliate links; if you click on a shopping link and make a purchase I may receive a commission. As an Amazon Associate, I earn from qualifying purchases. 
One reader recently asked, "I'm confused on what casual dressing will look like this fall with this more polished look going on. It's hard to look polished being casual and not be too 80's preppy. Can you help?"
I understand your plight; the magazines seem to be showing nothing but lady-like pieces with very structured and elegant details. How does one look current yet feel comfortable for a more casual atmosphere? We are not all women with lifestyles that offer situations (or the desire for situations) where tweed jackets, pencil skirts, heeled oxfords and clutch purses are appropriate.
Denim is Your Friend
Denim sales may be down from 2006, but you would never know it from what is being sold and shown on celebs. Jeans are a great way to tone down a top or jacket and make it great for a trip to the mall or movie theater. This season has such variety, you should be able to find a type that works with your personality.
Colored denim has returned and the shades go from fire-engine red to more muted browns and olives. This is not the colored denim you wore in the 80s (I know I had a pink denim jacket, pink henley shirt and pink jeans to go with my pink Keds…); this is sophisticated and fun. Pair your scoop-necked tee (Gap has some great ones on sale for $15) with colored jeans and flats. Come cooler months, colored jeans spice up your traditional turtleneck and denim combo.
Denim has left the traditional mold and is now in wide leg, stovepipe and trouser fits. A skinny jean in an indigo hue will modernize the flowing tunic tops of spring and last winter. Pair with a belt cinched at the waist and you look hip yet casual. A wide legged jean will modernize your crewneck and v-neck merino and cashmere sweaters from last season and a trouser jean dresses up your knit staples.
The Vintage Look
Be it from your local Goodwill or the pages of your J. Crew catalog, the weathered/worn/vintage look is still hot and it's a great look for casual situations.
Blazers are an easy way to dress up your favorite jeans and tank or tee. Many can look too preppy, but when they are from an interesting or worn fabric, it's less Brooks Brothers. A washed velvet or corduroy can be fun and funky while being comfy and casual. Take that 40s inspired suit jacket and pair with a cami or tank, jeans and flats for a stylish look that's not too prim.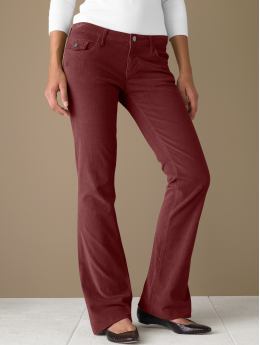 Weathered cords and chinos look great with your favorite knit top. Add a leather belt or a silk scarf through the belt loops to take it from staples to an outfit.

Dress it Up
Dresses can be casual as well. The ladylike styles of this fall are made casual with a turtleneck and some boots.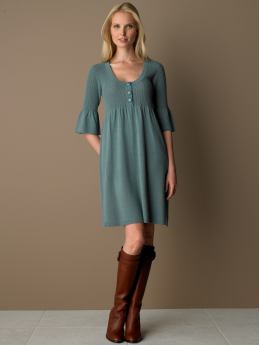 Classic rugged boots like "harness" by Frye are a gorgeous contradiction to a girly dress. A flat or flat boot paired with a jersey dress is a great way to have comfort and style this season.
Great button-down and bib-style shirts are being sold everywhere in stretch silk and satin as well as various cotton blends. These are fabulous with a pair of jeans and the interesting fabric means you can get away without accessories. Switch out your standard striped twill shirts and cami for a puffed-sleeve feminine style in a jewel tone and you have the same ease but a modern and feminine twist.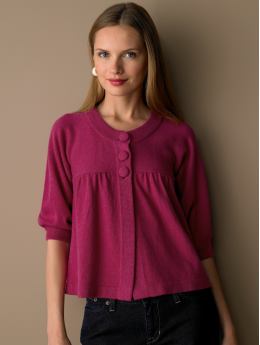 When shopping for your new sweaters, look for feminine touches and rich colors. Puff sleeves, pearl buttons, bracelet-length sleeves are all popular and available this season. Colors like burgundy, teal, royal purple, dark jade and indigo look great with all shades of neutrals and of course dark denim.
Flatten It
Flats are EVERYWHERE this season and they are in a variety of styles and fabrics. They're easy to slip on, comfy for long days on your feet and jazz up wardrobe staples and make them current for fall.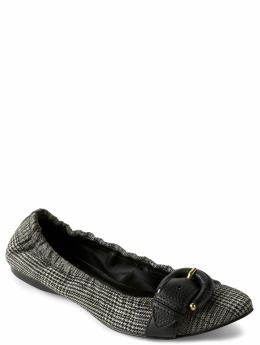 Switch out your flops, loafers and basic boots with a giraffe-print pair or a glazed leather in a jewel tone. Your shoes do not have to match your outfit, just compliment it. You can easily wear a brown sweater and jeans with a berry-hued patent pair, and prints like zebra and leopard go with almost every color of the rainbow. A cute flat will make your turtleneck and twill pants fresh and new.
Accessorize
Simple accessory changes will update your look without having to do a wardrobe overhaul. Try cinching your loose tunics collected over the past year with a thick belt, or wear your standard merino v-neck and jeans with a skinny croco belt over the sweater. Earrings have gotten smaller while bracelets have gotten bigger.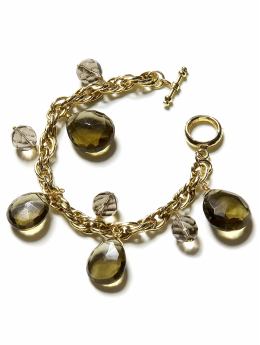 Switch out your big silver hoops for a chunky enamel bracelet or even start wearing your gold charm bracelet you have owned since high school.

Hair
Your hair often sets the tone for your entire look. This season is showing softer looks, consider switching out your stylized coif for softer, wispier layers. Colors are more natural, fall is a great time to slowly move from streaks to gentle face-framing highlights or platinum and Lucy-red heads to russet and honey hues. Consider switching up your look with some face-framing bangs (unless they are very thick and very straight, bangs usually make a face look slimmer, not rounder).

Being Realistic
Each September, every magazine is saturated with a specific look, often including tweeds, plaids or chunky knits. It is as though we immediately have to toss our entire wardrobe and become collegiate clones. Then October and November come and we realize with a few minor adjustments the majority of our wardrobe from last fall is still quite stylish and appropriate. Take each new season slowly, only purchasing what you need and adore. Before you hit the mall, unpack and lay out your entire fall wardrobe. See what is still in great condition, and try it all on to see what still fits and flatters. Only after that should you start considering adding to your collection. Classic pieces (flat-front, wide leg and menswear-inspired trousers, pencil and slight a-line skirts, classic styles of sweaters in figure-flattering knits, traditional sheath, shirtdress and wrap-style dresses, pumps and boots) are still in style. When you re-examine your collection, you will probably see that only minimal accessories and a couple pieces in new colors or silhouettes are all you need to update your look.
And above all else, be yourself and not a page from a magazine. These trends may not even last until May, but classic style and your own personal style will endure.
All styles shown are available at Banana Republic.