This article may contain affiliate links; if you click on a shopping link and make a purchase I may receive a commission. As an Amazon Associate, I earn from qualifying purchases. 
So ladies, it's that time of year. The time where you are expected to stash away those sandals and shorts and suddenly don cable-knit sweaters and cords. Here in the Nation's Capital it's around 95 degrees and I have a feeling that come Tuesday the weather wills till be as hot. I can recall Halloweens as a child, sweating to death in my faux-fur cat costume. So of course you aren't expected to suddenly change to woolens come September 4th, but with the change in the seasons should be a certain change in your fashion outlook.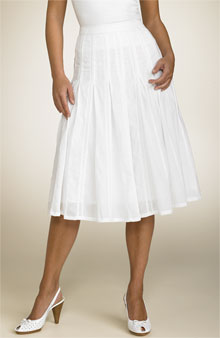 What About White?
Many of us were raised with the rule that you never wear white after Labor Day or before Memorial Day. Is this still gospel? Well… it's kind of hard to answer.
A few seasons ago Balenciaga featured white patent shoes for December and many a fashionista has been photographed in a black cashmere turtle with white jeans in the cooler months. This doesn't mean all white is acceptable.
Magazines may show that you can take your gauzy white sundress and make it fall-worthy with dark tights and a turtleneck but we all know that look RARELY works in real life. Take your linen, eyelet and gauze and pack them away until next year. Same with all-white dresses, belts and handbags. The weather may still be sweltering, but the tone has changed. Get through the last few hot weeks of the year with more subdued of colors.
As for white shoes, I say unless you can afford the Balenciagas, put them away. Personally, I think the only people who should own a pair of white shoes are nurses, graduates and brides. Tan is a far better color for your summer styles and they don't have an expiration date. White can easily look cheap or tacky and if you get a scuff, they suddenly go from summery to fugly.
So what white can you keep? White tops are okay, as long as they are not strapless, gauzy beachy styles. I think white jeans can work if they aren't Clorox-pure. A winter white hue, white with tan stitching, these sorts of details make them look seasonless and not a summer leftover. The fashionistas are right – they look chic with a black cashmere turtleneck and boots. White blazers can last another month or so when paired with black or dark denim. A white suit can work in some circles if paired say with a black top and black or printed shoes. White bags are acceptable if they follow the rules of the white jeans – have black or tan stitching and accents or are more ivory or winter white.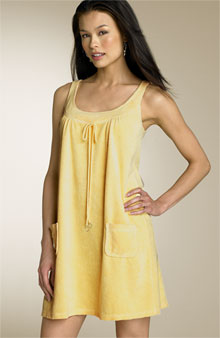 What is a Summer-Only Dress?
Today at lunch I saw a woman enter the restaurant wearing the same Old Navy sundress that I own. It's cotton with a v-neck, empire waist and full babydoll-inspired skirt. The dress hits both she and me a couple inches above the knee. For me, this dress was worn on weekends with flip flops to barbecues and over a swimsuit at the beach or pool. This woman decided to Fall-erize it with a brown spandex ballet tee and brown leggings under it and russet-hued peeptoe flats. Great shoes and I would love to know who makes that tee, but the outfit was pathetic. She didn't make that dress appropriate for the shorter and cooler days, she just looked as though she put fall accessories with a very summer dress.
Now some summer dresses can transition to fall quite easily. Pieces in black, brown and other dark shades carry over nicely. A pattern can go well, if it is a subtle hue. It's pretty hard to make aqua, coral or candy pink look right in September. However a print in olive, terracotta or indigo can look quite cute with a pair of brown t-strap pumps in place of your tan sandals. Heavier fabrics like twill, ponte de roma and denim will work well with tights and Mary Janes or a white collared shirt or turtleneck underneath come October. No matter what Lucky magazine may say, unless you are a creative genius, pack up the flippy summery gauzy pieces and don't try to marry them with dark underpinnings.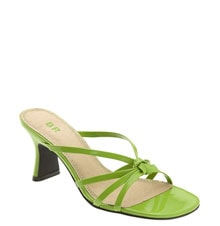 What is a Summer-Only Shoe?
Flip-flops. These should be retired except for padding around your house and yard. This includes the leather, patent and beaded variations.
The gladiator sandal. I love this look for the warmer months, but it's just not a right look in September.
Shoes out of summer fabrics or in summer colors and patterns. This means candy pink, tangerine, aqua, lime, celadon, pale blue, white and cream. No Swiss dot, no eyelet, no linen, no madras, no gingham, no seersucker. I don't care if you pair them with darker jeans and a blazer, these are summer shoes, these trends have retired for the year and therefore should retire from your closet.
What Else Should I Pack Away?
Clear, straw or mesh bags, anything with rope detail, any shorts that are not City shorts, your distressed denim minis, anything that shows your navel (another thing I am wondering why it even exists in your wardrobe), capris and cotton or cargo skirts that are not a neutral color (the neutrals can last a couple more weeks).
A good rule of thumb is that if your summer piece has classic or fall trend inspiration (black, darker hues or a neutral, 40s styling, darker prints, simple cuts, classic pieces like white shirts, sweater shells and pencil skirts) it can carry over until the weather cools. Switching the pants from white to black often does the trick in making a top fall-appropriate, as does switching sandals for a shoe with more coverage. Switching out your bag for a more substantial piece and putting away your bronzer can also get the job done. The weather may not change, but the season has. A few modifications can make your transition into the new season quite simple!