This article may contain affiliate links; if you click on a shopping link and make a purchase I may receive a commission. As an Amazon Associate, I earn from qualifying purchases.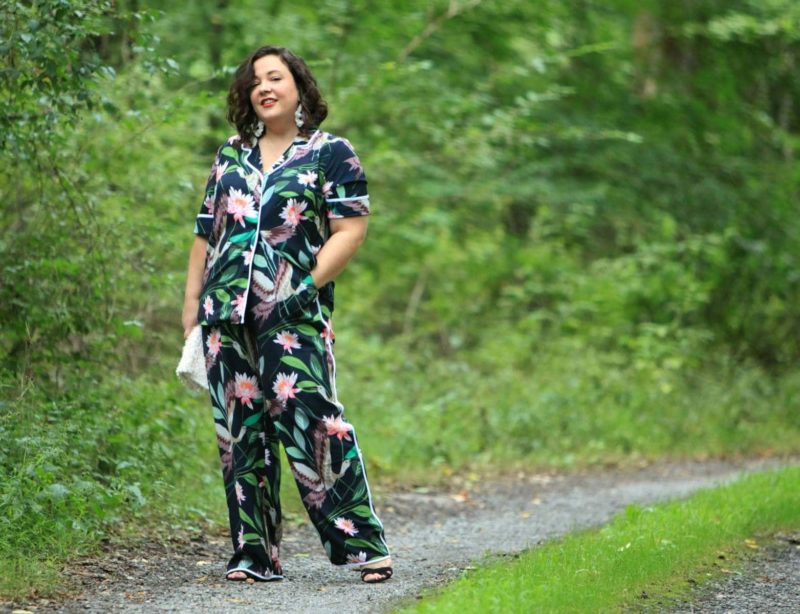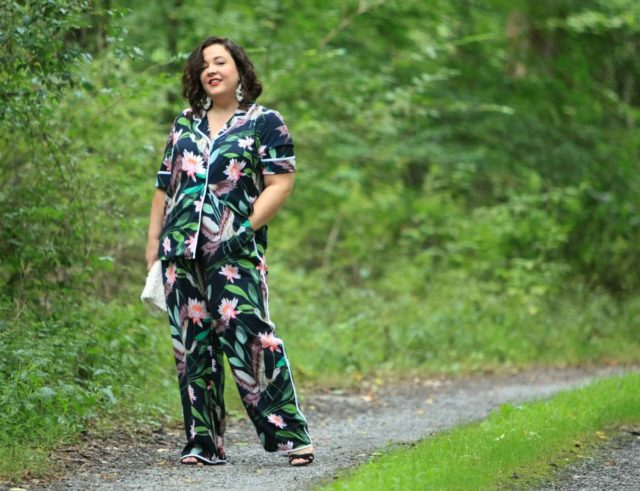 pajama top | pajama pants | shoes | earrings | bag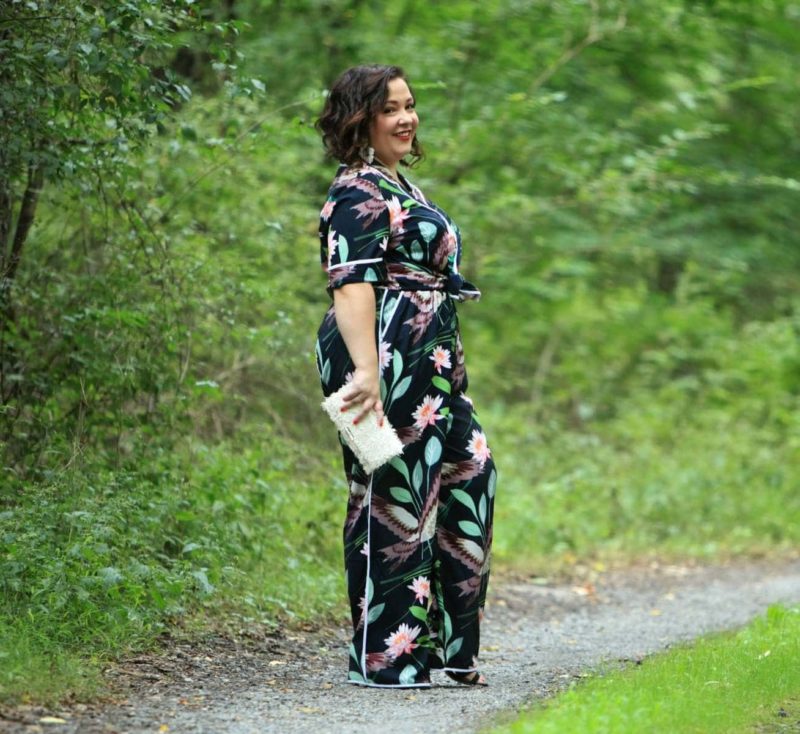 Pajama top: ELOQUII (14) | Pajama pants: ELOQUII (14) | Shoes: ASOS (similar) | Earrings: J. Crew (same in different colors, similar concept in same color) | Bag: Loeffler Randall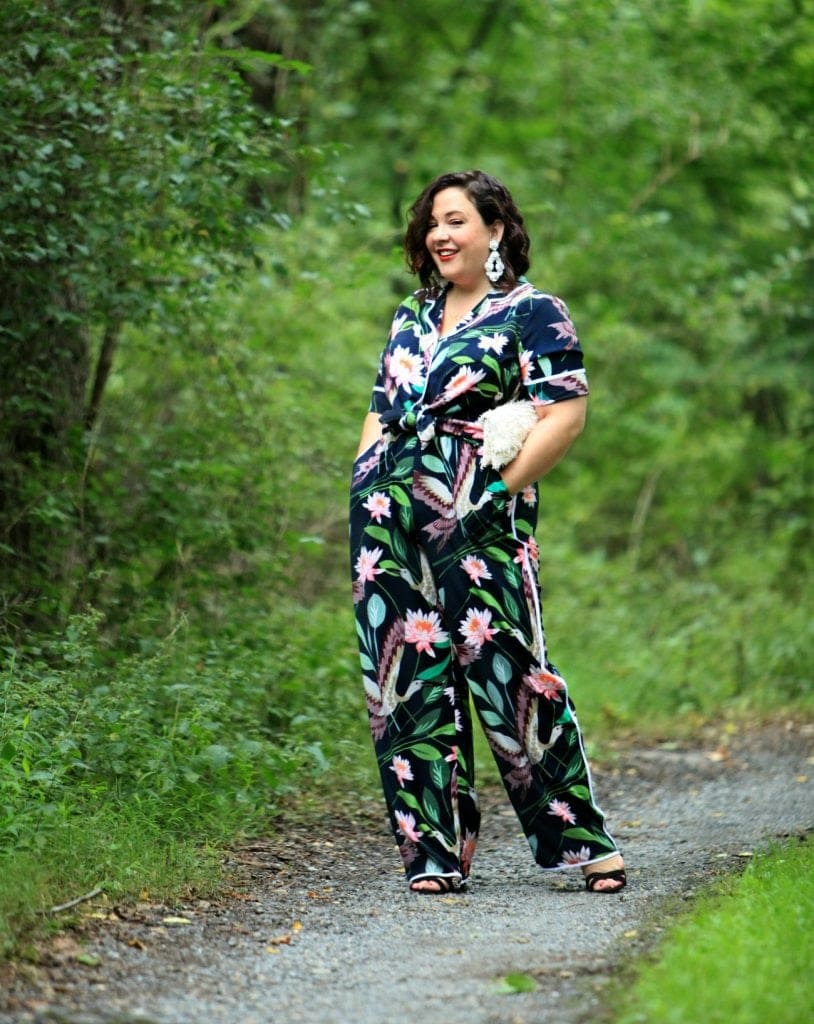 Some trends I won't adopt. There's so many these days, and so many of them are utterly ridiculous. I felt the daytime pajama trend was ridiculous. Sure, those skinny models can strut around fashion week in silky pajamas and sky-high heels and look chic, but they can look chic in a paper bag. The versions I saw that fit someone larger looked so cheesy and cheap, and I wrote this trend off… until I saw ELOQUII's version.
ELOQUII's fashion is hit or miss for my height and personal style, but I find it to be SUCH a hit for the plus size community. The quality of their clothing is good, the options are varied, and they keep updating with a variety of sizing, variety of styles, and finding ways to make current trends not only accessible but stylish for plus size women. But they're also great for everyday staples and career wear. These daytime pajamas are taking all the good parts of the pajama trend and making a pair that's stylish, chic, and not at all cheesy or cheap.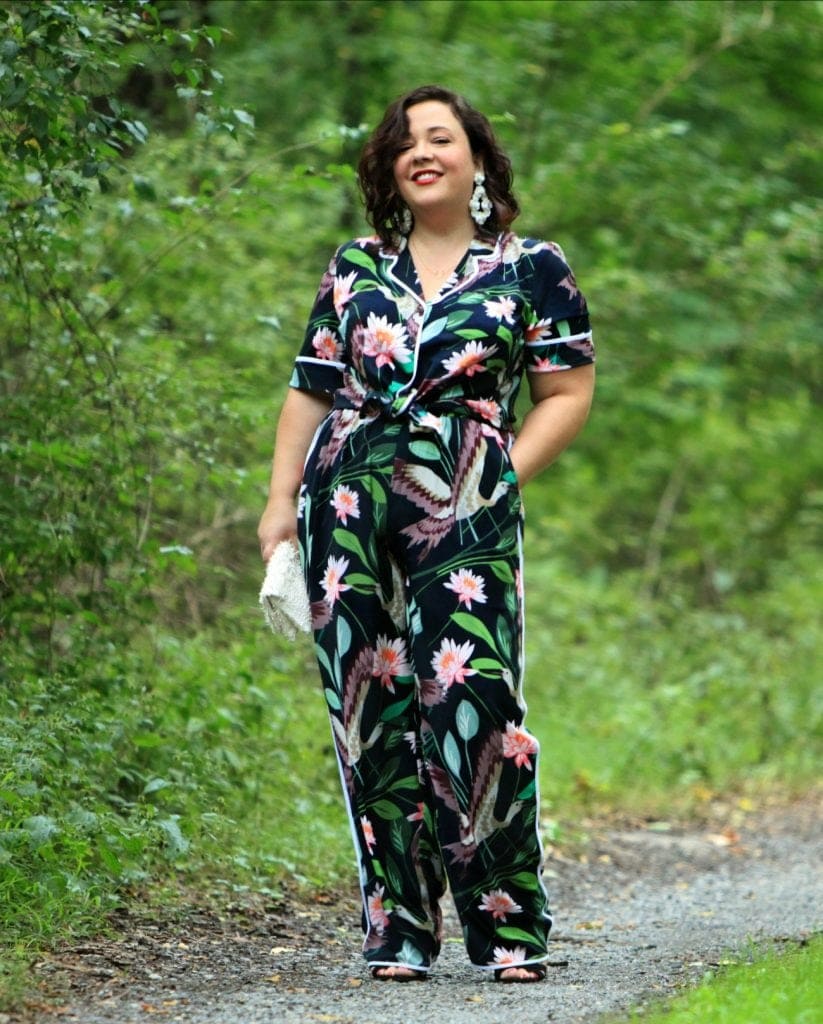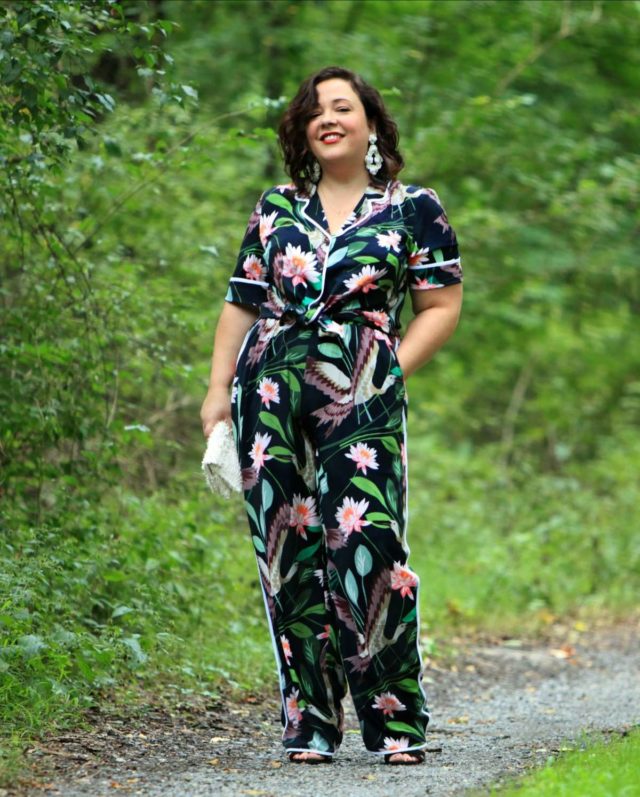 The fabric is a nubby crepe, with white piping. A comfortable wide elastic waistband, pockets, and sleeve length that is flattering to those with fuller upper arms. I'm too short for most of ELOQUII and these pants are not exception; I pulled them super high and wore heels for this shoot but this weekend will be taking them to my tailor to hack of a few inches. If you're wondering about what pant length is best for the daytime pajama trend… it's really up to you. Some wear them skimming the ground styled with delicate strappy heels, some wear with a bit of a break styled with mules and slides, and some wear them exposing a bit of ankle bone paired with everything from pointed toe pumps and strappy heels to mules, slides, and smoking slippers.
This print is a gorgeous retro pattern with foliage and birds; I decided to emphasize the retro feel by tying the front of the pajama top in a knot just above my belly button. This emphasizes my waist, creates more of an hourglass shape, and makes my legs look longer.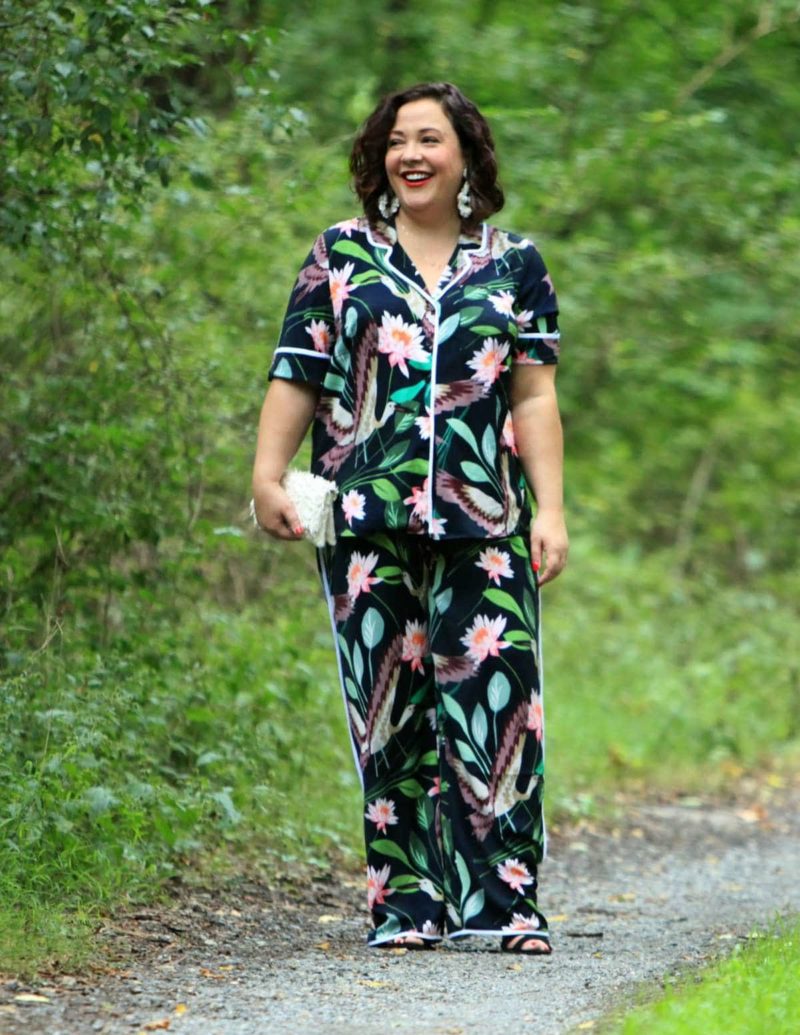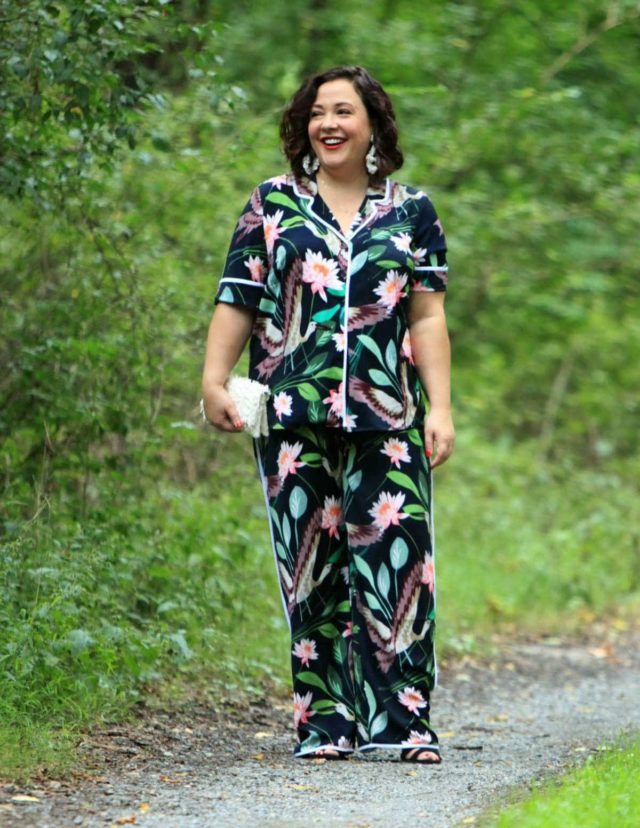 However, I also like these daytime pajamas untucked and styled in a traditional manner. I think I'll like this effect better when the pants are hemmed to a shorter length so it doesn't end up looking oversized. I have also seen some wear the pajama top half tucked with the front tucked in and bloused out, and the back of the pajama shirt untucked. This gives a relaxed, slouchy vibe that can work with flat mules and heels alike. Again, I'll likely do that once the pants are hemmed.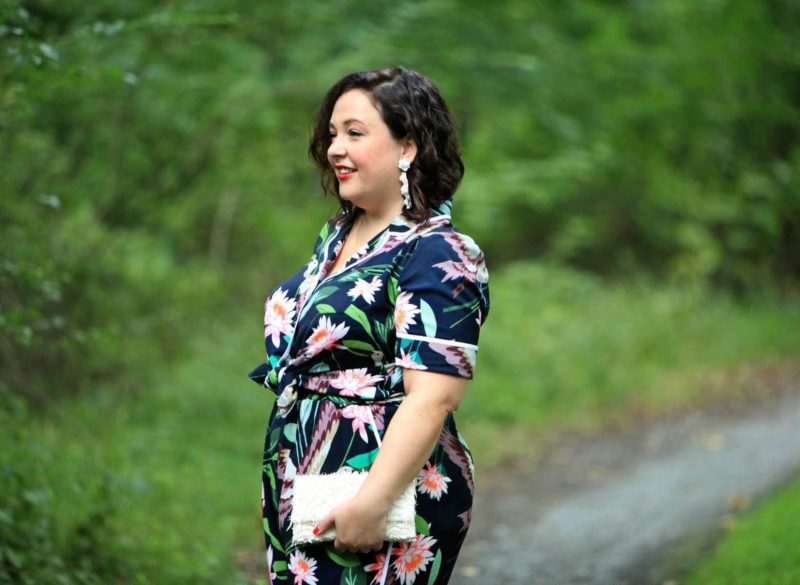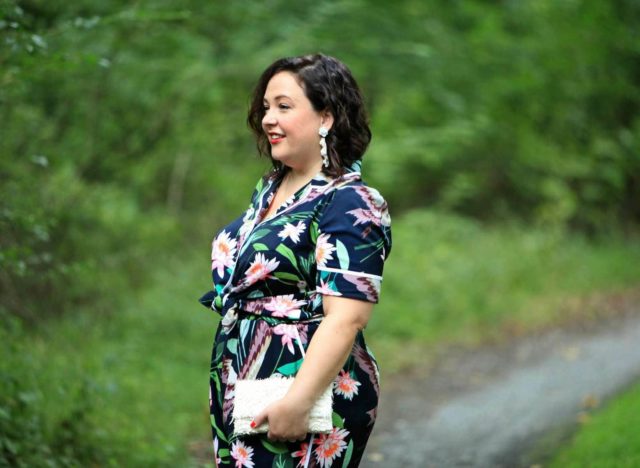 The way to keep daytime pajamas looking like street wear and not sleep wear is accessories. I love the look of sparkly evening jewelry with daytime pajamas, the combination is so luxe. With my dark hair and such a bold print, I decided to wear off-white accessories to temper the pattern, but ones that are still a bold statement and veering on dressy. I bought these earrings from J. Crew this past spring and I find that they are more versatile than a pair of statement earrings in a metal. They and the clutch bag are textured, which adds interest and makes the look less matchy-matchy.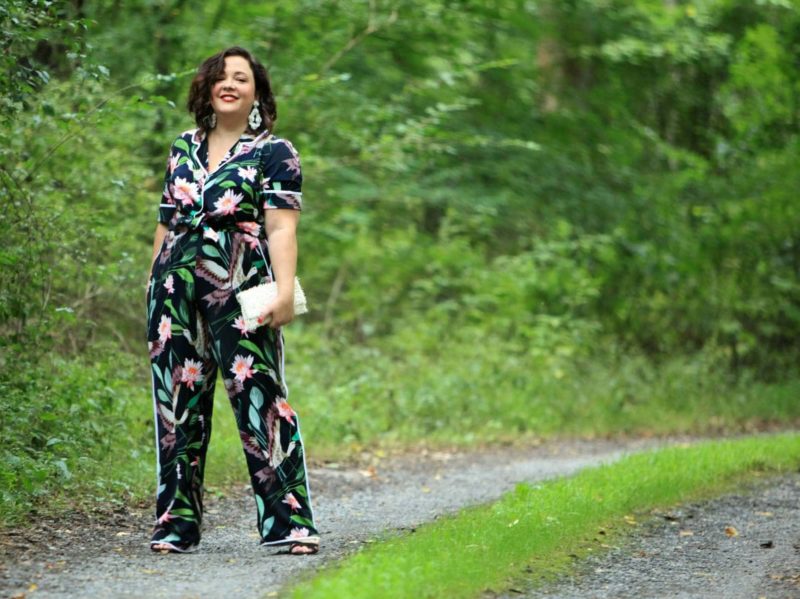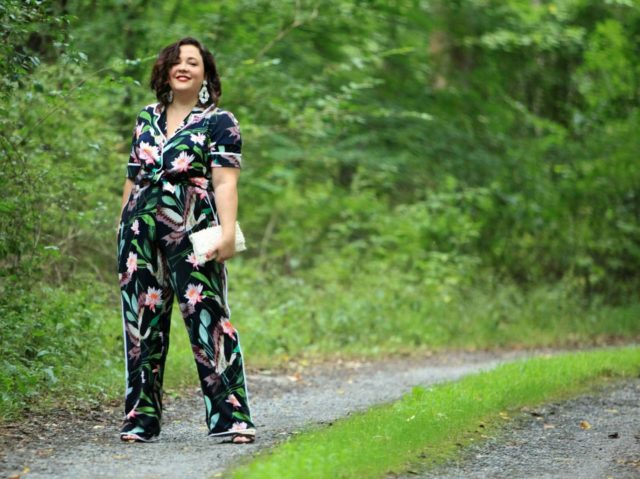 And yes, these pieces can be worn separately. I wore the top with skinny white jeans, gold sandals and accessories. Again the luxe accessories kept it from looking like I was half-dressed (or looking too Miami Vice). ELOQUII styled the top with dark slim denim which I think is chic; I think depending on your personal style the shirt could be left open with a blush colored silk cami underneath. The pants can be worn as traditional pants and would look chic with a crisp white shirt knotted at the waist, or even a denim jacket and simple tank or tee. Even after the pajama trend ends, these pants will be something that can still be styled in current ways.
Over the years of blogging, I have learned to be more accepting, to have more fun with fashion, to step outside the box and try new things. These things don't always work; sometimes I look at my closet and wonder what I was thinking when I bought some of the things I did (and gosh, I've cringed when seeing what pictures show up when I Google Image myself!). But I don't regret any of it. The older I get the more I want to experiment, to be creative, to have fun with my wardrobe and other aspects of my life. I'd rather regret an outfit than regret missing out on an opportunity to grow, to expand my life, and to better find myself and my personal style. And I have this blog to thank for helping me come to this realization!